Cannot tend to your pet's mealtime on your own? Don't worry, automatic dog feeders can help. All pet owners have such times when they have a job or some other unavoidable task, and they cannot feed their canine.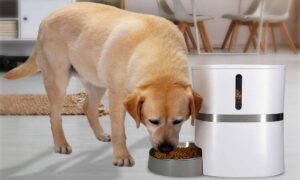 However, dogs require their daily meals on time. If you have an automatic dog feeder, you can do your work without having to worry. It can handle your dog's favorite meals for the entire day. Just like the name suggests, you can control this to automatically dispense the food when required. This way, a busy schedule will not affect the pup's mealtime.
The result is a happy pet and a relaxed day for you. Additionally, this industry is growing, and choosing the right one can be challenging. Therefore, to help you eliminate the guesswork, our experts have spent hours bringing you this list of 10 best automatic dog feeders.
We have consulted many pet experts and selected these products on the basis of quality, food holding capacity, customer reviews, durability, price, and usage.
Best Automatic Dog Feeders in 2021 – Reviews
1. Our Top Pick – AmazonBasics Automatic Dog Feeder
Top Pick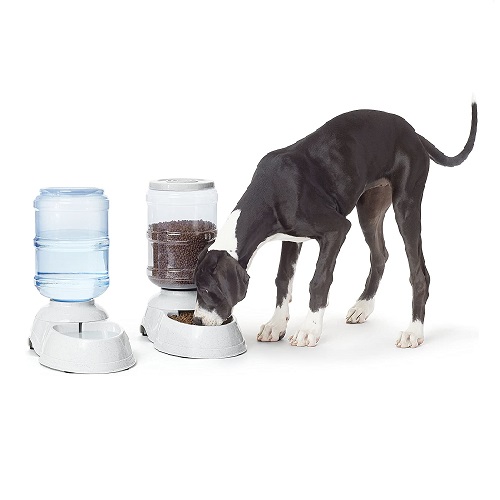 AmazonBasics Automatic Dog Feeder
A versatile, easy-to-use 2-in-1 feeder and water dispenser can remove concerns of pet owners.
AmazonBasics is the best automatic feeder available in small and large size dogs model for pet owners. It is a 2-in-1 product, as it works as both a food feeder and water dispenser. Do not keep your dog hungry and thirsty.
Buy this high-capacity feeder for your dogs can hold 12-pounds of food, while the dispenser can carry 2.5-gallons of water. The system relies on gravity to make sure that your pet is getting dry foods and water consistently.
The base of the waterer and feeder's lid is made of polypropylene. However, for the bottle and the hopper, manufacturers have used polyethylene terephthalate. Side cut-out handles help you with easy lifting. Moreover, the rubber-made feet ensure a non-skid surface. You can securely place the system on any surface.
The water bottle and food hopper have a wide mouth. Thus, you can fill them with your foods and water very easily. However, you must clean them regularly to prevent health issues to your dog.
AmazonBasics has offered an innovative design. While your dog has already consumed some foods in the bowl, the hopper automatically releases more food. Similarly, the waterer always keeps the bowl filled with water. Thus, food and water will be easily reachable to your pets.
It is very easy to use the system for your dogs and cat. You need to upturn the waterer and then pour water into it through the mouth of the bottle. For this item, you have to detach the lid to put some dry foods into it.
Key Features:
A special connector preventing water leakage
Stylish look with smooth contours
Easy to pour water and fill the bowl with foods
Removable parts for easy cleaning
It has easy to grab handles
Durable design with a stable base
2. Runner Up – PetSafe Healthy Pet Automatic Feeder
Runner Up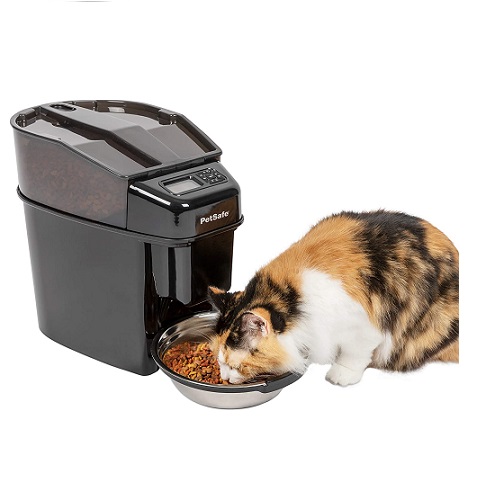 PetSafe Healthy Pet Automatic Feeder
A reliable and automatic feeder ensures convenience to your dogs and cats with a range of feeding modes.
PetSafe has designed a high quality automatic pet feeder for your cats and dogs, and this model is the runner up in our list. You may buy it mostly for medium to small-sized dogs. Every day, the system can serve 12 meals to your pets. Thus, based on your pets' needs, you can invest in this item.
The system enables you to schedule the mealtime and amount of foods. That is why your dogs can easily avail of pre-portioned meals at the right time. If you are not in your house, the device will feed your dogs and cats, so you need not worry about it.
As you are the pet owner, you know how much your pet can consume during their mealtime. You can schedule 1/8 to 4 cups per meal. This holds semi-moist to dry type of foods for your pets. Make sure that the diameter of pet kibbles is not more than 3/4 inch.
PetSafe has also focused on the eating patterns of pets. Some pets eat fast, while others eat slowly. When your dog has a fast-eating habit, your scheduled meals have to be larger than 1/8 cup. The system will dispense the food slowly over 15 minutes.
Manufacturers have used safe and quality materials for designing this one. For feeder parts, they have used BPA-free plastic. Moreover, there is a durable stainless steel bowl with a dishwasher-safe design. You have to clean these parts regularly.
The package does not include battery needed to operate the system. You need to buy 4 D-cell alkaline batteries separately for the device.
Key Features:
Three feeding modes- Slow, immediate, and pause
Integrated with an anti-jam prevention system
Holds up to 24 cups of foods
It also keeps your food fresh
Pet-proof design preventing your dogs from sneaking their foods
3. Best Budget – Vanness AF3 3-Pound Auto Feeder
Best Budget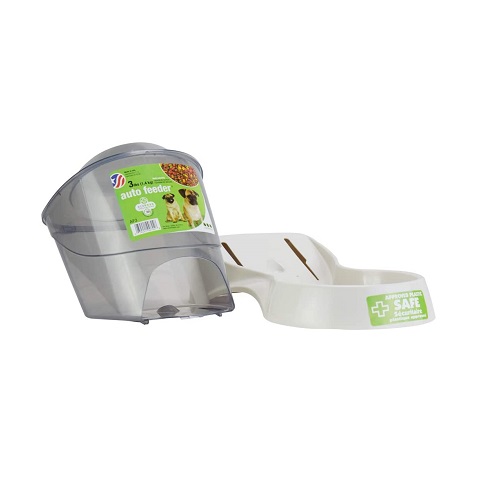 Vanness AF3 3-Pound Auto Feeder
Available at a cost-effective rate, this auto feeder is best for most of the dog and cat species.
Vanness AF3 3 Pound has designed the best budget pick with a minimalistic design. However, while reviewing the functionality, we have found that the brand has offered a quality feeder at a lower price rate. When you have a tight budget, you can prefer this product.
This best works for medium-sized dog breeds. But, you may also buy it for your cats. The user-friendly system enables you to put foods into the system and feed your pets on time. Make sure that you have trained your dog to take its food from the feeder.
Vanness has added every feature that helps you in feeding your dog conveniently. There is a hinged top, for which the food holder becomes easily accessible to you. The cut-outs at the base are also a notable feature of the system.
The manufacturer has added food-grade, FDA-approved plastic materials for constructing this. Thus, there is no chance of contamination of your dog's foods. To maintain cleanliness, you can wash this with your dishwasher.
Moreover, Vanness has applied clear smoke finish to design the container to let you view the foods easily. To say brief, we have found a considerate design in this dog feeding system.
Key Features:
Angled bottom to let foods flow continuously
Removable lid for easier maintenance
It is standard-sized and automatic
Dishwasher safe model for easy cleaning
Made of risk-free materials
4. Best Two-Meal Automatic Dog Feeder – PetSafe
When you are looking for the best two-meal automatic dog feeder, you can choose this product. Besides, it is also available in a five-meal version. Your cats and dogs can eat the pre-portioned meal at the scheduled time. Manufacturers have designed it mostly for medium and small dogs.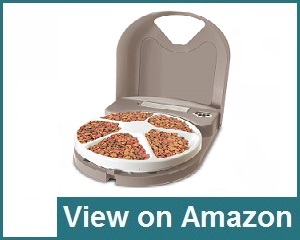 By feeding your pets at the right time, you can keep them healthy. The removable tray comes with a compartment, and each of the compartments is capable of holding up to one cup of semi-moist/ dry foods. Fill the feeder with the favorite treats for your pets every day.
The uniqueness lies in the "feed now" option. If you think of feeding your pet some more snacks, you can hit this "feed now" button, and the system will automatically rotate its tray. However, by choosing this option, it does not cancel the subsequent scheduled meal.
If your pet is not at home, you need to press the button- Suspend Feeding. While retaining the pre-programmed schedule, the system will stop providing the next meal.
Key Features:
Integrated with a digital clock
Special buttons for suspending any meal
Dishwasher-safe tray for easier cleanup
LCD screen for a fast setup
High-quality bowl and tray slots
5. Best Microchip Dog Feeder – SureFeed
Sure PetCare has offered the best microchip dog feeder with technologically advanced features. When you have more than one pet in your house, you can buy this model. You can prevent the risk of stealing food.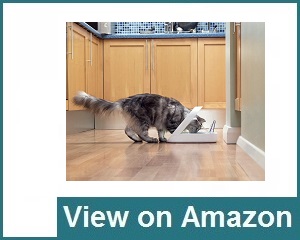 Moreover, this sure feed rear cover lets your pet take a controlled portion of a meal to maintain health. There is no risk of overfeeding your pets, and thus, your furry companions can manage their weight.
If your pet is presently taking prescription diets, this is the right choice. The system can hold dry and wet pet foods. The specially designed neoprene lip can seal the system to retain the food moisture. Your pets will enjoy fresh foods every day.
This is compatible with 9, 10, and 15-digit microchip numbers. You can speak to vets to know the microchip number for your pets. With the approach of the pet microchip ID, the automatic feeder opens up. By clicking one button, you can program the system.
Key Features:
Keep your dog's food fresh for a longer time
The overall mechanism relies on the pet's Microchip ID
Best designed for multi-pet feeding
Include a grey bowl, a split grey bowl and a grey mat
Feeds your dogs the right amount of food
6. Best Automatic Gravity Dog Feeder – Petmate
If you are looking for a user-friendly simple feeder for your pet, then Petmate is the best automatic gravity dog feeder you can have in your house. The highlighted part is that it does not require any batteries or other power source to work. It is designed in a way that by using gravity, the food bowl gets refilled automatically.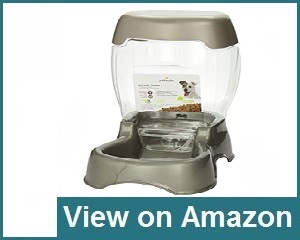 It replenishes whenever the food level gets lower, and the wide mouth reduces the risk of blockage. It is idle for pet parents who are busy all the time and does not want their pet to miss the required nourishments.
Furthermore, the manufacturer didn't compromise with pet's health, so they have built the automatic gravity dog feeder with the best quality non-toxic plastic. The removable lid helps to fill the jar smoothly and makes cleaning easy.
The air-tight jar dispenses the food only when it's needed and keeps the food fresh. The jar gets securely locked with the base, to stay firm and provide proper stability. Also, the base is equipped with easy-grab handles, so that lifting and moving the feeder becomes unchallenging.
Key Features:
No batteries or power supply needed
Wide mouth for less blockage of food
Air-tight container to keep the food fresh
Grab handles to avoid spilling
Available in three sizes, from 3 – 12 gallons
7. Best Multiple Meal Automatic Dog Feeder – PetSafe Food Dispenser
The PetSafe food dispenser is no doubt the best 5-meal automatic dog feeder that allows you to schedule the meals for your dog or other pets. You do not have to worry if you have a busy day; the feeder has got you covered.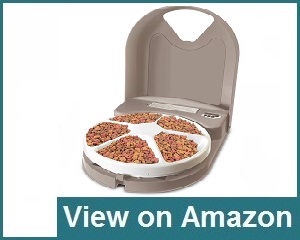 However, you will just need to pre-schedule 5 meals for your dog, and the feeder will smoothly do its job throughout the day. The built-in easy to use digital clock will allow you to select the time you want to feed your pet. Once the time is set, your dog's meal will automatically get served.
The 5 compartments are removable for easy cleaning and hold 1 cup dry or semi-moist food. You can also use the product manually by pressing the "feed now" or "suspend feeding" buttons. The material used to make this product is strong and can be easily washable in a dishwasher.
Moreover, if your pet is overweight or over-eater, the PetSafe feeder is just the right product for you. You can schedule small meals for your pet throughout the day and keep your pet healthy.
Key Features:
Automatic feeds your pet as scheduled
High quality strong plastic used
Appropriate for both dry and semi-moist foods
LCD for easy control
Each section holds 1 cup food
8. Best Automatic Feeder for Small Dogs – Arf Pets
If you have small pets at your home that needs a controlled diet, then Arf is the best automatic feeder for small dogs you can buy. It not only allows you to pre-set the feeding schedule but also lets you record voice personal meal call.
The personal voice meal call helps your pet to understand when it is food time. Besides, it has a safety magnetic lid that stops your pet from spilling the food.
The feeder usually dispenses 1-10 portion of food in each meal and lets you set up to 4 meals a day. Hence, you must not worry about over or underfeeding your pet and select the right amount of food to keep them healthy.
It is also equipped with advanced LCD clock and display that provides easy settings to customize your feeder according to your need.
Key Features:
Dispense 1-10 portion in each meal, up to 4 meals a day
Record personal meal calls for your pet
Fully automatic for hassle-free feeding
LCD for advanced settings
Air-tight magnetic lid to avoid spilling
9. Best Automatic Feeder for Large Dogs – Wopet
If you have a larger breed dog and want a feeder that works effectively, then Wopet is the best automatic feeder for large dogs you will find in the market. This will not only help your dog feed throughout the day but also enhances the look of your house. The built-in programmable timer will allow you to set a feeding schedule for your dog.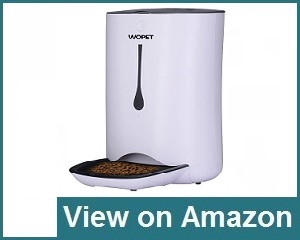 Also, the durable portion wheel will let you select the required portion you want to feed your dog. This will stop your dog from overheating and keep them healthy even if you are away from home. Besides, it comes with an LCD screen where you operate the settings smoothly and save the meal schedule for your pet. It allows setting 4 meals a day.
This works on dual power supply technology, which means the automatic feeder will work both on batteries as well as the main power supply. No matter what, it will not affect the feeding schedule of your dog. Besides, it has a personal voice recording feature that lets you record commands and establish a regular feeding routine for your dog.
Key Features:
Hygienic removable feeding tray with infrared detection
It has easy to use the LCD screen
Dishwasher friendly material for easy cleaning
Personal voice recording option
Bigger size food compartment that holds 20 cups of food
10. Best Smart Automatic Dog Feeder – Petnet
Petnet is well known for producing the best smart automatic dog feeder for every dog lovers from the past many years. If you are a technology freak and want a feeder that can be operated from anywhere, then the Petnet is the product for you. It is a smart feeder that uses its senses and learning software to understand your pet's nutritional requirements.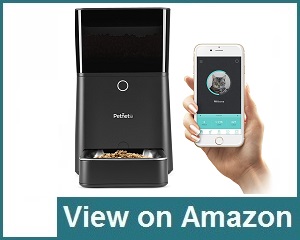 Moreover, it is equipped with a Wi-Fi option that allows you to easily connect it with Alexa or other virtual assistants. It will help you control from anywhere in the world by just using your Smartphone. You can manage portion size, a number of meals, food recipes, etc.
The smart design also measures food portion according to your dog's weight, age, and activity, so that your dog gets the right amount of nutrition it needs. In addition, it will also send you notifications about battery life, food served, low food level, etc. It even comes with a webcam, so that you can monitor your pet while they are eating.
Key Features:
Smart automatic feeder for hassle-free feeding
Wi-Fi option to connect with Smartphone
Manages portion size based on your dog's requirements
Sends important notifications to you
Stainless steel removable bowl for easy cleaning
What Is an Automatic Dog Feeder and Why Should You Buy It?
An automatic dog feeder is precisely what its name suggests. This may be a gravity-based design or a programmable, electric one. Basically, you can set it according to your dog's daily meal times. After that, you can do your work with ease as it will automatically dispense the food at the set time.
As pet parents, we know that dogs stay healthy and happy when fed at the right times every day. However, this food schedule can be challenging to follow, especially if you are a busy person with a job or more than one pet. The main benefit is that it is convenient and saves you time and effort.
You can use this to completely automate the process. It is much less time-consuming, and it also makes fun for your puppy. All you have to do is set the feeder according to your dog's usual meal times. Once set, the device will automatically start dispensing the food.
This is also useful for people who have early rising pets. It is an excellent addition to your dog's meal routine as it manages timely and healthy meals.
How to set up an Automatic Dog Feeder and How Does it Work?
The proper setting depends entirely on the model you are using. However, your main task is to add the food in the container while keeping instructions in mind. That is, to know if the food container can handle wet food or not.
For waterers, you can add the water up to the required mark and then set the timing and quantity. For dry and wet food reservoirs, there are two ways of setting them.
Setting up a Gravity Based Feeder: If you own this, then there is no need to add the individual times. Just like the name suggests, it works on the principle of gravity. They are designed so that when there is food in the bowl, it blocks the opening and prevents any more food from coming out. When the bowl is close to emptying, more food is put in the bowl. However, it is difficult to control the food amount in it.
Setting up an Adjustable timer Feeder: These are rather easy to adjust. You put the food and then enter the timing for each meal separately. Sometimes, a model may have an option for entering the exact amount of food you want to be dispensed each time.
By setting this, you can easily control the food portions. It is a great option if you have a puppy who tends to overeats.
How Do I Train My Dog to Use Automatic Feeders?
Food is sometimes a much personal matter for pets. If they feel uncomfortable or the meals aren't provided at the proper times, it may affect your pooch's health.
While dog feeders are a great option, some pet owners think that it may not always be easy to use them. It is pretty easy, and in fact, your pet will love the new feeder. However, you'll first need to get your dog acquainted with this new meal companion.
This is the first step and needs to be completed with care. If you are using an electric dispenser, then it can make things easier for you. Usually, electronic dispensers offer extra features like voice recording, remote control, and even cameras.
Using these, you can personalize the device; it works great, especially if your pet likes to have you around for mealtimes. Dogs learn quickly with the treat-method. Since this is related to food, pets get used to it quickly and even come to love it.
Therefore, all you have to do is to slowly make your canine used to it. This can be done by starting to serve his meals in it for a certain time of the day and then gradually increase the time.
Different Types of Automatic Dog Feeders
Automatic dog feeders are designed for many different breeds and have types suited for various purposes. However, all of these are not created equal and are not suitable for all pets.
Therefore, you'll need to find the most suited type for your pet. Based on the shape and type of automation, these have the following types.
Gravity Based Dog Feeders
As previously mentioned, these feeders operate on the principle of gravity. When there is food in the bowl, it prevents more food from coming. That way, when your dog is close to finishing his meal, more food is automatically dispensed.
Gravity-based feeders have many moving parts subject to breakage if not used properly; however, these cost less and are simple to operate.
Electric Dog Feeders
These provide many more features other than dispensing food. Timers, cameras, and voice recordings are but a few features that allow you to customize the automatic feeder. In some models, you can even set up the size of the portions.
Vertical Feeders
These have large reservoirs with one opening that is controlled by a timer. Providing greater control over meal times and capacity, these may cost more but tend to be more convenient and durable than that of a gravity-based feeder. Most vertical feeders work with dry food.
Circular Feeders
Not always circular in shape, these are more durable as compared to others because the design lacks hinges and moveable parts. With a rotating lid, these have the advantage that they can be used to provide different foods for different meal times.
Clamshell Feeders
Just like the name, these containers have a hinged lid and open up at the set time. These feeders then allow your pet to access the food. The portions depend on the amount of kibble you put in.
Gravity Pet Feeders vs. Electronic Pet Feeders
The basic two mechanisms are gravity-based and electronic. While the gravity-based mechanism is simpler, it may not be that much durable. On the other hand, the electronic pet feeders give you more control and are durable.
Let's look at the differences between both these types.
Cost

: Gravity based pet feeders are made from mechanical parts and have simpler machinery. As a result, they cost less. On the other hand, the electronic ones cost more.
Convenience

: Electric pet feeders give you more control and convenience. These have adjustable timers, voice recordings, cameras, and portion controllers. Using these, you can personalize the device according to your dog's requirements. Gravity-based feeders cannot control portions efficiently and work by dispensing food when the container's opening is unblocked.
Operation

: As mentioned previously, a gravity-fed feeder has a reservoir that dispenses food when the chute is opened. On the other hand, an electric dispenser only dispenses food at the set time, and the chute is controlled by the timer.
Durability

: The movable part of a gravity-based model may be less durable and break when used roughly. Electric pet feeders are more durable and can withstand rough treatment.
Things to Consider Before Choosing an Automatic Dog Feeder
Now that you know why you need an automatic dog feeder and how it works, the next step is to get one for your canine. However, since there are so many of these out there, you'll need to know which one will best suit your home. The following are the things to be considered and will help you make the most suitable choice.
Method of Operation
Depending on the operation method, there are mainly two types, mechanical and electric. If you only own one pet and your canine is calm, a simple gravity-based feeder will work great. However, if your dog is an aggressive chewer or you are looking for features other than automated food dispensing, choose an electric pet feeder.
Capacity
It is supposed to be your pet's food companion when you are not there. Good food capacity is an important feature that must not be overlooked. However, this depends on the age and the number of pets you have. Usually, a 6 – 12 lbs. container is suitable for a grown dog's daily meals.
The Type of Food
Food dispensers have three variants. One handles the dry food like kibble, the other that handles water, and the third one capable of holding both dry and wet dog food.
For grown dogs that also eat wet food, a dry pet feeder will not function well. These features are clearly mentioned on the package and description for you to decide. Ideally, you should buy one that can handle both wet and dry food.
The Number of Pets You Own
'Calm and friendly' is not the atmosphere if you have more than one pet sharing the same bowl. To make sure that each of your pet gets the right share, you'll need to invest in a pet feeder capable of handling more than one pet.
Durability
It is a long-term investment and should be chosen with care. Look for a strong build with smooth finishing. Usually, a rotating lid and reduced mechanical parts prove to be sturdier than the hinged versions.
Features
Many automatic pet feeders offer more than just automatic food dispensing. There are tons of extra features ranging from voice-recorded messages to remote control.
If your pet responds to your voice, this can be a good way to use this. Other features include the smaller details that make it easier to use. These include side cut handles and non-slip rubber feet.
Remote Connectivity And Transparency
This feature allows you to operate the feeder even when you are not near the device. You can do this via a smartphone. With this, you can control and manage your pet's meals with ease.
Transparency is important. A transparent container allows you to quickly check the amount of food left to plan ahead and buy. These are also more convenient for measuring portions.
Secure, Air Tight Lid
While most brands already offer this feature, you should still carefully look for a secure lid. Air-tight containers prevent the food from spoiling and keep any pathogens from entering. Moreover, a secure cover reduces the risk of spilling the food, even if your pet is an active one.
Easy to Clean
Since feeder is directly connected to your canine's food and stomach, hygiene and cleanliness are very important. Therefore, you want to make sure that the entire dispenser is easy to take apart and assemble for proper cleaning.
A Quality Feeding Bowl or Dish
The main task of a dispenser is to put food in the bowl so your pet can eat it. However, some of these also come with a bowl section attached to it. The feeding bowl must be large enough, so your pup can eat his meal comfortably. Some designs have bowls that can be detached and are dishwasher safe.
Power Supply
Many electric pet feeders operate either on direct power or on batteries. In both cases, you want to have a sufficient power supply to keep the device running. Ideally, if you live in an area where power outages are a common thing, a battery-powered feeder is the better option.
Cleaning and Maintenance for Automatic Dog Feeders
Proper hygiene and maintenance are very important for the working of a pet feeder and your pet's health. Since these are directly connected to your pet's meals, it is crucial to clean it regularly and nicely. Here are a few tips for proper cleaning.
Cleaning
Some models are not dishwasher safe. If you have a similar one, you should clean it with warm soapy water and avoid using strong chemicals.
Many of them come with bowls that can be removed and cleaned in a dishwasher. It is safe to wash them in it.
Usually, a pet feeder description tells you if it is suitable for only wet food or both dry and wet food. Read these carefully and do not use a dry pet feeder for wet food. It will make it difficult for the container to dispense food and may not clean that easily.
Battery Life and Maintenance
For battery-powered feeders, charge them regularly, so the battery life does not get affected.
While these are made for use when you are not around, observing your pet and his eating habits is recommended.
Finally, you should know the detailed specifications of the device to take better care of it.
Benefits of Using Automatic Dog Feeders
There are many reasons why you would want to purchase a dog feeder. Let's look at some of the many benefits of this device.
You can easily maintain your pet's healthy meal schedule even when you do not have the time.
Easily controlled portions allow you to maintain your dog's weight and change the meal plans when needed.
It provides you with quick and convenient food storage.
One of the major health benefits is that it reduces overeating. It is great for dogs who eat more than what is actually required.
Manage multiple pets with the same care and quality food. There are many models that allow more than one pet to enjoy the meal at the same time.
Your canine can have meals at a reasonable time. When you are managing your pet's mealtimes all by yourself, the hours may not be the most consistent and ideal. Automatic feeders solve this problem by timely meals, no matter how busy your schedule is.
Provide you with leisure time. There are times when one wants to sleep in on the weekend. This isn't always possible when you have that mealtime coming near. With this, you can get that leisure time while your pet gets his timely breakfast.
Precautions for Using Automatic Dog Feeders
It can reduce your work significantly by managing your pup's meals. However, the device cannot do all on its own. To get the best, it is recommended to take the following precautions:
Do not put wet food in a dry food container. Doing so may damage the internal mechanism and hinder the chute.
Clean it regularly to ensure proper hygiene.
To avoid losing the settings, keep the battery charged. That way, even if the power goes out, the dispenser will work according to the settings.
Do not overfill the container. Use the markings to calculate portions.
Train your pet to use the feeder properly. You can do this by customizing the device.
Transparent containers allow you to easily check the remaining food. The same is not true for opaque feeders. For checking those, you'll have to open the lid.
Make sure the lid is tightly secure to avoid any food spoilage.
Conclusion
For all busy pet owners, an automatic pet feeder is a very useful device. It allows you to automate your pet's meals and keep them regular. How is a long-term investment, and you should make your choice carefully. Ideally, the most suitable pet feeder will make mealtime enjoyable and convenient for your pet.
Frequently Asked Questions
What is the optimal capacity for an automatic dog feeder?
Dog feeders are designed according to certain pet age groups and breeds. On average, It has the capacity to hold dog meals enough for a whole day. That includes larger meals like 5 times a day. For puppies and smaller breeds, there are many smaller options as well.
What is the best automatic dog feeder?
The "Amazon Basics Gravity Feeder Waterer Bundle" is our choice for the best automatic feeder. This 2-in-1 bundle has dispensers for both food and water. With a 2.5 gallon waterer and a 12-pound food capacity, it can easily handle many meals. It also features side handles and non-slip rubber feet.
Is setting up an automatic dog feeder difficult?
No, not really. In fact, it is quite simple. While it also depends on what model you have, mostly, it has a reservoir that you fill the food in. The next step is to set up the timer, which is done via a clock option. Input each meal time individually. Some versions even allow you to choose the food quantity dispensed at each time.
Do automatic feeders help you calculate food portions for your dog?
Yes. The tank or reservoir has an optimal size with gradient markings. This allows you to easily calculate the exact amount of food your dog eats every meal.
What is the best microchip dog feeder?
In microchip dog feeders' brands, the "SureFlap MPF001 Surefeed Microchip" is the most recommended option. With a three years warranty, it is ideal for people who have more than one pet. It keeps the portions in control and prevents other pets from stealing food.
Can my dog chew the automatic feeder?
No. Mostly, these are made from durable materials that are safe for dogs. While it is difficult for your dog to be able to chew it, it is recommended to keep an eye on your pet whenever possible.
Should I buy more than one feeder if I have dogs of different sizes?
An automatic dog feeder's main goal is to control your dog's meal portions and provide timely meals. Depending on your main goal, you can choose to buy more feeders; however, it is not always necessary.
What is the best multiple meal dog feeder?
The "PetSafe 5 Meal Automatic Dispenser Digital" is our pick for multiple meals in a day. Now your canine can enjoy his daily nutrition-packed dose with fun.
How do gravity dog feeders work?
Just like their names suggest, these feeders work on the principles of gravity. Working without any electric switches or programming, it bowl fills up again once it is close to emptying. This makes way for more food from the opening, and your dog gets the food. However, since it does not strictly divide or control portions, it may lead to overeating.
What is the best automatic gravity dog feeder?
The "Petmate" is the best automatic feeder with a capacity of around 6 lbs and is suitable for both cats and dogs. This gravity-based design has a food container that locks securely into place, allowing your pet to eat his meals without spilling.
Are automatic feeders good for dogs?
Yes. These provide timely meals for your canine, even when you cannot be around. The marked containers allow you to control the food portions and manage your dog's food intake while keeping an eye on the calories.