The solution to your overweight dog is getting the right diet dog food. Dogs are omnivores in nature. The implication of this is that they can thrive for both plant and meat as foods.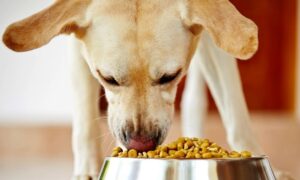 Sometimes finding the right diets for your dog might require some work, however, one of the effective ways to lower your dog's weight is to provide him with diets that have been proven by others as effective.
Dogs tend to gain more weight as they get older. They, therefore, tend to benefit from diet foods a lot. Also, dogs that are less active as a result of either illness or injury can benefit from diet food as it helps prevents weight gain while they recover.
When getting your dog on a weight loss diet, you will need to calculate their dog calorie intake, plan a feeding routine, work towards the plan, and choose the right food. Thus, we have collaborated with pet experts to develop the list of 10 best diet dog food with the necessary buying guide to help you decide better.
Best Diet Dog Foods in 2021 – Reviews
1. Our Top Pick – Wellness Core Natural Grain-Free Diet Dog Food
Top Pick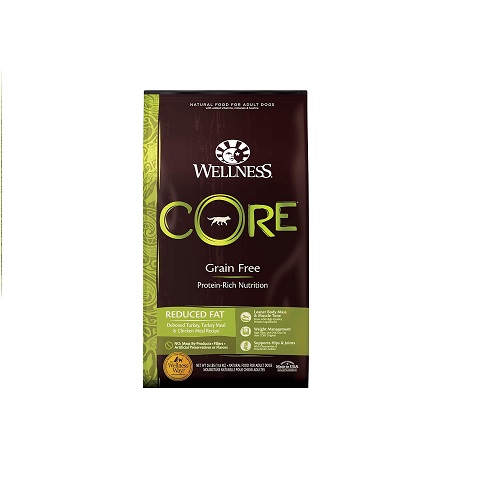 Wellness Core Natural Diet Dog Food
Best grain-free diet for weight loss, premium protein, antioxidants and supports lean body mass and muscle tone.
Wellness Core Natural Food is our top pick to reduce the weight of overweight pets healthily, to support lean body mass and overall health of pets. As the food is a grain-free and gluten-free, it makes it a great choice for pets with stomach sensitivities.
The nutrients in this diet have been carefully selected by vet and animal nutritionists to support overall body health. All ingredients in this diet are aimed at addressing specific needs, and non-essential constituents are not added.
The food is made deboned turkey as the primary ingredient; this contains high-quality protein and gives your canine the flesh needed. The protein in this meal builds healthy muscles, supports muscles, supports lean muscle, and serves as an energy source.
Pet parents need to know that this meal is palatable and contains balanced nutrition. Flaxseed and salmon oil serve as sources of omega fatty acids that aid healthy and shiny skin and coat.
Furthermore, antioxidants in this meal support and build the immune system, thus, encouraging resistance against diseases and infections. Prebiotics and probiotics are also other essential ingredients in this meal, and they support healthy digestion and eliminates constipation.
Also, vitamins and essential minerals are present for promoting sound health and healthy fur and coat. Worthy of note is the presence of kale, broccoli, and sweet potatoes, which are necessities for healthy growth and development.
There are no grains, soy, wheat, artificial flavors, and preservatives in this diet. Also, fillers are eliminated from this diet and no meat byproducts. Administering this meal should be a gradual increasing quantity daily, pet owners should watch the reaction of the pet for a period of two weeks. Additionally, glucosamine and taurine present in this food support a healthy heart.
Key Features:
Grain-free and gluten-free
Prebiotics and probiotics aid digestion
Poultry by-products, artificial preservatives and flavors are not present
Crafted with recommended nutrient for whole body health
Fresh deboned turkey serves as source of premium protein
2. Runner Up – Blue Buffalo Dry Diet Dog Food
Runner Up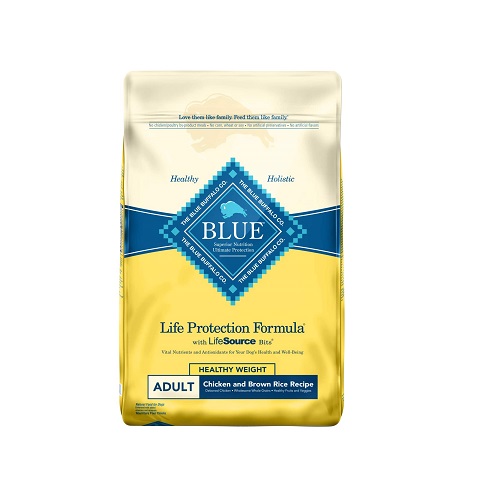 Blue Buffalo Dry Diet Dog Food
Low calories from fat formula, fresh deboned chicken, vitamins and essential minerals present.
Giving your pet the best meal is one top priority of pet lovers. Blue Buffalo dry diet is the next option after our top pick. This food is a premium choice, and it is highly recommended by pet owners as it has been the delight of many pets.
This formula has reduced calories-from-fat ratio, and it would maintain the healthy weight of a pet that is starting to gain some pounds. Additionally, this diet would aid weight loss as part of a bigger diet and exercise schedule. This meal is a complete formula as the components have been carefully selected to serve your pet right.
The primary ingredient in this formula is the fresh deboned chicken, which is a primary source of high-quality protein. Protein helps pets build and sustain healthy muscles. Also, there is a mixture of fruits, whole grains, and fruits, which are a nutritional source such as vitamins and proteins.
Also, antioxidants, essential minerals, and vitamins are carefully chosen and recommended by veterinarians and nutritionists. These choice components boost immunity, maintains healthy growth and development during different life stages of the pet.
Furthermore, pet parents ought to know that this formula is made of natural ingredients. The other components are brown rice, flaxseed, blueberries, peas and carrots, cranberries, and sweet potatoes, all aimed at enhancing health. Also, the constituents support joints and mobility in pets.
Omega 3 & 6 fatty acids are also present in this diet. This ingredient promotes a healthy pet's skin and coat. The safety of your furry friend is also our concern, so this meal does not contain chicken by-products, soy, wheat, artificial flavors, or preservatives.
All these constituents have been carefully eliminated to promote health. Caution should be taken in administering the food, it should be a gradual increasing introduction over two weeks for easing adaptation.
Key Features:
Fresh deboned meat as the main ingredient
No artificial flavors or preservative
The formula is made of natural ingredient
Omega 3 & 6 for healthy coat and skin
Reduced calories from fat
3. Best Budget – Diamond Naturals Light Diet Dog Food
Best Budget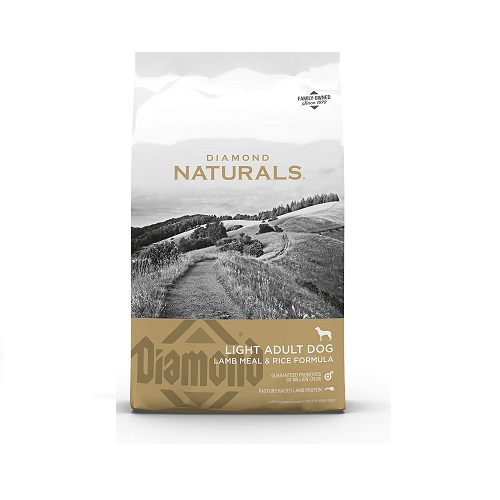 Diamond Naturals Light Diet Dog Food
Premium formula aimed at reducing and maintaining weight, rice formula with lean protein.
Pet parents on a budget but desire a high-quality diet for their furry friend can purchase Diamond Naturals light dry dog food. Diamond Naturals is our best budget product, and there is an impressive balance between quality and price. This diet is formulated for overweight or less active pets, with constituents such as Glucosamine, L-Carnitine, and chondroitin.
L-Carnitine aids conversion of fats to energy, while Glucosamine and chondroitin support the joints. These combinations have been carefully selected with fewer calories for your pet to reach the desired and healthy weight.
The components of this formula are lamb meal, chia seed, and quinoa, as these serve as the major source of high-quality protein. The protein builds and supports healthy muscles, provides energy for the dog to remain active.
Additionally, vitamins and essential minerals, fruits, and veggies, which are superfoods serve as antioxidants for the healthy growth of the pet. Whole grain brown rice, oatmeal, coconut, spinach, and blueberries are also present in the meal. Vitamins such as vitamin D, B12, B2 present in this formula, aids proper nourishment for your pet.
This low-protein dog food contains K9 strain probiotics; these are helpful bacteria that help digestion and support the immune system. Also, flaxseed, chia seed, and coconut are sources of Omega 3 & 6 fatty acids that support healthy and shinning skin and coat.
Furthermore, you need to know that this formula does not contain corn, wheat, or fillers. Also, it would interest you to know that this diet does not contain artificial preservatives or flavors.
Key Features:
Contains high-quality protein constituent
Omega 3 & 6 fatty acids for healthy skin and coat
Reduces overweight
No corn, wheat, soy, fillers, artificial preservatives or flavors
Proprietary probiotics for aiding digestion
4. Best Grain Free Diet Dog Foods – Blue Buffalo
Blue Buffalo food is a diet specially formulated for pets to supply the needed nutrients while eliminating excess calories from fats. This diet is our best grain-free dog food, and components such as peas, and tapioca starch as the alternate sources of carbohydrate.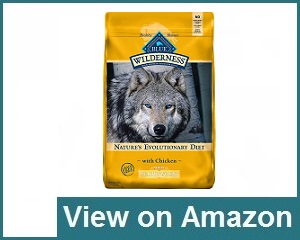 Also, this formula is a perfect choice for weight loss and helping pets maintain a healthy weight. Choosing the right diet is ultimately one of the best choices to maintain the health of your furry friend.
Your pet is a canine, and there are constituents in this formula which provides the diet for canines. This diet is packaged with real chicken, which serves as the source of high-quality protein, aimed at building and supporting the muscles.
This blue wilderness healthy dog food is selected by veterinarians and nutritionists, contain antioxidants that support the immune system, essential minerals, and vitamins. It also contains calcium and phosphorus, dogs need healthy and strong teeth so these were selected for healthy and strong teeth.
Furthermore, this formula features different variations of proteins, which are deboned chicken, chicken meal, and menhaden fish meal. These constituents contain Omega 3 fatty acids, which aids healthy skin and coat. There are blueberries, cranberries, kelp, and parsley, which serve as sources of several vitamins and minerals.
There are no poultry by-products; this does not contain soy, wheat, corn, artificial preservatives, or flavors. The diet support joints and bones. Then, the administration must not be at a time; this should be a gradual progression to aid adaptation by the dog.
Key Features:
Grain free, healthy weight pet diet
Contains vitamins, essential minerals and antioxidants
Calcium, and phosphorus for strong bones and teeth
High-quality healthy ingredients
Protein-rich formula
5. Best Dry Diet Dog Food – Natural Balance
This meal keeps your pet full all through the day and eliminates eating in between meals or begging. This formula is made to help your dog lose weight while providing your pet with everything that is needed to maintain an active healthy living.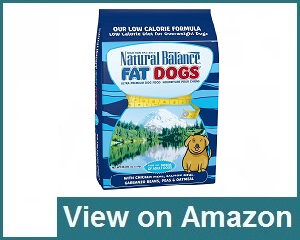 Additionally, this food is packaged for overweight dogs, and the fewer calories supply the needed strength while keeping your pet nutritionally balanced. The nutrient in the food is a balance of protein and fiber as the primary ones.
The protein is gotten from the mixture of chicken meal, garbanzo beans, and salmon meal. The purpose of protein is to build and support muscles and also to maintain muscle mass as the pet loses weight.
The fiber keeps your pet full all through the day, and reduce begging behavior. Additional ingredients in this diet are pea fiber, oats, egg, and barley, all aimed at providing the needed nutrient for a healthy and active lifestyle.
Furthermore, there is a range of vitamins present in the diet and essential minerals. Omega 3 & 6 fatty acids in this diet improve the health and look of the coat and skin. Additionally, you don't need to worry about pets that suffer from indigestion and constipation.
The fiber in this diet aids digestion. While introducing this new product to pets, it is advisable to include it in its regular meal gradually over 14 days.
Key Features:
Low-calorie formula, nutritionally balanced diet
High in taste and gives needed satisfaction
Omega 3 & 6 fatty acids
Helps keep your pet feeling full
High-quality protein
6. Best Diet Food for Adult Dog – Hill's Science
Your pet is what it eats, and the Hill's Science diet food is the best diet food for adult dogs in the market. This meal has been carefully researched by veterinarians and nutritionists to include all the necessary nutrients needed to support the active healthy lifestyle of pets.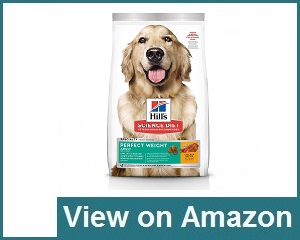 Also, it has been proven that 70 percent of dogs lost weight within the first ten weeks upon continual feeding on this diet. Therefore, this meal is ideal for overweight adult dogs, as it supports a safe and healthy weight loss.
The primary ingredient of this science diet-perfect weight dog food is a high-quality protein, which is derived from real chicken. This constituent builds and supports the pet muscles. There are other ingredients such as barley, carrots, broccoli, and peas, all aimed at providing the needed satisfaction for your pet.
Antioxidants in this meal is another bonus, as they support the immune system and make your pet strong and resistant to infections. Additionally, the meal includes vitamin C and E with essential minerals. Omega 3 & 6 in this diet are boosters for a healthy and fine-looking coat.
Also, this diet supports the lean muscles of dogs, and most pets find it palatable. It is available in small kibble sizes and appropriate for pets. Pet owners need to administer this food over a period of seven days increasingly and watch the response of the pet over time. Additionally, there are no chicken by-products in this formula and make it safe for pets.
Key Features:
Veterinarians approved
Real chicken as the main source of high-protein
Available in kibble sizes
Support lean muscles
Overweight pets lost weights within 10 weeks
7. Best Wet Diet Dog Food – Ietosan Food
Ietosan wet diet food is a great choice for adult dogs and overweight dogs; this supports or maintains weight loss. Also, this meal is all made from natural ingredients and is an excellent choice for your pet.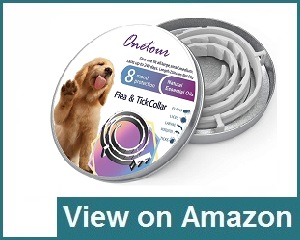 Wet food is distinct from dry food and more palatable generally. This meal can be served easily, and your furry friend would wag its tail on seeing the can daily. Additionally, the choice of high-nutritious ingredients is another point, these have been carefully selected to suit your pet.
The primary ingredient in this meal is a protein that is derived from chicken, salmon, lamb, and turkey. These high-protein sources build and support healthy muscles and provide the needed energy.
Also, other ingredients such as rice, carrots, and pumpkins present in the food, are sources of carbohydrates and other essential nutrients. Vitamins and essential minerals contained in this meal aid the needed fitness and wellness for your pet.
Antioxidants in the meal support the immune system, thereby maintaining health. Furthermore, Omega 3 & 6 fatty acids in this diet are required for the maintenance of healthy coats and fur. There are no artificial flavors or preservatives, poultry by-products, soy, or corn in this meal. Thus, Ietosan is safe for your pet.
Key Features:
Aids healthy digestion
Does not contain poultry by-products and soy
Contains high-protein ingredients
It is recommended by vets and easy to use
Supports weight loss
8. Best Limited Ingredient Diet Dog Food – Canidae Food
Pet's meal does not have to contain too many ingredients because this could trigger allergies. So, we have selected the Canidae, which has been excellently prepared to include less than ten ingredients, for maintaining healthy weights for overweight your pets.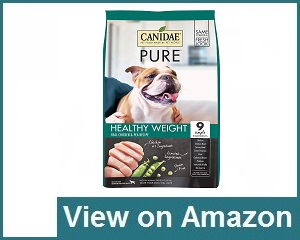 This diet focuses on what pets need and exclude what is not needed. Also, this meal is produced for all breeds and sizes of pets, but dogs that have suffered from allergies would consider Canidae food a great relief.
The primary ingredients in this Canidae healthy weight dog food are unquestionably a high-protein source that supports lean muscles. The ingredients are Bilson chicken, salmon, lamb, duck, and boar, which are high-protein sources, which build and support healthy muscles.
Additionally, antioxidants are present in the meal, which helps to build, and support a strong immune system against diseases. Omega 3 & 6 fatty acids in this meal aid healthy and shiny skin and coat. Probiotics are also present, and they aid digestion, while vitamins in this meal support a beautiful coat.
Furthermore, there are no addictive or fillers in this meal. Also, there is no corn, wheat, or soy. Administering this meal to your pet would require a gradual increase over a few days, so the pet's possible reaction would be monitored.
Key Features:
Contains essential ingredients alone
Grain-free, no soy, wheat or corn
Probiotics present in meal
Limited ingredients for food sensitive pets
Support a healthy weight
9. Best Small Breed Diet Dog Food – Wellness Natural Pet Food
The right nutrition is needed and not just feeding, that is why the Wellness natural pet food has been formulated specially for small breed pets. This food contains all the essential nutrients and recommendations for small breeds to thrive and attain strong health while reducing overweight. Essential nutrients would provide the needed energy for your pet's daily activities while supporting lean muscles.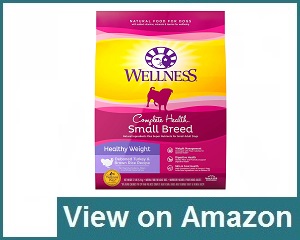 This wellness weight management food is a balanced mixture for a lifetime wellbeing. Whitefish is the primary source of high-quality protein in this diet; this builds and support muscles. Additionally, Whitefish serves as a source of energy. Omega 3 & 6 fatty acids present in this meal are needed to maintain healthy skin and coat while ensuring the proper body function.
Also, blueberries are great sources of antioxidants, which builds and supports the immune system, they are also rich in vitamins such as Vitamin A & C. Potassium, fiber, and other carotenoids are great sources of antioxidants also.
Furthermore, flaxseed present in the food aids digestion eliminates constipation and a shiny coat. Also, some other sources of protein and fiber are peas. This meal is packaged for the great health of your furry friend.
Prebiotics and probiotics are also healthy fibers that you need to know, as these support the digestive tracts. There are no artificial preservatives, no flavors, no fillers, and no meat byproducts.
Key Features:
Digestive health aided by prebiotics and probiotics
High-quality protein
No soy, artificial preservatives, and fillers
Antioxidants support immunity
A great choice for small breed
10. Best Large Breed Diet Dog Foods – Blue Buffalo
Overweight could be a problem in large breed dogs, and the Blue buffalo dog food is an excellent choice for maintaining weight. Additionally, the nutrient in this meal has been carefully selected to include the balanced nutrient required for pets to maintain a healthy lifestyle.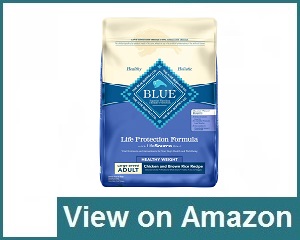 This diet is formulated with reduced calories for large breed dogs to maintain a healthy weight. This choice would bring out the desired outcome in your furry friend, and you would be glad you made the choice.
The primary ingredient in this meal is real chicken, which is a high-quality protein source for building and supporting healthy muscles. Large breed dogs could suffer from joint pains, so glucosamine and chondroitin in the diet support joint and mobility.
Additionally, there are wholesome whole grains, garden veggies and fruits to supply the essential mineral and vitamins for a healthy pet. The vitamins and minerals in this meal have been carefully selected by veterinarians and animal nutritionists for pet's healthy development.
Furthermore, this meal is made from natural sources and contains no soy, chicken or poultry by-products, wheat, artificial flavors, or preservatives. Brown rice in this meal provides the needed energy for pets to stay alive and healthy.
Key Features:
Real meat as the source of protein
Supports healthy weight in pets
Glucosamine and chondroitin support joint and overall mobility
Brown rice provides the carbohydrate
Contains vitamins and essential minerals
Why Diet Foods are Necessary for Dogs?
Feeding your dog constantly or refilling his bowl when it is empty is naturally unwise. This can lead to overeating because most dogs lack self-control and thus cannot be trusted to moderate the amount of food, they take in.
Dogs get overweight due to constant eating and poor nutrient or diet food. A highly overweight dog tends to live shorter and less active than their counterparts. Less overweight dogs are always more active, healthier, and happier and thus are more productive than the overweight dog.
Likewise, dogs who are not overweight yet but is gaining little weight over time may require a low fat or low calories food (this is in addition to regular exercise) to help maintain a healthy weight. As dogs get older, they tend to gain more weight than before. Therefore, they tend to benefit a lot from diet foods.
Also, dogs that are less active as a result of injury or illness can benefit from diet food as it helps maintain their weight from increasing while they recover. Vets usually recommend that is appropriate for a dog's age, breed, lifestyle, and weight.
What are the Problems of Dog Obesity?
Like humans, obesity can result in various health challenges in dogs that have more body weight. Below are common problems of dog obesity:
Mobility Problem

: Unusual body weight puts stress and strain on the articular surfaces like bones, ligaments, and joints. It is like supporting a grand piano with toothpicks. Dog's body weight can divert undue pressure on the joints which leads to erosion of the bones and causing osteoarthritis. This results in mobility problems associated with painful and inflamed joints.
Difficulty Breathing

: The movement of the muscles of the respiration is restricted when fatty pads are accumulated on the chest wall. Because breathing is mostly passive, the dog needs to use more force to transport air from the environment to the lungs.
Fatty Liver Disease

: One of the most crucial risk factors in the development of steatohepatitis or fatty liver disease is obesity. Other risk factors comprise of high-fat levels, high blood sugar, and insulin resistance. All these are present in a dog that is obese or overweight. The challenge of fatty liver disease is that the liver cannot metabolize most of the chemicals and foodstuffs that a dog consumes. This can lead to cirrhosis which also leads to liver cancer, liver failure, and ascites.
Increased Risk of Diabetes Mellitus

: Too much fat in the body can lead to diabetes in dogs because the constant intake of carbohydrates increases the level of sugar in the blood. Because these carbs are not utilized by the dog's body for energy, they are converted into glycogen and fat which worsen obesity.
Cardiovascular Problems

: Excess calories that are not utilized by the body need to be converted into glycogen and fat. More fat is stored when calories are not burned which can lead to disposition of lesions or fatty plaques in the inner walls of blood vessels which can result in kidney failure, stroke, pulmonary hypertension, heart failure, and blood pressure.
Heat Intolerance

: When it comes to insulating the body in cold environments, fat is an exceptional tissue. However, too much fat is not good in the environment where the temperature is hot. Obese or overweight dogs are vulnerable to heatstroke, heat stress, and heat exhaustion.
Risk of Cancer

: Obese or overweight dogs are more vulnerable to certain types of cancer especially those related to the urinary bladder. It is also observed that obese puppies are vulnerable to mammary tumors than their normal counterpart.
Which Ingredients Make the Ideal Diet Dog Food?
This area has been a matter of argument for decades. Some people believed that raw meat is the only effective diet for dogs. Others argued that dogs can eat anything so far it contains proper nutrients, while others believed grain-free food is a better choice.
Though, there is no one ideal diet food for dogs. It is advisable to look for wholesome food for a dog that has natural ingredients. Generally, the following nutrient proportion should be found in ideal diet food for a dog:
Below-average calories: Lowering the number of calories your dog is consuming can minimize the risk of excess fat in the dog's body. However, a common question that might be asked is what amount of calories is considered to be a below-average calorie? If your dog is having 400 calories per meal, then 400 calories per serving are considered to be below-average calories.
Low to below-average fat: Too many fats in the diet can add to the fat that is stored and converted by the body from glucose. The challenge of excess calorie food is that the excess glucose will be stored as fat. Consuming more fat will only add to the amount of fat already stored.
Above-average protein: There are also calories in protein. Though dogs' bodies have to burn more calories to convert or process them into amino acids. More intake of protein save amino acids required for building tissues.
The Proper Measurement of Diet Foods for Puppy and Adult Dogs
The measurement or amount of food for puppy and adult dog depends on the weight and size of your dog, the number of calories in the food, and how active the dog is. The key factor to take into account is the number of calories.Let's look at this in details:
One of the most vital things to figure out when managing your dog's weight is caloric needs. This gives you a practical feeding guide. Though it is not easy to figure out exactly how many calories are needed by dogs. Dogs have various metabolic rates and as a result, burn various quantities of calories.
One of the effective ways to figure out your dog's caloric requirements is to first determine the Resting Energy Requirement (RER). This will let you know the number of calories your dog needs.
To find out the RER for your dog, you need to raise the body weight in kilometer to the ¾ power (i.e dividing the weight in pounds by 2.2). This is then multiplied by seventy to give you the number of calories your dog's need daily. A 12-kilogram dog = 70 (12)3/4
Here is a list of healthy weights for different breeds:
| 10 Dog Breeds | Healthy Male Weight | Healthy Female Weight |
| --- | --- | --- |
| Beagle | 20–30 lbs. | 20–30 lbs. |
| Standard Poodle | 60–70 lbs. | 40–50 lbs. |
| Rottweiler | 95–135 lbs. | 80–100 lbs. |
| Yorkshire Terrier (Yorkie) | 7 lbs. | 7 lbs. |
| German Shorthaired Pointer (GSP) | 55–70 lbs. | 45–60 lbs. |
| Labrador Retriever | 64–79 lbs. | 55–71 lbs. |
| German Shepherd | 66–88 lbs. | 49–71 lbs. |
| Golden Retriever | 65–70 lbs. | 55–65 lbs. |
| French Bulldog | Under 28 lbs. | Under 28 lbs. |
| Bulldog | 50 lbs. | 40 lbs. |
Diet Dog Food vs. Normal Dog Food
Diet food involves calorie restriction with the aim of losing weight. Dieting consist of a balanced approach to nutrients and food which limits calorie. Diets mainly ignore good nutrition and focus only on weight loss. A good diet may include vitamins, calories, and nutrients.
Good nutrition does not generally blacklist all food items but will specialize in portion sizes and keep the consumption of highly processed foods or fewer nutrients. Diet dog foods usually contain the following; below-average calories, low to below-average fat, and above-average protein.
Normal foods on the other hand can be food a dog is eats to fill his belly. Since the food is not purposely for managing weight. It can contain various ingredients or compositions that are not found in diet foods. Limiting the number of calories might not be necessary for normal foods. Normal dog foods might also contain fats than diet foods.
Things to Consider When Buying a Diet Dog Foods
There are various dog foods available in the market for weight loss, however, not all of them are effective for your dog. There are things to consider when buying diet food for dogs, these include:
Age
Though there are dog food brands that can be used for different dogs, most brands offer formulas that are targeting adult dogs. Using adult dog food to feed a puppy will stop them from deriving the right nutrients needed to grow and nourish. It is better to get the right food for your dog so as not to harm them in any way.
Breed
Breed is another thing to consider when choosing diet food for dogs. Some dogs (i.e Golden Retrievers) can be affected with joint disease through high-calorie diet.
While some (Beagles or Yorkies) are more prone to obesity than their counterparts (German Shepherds and Greyhounds) who are usually slim throughout their life. Ensuring the right food to the breed of dogs will make them live happier and healthier.
Ingredients
This is another important factor to consider when buying diet food for dogs. It helps your dog to develop muscle and lose fat. Some products have different forms of meat in their foods. Certain dogs dislike some flavors.
Therefore, when considering this factor (ingredient), make sure you check the things your dog likes and dislikes. Likewise, be aware of products soy, gluten, and free products.
Calories
Good diet food have lower calories than others. It provides a similar amount of bulk to make your dog feel full after eating. Weight loss foods usually contain decreased fat levels and increased protein which helps lower the caloric content of the food.
Nutrient Density
Diet made for dog weight loss is designed to lower energy intake while maintaining proper nutrient levels. Your dog will likely not get the necessary nutrients if you are just feeding him with less regular or weight maintenance food. It is necessary to provide your dog with food with proper minerals, vitamins, and an adequate amount of macromolecules.
Higher Fiber and Lower Fat
Diets that are lower in fat and higher in fiber promote satiety. A study found that the combination of diets with higher fiber and lower fat helps prevent begging in 83 percent of dogs in a weight-loss study. Fiber ratio is also fine-tuned by weight loss foods of soluble to insoluble to enhance weight loss.
Therapeutic L-Carnitine Levels
Amino acid known as L-carnitine helps transport more fatty acids to cells to be burned for energy. This helps dogs in moving and metabolizing fat instead of storing it.
Antioxidants
Diets which are weight loss formulated are endowed with antioxidants that are proven to increase energy, contribute to improved metabolism, and decrease inflammation. A study found that feeding a prescription weight-loss diet reduced fat in the dog's body by 22% within 8 weeks.
Probiotics
They are useful bacteria that assist the dog's intestinal tract to function well. With probiotics, your dog will suffer less of intestinal upset as his body will be able to digest his food effectively.
Benefits of Feeding Diet Dog foods 
Prevents and treats disease: Diet foods are rich in antioxidants, immune-boosting, and high-quality protein that helps prevents various ailments.
Weight management: About 97 cases of overweight cases were linked to how dog owners played and fed with their dogs. Most commercial foods fatten up dogs because they contain fillers (i.e rice, wheat, potatoes, and corn) that manufacturers utilize to make more cash because they are inexpensive. Diet foods on the other hand contain healthy ingredients that prevent weight gain while giving your dog the needed nutrition.
Increases your dog's lifespan: The dyes, preservatives, synthetic nutrients, and starch in most commercial foods do take a toll on a dog's health.
Improves the dog's digestive health: The combination of meat and vegetables is very critical for a dog to live and maintain a healthy gut. This would help provide fiber and nutrients that keep the digestive system humming smoothly.
Brain food: Diet food help improve a dog's cognitive function. This was evident in research conducted with an old, cognitively impaired dogs that were fed with an antioxidant diet. 
The result obtained linked them to have higher levels of brain-derived neurotrophic factors that aid in slowing cognitive decline. This also applies to younger dogs.
Some Important Tips
Be sure to check the ingredients in the food before buying, some ingredients may not be appropriate for your dog.
There are suitable ingredients for different ages, breeds, sizes, and weights of dogs.
If you are not sure about your choice, contact your vet for more explanation.
Therefore, based on your dog's weight, age, breed, or size, measure the correct portion and try to be consistent.
Also, supervise your dog while he is eating to be sure that everything goes normally.
Tailor your canine's diet (i.e texture, feeding frequency, and ingredients) to his needs.
For instance, three-month-old puppies should be given three meals daily due to their high need for metabolism.
Don't feed your dog with foods that have excess sugar, salt, and fats. This might lead to obesity, dental problems, diabetes.
Final Thought
Maintaining your dog's weight is not a day's job but rewarding. There are several benefits attached to proper weight management. A healthy weighted canine will live happier, longer, and healthier. Finding the best diet food is necessary for the prevention of obesity and also makes the weight management process easier.
Frequently Asked Question
What is the ideal diet for a dog?
The ideal diet for overweight dogs is composed of amino acids for building the immune system, lean protein for muscle building, fatty acids for fur and skin protection, and superfoods for optimum health benefits.
What is the best diet dog food brand?
The Wellness, Blue Buffalo, Purina Pro Plan, Nutro, Pedigree, Hill's Science Diet, Merrick is the best diet dog food brand. It is available in grain-free and grain recipes as well as ingredient diets for dogs.
What should be in a dog's diet?
Due to the fact that dogs are omnivores, their diet can include meat and plant-based foods. Though the best way to let your dog feed a balanced diet with nutritionally complete commercial dog food (i.e dry and/or wet food).
What should be the ideal diet of a dog for weight management?
The ideal diet for weight management is composed of amino acids to build up their immune system, lean protein to build muscle, and fatty acids to protect their fur and skin.
How many calories should your dog have per cup?
The number of calories your dog should have differs based on their activity level and weight. However, weight between 440 kcal/ per cup and 240 kcal per cup is common.
What if my puppy seems overweight?
Dogs are not supposed to be on weight management food if they are less than 1-3 years old. If you are not sure about it, consult your vet for more information.
What age is appropriate for feeding diet food to my dogs?
You can follow the product description or recommendation from your vet. However, you can switch to adult food when your dog is between 18 months to 24 months.
How often should I weigh my dog to check for results?
When your dog is on a diet, it will be ideal to check their weight monthly or weekly depending on how frequently you anticipate results.
Have there any side effect of feeding diet dog foods?
There is no side effect for feeding diet food for your dog. However, it is advisable to check the ingredients listed on the package in order to avoid harmful substances for your dog.