You must have heard of this product named "Dog Bowl Stands". No wonder why people prefer this over any other alternative to feed their pups. Not only do these prevent your dog from leaning to much but it also prevents any excess spills and dirt that might make your floor messy.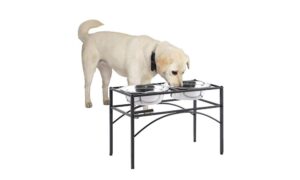 This product comes under various designs and heights as per your pup's height while standing and depths which are suitable for his mouth. When your dog eats at ease while standing, he doesn't feel any pain or discomfort of leaning. Also, leaving a bowl on floor with food is a lot messier than a bowl stand.
So, considering these significant advantages, we've compiled a complete buying guide. Which will help you make the best choice for your canine's feeding time.
Best Dog Bowl Stands in 2021 – Reviews
1. Our Top Pick – Neater Pet Brands Bowl Stand
Top Pick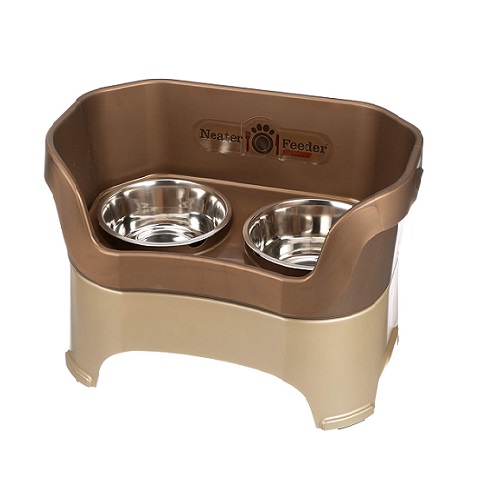 Neater Pet Brands Bowl Stand
Feeding your dog will become way easier and organized, with this kick-proof, durable dog bowl stand.
Neater Feeder is the best bowl stand for dogs. This kick-proof design is hard-wearing and is made up of stainless steel. Thus, it is durable and sturdy.
This model is efficient to provide comfort to your dogs while feeding them. It has reservoir, which makes it spill-proof. It will allow the spilled water to drain through it, without spilling it on the floor.
Also, it has a 7-cup stainless steel food bowl. There is a 9 cup extra capacity stainless steel water bowl as well.It is 100% dishwasher safe.
The standard height is 8 inches. Thus, it is quite a comfortable product for small and medium-sized dogs. In the case of bigger dogs, you may have to elevate it a bit for their comfort.
The elevated feature helps in the digestion process of the dogs. To increase the height, you will need leg extensions that you have to buy separately.
Key Features:
Contour design ensures proper comfort
Elevated position is beneficial to joint pains and digestion
Weight is 2.56 kilograms
Dimension is 21.5Lx14Wx14H inches
Capable of separating spilled food and water
2. Runner Up – PetFusion Dog Bowl Stand
Runner Up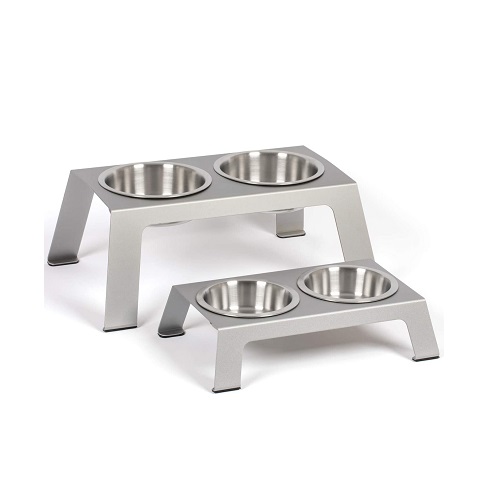 PetFusion Dog Bowl Stand
This lightweight stand can ensure comfort and healthy digestion of your dog and make them happy after meals.
PetFusion dog bowl is considered as the runner-up on the list. This award-winning product is made up of anodized aluminum that makes it corrosion-resistant.
It is capable of withstanding all the beatings that your dog will give. It is a robust and sturdy product. Also, it comes with an anti-slip feature. In addition, there are silicon insets, which will bring stability of this .
Thus, it will minimize the spinning and clanging of the stand. The elevated feature is good to promote the good health of your dogs as it supports proper digestion. It is recommended for medium and large-sized dogs.
Besides, when it comes to maintaining and cleaning this product, minimal effort is needed. Moreover, it is a lightweight product and weighs only 2.47 kilograms.
Key Features:
Compatible with medium and large dogs
Promote the wellness of your dog
Anodized aluminum ensures the durability
Infused color of this bowl will avoid chipping
Dimension is 21.5×13.8×8 inches
3. Best Budget – OurPets Dog Bowl Stand
Best Budget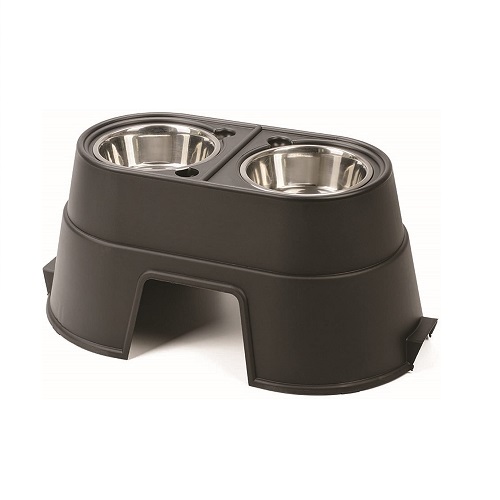 OurPets Dog Bowl Stand
This lightweight and rust-resistant product presents your dog with a comfortable dining experience at the most reasonable price.
OurPets Bowl Stand is considered as the best budget product that is available in the market for small, medium and large-sized dogs. The remarkable feature is the high-quality stainless steel that makes it rust-resistant.
It is also dishwasher safe and has a removable stand. Besides, the design of this bowl promotes a healthy position for your dog. Consequently, it boosts the digestion process of your dogs.
In this product, you will get various components like raised-pet-bowls, habitats and supplies, and the pet feeders and fountains. The elevated feature helps to reduce the joint pains and best for mature dogs.
Also, you can remove that bowl from the stand and attach it to a 2-liter water bottle for your dogs to keep them hydrated. The product is available in 3 sizes – 4 inches, 8 inches and 12 inches.
Key Features:
Easy to clean & Rust-resistant
Get three options while choosing the size
A Gluten-free product
The stand is a heavy-duty
Comes with a non-skid feature
4. Best Raised Dog Bowl Stand – Foreyy
Foreyy Raised Pet Bowl is considered as the best-raised dog bowl stand because of its remarkable features. The water-resistant design is made up of bamboo wood. Besides, the premium quality stainless steel bowls make it quite sturdy.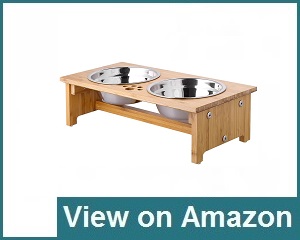 This not only guarantees its durability but also signifies its capacity to take the beating from your dog. The anti-slip feet can be elevated and ensures the stability of the stand. Moreover, it will provide comfort and release the stress of unhealthy dogs.
Also, it is rust-free, dishwasher safe, effortless, and quick to clean. You can just clean it by wiping the surface. It is accessible in 4 different sizes – 4 inches, 7 inches, 10 inches, 15 inches, and thus, suitable for all sized dogs – small to large-sized and also good for cats. You can buy based on your dog's size.
Key Features:
Completely water-resistant
Feeding area stays clean with this stand
Crafters used natural and best quality bamboo
Elevated dog dish allows the way swallowing of food
Bowls are made up of premium quality stainless steel
5. Best Adjustable Dog Bowl Stand – Pet Zone
Pet Zone bowl stand is regarded as the best adjustable model in our list. The stainless steel bowl makes it rust-resistant and durable. The legs are made up of stylish frames. The design of those frames will make sure that it doesn't slip.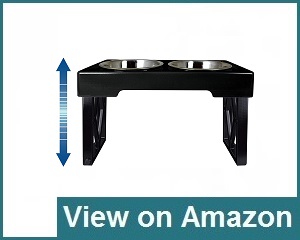 Besides, the spill ridge is responsible for avoiding the spilling of food and water. It is an easy-to-clean product, and the sleek design of this stand makes it effortless to carry.
The elevated bowls are best for the digestion process of your dogs that, in turn, can promote good health. Also, it helps in reducing joint pains of your dogs. It comes in three different sizes, which are small, medium, and large. Based on the dog's size, you must choose the right one.
If you are not using the product, you can easily remove the legs. Hence, there will be no issues when it comes to the storage of this stand. Also, you can adjust this according to the different growing stages of your puppy.
Key Features:
Dog will enjoy a healthy dining experience
Safe as well as the versatile product
Bowls are made up of stainless steel
Stainless steel makes it more durable
Easy-to-store & Easy-to-clean
6. Best Small Dog Bowl Stand – PetFusion
PetFusion is one of the best bowls stands for small dogs with a perfect elevated design that allows your dog to eat or drink comfortably. The precise elevation also helps the dog to have healthier digestion, leaving them happier and more active.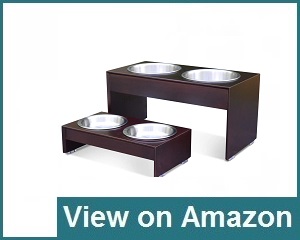 This is made of high-quality pine, which makes it strong and long-lasting. Besides, the wood has three layers of plastic coating to make it completely water-resistant and more durable. Also, it comes with premium brushed stainless steel bowls, which are removable and easy-to-clean.
There are few other smart features like non-skid feet to keep this stable and rubber inserts to avoid the bowl from spinning. The classic rosewood finish naturally fits your home décor and gives a luxurious look to your house. The modern design offers all comfort and promotes better health for your dog.
Key Features:
Made from high-quality solid wood for better durability
Precise elevation to avoid neck pain and indigestion
3 layer coating makes it complete waterproof
Removable stainless steel bowl
Non-skid base to keep this stable
7. Best Large Dog Bowl Stand – Petmate
Petmate is one of the leading companies that manufactures and sells the best bowl stand for large dogs. It prevents your dog from any kind of strain or neck injury while eating or drinking from the bowl. The high-quality plastic material construction makes it sturdy and durable.
It is exceptionally strong, supports the bowls superbly and lasts many years without any damage. Besides, the slip-resistant and spill-proof design forbid the stand from falling and let your pet have their meal comfortably.
Also, it has two premium quality stainless steel bowls. The stainless steel protects the bowls from rust and keeps the food and water fresh. The bowls are large in size and can hold up to 12 cups of food.
Besides, the bowls are removable and easy to clean, so you can keep it hygienic for your dog. The bone-shaped cutouts on both sides make lifting and moving easy.
Key Features:
Elevated design to prevent strain or neck pain
High-quality plastic used for durability
Slip-resistant base and raised rims prevent mess and spillage
Stainless steel bowls to avoid rust
Cutouts grip handles on both side for easy portability
8. Best Elevated Dog Bowl Stand – Loving Pets
If you are looking for a well-elevated and unique dog bowl, then Loving Pets bowls are the best elevated dog bowl stand you can choose for your dog. It is crafted with the best quality old copper material, which makes it sturdy and long-lasting.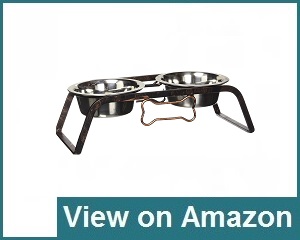 The perfectly elevated base protects your dog from neck pain and other bone strains. It also helps your dog to maintain proper posture, which keeps them healthy.
The Loving model is equipped with 2 stainless steel feeding bowl. The bowls are rustproof, resist bacteria and avoid contaminating your dog's food. The small size bowl can hold up to 1-pint dog's food.
Besides, the bowls can be removed from the base for more convenient use. It is dishwasher safe, and thus, you can clean the bowls effortlessly. The non-skid rubber used on feet of the stand prevents it from slipping away.
Moreover, the artistic-looking rustic design of it will give a sophisticated look to your kitchen.
Key Features:
Old copper used for longevity
Perfectly elevated to provide comfort to your dog
Stainless steel to avoid rust and contamination
Dishwasher friendly bowls for easy cleaning
Non-skid rubber used to stop slipping
9. Best Single Dog Bowl Stand – Ethical Pet Stand
The ethical pet bowl is one of the elegant looking best single dog bowl stand you will see anywhere. The modern design with a clean and sleek structure will enhance the look of your home décor.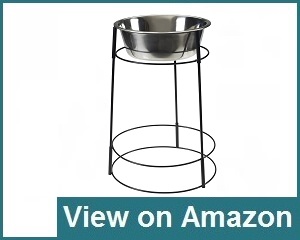 This excellently elevated design is made from highly durable, strong and lightweight wire material. The high-rise promotes the health of your dog and prevents them from muscle strains.
It also allows your dog to maintain proper posture while eating for better digestion. It is mainly designed for medium, large and giant dogs. Besides, it is one of the most versatile designs.
It can be used as a dog feeder to enhance feeding experience for your dog and also as home décor. The product is equipped with a large size stainless steel removable bowl. The bowl is rust-resistant and bacteria-resistant for the safety of your dog.
It is also easy-to-clean because the bowl is dishwasher friendly. It can be easily port from one place to another due to the lightweight and bowl removable feature.
Key Features:
Sleek and neat modern design
Can be used for multiple purposes
Stainless steel large size bowl
Easy-to-clean dishwasher friendly bowl
Promotes health and better digestion
10. Best Double Dog Bowl Stand – Bergan 88142-P
If you are seeking an affordable model for dogs, then the Bergan 88142-P is the best double dog bowl stand you should go for. The structure is made from premium quality BPA-free molded plastic, which makes it sturdy and durable at the same time.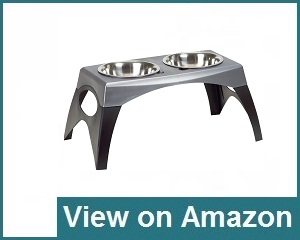 It is non-toxic plastic, and it won't exude any kind of chemicals or fumes that might harm your dog. The rightly elevated dog's bowl is mostly used for old dogs that have difficulty in bending. It also helps other dogs from muscle pain and neck stiffness.
In addition, it is one of the most convenient item because it comes with removable legs and bowls. The removable legs allow you to change and adjust the height according to your need.
The removable bowl makes cleaning smooth and painless. Moreover, the bowls are made from stainless steel to avoid rust and other bacteria to keep your dog's health safe. The two stainless steel bowls are big enough to hold up to 12cups of food.
Key Features:
Made from BPA-free and non-toxic plastic
Rightly elevated to maintain proper eating posture
Removable and adjustable legs to change the height
Large size stainless steel bowls
Easy to port anywhere
Why Should You Buy a Dog Bowl Stand?
Dog Bowl Stands are a necessity more than an accessory. Every dog owner already has a bowl to feed their pup and would wonder why they should buy a stand. If you consider yourself related to any of the below-mentioned situations, you should definitely get this.
If you feel your pup has to lean down too much for eating his food.
If you hate cleaning the food spills again and again off your floor.
If you care about your dog's back.
If you see your dog isn't eating too much because of being a bit uncomfortable.
If you want a fixed spot for your dog to have his meals.
And many other similar conditions give a clear indication of buying a  stand as soon as possible!
How to Measure the Proper Height of a Dog Bowl Stand?
Measuring the right height isn't a big issue at all. For an easy eating experience, you must look out for a standard height. The bowl stand should reach 3/4th of your dog's height while he is standing, so that he doesn't have to lean a lot.
The perfect height will make this eat in a posture where his neck and shoulder blades are perfectly straight. It indicates that your dog doesn't need to struggle at all for getting his food into his mouth.
Different Types of Dog Bowl Stand
There is a wide variety of types based on their designs and materials. Have a look at the description of each design to pick the best one for your dog.
Stainless Steel Material: This the most commonly used and popular material for a bowl stand. These bowls are easier to wash and are damage free as well. Some stands with this bowl material are made of iron, steel, or bamboo.
Wooden Material: Not widely used but looks elegant. Wooden stands may sometimes have a bowl of wood as well. These might not be as easy to clean as a stainless-steel one.
Plastic or Ceramic Material: Due to their high affordability, this material is also much preferred. The material is easier to clean and is light-weighted to be placed anywhere in your house. On the other hand, plastic may not last for long as the material isn't damage-free and can get broken.
Things to Consider When Buying a Dog Bowl Stand
You'll come across a hundred types and designs of dog bowl stands online and while visiting a shop. And to select the perfect one out of those, you must have adequate knowledge. So, while buying the best product that suits your pup's needs, you must consider the facts mentioned below.
Height
While buying the perfect one, the height shall be your first and most important consideration. A height smaller than the preferred height for your dog may not serve the purpose of a raised feeding method and similarly, a raised stand that is taller than your pup's height will make him hop for the food.
Your dog shall be at rest and eat efficiently with a relaxed posture without any effort. And this purpose can only be achieved if you get a perfect height following the measuring tips mentioned above.
Boundary Walls
Dog bowl stands were brought into the market to reduce the chance of food spills as well. And to make sure the stand serves this purpose well you should pay attention to the boundaries it has. The boundaries of the bowl holding base should be raised enough to prevent any food or water spills.
Non-slip Stand Material
Plastic or any other lighter material which doesn't have enough friction can trip over the floor very easily when your dog exerts force while eating. To prevent any such incident, look out for the material that claims to be non-slip such as wood or bamboo. Such stuff is heavier and has enough friction with the floor to prevent the stand from moving from its place.
Bowl Options
If you don't have enough space and can have an alternate option for water, you should consider a single bowl option. And if you want to have a single unit for both water and food, then you must consider the dual bowl option. Mostly the famous brands have a dual bowl option. And we also recommend you to keep a single place for feeding your dog fluids and his solid meals as well.
Bowl Shape and Size
Considering the mouth size and breed of your dog, you should select a perfect width and size of the bowls fixed in the bowl stand. Your dog should be able to have his mouth inside the bowl till it touches the base. A bowl that isn't deep enough to fit your pup's mouth won't let him finish the food till the end. And a bowl that isn't wide enough may end up having almost half the food spilled outside. So, you must pick the right width along with the perfect depth for your pup to have his meals easily.
Weight
The weight of the entire stand should be moderate. It shouldn't be too light that the stand can flip over of your dog pushes it for eating, nor it should be too heavy that you can't move it from one place to another. The weight must be adequate to bear any force without getting tripped and should be easy for moving or placing to another spot.
Benefits of Using Dog Bowl Stands
It has been scientifically proven how a bowl stand is way better than a regular dog feeding bowl. Researches have shown the correlation between better feeding habits and use. 
Less difficulty for Dogs with Joint Diseases

: Dog who suffer from arthritis or any other joint disease feel pain when they are forced to eat from floor level. Many elderly dogs can also encounter the same problem. So, for an easier method of feeding and to add a little comfort in their lives, buy a bowl stand which won't make them lean or stoop too much.
Keeps the area clean

: Dog bowl stands have boundaries that prevent your dog from spilling food or water on the floor. This is way better than a typical feeding bowl out of which half of the food gets spilled over the floor while eating.
Easier Maintenance

: The removable bowls are easier to wash, clean and place again without any hassle.
Elegant designs

: Typical dog bowls may not look that dog in comparison to a classy wooden framed bowl stand that comes in various colors and designs. 
Food Storage Options

: Some bowl stands have a built-in drawer or portion where you can easily store your dog's food. This makes an efficient separate space for keeping his meal.
Some Important Tips
When you get one for your pup, you must know how to use it well and what factors must alarm your attention. Have a look at the below-discussed tips for making sure that your pup's eating well from a bowl stand and staying healthy.
Make sure you buy the right size according to his height in standing position.
Always check the durability and weight of the material.
The material should always be non-slip to avoid any chances of food spills over your floor.
And most importantly, consult your vet if your dog is of large breed, deep-chested breed, eats large meals or has a relative that has suffered from bloat.
Bloat is condition where the stomach twists along its longitudinal axis and blocks the food and gases inside.
This is a serious emergency and the above-mentioned dogs are on a higher risk factor than others.
And there is a conflict if a raised feeding method increases or reduces the chances of getting bloat, as an evidence from different studies.
For a safer decision, consult your vet before getting your dog a raised bowl stand.
Conclusion
With the above-mentioned precautions and a list of beneficial uses, you may have now understood the importance and feasibility of feeding your dog through a dog bowl stand. So, don't wait anymore, leave the typical bowls aside and get the best product for your dog's happy and easy mealtimes.
Frequently Asked Question
What is a dog bowl stand?
It is a raised feeding bowl that comes in several designs and heights. You can select the one which matches your pup's height and requirements.
How does dog bowl stand work?
These make eating comfortable and convenient for your dog. It helps your dog in taking food without learning too much. It also prevents your floor from getting dirty because of any food spills which are quite common in the typical dog bowls.
How tall should elevated dog bowl be?
The height of the bowl stand should match be perfect for your pup to eat easily from it. It should only be elevated enough to let your dog eat with his neck and shoulder blades straight.
Do dogs like to take their meal from bowl stands?
Dogs don't struggle much while eating from a bowl stand, because of which they love having their food this way. They can still keep standing in a normal posture and enjoy their food without having any trouble. Dogs can also struggle if the bowl keeps on moving here and there. While with this product, the stand stays fixed at a place due to its weight and makes mealtime comfortable.
What is the best-raised dog bowl stand?
FOREYY Bowls is the best-raised bowl stand. It has a wooden/bamboo body with two stainless steel bowls. The material of the bowls is easier to wash and damage free. Also, it is made anti-slip so that your dog can eat easily without the stand moving. Moreover, the product comes in 10 inches and 15 inches height ranges and a 100% money back guarantee!
Is it inconvenient for dogs to eat from elevated bowls?
Eating from dog bowl stands is much convenient than from any traditional or typical feeding bowls. Once you get one for your pup, you can see the difference yourself.
Is stainless steel or ceramic better for dog bowls?
Yes, both the materials are durable and resist damage as well. They can be washed easily and are heavy-duty in every sense.
Can raised dog bowls cause bloat?
The topic is still under conflict of different opinions and conclusions from different studies. Some earlier studies suggested that elevated bowls reduce the chance of getting bloat while some recent studies conclude the opposite.
So, if your dog is at a risk of developing bloat or is susceptible to this condition, you may discuss the feeding method and product with your vet first before making any decision.