We all have heard a lot about dog crates, but why do you need a Dog Crate Pan? This accessory is a removable tray that you can easily insert at the base of your pup's crate. It serves as a barrier for protecting any leaks, dirt, fur, or food crumbs and saves your floor or carpet from a mess.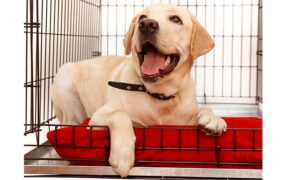 These crate pans have made cleaning the crates much more manageable in every aspect. The material of these crates doesn't retain odor or stains. You can wash them easily with water, detergent or just wipe it off with a damp cloth and it turns out to be good as new.
Considering all the benefits it comes with, we researched for finding all the leading factors that you must consider for buying one for your dog's crate along with the 10 Best Dog Crate Pans for an easy and quick selection.
Best Dog Crate Pans in 2021 – Reviews
1. Our Top Pick – Midwest Dog Crate Pan
Top Pick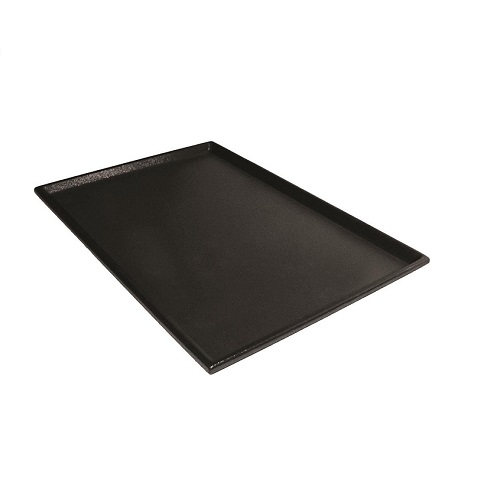 Midwest Dog Crate Pan
With a leak-resistant and odor-resistant design, this pan from MidWest Homes is a popular choice of pet owners.
Midwest is the best tray that works with MidWest double and single door folding metal dog crates. Manufacturers have designed this pan to fit it with MidWest crate models, like 1542, 1642DD, 1642, 1542DD, 1942, 842, 1942DD, 842DD, and 742UP.
MidWest has used polypropylene plastic to add the strength of this. Due to the leak-proof construction and slide out design, you can clean the pan easily. Moreover, MidWest has made an injection-molded design for this replacement pan to make it more resilient than ordinary vacuum-sealed products.
This Midwest is available in a variety of sizes and based on your crate size, and you can invest in the right one. Although it has designed the replacement pan for dog crates, you can use this product in other ways. For instance, you may use it as the under-the-sink tray or place it under boxes of cat litter.
It is also better to place the tray in your mudroom, entryways, closet, garden, kitchen, and car interiors. You may use the tray in both indoor and outdoor sites. This endures harsh weather elements and has no risk of wear and tear.
Another notable fact is that the edges of the replacement pan are slightly raised. Thus, you can place a bowl of pet foods on the tray to avoid any mess from spills. You may buy this product as one of the best for dogs.
Key Features:
Fits most of the dog crates from MidWest Homes
Designed as a multi-purpose tray
Size ranges from 18 to 54 inches
Spill-proof design due to the raised edges
Made of premium quality ABS plastic
Easy to slide in and slide out of the crate
2. Runner Up – Everila Replacement Dog Crate Pan
Runner Up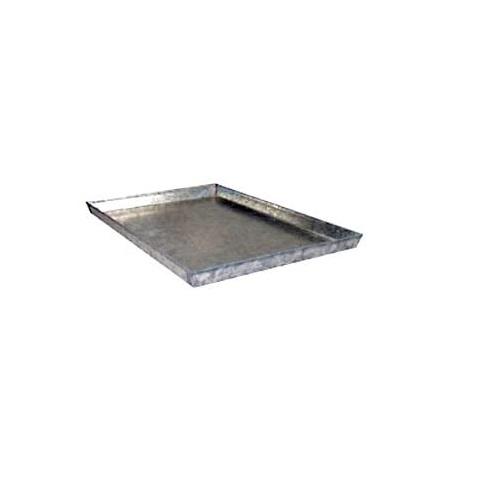 Everila Replacement Crate Pan
Made of galvanized steel, ensures the most durable and corrosion design.
Everila is the runner-up item in our list. As dog crates are available in different sizes, you have to purchase the pan of the right dimension. Check out your crate dimension, and then place the order.
As you serve dog foods and water with this tray, you may be concerned about the rusting issues. However, to avoid rust and corrosion, the manufacturer has used galvanized steel for constructing the model. Thus, you may also place the tray outside your house.
Commonly some dogs have a habit of chewing everything. They can easily damage a plastic pan inside the crate. But, as Everila has used high-quality steel, you can find long-lasting value. The thick-heavy pan is indestructible, and you can make the best use of this product.
Moreover, you need minimal effort for cleaning this. You can smoothly slide the pan in the crate. When your dog is not inside the crate, you can take it out to clean the product easily.
Key Features:
It is made of thick materials to make this durable
Chew-resistant design- No risk of damage
Ensures easy cleaning for the slide-in and slide-out design
Useful for different purposes
A replacement pan with heavy-duty construction
3. Best Budget – You & Me Replacement Dog Crate Pan
Best Budget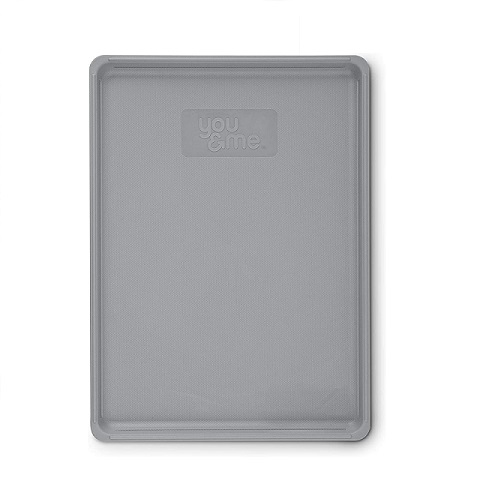 You & Me Replacement Dog Crate Pan
Keep the floor safe from odor and the non-slip surface keep the bedding secure.
You & Me is a high-quality, and best-budget plastic tray. For its affordable price rate and superb quality, lots of pet owners have invested in this product. You may choose the small or medium size for your regular use.
As your four-legged roommate has a chance of making a mess during its feeding time, you can use this tray for easy cleanup. When you find bits of food, pet fur, and litter on the tray, you can take it out of the crate to clean it.
Thus, you may keep away from the nasty smell coming out of the dog crate. With water and soap solution, you can cleanthis completely.
You may also install dog bedding on the tray. As the tray has a non-slip surface, it remains stable on the floor surface. Furthermore, like other crate pans, this tray has also beveled edges to prevent spillage of liquid substance.
If you have a tight budget, you may invest in this brand. Although it is a cheap dog crate tray, manufacturers have not compromised quality.
Key Features:
Offered the most reliable design
Made of non-bending plastic material
It is easy-to-clean the tray
Help to keep up hygiene in the crate
Plastic tray made of quality materials
4. Best Plastic Dog Crate Pan – GoGo Pet Products
GoGo Pet Products has designed the best plastic crate pan for pet owners. With the use of polypropylene plastic, this manufacturer has ensured premium quality and superb strength.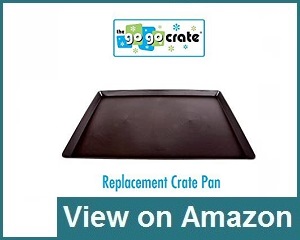 You can choose this for your dog's regular use. Buy this pan to replace the old and damaged ones. The standard size fits most of the crates. Still, you need to measure your dog crate to purchase this pan.
The overall design is thick and heavy to endure the weight of your dog. Moreover, the base and top surface of this tray are very smooth to minimize the rattling and annoying noise.
The edges are slightly higher to prevent the spilt liquid from reaching the floor surface. Thus, it helps you to keep your crate clean and tidy. Buy this tray to use for a range of purposes.
Key Features:
Long-lasting, durable, polypropylene pan
Fits most of the standard crates
Effortless to clean the tray
Comes with a high stability
Four sides are a bit higher
5. Best Replacement Tray for Dog Crate Pans – Paws & Pals Pan
Paws & Pals has designed the best replacement tray for crate pans. When you have a metal wire cage for your dogs, cats, and rabbits, you can buy this tray. You can find high edges around the perimeter of this tray.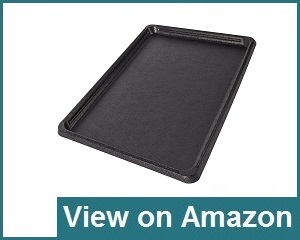 Thus, water and any other element will not flow over the tray. The specially designed replacement pan collects your pet poop, debris, dirt, and other wastes. Just remove them and clean the tray. It is very simple. Besides, the largest available size of this tray is 42 inches.
Although the crate tray is made of sturdy materials, it is much lightweight model. With premium-quality ABS plastic, manufacturers have made a heavy-duty, resilient design. Your dog crate may have come with an original pan. However, while it is damaged, you can buy the best plastic pan from Paws & Pals.
Key Features:
Best designed for most of the dog crates
Lightweight design- Easy to carry to any place
Thick plastic kennel tray
Holds the waste and spills due to the beveled edges
Easily cleanable with a scrub brush
6. Best Metal Dog Crate Pan – Pinnacle Systems Pan
If you are a parent of large size dogs then Pinnacle System is the best metal dog crate pan you can buy. This high quality, strong, and durable tray will never disappoint you.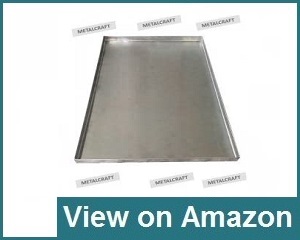 The crate is constructed with heavy-duty metal that is chew proof and odor free. Even if you have a large size dog, the pan won't crack, shatter or split.It is built to last.
In addition, the Pinnacle Systems crate pan gives you the option to select from galvanized finish or stainless steel dog crate. The options are water-proof, rust-resistant, and tear-resistant.
Besides, the manufacturer has given great importance to your dog's safety while designing this product. It is safe and secure,and all-metal corners and sides are folded, leaving only the smooth surface exposed for your dog.
Also, it does not break easily, so it will not let your dog cut itself. The company offers a lifetime guarantee for customer's satisfaction as it trusts its product very much.
Key Features:
It is made from heavy-duty metal for durability
Won't crack, shatter or split
Available in both galvanized finish and stainless steel
Waterproof, rust-resistant, and odor-free
Corners and sides are folded for dog's safety
7. Best Chew Proof Dog Crate Pan – Pinnacle Systems Pan
Some dogs are aggressive chewers, and for them, Pinnacle Systems has made this best chew-proof crate pan. This is strong, heavy-duty, and made from premium quality steel that offers the perfect durability.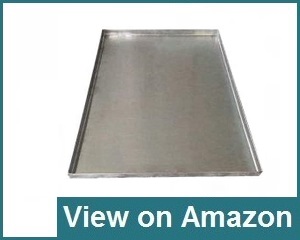 Even if you have a large dog, their weight will not damage or crack the craft pan. This tough design crate with good depth and smooth finish allows easy cleaning.
Moreover, the most exciting thing about this product is that it is available in both galvanized and stainless steel options to decide from. Both the products are chew-proof, waterproof and rust resistant.
The manufacturer never uses any kind of chemicals to build this product; thus, it is toxic-free and odor-free. Besides, the edges of the crate are raised and folded to avoid spilling of dirt and keep the floor clean.
Also, the sharp edges and corners that might be dangerous for your dog are kept rounded to avoid accidents. The crate has several multiple uses like using it in the garden, garage, mudroom, closet, etc.
Key Features:
Chew proof material to avoid wear and tear
Galvanized and stainless steel options available
Raised edges to keep the dirt from spilling
Waterproof and rust resistant to last long
Do not release any fumes and make your dog uncomfortable
8. Best Rubber Protector Under Dog Crate Pans – Dura-Grip Floor Shield
Dura-Grip Floor Shield is one of the best rubber protector under crate pans you can purchase if you want to keep your floor clean. It is made from high-quality material that efficiently protects your floor from dog urine, water, debris, etc.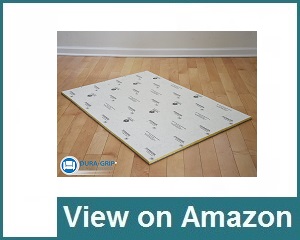 This ½" thick protector is a combination of moisture barrier material on top and natural rubber on the bottom. The moisture barrier technology stops the liquid from penetrating to keep the floor dry, and the rubber at the lower surface prevents the floor shield from slipping.
In addition, the dense padding natural rubber at the bottom of the protector avoids scratches or any kind of damage on your floor. The thick foam on the rubber protector also adds extra comfort for your dog.
The rubber protector is 100% USA-made product, and it is available in 4 convenient sizes, so you can easily buy the right size according to your need.
Key Features:
High quality material used for durability
Moisture barrier technology helps to hold liquid and avoid spilling
Rubber bottom to prevent the protector from slipping
Foam adds comfort for your dog
Thick shield to avoid any damage on the floor
9. Best Crate Replacement Tray – ProSelect Crate Pan
If you are looking for an affordable tray that will do the job perfectly and keep your floor clean, then ProSelect tray is thebest crate replacement tray you will find anywhere. This tray is made from sturdy polypropylene plastic that will last longer period.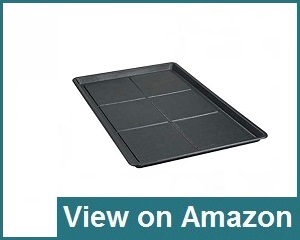 The most exciting thing about this replacement tray is that the large and X-large sizes are constructed with ABS plastic. The ABS plastic is considered the toughest plastic available and has the stay-dry feature.
Moreover, this product comes in multiple sizes and variations, so you have the option to choose the right size for your crate. Another unique feature of this tray is the static-free surface of the tray.
This means that it is effortless to clean and will eliminate any kind of debris or liquid effortlessly. Besides, the edges of the tray are raised, so it will not let the liquids and dirt spill while removing the tray.
Key Features:
It is made from strong polypropylene plastic
Large and X-large trays are made from ABS plastic
Static-free surface for easy cleaning
Available in multiple sizes for convenient use
Raised edges to avoid spilling
10. Best Dog Crate Pans with Raised Sides – Petmate
Petmate is a well-known dog crate brand that produces one of the best crate pans with raised sides. The manufacturer uses premium quality polypropylene plastic, which makes this strong and durable.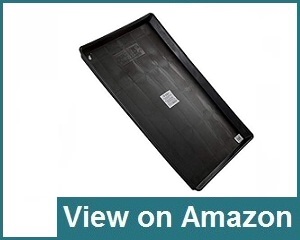 The two most significant and useful feature of the tray is its depth and the raised sides. These features help to do the job smoothly without spilling liquid or debris on the floor. Besides, the slide-out design makes cleaning easier for both experts and beginners.
In addition, the surface of the tray has a non-slip textured done on the entire pan, which means it is non-porous and odor resistant. It is also leak-proof, and it does not absorb stains or smells.
The tray is available in different sizes, so you can purchase the right size as per your requirement.
Key Features:
High-quality polypropylene plastic for durability
Flexible crate for convenient use
Raised edges prevent spilling of food and liquid
Non-porous surface and slide-out design makes cleaning easy
Non-toxic and does not release any harmful fumes
Who Needs a Dog Crate Pan?
That is not even for a question for a person who owns a dog. A dog parent knows how much trouble it can be if you don't take proper measures for cleaning and hygiene. It can be unhealthy for your dog and your home environment as well. So, for that purpose, crate pans are a lifesaver. Have a look at the below-mentioned reasons why you need one.
You definitely need to get a pan for your pup's crate:
For better cleaning of the crate.
For restricting the dirt from leaking below on the floor.
For preventing any food splits or left-over crumbs from creating any mess.
For avoiding hair shed and fur all over your house.
If you wish to keep your dog in a crate for long journeys.
If you travel a lot and are worried about your car seats.
And many more reasons to justify the need for using this.
How to Measure the Proper Size of Dog Crate Pans?
Measuring the right size  according to your canine's crate is very crucial. As only a difference of an inch can make it impossible for placing inside.
The measurements are taken in the same way as you measure the crate. Follow the below-mentioned procedure for getting estimation of a perfect crate pan size.
Measure the width of your dog's crate from inside.
Then, measure the length of your pup's crate from inside.
Now subtract one inch from both these measures, and you'll get the right size.
Also, make sure to see that your dog's crate has enough entrance space or wide-open front door for placing the tray quickly. Prefer crates with a pan slot at the base. It makes the placing and removing the pans very easy, just with a slide.
Types of Dog Crate Pans
These convenient and removable crate pans come in various materials. This variety lets you choose the best one according to the kind of your dog crate and your need.
Plastic
Crate pans of this category are made of light yet durable plastic. This material is suitable for as it is quite easier to clean than others. However, the material itself can not last longer if your pooch is a heavy chewer. The plastic is highly susceptible to any damage and can break it's edge off if your dog chews it.
Metal
In contrast to the plastic ones, these pans are quite heavy-duty, damage-resistant and break-proof even if your dog is an aggressive chewer. They are also a bit heavier than plastic due to the material used.
Metal crate pans come in two different forms which are widely used these days.
Galvanized

: These have a thin covering of galvanized metal which protects the material from rusting or breaking. This is lighter than steel or any other metal crate pan.
Stainless steel

: This type is the most sturdy and durable of them all. The material used, i.e. stainless steel, adds to the life of this pan. The material doesn't rust nor breaks and retains its properties for a longer duration.
Galvanized Metal vs Stainless Steel Dog Crate Pans
Both of the materials i.e. galvanized and stainless-steel crate pans, are used widely due to their durability. However, if you like to choose one, then consider the below-mentioned comparison for a better understanding.
| # | Galvanized Metal Crate Pans | Stainless Steel Crate Pans |
| --- | --- | --- |
| 1 | It has only an outer coating of rust-resistant material. | It is purely made from rust-resistant steel. |
| 2 | It doesn't have chromium. | It contains chromium to prevent rusting or corrosion. |
| 3 | Long-lasting durability but limited time rust protection. | Long-lasting durability and rust protection. |
Although having similar sturdiness and durability, both materials only differ in the rusting property. Hence, if you are looking for a crate that doesn't rust at all even after ages, then go for the one made with stainless steel.
Things to Consider Before Choosing a Dog Crate Pan
Apart from the fact that this is a simple product and doesn't require much researching before the final selection, it's still better if you consider some primary factors. The features which make a perfect pan are listed below.
Material
Choose the right material as per the crate your dog has. Also, you need to select a sturdy material if your dog is heavy or likes to chew off everything. For such instance, metal, especially stainless steel, would do best.
Odor Resistant
Never buy a material that doesn't have odor-resistant properties. These hold litter and dirt for hours and can get quite smelly. The material should always be odor resistant to make sure that when you wash it, it doesn't smell. Washing your crate pans with proper detergents and soaps can also make the odor go away quickly.
Stain Resistant
The used material shouldn't be light-colored or of plastic that retains stains. No matter how properly you wash, if the material isn't stain-proof, you can always see many dirt marks remaining, and the tray won't look clean at all.
Also, with passing time, the stains will increase and make the tray look nasty. For that, opt for a durable plastic or metal tray that claims to be stain-resistant as well.
Easy to Clean
The smoother the surface, the easier it is to clean. Crate pans with patterns or designs might look good, but they can also be tricky for cleaning. Cleaning and washing a tray that has smooth and even surface is much easier than any tray with designs or embossed patterns.
Make sure you buy the right one in this regard as you'll be cleaning it daily. And daily cleaning must be quite easy and less time-consuming.
Size and Style
Always pick the right size with the help of the method of measuring an approximate dimension. For much easier selection, we advise you to take the crate with you if you are buying the pan from a shop.
If you are ordering online, pay keen attention to the written dimensions, and opt for a size that is at least an inch smaller than your crate's measurements.
Lip Boundary
Never buy a crate that has short or no boundaries. A lip boundary is a raised surface at the edges. This helps the crate retain the dirt and leaks within the pan.
Short boundaries can also spill the wastage while you take it out. So, opt for a crate that at least has a border raised for more than an inch.
Blunt Edges
Metal pans can have sharp edges or boundaries. You need to make sure they are well covered with a rubber casing or buy a crate that has bent boundaries with no sharp edges exposed. Your dog will be roaming around these edges, and you don't want him to suffer any injury through it.
Handles
Many crates come with an end having a small handle which makes sliding the pan out and replacing it very easily. This can be contaminated, and you will want to have the least touch exposure with it. For that, such handles are quite convenient no matter how dirty the crate is.
Holding Clips
To keep this in place, many pans come with clips on two sides or even all four sides for better placement. These clips are useful if you have a metal wire dog crate. You can clip it on the bottom of the crate, and it won't move or turn over if it's smaller than the crate's own size.
Benefits of Using Dog Crate Pans
Among several conveniences, below, we have listed the main benefits that you'll get to experience after buying this product for your pooch.
Prevents Scratches: The material of the crate prevents your floor, carpet, or the base of the crate from any scratches which are quite common if your pup walks around the crate having any protection.
Retains Dirt: These are designed to retain all the dirt, moisture and prevent leaks to the base of the crate or your flooring. You can easily slide them out and empty them, wash them, and use them all again without any troubles.
Contains Litter: There could be quite a mess if your dog ate in the crate. The food crumbs can spill around if you don't line the base with a pan. Just like other dirt particles, it retains food spills as well from spreading all over.
Easy Cleaning: Instead of cleaning the whole dog crate, again and again, you would obviously prefer to clean a single tray that is easy to place and easy to remove. It serves that purpose. Just dispose of all the dirt, and you can wash it off easy for using again in minutes. Sounds quite convenient, right?
Important Tips
When you start using for protection and ease of hygiene maintenance, don't forget to consider the following mentioned tips which will prove to be beneficial for you and your dog both.
Do not get a plastic pan if your dog is an aggressive chewer. He might chew off a piece and choke on it.
Discard a crate that has been damaged on ends or is broke.
Broken pans can be a serious risk of injury for your pup.
Do not leave the crate full of dirt for much longer. It can get contaminated and spread infections.
Always use proper sanitizing soaps or detergents for cleaning.
Do not give your dog food in the
pan if it's dirty already.
Make sure to clean it first before feeding your pup for preventing any risk of infections to him.
With these tips and proper hygiene measures, you will be able to feel a clear difference in cleaning ease and maintaining a healthy environment for your pup with a quality pan.
Conclusion
Apparently seeming a small accessory, these crate pans can be a lifesaver in terms of hygiene and cleanliness routine. Measure your dog's crate accurately, consider the essential features, and you can easily purchase one for your pooch at an affordable price.
Frequently Asked Questions
What is a dog crate pan?
It is a removable tray that is inserted at the base of a dog crate for collecting all the dirt. The tray can be placed and removed easily just with a slide and makes cleaning routine of your dog's place much easy.
Why should you use dog crate pans?
These are used for maintaining hygiene in a dog crate. It prevents fur, moisture, food spills etc. from getting leaked. Also, you can wash it off very quickly for use again without spending a lot of time.
What is the best dog crate pan?
Replacement Pan has the features of all. It is made of polypropylene plastic mixture that is odour resistant and very easy to clean. This has a standard dimension of 42 by 28 inches. The best part is that it comes with a one-year manufacturer warranty, that ensures its durability.
How much should be an ideal dog crate pan?
The measurements are usually 42 inches in length and 27 inches in width. This size fits any dog crate which is built on standard dimensions. The prices of a crate of this size can range from $20 to $25, depending on the company.
Is a plastic or metal dog crate pan safer for dogs?
Yes, of course! Be it plastic or metal; these are safe for a dog's use. However, you must not consider buying a plastic crate pan if your dog is an aggressive chewer. He might end up breaking a piece and choking on it. So, you must get a metal tray then, to prevent any such incidence.
Is it harmful to dogs if they chew crate pans?
Yes, it can be harmful if your dog chews off a plastic piece off the pan. A replacement tray made of ABS plastic is more likely to get damaged and even breaks off a part if your dog chews it. To make sure it doesn't happen, opt for a metal tray or a durable plastic pan.
What is the perfect size of large dog crate pans?
The largest size is 54 inches in length and 34 inches in width with a height of 1.3 inches. This is perfect for a large and heavy dog.
Which material is safe for dog crate pan?
All the materials available are safe if your dog doesn't chew everything off. But if that's the case, then you might want to choose a metal tray of either galvanized or stainless-steel type, rather than a plastic one.