Ear cleaners are important for dogs' health and grooming. While it is not advisable that you remove particles and debris that may be present in your dog's auditory canal on a daily basis, it should be performed periodically or at regular interval.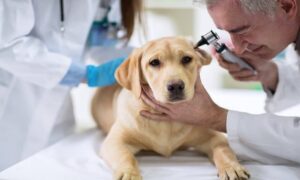 If a dog's ear lacks proper cleaning, it might result in several health challenges for the dog, like wax buildup, bad odor, or ear infection. Therefore, regular ear cleaning should be part of your dog's care and grooming routine.
It is safe to use only designated products for dogs' ears in cleaning their ears. However, there are many dog ear cleaning products or solutions on the market, it is therefore difficult to determine which ear cleaner will deliver effective results.
Thus, after consulting many pet experts, we have created a list of the 10 best dog ear cleaners with a detailed buying guide to help you decide appropriately.
Best Dog Ear Cleaners in 2021 – Reviews
1. Our Top Pick – ZYMOX Dog Ear Cleaner
Top Pick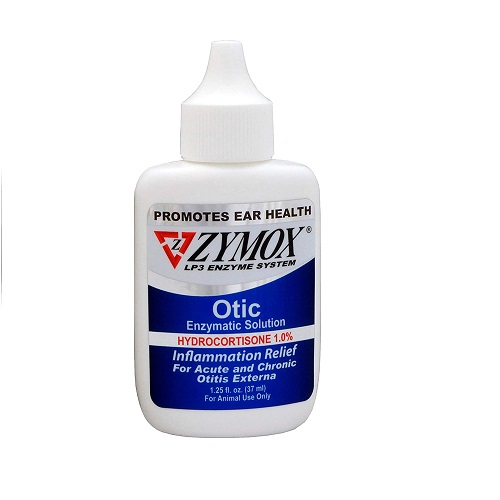 ZYMOX Dog Ear Cleaner
Ear cleaner for pets of all sizes and age that fights infections and keeps the ears clean; without a sting!
Healthy ears for a happy pet! Yes, the ZYMOX Dog Ear Cleaner does just that. It fights ear infections and keeps them clean without stinging. It's an enzymatic solution that is antimicrobial in nature. The patented LP3 Enzyme system has been clinically proven to kill most infection causing bacteria, yeasts and fungus. The solution fights infection and keeps your pet's ear clean and healthy.
This comes with 1% Hydrocortisone, is also effective against ear inflammation. Inflammations can be painful and can easily make your pet more than anxious. Even in cases where the inflammations are visible, application of most antibacterial solutions warrants pre cleaning, which can be really painful. Thanks to this cleaner, your pet is saved from the painful pre-cleaning and application.
Zymox can be applied inside the ear canal as well as over the external inflammations. It is not an antibacterial solution that can be used only during ear infections and inflammations. It's an enzymatic solution, with antimicrobial properties that help maintain clean and healthy ears. The enzymatic formulation encourages the growth of natural antibodies, and fights the growth of infection causing microbes. No wonder, it's the best in our list.
The ear cleanser with the best enzymatic formulation ensures pain free application, total cleaning and effective healing. It's anti-inflammatory properties, heals infections and lessens pain.
Key Features:
Patented LP3 Enzyme system fights and prevents infections
Kills most infection causing bacteria, fungus and yeasts
Effectively treats inflammation and reddening of the ears
Can be applied inside the ear canal and externally
Pain and hassle-free application without pre cleaning
2. Runner Up – Vet Organics Natural Dog Ear Cleaner
Runner Up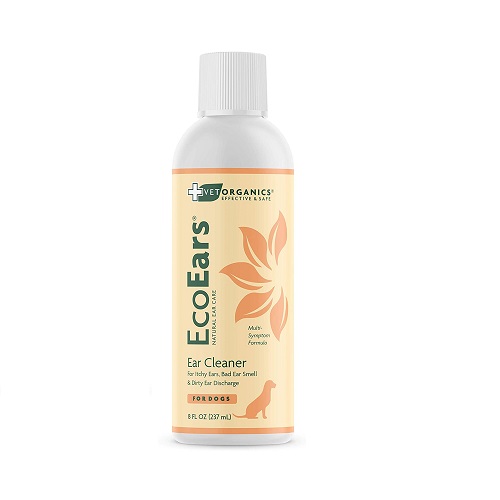 Vet Organics Natural Dog Ear Cleaner
A natural solution perfect for medium and large-sized pets with itchy, smelly or infected ears.
The Vet Organics Natural Ear Cleaner is a powerful organic formulation. With all natural principal ingredients, your pet is saved from exposure to strong chemical compositions. The natural herbs and oils present in the composition have been in use of ancient medicines for centuries now. These ingredients have proven effective against various diseases prevalent in humans and animals. The natural ingredients, apart from being safer than strong chemicals, promote natural healing.
The organic cleanser with it's plant based organic formulation has been clinically proven to be effective against chronic dog ear infections as well as other common ear infections. The strong and powerful cleaner can cleanse dirt, dissolve wax and kill parasites. It prevents accumulation of grime, dust and other infectious organisms. It safeguards your pet against inflammation and wax build up.
Internal and external application warrants pre cleaning of the infected areas. This maximizes effectiveness and enables fast healing. However, in case the infection is raw and exposed, it is advisable to let the wound heal a bit. It can be a bit stinging and thus, is the runner-up. But this organic cleaner is natural, powerful and effective.
Key Features:
Provides complete healing, not just symptom relief
Can effectively treat common and chronic ear infections
Cleans effectively and helps prevent accumulation of wax and grime
The application requires pre cleaning and is advisable to avoid broken skin
No worries about any side effects due to the absence of strong harmful chemicals
3. Best Budget – Bexley Labs Curaseb Dog Ear
Best Budget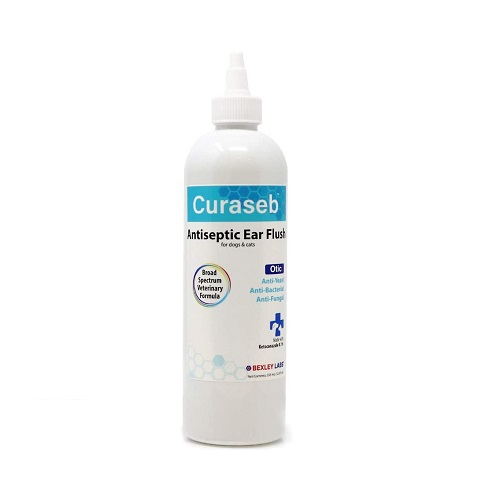 Bexley Labs Curaseb Dog Ear
An antiseptic flush for pets of all sizes and ages, cleans more than the ears and lasts long.
An antimicrobial antiseptic solution that is truly value for money. Treating your dog's ear infection might require more than a visit to the vet and costly prescribed medication. But those visits can be avoided with Bexley Labs Curaseb Ear Cleaner.
This antiseptic flush with a strong antimicrobial formulation is very powerful and can effectively treat bacterial and fungal ear infections. It flushes out dirt, grime, wax and parasites ensuring that your pet has clean and healthy ears.
The 1% Ketoconazole in the composition doubles as a remedy against minor skin infections. The water-based formula with Aloe Vera is light on the skin and is free from strong and harmful chemicals. The oil free touch and sweet smell can be a welcome change, in case of smelly ears.
The vet recommended formula works on a wide spectrum of microbes. It safeguards against smelly ears and prevents head shaking and discharge by flushing out all foreign elements and parasites. It is also effective against itchiness, minor rashes and redness.
The Curaseb Antiseptic dog ear flush is a gentle yet powerful dog ear cleanser. It fights microbial infections, prevents wax building and flushes out anything foreign. And yes, it can be applied topically in any area of the body. Thanks to the big packaging, it lasts long.
Key Features:
The vet recommended antiseptic formula keeps the ears clean and healthy
Powerful composition on a water-based solution; light on skin
It cleans and heals and doubles as a moisturizer
One step application requires no pre cleaning
A 12 oz pack lasts longer
4. Best Dog Ear Cleaner Wipes – PetMD
Medicated ear wipes for dog ear care over twelve weeks. The PetMD ear wipes are the perfect replacement for cream and solution-based dog ear cleansers. These premoistened round wipes have a soft feel, a clean smell and can be easily handled.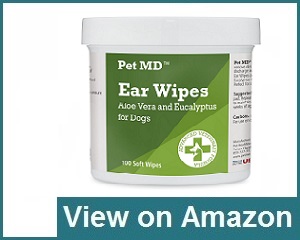 The PetMD wipes with vet approved formula clean away dust and grime. With frequent usage you can easily get rid of parasites, prevent wax build up and discharge. The wipes have been proven effective on furry pets and the ones who like to stay outdoors.
The medicated wipes have moisturizing effects and can soothe dry skin, provide relief from painful itching and can safeguard you against scratching. The ear wipes with Aloe Vera and Eucalyptus oil doubles as a deodorizer. It does away with foul smelling ears, prevents odor and keeps your pet fresh.
PetMD Dog ear wipes with vet approved formula and the goodness of Aloe Vera and Eucalyptus oil is the best ear cleaner wipes for dogs, keeping your pet clean and fresh.
Key Features:
Vet approved formula ensures through cleaning of the ears
Can effectively prevent wax build up and discharge
Has a moisturizing effect that provides relief from dry irritating skin
Doubles as a deodorizer and keeps the ears smelling fresh
Hassle free handling and requires no pre cleaning
5. Best Liquid Dog Ear Cleaner – Virbac
A mild and soothing liquid cleaner for pets of all ages and sizes. This cleaner from the house of Virbac is made to provide the best cleaning without pain and sting. Ear infections can be painful and application of most disinfecting solutions and creams requires pre cleaning.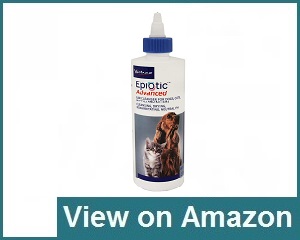 This can cause a lot of pain and in case of broken skin, the sting of strong cleaners can be unbearable. The composition of the Virbac solution is the perfect blend of innovation and tender care. With no alcohol and Chlorhexidine, the solution has a low pH level that makes it mild and soothing. The formula works effectively to remove dust and dead cells.
Epi-otic with a unique anti-adhesive formula prevents dust particles and dead skin cells from clinging into the walls of the ear canal. This ensures thorough cleaning, free of dead tissues. The cleanser fights odor and prevents the growth of microbes by drying the moist and wet parts of the ear.
The liquid cleaner is soothing, mild and safeguards against irritation. It provides the best regular cleaning and is the best cleanser for pre cleaning. Its mild formula works independently and can be used prior to application of other disinfecting solutions or creams.
Key Features:
Mild and soothing solution is anti-irritating
Prevents growth of microbes by disallowing deposit of dead cells
Fights odor-causing elements and cleans effectively
Keeps the moist and infected parts of the ear dry
Is ideal for cases that require pre-cleaning
6. Best Natural Ear Cleaner for Dogs – Burt's Bees
A natural ear cleaner for pets of any age and size. It is free from all strong chemicals and sulphates. The natural solution is soothing on the skin and can effectively prevent ear infections. The primary ingredient Witch Hazel cleans the excess dirt and dust and emulsifies the wax formed in the ear canal.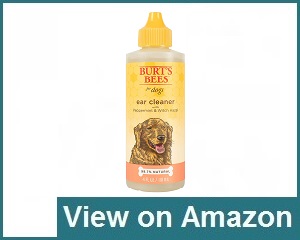 The burts bees comes with essential peppermint oil in addition to fighting odor and keeps the ear canal dry. It provides a soothing effect and keeps your pet fresh and smelling good.
The all-natural cleanser packaged in a bottle with a nozzle shaped mouth makes for hassle free application. Ideal for pets without any prior infection, and it is the best natural ear cleaner for your pet that cleans and keeps the ears fresh.
Key Features:
Natural ingredients without strong chemicals are free from any side effects
Peppermint oil is soothing, drying and fights foul smelling microbes
Witch Hazel cleans the ears and prevents wax build up
Can be used in pets of all ages and sizes
Nozzle shaped mouth makes for hassle free application
7. Best Dog Ear Cleaning Solution – ZYMOX
An antiseptic, anti-inflammatory cleaning solution for pets of all sizes and ages. This antimicrobial solution cleanses dust, grime, ear wax and parasites. The patented LP3 Enzyme system, acts to provide natural healing during regular and chronic infections and prevents growth of microbes.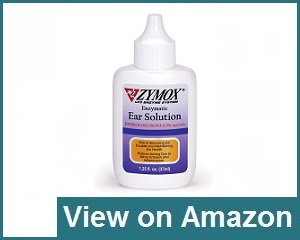 The vet approved formula fights most infections causing bacteria, yeasts and fungus. Hydrocortisone, in the composition, treats inflammation and provides in depth relief from pain and irritation. The solution is mild on the skin but has a powerful effect. It also cures ear reddening and can be applied inside the ear canal as well as externally.
Zymox ear cleaning solution provides complete cleansing of ears. It fights infections, is gentle on the skin, cures inflammation and promotes natural healing. Application is simple and hassle free and requires no pre cleaning.
Key features:
Antimicrobial solution effective against most infection causing microbes
Cleans away dust, grime, ear wax and prevents growth of microbes in the ear canal
Is antiseptic, antimicrobial and anti-inflammatory without stinging the skin
Cures inflammation and reddening of ears
One-time application without any pre cleaning
8. Best Dog Ear Infection Cleaner – MISTER BEN'S
An all-natural infection cleaner for pets over six months. This simple yet potent proprietary composition cleans and heals effectively. Perfect for anyone looking for a natural and organic based infection cleanser.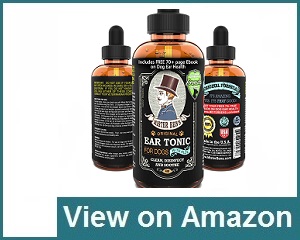 The 100% organic Aloe Vera is a natural antifungal and antibacterial component and has a soothing effect. The five natural ingredients help in cleansing dirt, grime, microbes and parasites. It can treat most chronic dog ear infections and can also be used as a regular cleaner.
The natural cleanser cleans, soothes and heals and fights to prevent infections. It treats inflammation, provides instant relief from irritation, protects against scratching and fights odor. With all natural, certified organic principal ingredients.
Key Features:
The antimicrobial and antiseptic solution can treat chronic and regular infections
Natural certified organic principal ingredients are mild on the skin
It soothes the skin and cleans dust, grime, wax and parasites
Fights inflammation and provides instant relief from irritation
Worry free application with included dropper
9. Best Zymox Dog Ear Cleanser – Pet King Brands
A cleanser for your adult pet that cleans naturally. Yes, the Zymox Ear cleanser with bioactive enzymes helps facilitate natural cleansing of your pet's ears. Ideal for adult pets without infections, it helps maintain clean and healthy ears.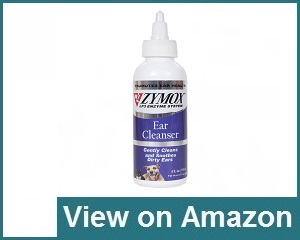 The solution can be used externally as well as can be dripped inside the ear canal. It is free from any harsh chemicals and does not sting. It prevents wax buildup and prevents growth of microbes.
Like all Zymox pet products this dog ear cleanser is pet friendly. The bioactive enzymes keep the ears healthy and prevent infections.
Key Features:
Mild cleanser that helps in natural cleaning of ears
Promotes natural healing by preventing growth of microbes inside the ear canal
Fights odor and keeps the ears smelling fresh
Light on the skin due to absence of harsh chemicals
Hassle free handling and application
10. Best Diy Dog Ear Cleaner – Vet's Best Cleaner
A complete, all-natural ear cleaning package for all pets with dry, itchy, greasy or smelly ears. This vet approved formula is made of natural ingredients. With the goodness of Aloe Vera, Echinacea, Chamomile, Yucca and essential Tea tree and Clove oil, the cleanser provides instant relief from itching and scratching.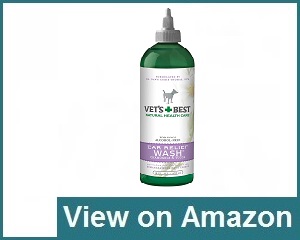 Without any harsh chemicals it's soothing on the skin and the absence of alcohol makes it ideal for treating dry ears. This natural solution can easily clean the dust and wax inside the ear canal. It prevents wax buildup and fights odor causing microbes. This can be used even while the pet is undergoing any tick or flea treatment.
Vet's Best is the complete ear cleaning package. Providing instant relief from irritation and scratching it cleans effectively without being harsh on the skin. With ease of handling and hassle-free application.
Key Features:
Effectively treats dry, itchy, greasy and smelly ears
All-natural ingredients without chemicals clean without a sting
Cleans thoroughly and prevents wax build up
Provides a complete ear cleaning package for pets of all ages
Is sweet-smelling, fights odor and keeps the ears fresh and smelling good
Why Should You Choose a Dog Ear Cleaner?
Just like the owners of dogs (humans), dogs also need to get their ears cleaned once in a while. Cleaning your dog's ear can prevent ear challenges for your dog like bad odor, wax build-up, or ear infection. Therefore, routine ear cleaning should be adopted by dog owners.
This is especially important for dogs that have long ears because they are at the risk of developing ear infections. Cleaning a dog's ear without any appropriate cleaning tool might result in unwanted accidents like injury or cleaning tool getting trapped which can lead to blockage.
It is therefore highly recommended to use a designated ear cleaner for dogs. These are carefully designed to ensure effective cleaning of dog ears. Using these properly can prevent injury or irritation of the ears.
While some of these have antifungal or antibacterial ingredients to counter ear infections, some are effective for removing wax build-up. Cleaning dog ears do not need any special training or equipment, a good cleaner, some gauze and cotton balls will be all you might require.
If you're looking for an easy way to trim your dog's hair, check our reviews on the best dog grooming clippers.
Types of Dog Ear Cleaners
Though cleaning solutions for your dog's mainly come in two (wipe or a liquid). They are often described as otic, meaning they are for the ear. Both solutions are used to clean dogs' ears.
Liquid
This type looks like an eye drop but it is to be used on the ears. It is used by adding few drops of the solution to the ear canal, leave it for sometimes, then carefully press the bottom of the ear to allow the solution spread within the ear.
These processes aid the break-up of any blockage to get rid of debris that might have trapped there. Though this is the most effective cleaning solution that cleans the extreme end of the exterior ear. However, the process of cleaning can be very messy, most especially when the dog shakes his head to remove the fluids in the ear.
Wipes
The dog wipes are not different from that of babies. They are made of soft cotton to avoid scraping or damaging the inner walls of dog's exterior ear. They are easy to use by simply wiping over the exterior part of the ear. Unfortunately, in most cases, they only clean the outer part of the exterior ear.
Liquids Vs Wipes Ear Cleaners
Choosing either of the two cleaners truly depend on the condition of your dog. If you want a solution that could get to the innermost part of the outer ear, then liquid formation would be a good choice. The liquid form is also a good choice for dogs with ear infections due to the fact that it can loosen up the debris that might worsen the infection.
But if the dog doesn't have an ear infection and you plan to prevent its potential occurrence, wipes will do the job. It will effectively lower the risk of ear infections for your dog when used the right way.
| Liquid Pros/Cons: | Wipes Pros/Cons: |
| --- | --- |
| Pros: The liquid solution can loose up debris or wax that are trapped in the ear canal by simply dripping the solution into the ear. | Pros: You need not buy additional items like cotton pads when using wipes. The issue of having a messy experience is less with wipes as compared to a liquid solution. |
| Cons: The liquid ear cleaning solution for dogs can be messy especially if your dog began shaking his head. So you may be forced to do the cleaning at a designated area or outside. Additionally, you may have to purchase cotton pads to clean the outer ears. | Cons: Deep cleaning is not possible with wipes and as such it will be hard to loosen up the debris. |
How to Use Ear Cleaners to Clean Your Dog's Ear?
It is good to note that when cleaning your dog's ears, it is better to use natural and safe ingredients. Choose a cleanser that soothes itchy, irritated, and dry skin instead of just cleaning debris, dirt, or discharge.
As for the products to use when cleaning your dog's ear, cotton pads and cotton balls will be a good choice. Though cleaning your dog's ear can be time taking and sometimes hectic when not planned accordingly. You can follow these steps to effectively clean your dog's ear:
Ensure your dog is calm and relaxed as any movement by the dog will make the work frustrating and difficult. Make sure your dog is lying down or sitting while positioning his rear end between your legs.
Start with one ear of the dog and take the flap of the ear up vertically to reveal the ear canal and straighten it out.
With your first hand on the ear flap, grab the ear cleaning solution gently with your other hand.
Pour some ear cleaning solution into the ear of the dog, fill the ear cleaner with enough cleaner. Be careful not to put the tip of the bottle into the ear, but if that happens, wipe off the tip with an alcohol-soaked cotton ball to prevent the spread of yeast or bacteria.
Gently massage the base of your dog's ear while holding the ear flap up vertically. This gives the cleaning solution chance to break up debris in the ear canal.
With your hand still holding ear flap up, use a gauze or cotton ball to wipe off debris from the upper ear canal and also the inner part of the ear flap.
Let the dog shake his head, it will allow the debris and cleaning solution in the ear to move out of the canal.
Then hold the ear flap up again, and wipe off the cleaning solution to loosened debris from the ear canal opening using gauze or cotton ball.
Make sure not to use a cotton-tipped applicator to remove the cleaning solution from the ear canal because that can destroy the ear canal or push the debris deeper into the ear canal.
Repeat the same cleaning process for the second ear.
Factors to Consider Before Choosing Dog Ear Cleaners
You and your dog will bear the cost if you choose the wrong ear cleaner. Below are a few things to note before buying so that it becomes effective and safe:
Purpose
Before buying, you ought to know the purpose for which you are using it. The ear cleaning solution is made to serve a particular purpose. If it is made for mites' treatment, then it will be effective for such purpose rather than using a general-purpose ear cleaning solution for dogs.
Also, if you need a cleaner for routine grooming and cleaning of your dog's ear, then dog ear wipes will suffix. Likewise, an ear cleaning solution made for infections or yeast treatment is to be used when your dog has an infection or yeast, using it for general purpose is not advisable
Ingredients
Make sure you sift through the ingredient list. A good cleaner for dogs ought to include high-quality ingredients that clean your dog's ear without resulting in irritation. Try to avoid products that contain a lot of harsh chemicals. You can consult a veterinarian if you require more information about high-quality cleanser.
Quantity
The quantity or amount of dog ear cleaning solution mainly depends on your usage. If you have multiple dogs, then you need to purchase a dog's cleaner of more bottle or quantity with a higher ounce of dog's ear cleaning solution. If you are trying a particular ear cleaning solution for dogs for the first time, then it will be wise to go for a smaller bottle.
Types
There are two main types – liquid and wipes. Both of them have their pros and cons as listed earlier. The wipes are an easy solution for surface cleaning, to keep debris and dirt away from your dog's ear. But liquid cleaner is effective if you need deep cleaning and addressing challenges like wax buildup and infections.
Easy to Use
Dog's ears need to be cleaned regularly, so it is necessary to select a cleanser that is effective and easy to use. Make sure to read instructions on the product packaging and apply the instruction appropriately. It will go a long way in avoiding damage to your dog's ear.
Pain
some of these are effective in cleaning grime, dirt, and ear wax for your dogs. Unfortunately, not all of them are sting-free and painless. Some contain alcohol in them that can remove bacteria and other health challenges. However, there is temporary suffering and pain the dog will experience through the process. So if it is possible, get a string-free and non-invasive ear cleaner for your dog.
Pharmaceutical or Natural
Natural ear cleaners are preferred over pharmaceutical ear cleaners, the reason being that they are gentle and less painful for dogs. Though pharmaceutical cleaners are more effective in treating and cleaning dog's infected ear. But natural cleaners are advisable since they do not affect your dog's natural body functions.
Benefits of Using Dog Ear Cleaner
Like other living organisms, dogs' external ear serves as a collecting mechanism for debris, dust, and other particles that include fungi, bacteria, viruses, and parasites.
It is therefore important to have your dogs' ear cleaned with ear cleaning solution once in a while. Doing that will earn you and your dog the following benefits;
Prevent Infection: Because of the nature or structure of the dog's ear, heat can be formed inside easily. Likewise, moisture is one of the main ingredients required by fungi and some microbial organisms to develop.
Therefore, dogs that have floppy ears are more vulnerable to the development of fungal and bacterial infections. Using an ear cleaning solution to clean the dog's ear removes these microorganisms and also provides a way for air to enter inside and cool up those trapped heat within the dog's auditory passages.
Prevent hearing impairment: The two reasons why your dog experiences hearing impairment include untreated ear infection and the impaction of the auditory canal of the dog by debris or cerumen.
Cleaning your dog's ear with an ear cleaning solution can assist in augmenting antibiotic therapy, thereby resolving the infections in the ear. Ear cleaning also helps in removing impacted cerumen and prevent the occurrence of hearing impairment in dogs.
Important Safety Tips
It is important to keep your dog's ear clean always, especially if they are vulnerable to an ear infection.
The eardrum of your dog is very fragile and can be affected by ear disease or during cleaning, so it is advisable to be cautious while cleaning the ear and try to follow the prescribed steps accordingly.
Consult your veterinarian if you notice your dog showing signs of ear infection. These signs include odor, pain, shaking their head.
Do not use cotton tip applicators while cleaning your dog's ear. Doing that can result in trauma in the ear canal or perforation of the eardrum. Also, it can push debris deeper into the ear canal.
Do not allow the tip of the ear cleaning solution bottle into the ear so as to avoid spreading bacteria or yeast.
Final Thought
Cleaning your dog's ear should be included in your dog's health and grooming routine. Dog ears need to be checked periodically and then cleaned with an ear cleaning solution. Although there are different ear cleaners on the market, to ensure a maximum and effective result, it is highly recommended to use trusted ear cleaners for dogs.
Frequently Asked Questions
What is dog ear cleaner?
it is a product that is designed or formed to help in cleaning your dog's ear so as to prevent wax buildup and ear infections.
How often should I use dog ear cleaners?
This depends on different factors including breed, age, level of activity, and health. However, dog ears are mostly cleaned once or twice in a month at least.
Are dog ears hard to clean?
While there are some little efforts involve in the cleaning process, it is not in any way hard when appropriate steps are followed accordingly.
Is it better to use dog ear wipes to clean my dog's ears?
This depends on the condition of your dog. If you require a solution to be used for dogs with ear infections while wipes are used for dogs without infections.
Is a human ear cleaner safe to use on my dog?
It is not safe to use human cleaner for your dog, as such it should be avoided. Most human ear cleaners include ingredients with harsh chemicals that could destroy your dog's ear canal.
What is the best dog ear cleaning solution?
The ZYMOX ear solution is the best dog ear cleaning solution. It is perfect for the treatment of ear infections, redness, and inflammation for dogs of all ages.
When should dog ear cleaners be used?
Though over cleaning of your dog's ear with a cleaning solution could lead to irritation and cause an infection or yeast. For effective results, try to do it periodically or when it is actually needed.
Can you use an ear cleaner for allergies?
Yes, using ear cleaners for sensitive dogs can provide some relief and comfort to the dog as it removes debris like pollen from the ear canal of the dog.
What is the best ear cleaner to cure infections?
The Mister Bens Effective Treatment Cleanser is the best to cure infections. It provides fast relief from inflammation, swelling, infections, redness, and irritations.