If your canine suffers from allergies, introducing dog food for allergies can help. Intolerances and allergies can emerge due to many different reasons. They can affect the dog's eating habits and normal activities. These conditions may arise naturally or due to parasitic infections.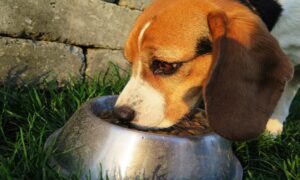 As pet parents, it is hard to see your pet going through such a time. They may have trouble eating, and if it is the same in your case, you, like many others, have already tried a bunch of different things.
Changing shampoos and skin medication does help, however, if the allergies persist, perhaps it is the food that requires a change. Another reason you might want to change the canine's diet is due to the dog's intolerances.
However, the pet food industry is big, and it can be challenging to find the right one for allergies. To leave out the guesswork, our researchers have spent hours in selecting these top 10 best dog foods for allergies. These foods have been selected based on quality ingredients, cost, benefits, dog breeds, and ages.
Best Dog Food for Allergies in 2021 – Reviews
1. Our Top Pick – Purina Pro Plan Foods for Allergies
Top Pick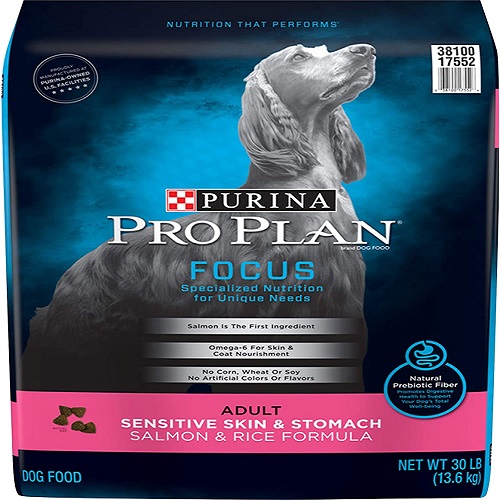 Purina Pro Plan Dog Foods for Allergies
The highly digestible formula supplies targeted nutrition for your best friend of all breed sizes and age.
Purina Pro plan identified as the best dog food supplement for allergies and sensitive skin. It is perfect for all breeds and every age with sensitive stomach. It contains high digestible formulas, packaged to ensure your pet gets every needed nutrient to reach their peak potential and reduce the pet's exposure to food allergens. Also, the Purina Pro plan is tailored with 100 percent nutrients for managing weight and enhancing healthy ageing.
The brand is made of ingredients that are chosen for specific purposes. The vitamin constituents such as Vitamin A is appropriate for the development and maintenance of vision. The Vitamin B group, which are B3, B5, B1, B12, B6, and B9, are appropriate for skin, digestion, and heart care. The antioxidant, which is Vitamin E and natural prebiotic fiber is needed to maintain good bacteria, digestive and intestinal health, thus promoting the pet's lifespan.
Furthermore, the food is rich as it also contains oatmeal, a mix of barley, and canola meal, that ease digestion and the movement in the intestinal walls. Also, the dog's movement at the joints is supported by the glucosamine supplied by fish and salmon meal.
It is appropriate to test allergies of dogs gradually to get the cause, so different sizes of Purina Pro Plan are available. The sizes start from 4 lbs up to 41 lbs. The medium-sized dogs would weigh from 21 to 35 lbs, and 2 cups daily would be appropriate for a start. Additionally, the safety and health of your pet is our utmost concern, and it is subjected to high quality and safety regulating standards.
Key Features:
Carefully selected nutrients for better health
Probiotics maintain healthy bowel movement
Antioxidants boost immunity
Supports your dog's total well being
No wheat, corn or soy that is common allergens
2. Runner Up – Wellness Simple Limited Ingredient Dog Food
Runner Up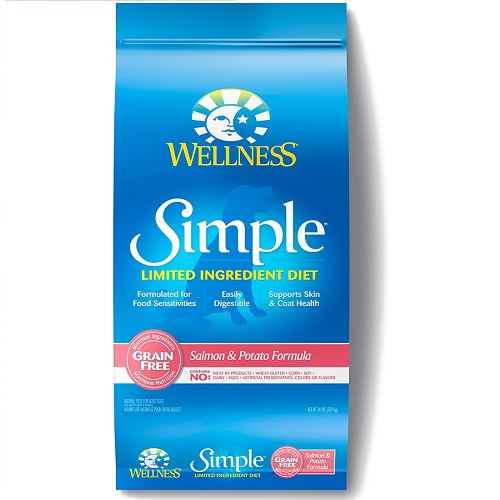 Wellness Simple Limited Ingredient Food
Natural limited ingredients diet dog food, formulated for adult dogs with food sensitivities and allergies.
Wellness Simple Limited Ingredient diet is recognized as the best hypoallergenic dog food and placed as the runner-up in this list. Packaged to keep your furry friend in tip-top shape, healthy and relived from allergies. Understanding and feeding your pet with the right recipe is fundamental, and it is appropriate for different needs of all dogs' life-stages and special needs.
Wellness food is highly recommended for pets suffering from dry skin, itchy paws, and a sensitive stomach. So, your pet is adequately fed, remains healthy and comfortable. It is made of natural ingredients and is chosen to meet specific needs of your pet and to relieve allergies, stomach upsets, and intestinal inflammation.
The first ingredient is the single rich animal protein as its main ingredient, easily digestible carbohydrates, eliminating excess fillers and additives. Additionally, probiotics and prebiotics which promote healthy digestive tracts for pets are present. Glucosamine and chondroitin formulas are present to aid older dog's relief pains at the joints.
Wellness simple is free from cereal grains, natural gluten ingredients, meat by-products, wheat, corn, dairy, and other potentially allergenic ingredients. Also, flaxseed and Omega fatty acids help to nourish the skin and cure skin dryness, while antioxidants boost the immune systems.
Furthermore, it is essential to transition your pooch slowly from the former diet to this new diet to aid adaptation. It is appropriate to transition between a period of 5-7 days. The package is available in kibble sizes for different breeds.
Key Features:
Contains the balance of protein, fats and calories
Free of gluten and other possible allergenic ingredients
Ingredients used are natural and grain-free
Promotes dog's health and boost the immune system
Appropriate for all breed sizes
3. Best Budget – Diamond Naturals Dog Food for Allergies
Best Budget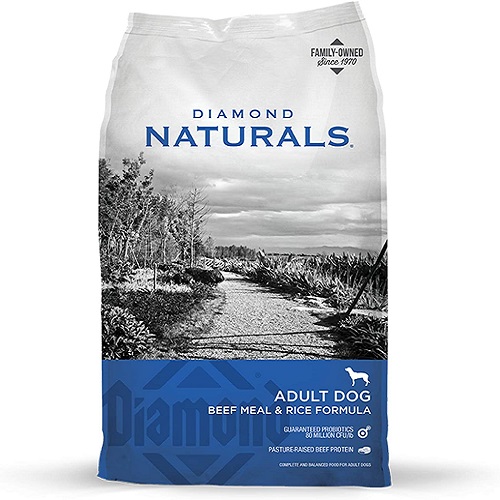 Diamond Naturals Dog Food
Enhancing your pet's health at low-budget, containing real beef protein and antioxidants
Pet parents that are on a budget would get exceptional Diamond Natural food with selected quality ingredients for pets suffering from allergies. The ingredients are broken down to the most basic building block and reducing reactions or irritations. Also, the Diamond Natural is perfect for all life-stages as compared to others that are limited to adult dogs.
The food has nutrients that are tailored for dogs suffering from dry skin, sensitive stomachs, and digestive disorders. The ingredients are beef proteins from wild-caught Salmon, that also contains fatty acids that are required for maintaining healthy skins. Additionally, Vitamin A, B6, B12, D3, and biotin are present and targeted towards supporting the heart, brain, and muscles.
Furthermore, antioxidants such as blueberries, spinach, oranges, coconut, papaya, pumpkin, and phytonutrients from fruits and vegetables also aid digestion and boost the immune system. There are no grains such as wheat, corns, and fillers in the food as many dogs are allergic to grains and other preservatives.
Additionally, DHA (Docosahexaenoic acid) is an omega-3 fatty acid present in salmon oil. The omega-3 fatty acid is appropriate for increasing pet's vision, developing brains in puppies, and appropriate for healthy skin. DHA is also present in a nursing mother's milk and passed to the children while breastfeeding. The package comes in either 15 or 30 lb bag. The smell might be offensive to humans; however, most pets seem to like the taste.
Key Features:
Enhanced probiotics for easy digestion
No grain, to ease digestion
Abundance of vitamins and minerals to boost health
Salmon is the primary ingredient containing fatty acids for healthy skin
Available in different sizes
4. Best Adult Dog Foods for Allergies – Blue Buffalo
Does your large pet suffer allergies, and you don't know which food to administer? Then, the solution you need is Blue Buffalo food. It is well designed and manufactured for your adult dog. The ingredients used in this food are selected by veterinarians and nutritionists. Additionally, it is a mix of antioxidants for a perfect oxidative balance, vitamins, and minerals targeted at boosting the immune system of your pet.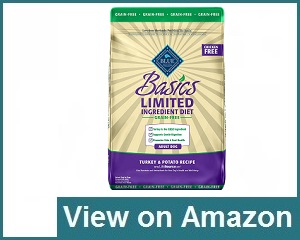 The primary ingredient is a deboned turkey, which is a single animal protein source, although not commonly used in dog food. Peas, pumpkins, and potatoes are added ingredients that support the digestion process in dogs. Additionally, the proteins and carbohydrates such as the potatoes and oatmeal are targeted towards supplying the needed energy for the large dog.
Furthermore, grains such as wheat, corn, soy contain gluten, as well as dairy products and eggs are eliminated as they trigger allergies. Also, this blue basic limited ingredient dog food contains Omega 3 and 6 fatty acids from fish oil and flaxseed, which are added to improve the coat and skin health.
Therefore, you can be sure of reaping benefits such as building strong muscles and the immune system. You might not know all the ingredients your dog is allergic to, so it is required to introduce this food gradually to your pet for 2 weeks.
Key Features:
Omega 3 & 6 fatty acids are for healthy skin and coat
No grains, as they contain gluten
Real boneless turkey is the primary ingredient
Vitamins, minerals, and antioxidants boost the immune system and health
Specifically chosen to support digestion
5. Best Diet Dried Dog Food for Allergies – Rachael Ray Nutrish
The Rachael Ray Nutrish is regarded as the best diet dried dog food for allergies. Dogs experience allergies as well as humans, but dogs cannot talk, so it might be difficult to find out the brand that your pet is allergic to. The Rachael Ray is designed to contain 6 simple ingredients, which are high-quality food content for your furry friend.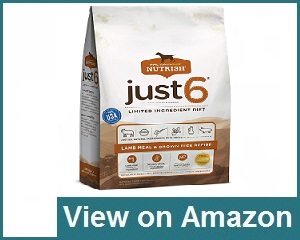 The main ingredient contained in this is the lamb meal, which aids fast digestion and helps your pet maintain strong and healthy joints. Additionally, brown rice is a component, which contains essential B Vitamins and wholesome fiber.
Also, the brown rice is a good carbohydrate source, that supplies energy, which of course, your pet needs to play around. Another important component is dried plain beet pulp, and it is an excellent fiber that aids digestion and bowel movement.
Furthermore, ground rice delivers highly digestible carbohydrates for easy digestion. Here, corn, wheat, soy, or gluten ingredients are eliminated as they are potential sources of allergies. No poultry by-product meal, artificial flavors, colors, and artificial preservatives are added to this food, thus ensuring the health and safety of your pet.
Key Features:
Contains essential vitamins and minerals to boost immunity
No poultry by-product meal nor artificial preservatives
It is available in different sizes of bags
Made of natural ingredients
Contains no corn, wheat, soy or gluten
6. Best High Protein Dog Food for Allergies – Acana
Acana singles limited is the best high protein dog food to resolve allergy issues and appropriate for the evolutionary diet of canines. Pets can't talk even when they are allergic to a food, the expression of their discomfort is through inflamed skin, constant scratching, dullness, and hot spots.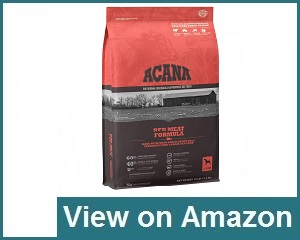 It is so fundamental to know the kind of allergy your dog is suffering and to administer an appropriate diet. This food is designed and manufactured to follow nature's 5 rules; thus, it would boost your pet's health and immune system. One of the major ingredients is red meats that are nutrient-dense and high in protein recipes and providing the needed meat for your furry friend.
The Wholeprey ratios are composed of meat, organs, cartilage, and bones, which are perfect for your pet. Additionally, fresh fruits and veggies are aimed at a balanced meal, therefore the whole food is made of a wide variety of ingredients. It is ideal for all dogs at all stages of life.
The Acana brand is free of grains, without gluten, tapioca, and potatoes, which could serve as a trigger of allergies. Also, Omega 3 & 6 fatty acids are present, which helps keep your pet skin healthy and glowing. Your furry family member is special, and it is imperative to monitor its feeding pattern, and do not forget to put clean drinking water by his side.
Key Features:
It is nutrient-packed and has high protein
It contains natural nutrients and ingredients that dog's needs
Biologically appropriate, grain-free for all life stages
Designed for everyday feeding of all dog breed
Available in different sizes of bags
7. Best Grain Free Dog Food for Allergies – Blue Buffalo Wilderness Protein
Your furry family members might be suffering from allergies to a certain food, and that would be a real disturbance. Grains in foods trigger allergies in dogs. Therefore, the Blue Buffalo Wilderness protein is the best grain-free food, specially manufactured with essential vitamins and minerals for the health of your dog. Also, it is a mix of antioxidants for a perfect oxidative balance for your pooch.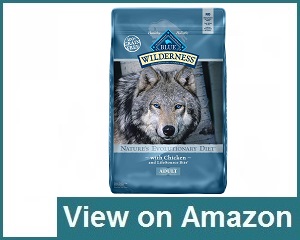 The primary ingredient in this meal is the real chicken, which supplies high protein to help build and sustain lean muscle mass. Also, this ingredient helps meet your pet's natural love for meat. There is essential carbohydrate gotten from sweet potatoes, and peas supply the needed energy for a healthy lifestyle of your dog. Omega 3 & 6 fatty acids are derived from fish oil and flaxseed, which improves the dog's skin and coat health.
This blue wilderness contains vital minerals, vitamins, and antioxidants that boost the dog's immune system. These ingredients are recommended by veterinarians and nutritionists. It never contains grains, nor any poultry by-product, that contains gluten, which could trigger allergies.
Furthermore, to get the exact ingredient your pet is allergic to might take some days, so it is best to feed your pet with this food gradually and monitor its reaction.
Key Features:
Natural dry dog food for pet's overall health well-being
No grains, as they contain gluten
Appropriate for healthy muscle development
Omega 3 & 6 fatty acids for healthy skin and coat
Made of natural ingredients without artificial preservatives
8. Best Limited Ingredient Dog Food for Allergies – Natural Balance
Wondering the kind of diet with controlled ingredients for your pet? Well, the Natural Balance diet is formulated to limit the ingredients your pet consumes, thereby reducing potential allergic foods. Each ingredient has been examined and carefully selected to provide all the essential nutrients to bring out the best in your furry friend.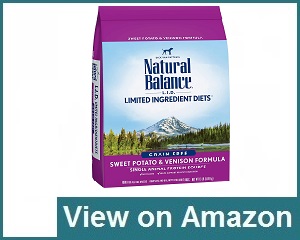 Giving your pet the right nutrient would help keep them in health both within and without. The food is also recommended for its great taste and balanced nutrition. It contains venison, which provides amino acids to maintain and give pets a strong muscle.
Your pooch needs healthy food digestion, and the sweet potatoes, which are gluten-free, serve as the fiber to aid digestion. Pet parents want to see their pet grow into healthy adulthood, so it is packed with essential vitamins and minerals to make this dream come true. Taurine is a quality source of amino acid that helps the heart muscles function properly.
Another major ingredient in the meal is the chicken meal, which serves as a major source of protein. Peas also supply carbohydrates, they are rich in fiber, and aid digestion and bowel movement. The flaxseed in the meal is an essential source of Omega 3 & 6, which helps to improve the skin health of your pet. The meal is grain-free, without artificial flavors and preservatives, or other allergy triggering ingredients.
Key Features:
Contains chelated minerals, which have been chemically attached to protein
No artificial flavors, colors, or preservatives
Contains 1 – 13 Pound bag of dry dog food
Limited ingredients ideal for a strong and healthy body
Presence of Omega 3 & 6 for a plush skin
9. Best Sensitive Stomach Dog Food for Allergies – Hill's Science Diet
A poor diet of pets as a result of a sensitive stomach is usually reflected in the physical appearance of the dog. Hill's Science diet is therefore manufactured to tackle the issue of dogs with sensitive stomachs and allergies. The food is formulated to give premium health and contains prebiotic fibers for gut bacteria, and support a balanced microbiome.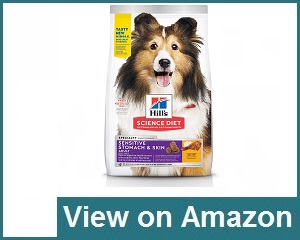 This Hill's Science food is made of natural ingredients and packaged for adult dogs. However, it is also available in kibble sizes for small dogs and contains high-quality ingredients that have been specifically selected to improve the overall wellness of your pooch. The ingredients include real chicken, lamb, or salmon protein, which serves as a source of protein.
Additionally, it contains a blend of brewer rice, whole grain sorghum, cracked pearled barley, and pea protein. Also, it contains Omega-6 and Vitamin E, which help to nourish and maintain healthy skin, and the prebiotic fiber to support gut bacteria and improve the overall health.
Furthermore, the diet is recommended by veterinarians and nutritionists, so, therefore, the meal's description is exact. Natural components such as carrots, apples, and cranberries contain antioxidants, minerals, and vitamins. The ingredients that are used taste great generally. The meal is free of artificial colors, flavors, or artificial preservatives. It is advisable to introduce a new diet to your pet gradually and watch their possible allergies.
Key Features:
The meal comes in different sizes including the kibble size for small dogs
Contains essential vitamins like A, B, and D
It is made of natural ingredients
Contains prebiotic fiber for the balanced gut microbiome
Recommended by the vets
10. Best Dry Dog Food for Allergies – IAMS Food
Are you worried about giving your allergic pet the best-dried food? Have you also checked the IAMS Large breed food for your pet? If not, you are missing out on a diet that is made of a high natural protein formula tailored for your pooch's health. As pet owners, complete, balanced nutrition is your greatest concern as that is how your pet can grow from cuddly puppies to lovable seniors without giving you much stress.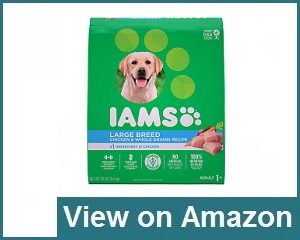 The meal is recommended by veterinarians and nutritionists for your pet. So, the ingredients have been carefully selected to meet your pet's unique needs. The primary ingredient is real chicken, and it is a source of protein in the food. It is also prepared with glucosamine and chondroitin sulfate to give your pet a healthy joint.
You won't want your pet looking fatty and not smart, and so the presence of L-Carnitine helps to burn unnecessary fat and maintain a healthy metabolism. Additionally, it contains blends of veggies, whole-grain barley, and corn. Furthermore, it contains mixtures of fiber and prebiotics which support the digestive system and maintain a strong immune system.
Ingredients such as carrot, flaxseed, and calcium carbonate, which contains Omega-3 & 6 fatty acids that maintain healthy skin, and support the bone structure. IAMS is produced with natural animal protein, 0% fillers and it has no artificial preservatives.
Key Features:
Rich with 100% balanced nutrition
Ensures healthy digestive health and immunity
High quality animal protein supports body muscles
Premium recipes are made in the USA
IAMS formula for dogs of all ages and sizes
What Causes Allergies to Develop in Dogs?
Symptoms of allergies are easy to find. If you find your pet scratching and licking himself or has rashes on the skin, you know he has some sort of allergy. It's the causes that are difficult to find.
Mostly dog allergies arise due to the following reasons:
Parasitic Infections, Especially from Fleas: These allergies are caused by fleas and are a reaction to their bites. Fleas don't just use the animals as a host. They are specifically annoying due to their itchy bites. It can cause your dog to constantly scratch and even bite the area.
Environmental Factors: The environment has a huge effect on your dog's health. Canines are specifically sensitive to some environmental factors like scents, dust, and pollen in the air. While some of the allergies caused by the environment are seasonal, these pose a risk of other infections.
Food: While extreme food allergies are rare, things can get worse if your dog eats something, his body cannot process. Food sensitivities do not count as true allergies. However, if your pet has developed a food allergy, the symptoms include skin conditions and digestive issues.
Common Symptoms of Food Allergies in Dogs
Now that you know the common types of allergies, the next question is how to know about food allergies? For the seasonal symptoms, it is simple. They go away soon; however, if they persist, it is a different allergy.
It can be tricky to spot these symptoms and know if it is a true food allergy or is it a sensitivity. A few very common symptoms include constant crazy itching and uneasiness.
For extreme cases of food allergy, common signs are the following:
Infections and Chronic Inflammation near the ear
Gastrointestinal problems
Diarrhea
Licking paws
Other dermatological signs like skin conditions
The vet may suggest medicine, but it hardly has any effect when the issue is connected with food. To deal with these allergies, it is best to take a good note of all the symptoms and then consult the vet. Come up with a nutritional plan that is according to your pet's allergies and intolerances. Looking for some different food options? Make sure to check out our automatic dog feeder articles.
The Most Common Type of Food Allergies in Dogs
Most commonly, dogs have intolerances towards different foods. While they can be mistaken for an allergy, the symptoms are somewhat different. Allergies are also unpredictable.
Dogs can inherit them and even develop allergies at some point in their life. The most common food-related allergy is the "Gut Induced allergy."
While this allergy is a common health concern, this happens due to an allergic reaction to something like a preservative, food color, or some specific type of protein used.
Usually, organic dog foods contain meat like beef, fish, chicken, and other protein sources like soy. Unlike a regular intolerance, a critical allergy has different signs.
Your canine may experience swelling, rashes, and the presence of itchy skin. If your dog has similar sensitivities, it is recommended to choose a hypoallergenic protein diet that contains meat like a rabbit and other novel proteins. Looking for the right food container for your dogs? Check out our reviews of the best dog food storage containers.
What Should You Feed a Dog with Food Allergies?
Like previously mentioned, food allergies can persist for longer if not treated properly. One of the ways to help your dog is to provide better nutrition. By better nutrition, what it means is introducing food that adapts to your canine's allergies.
Before doing that, you'll need to monitor your pet's food and note what makes him sick. When you know the pet's sensitivities, it is time to find the right kibble.
One excellent option is to choose hypoallergenic foods. Why? Because these have simpler ingredients that are easy to digest and take in. Furthermore, hypoallergenic foods are free from allergy-causing ingredients like some proteins and grains.
Some pet owners also choose to go towards raw foods as they are more natural and adapted to the canine's needs. You can also choose foods with soothing additives that can help with their rashes and other issues. As a result, you'll see improvement in your pet's coat and skin.
Types of Hypoallergenic Dog Foods
Based on their ingredients, there are mainly three types of hypoallergenic foods. Limited ingredient foods, hydrolyzed protein foods, and novel protein foods.
Limited Ingredient Foods
Just like the name suggests, these foods contain limited ingredients and are free from any additives. Despite focusing on a single type of protein, carbs, or fats, these foods provide all the nutrition your pet needs.
It is a common way to reduce the risk of an allergic reaction. Since these foods contain only well-known ingredients, it is very easy for pet owners to select one for their dog. If, however, an allergic reaction occurs, it makes it very easy to spot the item that is causing the reaction.
Hydrolyzed Protein Foods
Proteins are an essential part of a dog's diet. However, if their immune system fights proteins off by mistaking it for an allergen, things get tricky. These hydrolyzed protein foods contain ingredients that are already broken down to be easily digested. This allows the proteins to quickly pass through and get absorbed by the body, reducing the chance of a reaction.
Novel Protein Diets
A novel protein is basically one that your dog has not consumed before. The common ingredients for proteins used in dog food include soy, eggs, chicken, and beef, etc. While these work for some pups, if your dog is sensitive to these, he'll need a different protein source. Novel protein foods focus on that by changing the source and contain meats like fish, kangaroo, and bison.
Dog Food Allergies vs. Dog Food Intolerances
Before buying the right foods for your dog, you should first know what an allergy is and what is intolerance. They are both with different parts of the body.
Allergy
An allergy occurs when your pet's immune system mistakes a particular ingredient as harmful. As a result, the body creates antibodies to fight against the non-existent threat. Some pet owners also wonder if their dogs can have inherited allergies. Well, yes. They can and will show the same reactions if exposed to the same foods.
A dog can develop food allergies at any age, and they may last for a lifetime. Most commonly, their allergies are a reaction to beef, chicken, soy, wheat, and eggs. As a reaction, the dogs show the above symptoms and are unable to process the said foods.
Intolerance
On the other hand, intolerance is when your pet experiences certain digestive problems after consuming a specific type of food. Basically, they have trouble ingesting that particular food.
It is common and should not be cause for alarm. All pets go through some intolerance in their life because of some foods that they are just not used to eat. These ingredients may include low-quality foods or fats.
Things to Consider Before Choosing Dog Food for Allergies
The pet food industry is a big one. And with all the different types of dog foods out there, finding the right one can be challenging. Following is a list of all the things that you should consider before buying dog food for your canine.
Foods with Fewer Ingredients
This might come as a surprise to some, but it makes sense. If there are fewer ingredients used in the food, there are lesser chances of any allergic reactions.
The main point is to keep your canine's meal free from any ingredients that may cause any gastrointestinal problems. These foods are also useful if you aren't exactly sure what's causing the allergies.
Meat and Other Ingredients
Meat is one of the components in dog food that can cause allergy. Some pets are allergic to specific types. But what about the other ingredients?
Usually, kibbles and other dog foods are a mixture of protein, fats, fibers, and other nutrients. If you notice that your pet struggles even after changing the protein in his diet, it might be other ingredients. Therefore, it is recommended that you carefully study all components before giving that food to your dog.
Grain-Free Dog Food
Dogs have evolved to process newer components that their ancestors couldn't. However, they still aren't naturally supposed to be able to digest ingredients like grain. Grains do not necessarily cause strain on your dog's stomach. However, if your pet is already on a selected diet, it may be a good idea to find free dog food.
Raw vs. Processed Food
Processed foods are unnatural to pets. While it may be uncomfortable for some pet owners, raw meat might be a better option for your canine. Many dog food brands offer raw foods that are nicely preserved to maintain freshness. It is natural and free from any additives hence putting very less strain on your pooch's stomach.
Soothing Additives
For dogs suffering from skin and digestion issues, some foods contain additives that can help soothe the condition. These additives include antioxidants and probiotics like Omega-3 oils and sometimes herbs. These herbs help relieve the symptoms; however, they can do less to actually cure.
Price
While this may come as a surprise, you can find good dog food for allergies for quite a reasonable price. However, you do not want to compromise on the quality. Therefore, it is best if you choose a brand that has been properly approved by the FDA.
Expiry Date
This is especially important if you plan on buying raw meat for your dog. While these foods are well preserved, it is best to make sure that the food lasts for a good amount of time.
Try for At least a Month
To make sure that the food is alright for your pet, it is recommended to keep your pet on the same formula for 30 days. This will give you time to record and changes and improvements. However, if you see adverse effects, then you can immediately stop.
Benefits of Hypoallergenic Dog Foods
Hypoallergenic foods are suited for your pet's stomach and provide benefits that regular dog food cannot. Hypoallergenic foods may contain novel proteins and are often grain-free. The following are the benefits of using hypoallergenic foods
Contains Limited Ingredients: These foods have a limited number of ingredients, and it makes it super easy for pet owners to know exactly what their pet is consuming. It also makes it easier to spot any allergy-causing ingredients, if any.
Grain Free: Hypoallergenic foods are free from grains, soy, and wheat. The ingredients are also listed in simple ways so you can understand what's in the diet.
Rich with Special Ingredients: These foods use some ingredients that you can't usually find in the regular dog foods. These include different protein sources like lamb and bison and other stuff like oatmeal.
Supplies Hydrolyzed Proteins: These proteins are already broken down and then added into forms like kibble. All the body has to do then, is to let it pass and get utilized. It dramatically reduces the risk of an allergy because if the body does not need to digest the food, it will not mistake it as a harmful ingredient.
Easy to Digest: Since hypoallergenic foods have simpler ingredients, they are easy to digest, putting less strain on your dog's stomach. They may also contain soothing herbs that help relieve the symptoms of allergies.
Final Thoughts
Dog allergies and intolerances are a common thing. However, they can really affect your pet's health and appearance. In extreme cases, your dog can experience severe gastrointestinal problems. To avoid that, it is recommended to introduce Hypoallergenic foods in their meals.
These foods are more natural, easy to digest, and are free from any allergy-causing ingredients. Since the food industry is big, make sure to do your research before purchasing any food for your dog.
Frequently Asked Questions
How can I help my dog with allergies?
Knowing the allergy first can help you come up with a proper solution. If it is a food allergy, the right foods like hypoallergenic dog foods can improve your dog's condition. Other remedies include using medication and soothing herbs.
What is in the dog food that causes allergies?
While it differs in the various species, most dogs are allergic to foods that contain eggs, soy, dairy products like milk and other items like wheat, and sometimes chicken. Note that not all dogs are allergic to these foods, but some cannot tolerate them.
How is dog food for allergies different from regular dog food?
Limited-Ingredient foods and Hypoallergenic dog food are free from the different types of allergens that cause a reaction in a sensitive dog's stomach. They also have limited and sometimes simplified ingredients that make it easier for your dog to digest. Since they are already broken down, it dramatically reduces the risk of an allergic reaction.
What can I give my dog for allergy relief?
It is best to consult the vet for a proper medication and nutrition plan. Afterward, you can introduce hypoallergenic food in your pet's meals. These foods are simpler and put less strain on your dog's stomach.
What is the best dog food for allergies?
The "Purina Pro Plan Sensitive Stomach" is the best food for dog with allergies. It focuses on sensitive skin and has prebiotic fibers to improve digestive health. The Purina pro is also free from artificial flavors, colors, and grains.
What is the best high protein for dogs with allergies?
The "ACANA Heritage Biologically Appropriate Grain" is one of the best protein foods for dogs that have allergies. It comes packed with nutrients and contains quality meat from animals raised in the wild. It is also free from grains and causes no strain on the stomach.
What is the most common food allergy in dogs?
The most common food allergy is related to the proteins found in the food. Usually, their immune system mistakes the protein as harmful and then creates antibodies to fight it. A diet consisting of hydrolyzed proteins can prove to be helpful in such cases.
What natural remedy can I give my dog for allergies?
A natural remedy is a change in food. If there is some food that your dog is allergic to, replace it with a natural and simpler substitute. For example, if your canine sensitive to chicken meat, try introducing meat from a different source like rabbit and lamb.
What is the best sensitive stomach dog food for allergies?
For dogs that have a sensitive stomach, the "Hills Science Diet" is the best dog food, and it is also recommended by vets. This food features dry chicken meat and promotes digestive health while improving skin conditions. The ingredients also include Omega-6 and vitamin E for a healthier coat.
How long does it take for food allergies to go away in dogs?
Sources suggest that a food allergy-related to gastrointestinal issues usually takes 2 weeks to go away, given that the canine's diet is changed to a more suitable one. However, for the skin problems to completely clear away, it may take up to 12 weeks.
Source: