As a dog owner, it is no doubt you are doing it the wrong way if you don't have dog food storage containers to store foods. You can save a lot by buying dog food in bulk, but you need to store those foods properly so that it doesn't go stale or messed with by your dog.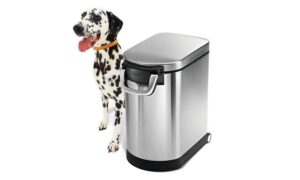 Dog foods can easily be exposed to air, moisture, and other elements once it is opened, and this cause the food to degrade and lose its important nutrients. This can be prevented with proper storage.
However, there are several things to take into consideration before buying food storage for your dog, this includes size, stackable, airtight, dog access, décor, and material.
With different products flooding the market, it is sometimes difficult to decide which one to go for. On this note, with the help of pet experts, we decided to create a list of the 10 best dog food storage containers with a detailed buying guide for you to decide better.
Best Dog Food Storage Containers in 2023 – Reviews
1. Our Top Pick – IRIS Dog Food Storage Container
Top Pick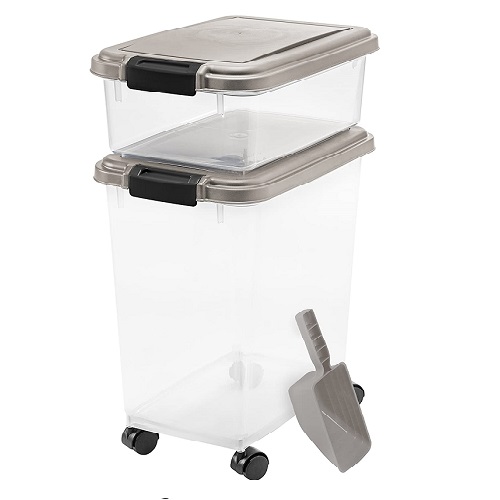 IRIS Dog Food Storage Container
With a stackable design and a scoop, the container combo package has become the best choice.
IRIS Food Storage Container is the best model with a convenient and minimalist design and a good amount of space for holding your pets' foods. As there are two containers, you can store two different types of dogs' foods. One of them is smaller than another piece. You can easily stack one over the other one. It available in a variety of colors. You may choose any of them for your purchase.
The manufacturer has claimed that is airtight, and thus, your pet's foods will stay fresh for a longer period. The integrated latches keep the lid firmly closed. Thus, you can prevent pests and moisture from affecting the food inside the container. It is best for storing dry foods.
The bigger size has the capacity of holding 20 lbs of foods, whereas the smaller one accommodates 10 lbs of dog foods. The manufacturer has used BPA-free plastic to design it. You will also find a scoop in the package to help you in taking foods out of the container.
Moreover, the bigger container has four wheels attached at the base. Due to these small durable wheels, you can move the storage system to any room without any effort. Thus, you may invest in this item designed by a reliable brand. Although it is intended for pets' food storage, you may store other edible products.
Key Features:
No pest invasion and moisture issues
A combination of two containers of varying sizes
BPA-free materials causing no harm to your dog's food
Useful for other purposes for storage of flour and sugar
The translucent body lets you view the amount of food available
2. Runner Up – Gamma2 Pet Food Storage Container
Runner Up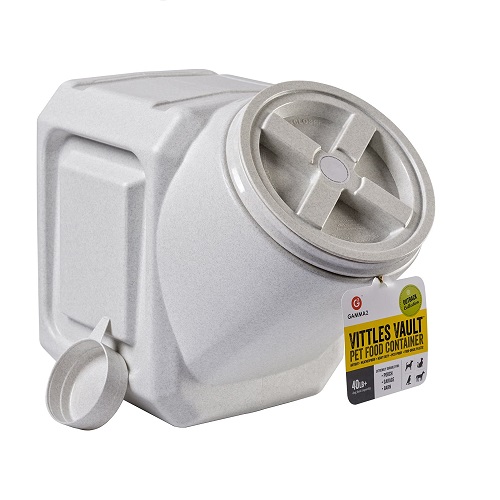 Gamma2 Pet Food Storage Container
With a pet-proof design, it holds much amount of foods for more than one pet.
Gamma2 Vittles Vault food container is the second choice, and that's why we have included it as the runner-up in our list. However, this looks different from that of other pet food storage systems. For those who need to store dry foods for their dogs, they can invest in this container.
The airtight system helps in maintaining the freshness of your foods. What's more, you can lock the moisture of your foods with this specially designed container. Lots of pet owners have chosen this for its spacious model. You can get two containers, as they have easily stable design.
Manufacturers have used premium quality, durable plastic for this food pail. If you have dropped this unintentionally, there will be no risk of cracks and damage. On the side part of the food storage system, you can find an angled opening. The large opening makes it easy for you to put foods into it and scoop them freely.
This dog food storage 40 lb container has minimized the chance of spillage and overflow of the content. You can spin the lid and seal the system to keep this airtight.
Key Features:
Includes molded handles of about 20.1 inches in length
Easy to open and close the lid
Made of high density polyethylene
Lock-down double gaskets for the best storage
Two containers are stackable
3. Best Budget – IRIS Airtight Pet Food Container
Best Budget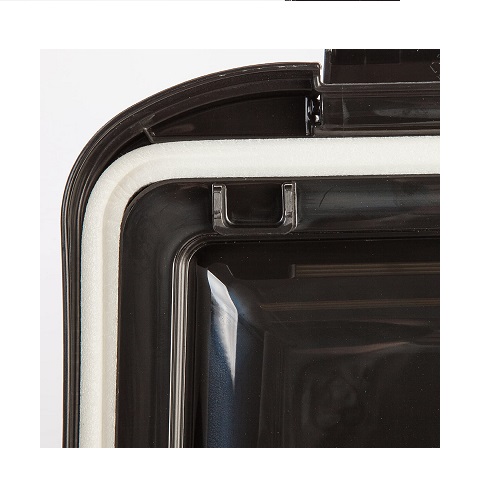 IRIS Airtight Pet Food Container
IRIS has manufactured a cost-effective pet food container with a highly practical design.
Available in a range of sizes, this quality pet food container is the most affordable product of our choice. Most of the customers have found it to be the best budget pick. You can easily close and open the lid to take out the foods for your pets.
The manufacturer has used innovative technology to make this airtight. The cost-effective package includes two airtight containers (8-quart and 32-quart). Moreover, you will get a food scoop that matches the design of this model.
Most of the pet owners buy a good stock of foods for their dogs and cats. Thus, to keep up the freshness of these foods, they will get value from these low-priced containers. You know that pests and humidity are major factors damaging your pets' foods.
To prevent them from affecting the stored foods, you can buy the airtight system. Ordinary items do not have proper sealing to keep your foods safe. You will have no concern about food safety.
The reputed brand, IRIS has used FDA-approved materials, causing no contamination to your pets' foods. Another notable thing is the integrated wheel system. Besides, you may also remove these casters to keep this stable in one place.
Key Features:
Snap-lock latches keep out moisture
Four rotating casters in the bigger container
Translucent body to have a clear view of the content
BPA-free plastic
Best standard sizes
4. Best Stackable Dog Food Storage Container – Gamma2
We have picked this product as the best stackable container for dog food storage. It is much similar to the Gamma2 mode with a side lid. However, the major difference is that you can place this Gamma2 food container in upright position. You may buy this to keep your pets' dry food fresh. The special system prevents the loss of nutrients and flavor from your foods.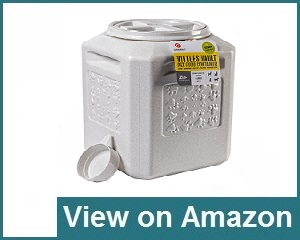 The airtight engineering is highly notable. To apply the unique Gamma seal technology, manufacturers have used double gaskets and a threaded locking system, ensuring a proper balance of moisture. While retaining the moisture in your pets' foods, the system prevents the harmful moisture from the system.
Moreover, as the airtight container it also maintains the food flavor, it keeps your pets' food out of pests. To manufacture this model, Gamma2 has used high-density polyethylene to ensure the durability of the structure. You can find this model in a variety of capacity levels, ranging from 15 to 30lbs.
Key Features:
Keep your foods from becoming stale
The spinning lid is easy to use
Protects foods from pests and insects
Integrated handles for a comfortable grip
Includes a free measuring cup
5. Best Airtight Dog Food Storage Container – IRIS Premium
IRIS has offered the best airtight container for dog food storage. The airtight design with an elegant look is the major attraction to buyers. You can purchase it for storing dogs' and cats' foods to retain the freshness of the content. Due to the special airtight system, your pets' dry foods remain fresh for several days.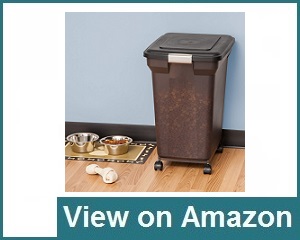 Manufacturers have used high-quality plastic that ensures no BPA. Thus, you can safely store your foods inside this. When you have different types of foods for multiple pets, you can buy more than one container.
The package includes a measuring scoop, which has some marked lines for your convenience. You may take out ½ cup to 2 cups of kibbles for your pets. It is also better to store your kids' foods and use the scoop to feed them with the right amount of foods.
Key Features:
Small wheels for easy movement
Airtight bins to store your foods
Made of FDA compliant materials
Flip-up lids that are easy to use
Secure latches for proper storage of foods
6. Best Galvanized Dog Food Storage Container – Behrens
Behrens is famous for producing the best-galvanized food storage container for dogs from the past several decades. These multi-use containers are 100% recyclable and durable at the same time. It is made from high quality galvanized material that will not crack, fade or warp like plastic if kept outdoor.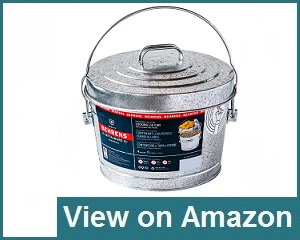 The product is also weather-resistant, which will not let it rust. Besides, no harmful chemical or petroleum is used while manufacturing this. So, it won't leach toxins into dog's food. The galvanized dog food storage comes with a locking lid that helps to hold the food inside and prevent it from spilling.
The lid stays on even if it is attacked or tipped by your pet. The airtight lid keeps things fresh for a longer period. As you know that it is a multi-use container, so it is idle for storing dog food, bird seeds, charcoal, wood chips, livestock, etc. It is also available in different sizes, so you can purchase according to your need.
Key Features:
High quality galvanized material used to last long
Made to sustain extreme weathers
Rodent proof and does not absorb odors
Locking lids to prevent spilling
Heavy gauge steel handle for easy portability
7. Best Plastic Dog Food Storage Container – Buddeez
If you are seeking for a budget-friendly dog food container with all the essential features, then Buddeez is one of the best dog food plastic storage containers for you. The sturdy and strong design is made from non-toxic BPA-free plastic, and it is also FDA approved.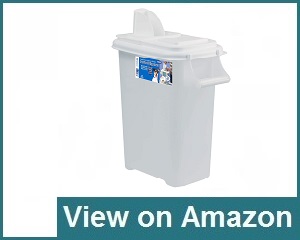 Therefore, the food that you will store inside this will stay 100% safe and fresh at the same time. Moreover, it comes with a dual-function lid, which allows you to either scoop the food or pour directly into your pet's bowl. It has a handle that makes transporting and lifting easier.
Besides, the slim design allows you to store it in compact spaces. The unique and convenient design lets you put the whole bag of dog food inside this without removing the packaging. It helps the food to stay fresh for a longer period.
Key Features:
Durable and easy to store foods
Dispense fresh food directly from the bag
Dual-function lid that allows both scoop and pour
Slim design for easy storage
Comfortable handle for easy lifting and portability
8. Best Travel Dog Food Storage Container – Gamma2 Vittle
If you love traveling with your dog and you want to keep the necessary supplies handy, then the Gamma2 is the right choice for you. Undoubtedly, it is the best dog food travel storage container you will find anywhere. It is idle for vacations, road trips, camping, etc. It is perfect for keeping your dog's food fresh.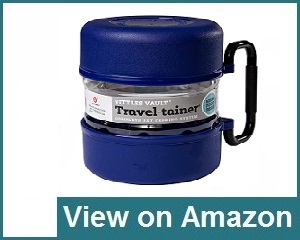 The material used to manufacture the product is made of food-grade plastic and BPA-free, which means it will not allow any kind of harmful toxins get into your pet's food.
The upper and lower portions are removable and can be used as food and water bowls for your dog. It is the travel dog bowls with lid can hold up to 6 cups of dry food and 3 cups of water that will allow you to keep your pet stay fed throughout the journey.
In addition, the container is airtight that prevents it from spilling anything and has a handle for comfortable use. The compact design lets you store it in small storage space.
Key Features:
Complete portable and easy to use
BPA-free and food-grade material used
Airtight to keep the food fresh and prevent spilling
Can hold up to 6cups of food and 3cups of water
Dishwasher friendly for easy cleaning
9. Best Stainless Steel Dog Food Storage Container – Simplehuman
Are you searching for a stainless-steel product that is attractive, strong and equally useful? Well, then the simplehuman is the best stainless-steel dog food storage container you can buy.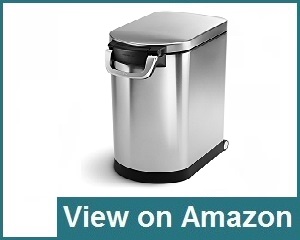 This simple human pet food container has all the features you wish to find. It is made from premium brushed stainless steel that makes it both durable and modern at the same time.
The airtight lid with a lock keeps the food fresh and also keeps it safe from your hungry dog. The stainless steel handles also help to lock the lid tight so that no moisture can get inside. The unique magnetic lid holds the scoop on the top to prevent it from getting lost.
The large storage capacity lets you store more food so that you do not run out of food more often. Moreover, the simplehuman dog food container is equipped with 2 sturdy rear wheels for easy movement.
Key Features:
Premium quality stainless steel for durability
Removable inner bucket for easy cleaning
Strong real wheels to move freely
The magnetic lid to hold the scoop
Ergonomic handle to lock tight the lid
10. Best Cloth Dog Food Storage Container – Bone Dry
Bone Dry presents the best cloth dog food container as an alternative to a hard storage container. The compact and lightweight design makes it a perfect product to store your dog food. It is also fantastic if you are travelling. You can easily carry this anywhere. The 100% polyester material makes it durable and long-lasting.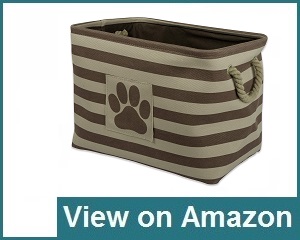 Besides, this large dog toy box can hold up to 20lbs of weight and available in different sizes and shapes. The large cloth design is made of FDA approved food-grade material. Therefore, keeping food inside this container is safe.
It always remains upright, and the comfortable handles make it easier to move or transport whenever you need it. The container is easy to clean; you will just need a damp cloth to clean this. Besides, the refreshing designmakes this an excellent décor item for your home.
The multi-use cloth container can also be used for other purposes like storing dog's toys, leashes, blankets, grooming supplies and even your dog can take rest inside it.
Key Features:
100 % polyester material for long-lasting use
FDA approved, and BPA free product makes it safe to store food
Can store up to 20lbs of dog food
Stylish and subtle texture to suit your home décor
Can be used for various purposes
Why Should You Buy Dog Food Storage Containers?
Dogs need proper care in virtually all aspects of their life. It is therefore the responsibility of dog owners to take care of them appropriately. Food is one of the responsibilities of the dog owner to his/her dog. He/she ought to provide adequate and healthy food for his/her dog to live and survive.
Food goes a long way in ensuring keeping your dog healthy. But when such food is not well stored, it is more likely to be found in the backyard trash. Some dog owners do keep dog food in the package it comes with the top opened and keeps wondering why such food becomes rancid.
Such food might have exposed to pests and flies who might have affected it in one way or the other elements like air, mold, and moisture, this can be avoided by using airtight containers.
Apart from ensuring and maximizing the freshness of dog food, storage containers also prevent your dog from accessing the food. Your dog might at some point try to access the food by himself without your consent, a food container can withstand such effort by your dog's.
And this is necessary because if your dog is given the freedom to access the food, the food will not last long as the dog will do everything under his power to get it, even when he doesn't need it.
Types of Materials Used for Dog Food Storage Containers
There are three basic materials used in this. Let's look at them in details:
Plastic Containers
Plastic-types are cheaper or affordable than other materials for dog containers. Though it is better to go for BPA free plastic because food exposed to BPA can result in some health challenges such as brain and prostate damage and increased blood pressure. Also, you need to wash a new bin a couple of times because the smell of plastic can be unbearable to your dog.
Most plastic types are transparent or translucent which helps you to easily identify the quantity of food left in the containers. With this, you can avoid the "Ouch, I am out of food", a situation which is bound to happen with opaque containers. It is also good to go for durable, thick plastic that can withstand chewing and cracking, this makes this last longer.
Stainless-Steel Containers
It is not surprising to find stainless steel containers to be more expensive than other plastic materials, they last longer and are more durable. Likewise, they are inert and don't interfere with your dog's food. It is also easy to clean and prevent food spoilage. Dog owners also go for this type for its sleek look and to avoid the smell of plastic.
Wood Containers
Wood might seem to be old-fashioned somehow, but it is still used to make different storage containers. some people appreciate the natural form of wood enclosures. Though they can be durable but have some cons, for instance, pores in wood can invite bacteria and molds, therefore they are not ideal for un-bagged food storage.
These types also attract more insects than other materials, as such, this could be an amusement spot for bugs. Finally, your dog food is also at risk because this type is not airtight.
How to Keep Your Dog Foods Fresh by Using Storage Containers
How we store or handle dog food determines their healthiness and freshness. There are techniques or approaches to follow to ensure dog foods stay fresh, these include:
Store the Food in Cool/Dry Place: It is important to store dogs' food in a cool/dry place so as to retain its nutritional quality. Mold from moisture can make your dog sick. Also, high temperatures can fasten the degradation process and break down food nutrients. It is better to store dog foods in a location with 100OF temperature or lower. Don't make the mistake of storing good food in a location with a temperature exceeding 100 degrees Fahrenheit, else it will destroy the vitamins and oxidize fats. It will affect the health of your dog. If the food is in cans (and not yet opened) or wet dog food, it is ideal to store them in a location with a temperature between 50 to 100 OF. however, it is not ideal to freeze canned dog foods as this will cause the taste and texture of the food to change. Finally, be sure that the area of food storage for dry dog foods is secure and your dog can't access it easily, else, he might be sneaking a snack occasionally.
Airtight Food Storage Containers: When choosing food containers, go for the ones that are airtight like stainless steel or plastic. They prevent dog foods from getting exposed to moisture and air.
Keep Your Dog Food Containers Clean: Always make sure the containers are clean and tidy. Oils from leftover dog foods can make this greasy and can contaminate fresh food. It is therefore ideal to wash the containers when refilling. You can to that by using hot, soapy water to wash it, and then rinse and dry before putting another food.
Things to Consider Before Choosing Dog Food Storage Containers
Before choosing a food storage container for your dog, there are several things to consider. These include:
Airtight
It is important to go for food containers that are airtight. This is especially necessary if you are stocking food for some time. The moment a dog's food is open, the oxidation process began, and the fats available in the kibble start to degrade.
Containers with airtight prevent dog food from becoming stale or bugs accessing the food. So it is better to invest in containers that prevent air or moisture from getting into the food in order to retain the required nutrients for the food.
Stackable
If your dog is more than one, then it is more likely to have them consume the same kind of food (if you are lucky). You may not want to keep rushing to the store more often when the food is exhausted, therefore, additional food containers would be necessary.
However, if your dogs eat different kinds of food, you probably need two or more containers to store them differently. In this case, going for stackable containers will save a lot of space and keep the food safe and easily accessible.
Store and Feed
To maximize your efficiency, you can go for food storage containers that provide tow in one service. That is, it provides storage and feeding options simultaneously.
So, when you want to feed your dog, you don't have to look for another spot or location to do that. However, the bowl stand may not take the whole bag of food, but in the case of smaller bags, this might be ideal.
Size
It is important to take into account the proper size. For instance, it will be useless if it cannot hold enough food for your dog. If while feeling the container, it fills up and you have to look for a place to keep the remaining food, then you are not maximizing your efficiency.
Likewise, a container that is too big, might not be ideal for your storage as you are likely to get stale food toward the edge of this. You will also be struggling to make sure you are not piling new food on old ones. The proper size depends on the amount of food you need each time.
Décor
You may also want to consider décor when buying a food container for your dog. These are mainly plastic which is not suitable for most décor. You can go to the model that matches your décor. To get a good result, you need to look carefully. However, Stainless steel containers are a good option, it matches virtually all decors.
Dog Access
Dogs always exhibit their characters in most cases. If a food storage container is accessible for a dog easily, then that will be his visiting place. So, it shouldn't be easily accessible to dogs.
Material
It should be BPA-free and safe because food exposed to BPA can result in some health challenges such as brain/prostate damage and increased blood pressure.
Benefits of Using Dog Food Storage Containers
Some people thought is not necessary to buy dog food container because there are other ways of storing dog foods. However, there are several reasons why it is important to use this purposely designed for dogs. Here are some of the reasons to get one:
Prevent moisture and spoilage: We all know that food has an expiry date. Dog foods are bound to degrade once it is open from its package. This is because the food is exposed to various elements in the environment. Chemical reactions known as oxidation affects the quantity and quality of nutrients in dog food when it is exposed to air. Dog food can also spoil and develop mold and mildew when not stored appropriately. However, with the help of proper storage containers, you will stay clear of all these issues. 
Protects against pests: Ants, cockroaches, rodents, flies, and other pests can access your dog's food if not properly stored. They can also contaminate the food with microorganisms as they eat the food. However, airtight food containers can prevent these from happening. 
Improved dog food supply management: These are mostly made of transparent walls. This helps pet owners to keep track of their dog food supply. Without this option, it means you have to keep opening this to check if there is enough left for the dog. This prevents the situation where the food gets exhausted without your knowledge.
Better organization: With this, you can easily organize dog food. This is more relevant if you are giving the dog a different diet.
Looking for the right food for your dogs? Check out our reviews of the best cheap dog food
Important Tips
The following are some tips to take into account while using or handling food storage for dogs:
Be sure to check the expiry date on the food package before buying. Only stock the required quantity to avoid waste.
Store dog foods in an airtight container. This is required because when a dog's food is open, the oxidation process began, and the fats available in the kibble start to degrade. This can be minimized with the help of airtight containers.
It is important to store dogs' food in a cool/dry place in order to retain its nutritional quality. Mold from moisture can make your dog sick. Also, high temperatures can fasten the degradation process and break down food nutrients.
Don't forget to wash dog food bowls, this goes a long way in preventing the resurgence of microorganisms on the bowl. It is therefore advisable to wash the bowl daily.
Conclusion
Like other pets, dogs require proper care and treatment. Giving them healthy and enough will go a long way in keeping your dog healthy. However, you are most likely going to be wasting a lot of money if you are throwing food on the trash as a result of poor storage.
Dog food containers are required to keep your dog's food fresh and safe. While others are adopted the traditional way of storing dog foods, it is advisable to only use the containers that are specifically made for dogs.
Frequently Asked Questions
Is it right to store dog food in a plastic container?
It is ok to store your dog foods in plastic container as long as you take temperature levels into consideration.
Can you travel with dog food storage container?
You can travel with your food storage containers for dogs. This is due to the fact that they are flexible to use or handle.
How many pounds of dog food does a 55-quart container hold?
55-quart container can hold an estimated amount between 45 to 50 pounds of dry dog food.
What temperature should dry dog food be stored?
While there is no amount of low temperature to avoid, the temperature should not exceed 100 degrees Fahrenheit.
How long does dry dog food last in a sealed container?
Dry food ought to be consumed within 6 weeks of unsealing the bag, so it is better to go for the required quantity of food to avoid wastage.