Dog gates are a great way to make your home safer for your pets and yourself. Whether you have guests that aren't fond of dogs, or little pups that might hurt 0themselves, a gate might just be the thing you need.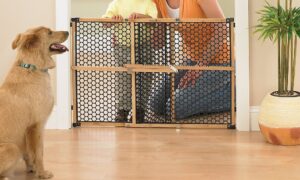 Available in different materials and sizes, these are very useful for restricting the dog's access to some areas. Other than safety purposes, they can also be used to divide the space. Mostly, these are foldable and available for different breeds.
However, there are many companies for pet products out there, saying that their gates are the best. The question then arises, which one should you choose?
To leave out the guesswork, our researchers have spent hours making a list of these 10 best dog gates. Our list is created based on the material, size, durability, cost, effectiveness, and usage of these gates. Check out what you need to find the most suitable gate for your beloved canine.
Best Dog Gates in 2021 – Reviews
1. Our Top Pick – Regalo Easy Dog Gate
Top Pick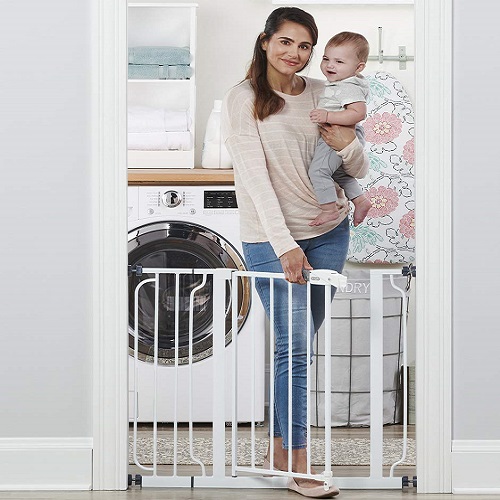 Regalo Easy Dog Gate
User-friendly designs and Premium Quality ensure optimum security and comfort for your pet.
Regalo Dog Gates is the top pick that come with a stylish design and all-steel construction. This model is propounded as the most modern with all unique features including; user-friendly, easy to assemble, extra-wide, adjustable, durable, convenient, and so forth.
Choosing what is best for your pet has always been a concern. It is important to get the right details to choose the right options. Surely, in keeping your dog comfortable and relaxed, you need to secure the right spot for them accordingly. This is designed for pooches that come in a crate-compatible and comforting space that is necessary to keep your pet experience the premium comfort that they deserve.
The good thing is that this versatile gate can be installed in a stable and secure fit, which is perfect for the doorway, hallway, and bottom of the stair use. Utilize the included wall cups if you'd file to attach to the walls. With the length of 30" tall, this is perfectly built to secure your fur babies in a safe place.
It has an expandable versatile fitting doorway that easily stretches to fit larger openings between 29"-34". Additionally, it includes extensions swinging door, appends the 6" extension to expand from 35" to 38.5". Because of its impressive installation options, it is quickly installed by either pressure mount or wall mount.
Most of the pet lovers are looking for an ideal gate for keeping their paws from high-risk conditions. This includes multiple safety-lock features for exceptional versatility and its frame can be assembled at all times. If you're worried before the installation about the gap between the latch and the frame, don't worry, it is neither a defect nor a bent.
That gap will be eliminated upon install. In the installation, it contains four wall cups, screws, and spindle rods for added safety. In addition to that, this can quickly be removed out of the opening for easy storage.
Key Features:
It has multiple safety-lock features
There are 4 pressure mount spindle rods
All-steel construction design with a walk-through gate
User-friendly and easy to assemble with multiple purposes
Convenient for pet dogs and their owner
2. Runner Up – Regalo Super Wide Dog Gate
Runner Up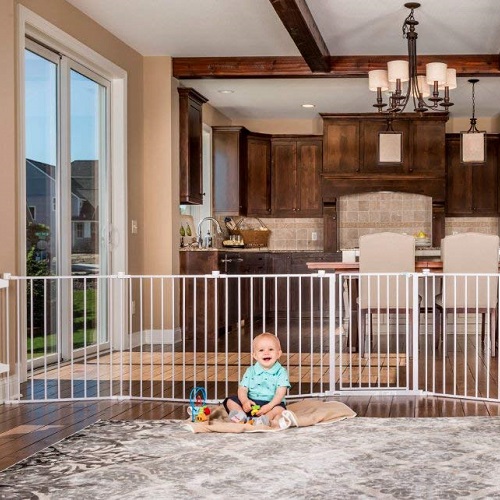 Regalo Super Wide Dog Gate
The gate comes with extra-height that adds a caring touch to your pooch.
Regalo Super gate suggests that this model has a very wide coverage. We have listed it as our runner up which well provides a play yard and a large span gate for your pet. This is ideal as a super gate for wide openings, at the landing of stairs, fireplace barrier, or as a playground. Made with sturdy all-steel construction for the ultimate in versatility to provide additional convenience to keep your dog safe in a spot while spending your time doing chores at home.
This can increase in size to cover a maximum width of 192 inches and provide expanded openings to fit 24-inch panels that attach to hinged posts. Hence, it offers a stunning array of framing possibilities. This portable gate comes with a foldable design with 8 removable and configurable panels.
It is likely to save the hassle of installing various styles and designs and easily assemble the panels to build a fully functional playpen. Nevertheless, if you need an expansion this is the front-runner by far. Also, it is a PVC-free that is approved and reviewed by safety standards.
Each panel is 28 inches tall and 24 inches wide, easy mounting to the wall created with a double lock handle that allows adults to ascend through the gate. You can either customize it as an independent fence, setting up a kind of a playpen for your adorable paw that also works perfectly.
If you desire to dismantle the wall-mounted gate, the panels are easily separated and folded compactly, making it flexible to assemble anytime, anywhere. Some dog lovers have used this because of its quality and the overall value that it gives to the owner. Surely, purchasing this gate is a good deal that would allow you to create a nice space for your paws.
Key Features:
Exceedingly Width Opening
Suitable for wide places, hallway or doorway
Walk-through design with a safety-lock feature
Easy to assemble and storage
Made of all-steel materials
3. Best Budget – Carlson Pet Products Expandable Pet Gate
Best Budget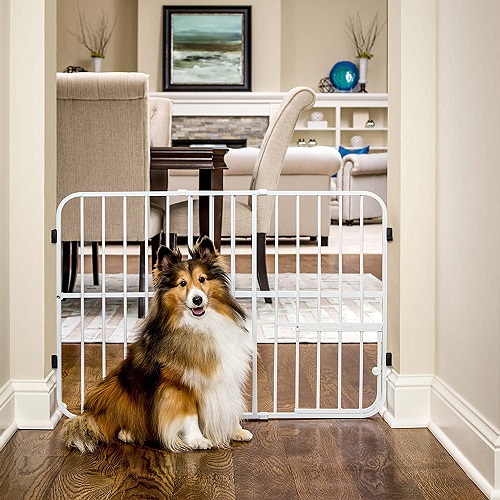 Carlson Expandable Pet Gate
Sturdy and high-quality gate suitable for any pet experience that they deserve at a low price.
We recommend Carlson Expandable as a budget-friendly dog gate, giving consideration to its exceptional quality for the price. This sturdy small-scale design is made of top-rated all-steel materials that can ensure durability and good performance.
The metal frame is solidly built and able to withstand pressure, making this one of its kind. It expands to an approximate range of 26-42 inches wide and stands 24-inches tall. Utilizing this gate is reliable for ensuring the optimum security of your dog.
The small size is quick and easy to install to fully function. The locking pin system keeps this locked when needed as necessary. Convenient for owners with a number of different pets with various needs. Some outstanding features include non-toxic, lead-free, and virtually chew-resistant materials making it safe to accommodate any pet.
It also has a soft rubber bumper specifically engineered to provide flexibility and protect the walls from potential damages. This also has 1.75 inches slates that help contain your pet securely.
The installation is very easy and often takes a couple of minutes to assemble. The pressure-mount system includes 9"x9" pet doors that provide access to less than normal-sized pets to easily go across without having to take the gate down.
To install properly, take both sides and stretch them to the desired width, elevate the locking pin by fixing it in the open hole, and shifting it into place. Fix the plastic knob to adjust the pressure prior to the gate being safely attached to the wall. This closed-pack design is great for carrying and storage anytime, anywhere.
Truly, this Carlson brand was manufactured based on high-quality standards that also provide great value for money. More importantly, it gives you the assurance that your paws are safe within your premises.
Key Features:
Expands 26-42-inch wide and 24-inch stand
Easy to set up and assemble
Perfect for small to medium dogs
Durable and Convenient
Available safety lock features
4. Best Multi-Purpose Dog Gate – Summer Infant
Summer Infant Extra Tall Gate is the best multi-purpose gate, ideally designed for toddlers, however, it can also be used particularly in securing your pet. It is convenient and easy to set up on the stairways with the included kit. This can be accommodated in both doorways and stairways for installation.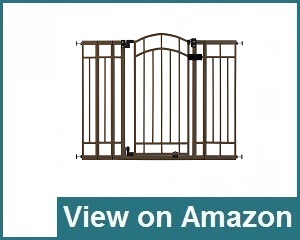 This multi-purpose baby gate fits spaces that measure up to 28-48-inches wide, making it the best option for young children and small pets. The measured opening between the vertical bars is 19-inch. Standing 36-inch height is made up of metal with a bronze finish, a child-proof construction feature to keep your toddler and your pet safe from the comfort of your home.
You can install it on the walls, stairways, and doorways. This stylish multi-functional construction is also equipped with an auto-locking feature that gradually closes the door in a kept-open feature and remains the door unlocked. Aside from its endurance, the detachable door stopper avoids the door from swaying open over the stairway. Tools are necessary for hardware mounting.
It comes with a pressure mount that is hassle-free and easy to assemble to firmly grip on the wall, surely you can detach it anytime you like. This is child-proof making it safe for your kiddo and pets. Additionally, the removable door stopper blocks the door from swaying open over the stairs.
Key Features:
Easy to install and assemble
With Auto-lock feature
Easy to remove dog stopper
Made of heavy-duty metal finished with bronze
Safe, secure, and stylish
5. Best Walk-Through Dog Gate – Carlson Pet Products
Carlson extra-wide has recognized as the best walk-through gate that is made of lead-free, heavy-duty, chew-resistant all-steel materials to withstand the wear and tear which is virtually sturdy for occasional chewers. This patented small pet door is 8×8 inches designed for small pets to easily pass through.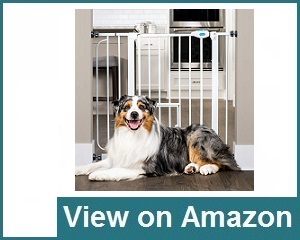 This stands 30 inches tall, halting fleet-footed dogs from leaping over. This hinged barrier offers suitability and helps release handle to let you pass through without having to push or pull along the substantial mechanism. It includes an additional 4-inch wide expansion for a much comfortable space for your pet.
Undoubtedly, it is the best walk-through dog gate by far. It also offers a full-bodied feature to perfectly install the equipment in doorways and hallways. Also, this can also be connected at the top of the stairs by simply applying the four added cups. This model carries two extension panels to draw up to the measurement of 29 inches without or 44 inches conversely.
This simple yet convenient gate makes it possible for you and your pets to have a nice space when co-living together. Its capability to allow you to pass through it provides the ease of access without leaping or jumping over. More importantly, you and your pets can both enjoy a more harmonious bond.
Key Features:
Multi-safety lock
Adjustable and convenient
All-steel design with a walk-through gate
Expands up to 29" to 36.5"
Suitable for doorway and hallway
6. Best Freestanding Dog Gate – IRIS Pet Playpen with Door
IRIS Pet Pen is dubbed as the best freestanding dog gates, ideally for puppies from small to medium-sized dogs. This product is one of the finest playpens that offers heavy-duty indoor pens in 8 square feet playing area for your pets.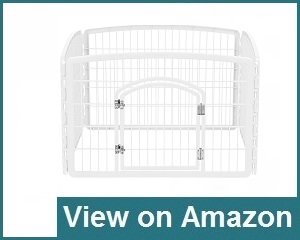 This portable playpen is made of plastic, making it possible to situate outside the yard without worrying from corrosion. It weighs about 13 pounds and it can be folded relatively flat. So, possibly you can take your pets whenever and wherever you go on vacation.
It is completely suitable for your space capacity and you can actually be able to contain your pooch in a secured fence. Though it is made from plastic materials, its panel is securely connected with full-length securing rods.
Each Panel measures 33.6 inches wide and 24 inches tall, doors are measured 14.5-inch and 16.5-inch and the interval between bars is 1.5-inch. It can be customized into different shapes that best suit your pet's needs.
This is absolutely safe for your paws because it doesn't have any pointed edges and sharp parts that might cause harm to your pet. Overall, this durable freestanding gate is guaranteed safe and secure.
Key Features:
Made of strong molded plastic
Heavy-weight and durable
Simple to install
Non-skid rubber feet help to keep the floor protected
Pressure mount can be adjusted to create a secure and stable fit
7. Best Pet Gate for Large Dogs – Regalo Gate
Regalo Easy Step is tagged as the best pet gate preferably for larger dogs. This is constructed with all well-built materials to ensure the ultimate security of your dogs. Footing 41 inches tall gate forbids your dog from escaping over the fence.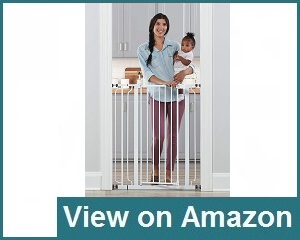 This expands to suit doorways between 29-36 inches. The additional 4-inch extension can be included to fit in with the wider spaces. These extra extensions are sold individually. This is extremely durable with an appropriate walk-through feature and an effortless self-touch safety lock release. In addition, it is also lightweight and movable.
On a certain occasion, you can observe that this appears to be bent before installation and there you can find an opening at the handle, both of these concerns will be abolished once the gate is suitably fixed in your doorway. Prior to purchasing the proper fit, kindly measure the opening of your gateway.
Surely, you can apply the included wall cups to the wall if you'd prefer to, also, you can adjust the pressure mounts to make a more secure and stable fit. This extra-tall gate allows the adults to pass through by simply gliding the safety lock back and elevating the lever handle.
Key Features:
Handy lever handle features a single-touch release safety lock
Expands fit openings between 29-inch to 36.5-inch wide
Appropriate walk-through feature
Easy pressure mount set up
Great for children too
8. Best Portable Dog Gate – MyPet Paw
North States Pet is the best portable gate for dogs that is constructed from resilient plastic and durable design to hold up stylistic and decorative functions. This is 23-inch tall and expands a selection of opening fit between 26 inches and 40 inches wide. It is ideal for containing small to medium-sized pets.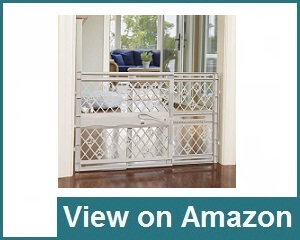 You can install and remove it easily-whichever way you can use it anytime, anywhere. It comes with a curved handle for an unyielding clutch, which makes mounting and detaching simple and easy. In opening the gate, make sure that the rubber pieces on both sides are facing side to side, not up and down. Then you can rotate the handle and tug it apart.
This movable design features rubber bumpers that are situated higher than the others to fit in with 4-inch molding. These bumpers help protect and preserve the wall from damage while ensuring the hold of the gate in place. These rubber bumpers are positioned on all four corners of the gate shape.
Key Features:
Made of tough and durable plastic materials
Portable and Convenient
Perfectly design for modern homes
Easy to set up and comfortable to use
Made in the USA
9. Best Pressure-Mounted Dog Gates – Evenflo Position
Evenflo is the best pressure-mounted that is often sorted as a toddler safe gate than it is for a pet dog. The Position & Lock Tall gate fits openings from 31 inches to 50 inches wide. This is made of heavy-duty wood frame which is pretty descriptive to ensure the optimum safety of your paws.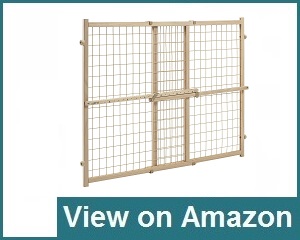 If you're aiming for a little extra space and height, this is a great option. It extends from 26 to 24 inches (0.61 m) wide, stands 23 inches tall, making it a great choice for pets that can be leaped over smaller gates. And if for some reason your pet is a chewer, the mesh part is made of vinyl-coated metal, your pet probably will bite the enamel off, but may have a hard time carrying out the damage.
There is no worry about installation, the pressure mounted system is effortlessly movable. Placing the robust non-marring rubber bumpers hold it firmly in place to steer clear it from damaging the walls. The locking bar is marked for quick installation and re-assemble. Hassle-free to set up for immediate uses. No tools required.
 Key Features:
Made of heavy-duty wood
Non-marring rubber bumpers prevent damage to your walls and home
The locking bar is marked for quick installation
Pressure-mounts all doorways without hardware
Easy to clean and operate
10. Best Expandable Dog Gate – Carlson Pet Products
Carlson Pet Products brand offers the best expandable dog gate that can extend the opening fit as you wanted it. This outspread design is easily adjusted between 22 inches and 38 inches wide, making it the widest patented system perfect for the hallway, doorway, and bottom of stair use. This can easily pull out of the opening for easy storage.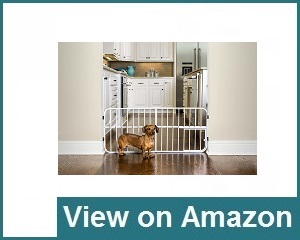 It is made of all-steel construction design that is durable and convenient to use. It is quickly regulated in size and requires no tools to install. The Carlson is designed with a safety-lock feature to exceed voluntary safety standards. Standing 18 inches tall, the pressure mount system included 9"x9" pet door which is easy even for small dogs to step over without having to pass through the gate down.
It is also chew-proof, ideal to protect and prevent damage to your walls and also pressure mounted that is absolute to hold firm and leave no marks to the wall. For safety purposes, the lock and pin system secure the gate. Perfect for small-sized pets. Prior to purchase, kindly measure the opening to ensure that you will get the right fit.
Key Features:
Pressure mount that is quick and easy to assemble
All-steel construction materials for your small pets
Can be removed out of the opening for easy storage
Certified to both JPMA and ASTM standards
Non-toxic finishes
Why Should You Really Need a Dog Gate?
There are many different reasons for using a dog gate. Our canine friends are usually very active and love to play around. Sometimes they can also become aggressive chewers. While it is good for the dog, there are few places where they shouldn't wander around.
For young puppies, this place could be near the stairs or a place where the cleaners and chemicals are stored. Some pet owners just like to use these gates to create a separate, customized space for their dog. The following are some reasons why you might need a pet gate.
Security Reasons: These safety reasons can be both for your dog and yourself. As pet owners, we obviously love our pets. However, some of our guests and friends might not be too comfortable around them. These are different from regular dog doors and can keep your dog in even when you're not around for supervision.
Sometimes our canine friends do not know what is dangerous for them. Pups are quite active and will continuously run around, even in places that can be harmful. Therefore, since keeping them in one place is not an option, what you can do is to create a boundary.
Other times this can come handy is when you're going out and want to make sure that your pet remains safe. A dog gate can do this effortlessly as it is adjustable and available in various sizes.
Dividing and Customizing Space: These are also great for separating a place specifically for your canine. You can customize that area to make it suitable for your dog. That can include putting a dog bed and toys inside. For delicate breeds, this proves to be useful as you can create an environment suited for the soft pooch.
Best Uses of Dog Gates
Mostly gates are used for dog indoor purposes. However, their uses can vary. Depending on the usage, the type of gate can change for dogs. Therefore, before buying one for your dog, you'll need to know what purpose it will serve.
These are versatile and can be used in the following ways.
Indoor Use

: Indoor gates are mostly used for safety purposes and to separate the dog's area. While there are options like walk-through gates, many energetic dogs need higher supervision. You might even have to block the way completely. Many pet owners use these to prevent their pups from entering the kitchen. There are many tools and appliances that are dangerous for your pet.
Outdoor Use

: Outdoor gates are built with weather-resistant materials to suit the outdoor environment. These can serve many purposes and may be used to keep your dog in or out of the house. Basically, you can keep your dog supervised even when he is outside the home. These come in handy, especially when coming after a walk. We all know that pups like to get all dirty and muddy. If you let them enter the house like that, the whole place can be a mess. A perfect gate can prevent that until you clean them.
Common Locations to Place Dog Gates
Buying a dog gate but don't know where to put it? Keep reading forward. Basically, you want to put the gate to block the path towards somewhere you don't want the puppy to go. The main purpose of this gate is to protect your pup even inside the house.
Most commonly these are used for:
Barricading the stair banister: One thing we all know is that dogs love to run around, and running doesn't always go well with stairs. Therefore, one of the places you might choose to put the gate will be near the stair banister. Some people decide to put it both at the top and the bottom.
The Kitchen door: The kitchen is like the main laboratory of the house. It has appliances, cutlery, and you cook food. To prevent your pet from shoving off a boiling pot, a walk-through gate should be placed at the kitchen door.
Partitioning A Room Corner: To mark a particular room area as your pet's territory, the gate with panels can be put to make that place solely for your canine. Then you can choose to either put a dog bed in or make it a play area.
Outside Gate: Dogs need their space, and that includes in the lawn. However, as pet parents, we want to make sure that our pet does not wander off out of the house. To avoid the dog's day out, you can place a metal gate in such a way that your pup can enjoy the lawn but remain restricted in it.
Used Materials of Dog Gates
Choosing the right material is really important as it defines the purpose and durability of the dog gate. Depending on whether you'll be using it outdoors or indoors, these are made from the following materials.
Wood: These gates have beautifully carved designs on the panels and prove to be quite sturdy. While these can resist pushing and shoving, if your dog is an aggressive chewer, wood might not be the best option. Other than that, wooden gates are useful for dogs of all ages. Due to wooden nature, these gates are suited for indoor use.
Metal: Metal gates do not come in a variety of designs as compared to wood. Instead, they have vertical poles. Dog gates made from metal are larger than most and are resistant to dog bites. However, if you plan on buying it for a smaller breed, we recommend double-checking the size. Due to their smaller size, they might be able to glide through the space between the bars.
Plastic: These are lighter in weight and are very easy to clean. Due to the lighter weight, plastic gates are also easily portable. These are suitable for smaller pets like cats and small size dog breeds. However, if your dog loves to chew things, it is not the most ideal option.
Composite: Some gate systems are made by combining more than one element to enhance its capabilities. Whether you should choose one or not depends on your pet's chewing and jumping habits.
Different Types of Dog Gates
People keep pets in their houses and apartments. To suit the extensive area needs, there are different types of gates are available in the market for your furry friends. These are also classified by the nature of their use and portability. Some of the common types are as follows:
Free Standing: A freestanding gate does not require any installation. It is an excellent choice if you want a barrier that can be moved anytime. Its main purpose is to simply serve as a barricade. These are made from heavy materials like wood and are heavy for puppies, so they don't move it on their own. Unlike others, these gates have two extensions at the bottom to keep it in the standing position. However, these are mostly suitable for puppies and smaller dog breeds.
Pressure Mounted: These can be mounted on walls with rubber extensions. The rubber helps create tension across the width and keeps it attached. These gates can be put up quickly, all you have to do is tighten the screws on both sides. Since they are not fixed in place, pressure-mounted gates are easy to move and place elsewhere. However, if your dog has a habit of constantly pushing the gate, he might dislodge it entirely. To avoid it, train your dog to not do that.
Wall Mounted: Similar to the pressure mounts, these perform the same function. However, they have to be fixed by bolting screws in the wall. Unlike the free mounts, an effort is needed to put these up.
Foldable and Hinged: These satisfy the gate's definition more properly as they are not simple barricades. Foldable doors have different shapes and sizes, and the smallest one has at least 3 foldable panels, while large ones can have up to 8 panels. Since they are hinged, you can turn these into dog playpens for your canine.
Walkthrough Gates: As the name suggests, these have a smaller gate that allows your pup to pass through. Usually, the walk-through entrance is the smaller one in the middle, while the rest of it is fixed either permanently or with pressure.
Extendable Gates: These are foldable and can easily be adjusted according to the required width. It makes them ideal for putting near a doorway and stairs. When not in use, this can be folded and put away with ease.
Based on the walk-through mechanism, a dog gate may be a retractable, walk-over, or swing-open. Retractable gates, just like the name suggests, can be retracted by opening a switch.
Walk-over gates are smaller so that you can simply walk over. They are only suitable for toy breeds and little cats, big animals can jump over them. The swing-over gates can be either unidirectional or move both ways allowing you to walk through.
Things to Consider When Choosing a Dog Gate
Now that you have decided to purchase and here is a list of things you need to keep in mind when purchasing a suitable gate for your canine.
Construction Quality
The overall gate quality is a mixture of both design and function. Ideally, you'll need a balance of both. No one wants a gate with an awesome design but poor performance. The same goes the other way around. Look for pretty design, but keep an eye on the durability.
Material
Gates are made from a wide range of materials ranging from plastic, dense wood, and lightweight metal bars. The one you need depends on your dog's breed, size, and habits. Mostly, a it works great for most ages; however, smaller breeds may be able to pass through the space between the bars.
Durability
As it is a long-term investment, so the gate should also be sturdy enough to withstand your canine's constant tries for getting through. Therefore, when buying a dog gate, choose one with a sturdy build.
Size
Properly measure the height and width of the smaller gate as well as the total boundary height. If you have more than one pet in the house, you'll need to consider the size based on your largest pet. The walk-through gate should be tall enough to allow your pup to comfortably pass, and the total boundary height should be difficult for your dog to jump and cross.
Portability
It is an essential feature, and other than the wall-mounted gates, all are portable. If you are buying a plastic or wooden freestanding gate, make sure it is easily portable.
Storability
Foldable and hinged gates can be easily folded and put away. It's an important feature, and you should look for one that can be easily stored.
Quick Release and Self-Lock
We cannot always be around when our pet is using the gate. An ideal option is a gate that closes and locks automatically. It should have a security mechanism with a quick lever for release. It should allow you to pass, but it should be difficult for your pet.
Adjustability
Gates are needed in various places inside and outside the house. An adjustable design allows you to set the desired width to allow a better fit. Some can be folded and used as dog playpens.
Warranty
Buying a gate with a warranty gives you a risk-free purchase. Many good brands provide a warranty for some time, and you can relax.
Placement
Dog gate designs differ according to where you want to put it. Therefore, before purchasing one, you need to decide where to place it. Some places require a free-standing gate; however, you'll need a walk-through gate for areas like the kitchen.
Installation
For pet owners that love DIY, wall-mounted gates are great. They are a permanent solution and need to be fixed with the proper hardware. However, if you are looking for a quick solution, you might want to go with a freestanding or pressure-mounted gate.
The Usefulness of Dog Gates
Canine gates can be handy in the following ways:
Keep your pets in one place: Quality gates are useful in keeping your pet safe and in one place. When you are going outside or even just working in the house, if you have dog gates installed at the appropriate locations, you can relax knowing that your puppy is secure. While gates restrict your pet from going everywhere, they also provide freedom. After having put gates, you can relax and let your canine move around freely.
Keeping Dogs Away from Guests: These are also very beneficial when you have guests that aren't too fond of dogs.
Making Partitions: Dogs don't always get along, and separating them might be a good idea. It can be used to create a partition. While these keep them safe, you can also put a soft dog bed and other amenities to make sure your dog likes staying in there.
Reduced Mess: If dogs are left roam freely around the house, one of the problems is their fur and dog hair all over the place. A gate allows you to reduce that mess to that particular area.
Important Safety Tips
Before putting on a gate for your pooch, there are a few safety tips you should follow. These include tips related to installation, as well as usage.
Measurements are key

: Before purchasing, make sure to choose one that allows your canine to pass through comfortably, but also prevents him from jumping over.

Walk over safely

: Smaller gates are easy to walk over due to their size; however, make sure to be careful; otherwise, it might hurt you, or the gate might fall.

Freestanding gates are mostly used for small pets

: However, the gate should not be too light or too heavy. If it is too light, it will fall easily, and if it is too heavy, it might be dangerous for small breeds.

Avoid any Recalls

: Dogs are quick learners, and there might be some gates out there that are not suitable for keeping pets. Keep yourself updated on these products and avoid a gate if it has had any recalls in the past.

Pay Attention to the Installation

: Dog gates that require installment come with a manual and sometimes the equipment needed for installation. It is crucial that you pay attention to the manual before mounting the gate. If you are unsure about doing it yourself, seek help from an expert.
Conclusion
As pet parents, we want to keep our pets safe. Dog gates are one of those useful things that fulfill this purpose. If your canine is energetic and curious, he might try to wander off and run in places that can be dangerous.
You can use them in tons of ways; as a barrier, a partition, a dog playpen, and a small gate. These come in different materials and designs and are suited for both indoor and outdoor use. However, before buying one, make sure to know your pet's size and aggressive habits like chewing.
Frequently Asked Questions
How does a dog gate work?
There are many types of gates for pets that differ in their working. However, they all have the main goal of preventing your pet from going to places where it shouldn't. Freestanding gates act as barricades while Walkthrough gates are small through which your dog can pass through.
How gates keep your dog safe?
These are like sturdy barriers and partitions. They prevent your pup from entering places like the kitchen that can be dangerous. Another use is that you can put these on when going out. That way, you know your dog will be safe.
Is it hard to install a dog gate?
Not really, but it depends on the material and types. The freestanding types do not require any installation at all. The pressure extension gates are also quick to install, all you have to do is tighten the screws on the sides, so the rubber attaches properly. The hardest of all is the wall mount gates as they need to be installed by using the proper hardware consisting of bolted screws.
How do I install a dog gate?
The proper installation depends on its type. The freestanding and hinged dog gates do not require installation. Proper attachment is necessary for pressure-mounted and wall-mounted gates.
The pressure-mounted gates are not fixed permanently with a wall. They use rubber and tension for attachment. Therefore, to install one of these, you'll need to expand it according to the width and then tighten the screws on both sides. For wall-mounted design, you'll need to permanently attach them by drilling holes and fixing them using the proper hardware.
How tall should a dog gate be?
The tallness depends on your pet's size. For smaller dogs and cats, a 6-7 inches wide and 9-10 inches tall gate works just fine. Larger dog breeds may need gates up to 20 inches tall. The size can also change as your dog grows, therefore, make sure to take accurate measurements before buying.
What is the right height for a dog gate?
This is entirely dependent on your canine size. Ideally, it should be tall enough to allow the dog to pass comfortably. It should also be tall enough so your dog cannot climb or jump over.
Can I use a large dog gate for my small dog?
It depends on the entire design, but yes, you can mostly use a large gate even for small dogs. However, make sure to see the dog's comfort before purchasing a more massive gate.
What is the best portable dog gate?
The "MyPet Paws Portable Pet Openings" is an easily portable gate. This is made with durable plastic and has an appealing design with small paw prints. You can quickly assemble and disassemble it, which makes setting a lot easier. It is also suitable for dogs of all ages.
What kind of lock should I have for my dog gate?
An ideal lock should be easy for you to open but difficult for your dog to open. It should also be strong enough to withstand your pet's constant struggles of breaking through.
A good option can be a one-touch gate for quick release by just the press of a button. There are other options like latches; however, it is recommended to choose a gate that automatically locks itself.