You must be wondering why you would need a Dog Grooming Clipper if you can go to a salon for your dog's grooming. Well, going to a salon isn't that easy on your pocket if you have to make frequents visits. It costs you a lot of expense and time as well. Just imagine how easier it will get for you if you buy your own pair of clippers.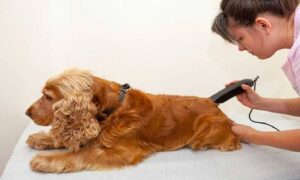 Especially if you have a high maintenance dog who needs a trim very often, then these clippers will do you a lot good. Dogs very heavy fur and no grooming may start to feel pain as the hair gets tangled. They often become irritable. With a pair of professional clippers, you can give your dog a delicate trim whenever it is required without worrying about a salon trip.
So, if you have now considered getting one for your ease in getting your dog groomed, then we've all the information here that you might want to know.
Best Dog Grooming Clippers in 2021 – Reviews
1. Our Top Pick – Oneisall Dog Shaver Grooming Clipper
Top Pick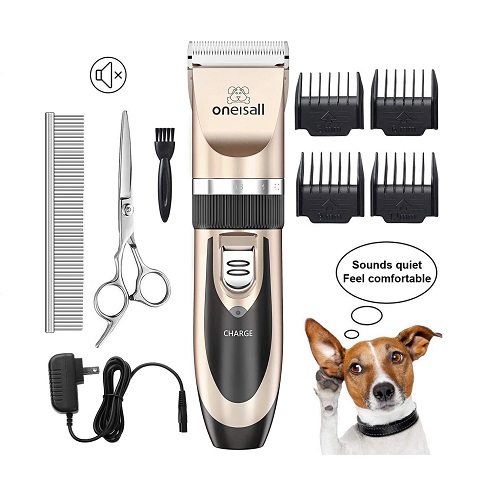 Oneisall Dog Shaver Grooming Clipper
With wireless design, Oneisall is a safe, easy-to-use electric model for pet grooming.
The Oneisall is the best battery-operated, cordless clipper for perfect grooming of your dog. When you have no time to visit a dog groomer, you may buy this tool to groom your dog at your home.
There are high quality 6 guard combs, integrated with the device. The clipping comb is easily adjustable, and you need to use it to clip the hair of varying lengths. The guide combs are detachable from the device. Manufacturers have designed this in a way that you can easily change combs for your purpose.
The blade quality is superb, and the fixed blade is made of stainless steel. However, the moving blade has a ceramic model to ensure the best performance. Although you are using these blades for several days, they can retain their sharpness. To keep up the original condition of blades, you can detach them and clean them thoroughly.
Another notable feature is that the clipper performs its function without making intense noise. As per the manufacturers' claims, the system produces a sound of about 50 DB. What's more, it does not vibrate at the time of clipping your dog's hair.
Thus, your little furry pet will not feel afraid of this device. You can comfortably cut its fur. The Li-ion battery works best and lets you use the device continuously.
This includes a stainless-steel scissor, comb, guide guards, and an oil bottle. When your pet has long and thick hair, you must cut them with a pair of scissors and then use the clipper to avoid blockage to the grooming system.
Key Features:
Best quality built-in Li-ion battery
Sharp blades that are easy to maintain
Low-noise and low-vibration model
Stainless steel blades last long
A fully charged rechargeable battery works for 80 minutes
2. Runner Up – Pet Union Professional Grooming Clipper
Runner Up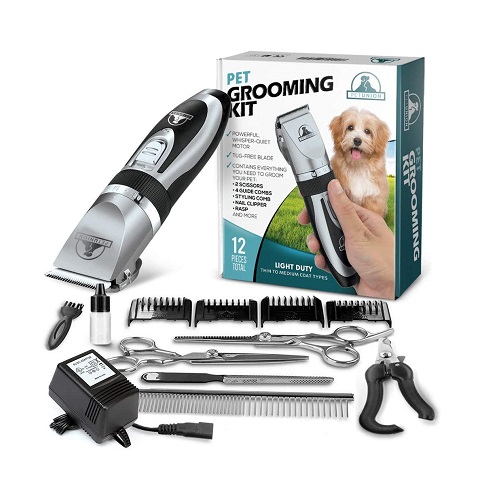 Pet Union Professional Grooming Clipper
Pet Union has offered a light-duty grooming device with adjustable, sharp blades.
This grooming kit is the second choice, and we have included it as the runner-up on our list. When you are looking for a comprehensive package for your regular dog grooming needs, you may invest in this kit.
The cordless and rechargeable clippers have four guide combs to let you manage the length of the cut. Moreover, the package includes premium quality stainless steel comb. Two grooming scissors in the kit help you ensure perfection to your dog's hairstyle.
Other useful tools include nail trimmers and a nail file to prevent your dog's nails from getting sharper. Thus, by purchasing this package, you can take care of the overlook look of your dog.
Your little furry pup will not be scared of this tool, as it is a low-vibration system. The precision motor of the device helps you in operating the device without making noise.
The ergonomic design enables you to grip the device comfortably. You can easily clip hair from any part of your dog's body. Thus, grooming becomes easy with this simple device.
Although you are grooming your dog for the first time, you can do that safely. Pet Union ensures a comfortable, safe, and easy grooming process. Moreover, the specially designed grooming combs will cause no issue to the skin.
Key Features:
Helps with stress-free and noise-less grooming
Titanium blades with high sharpness and precision
Rechargeable battery that lasts long
Nail care tools included in the package
Innovative design to ensure safety to dogs and pet owners
3. Best Budget – Wahl Professional Animal Grooming Clipper
Best Budget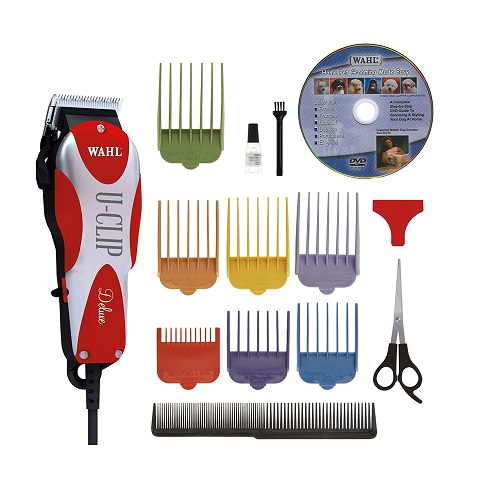 Wahl Professional Animal Grooming Clipper
Available at a reasonable rate, this U-Clip pet grooming tool has a high-powered motor.
This best-budget dog hair clipper has become a popular choice for lots of pet owners. Its versatile design enables you to trim, clip, and groom dog's hair. However, it works best for medium to fine hair of cats and dogs. With the grooming kit, you can find the Deluxe U-Clip clipper ensuring reliable performance.
We have found it to be one of the best-wired clippers. The package includes a cord of 8 feet. Moreover, you will have 16 pieces of tools in the kit. It is very small, measuring 6. 5 by 2 inches. Still, you can find the amazing performance of this user-friendly device.
Wahl's adjustable blades are all made of high-grade steel to ensure long-lasting durability. The blades are adjustable, and the cutting length range from 10 to 30. The blades and overall device are highly powerful, as you can give 7200 strokes in a minute. Despite having high speed and power, the device does not produce noise and heat.
The device is ideal for curly, silky, smooth, and wiry hair of pets. It works perfectly for Yorkies, Shih Tzus, Cavaliers, Spaniels, and similar other species.
Key Features:
A lengthy cord to let you move with this
Clipping becomes quick and easy with this device
Lightweight design with red and chrome finish
Risk-free for several dog and cat species
Helps you to care for your pets' paws, ears, face, and other parts.
Perfect touch-ups for dog fur
4. Best Rechargeable Dog Grooming Clipper – Wahl Pet-Pro
If you are looking for the best rechargeable grooming clipper, you can buy this product. We have chosen this full-packed kit for your convenience. The package includes a number of tools, including the pet clipper, adapter, comb attachments, a cleaning brush, nail clipper kit, and stainless-steel comb.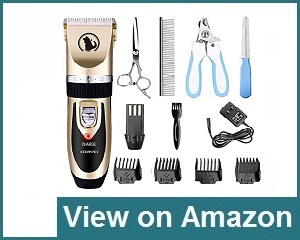 Ceramic and titanium blades with anti-wear motor ensure that your device lasts long. The precision motor does not produce annoying noise. The noise level can reach up to 60 DB, and we think that it is endurable to anyone. The uniquely designed motor does not hurt your pet during its operation.
The grooming kit includes a charger, and a fully charged system can work for more than an hour. You do not need to replace the battery, as it is rechargeable. Thus, you can try out this item and ensure optimal safety for your pets.
Key Features:
Cordless, lightweight design with no wires
Best for professional salon and home use
Needs 4 to 5 hours for a full charge
A low-vibration system ensuring the ultimate comfort
Cordless, easy-to-use
5. Best Heavy-Duty Dog Grooming Clipper – Wahl Pet-Pro Clipper
We have chosen it for grooming dogs with thick, heavy fur on their body. This is the best heavy-duty dog grooming clipper, and the kit includes everything that you need for pet grooming, trimming, and clipping.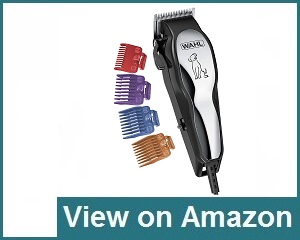 Thus, you can buy this product for adult dogs. As the device has a potential motor, the system delivers 1.5 times more power. Therefore, you do not need much effort to clip your pet fur.
You do not need to be concerned about the blades becoming blunt. The stainless steel, high-carbon, durable blades have self-sharpening capability. You can find these blades retaining the sharpness for a longer period.
The color guide combs, included in the package, make your use easy. You can find the pet fur of the perfect length. To use the system without much hassle, there is an instructional DVD. Moreover, you can find a storage case to keep the kits organized.
Key Features:
4 glide combs of varying lengths
Includes a mirror and other kits for your pets' needs
Taper lever is adjustable for easy blending
Blades are sharper and are of higher quality
Heavy Duty Power Drive Motor, performing at the best level
6. Best Professional Dog Grooming Clipper – Sminiker
Sminiker Rechargeable cordless clipper is the best professional dog grooming tool if you are not a fan of corded tools. It has everything that you will need to give your dog the perfect groom.
The heavy-duty titanium blade and the moveable ceramic blade cut the hairs smoothly and give remarkable results. The titanium blade will stay sharp, never get rust, and will last long.
Moreover, this long hair pet grooming kit gives a steady and stable control to prevent any kind of accident or cut. It is designed in a fantastic way and anybody can use it to groom their pets.
Also, the rechargeable cordless clipper has a 70 minutes run time, which will allow you to groom your pet without much complication. The cordless option makes it more user friendly, and now you don't have to worry about your pet running away.
Besides, the low vibration silent motor will not scare your pet and keep them at ease.
Key Features:
Titanium blade used for durability
Weight: 650 gram & input power 110V
Low vibration and low noise motor for better grooming experience
R- shaped edge design to prevent accidents
Moveable ceramic blade for better performance
7. Best Pet Hair Grooming Clippers – Bousnic
There is no doubt that the Bousnic is the best pet hair grooming clipper on this list. It is loaded with useful features to make your work easy and quick.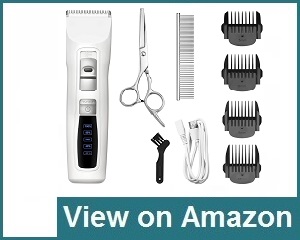 It comes with a complete set of pet grooming and cleaning. If you have a Bousnic clipper at your house, then you will not need anything else to groom your dog or other pets.
It does not matter what kind of pet hair your pet has, the stainless steel and ceramic blades will flawlessly cut your pet's hair without a single cut on your pet's skin. This electric clipper also has different speed levels, to have better control while grooming difficult areas.
In addition, the whisper-quiet technology offers the quietest motor so that you can trim your pet hair with relief and much faster.
The built-in 2200mah Li-ion battery provides 90 minutes run time and comes with a USB chargeable cord. It also has a digital battery indicator that will indicate to you when the battery is low.
Key Features:
Cordless for more convenient use
Low noise and less vibration for tension-free grooming
Sharp stainless steel blades for longer use
2-speed levels to groom hard to reach areas
Rubber handle to prevent the device from overheating
8. Best Long Battery Life Dog Grooming Clipper Set – Maxshop
The Maxshop is one of the best long battery life clipper set for dogs you will find in the market. The high-performance environment-friendly batteries offer 70 minutes of uninterrupted battery life.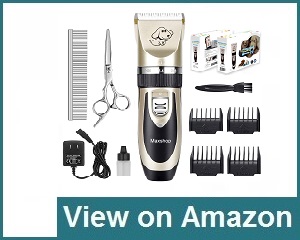 The lightweight cordless feature makes it easy to use and definitely will give your pet an excellent grooming experience. Also, the ergonomic design helps to maintain a firm grip while using this tool.
The Maxshop is equipped with the best quality stainless steel blades. It provides outstanding performance and ensures high durability. The blades are easily detachable for easy cleaning and changing.
The precision motor is ultra-quiet but very powerful and appropriate for any kind of grooming job. It does not scare your pet and allow you to complete your task smoothly.
This comes with 4 different size guide combs for cutting and trimming different lengths of pet hair. It has a charging indicator that indicates when the battery is low.
Key Features:
High-quality titanium blade with ceramic moveable blade
Gentle push on-off switch
Quiet and low vibration to ease your pet
Cordless to get rid of boring wires and replacing batteries
Washable blades for easy cleaning
9. Best Cordless Dog Grooming Clipper – Bojafa Trimming Kit
If you are looking for the best cordless dog grooming clipper that has everything to make your pet look well-groomed, then Bojafa dog trimming kit is the product you must have in your house.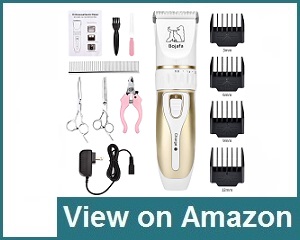 This cordless trimming kit has 70 minutes of non-stop run time, and it does not get overheated. It comes with proper guide combs that will help you cut different lengths of pet hair.
It also has an advanced silent motor that has low vibration, which helps the pet stay calm and not gets afraid of hair cutting. The high quality sharp and safe titanium blades provide exceptional cutting experience for your pet.
The blade is easily detachable, so cleaning and changing blades become effortless. Although it is considered the best cordless grooming clipper, you can also use it with the charger plugged in, making it more expedient. Moreover, the user-friendly design and feature make grooming easy, even if you have never done it before.
Key Features:
Works both cordless and corded
Complete grooming kit with all the essentials
Low noise and vibration for easy use
High-quality adjustable titanium blades
Detachable blades for easy cleaning
10. Best Corded Dog Grooming Clipper – Andis Clipper
The Andis is a great professional corded grooming clipper. They have excellent built quality and designed to do tough trimming jobs.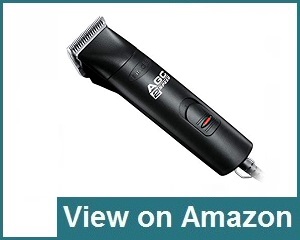 Thus, they are the most preferred grooming kit worldwide. The 14′ strong cord makes it move around your pet effortlessly.
The heavy-duty brushless motor not only prevents stalling during the toughest jobs but also helps your dog to stay relaxed during the process.
The is suitable for all kinds of coats and breeds. It has a two-speed rotary motor for better performance and allows you to trim complicated areas smoothly.
The manufacturer has used high-quality stainless-steel blades that last long and gives the perfect cut every time.
The blades are easily detachable so that cleaning and changing become painless. Also, the ergonomic handle gives you the best grip and helps you keep going for a longer period.
Key Features:
Detachable blades for better versatility
Available in the 2-speed rotary motor
Cool and quiet for a calm experience
14′ heavy-duty cord for easy use
Stainless steel blade that gives you best durability
Why Should You Choose a Dog Grooming Clipper?
There is a list of reasons why you should definitely opt for a dog grooming clipper. Not only is it useful for your dog, but it relaxes your schedule as well. Have a look at some basic situations where you must get one.
Lifetime Ease of Grooming: If you own a dog, then you must know it isn't a one-time job. You would need to get your dog's fur trimmed again and again. And such frequent visits to a professional salon or grooming specialist isn't that easy. Such tools come to the rescue then.
No Hassle of Appointments: It is so time taking to book an appointment, drive to the spot and wait until your turn just to get your dog's fur trimmed. Imagine if something gets stuck in his hair, would you wait that long to get him trimmed? No right. Here's when a personal dog clipper will be of instant use.
Saves Time: It saves your time of a whole long tiring day at the salon for just one job. Appointment timings are not even flexible according to your schedule so you must know the best way to save your time with less or no hassle; get yourself a dog clipper!
When Dog Grooming is Your Profession: If you do not own a dog, but it's your profession or a start-up where you wish to groom dogs for your clients, then you must buy a professional grooming tool. It comes with separate parts and as a whole kit too. You can choose according to your needs.
How Do I Get My Dog to Use a Dog Grooming Clipper?
Once you buy one, the main concern will be how to familiarize your dog with it. Follow the necessary steps of trimming his fur, and you'll have no issues at all.
Let him have a look

: Do not just rush to run it over his fur, let him see first. Allow him to have a look and make him feel comfortable with what he is going to feel next. 
Make the fur smooth

: We recommend that you bath your dog before trimming to detangle the coat and make it softer so that it doesn't pull or cause pain to your pooch. 
Brush his fur

: Dogs really enjoy brushing in their coat, so make him feel comfortable with it while you detangle the fur. Cut off any knots you see so that it doesn't cause him pain. 
Run it without blade

: Run the clippers over his skin without blade first so that he knows how it's going to feel and that it is nothing to be worried about. Do it two to three times until he feels relaxed. 
Start gently with the body

: Start clipping small portions of the body now. Then move on to the delicate areas like near his face and ears. 
Praise him when it's done

: Once done, praise your dog or feed him so that he knows he's been a good boy. He would enjoy the next time even more and won't make it a challenge for you.
How to Control an Anxious Dog When Grooming?
Some dogs get very anxious while you are clipping their fur. It's sometimes because of the feel they get or the noise. To make sure he is calm enough, have a look at what we are suggesting below.
To make your dog less anxious, always choose a noise-free tool.
Try using the dog grooming clipper which does not vibrate. You can find many of such categories.
Make your dog sit at his favorite spot so that he can feel comfortable.
Hold him steady so that he doesn't move or get a cut.
Keep praising him for controlling his anxiousness.
Treat him in the middle or feed him to divert his attention.
Apart from all this, consider the tips mentioned above for preparing your dog. Your dog won't feel much anxious for it then.
How to Clean and Maintain Dog Grooming Clippers?
When you buy such a product while bearing all the expenses, consider its safe usage as the priority. You definitely don't want to see your money getting wasted just because you didn't follow some essential tips to keep the clippers safe. Have a look at what we've described below.
Oil the blades for lubrication. This will prevent any rusting or corrosion of the edges and make them last longer.
Clean the blades by leaving them submerged in a cleaning solution to get rid of any dirt stuck in it.
Sanitize them properly in a solution after every use so that it is safe for your dog even if he gets a cut or rash.
Keep them dry and in a cool place so that the blades do not catch rust.
Get the blades sharpened if they have got dull. Using dull blades will cause your canine a lot of pain. You cannot do this at home, so get it done by some professional who has the right tools. So that your expensive clipper blades don't get wasted.
Dog Grooming Clippers vs Human Hair Clippers
Human hair clippers are never recommended for grooming your dog. Have a look at the primary reasons below, which shows clear differentiation why we suggest the special dog clippers only for this job.
Human Hair Clippers
Not enough power to cut off fur.
It can burn out or rip your dog's hair.
Heat up very quickly and can burn the dog's skin.
Human hair clippers have lesser blade teeth, the reason why they can't cut dog fur.
Dog Grooming Clippers
Powerful enough to work on the whole fur of your dog, no matter how hard.
Dog hair clippers are made to be extra careful about not burning or ripping the dog's hair.
Doesn't heat up very quickly and are safe to use.
They have enough blade teeth to work efficiently on dog hair.
Considering these features, you can now judge how a human hair clipping tool will perform on your dog's fur in comparison to a specialized dog grooming clipper.
Things to Consider When Choosing a Dog Grooming Clipper
When you've decided to get a clipper for your dog's grooming, do not forget to consider some fundamental and main features for a life-long usage.
Kit Sets
We prefer buying a clipper with a complete kit of all professional tools. These tools help in clipping and grooming your dog thoroughly with professional help.
Spare Parts
All the parts of a clipper are indeed quite costly so try considering the sets with one or two extra pieces as well, so that you don't have to buy a new set if any part gets misplaced or broken.
Cordless Feature
If you wish to trim your dog in your backyard or want to carry it with you, then a rechargeable cordless trimmer will be the best for you. It comes with a cord as well so it can be used on direct power source too.
Professional Ones
The ones that are labelled professional are easier to use. They are made dog-friendly with advanced features.
Weight and Size
If you pick a dog grooming clipper with large and massive size, you won't feel comfortable while doing the job right. It needs to be easy for you to handle so it must be light-weighted and should have an excellent grip.
Good Vibrations
Clippers that have a feature of low vibrations do not make your dog much anxious. They can still stay calm, and you can do your job without any hassle.
Noise Limit
Dogs of a sensitive breed get anxious and afraid if make loud noises while working. Such machinery noises don't let your pooch stay calm. So, for that consider the ones with at least 50 decibels of noise limit. Such clippers are often termed as ultra-quiet designs.
Blade Quality
Blades are the most critical and expensive part of any clipper. You must search this with the best blades quality that is durable and long-lasting. Clippers that have a sharp angle titanium blade with a moving ceramic blade are considered the best professional type.
Speed Settings
You need to adjust the device to different settings for different areas. Such as for the body fur you might want to turn on the clipper on faster speed while on the delicate areas, switching to slower speed is always recommended. So, try to choose the one with multiple or at least two different speed settings for better and safe clipping.
Comb Guides
Most of the best-selling clippers come with a set of four or six guarding combs which help detangle your canine's fur before trimming it. These are of various sizes for various lengths of the fur. These are essential so that the blade doesn't get stuck in the fur if it has knots.
Safety Feature
Nevertheless, don't forget to consider some safety features such as some clippers turn off automatically if they are stuck so that the fur doesn't get pulled. Such features have their own importance if you are new at performing your dog's grooming. These features might help you as a beginner.
Benefits of Dog Grooming Clippers
These clippers come with several benefits for you and dog both. Grooming and clipping are not only sufficient to look good, but for your dog's hygiene as well. Give a read to what we've described below.
Lesser fur to shed

: If you keep your dog groomed, you'll notice that there's a significant reduction in dog hair being shed all-around your house. You can spend less time cleaning the fur all over the house.
Health benefits

: Dogs tend to stay healthy who have their fur groomed often. There's a lesser chance of any ticks, lice, or mites to infest your dog's fur and affect his health.
Dog smells better

: Dogs who have short and clean fur smell very much better than other dogs who don't get groomed very often. This smell can be felt in your whole house if you don't take care of grooming your dog well.
Less hassle for you

: With a clipper present at your home, you don't really have to bear the headache of booking an appointment and its whole lengthy procedure. You just have to take the clippers out of your drawer, and get the job done whenever it's needed.
Easy grooming

: There are several brands which have made grooming so comfortable with the whole kit of tools. You don't really need to worry about it when you have the right product.
Some Precautions for Using Dog Grooming Clippers
While you have learned to do the clipping on your own, you must know how to ensure your dog's safety during the procedure. Follow the below-mentioned tips to reduce the chance of any mishap.
Avoid using it if your dog has matted hair.
Do not use it directly on tangled fur as it may pull and cause pain.
Always shampoo your dog for making trimming much more comfortable for him to bear.
Hold him steady, or any sudden movements can cause him injury or cuts.
Avoid noisy and vibrating grooming clippers if your dog has an anxious temperament.
Read More Article about how to use guillotine nail clipper for dogs
Important Safety Tips
While grooming your dog, you always need to be cautious for any case of a mishap. And to avoid any such instance, follow the tips mentioned below.
Always keep your face away from the dog's face. If he gets too anxious, he can bite in anxiety.
Wear masks and gloves to reduce the risk of any contamination.
Be very careful around his eyes, ears and paws as a single wrong step can make him irritable.
Never lose your focus.
Be in control. You must hold your dog steady.
Take your dog outside or in the backyard for grooming, to prevent your house from a furry mess.
Always be sure of the distance of the grooming clipper from the skin, it should never be too close.
Conclusion
With this essential tool, you're not only free to trim off your dog's fur at the comfort of your house but also you can save a lot of your precious time. You might find it a bit expensive, but if we compare it to the weekly bookings of grooming appointments, it definitely saves you a lot of money. Learn how to do the job while your dog feels comfortable, and you would never feel the need to go to a professional ever!
Frequently Asked Questions
What is dog grooming clipper and what it is used for?
A grooming clipper is basically a trimmer for clipping your dog's fur. You can easily use it at home for grooming your dog's fur whenever needed.
Is there any difference between dog grooming clippers and human clippers?
Yes, there's a massive difference between both. Human clippers are made to trim hair whereas dog clippers have specially designed blades which are safe to use on fur. Many people tried using human hair clippers on their dogs, and it failed miserably.
How often should I groom my dog?
It depends on your dog's hair growth. Some require grooming every week while for some, it can also take a month every time. Generally, you should trim your dog whenever you feel the fur has grown too much that it is tangling and can cause pain to your pooch.
How old does a dog have to be to be groomed?
A puppy of 12 weeks of age is considered grown up enough to have his first grooming session done. If you take a pup younger than this age for grooming, he might feel very anxious and scared.
What is the best rechargeable dog grooming clipper?
Ceenwes is the most rechargeable dog clippers. It has a very light weighted body for easy usage. The battery can be used for straight 70 minutes if charged for only 5 hours. It also has a cord for direct power supply. It comes with a whole kit of a total of 10 professional tools used for complete grooming. It has the best titanium-ceramic acute angle blade combination for a sharp cut. The super quiet and low vibration design makes it dog friendly.
Between cordless and corded Shaver, which one good to use?
Cordless shavers are considered best because of its travel-friendly nature. You don't need a power source for the clipping and can do the job anywhere, even in your backyard for no mess in the house. In comparison, the corded shavers are considered suitable as they do not require batteries which might go down between the shaving.
Is it safe to groom my dog's ears, paws, etc.?
Yes, it is safe, but you need to very careful while clipping the delicate areas. Use the right size of the blade for these areas so that the job is done just right.
Do I need special courses to groom my dog?
You don't really need a course for grooming your dog. Just follow the instructions available on the internet, take some online tutorials, get some advice from professionals, and you can become an expert in no time.