What good can a Dog Grooming Table do you? That's the first question that comes to your mind, right? Most pet owners consider it an extra accessory as you can get the grooming job done on the floor or any regular house table. So why buy this one? What's so special?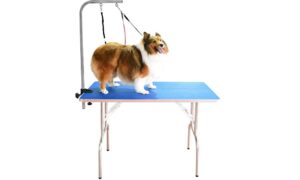 Well, not only do these specialized tables make your dog's grooming easy but also save you a lot of money in terms of salon visits. It comes with various adjustments and straps that keep your pet still while you can trim his nails, clean his fur, etc.
It also saves you from the backache of leaning on any under-sized house table. These can be easily adjusted to any height for your comfort. So, if you are a professional dog grooming expert or just a pet parent, you will find it useful equally. Keeping that in mind, and a lot of other factors of its importance, our team did the necessary search-up for bringing the best buying guide.
Best Dog Grooming Tables in 2021 – Reviews
1. Our Top Pick – Go Pet Club Dog Grooming Table
Top Pick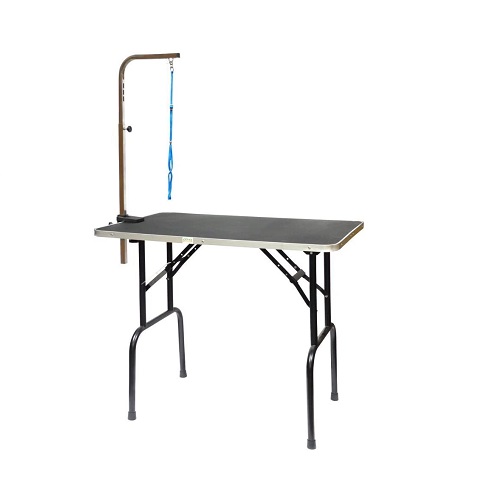 Go Pet Club Dog Grooming Table
To groom your dog at home, you can consider this table to be a convenient option as a pet groomer.
The Go pet club grooming table is one of the best investments that a pet groomer can look for. The best part of this product is that it is quite durable. The top side is made up of aluminum alloy. Besides, the top is also waterproof. And for that reason, it protects the wood underneath from warping and absorption.
Moreover, this consists of a pebbled as well as a non-slip surface. It will keep your pets safe when you are out for your work. In addition, the surface is also static-free. So, it will be easier for you to clean and maintain this table. So, you can see that it is the most excellent option when it comes to professional use.
We know that grooming your dog is quite a herculean task. It needs a lot of time and effort. However, if you have this table, grooming your dog will be an easy task. The best part is, you can fold it easily and store it in your house without any issues.
Another impressive part is that you can conduct the grooming sessions of your dog without hurting your knees, back and neck. Therefore, you can see this is the best option when it comes to grooming your dog like a professional.
Key Features:
The size of the product is 30″ L X 18″ W X 32″ H
Comprises of rubber capped feet and adjustable grooming arms
Made from the best materials, which are rust-proof
The weight of the package is 11.77 kilograms
Non-slip surface will ensure the comfort of the dogs
2. Runner Up – Polar Aurora Dog Show Foldable Grooming Table
Runner Up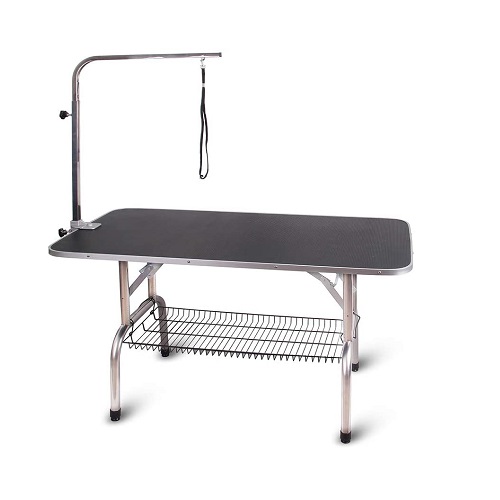 Polar Aurora Show Foldable Grooming Table
An efficient grooming table features stable rubber table tops that can help you to groom your dog meticulously.
Polar Aurora foldable grooming table is one of the finest options that you will get. We have considered this as a runner-up from your side, it will be easier for you to groom your dog.
One of the best parts of this product is that it is compatible with the heaviest of dogs. The design ensures its robustness. Besides, the top is made of rubber, which is waterproof and makes sure that your dog stays safe.
It also comes with an adjustable grooming arm and a mesh tray. The length of the adjustable grooming arm is 36″. Apart from that, this is capable of holding a weight of 330 lbs.
Also, the shape is pretty unique. It comes with the shape of a dog bone. The legs of the table are goal post style which will allow you to fold this easily. So, you can see that it will not take much space in your house.
Moreover, it will be of great help when it comes to assembling it. The heavy-duty stainless-steel folding legs make sure that the product is quite durable. Also, it will not corrode or rust like chrome.
Key Features:
The desktop is non-slip waterproof to ensure comfort
Anti-slip scalable footpads to enhance the stability and durability
Strong security leash along with a sturdy buckle
Design is compatible with the bracket to hold of heavy dogs
A foldable product, which makes it space-efficient
3. Best Budget – Flying Pig Dog Grooming Table
Best Budget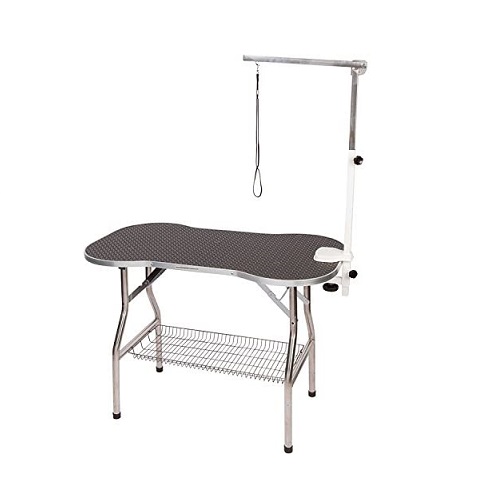 Flying Pig Dog Grooming Table
If you are seeking for a budget-friendly grooming table, opt for this heavy-duty model
Flying Pig Heavy Duty is considered as the best budget grooming table. It is not only budget-friendly but also quite durable. To be precise, you can use this for a long time. Besides, it has non-skid feet that will prevent the wobbling. It has a thick rubber non-slip top, which makes it easier to clean.
This is capable of holding heavy dogs. It is compatible with taking 330 lbs of weight. Moreover, the grooming arm is foldable, which has a noose and loop. Apart from that, it has a storage basket. The shape of the surface is bone-shaped.
The best part is that your pets will be comfortable with it. So, you can understand that buying this product can never go wrong. It will not only help you to groom your dog, but also make sure that dogs can stay comfortable.
Key Features:
The table frame is made up of rust-resistant stainless steel
It is heavy-duty, adjustable, and has foldable arms
Has a storage basket that will help you
Capable of holding the weight up to 330 lbs
The top is bone-shaped with non-slip rubber texture
4. Best Foldable Dog Grooming Tables – Flying Pig
Flying pig is well-known to manufacture the best foldable dog grooming tables. The most exciting part about the product is that it is compatible with professional and home grooming. The durable and sturdy steel of this product ensures that it doesn't wobble. To be precise, it plays a significant role in providing stability.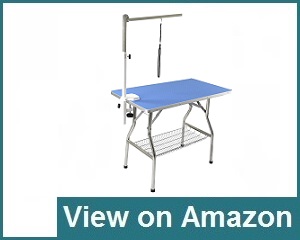 The top is made up of non-slip rubber, and thus, it will be easier for you to clean it. Besides, it will ensure a comfortable grip for your dog. The grooming arm of this product is adjustable as well as foldable. Therefore, you can understand that you don't have to worry about space while storing this product.
Also, you can relocate the grooming arm either on the left side or on the right side of the table. If you are looking for a foldable table, you are in the right place. Undoubtedly, it will provide you with satisfactory results.
Key Features:
The length of the product is 44″ L X 24″ W X 31.5 H"
The color that you will receive is blue
Comes with a storage basket, loop and noose
The grooming arm is foldable as well as adjustable
The frame is tailored with rust-resist stainless steel
5. Best Small Dog Grooming Table – Yaheetech
If you have a small pet dog, you can regard Yaheetech Portable Table as the best for small dogs. Once you bring this on the boards, it will be easier for you to groom your small pet dog. The crafters used durable materials to create this product.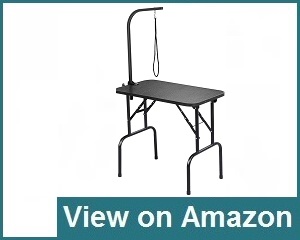 The quality of the product is also supreme. The loop noose of this product is detachable. It will help you to position your pet according to your preference while grooming it.
The adjustable arm of the product is made up of solid iron. The height of the arm can be adjusted according to your convenience. Also, it is supported by iron tubes.
Moreover, it is capable of taking 100 kgs of weight and quite easy to store as it doesn't take much space.
Key Features:
This comes with adjustable arms
It comes with non-slip feet
The tabletop is quite easy to clean
The arms can achieve the maximum height of 78cm/30.7 inches
Easy storage and transportation of the product
6. Best Large Dog Grooming Table – Best Pet
If you want to keep your dog well-groomed and want the best grooming table for large dogs, then the Best Pet table is the perfect you can buy. It is a top-notch quality fashionable table that provides the best comfort for your dog.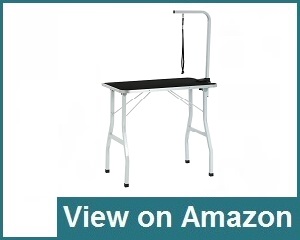 The easy foldable and adjustable design lets you adjust this according to your need and fold down smoothly. It takes minimal storage space. Moreover, this sturdy board is made of premium quality stainless steel, which is waterproof and rust-resistant.
The grooming board is also scrap resistant and static-free, which does not allow debris or pet hair to stick and allows effortless cleaning. Besides, the grooming table can be used for multiple purposes like bathing, trimming, drying and other pet activities.
Best pet has put great emphasis on safety levels while designing this. The high-quality material used to construct the board is non-slippery to keep your pet stable, and the corners are round to prevent unnecessary accidents. Besides, the rubbers on the feet of the table are also non-slip to increase the stability.
Key Features:
Universal adjustable and foldable design for convenient use
Can be used for multiple tasks
Made from rust-resistant stainless steel for durability
Slip-proof board for better stability and avoid accidents
Scrap resistant and static-free board for easy cleaning
7. Best Hydraulic Dog Grooming Table – Vevor
Vevor is well known for manufacturing the best hydraulic dog grooming table that will definitely make grooming easier and fun for you and your dog. This heavy-duty model is constructed with high-quality powder-coated metal and stainless-steel arm to last long.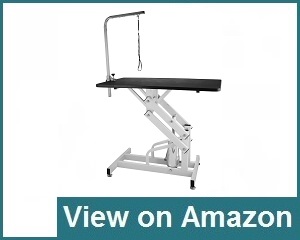 The easy pedal Z-lift hydraulic function allows you to adjust the height according to your need without much effort. No more bending, you will just need to press the pedal to increase or decrease the height.
The non-slip ribbed rubber surface helps your dog to stand freely with better grip and avoid any kind of mishap. The board is also waterproof and static-free for easy cleaning. Besides, the grooming table is detachable and easy to assemble, which makes it convenient to store and port.
The H-style base provides the best stability and prevents this from unnecessary movements. The clamp-on adjustable arm makes grooming smooth.
Key Features:
Easy to use Z-lift hydraulic function
Non-slip rubber board for better grip
Waterproof and static-free surface for easy cleaning
Strong and durable high-quality metal
The H-style base for better stability
8. Best Portable Dog Grooming Table – Master Equipment
If you are searching for a portable grooming table, then Master Equipment should be your idle choice. The perfect round shape is lightweight, making the table easily portable.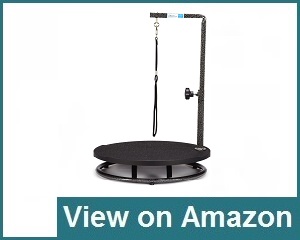 It is made from a high quality durable and robust material. The non-slip rubber texture surfaces will help your dog stand safely while grooming.
The compact size allows you to lift this easily and place it on top of a desk or counter if you don't want to kneel down to groom your dog. Besides, it is a rotatable grooming table that will allow you to groom your dog from all sides, especially on tight spots without much effort.
It is equipped with rubber feet that provide better stability and protects it from damage. However, due to its compact size, it is mostly preferred for grooming small dogs.
Key Features:
Lightweight makes it perfect for portability
Rubber texture mat for better grip
Easy to lift and fits on any surface
Rotating top makes it easier to groom your dog
Available in three attractive colors
9. Best Professional Dog Grooming Table – Go Pet Club
The Go Pet Club is the best professional dog grooming table that can be used for both business and house purposes. This heavy-duty model is crafted with the finest quality aluminum alloy material that makes it sturdy and durable. The electric Z-lift design offers professional-quality grooming.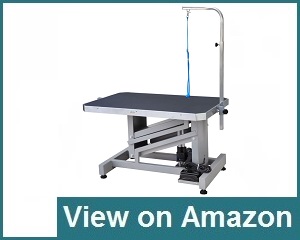 In addition, the H-style base provides great stability and prevents this from shaking or turning over. The high-powered electric motor smoothly lifts and drops this according to your need. The board of the table is made from non-skid plastic and rubber composition material that will restrain your dog from moving too much.
The static-free board does not allow any debris to stay on it for efficient cleaning and maintenance. Besides, the clamp-on style adjustable arm also helps to keep your dog stay in one place. The product is fully assembled, so using this product is not at all painful.
Key Features:
Heavy-duty professional design
Premium quality aluminum alloy material used
Z-lift design to lift the grooming table smoothly
Non-skid surface for proper balance
Static-free top for effortless cleaning
10. Best Electric Dog Grooming Tables – Comfort Groom
Comfort Groom is no doubt the best electric grooming table for dogs you can find in the market. It is equipped with all the essential features that are needed for a perfect groom and make your work easy and fun.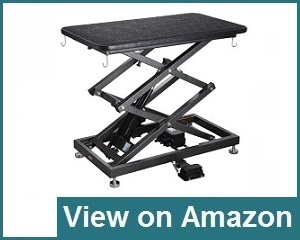 The Comfort Grooming table is a perfect combination of style and functionality. This sleek, beautiful-looking design is made with premium quality material that makes it sturdy and suitable for all size pets.
The hands-free option allows you to adjust the height according to your need, just by pressing the foot remote. Also, you can easily slide out the foot remote for safe storage and more convenient use. The tabletop is padded to provide extra comfort to your dog.
Moreover, the thick waterproof tabletop is removable and easy to clean. The board is also skid-resistant, and the edges are covered with vinyl trim to avoid any kind of accidents.
Key Features:
Hands-free foot remote for incredible height adjustability
Removable waterproof tabletop for easy cleaning
Built with premium quality steel for durability
Skid-proof board and edges are covered with vinyl trim
Can hold up to 320lbs, perfect for all size dogs
Why Should You Need a Dog Grooming Table?
The dog grooming table was initially invented as a professional tool for grooming professionals' needs. But now, as most of the pet parents prefer doing their dog's job themselves, it has become more of a household product.
For the following mentioned reasons, people who own a dog, or any other pet such as cats, rabbits, etc. must get this product.
It holds your dog in place and makes his grooming easier for you.
It provides a comfortable place for your dog to rest while you do the job.
These save a lot of cleaning hassles because of the easy-clean material they are made from.
These are multi-purpose tables used for washing, brushing, fur trimming,

nail cutting

, etc. And last not but most importantly.
It saves your back from a lot of aches.
How Do I Introduce My Dog to Use a Grooming Table?
If your dog is used to grooming, then introducing him to a grooming table won't be much difficult. Still, keep the following tricks in mind for making him used to a grooming table.
Let him be around the table for a while to get comfortable and familiar.
Keep talking to your dog for distracting him.
You can use rewards or treats on the table for keeping him busy eating.
While not rushing a lot, you also have to be efficient in utilizing less time so that your pooch can get free soon.
Keep praising him when he stays still so that he knows he's being a good boy.
Start grooming your dog on this while he is still a pup. This lets him adopt it earlier and makes him comfortable for it throughout life.
Types of Dog Grooming Tables
Considering different requirements of different grooming experts and pet owners, this product comes in a range of wide variety. Have a look at the most common types available in the market these days.
Foldable

: The foldable ones are the cheapest and common tables that most pet owners keep for home grooming. However, these don't provide any height adjustment and the legs are fixed in one place. So, the job can be quite tricky for you if you have to lean and stress your back.
Trolley

: These are mostly used for dog grooming professionals who have to travel a lot. These are well-adjusted on desired heights and have wheels for easy carrying.
Hydraulic

: This type is a more economic option in the markets these days because of the technology it possesses. It keeps your hands free all the time and works with the principle of foot pedals for height adjustments. The fluid pressure makes the height adjustable smoothly even while the dog is on the table so that he doesn't get scared of the movements.
Electric

: These are the most expensive ones available in the market these days. The mechanism of operation is almost quite similar to one of the hydraulic tables. The only difference is that it operates on electricity and switches, for adjusting the height.
Electric vs. Hydraulic Dog Grooming Table
Working on almost a similar technology, electric and hydraulic grooming tables still possess some specifications limited to each of them. Lets' discuss them.
| # | Electric Dog Grooming Table | Hydraulic Dog Grooming Table |
| --- | --- | --- |
| 1 | It uses an electric motor to operate. | It uses a hydraulic fluid pump to operate. |
| 2 | Adjustments are achieved with the help of footswitches. | Adjustments are achieved with the help of foot pedals that create pressure. |
| 3 | Requires an electric port for operating. | Requires no electric source. |
| 4 | Can be adjusted higher or lower than a hydraulic table. | The height adjustments are limited. |
With no drastic differences, both designs can be used for both professional and home use. However, for few mentioned features, the electric table is more preferred by grooming professionals.
Things to Consider When Choosing a Grooming Table for Dogs
When you are buying a grooming table, make sure to look for the following features for putting your money in the right place.
Type
Among several types such as electronic, hydraulic, folding, or trolley tables, you must know which one is going to suit your needs. If you are a professional, then you must opt for an electric or hydraulic one while the other foldable and trolley types can be convenient for personal home usage.
Height and Size
Always lookout for the height range and proper size as per your dog's breed and your height as well, so that you don't have to lean and strain your back. You must also see the electric and hydraulic types for the limit of their height adjustment. Apart from that, with the method of size measuring described above, make sure you buy the right size if you are buying for a single dog only.
Restraints
The grooming arms attached to the tables come with noose, straps, or restraints that help to keep your dog still during the procedure. This is the main and key facility provided with a grooming table for easy grooming. Choose noose if you have small dogs and go for straps or restraining belts if your canine is of a large breed.
Maintenance Ease
Consider buying a table that has removable top. This is important for cleaning purposes and sanitizing the station before using it for another dog if you own a dog grooming salon. Look for the surfaces that are made of materials which doesn't trap fur or dirt and can be easily washed.
Easy Storage
You'll want to keep the table aside or fold it to occupy lesser space when not in use. For that, look out for options that are portable and have easy foldability. Except for the electric and hydraulic ones, all the foldable and trolley types are portable.
Durability
Choose a table that is made of rust-free stainless steel or materials which resist corrosion. This ensures longer durability of the product you buy. Also, if you can get a table frame warranty or at least a motor warranty for the electric tables, that's a bonus!
Sturdiness
Always make sure to ask the weight-bearing capacity of the table you aim to buy. A heavy-duty table can bear weight up to 320 lbs easily, which makes this compatible for large dogs too. The electric and hydraulic ones are usually the ones which are sturdier than any other type.
Convenient Design
According to your place and requirement, choose the design wisely. The perfect design shouldn't over-occupy your place, neither should be too compact for even placing your tools.
Electric and hydraulic ones can occupy a lot of space as you cannot fold and place them in a store. So, if you don't have enough space, consider the foldable or trolley designs which are much more convenient for home-usage.
With all these above-mentioned features, selecting a product of your choice and convenience under a suitable budget will be no issue at all.
Benefits of Using Dog Grooming Table
Considering the demand for such tables even for home-based grooming purposes, you'll definitely want to know about the benefits it provides. The following are some common facilities observed by grooming experts and pet owners who use grooming tables quite often.
Convenience: With a specialized design that can be adjusted to the required height, you don't have to burden your back and neck while leaning. With the easy adjustability features, it saves you from unnecessary strain and stress.
Safety: The tabletops are made non-slippery especially for washing. So that even while the table or your dog is wet, he won't slip and will be perfectly safe.
Adjustable Height: The height of both the table and grooming arm can be adjusted easily as per the height of your dog. This feature makes easy handling of your dog without leaning or holding him in your lap.
Fewer Hassles: The grooming arm of such tables comes with straps and noose which holds the belly of your dog. This benefits you in terms of keeping your pooch steady. The steadier the dog remains, the easier it gets for you to groom him.
Easy Cleaning: Most of the tables come with removable tabletops which make cleaning and washing of this part very easy. The material is also quite easy to clean and doesn't trap any fur or retain any dirt.
Some Safety Tips
Considering some safety tips can keep your dog safe while ensuring a longer lifetime of the table itself. So do read the below-mentioned tips that are quite useful to many who groom their dogs by themselves.
Never rush grooming. Always ensure your dog's comfort or else he'll not let you do the job in any case.
Make sure your dog is still with the help of restraints, noose, or straps. This will help you avoid the hassle of keeping him in place and chance of any injury or cuts.
Clean your tabletop regularly if you use it for multiple dogs as a professional.
Always choose tabletops that are not slippery to avoid any falls.
Use staircases for large dogs to get up the table.
Always use the right weight-bearing table for large dogs especially. Over-burdening a lighter table can result in breakage and injury to the dog.
Conclusion
With all the important factors you've gone through about dog grooming tables, it must be now quite visible for how good of an investment it is. Just lookout for the important features that you'll like for your dog and getting a perfect product for your pooch will be no bigger deal at all.
Frequently Asked Questions
What is a dog grooming table?
It is a special working station made for making your dog's grooming easy. It holds your dog still while you cut his nails, trim his fur, or wash him. This product tends to be convenient for both the dog and its owner.
Do I need a grooming table to groom my dog?
Many people don't feel the need of getting one for their canine as they can handle their pup well while grooming. But if your pup gets irritated when you wash him or even cut his nails, then you must need a grooming table that will make the job easier for you.
How do you adjust a dog grooming table?
Adjustment options are variable for tables of different types. Some work on hydraulic adjustment principle while some are manually adjusted with knobs or hooks. Either way, the manual that comes with your table explains everything that you need to know about adjusting the table's height and grooming arm easily.
Is a hydraulic or electric dog grooming table better?
Electric tables come with mechanisms that suit dogs more, generally. Tables that work on electric principles are also found to go higher and lower than the hydraulic ones. Hence, the electric ones are more preferred in this regard.
What is the best electric dog grooming table?
Comfort Groom Accordion has the best features if you are looking for an electric one. It has a foot pedal on both sides of the table for adjusting the height. The tabletop has a vinyl trim and can be easily removed for cleaning. The body is designed to bear weights up to 320 lbs. Also, this amazing product comes with a lifetime warranty on frame and 2-year motor warranty!
How do I keep my dog calm during grooming?
You can use treats or soft music in the background to distract him while you do his grooming. If he still feels annoyed, you can take a break or give him his toys so that he can get busy playing.
What are belly straps used for in dog grooming?
Belly straps are given to hold your dog in place. Dogs often get irritated or annoyed during the trimming or clipping procedure. So, to decrease your effort and hassle in making him sit in one place, belly straps are used.
Are grooming tables safe for dogs?
These are designed in a manner that is 100% safe and friendly for a dog's use. The designs are made while keeping your dog's comfort as a priority.