Dog heating pads are a great option to keep your pup cozy in the chilly seasons. As pet parents, we take care of our pet's food, hygiene, and health. However, keeping the dog warm is also very important.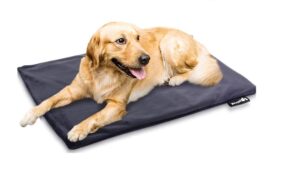 Younger puppies tend to get cold, which is not good for their health. However, we know that coat blankets don't go well with dogs, and they are also not as comfortable to sleep with them.
A dog heating pad, on the other hand, provides a simple solution to this problem. This cozy little pad is readily available to your pets on which they can lay with ease. For people living in cold areas, this is an excellent addition to the home.
However, before purchasing any of these heating beds, you'll need to know exactly what your pet requires. To help you eliminate the guesswork, we have compiled a list of the 10 best dog heating pads. Our researchers have spent hours making this list while considering expert consultations, customer reviews, durability, size, softness, and comfort.
Best Dog Heating Pads in 2021 – Reviews
1. Our Top Pick – K&H Pet Products Heated Pad
Top Pick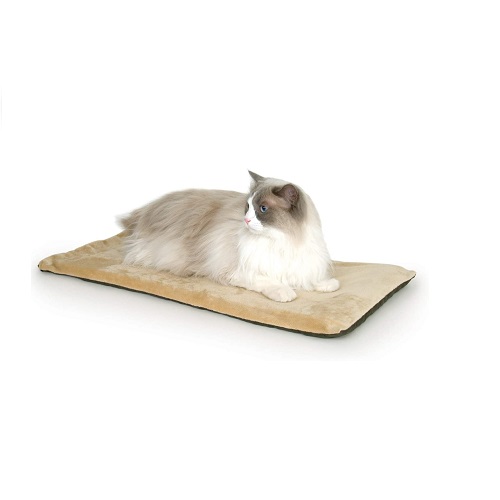 K&H Pet Products Heated Pad
Heated pad, thermostatically controlled to automatically respond to temperature changes, uses 6-watts, thus efficient.
Our top pick heating pad is the K&H pet product thermo-kitty heated pad. Your furry family member also feels the cold during the winter, and this pad combines the needed constituents for warmth and comfort. This pad is suitable for pooches of all ages, different sizes of dogs, and could be used indoors with electricity. The efficiency in the power consumed would interest pet owners, as it only requires 6-watts.
This pad is made of soft foams and covers and designed for the luxury and comfort of your furry friend. Also, this mat comes with a removable cover, and thus cleaning and washing are easy. The removed cover can be washed on a gentle cold wash.
Also, the cover be line dried or put into the no-heat cycle of the dryer. This feature ensures the safety and health of your furry friend. The soft pad is available in two colors, which are sage and mocha. These colors add beauty to any room where the heating pads are placed.
The gradual warming process is another unique feature, it begins to warm up once your pets lie on it. The pad warms up to about 102 Fahrenheit after your pet lays on it, which is the dog's body temperature. Additionally, the pad is thermostatically controlled. This means the pad heats up to the temperature of the pet and won't heat further than that. Also, the dual thermostat heater is designed for providing premium warmth and comfort.
Furthermore, the pad is manufactured with the heat rising between 10 to 15 degrees Fahrenheit above the air temperature. Testing the functionality of the pad is easy, by placing a large pillow on the pad. This action causes the temperature to rise, within 20 minutes, the pillow can be removed, and it would be warm.
Key Features:
Suitable for indoor use
The size is convenient and fits almost everywhere
The ease of cleaning, the removable cover
Pad is thermostatically controlled
Automatically respond to temperature changes
2. Runner Up – Riogoo Pet Heating Pad
Runner Up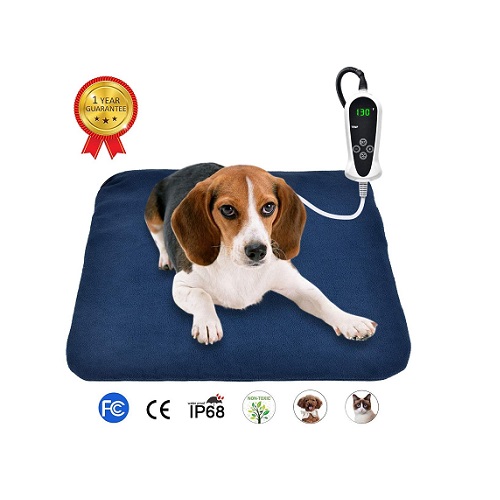 Riogoo Pet Heating Pad
Pet heating pad, seven layers, indoor warming, auto power-off and machine-washable.
After several considerations, the Riogoo pad is coming after our runner-up pick, and it is specially designed to warm up your furry family member. Several functions have been incorporated in the manufacture of this product.
This dog bed is used for dogs of all ages, for dogs recovering from surgery, old dogs suffering from arthritis, injuries, and from pets undergoing medications. Uncomfortably chilly days or nights are overcome with this pad, so it provides the warm and chilling place for your pet to sit or sleep.
Riogoo pet heating pad is made of seven layers, which include polyester cover, PVC material, and refractory wool. The refractory wool is aimed at the warmth of your pet and safety from the heating element.
Additionally, the ease of cleaning is another advantage, not only can the pad be used indoors, but it is also usable for outdoor use. The stainless-steel chew-resistant cords are in place to prevent the pets from chewing the wires and damaging the pad. Also, the pad is made of water-resistant material (PVC) which can be cleaned easily.
The safety of your pet is our utmost concern. The Auto-power off option is set to automatically turn off the heating process, particularly when you leave the house without turning it off. Furthermore, the time and temperature settings are in place to regulate the temperature and automatically turn off from 1-12 hours.
Part of the seven-layer includes the UL-approved heating wire, which is water-resistant. Also, the temperature is adjustable with an increment of 50F, from 80-1300F. This allows pet owners to select the temperature most healthy for your pet.
Key Features:
The Auto power-off option works within 12 hours range
Available in multiple sizes and suitable for all sizes of pets
Chew-resistant steel cable
Seven layers of protective cover
Replaceable polyester cover
3. Best Budget – Furhaven Pet Self-Heated Pad
Best Budget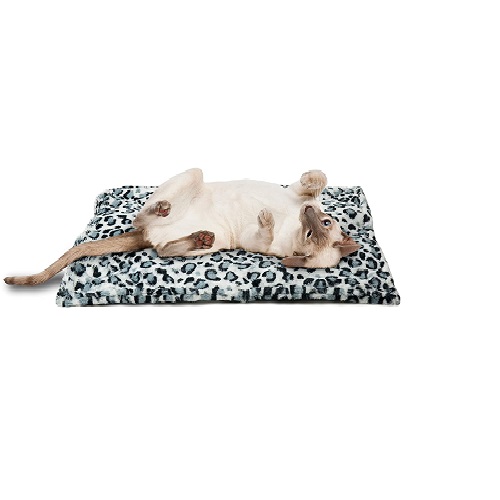 Furhaven Pet Self-Heated Pad
The budget friendly non-electric heating pad, enhanced insulation with self-warming properties.
Giving your furry friend the cozy feeling and warmth does not require electricity. The Furhaven pet self-heated is the perfect choice for pet-owners within budget. The pad is budget-friendly and the technology utilized does not require electric power.
The reflective thermal sheet insulated by layers of polyester fiber is nestled within the pad and covered by quilted padding and a faux fur cover for premium comfort. The polyester fiber batting core is present and utilizes the heat of the pet by reflecting the dog's natural heat. Thus, the reflected heat creates a warm surface and eliminates the need and hazard of electricity.
You need to know that your pet's comfort is our concern. The sleep surface is luxuriously soft and made of plush faux fur and the quilted seams, which aids cuddling. Additionally, the pad itself is lightweight and durable, so it is ideal for outdoor activities, vacations, family holidays, hiking, camping, and travels.
This feature ensures you keep your pet warm at all times, particularly during the winter. The maintenance is another advantage. The thermal pad can be folded and washed in a machine completely. Thus, it is easy to maintain and keep your pet clean.
Furthermore, the pad comes in neutral or fun leopard prints, and the beauty of it is remarkable. The self-warming properties are activated when the pet lies on any part of the pad. There is a need for caution over pets that chew beds, as this pad can be destroyed by excessive chewing.
Also, the pad comes in several variants such as the snow leopard, leopard, black, espresso, cream, and gray. So, a pet parent can select the variant most appropriate and fitting the room.
Key Features:
Pad is machine-washable
Does not use electricity
The sleep surface is plush faux fur that is soft
Available in multiple variants
Ease of mobility
4. Best Self-Warming Heating Pads for Dogs – K&H Pets Product
Your furry family member is usually disturbed by the cold. However, you don't have to use electricity for the pads, as our K&H pet pads are self-warming as they transmit the heat back to the source. This pad is designed for pets of all ages, and it is available in different colors, and the sizes can be adjusted.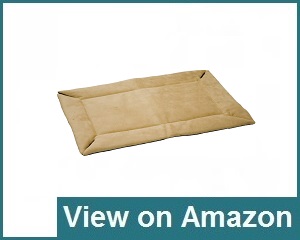 Additionally, each edge of the pad is slit so that the cushion can be fitted for any size of the crate. The underside of the pad cannot be slid around. This feature ensures the longevity and stability of your pet.
The three options of this pad make it unique, which are the odor-control, self-warming, and memory foam. The odor-control pad features a center filled with charcoal to eliminate odors. The self-warming pad works by capturing the heat from your pet and eliminate cords, plugs, and electricity.
The best is that made of the memory foam, although it is thin, it provides the support and comfort needed for pets with aching limbs and arthritis.
Furthermore, the top of the pad is made with soft microfleece, which is aimed at providing premium comfort. The pad is available in six different sizes, and pet parents can select the best size appropriate for pets.
Key Features:
Pad can be used for both indoor and outdoor activities
Available in six sizes and three colors
Slit corners to allow fitting into different crates
Self-warming heating mechanism
Material is machine-washable
5. Best Microwave Dog Heating Pad – Snuggle Safe
We have considered the safety of pets and would choose the pad that is heated separately without the electric wires within the pad. Snuggle safe pad is the best microwave pet heating pad, as it is placed in the microwave and provides warmth for pets of all ages.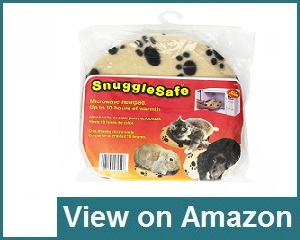 Additionally, pregnant pets, pets recovering from surgeries, and those in the cold region would find this pad as most helpful to keep warm. When heated, the pad provides up to ten hours of safe warmth, and it can be placed under the blanket or pet bed.
Snuggle safe pad is made of Thermopol which is a compound that retains the heat from the microwave for about 10 hours. The pad is made of quality material, but pets should be prevented from chewing the pad, as it is not chew-resistant.
Additionally, the maintenance of the pad is easy, by wiping with a damp cloth. And it can be sprayed with disinfectants and then wiped to dry. Abrasives should not be used for cleaning the pad.
This pad is recommended by vets, rescue centers, and catteries for the utmost care of your pooch. Snuggle safe contains Thermapol, which is a non-toxic constituent, hence the safety of your pet is guaranteed.
Interesting to know that the use of this pad is simple, there might be no need for very long instructions. There the need to ensure the pad cools down completely before reheating.
Key Features:
Thermapol is a non-toxic constituent
Fleece cover is washable and removable
Remains heated for ten hours
Veterinarian and rescue centers recommended
Plate-size pad fits under the pet's bed
6. Best Electric Dog Heating Pad – Flymei Pet Mat
Your furry friends feel the uncomfortable cold, particularly during the winter. Warming pads are more effective when connected to electric sources, and the best electric heating pad for your pet is the Flymei mat. This pad is designed for pets of all ages, pets recovering from illness and surgeries, and those that are pregnant.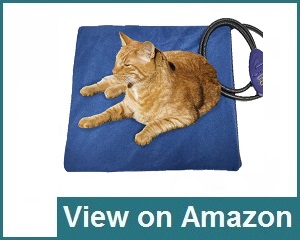 The seven heating settings allow you to make adjustments to the level most appropriate. The slow healing process is to ensure safety, but once the pet lays on the pad, it heats up speedily under ten minutes.
Flymei is made of waterproof vinyl with soft cloth covering. The PVC used for this pad is not only durable but fireproof, Anti-electric shock, and flexible, this provides the needed comfort and safety for your pet. And Maintenance of the pad has not been this easier, as the cover should be unzipped and dipped in a washing machine, or it could be washed by the hand.
Furthermore, the heat pad can be used in different conditions, for outdoor or indoor activities. The pad is completely sealed, waterproof, and the cover is chew-resistant while being soft enough to provide premium comfort to your furry friend.
Checking the temperature does not require you to place your hand on the pad. The indicator, which is a LED display provides an accurate temperature. There are seven temperature levels, and they vary from 36 – 430F and pet owners should make careful adjustments.
Key Features:
The pad is waterproof and chew-resistant
Unzip the cover and wash in a machine
It can be used for both outdoor and indoor activities
Seven levels of temperature adjustment
Slow heating process
7. Best Outdoor Dog Heating Pad – K&H Pet Products Pad
Going on outdoor activities with your furry friend in any weather has been made easy. K&H is the best outdoor dog heating pad. The comfort and softness of this pad as compared to others is aided by the built-in orthopedic foam.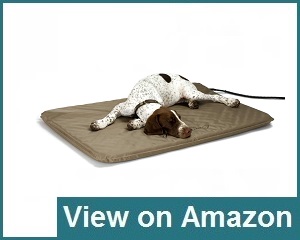 So, pets that have joint pains as a result of age and others that are recovering from injuries and surgeries can have soothing comfort and warmth. For pets that love to stay outdoors, possibly in a shed, the garage would find this pad most interesting.
The cover of this pad is washable fleece material, and this makes it a great choice for outdoor activities. This feature provides a cozy feeling and protection from cold nights and day. Additionally, the exterior is made of PVC material; this is soft, durable for outdoor activities, and can be washed easily by using a damp cloth.
Also, the heating pad for dogs is thermostatically controlled, and it functions by automatically responding to your pet's body temperature and does not overheat them.
Furthermore, safety measure has been considered in the manufacture of this pad as it is an outdoor electrical pad. Electrical safety measures have been taken to a high standard, to ensure the safety of your pet and the environment. Caution should be taken for dogs that are prone to chewing and other behaviors to ensure the longevity of the pad. Also, although it is an electrical pad, it is energy efficient as it uses 60 watts alone.
Key Features:
Thermostatically controlled
Automatically response to temperature changes
Energy efficient
Soft orthopedic foam
Easy to clean and maintain
8. Best Heating Pad for Small Dogs – Pet Magasin
Puppies deserve pampering, a cozy feeling, and warmth, particularly during the cold winter. Pet Magasin is our ideal choice for your puppy. The pad is made of quality materials, and we aim to provide your pet premium comfort.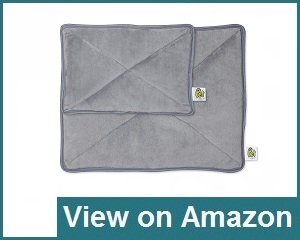 This is a self-heating pad, hence no need for electricity. The heat from the pet's body is absorbed, held, and reflected the pooch. Additionally, the pad provides warmth by keeping the pets from the cold floor.
The pad is made from thick foam padding, mylar film, which is an embedded layer of heat-reflecting material, and a constituent of soft insulating fabric. Additionally, the bottom of this pad does not slip as it is rubberized, and it also serves as resistant against cold floors.
The cover at the top of this pad is velvety microfiber fabric, and within is a springy, soft, hypoallergenic foam that aids cushioning. Therefore, pet owners are sure that their furry friends would get the needed comfort and warmth.
Furthermore, the package includes two self-heating mats, a large and small one. The large one has its size to be 22 x 18.5 inches, while the smaller is 17 x 11 inches. The two sizes make it easy for a household that has multiple pets to take care of them. Also, the color of the pad is grey, and it suits almost all the colors of the house.
Key Features:
Self-heating pad; does not use electricity
Rubberized bottom, prevents slipping and cold
Rubber underside prevents sliding
Provides premium comfort
Comes in two sets
9. Best Large Dog Heating Pad – Riogoo
Large dogs are members of the home, and they could feel cold. As a pet owner, you would need to consider the Riogoo heating pad, which is the best heating pad for your large dog. Sometimes large dogs could be suffering from arthritis and joint pains, or some might even be pregnant and would desire comfort and warmth.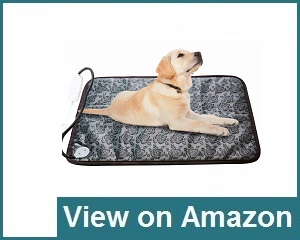 This pad provides comfort and soothes the pain. Also, the product is powered electrically, and the components have been carefully selected to prevent accidents and shocks. Low and safe voltages are used to ensure the safety of the pet and your home.
The product is made of oxford fabric, which is durable, moisture-proof, comfortable, flexible, dust-free, and easy to maintain. Furthermore, care of the product has been made easy as a damp cloth can be used to wipe the surface of the pad.
Also, adequate precautions such as unplugging the pad until it is completely dry would ensure the safety of the pet and durability. The pad comes in colors of brown, gray, and flower motif and improves aesthetics.
Stainless steel coating is used to cover the electric cords, this coating is chew-resistant; thus, ensuring the safety of our pet and the environment. Additionally, there is a thermostat mechanism that is designed to prevent overheating, and this uses low voltage for safety.
There are two limits for the temperature, the high and low, and this heats up to 1040F. Also, automatic power-off control provides aid safety from electric accidents.
Key Features:
Indoor use alone
Waterproof material
Stainless steel chew-resistant cord
Ease of maintenance and care
Premium pad for maximum comfort
10. Best Soft Heated Pet Bed – K&H Manufacturing Pad
Are you in need of maximum comfort for your furry friend while keeping it warm and cozy? If yes, then, K&H manufacturing Lector-soft is the perfect answer. The pad is designed as the best soft heated pad to give luxurious comfort and warmth to your pet.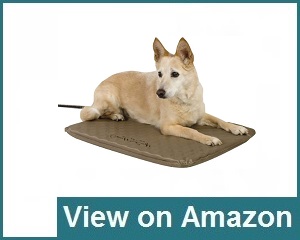 Also, the cost of this pad is less. While still providing the needed comfort and warmth. Also, this pad is suitable for pets of all ages and would be appropriate for pets suffering from joint pains, arthritis, and recovering from surgeries.
The product is made of a super-soft orthopedic foam, which provides the needed comfort. Also, the exterior of this pad is made of waterproof and durable PVC. Thereby, pet owners are given much flexibility during transportation. Additionally, the product is made of vinyl cover, which can be cleaned easily by wiping with a damp rag.
Furthermore, you want to know that this product is thermostatically controlled. Thus, response to temperature is automatic to ensure the warmth of the pet. The power consumption of the pad is 40 watts and 5.5 inches feet steel shielded cord to prevent breakage and shocks. Additionally, the pad is available in three different sizes, and pet owners should select the size most appropriate.
Key Features:
Thermostatically controlled
Premium comfort
Easy to clean and maintain
Uses low energy
Available in 3 different sizes
Why Does My Dog Need a Heating Pad?
If you live in cold-weather areas, you most probably have a heated system and warm blankets for your pooch. So, why purchase a dog heating pad? Let us look into the many benefits and comforts of this particular item.
Our canine friends tend to have a higher body temperature as compared to humans. The average temperature of a healthy dog is around 39°C. While canines have a fur coat, they need more than just that to maintain suitable body temperature, especially in cold weather.
A heated dog bed can assure that your pet stays warm and cozy even when the temperature drops low. Usually, when it is cold, you'll find that your pet roams around to find the best warm spot in the house.
That includes your furniture and sofas. However, we also want to avoid getting pet hair everywhere. This is where a dog heating pad comes in. A separate heating pad can serve as the dog's own bed and a place for quick self-warming.
It is also much more easier to use as compared to a warm dog coat, which blocks some movement. Smaller breeds and younger puppies sometimes require more warmth and comfort for proper growth and preventing illnesses. Therefore, having a dog heating pad can take care of your pet even when other stuff fails to do so.
For older dogs who suffer from joints pains like in the case of arthritis, this heating pad can provide comfort during both day and night. Dogs also wake up more energetically after curling up on a warmer bed.
How do Dog Heating Pads Work?
While these pads look like a small soft bed or a carpet, there is more to them than meets the eye. Let's look in the details and see what makes a dog heating pad special and how it works to warm up your pet.
The working of a dog heating pad depends on the model you are using, and the two types work differently. However, the main goal of both types is the same. To provide a comfortable, cozy temperature.
The non-electric versions are made from a specific choice of fabric and materials. These pads are capable of storing natural warmth and provide a cozy place for your dog.
The principle of their working is pretty simple. They work by reflecting the pup's own body heat back to provide warmth. While these are not as effective as an electric heating pad, self-heating ones cost less and are simpler in design.
The electric ones, on the other hand, heat up with a heating element embedded inside. All you have to do is to plug the outlet, and it starts heating. Usually, such heating pads have a maximum temperature level and do not go beyond that to prevent overheating. Instead, electric pads maintain a specific temperature.
How do I Get My Dog to Use a Heating Pad?
As previously mentioned, in the winter months, when your pet is feeling cold, their target is the coziest place. A heating pad can provide that ideal nap spot. But the question is, how can you get your dog to choose its new winter companion? Do dogs like to use heating pads?
The answer is yes. However, almost any new addition in your pet's life requires an introduction and some time for your pet to get used to it. Furthermore, if your pet has not yet been trained for using a bathroom, you might want to reconsider using a heating pad.
For younger pets, it is recommended to use a heating bed with a waterproof cover. It allows you to easily clean litter and keep the heating pad protected. For older and trained pets, you can use the pad as it is.
Serving meals near a heating pad is a great way to get your pet used to the new nap spot. After using it a few times, your pet will naturally come to love it and start using it as a daily routine. That way, you can save your furniture from dog hair as well as keep the canine warm.
Types of Dog Heating Pads
All heating pads have one purpose. To provide warmth to your dog in cold seasons. Based on the design and heating method, there are the following types of heating pads.
While not all heating beds are created equal, there are few features of each suitable for certain pets. To buy the most suitable one for your pooch, you'll need to understand the benefits and drawbacks of all types of a dog heating pad.
Electric Heating Pads: Just like the name suggests, these heating pads use electricity to produce heat. With a durable, long cord and a heating element embedded inside, the heat is evenly distributed to a keep the bed to a specific temperature.
The biggest advantage of these heating beds is that they provide quicker heat. While their cords are made from strong, hard-to-chew materials, it is still not entirely dog proof. Therefore, if you plan to buy this for your dog, it is recommended to keep an eye on your pet, especially if your canine is an aggressive chewer.
Microwavable Heating Pads: These heating pads are safer as compared to the electric ones. With a softer outer cover for insulation, these pads contain a special gel that is capable of storing heat.
In this case, just like the name suggests, the heat is provided by a microwave. After heating in it for some time, this heating bed can keep your dog warm for hours. When it starts to lose the warmth, just give it a spin in the oven, and it is ready for use again.
Self-warming Heating Pads: These pads use a reflecting mechanism to use your pet's own body heat to warm up. While these may not turn out to be as useful as the above two types, self-warming pads are the cheapest and safest of all three. The insulation and heat absorbance keep the mat temperature at an optimal level.
Factors to Consider When Buying a Dog Heating Pad
There are a plethora of dog heating pads out there. However, some of these may not fulfill all the purposes and requirements. What you need is a combination of both affordability and comfort.
To help you in making your choice, we have compiled a list of characteristics you should look for when investing in a dog pad. It is a long term, and you want the right bang for the buck. Following are the factors to be considered:
Method of Heating
Heating pads differs mainly in their heating methods. The self-warming types reflect your dog's body heat and store it to warm up. Electric models have a heating element in them. Depending on the coldness of the weather and your dog's habits, you can choose either. However, if you plan on buying an electric heating pad, then make sure to take safety precautions.
Size
Depending on your dog's size, these heating pads come in various sizes and shapes. However, measuring for this particular item is different. For this, you will have to observe your canine's sleeping patterns. Ideally, a heating dog bed will provide sufficient space for curling up.
Cleaning
Dog heating pads are used a lot, and they must be cleaned regularly to maintain proper hygiene. Therefore, before buying one, you should make sure that it is easy to clean. If you are purchasing an electric heating bed, choose one with a removable heating element or a washable cover.
Safety
Pet safety and care are our utmost concern, and it shouldn't be forgotten in a heating pad. Make sure that the bed is made from soft but durable material. In the case of a heating element, the cord should be non-chewable. However, no matter how great the insulation is, it is recommended to always keep an eye on your pet.
Material
A dog heating bed serves to be a warm, soft place to nap. The material should be easy to clean, durable, and one that keeps the heat. Usually, heating beds are made from soft foams with fleece covers.
Indoor and Outdoor Use
This depends on the usage. If you are going to use this heating pad for outdoors and garages, then an electric soft pad is the ideal choice. For indoors, the requirements are different. If you are unsure about the usage, we recommended purchasing one that is suitable for both indoors and outdoors.
Crate and Regular Use
For regular use, almost any heating dog pad will work. However, if you want to put the heating bed inside your dog's crate, then you can consider an option with corner slits. These fit and adjust nicely in the crates to keep your pooch warm.
Temperature Regulation
Dog heating pads are made to keep your pup warm. It is essential to note the heat absorbance and warmth of the heating pad. Usually, electric heating pads have a thermostat to regulate the temperature and prevent the bed from getting cold or warmer than the optimal temperature.
Your Dog's Sleeping Pattern
The way your dog sleeps tells a lot about the comfort style. Before purchasing a heating dog bed, it is recommended that you observe your pet's sleeping posture and then decide the size and softness of the bed.
Looks and Design
Last but not least, a heating dog pad should look beautiful and add to the aesthetic of the place. However, you also need the proper functionality. Ideally, you'll need a balance of good design and effective heating.
Cleaning and Maintenance
After being used regularly, dog beds can get dirty, and there will come a time when you must clean them. We all know that pets shed, and when it starts to show up, you know it is time to clean.
However, these heating pads require a lot more care and precautions in the cleaning. If these precautions are not taken, it can affect the working and lifespan of a heating pad. For proper maintenance and washing any dog heating bed, follow the following tips.
Read the manufacturer's label before washing – Whether the heating bed is safe for washing or not is usually mentioned on the product packaging or description. Some fabrics can get damaged when exposed to chemicals. Therefore it is crucial to read the label carefully and follow the instructions.
For electric types, remove the heating element before washing – Many electric model beds are designed in such a way that their heating element can be removed. If you have a similar type, then you can easily wash it after removing the heating element.
For types with a non-removable heating element, use a washable cover – This feature is available in many heating dog beds. They come with a removable, washable, softcover. All you have to do is to remove the cover and put it on again after cleaning.
Benefits of Dog Heating Pads for Dogs
Dog heating pads prove to be beneficial in more than one way. Let's look at some of the many comforts this pet item offers.
Provide Natural, Cozy Warmth to Young Puppies: Smaller breeds and puppies tend to feel colder when the temperature drops. A dog heating pad can keep their body at a certain temperature. This is especially important when your pet is getting used to a new place. A heating bed will help your pup to wake up more energetic and feel at home.
Soothe Aching Joints for Elderly Pets That Suffer from Arthritis: We all know that sometimes older dogs feel joint pains, and this is especially worse when they are suffering from a condition like arthritis. While medication is a solution, you can also soothe them by protecting them from the winter chills. A great way to do that is by introducing a pet heating bed.
Reduce Behavioral Issues: Sometimes, our canines aren't the calmest type. Aggressive pets can tend to get cranky when they do not have the perfect, warm nap spot in winter. This can be reduced by providing them with a heating dog bed. A soft, warm place to curl up can solve most of these behavioral issues.
Keep Your Pet From Getting Dog Hair On Your Furniture: Pets have one target in cold weather. The ultimate, warm napping spot, whether that happens to be your sofa or your bed. If you want to prevent all that dog hair from spreading, a dog heating bed is the thing. It provides your canine with a separate place to rest. 
Some Important Tips
While dog heating beds are a great addition to your pet's life, there are important tips and care required for safety.
Prevent the heating bed from getting punctured and keep it away from sharp objects.
If the heating pad shows signs of being damaged, it is recommended to stop using it. This goes for all types and especially the electric models.
These heating pads work best in their regular shape; therefore, do not fold them.
If your pet is using the bed with a cord, then make sure that it is as far from your pet as possible.
Before purchasing a heating dog bed, make sure that it is certified and tested.
Keep the heating pad unplugged when not in use.
Some pet heating beds come with covers. Only use these to cover the pad and do not use other materials or fabric.
If your pet is in the growing stage, then choose a bigger sized heating bed. 
Conclusion
For cold weather and enjoyable outdoors, a dog heating pad is an important and useful item. No matter what your pet's age is, they can benefit from this.
While this is a new edition to the pet industry, there are already tons of brands working. Therefore, you want to choose a heating bed carefully. Ideally, the best mat is one that warms your pet, is soft, and is of suitable size.
Frequently Asked Questions
What is a dog heating bed, and how does it work?
A dog heating pad is a small, comfy bed for your dog to keep her warm during the chilly winter seasons. It is ideal for younger pets and can keep them at optimal temperature using either electricity or by reflecting their own body warmth.
What is the best dog heating pad?
The "Pet Products Thermo Kitty Heated Mocha" is our choice for the most suitable heating pad for all dogs. This heating pad is controlled with a thermostat that keeps it at your pet's optimal body temperature by sensing when your pet is using the bed. With a small power usage of 6 watts, it is ideal for pets. It also comes with a risk-free purchase because of a One-year warranty.
Does a heating pad help a dog's arthritis?
Dog's suffering from arthritis have joint pains, and this is especially worse in cold temperatures. By maintaining their body temperature, a heating pad prevents them from feeling pain. By curling up on a dog heating bed, your pet will wake up more energetically.
What is the best heating pad for small dogs?
For smaller dogs, the "Pet Magasin Thermal Self-Heated Small" is the best heating pad. This heating pad has a layer of Mylar film to absorb and reflect body heat effectively. By using this, your small pets will be insulated from cold floors and keep warm in chilly weather.
Could a heating dog bed overheat?
No. Self-warming pads work by keeping the temperature optimal using your pet's body heat. For other types that use electricity, there is a specific limit and a thermostat to control the pad from overheating.
What is the best soft heating pad for dogs?
If you are looking for the softest heating pads for your canine, then "Pet Products Lectro Soft Outdoor Heated" is the best USA certified option. This heating bed comes with soft orthopedic foam and a fleece cover. It is ideal for outdoor use and controls temperature thermostatically.
Do self-warming dog pads work?
Yes. Self-warming heating pads use your canine's body heat, reflect it back, and keep the temperature optimal. This way, your pet retains the temperature even if it is cold outside. It is a natural way of keeping your pet warm and safe.
What is the best self-warming pad for dogs?
The "Pet Products Self-Warming Crate X-Small" is the best self-heating pad. It comes with slit corners to easily fit any crate. Soft micro-fleece cover on the top keeps it soft and warm, and the non-slip bottom provides stability. You can wash it with ease, and this heating pad comes in various sizes.
Are heated dog pads machine washable?
All types of heating pads are not washable. The self-heating pads can be washed; however, for the other two, it is recommended to read the manufacturer's label. Usually, these types of heating beds come with washable covers that can be removed and then put on again after cleaning. It is not recommended to wash dog pads that have a heating element.
How can I clean heated dog pads?
The self-warming pads can be washed according to their label. The electric heating beds, however, come with removable, washable covers. Some electric models allow you to remove the heating element. Then you can wash it like a regular heating pad.
Are heating pads safe for dogs?
The self-warming and microwavable types are safe for pets of all ages and sizes. The same is not true for electrical types. Electric heating pads are made from durable non-chewable cords and insulation. However, it is recommended to continue observing your pet when in use.