A Ramp is a huge help to your dog, especially if he is old, sick, or just got out of surgery. Dogs love to jump and come to you to the bed or sofa, but when they are having arthritis issues, they need to be assisted.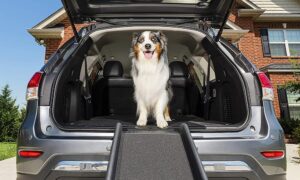 A ramp might not seem to be a necessary item to you, but trust us it is as climbing would only cause pain to your dog if he is old or sick. It can also be used for small-sized dogs who have small legs. It depends on your requirements.
You will find different varieties in the market but make sure you choose the perfect one for your dog. A ramp must be of a right size according to the size of your dog. It should be able to sustain your dog's weight. In addition to that, it should not only be made up of anti-slip material but also has safety features.
After extensive research and consultation with dog experts, we have come up with a complete guide for you with 10 best dog ramps. Here is all the information you need to know for choosing the right one for your canine friend. Let's get started.
Best Dog Ramps in 2021 – Reviews
1. Our Top Pick – PetSafe Dog Ramp
Top Pick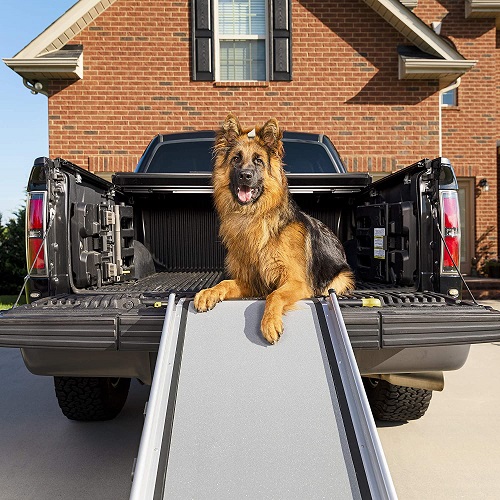 PetSafe Dog Ramp
With reliable and sturdy construction, this safety ramp lets your adult dogs and cats get in and get out of the vehicle.
Petsafe is the best pick in our list, as it is one of the lightweight, easy-to-use telescoping ramps helping your furry companion to get out of your SUVs, cars, and trucks.
With a weight of about 18 lb, this is capable of bearing a load more than 300 lb. Thus, you may choose it for most of the adult dog species.
The manufacturer has made a blend of plastic and aluminum to minimize the weight and increase the sturdiness. Moreover, the special design ensures the safety of your dog. This safety ramp has high-traction surface preventing your doggy to lose balance.
Your pets' feet will stay steady while using this. There are also four rubber feet to maintain stability. The side rail is another safety feature for pets.
The best fact is the length which is customizable based on your vehicle height and size. You can extend it from 39 to 72 inches. What's more, you may store this inside your vehicle without consuming much space.
There is no hassle of folding and unfolding the system. You can slide this inward and lock it by using a safety latch. Thus, the system has added convenience to car owners who have a long trip with their pets.
Now, you can choose this for your pooch that is not tall enough to get in and get out of your car. Give freedom to your pet and ensure protection to his joints and feet.
Key Features:
It has a long and adjustable sizing
Also, the design is compact
Easy to clean the surface with mild soap and water solution
Makes your dog feel confident while walking up and down
It is very easy to store
2. Runner Up – Trixie Pet Ramp
Runner Up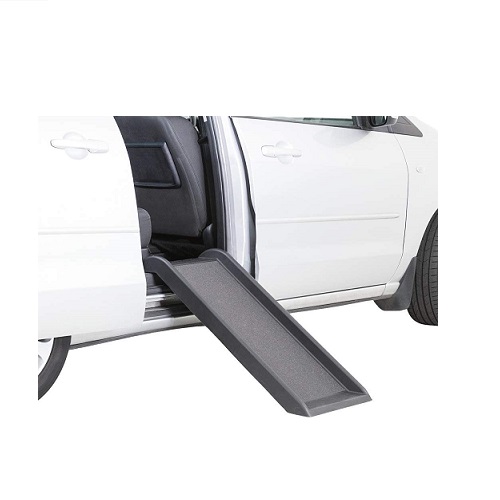 Trixie Pet Ramp
One of the quality ramps best for small and mid-sized pets to use both indoor and outdoor.
Trixie Pet Ramp is the runner-up in our list appropriate for small and medium-sized of dog breeds. You can use this especially with low-height platforms, including furniture and cars. Your furry pets can now get on and off the platform without your help.
It has a heavy-duty design, and with proper maintenance, you can use it for several years. With thermoplastic rubber and polypropylene, the manufacturer has made a reliable pet ramp model.
The most notable part is that it has a 3-way foldable design. When you have folded this long ramp, it can take the shape of a square. Thus, after every use, you can store the system anywhere or take it to any place.
Also, it has a high weight-bearing capacity and has focused on smaller species of pets to design it. However, you must make sure to maintain the right level of a slope while installing this. Moreover, the manufacturer has added a handle to let you carry this to the desired place.
There is no safety risk for your pets. The TPR surface prevents the problem of slippage. The system also includes side rails. Pets, having arthritis and joint problems, will feel comfortable in using this. Furthermore, non-slip rubber feet add stability to the ramp.
So, choose this item for your small and mid-sized pets, like cats and dogs. You can easily clean and disinfect this ramp to keep up its original look.
Key Features:
Lightweight design for easy transportation
No slippage for high-traction surface
Side rails for your pet's safety
Triple folding for easy storage
Best for dogs with arthritis
3. Best Budget – Pet Safe Folding Dog Ramp
Best Budget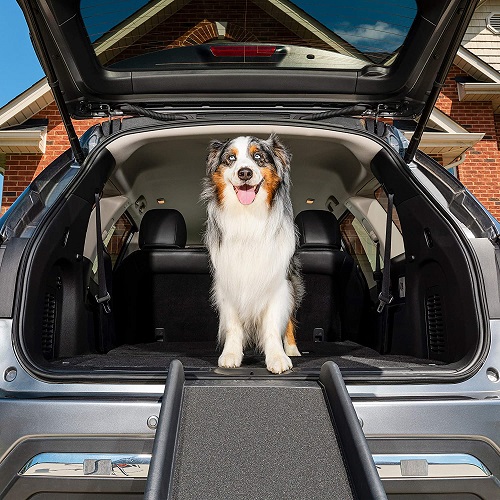 Pet Safe Folding Dog Ramp
The folding ramp is an affordable choice with a lightweight structure designed for dogs of all ages.
PetSafe folding ramp is the best budget model for pet owners. When you are searching for a reliable product at a budget-friendly rate, you can purchase this model from PetSafe. This dog is compatible with SUVs, minivan, and cars. During your road trips, while your pets need to get out of your vehicle, you can install the ramp.
The manufacturer has not compromised quality for this low-priced model. The model is capable of holding a pet of about 150 pounds in weight. There is no risk of cracks and collapse. Although it may be the first time your pet is using the ramp, you have no concern about its safety.
It comes with raised rails on two sides preventing the feline and canine pet from falling. Another important feature is the surface which has high traction. While your dog is walking on this surface, its feet will have a good grip.
Moreover, you can store this in your house and vehicles. After every use, you can fold the system to make it compact in design. You do not find issues in carrying the folded ramp to any place, as it is a lightweight system.
As per the manufacturers' claims, it weighs only 10 pounds. You can lift in and lift out this between your car stops. So, as a popular model among pet owners you will get value from investing in it.
Key Features
Lock the system with a safety latch
No bulky design – easy to carry
The full length is 62 inches
It has a high grip surface
Side rails included in the package
4. Best Ramp for Dog Beds – Pet Gear
Pet Gear Easy Step III has offered the best bed dog ramp with deeper and wider stairs. This is perfect for small and large dog breeds. The specially designed pet stairs enable your doggie to get to bed and other hard-to-reach sites without the risk of falls. As each of the stairs is much spacious, it can accommodate the full body of smaller dogs.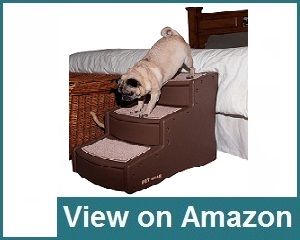 The slight incline of every step also reduces stress on the pet. With minimal efforts, your pet can reach the desired place. Frequent jumping off the bed, sofa, and furnishings may cause arthritis. Thus, you can invest in this ramp with stairs.
The depth of the top step is 9.5 inches, while for the second step, it is 9 inches. The depth of the third step is also 9 inches. The manufacturer has used high-quality HDPE Plastic to design the 3-step model of this ramp.
There are rubbers added to the base to keep up the stability. The carpet tread, included with stairs, is removable and easily washable.
Key Features:
Each of the steps snaps together firmly
Makes your pet feel comfort to get to the bed
No tools needed for setup
Easy to install and clean
The stunning color matches your room decor
5. Best Indoor Dog Ramp – Pet Gear Ramp
The best ramp for dog indoor using specially designed to support adult dogs. This chocolate-colored product has a sturdy portable design and you can easily move it from one room to another. From the ground to the top step, the height measures about 5 inches.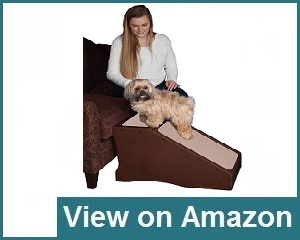 Similar to others, this model also includes rubber grippers on the base. Thus, this rubber material ensures that the step will stay secure while your pet is climbing it up and down. Moreover, as it is a freestanding ramp, it is easily installable on the floor.
The manufacturer has used supertraX removable soft mat on the stairs and ramps. This material also ensures a good level of traction. When your dog puts pressure on the mat, there will be an increasing grip. Thus, you can buy and use this in indoor places.
Key Features:
Secure step with rubber material
Premium quality carpet tread
No special tools needed for assembling the steps
Innovative design ensuring high safety to your pets
Pressure activated gripping as the unique feature
6. Best Adjustable Dog Ramp – PetSafe Solvit Deluxe
PetSafe has offered the best adjustable ramp that is usable with many vehicles. This telescoping item eliminates the need for buying separately for different vehicles.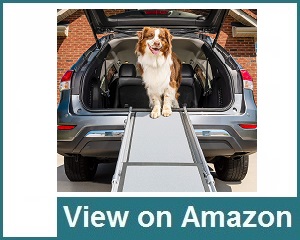 This sturdy model is made of plastic and aluminium, and capable of carrying pets that weigh up to 400 lbs. Thus, you may buy it for adult dogs and other pets.
Most of the pet owners have found that the model weighs only 13 lbs. They can easily move the ramp to a different site based on their needs. Moreover, you need minimal effort to take the system out of the car.
Due to the high-level traction on the surface and integrated side rails, your pet will have no risk of using this. Use the simple sliding mechanism and the safety latch to make the model easy to store. You can easily put the system into your car.
Key Features:
Ultra-stiff design with rubber feet for high stability
Easily cleanable with mild detergent
The length is easily adjustable
A carry handle included for your convenience
No accidental opening for the safety latch
7. Best Car Ramp for Small Dogs – Pet Gear Travel Ramp
We have found it to be the best car ramp for small dogs. When the height of the platform is about 20 inches, you can choose this bi-fold ramp model. Pet Gear has used high-quality materials to manufacture this for your dogs and cats.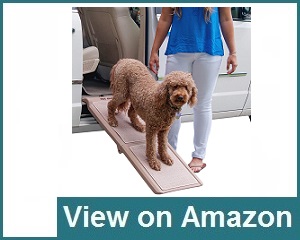 The used premium plastic does not attract bacteria. Moreover, as the ramp is compact in shape and design, you can easily store it in any place. Available in different colors and sizes, this model is a popular choice among several pet owners.
Pet Gear has used an innovative technology for the surface. Your pets' paws can comfortably grip the rubber surface, and there is no chance of slippage. Furthermore, you can find the use of SupertraX tread that makes the surface soft and comfortable.
It seems that the surface is designed especially for gripping the pets' paws. Due to regular use, the surface becomes dirty. Thus, you can remove the mat and clean it easily.
Key Features:
Non-skid carpet prevents slipping issues
Remains steady for rubber grippers
Integrated handle for high portability
It includes a safety tether
It also includes sure-footing for SupertraX tread
8. Best Outdoor Dog Ramp – PetSTEP
When you are looking for the best outdoor dog ramp, you can purchase this PetSTEP original model for dogs. It has added strength to the design by using a combination of fiberglass and plastic.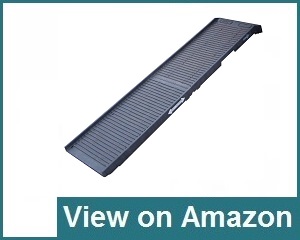 Due to the use of these materials, you can find this ramp to be resistant to weather elements. Thus, you can use the system at outdoor sites without any concern. Moisture will not cause rust to this.
The second most notable thing is the traction. The rubber tread provides a high level of traction, and you can find the non-slip surface of this model. After installation, it will remain firmly in place.
Storage is not an issue when the system is not in use, you can fold it in half. The integrated handle with ergonomic design ensures portability. You can close and open the system within a few seconds without using special hardware.
Key Features:
Weatherproof walking surface for outdoor use
Fold it quickly for easier storage
Made of strong materials providing lasting value
Fits all cars and vehicles
Non-slip grip protecting your pets' paws
9. Best Dog Ramp for Cars – Gen7Pets Natural
Gen7Pets has designed the best ramp for cars and vehicles, and it is capable of carrying the mid-sized dogs. The lightweight model is easy to move to any place. The width is about 16″, while the thickness is 3″.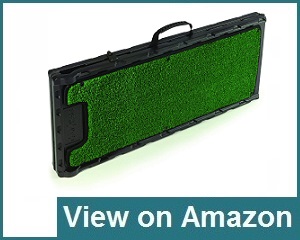 When you fold the system, you can find this in a compact shape. Open the folded ramp easily and install it in the desired place. The manufacturer has created a different look by adding poly-grass to the model. You may choose this product as the best natural step ramp.
Moreover, your pets will have a secure grip while using this. The soft surface will give the best feelings to your pets' paws. Besides, due to its soft surface, you will not find scratch issues to the interiors of your car.
Another notable part is the rubber-grip handle that is soft to touch and easy to carry at any place. While you have folded this, there is an automatic locking latch to prevent the system from unfolding itself.
Key Features:
Compact and lightweight
Used with a minivan, SUVs, and other vehicles
It can be stored at any place.
No accidental unfolding
The soft grassy surface
10. Best Shorter Dog Ramps – Internet's Best
We have chosen it as the best short adjustable dog ramp used with cars, beds, sofas, and small stairs. In some cases, your puppy, cat, and small dog species may need your help to get to the bed. If you are not available, you can install this immediatly for your pets.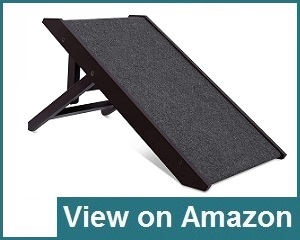 The overall design is decorative and durable, and it adds a soft accent to your room. The best fact is that the height of the system is easily adjustable. You have options for choosing three height levels, ranging from 10 to 16 inches.
After every use, you can fold down the ramp. It attains a height of 2 inches. The manufacturer has used a paw-friendly carpet that firmly grips your pets' feet. Moreover, it has a solid and highly resilient design that lasts long.
 Key Features:
A specially designed grip carpet preventing slip and fall problems
Attractive in look to match your room's decors
It is easy to fold the system
Besides, it is best for indoor use
It has a high level of traction
Why Should You Choose a Dog Ramp?
Getting a dog ramp for your canine friend is beneficial to his health, especially when he is getting old or has arthritis problems. A dog has to get old one day and a ramp will play an important role to help him reach elevated places. He might find it hard to climb the bed or a couch to spend time with you.
It is also great for little puppies to help them climb. There are many situations when you might need a ramp for dogs. For example, it is recommended to put your dog's food bowl at an elevated place to help them eat. But in case he is having joint issues, a ramp would make it easy for you to reach the bowl.
To some people, this item might seem like an extra but it is recommended by experts and pet specialists. As dogs get older, most of them go through joint issues which is why it is our responsibility to assist them and make things accessible.
Also, a ramp allows them to spend more time with you. They can easily reach out to you using a ramp. Also, when you are out, your dog can climb up or down with this. Otherwise climbing will cause joint pain. It is also useful for the dog having a disability which is why a ramp will make activities easy for him.
Who Should Look for Dog Ramps?
Dog owners would need a ramp for several reasons. As mentioned earlier, it is necessary to get a ramp for your old dog as he will need assistance in climbing a bed or couch. You do not have to miss all the fun with your dog and still take him to adventures.
A ramp will help him climb up or down the car. It is not only made up for the older dogs, it can be used for little pups as well who have little legs and find it hard to climb things. Usually, it is foldable and light so you can take it with yourself anywhere you want.
Also, a dog will always want your attention and love but in order to get to you, climbing will cause him pain and swelling. You should also get this if your dogs have a disability as it is going to make things easier for him.
In addition to that, if your dog just got a surgery, then a ramp is a must for you. Otherwise, climbing or going to an elevated place will make him uncomfortable.
How to Introduce Your Dogs with Ramp?
Introducing a ramp to your dog can be time-consuming as you do not want to rush your pet. All you require is patience to get him used to the new item. It is a necessary item especially when you have an old or sick dog at home.
It is also great for assisting little puppies to get to elevated places or a dog that just got surgery. Here are easy steps that you can do to train your dog to use a ramp:
Step# 1: Get a ramp and make sure it is anti-skid as you do not want to scare your dog during his training. First of all, put this on a flat surface to introduce your dog to it. Put a treat on the ramp, so that your dog gets familiar with the product.
Step# 2: The next step is to put the ramp on a low height and with the help of the leash walk towards the side of it. Do not forget to put a treat on the first step of the ramp as a positive reinforcement to train your canine friend.
Step# 3: In the next session, you can put the treat in the middle of the dog ramp. Your dog will follow the treat and move forward. If you think he is ready to go to the end of the ramp, then you can train him the same session.
Otherwise, wait for the next session to get him to reach to the end. Be patient with him and make sure to treat him during the process. If he is uncomfortable or scared, then take a break and wait for the next session.
Types of Dog Ramps
There are 3 types of dog ramps that you can get for different usage. First of all, you need to know your requirements and reasons for buying a ramp. You can use a regular ramp for beds, couches, or cars to make climbing easy for your old or sick dog. Let's see how all different types are useful for different purposes:
A Fixed Ramp

: It is just one piece that does not fold. The best use is to fixed ramp when you want to install it permanently. It is not a good option for SUVs and cars but you can use it at home so that your dog can easily climb onto the bed or couch. If you want to get this for a long-time use at home, then you should go for this option.
A Foldable Ramp

: It is easy to carry to your trips that can be easily used on your rides. After using it, you can just fold it and put it back in the storage. This type is great for using at home for your canine friend and during your trip. It is compact and easy to carry.
A Telescopic Ramp

: Some of you might not be familiar with this type. They are easily foldable as well just like a foldable ramp. What makes it different from the other types is that it has panels that can slide to lock or unlock. It is easy to use and convenient to carry out while traveling.
Dog Ramps vs. Dog Steps
There is another type of ramp that most people prefer which is called ramp stairs. It totally depends on you whether you choose on your needs. Here are the differences between a dog ramp and dog stairs:
Purpose: First of all, you need to figure out the purpose of buying a ramp or staircase. If your dog is old and sick then we would recommend choosing a ramp. As it has a flat surface, it will allow your dog to go easily to the elevated places. A staircase has steps that will put a strain on your dog's joints. A staircase is a great option for active and young dogs who are able to take climb the steps easily.
Height: Another factor that makes both of them different from each other, is shape and height. Ramps can be adjusted according to the height of your bed or couch however, staircases are short in height.
Storage: Another difference is that a dog staircase can take more space as it is not foldable whereas, a ramp can be easily folded. Also, it is easier to carry a foldable ramp while traveling as compared to the big block of stairs.
Things to Consider Before Choosing Dog Ramps
As you will be using a ramp for a long time, it is better to consider these important factors before buying:
Material
This factor is the most important one as you need to make sure that the ramp has a strong built. Especially, when you have a large dog then you need to look for the construction. The best materials preferred for a ramp are aluminum and plastic. These materials are not only durable but also best for all sizes of dogs.
Fold Design
Yes, this one is another important feature that you should consider. They are different types including trifold and bi-fold. Some of them come with no folding feature as they are fixed and can be used for bed or couch. If you are going to travel a lot with your dog, then a folding design is highly recommended.
Safety Features
Whenever you choose a product for your pet, make sure it comes with the safety features as you do not want him to get hurt. A ramp is used when your dog is old, has joint issues, or just got surgery so you want to make things easy and safe for him.
The safety features include aforementioned traction and rails at the sides so that your dog can walk easily. Also, while purchasing, make sure the surface is not slippery or too rough.
Height
Another important factor to consider is the proper height. First of all, you need to figure out the things for which you will be using. Make sure the height is adjustable so that you can use it with a bed, couch, or your car. If you want a fixed ramp at home, then make sure it matches the height of the elevated place.
Style
As you will be using a ramp for a long time at home, make sure it does not look odd. Especially if you want it to be fixed permanently, it should be able to match with the nice furniture around.
Although this might be the least important factor in your list it is still something you should consider. You will find different colors and styles in the market so make sure to make the right decision.
Cost
Being a dog owner, it is your responsibility to get a high-quality design for your dog without going after cheaper ramps. You might have a tight budget but make sure it is meeting your requirements.
An old or sick dog needs to be taken care of. They should not feel uncomfortable while using. Having join issues can because while climbing, which is why it is necessary to get a good quality itemto make their lives easy.
Warranty
Last but not least, a warranty is an important factor to look for. A product should have a money-back guarantee. Make sure to get a ramp that comes with warranties so that in any unfortunate situation, you will be able to contact the company for an exchange.
Benefits of Dog Ramps
Using ramps definitely have numerous benefits for your dog and for yourself. From making your life easier to longevity, here are some major benefits highlighted below:
Make your best friend's life easier: Having a dog which is smaller in size (whether it's the age or the breed), would make it difficult to get into more heighted vehicles. Similarly, some bigger sized dogs may not be comfortable with the idea of jumping in and out (this pertains to older dogs as well who lose their confidence of jumping). This problem can be erased simply by adding a ramp to your arsenal which will make the process of getting into vehicles, effortless.
Make your own life easier: Instead of lifting up your best friend in an attempt to take him/her to the vet, simply make them walk the ramp instead of risking discomfort or injury to yourself or your dog.
Lesser stress on your dog's joints: Many breeds struggle with inherited joint problems and jumping in and out of vehicles or up and down from platforms can in worst cases, severely aggravate these joint problems.
Versatility & Longevity: Ramps are lightweight and easy to carry anywhere. For the same reason, you can use them anywhere. Whether it's the stairs, getting into a car, or getting into a bath tub, it's helpful in every situation.
Apart from that, they're durable and a one-size-fits-all thing. So, investing in one right now will benefit you and your dog for a long time in the years to come.
Some Important Safety Tips
While using dog ramps, there are always a few important things to bear in mind when it comes to their usage.
1. Placement and Position: Always be sure to place the ramp on stable and even platforms to avoid the risk of it slipping and resulting in your dog getting injured.
2. Training and supervision: If your dog isn't trained to walk on a ramp, there's a chance your dog will jump off from the ramp instead of walking up and down on it. Train your pooch to do so and supervise him/her every time your dog is on the ramp.
3. Select the right ramp: You'll find many options. Primarily, there are three things to look for when buying a dog ramp; safety, ease of use and stability.
Final Verdict
There might be a lot of difficulty in choosing the right ramp for dogs. For the same reason, many buying guides are present. As mentioned earlier, the three things to look for are safety, ease of use and stability. Owners usually underestimate the benefit of ramps but they definitely qualify as a worthwhile investment.
Frequently Asked Questions
What is a dog ramp?
It is a flat one-piece made up of metal or plastic that helps your dog to go to elevated places. The purpose of using a ramp is to help your dog to get to higher places especially when he is old, sick, or just got out of surgery. In all these situations climbing would be dangerous for him.
Are stairs or a ramp better for dogs?
To tell you the truth, both of the products have different purposes. Although a dog ramp can be suitable in more situations especially if your dog has arthritis issues. Climbing stairs will be hard for him as he will have to take steps. It will put a strain on his joints. Stairs are suitable when the dog is young and active.
How to measure the actual size of dog ramp regarding dogs?
It is important to choose the right size for your dog to make him comfortable. If you have a small breed, then a narrow ramp would be a perfect fit. On the other hand, you will need a large one if you have a large dog breed. Always remember, that the width should be greater than the width of your dog's shoulder.
What angle should a dog ramp be?
Here are a few things to need to know about the angle. First of all, the ideal width of the ramp for toy dogs is 11-12 inches while for the medium-sized breed it is 22-24 inches. For the larger dogs, it is greater than 24 inches. Secondly, after choosing the right size, make sure to put it at an angle of incline at 18-25 degrees to the bed.
How do I keep the ramp from slipping on tile or cement surfaces?
Make sure about the safety features. It should have anti-slip materials or paint so that it does not slip on the tiles or cement floors.
Can I use a dog ramp in a pool?
Yes, it can be used in a pool but only the one that has an anti-slip feature. If you have a pool, make sure you choose the right one that can be used in a pool.
What materials are the best dog ramps made of?
The best materials that are preferred for a high-quality dog ramp are aluminum or plastic. You need to make sure that should be durable. A plastic design can't sustain heavyweight though it is portable and best for small-sized dogs.
What's the best surface material for a dog ramp?
The anti-slip surface material is important for a ramp so that your dog can walk or run safely. Some models come with anti-slip material or anti-slip paint that allows your dog to easily go to an elevated place without slipping.