Dog shampoos are indispensable for our dog health. This is because dogs like playing around, and we frequently find them walking around covered in dirt and unpleasant smell which require proper bathing.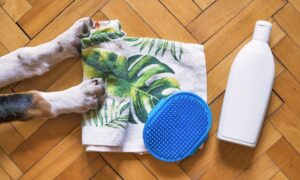 Although it is not recommended to bath them every time as it will remove essential oils on their skin and coat. But there is no harm bathing them whenever the need arises, doing that would get rid of the dirt and bad odor from the dog.
A healthy and refreshing bath with shampoo can effectively combat dirt, odor, and bacteria. These benefit your dog in many ways. For example, it helps in repelling germs and ticks that constantly frustrate dogs. Likewise, it reduces itching and other complications in dogs.
While there are many brands in the market, it is necessary to know which one is good for your dog. This can be done by examining the ingredients used in the product.
Some brands are full of artificial and harmful substances that could irritate the skin of your dog. Thus, we consulted many pet experts to create a list of 10 best dog shampoos with a detailed buying guide to ease your decision.
Best Dog Shampoos in 2021 – Reviews
1. Our Top Pick – Honeydew Oatmeal Dog Shampoo
Top Pick
Honeydew Oatmeal Dog Shampoo
Honeydew is natural, made with Colloidal Oatmeal, Lavender Essential Oil, odor eliminator, and itch relief.
Your furry family member's smell is our concern, and the Honeydew Oatmeal shampoo is a must-have as it is our top pick. The formula is made of natural products, and it is designed for dogs with skin irritation and sensitive skin, which might have been caused by several reactions to others.
The pet wash contains natural oils and botanical extracts which is suitable for all ages, skin, and hair types, thus, it is safe for all pet. The cleansing formula is recommended by veterinarians, and it is mild and gentle, so your pooch enjoys care and comfort.
The honeydew shampoo contains colloidal oatmeal that is made with lavender essential oil; this helps soothe, nourish, and moisturize your pet's dry, itchy skin and fur. Additionally, the lavender has been used for a long time for relaxing aromatherapy and calming down your pup.
Also, this pet wash has a natural detoxing and dehydrating properties that remove dirt, oil, and impurities, thus, making your pet's skin soft and clean.
Furthermore, the Jobaba oil in the formula is what keeps your pet's coat soft and shining. This oil is lightweight and does not weigh down the fur. It hydrates excellently to give your pet a silky and healthy coat.
Essential oils contain vitamins, minerals, and antioxidants, which have been known for the nourishment and improvement they give to the dog's hair and skin. Bathing your pet should not be a scary experience for your pet, so this formula is designed to be tear-free, so your pet could have calming bath time.
Additionally, your pet's skincare is our utmost concern. Therefore, Paraben that is a chemical substance for preservation is eliminated in the manufacture of this product. Dandruff, excess oil, and debris on your pet's coat are removed by this blend, and it is in all way safe for your pet.
Key Features:
Made of natural soothing ingredients
Formula calms and soothes irritating skin
Designed to eliminate excess oil and dirt from the pet's coat
Safe and effective for all kinds of dogs
Shampoo is recommended by veterinarians
2. Runner Up – Pro Pet Works All Natural Dog Shampoo
Runner Up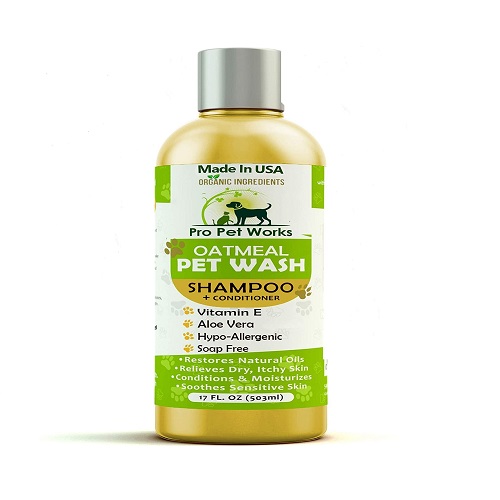 Pro Pet Works All Natural Shampoo
Natural organic oatmeal shampoo, hypoallergenic soap and tear-free, almond oil for allergies and sensitive skin.
Your furry friend deserves the maximum care with a great pet wash, and Pro-Pet coming behind our top pick is carefully formulated to regenerate your pet's skin, ensuring optimum health for his coat. The shampoo adheres to the need for sensitive skin and coat with the ability to deodorize your pet from wet odor.
Also, the pet wash has a soap-free and tearless formula. Thus, there won't be any cause for irritation nor inflammation on your pooch's eyes or nose.
It contains aloe vera gel whose ultimate function is to soothe and hydrates your pet's skin. Again, if your pooch is experiencing allergies, aloe is a natural ingredient that effectively helps to relieve all forms of skin problem.
Another ingredient is the almond oil, which contains Vitamin E naturally, this keeps the cells of the coat healthy, speeds up the healing process and protects the skin from ultraviolet radiation. Fatty acids in the formula have proven to maintain moisturization, and it cures dry scalps and irritated skin.
Furthermore, fatty acids help treat skin irritation, retain moisture, and glow your pet's skin. Additionally, the pet wash brings out natural oils in your pooch's coat, making each follicle better and healthier.
Also, the shampoo is free from all kinds of artificial fragrance, paraben, and sulfates. It is non-toxic and suitable for all pets. The formula is eco-friendly, as it is biodegradable, therefore not only safe for your pet but also your environment.
Oh, this formula also contains the oatmeal, which is an ingredient that soothes itchy and dry skin, promotes a healthy and shiny coat, and aids hydration.
This formula is tear-free and does not contain alcohol and animal by-products. When flea treatment is applied to your pet, this formula does not neutralize the effect of flea medicine.
Key Features:
Safe for frequent use
Free of paraben and cruelty
Amino acid and vitamins are present
Manufactured for sensitive and dry skin
Can be used with flea treatment
3. Best Budget – Fresh 'n Clean Scented Shampoo
Best Budget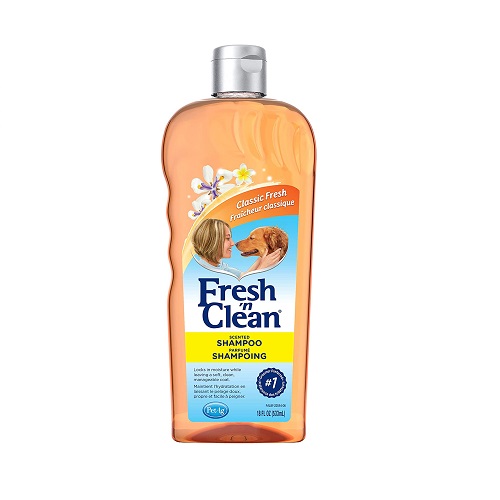 Fresh 'n Clean Scented Shampoo
Tenderly cleanses and moisturizes with aloe and Vitamin E
For pet parents on a budget but want to get the best shampoo for their furry friend, the Fresh 'n Clean scented is the perfect option. In the formulation, quality has not been sacrificed as it keeps dirt and offensive smell away from your pet, as the name implies. The fragrance lasts for weeks once applied, and it is safe for your pooch.
Additionally, this eliminates mats and tangles while freshening and softening the skin. It contains aloe vera gel that is a natural ingredient. It has a soothing effect on the coat and skin of your pooch.
Also, the antistatic agents which ensure the skin management and stops the appearance of mats and tangles; therefore, your pet's coat is soft and silk. Other ingredients in this formula are disodium oleamide meal, sodium Laureth sulfate, and fragrance.
Furthermore, the ease of refreshing the scent is another unique feature, wiping the coat with a moist towel would refresh the fragrance instantly. The use of the shampoo is by first wetting the pet with warm water, and gently applying on your dog's back, and tenderly rubbing or massaging it into the coat if there is a need for more do not hesitate to apply more shampoo. Then, after the wash, apply water for rinsing.
Key Features:
Provides a long-lasting fragrance
Ingredients include aloe vera gel and antistatic agents
It is available in 18-ounce
Strengthens and repairs coat
Suitable for all life stages
4. Best Medicated Dog Shampoos – Veterinary Formula Clinical Care
Your four-legged friend deserves proper care for his skin and coat, and the Veterinary formula clinic care is the best-medicated dog shampoo you should consider. This formula is specific for dogs that have parasitic organisms, and it is used against fungal and bacterial infections.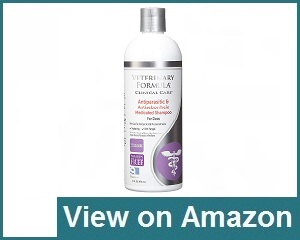 The formula is dye-free; therefore, the color of your pooch coat remains unchanged. This can be used two or three times a week until there is an improvement in the skin condition. Pets would be free from hair loss, itching, foul odor, hot spots, and several skin infections.
Some of the constituents of Veterinary formula are salicylic acid, micronized sulfur, and coal tar, that have proven to treat mange, and other bacterial and fungal infections. Furthermore, the formula also contains colloidal Oatmeal, which keeps the skin hydrated and would speed up the process of healing with visible results.
This formula is an Antiseborrheic and antiparasitic shampoo that works effectively and gives fast relief to several skin problems such as red skin rashes, dermatitis, seborrhea, inflammation of the skin, and other bacterial infection.
Furthermore, there is no cause for panic over applying this on the pet with sensitive skin. This formula is recognized by veterinarian and has been tested to have a balanced PH, soap-free to prevent itching of the eye while bathing, and Paraben free. With this, your pet will always have nice bath time with zero inflammation nor skin irritation.
Key Features:
Great for pets with allergies
Veterinarian approved
Effective against bacterial and fungal infection
Paraben and soap free
Appropriate for dogs that are over twelve weeks old
5. Best deShedding Dog Shampoo – FURminator
Here is the FURminator shampoo for dogs deshedding and keep your home free from pet hair. It is the best deshedding shampoo, when applied, reduces the shedding of hair from your pet and also maintains a healthy coat.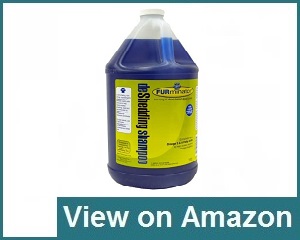 It contains Omega 6 and Omega 3 fatty acid that leaves your pooch coat shining and glowing after a bath. Importantly, the pet's parent is to apply this shampoo just once a month.
The efficacy of this is certain, as the formula has been approved by professional groomers and veterinarians. Vitamin E has been the active ingredient, which aids the skin and coat of your pet and ensures the freshness and softness of the fur.
Omega 3 & 6 fatty acids are essential ingredients for maintaining healthy skin and eliminating the dryness of the skin. Additionally, the calendula extract and papaya leaf constituent promote the softness and health and release of the undercoat.
Another ingredient in this formula is the cranberry seed oil and kava extract, all these are to promote the skin and coat health while ensuring the freshness. There should be avoidance with the eyes while bathing the pet, and the user should be for four weeks interval. This does not irritate, eliminates dryness, and overall promotes healthy skin.
Key Features:
This is formulated to reduce shedding
Aids healthy and soft skin and coat
The formula contains Omega 3 & 6 fatty acids
Recommended by veterinarians and professional groomers
Contact with the eye should be avoided while bathing
6. Best Smelling Dog Shampoo – Earthbath
It is okay to love your four-legged friend and still want him to smell nice. Earthbath shampoo is the best smelling made to give your pet a clean and pleasant scent. It is formulated for pets that are suffering from dry and itchy skin, and you can be sure of the pet's skin and coat softness.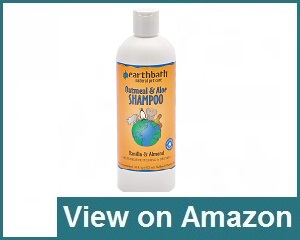 Additionally, this is made of natural content, that is degradable, and it would not harm flea application and safe for dogs that are above six weeks.
The ingredients for this formula are 3% oatmeal and organic aloe vera, these constituents are recommended by veterinarians, and they fight skin irritation, soften and moisturize the skin, then, they speed the process of healing.
Apart from being natural, the pH of this is balanced for cleansing and deodorizing the pet's skin perfectly, plus the purified water, and leaving the fragrance and brilliant plush coat.
Combining these constituents with vanilla and almond would leave your pet a wonder to others, as this boosts her confidence and look. Earhtbath shampoo contains essential Vitamins, such as Vitamin A, B, D, and E plus glycerin and allantoin, all aimed at boosting the pet's skin and coat condition.
Furthermore, it is soap-free, and contact with the eye should be avoided, and the preservative is natural, so there would be no harm to the pet's coat.
Key Features:
Made of natural ingredients and biodegradable
Formulated for dry and sensitive skin
Soap-free and pH balanced
Oatmeal and aloe vera, recommended by vets
Natural preservative
7. Best Oatmeal Dog Shampoos – Paws & Pals
Paws & Pals is the best oatmeal dog shampoo for producing great results. It is a great choice for dogs with sensitive skin and allergies and hot spots, as the formula is manufactured from natural products that are not toxic.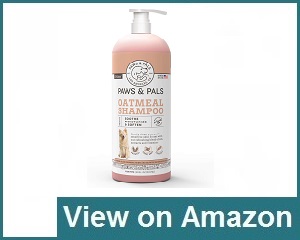 Additionally, this keeps the skin and coat of your pet from dehydration and speeds up the healing process while ensuring a clear and clean skin or coat.
Your furry family member is loved and deserves absolutely the best, and this formula contains oatmeal that is targeted towards the moisturization and relief of itchy skin, hot spots, and symptoms of allergies while giving the premium and plush coat.
Additionally, aloe and pro-vitamin B5 that is organic eliminates dehydration and promote healing. Natural coconut and jojoba oils help maintain healthy skin and cures the dryness of the coat as it promotes the shining and plush character.
Pet owners would need not to worry when bathing their pooch as the formula is designed to be tear and soap-free, which ensures that there is no irritation and inflammation while bathing. This product is not only concerned with the pet alone but also the environment. This formula is eco-friendly and made of recycled materials.
Key Features:
Eliminates itching and dry skin
The formula is soap-free and tear-free
Long-lasting fresh scent
Made with natural and healthy ingredients
Ingredients are non-toxic and vegan
8. Best Dog Shampoo for Fleas and Ticks – Adams
About 95 percent of fleas are not even visible to the human eye. You want to, therefore, keep your furry family member free from fleas and ticks, and Adams shampoos are the best answer for this search.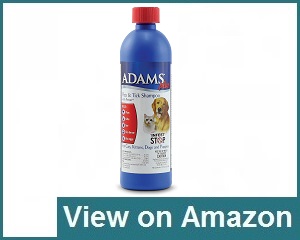 Your pet's health is our concern; therefore, veterinarians have approved the Adams to combat fleas and ticks both on the dog and in the environment. It effectively kills even the flea eggs and larvae even before maturation.
The constituents of this formula are the soothing aloe that is needed for moisturizing and hydrating the skin. Additionally, the oatmeal present in the formula is aimed at moisturizing, relieving itchy skin, hot spots, and symptoms of allergies while aiding a plush skin.
Also, Lanolin and coconut oil extract are for maintaining a soft and shining coat. Precor is a sensitive skin ingredient that eliminates dandruff and scales, and it is also in the formula. Furthermore, flea eggs are even stopped from hatching for up to 28 days because of the insect growth regulator (IGR).
The is safe for all pets that are 12 weeks and older, and utmost care must be made to avoid contact with the eyes. Warm water should be used for bathing and massage the fur with tenderness after applying the flea shampoo for dogs.
Key Features:
Formula contains insect growth regulator (IGR)
Keeps coat and skin shining and soft
Pleasant and fresh scent
Protein for improved grooming
Suitable for multi-pet homes
9. Best Waterless Dog Shampoo – Paw Choice
After surgery, you don't want to give a full bath, or for pets that don't like getting wet, then the Paw choice is the best waterless dog shampoo. So, you don't need to give your pet a full bath to make him scent well or look good, because this formula requires no water or rinsing.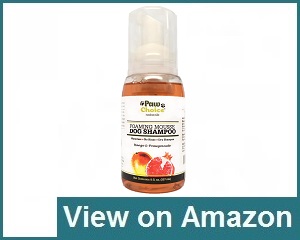 The ease of usage is another benefit, as it can be sprayed onto your pooch's coat and massaged without hassle or mess. The ingredients for this formula are mango and pomegranate scent, which freshens up your pooch and gives her a pleasant scent.
Furthermore, the coconut oil in this formula promotes the shining and soft coat, and it is perfect for dogs that have sensitive or allergic skin. There are no harsh chemicals that could irritate your pet. Also, it is environmentally friendly and suitable for all skin types.
Furthermore, when applying this shampoo, ensure that there is no contact with the eye, and allow the air to dry once applied. Additionally, there are no artificial preservatives that would be harmful, with no alcohol, no sulfates, and no parabens.
Key Features:
Safe for all dogs
Coconut-derived formula suitable for all skin types
Natura without harsh chemicals
No water or rinsing required
It removes odor and does not just mask it
10. Best Shampoo for Puppies – Isle of Dogs
Your puppies deserve a pleasant scent and freshness, and clean and healthy skin makes them enjoy more cuddle time. Hence, it is the best shampoo for your puppies. Keep the coat of your pup clean at all times.
Also, this formula does not irritate the eye, as it is tear-free, meaning it does not irritate the eye. The ingredients for this formula are cotton and fresh orchid fragrance, which improves the outlook of the pup and provides a premium scent.
Additionally, it is free of paraben and sulfate, which could cause skin irritation and abnormality. This contains natural odor neutralizers aimed at making the coat clean and fresh.
Key Features:
This formula is free of sulfate and paraben
Made of natural ingredients
Tearless dog shampoo
Keeps your puppies free from odor
Promotes a soft and clean coat
Why You Need Shampoo for Your Dogs?
It should be noted that any dog owner that wants to provide their dog with maximum comfort and care should not forget to include dog shampoo on their list. We know that dogs are friendly companions that can easily get messy and weird, therefore they need help in staying fresh and clean.
Having the right one will go a long way in keeping the smell and dirt away, and also prevent potential skin infections and other health challenges. Bathing with shampoo can do away with bacteria, parasites, and other infectious particles, it is, therefore, most needed for dogs especially those with fungal and bacterial infections.
Likewise, if your dog has allergies, constant shampooing will reduce the itch and other complications thereby making your dog feel much more comfortable and relaxed. For dogs that are prone to germs and ticks, having the right choice will help immensely in repelling those ticks and germs.
How to Wash Your Dog Properly Using Shampoos?
It is hectic and time-taking to bath dogs. Most dogs don't like bath-time, it sometimes ended up getting their eyes and ears wet. However, to get the best result, you can just follow these steps:
Before bathing

: Start by brushing your dog to get rid of debris and tangles present on the body of the dog.
Setup the room

: Assemble products to use, place a mat, or towel on the floor for your dog to stand on.
Fill the tub with lukewarm warm

: Don't use water that is too hot or too cold as it will affect their skin or health. So feel the intensity of the water while filling the tub to make sure it is ok.
Protect the ears from the entry of water

: This can be done by putting a cotton ball to prevent water from entering.
Apply shampoo

: Use appropriate shampoo to apply evenly throughout the fur down to the skin of the dog. Apply this around the back of the dog down to the neck.
Rinse properly

: Spray water slowly on the dog, start with head and face before moving to the rest of the body. Don't leave any place unwashed, make sure you wash your dog's hair at least three times.
Dry the dog

: Wrap the dog in an absorbent towel to remove moisture, then air dry or use specially designated dryer for dogs.
An important piece to note here is while bathing your dog, try to keep the head dry. Don't allow soap to get into the dog's eye as it would irritate the dog. Also, don't allow the ear to get wet as it could lead to infectious bacteria.
Why Human Shampoo Shouldn't Be Used for Bathing Dogs
Though it may be tempting to simply use human shampoo for your dog, that is not a good idea. Dog skin and human skin are completely different when it comes to chemical composition.
Using household or human products can negatively affect the skin of the dog and cause skin disease. Some of the reasons why you should not use human shampoo for bathing dogs include:
Skin Sensitivity: Skin layers for dogs are only between 3 to 5, while those of humans are up to 15 layers in its thickness. This is the reason why dogs are more vulnerable to skin problems if they get splashed accidentally with hot water.
Skin pH levels: Human shampoo unlike dog shampoo are marginally acidic that makes them clean human bodies effectively. This composition consists of a pH of between 5.2 and 6.2. However, dog has an alkaline skin pH up to 7.5, therefore, using this type of acidic human shampoo for them could easily break their skin layer and make them prone to parasite and bacteria.
Dog Shampoo Vs Human Shampoo
We are aware that human skin and dog skin are completely different. The fur and hair are also not the same. And in comparing the two shampoos to ascertain their suitability, it is right to state that; human shampoos are best for humans not dogs. The table below gives a detail explanation on that;
| SN | Dog Shampoo | Human Shampoo |
| --- | --- | --- |
| 1 | Suitable for skin with PH level 7.4 and above | Suitable for skin with PH level 5.5 |
| 2 | Very mild and hydrating | Leaves skin dry if used on pets |
| 3 | Makes less lather | Makes a high amount of lather |
| 4 | It's more expensive than human shampoo | Easily available and in variable prices |
Different pH levels: Humans have acidic skin with a PH level of 5.5. Dogs on the other hand have a pH level of 7.4. Anything under 7 is acidic, and over 7 is alkaline, this is where the variation began. Using human shampoo on alkaline dog skin will remove essential oils from their coat.
Effects on Skin: Humans have 10 to 15 layers of skin cells, whereas dogs have only 3 to 5 layers of skin cells. As a result, it is hard for dogs to cope with chemicals used in human shampoos.
Lather Quality: Humans are used to shampoos that lather a lot, and hate those that don't lather much. Whereas dog shampoo cannot be judged in that way. The chemical that produces lather in shampoo is known as Sodium Lauryl Sulfate which is unhealthy for dogs is less in shampoo.
Price Comparison: The cost of Dog shampoo is more than humans, this is because it is a special product designed to keep your dog out of trouble. On the other hand, human shampoo is found easily and not too expensive.
Types of Dog Shampoo
There are many types of dog shampoo based on different functions. Here are some common types are shown below:
Medicated: It is used to treat dogs with skin problems like mange, seborrhea, and allergies. These skin problems can be best countered with either medicated shampoo prescribed by a vet, or over-the-counter commonly found at pharmacies.
Moisturizing: Dogs' hair can be shiny and smooth with the aid of moisturizing shampoo. Moisturizing shampoo can also lower static and enhance dry skin.
Oatmeal

: Oatmeal is a well-known ingredient that helps cure dry skin in dogs. The shampoo is more gentle than others.
De-shedding: This helps your dog release shed. Allowing the sheds to come out in the bath and while brushing.
Whitening: This kind of shampoo contains ingredients like optical whiteners that make your coats glow and sparkle.
Hypoallergenic: Hypoallergenic shampoo is mainly for dogs with sensitive skin. The fragrance and chemicals are much lighter than the ones found in other shampoos.
Skunk: Though nothing can remove the stench of skunk, it removes the smell more than normal shampoo.
Flea and Tick: Problems of fleas and ticks on dogs can be mitigated with the use of shampoo of that purpose. It kills and repels fleas and ticks for one week.
Organic: If you are not sure of the ingredients, organic shampoos use natural ingredients that avoid harsh chemicals like phthalates and sulfates. 
Ingredients to Avoid for Dog Shampoo
It is believed that one important factor to consider when buying dog shampoo is its safety. However, some brands composed of harsh ingredients that can result in various health challenges for your dogs. It is therefore necessary to know the ingredients to avoid when selecting the best one for your dog. Below are those ingredients to take note of:
Artificial colorings and fragrances: You might have bought a shampoo with nice colorings and fragrances. That doesn't mean it is safe for use as there are a bunch of products in the market with artificial fragrances and colorings.
So, if you found an element 'fragrance' listed among the composition of the product, then know that most time, it is not organic. Also, artificial colorings are synthesized from petroleum products which are factors that lead to birth defects, organ damage, allergic reaction, and cancer.
Preservatives: Though preservatives are useful in preventing early spoilage of products, however, these substances can lead to different health challenges in the future. The most commonly used preservatives today are formaldehyde which is believed to be causing brain and spinal cord problems.
Sulfates: Ever wondered about the ingredient that makes shampoo products bubbly? sulfate does the magic. Though you can easily identify this ingredient by mere seeing 'sulfate' on the list, some products don't name the ingredient 'sulfate' directly, instead, they use words like 'coconut-based cleaners', naturally extracted from coconuts', 'vegetable-based cleaners', or 'coconut-based surfactants'. All kinds of sulfates can result in skin redness, dryness, and itching.
Things to Consider Before Choosing a Dog Shampoo
Below are things to consider when choosing the best shampoo for dogs:
Odor
Dogs that spend more time outside may likely develop unwanted smells than others. Though even those indoors might develop such smells. Whichever one, if you notice any smell from the dog, you may just want to deodorize the dog with a deodorizing shampoo to repel the smell.
Type of Skin and Coat
Observing your dog's skin is the best way to choose the right product for your dog. If the dog has itchy, dry, and flaky skin, you may prefer a product that includes gentle formulation. For instance, hypoallergenic shampoos are good products to support the skin with and not harsh products that could worsen the situation.
As for sensitive skin, these are mildly formulated and composed of substances that include vitamin E, oatmeal, and honey can relieve the itching caused by hypersensitive skin. But if your dog has normal skin, using general-purpose shampoos will work.
Fleas and Ticks
There are a bunch of shampoos specially made to repel fleas and ticks that stuck on your dog fur. If you found out your dog has tiny parasites on his fur, you need to get one that composes of ingredients made to repel those parasites.
If those parasites are ignored, they can further affect the health of your dog. However, it should be noted that applying shampoo alone is not enough in treating such ailment, other flea medications and environmental control should be adopted to ensure maximum result. Your vet could also be of assistance in recommending appropriate treatment.
Age
Like humans, definitely you should consider your dog's age. For instance, if you have a puppy, it will be better to choose the shampoo that is specially designed for puppies. This type has a lighter and different formulation when compared to their adult versions. It also lowers the risk of skin and eye irritation.
Natural Ingredients
This is important while selecting a shampoo for a dog, start by scanning through the ingredients. Most of them are chemical-based contain artificial colors and fragrances, animal and petroleum by-products, alcohols, detergents, and many other chemicals that can result in inflammation, skin irritation, and hair loss.
You can just opt for natural ingredients to steer clear of those issues. Natural products compose of ingredients like herbal proteins and vitamins that help nourish dog skin and coat.
Shedding Control
organisms with hair usually experience shedding. For instance, human hair usually went through a regular cycle of growth and shedding. However, while other hairs are growing, others are resting or shedding. And the same is experienced by dogs.
However, most pet owners are worried about the dangers of shedding because those small particles can cause airborne easily if there is a family member with hypersensitivity to such particles. As a result, going for a shampoo that contains an amino acid, anti-oxidants, and healthy oils can help reduce the amount of shedding in dogs.
Benefits of Using Dog Shampoo
It has many benefits, some of these benefits are listed below:
Repel germs and ticks

: Germs and ticks can be repelled with the help of dog shampoo. This is gentle but firm, gentle because dog skin is sensitive and could easily be irritated, and firm because germs and stick are normally hard to remove.
Maintain skin pH

: Unlike other chemicals or substances that could affect the skin pH of dogs, shampoos are designed to maintain the skin pH of the dog. It makes the pH stays in the required range and also clean the coat without causing any irritation.
Aid in maintaining hygiene

: Using shampoo on dog ensures the dog stays clean and germ-free. This is necessary because dogs and humans are in constant contact and if they have any germ that can cause disease, this might spread among other dogs and people also prevents such incidents.
Great fragrance

: It also has a nice fragrance that comes in different vanilla, chamomile, lavender, or orange which is pleasant to anyone bathing a dog.
Promote healthy dog coat

: Using appropriate shampoo can ensure a healthy coat. And you will notice a moisturized, shiny, and well-hydrated coat in your dog.
Some Important Tips
Dogs need bathing to make them stay healthy and clean. Bathing removes odor and dirt from their skin and coat.
To ensure a healthy and refreshing bath for your dog, make sure you have the right one for your dog.
It is believed that one important two factors to consider when buying dog shampoo is its safety and effectiveness.
Human skin and dog skin are completely different when it comes to chemical composition, as such, using human or household products can affect the skin of the dog negatively and cause skin disease.
One of the reasons that make human shampoo not applicable for dogs is the fact that that it contains some harmful substances that could affect the dog's skin. Among such substances are formaldehyde, sodium lauryl sulfate, artificial colors, and artificial fragrance.
While bathing your dog, don't allow soap to get into the dog's eye as it would irritate the dog. Likewise, don't allow the ear to get wet as that could lead to infectious bacteria.
Final Thought
Like other products, there are several dog shampoo out there. However, few of these can be considered safe and effective for your dog. Hopefully, our guide will help you avoid the ineffective ones for effective ones to keep your dog's skin and coat in good condition.
Frequently Asked Questions
Can I use human shampoo on a dog?
Dog skin is more sensitive than that of humans. Also, the pH balance of human shampoo is too acidic for the dog's skin. Therefore, using this type can cause skin irritation and other skin challenges.
What is the best quality dog shampoo brand?
Collidal-Oatmeal is the best quality dog shampoo brand. It is designed to be hypoallergenic & effective for your dog's dry skin using natural ingredients such as jojoba. It is generally safe and gentle for dog skin and coat.
How Often Should I use shampoos for bathing dogs?
At a minimum, it is advisable to bathe your dog once every three months. However, you can wash the dog every two weeks with a mild shampoo. But generally, if your dog start smelling, it is better to bathe the dog with shampoo.
What is the best dog shampoo for odor?
The Adams Plus Flea Shampoo is the best for odor. In addition to its pleasant scent, it also kills fleas, ticks, flea eggs, flea larvae, and lice effectively.
How much dog shampoo should I use each time?
It doesn't have to be that much. Just make sure the quantity you fetch could cover the entire skin and fur your dog.
What is the best shampoo for puppies?
The Isle Dogs Tearless Shampoo is the best for puppies. It keeps your puppies' skin and coats clean and shiny without irritating their eyes. It is also perfect for washing the dog face of any age.
What should I do if my dog has an allergic reaction to a shampoo?
If your dog starts scratching more frequently, having skin redness, or you observe other signs of an allergic reaction, you should rinse your dog with water. Make sure there is no leftover shampoo on the dog skin or coat. If the situation persisted, contact a vet for help.
What shampoo will make my dog smell good?
The Earthbath Oatmeal will make your dog smell good. It is natural pet care with 100 percent biodegradable and cruelty-free.
What if I get shampoo in my dog's eyes?
Try as much as possible to keep shampoo away from your dog's eyes. In case you get into your dog's eye, rinse it properly, if the eyes seem irritated, take the dog to a vet as soon as possible.
What is the best waterless dog shampoo?
The Waterless Rinse Foam Mousse is the best waterless dog shampoo. It is gentle, safe, and effective for sensitive skin. It also has no harsh chemicals.
Are dog shampoos safe to use?
Definitely, these are very safe for use. They help improve the general hygiene of dogs. They also help in repelling ticks and germs in dogs.