Steps and Stairs are a great option for you and your dog if he is old or sick. Climbing to the higher places causes back and hips problems especially in the large breeds. If your dog is having trouble going up and down then he must be having arthritis or hip issues.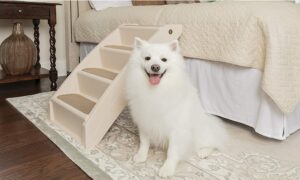 The first and foremost step you can take is to block the stairs at your home so that your dog does not use this. For elevated places like beds and couches, use dog steps and stairs as they are safe to you.
While choosing the perfect stairs for your dog, make sure to consider important factors such as mobility, safety, material, and warranties. Also, you need to make sure that the dog steps meet your dog's needs.
We consulted pet experts and did extensive research to come up with the list of 10 Best Dog Steps and Stairs for you. Let's move forward to know all about this item and how to use it:
Best Dog Steps and Stairs in 2021 – Reviews
1. Our Top Pick – PetSafe Dog Step & Stairs
Top Pick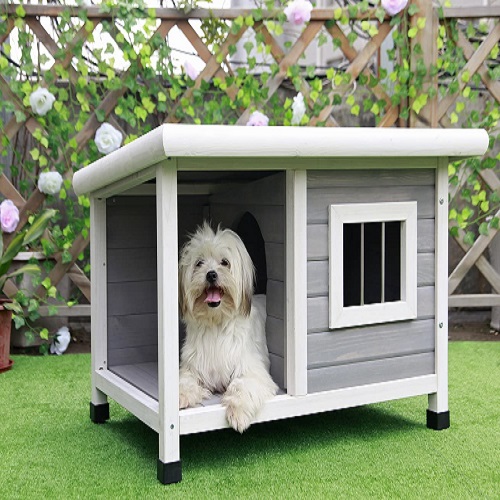 PetSafe Dog Step & Stairs
PetSafe CozyUp Folding stairs have a unique design with high sturdiness and capacity.
PetSafe CozyUp Folding Pet Steps can be the best model for your dog. For both small and large dogs, you definitely can rely on this product. Let your furry pets get on and off the bed or couch comfortably and easily. The overall design comprises four stairs, and thus, you can use it with a sofa and other furniture of standard height.
The manufacturer has ensured durability by testing the material. You may buy it for any adult dog and cat. However, the weight is much low, and you can easily move it to any place.
The raised rails on two sides of the dog steps ensure the safety of your pet. The manufacturer has focused on every detail to provide you with a flawless mode. The length of these steps is 24 inches, while their height measures 20 inches.
The carpeted surface ensures that your pet's paws can grip the step firmly. Moreover, the stairs have rubber feet to add durability and stability while installed on the floor. You can easily fold the system and store it anywhere.
Key Features:
No need for assembly
Non-skid feet ensure the stability of the system
Modern look with two different shades available
Enable your pet to reach its desired place easily
Easy to store at any site
2. Runner Up – Pet Gear Dog Steps and Stairs
Runner Up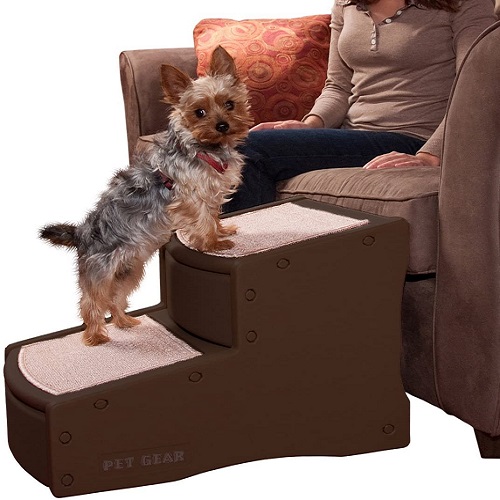 Pet Gear Easy Step II Pet Stairs
With the lightweight design, these pet stairs ensure optimum security for rubber grippers on the bottom.
We have chosen the Pet Gear brand as the runner-up in our list. With a unique design and elegant look, this model works best for adult dogs and cats. This two-step system has become a favorite choice for lots of pet owners. Deeper and wider stairs are the most notable features.
Large dog species will not find problems in using these. They have to climb onto two steps to access furniture of average height. The manufacturer has slightly inclined each of the stairs to lower the number of steps for your pet.
On the bottom of the stains, there are rubber grippers. Your stairs will remain in place firmly and securely. Moreover, deeper stairs are helpful in some ways, as your pets need high body momentum for using them.
Another notable thing is the carpet tread. The carpet ensures a stronger and better grip of your pet's paws. This small piece of carpet on two steps is easily removable. Thus, you may easily wash them at any time to keep those carpets free of fur.
Moreover, the carpet makes the steps more inviting to the feline and canine pets. Your furry companions do not like the cold surface of plastic stairs. Thus, they prefer the warmth provided by the carpet. It is easy to set up the pet steps. You have to snap these together and make them ready for your pets' use.
Best Features:
Machine washable carpet on the pet stairs
No tools needed for assembling
Easy to store for its compact shape
Lightweight design with a high weight-bearing capacity
Best for large and small dogs
3. Best Budget – Best Pet Supplies Steps and Stairs
Best Budget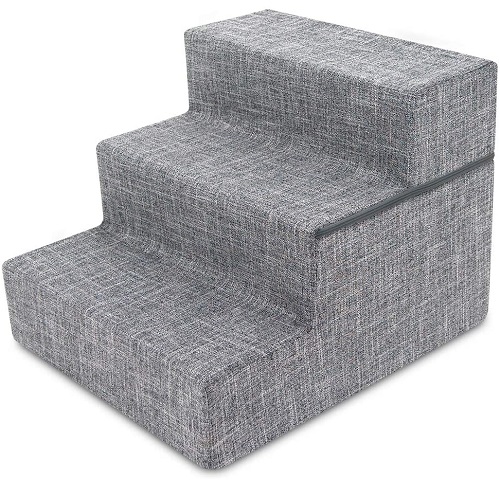 Best Pet Supplies Steps and Stairs
The ultra-soft foam-made design has made these pet-steps an amazing choice.
When you are looking for the best budget, you can choose this elegant-looking model. Most of the dog breeds will feel comfortable in using these stairs to reach a height. While your pets have joint ache, they will not find it challenging to get to the seat of your furniture. You can choose 3 or 4-step model based on the needs of your pets.
The manufacturer has used Certi-PUR-certified high-density foam to design these steps. Besides, quality foam ensures high durability. There is no use of PDBW flame retardants, lead, mercury, ozone depleters, and other harmful elements. Thus, your pets will have no negative effect on their health for using these stairs.
With the USA-made foam, the manufacturer has combined soft fleece fabrics. Hence, dogs with joint problems will feel the utmost comfort of using them. Furthermore, the unique choice of these materials provides a high level of traction. The surface will not be slippery for your dogs and cats.
The uniqueness lies in the zippered system. It is easy to set up the system. By flipping over the top set, you can line up the zipper.
Key Features:
Non-skid bottom, protecting your pets and floor
Highly portable and lightweight
Matches your home décor
Easy to maintain the machine washable cover
Does not consume much space
4. Best Dog Stairs for High Beds – Best Pet Supplies
Some pet owners look for the best dog stairs for high beds, and for them, we have picked this product. You can find these stairs with a range of configurations. Based on the height of your bed and other furniture, you may choose the desired model for your pets.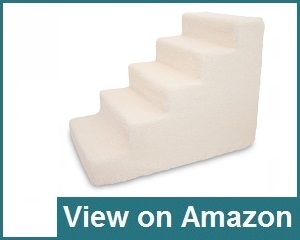 Dog owners have found it to be long-lasting. Instead of creating a hard surface, the manufacturer has added mattress-graded cushioning. This innovative design reduces pressure on your pets' joints and paws.
When aesthetics is one of your concerns, you can find the best one from a variety of color choices. From solid colors to stylish patterns, everything is available to match your preference.
These also come with a detachable machine washable cover that is machine washable. You may purchase replacement covers. The bottom of the steps is not slippery. Although there is no rail, your pet can climb easily to reach their bed.
Key Features:
Quality fabrics that are soft to touch
Options to adjust the height
No use of harmful elements
Anti-slip bottom for better stability
Easy to maintain the stair cover
5. Best Steps and Stairs for Large Dogs – Zinus Step
Zinus has designed the best steps & stairs for large dogs. However, smaller breeds may also use these comfortably for their purposes. The two-step design is useful in most of the situations to let your pets reach their beds and couches. Your dog does not need to struggle while getting on the bed.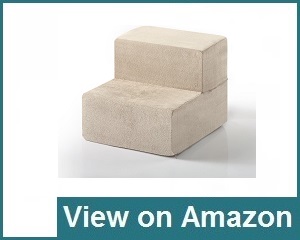 Moreover, as Zinus has constructed a lightweight model, you can move it and store it to any place. The high-density foam, used for this pet ladder, has added the level of comfort. Your pets' paws will get the best feelings while climbing up the stairs.
The cover, applied on the pet stairs, is easily cleanable. As it is important to maintain hygiene, you have to clean the cover regularly.
Thus, try out this pet ladder and let your pet reach its favorite place without your help. Its joint issues and hip problems will not prevent them from climbing onto the furniture.
Key Features:
Easy assembly without the use of tools
Removable comfort cover that is machine washable
High-density foam for comfort
It is made of quality materials
Best for dogs having joint issues
6. Best Folding Stairs Dog Ramp – PetSafe
Designed as the best PetSafe folding ramp, this model enables your pet to access your car without much effort. To get up and get down, your adult dog can use this innovatively designed ramp. Your pets will not feel pressure on their joints and limbs while using this specialized ramp.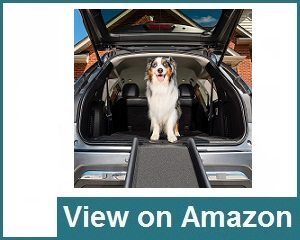 The full-size ramp is lightweight model enabling you to carry the system to any place. Besides, you can avail this ramp at a very reasonable price. The manufacturer has used high-quality plastic to construct the rugged design of this ramp.
The ramp looks different from the stairs. However, similar to stairs, it is easily installable. You do not need tools for assembling the parts.
The walking surface has very high traction, and thus, there is no chance of slippery issues. For four feet of the ramp, the manufacturer has used rubber materials. These rubber feet keep the ramp stable.
Key Features:
It has a high-traction ramp surface
Easy to store with a latch system
Easy to clean and maintain with mild detergent
Folds in half making a compact shape
Durable structure made of plastic
7. Best Foam Dog Steps – Majestic Pet Stairs
From an analysis of different reviews, we have found it to be the best portable foam dog steps for kitties and puppies. When your pets love sitting on a sofa and bed, these stairs enable them to reach their favorite places.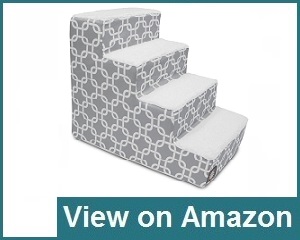 The depth of the stair is 24″, while the height is 20″. The width of each step is 16″. When you have aged dogs and pets with arthritis, you can take the best step to buy these stairs. To give the best comfort to your pets, the manufacturer has designed a cushioned surface.
Moreover, a sturdy and durable foam insert is another notable part of the THIS. This foam will never cause bruise problems to your pet's skin. We think that it is a better choice than plastic and wooden stairs for pets. Moreover, you can easily remove stains and spills from the cover.
Key Features:
Made of durable and high-quality upholstery
Foam insert makes your pet feel comfortable
Removable cover is machine washable
Minimize the risk of injury in your pets' legs
Spacious for your pets' convenience
8. Best Soft Dog Stairs – Cozy Pet Lightweight Stair
When your furry pets love the cozy place, you can choose it as the best soft dog stairs. Both dogs and cats of any size can use this ladder without concerns. Besides, the 3-step design is perfect for accessing the standard furniture in your room. This model is easily movable with minimal effort.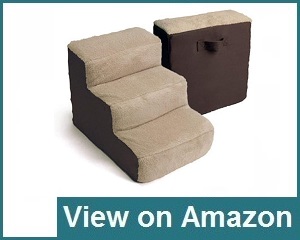 These have lightweight structures. Moreover, manufacturers have used DuraCore technology to create a sturdy structure. They have relied on a specialized cardboard configuration for these stairs to provide you with a unique product.
Although there are cardboards to design the frame, the steps have padded structures. You will also find an easily removable and machine washable cover. Another notable part is that these pet stairs have an integrated handle. Grab this handle and move the system to any place. Thus, the manufacturer has focused on the convenience of pet owners.
Key Features:
DuraCore technology with hard cardboard
The cover is easily detachable
Highly portable design and easy to carry
Goes with your home décor
100% polyester used for the cover
9. Best Plastic Dog Stairs – Petmaker
PETMAKER has designed one of the best plastic dog stairs, looking like a heeled lady's shoe. While maintaining the functionality, these look elegant. Besides, the durable stairs can accommodate the weight of medium-sized dogs.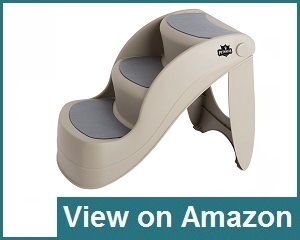 The deeper steps ensure a higher stability of your pets. They are easily collapsible, and thus, you can easily store them at any place every regular use. Also, you can buy these to use them with beds and couches.
Moreover, each of the treads on your pets' steps includes grip mats. Thus, your pets' paws will not get slipped off the surface. The stairs ensure that your pet can safely climb onto their bed without injuring their legs.
However, it is better not to install the pets' stairs on your hardwood floor and tiled surface. There is no non-skid material applied on the base of these stairs.
Key Features:
Superior treads with grip matted surface
Amazing look with a curved design
Side railing for the safety of your pets
Easy to fold for convenient storage
Stylish in look, perfect for modern décor
10. Best Dog Stairs for Car – Niubya
We have chosen Niubya as the best dog stair for cars, SUVs, trucks, and high beds. Besides, you can buy it mostly for large and medium-sized dogs. Niubya has created a robust design for dog stairs. However, do not think this model to be bulky for you.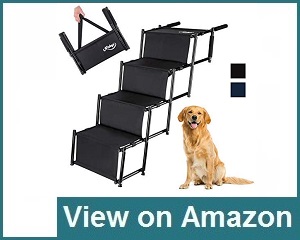 The system is easily collapsible, and you can store it at any place in your room and car. After every use, you can open the step and close it easily. The durable metal frame, used for these stairs, ensures that it will last long. The thick metal frame also has a rustproof design.
The length is adjustable, and it can range from 40″ to 60″. Similarly, you may also modify the height to convert from 20″ to a 30″-model. Moreover, manufacturers have used tightly stretched fabric for these pet stairs. There is also a safety tether to attach the tailgate latch. Thus, it offers double protection for your pets and prevents joint injury.
Key Features:
It has a durable and stable design
Best for outdoor and indoor use
Portable and collapsible design
Anti-slip bottom to prevent slippery
Scratch-resistant fabrics
Why Should You Use Dog Steps and Stairs?
There are a lot of situations when you come across a need of having something to help your dog to get to an elevated place without your help. Small-sized dogs and puppies have small legs and they find it hard to get to a sofa or bed. Here is when dog steps and stairs play an important role.
When you are not at home, who is going to help your dog to get to the elevated places? Dog stairs will save your day without any help. There are breeds including Shih Tzu and Dachshund, who are small in size and constant jumping will cause them back problems. It is better to teach them to use the dog stairs so that they can avoid jumping and hurting their back.
These can also be used for large breeds. Bigger dogs are prone to having arthritis and joint problems so using this tool will save your visits to the vet. Dogs love to cuddle and be around you which is why you need to give them comfort.
As for jumping every day to reach you will lead to joint problems, it is important to have steps and stairs at home for dog breeds. This way you both will have quality time with each other!
Difference Between Dog Steps and Dog Stairs
There is not much of a difference between dog steps and dog stairs however, the wording can confuse you. Both serve the same purpose i.e. to help your pooch to go to the higher places. Both help improves the mobility of your dog and save them from excessive jumping that can lead to back and hip problems.
Stairs are useful especially for small breeds as the staircase has 4-5 steps. These help smaller breeds to get to the bed or a couch as they have smaller legs which is why they need more steps. On the other hand, there are only 2 to 3 steps that are suitable for medium-sized or large-sized dogs. Medium-sized dogs have comparatively bigger legs, which is why they can easily reach the bed with 2-3 steps.
Make sure to choose the right size for your dog so that they can easily reach you when you are on the bed or a couch. Getting steps and stairs will make your bond stronger with your dog. It will also avoid any injuries in the back or hips due to excessive jumping to climb up the furniture. Similarly, to avoid any painful movements or hip issues in the large breeds, get dog steps.
How to Train Your Dog to Use Steps and Stairs
When it comes to training your dog for using stairs, you need to be patient during the process. It is important to take every step carefully and if you see that your dog is getting uncomfortable, stop right there. Here are a few steps that you can follow to train your dog:
Step #1: First of all, make your dog comfortable with the item. He might get scared at first, but with time he will get used to with this. Just leave the stairs there and put a treat around it so that your dog gets comfortable.
Step #2: Now it is time to tighten his leash a little and give him the command "Forward". Encourage your dog to take a step. If he gets frightened then you do not need to push him in the same session. If he takes the first step, then it is time to praise him with a treat.
Step #3: Make sure he takes further steps too. Every time your pooch takes a step praise him with treats so that he feels encourages. While your dog is taking each step, move along with him at the side of the stairs.
Stay patient during the process and work with your dog throughout the training so that you both can spend some lovely time together for the rest of your lives.
Different Types of Steps & Stairs
There are different types and models available online. You can choose the one that suits your requirements. These may vary according to their usage, material, and design. Whichever item you decide to choose, make sure it serves your dog's needs. Let's head over to the various types:
Foldable: The best thing about having a foldable design is that you can easily carry them to your trips or while traveling. They are light and compact. You can just fold the steps and keep them in your car. Also, the foldable models can be easily stored as they take less space. Now you cannot miss any fun with your dog.
Removable Carpet Treads: Another type is the ones that come with removable carpet treads. These are easy to maintain. You can just take off the covers and wash them in the machine. This type of dog step is easy to maintain and will be used for the long term.
Wooden: Wooden Stairs look elegant and matches with your home décor. These are built from high-grade wood which makes them durable. Although they cannot be washed by using a detergent or water, you can clean them up with a dry cloth or get them polished after some time.
Dog Stairs vs. Dog Ramps
Being a dog owner, it is your responsibility to provide your dog with attention and care. Dogs are prone to joint and back issues especially due to jumping. You need to make comfortable situations for your pooch so that you both can enjoy and spend some quality time together.
Installing dog stairs or dog ramps depends on different conditions. Which breed is your dog? Is it a large breed? Why do you need a dog ramp? Do you travel a lot with your dog?
All these questions are important in order to decide whether you should go for dog stairs or dog ramps. Let's ponder over the difference between dog stairs and dog ramps:
Dog Stairs
These are great for the small-sized breed who has small legs. The multiple steps allow them to reach to the bed or a couch. These are also great for hyperactive dogs.
It is important to prevent your pooch from jumping as it will lead to back problems. There are different types mentioned earlier in this article. You can choose the one that meets your dog's needs.
Dog Ramp
A ramp is best suited for large breeds as most of them face joint and hip issues. Dog ramp allows them to reach the bed or the couch easily without any climbing.
Excessive jumping can lead to injuries that we all do not want for our dogs. A ramp will simplify your dog's life by providing him comfort and ease.
Some Commonly Used Material
You might get confused while buying. Material plays an important role as you are going to use the product for a long time. There are different types made up of different materials. Let's see to the types of materials.
Wooden

: If you want the steps to be used at home in one place, then wooden steps are a great option for you. Also, they are perfect if you have a large breed at home as they are very well-constructed. Furthermore, if your dog is old or just had surgery, then this material would be great for him.
Plastic

: Plastic steps have lightweight and they are great for small-sized dogs. They are easy to move around.
Porous Foam Rubber

: This is another type of material that you will find in the market. You can choose the one that suits you. If your dog has a weight up to 20 kg then, you can easily use dog stairs built up with porous foam rubber.
On the other hand, this material would be suitable for the large breeds as the steps won't be able to withstand their weight.
Things to Consider Before Choosing Dog Steps and Stairs
While choosing any device or item for your dog, it is important to make a wise decision. It is better to consider these things rather than regretting later. We have gathered some important features for you so that you can identify the best one.
Safety
A dog is not only your pet but also your companion and your best friend. It is your responsibility to make his life comfortable and safe. Safety should the top priority for your dog. The purpose of buying dog stairs for your pooch is to avoid any sort of back or hip injury.
As discussed earlier, dogs are jumping all the time. They will jump to come to you to the bed or a couch which can lead to arthritis issues. Dog stairs will let them come to you to elevated places easily without any pains.
Mobility
Another important feature to consider is mobility. Where are you going to use the stairs? Do you want to move them from location to location? If yes, then you can go for a foldable design.
Foldable stairs are compact and can be easily carried in your car. If you want that look elegant and go well with your furniture in the lounge, then you can go for the wooden staircase.
Stability
As you know, dogs love to run and move from place to place especially when they are hyper. The more they jump, the more they increase their chance of getting hurt. You need to ensure product stability and sturdy.
For example, lightweight steps are not safe for bigger dog breeds which is why you need to get high-quality with good construction. In addition to that, make sure the model is not slippery and have a good grip.
Maintenance
It is a good chance of your dog's item or device to get dirty soon. Dogs love to go out and play in puddles. They can come home with their muddy feet, sticking dirt all over the stairs.
It is important to choose one that will allow you to clean them easily. There are some devices that come with washable covers or carpet treads. Maintenance is important so make sure you are able to clean them easily.
Cost
Obviously, the budget is a major concern while buying anything. Do not go for something cheap just to save some dollars. As you will be using dog steps and stairs for a long time which is why we would recommend you to choose a high-quality product.
Getting dog stairs will save your dog from having any back or hip injuries that will automatically save your visits to the vet. Your dog's health and happiness come first so it a wise idea to go for a high-quality product.
Warranties
Last but not least, as getting this is an investment, you should choose the one that comes with warranties. This product will serve you for a long time.
The main purpose is to avoid excessive jumping of your dog so that he does not get hurt. Before buying a product, make sure it has a money-back guarantee and other warranties.
Benefits of Using Dog Steps and Stairs
You might believe that steps for your dog aren't really important. Well, you're wrong there. There's a number of advantages include the following:
Convenient: If your little puppy finds it hard to get on to higher places like a chair, sofa, or a bed, it'll be a lot much easier for it to get on to with the help of dog stairs. Also, don't forget the convenience because dog stairs take away the hassle of lifting up your dog.
Lesser Pain: Many dogs often suffer from chronic joint diseases like arthritis among others. Using stairs will help in the quality of life for your best friend when he/she won't have to jump and instead, will just be able to walk onto higher or lower places.
Prevention of Chronic problems: If your dog is one of those breeds who are likely to develop joint-related illnesses as they grow older, these will allow your dog to prevent these issues from developing at all altogether. Lesser jumping means lesser chances of joint problems in the future to come.
More confidence: Many dogs sometimes develop confidence issues when they aren't able to climb onto or get off places on their own, without the help of their owners. Boost your dog's confidence by investing in dog stairs where they'll be able to access their own places by themselves.
Some Important Advice
The height is a crucial element. For benchmarking purposes, keep the height of the average indoor/outdoor steps in mind.
Dogs are able to make their way with steps that are deeper. Products with a depth of 10 – 12 inches in the step are ideal.
The stairs should be made of a surface that your dog's paw can grip onto. Avoid steps made out of slippery surfaces.
The height should be adequate enough to let your dog access the places it wants along with being able to hold your best friend's weight. it should be sufficiently sized and shouldn't be either too tall or too short.
The stairs which are able to hold well onto the ground are ideal so they don't cause the steps to slip. This will avoid injury.
These are manufactured in different materials. Choose the one which will suit you and your dog the best. Whether it's wood, plastic or foam.
A better design in terms of the product's look won't matter too much, but at the same time, you would want one that is compact and utilizes space efficiently.
Final Verdict
Your pooch might be getting hurt reaching to the elevated places so it is better to invest in dog steps and stairs. Excessive jumping can cause hip and joint problems. As dogs are hyper and they would do anything to come to your bed to cuddle with you.
Instead of making them climb every day, you can provide them with high-quality design for their ease. In order to choose the best one, do consider the features that we have mentioned in this article. We hope you get the perfect match for your dog breed.
Frequently Asked Questions
What are the best dog steps and stairs?
PetSafe CozyUp Folding Pet Steps is the best option for your dog. It can be easily used for small to large breeds. You can easily carry these steps or move from location to location as it weighs 5 pounds only. The nonskid feature makes it perfect for your pooch. You can also easily maintain the steps as they come with washable fabric tread covers.
What are dog stairs typically made of?
You will find different materials in the market. It totally depends on your preference. If you have a large breed at home, then we would suggest you to go for wooden steps. Wooden steps are also great for sick and old dogs. If you have a hyperactive and young dog, you can get plastic dog stairs. Make sure to choose the right match.
Where can you use dog steps?
Dog steps can be used at home or anywhere depending on the needs of your dog. If your pooch is unable to come to you to the bed, excessive jumping will cause him back problems. It is important to help them with climbing. Dog steps are great to use at home as they let your dog come to you to the bed or couch.
Are stairs or a ramp better for dogs?
Both are used for different purposes. Dog stairs are more suitable for hyper dogs whereas, dog ramps are a good option for large, sick, and old dogs.
What are the best steps and stairs for large dogs?
Zinus Step Comfort Pet Stairs/Pet Ramp/Pet Ladder is a perfect option for large dogs as they can withstand weight more than 20 kg. These steps come with removable and washable covers that make them durable.
At what age can a dog climb stairs?
It is recommended to wait for the dog to reach the age of 12 weeks. Do not make them use the steps before 12 weeks. For breeds like a retriever, Labrador, Staffordshire terrier, etc. you should wait for a little more weeks.
How do I know if my dog needs dog stairs?
If your dog is old or has arthritis issues, then climbing to the bed or elevated places will cause him pain. It is better to provide them with support like dog stairs that will let them come to the bed or a couch.
What is the best stair for high beds?
Pet Steps/Stairs with CertiPUR-US Certified Foam for Dogs is the best option if you need stairs for high beds. It has 5 steps that will allow your pooch to come to you to them. These are made up of mattress-grade cushioning to relieve pressure on paws and joints.
Why is my dog having trouble going downstairs?
The reason your dog is having trouble going up or down the stairs is that he may be facing joint issues. Many dogs develop arthritis problems in their old age. The joint weakens as your dog ages. In this case, it is important to provide them with support in order to go to elevate places.
Should dogs go up and downstairs?
Dogs are used to getting up and down the stairs especially when they are young. It is better to block the stairs as they get old because excessive climbing causes hip and joint issues. Train them to stay in the same area. If you want them to come to you to the couch, don't let them climb, in fact, use stairs. Dog steps are a great option if your dog is old, sick, or pregnant.
Are stairs bad for dogs with arthritis?
If your dog is having arthritis issues, then going up and down the stairs will cause him pain. It is recommended to add non-slip stair treads to ease your dog's mobility. Also, it is better to avoid your dog from using stairs too much as it will only cause him pain.