Using a dog stroller is the real solution when your furry friend gets older and might need a simple help to move around. It is heartbreaking when dogs can't move out for walks because of their old age, injury, or other similar reasons and you feel very helpless when they won't be able to accompany you on a walk to the park or open areas.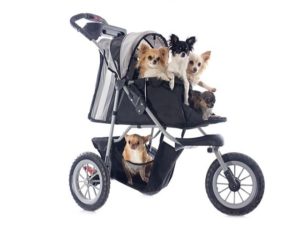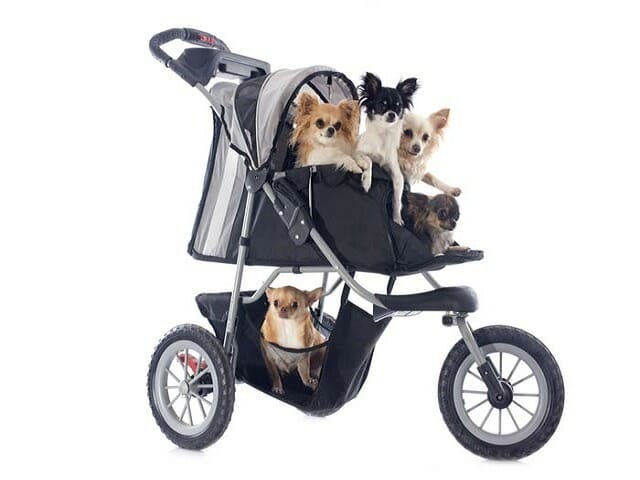 Dog stroller makes it easier whether you need to meet the emergency with the vet or to join an outdoor event or experience in fresh air to get rid of physical challenges. It provides your dog a safe and familiar place to get rest and makes a barrier to protect from aggressive animals.
Here, after a deep research on more than 100 items, consult with two vets and several famous pet stroller manufacturers we decided to review the top 10 best strollers to make your pet safe and happy. So, take your time to analyze the information set out below and choose the best one for your four-legged friend considering price, durability, functionality and comfort level of the product.
Best Dog Strollers in 2021 – Reviews
1. Our Top Pick – Pet Gear Dog Stroller Review
Top Pick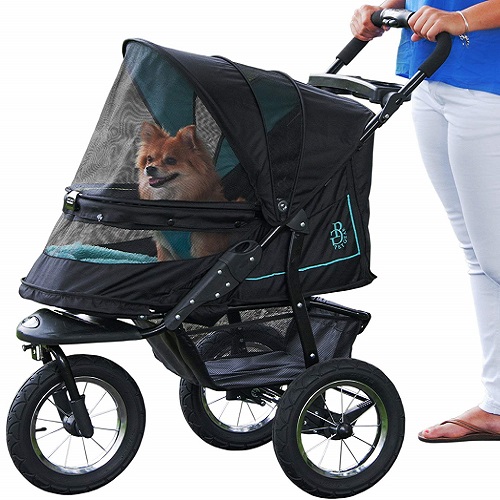 Best Pet Gear No-Zip NV Pet Stroller
The Pet Gear No-Zip NV Pet Stroller has practically everything you could wish in your dog stroller
The Pet Gear No-Zip NV stroller has plenty of features to influence your purchase. It comes with no-zipper latch which provides easy locking facility by skipping the burden of the zip fastenings. The front locking wheel with safety brakes allows the stroller to navigate over rough terrain without shaking more.
The stroller has a larger interior with panoramic view window which allows your pet to enjoy any sights along the way. The elevated paw rest of the stroller assists your pooch to travel in comfort. It is easy to fold the stroller with one hand when required.
The pet gear also features 12-inch air ride tires to move by easy pushing and make the ride smoother. It also comes with new stylish colors and embroidery weather cover and a plush pad for your pup. You can additionally purchase a divider to use the stroller for double pets separately.
The addition of a rain cover and foldable hood makes the stroller amazing for any type of weather. You won't face any problem to carry your pooch with this stroller, rather the inner space allows your dog to gratify its curiosity and feel a part of the world you carry him to discover.
Key Features:
NO-ZIP technology enhances the flexibility
Single hand folding system for easy storage and transportation
Features bolster pad for comfort
12″ Air Ride tires and front locking wheel
Different stylish colors and embroidery grow your dog's interest
Suitable for dogs up to 70Ibs
The interior dimensions 28" x 12.5" x 22.5" and weighs 27lbs
2. Our Runner Up – Pet Gear No-Zip Jogger Dog Stroller Review
Runner Up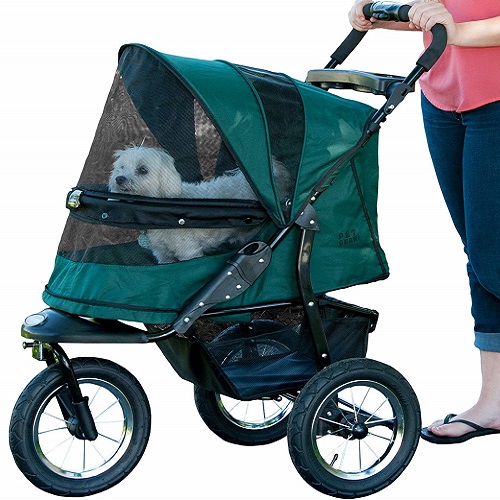 Dog Jogging Stroller By Pet Gear
Buying the Pet Gear No-Zip Jogger Pet Stroller will satisfy your need through exciting features and recognized as the best stroller to your pup
For dogs who love an extra smooth ride, the Pet Gear No-Zip Jogger Pet Stroller is perfect for them. NO-ZIP technology reduces hassle when it is needed to open or close the stroller. It also assists to gain easy access to your pet without applying force with tough zippers.
The stroller features a large panoramic view window to allow your dog easy look out of the outer scenery while moving. It comes with an elevated paw rest to ensure better support and highest comfort for the long run.
The 12-inch quick-release Air Ride tires make the ride smooth and comfortable over almost any terrain for your pup. You can also lock the front wheel to provide to control the speed and provide a bit more stability during walking or jogging.
The large undercarriage carrier allows bringing all essentials of your pup when going for a day out with your dog. The used water-resistant fabric features 600 Denier material keeps you tension free about your pup when you run in the rain or pass through the snow.
Key Features:
Elevated paw rest with panoramic view windows
Removable interior pad
Water-resistant shade
12-inch Air Ride tires for a comfortable ride
Suitable for pets up to 70 lbs
Available weather guard helps to protect from rain or snow
Interior dimensions: 30″L x 13″W x 22″H
3. Best Budget – Paws & Pals Wheeler Dog Stroller Review
Best Budget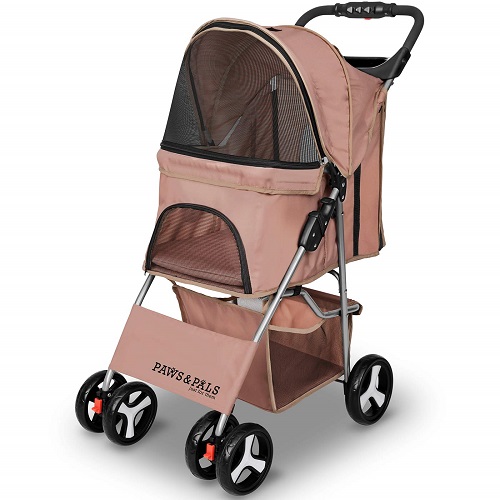 Paws & Pals Wheeler Stroller
Paws & Pals City Walk N Stride 4 Wheeler Pet Stroller is perfect to meet your demand for a price that won't exceed your budget
If you are looking for a pet stroller within the best budget, consider the Paws & Pals City N Stride which is suitable for both dogs and cats. It is the best-selling stroller for small pets and ideal for short strolls on a smooth surface. The people who live in the city like most this carrier to take their dog for a walk in the open air.
This high-quality and lightweight stroller weighs up to 12 pounds and measures 40.9 by 47.2 by 23.2 inches. This stroller is made of a combination of aluminum, rubber, plastic, and nylon. These materials make it lightweight and facilitate to move easily in different places for a user-friendly experience.
It also features with a retractable waterproof rain hood that keeps the rain or the sun away from your pet. With the retracted hood, you can get the facility to pull off the covering and allow your dog to enjoy the fresh air and sunshine. The seat belt leash and rear security brakes on the stroller, keep your dog safe and secure while strolling.
The stroller is also designed with 4 wheels which make sure it will remain balanced and enhance for a smooth rapid walk without any fear of balancing with your pooch. The spacious design offers maximum movement inside the stroller so that your dog won't feel confined in the carriage space. Your dog can make a full circle, lie down, sit up and roll around if necessary.
Key Features:
Multiple mesh screens for easy ventilation during hot days
The undercarriage storage is perfect for the dog's safety
Used materials make the stroller lightweight
Retractable waterproof rain hood
Easy and Simple folding design for transport and storage
Stroller dimensions 34" X 18" X 40" and weighs 13.6 lbs
Available in blue, pink, gray and beige colors
4. Best Strollers for Small Dogs – VIVO Four Wheel Stroller Review
The VIVO Pet Stroller is suitable for small pets those are weighing up to 30 pounds and it allows keeping the dog rolling with its ample room. The huge shielding partition has different access points which are zipper protected. The large windows provide enough ventilation and breathability which keeps pets happy and relaxed.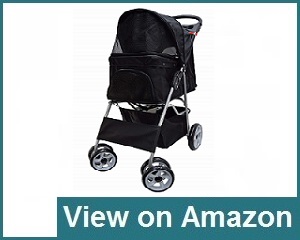 This four-wheel pet stroller includes three zipper access terminals to easily get in and out. The 19" x 12" x 19" spacious interior with padded foam provide extra comfort to stay inside the stroller. The attached cart is completely collapsible activated by two latches from the side of the stroller. The pushing handle is covered with soft padding and allows pet proprietors to push effortlessly.
A flexible screen of the stroller provides your dog the opportunity to interact with their surroundings when you cover out the top canopy to allowing sunshine. The mesh windows afford plenty of visibility and the cup holder with undercarriage storage ensures everything you need on the longer run.
It works great for pets which is suffering from mobility issues due to arthritis or joint problems. You will be totally free from caring anything around during the jogging time. Otherwise, the stroller is also lightweight and easy to push. You don't have to worry about the safety issue of the stroller. There are two locks attached on the back wheels to enhance security by controlling the speed.
Key Features:
Collapsible stroller easy to fold up
Wide Mesh Windows for viewing roadsides
Larger interior space allows easy movement
Available padded interior bottom
Capable of holding pets weighing up to 30 lbs
Perfect for jogging around the park
5. Best Strollers for Medium Dogs – VIVO Three Wheel Stroller Review
The VIVO Three Wheel Pet Stroller provides first-class travel for small to medium-sized dogs. This is lightweight and easy to take your pet when you decide to go out and it also protects your pet from outside elements. The stroller helps you to carry your pet easily when you stay in the shopping mall or other bounded locations.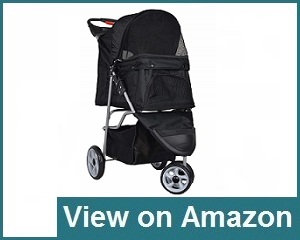 Structurally, it is easy to open and fold with just a few clicks and locks the body when necessary. It comes with two rear wheels and offers easy push-down brakes with just your foot to control the speed of the stroller. The other front wheel is designed with the same sturdy plastic and rubber material like the rear.
The body of the stroller structured with a lightweight aluminum frame and the bottom made with high-quality foam which is machine washable. The mesh front cover can be added or removed by using the zipper. Without the mesh, your dog can see the surroundings while strolling but the mesh allows the dog breathing freely and ensure the highest comfort inside the stroller.
The interior space measuring 19 inches x 12 inches x 19 inches makes a huge container for small and medium dogs where you can reserve your pet essentials. The three-wheel stroller also offers a retractable canopy to save your pet from direct sunlight or heavy rain. So, consider this stroller as a great carrier for your pet's moving and choose anyone from various colors and design.
Key Features:
Comes with a mesh front cover
Features a retractable canopy top
Features a 2-cup or -thermos holder
Available comfortable Padded Interior Bottom
The top portion of the stroller has a viewing window
The small mesh opening in the front and the larger opening at the back
6. Best Strollers for Short Walk Dogs – Paws & Pals 4 Wheeler Review
If you are looking for a pet stroller for your small pets, The Paws & Pals Stroller would be the perfect choice for both you and your pet. It is the best-selling stroller suitable for short walks on the smooth paved pathways. Basically, it is recommended for the city living people who want to carry their dogs for regular exercise or for a walk and enjoy the open area.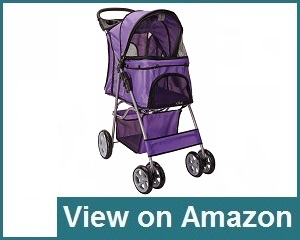 The interior area measures 40.9 by 47.2 by 23.2 inches and weighs around 12 pounds. The stroller also features undercarriage storage to bring all the knick-knacks for the dog's safety and comfort. This stroller is made with the combination of aluminum, rubber, plastic and nylon materials which make it lightweight and offers to move easily from one place to another.
The used plastic wheels are eligible for cushioning the stroller through the semi-rough pavement. The 4-wheel model provides you the facility of taking any types of bumps and uneven roads to make a smooth ride for your dog. So, definitely, it offers sufficient comfort for dogs while moving for outdoor activities.
Key Features
Appropriate for dogs weighing up to 12 pounds
Easy rear and front entry
Provide adequate ventilation
Equipped with a cup holder for refreshments
Available in navy blue, purple, black, rose wine, plaid blue, and red color
Best quality certified
7. Best Double Dog Stroller – 3 Wheels Rain Cover by BestPet Review
This 3 Wheels Pet Stroller made of original plastic material which is smooth and enough strong to last long time. The durable mesh provides adequate airflow and allows your pet to enjoy the scenario of the roadside. The large 6.3-inch wheels run easily over rough terrain without shaking. The front wheels rotate at full 360° angle and facilitate to turn on the straight walk to attain the mobile lifestyle.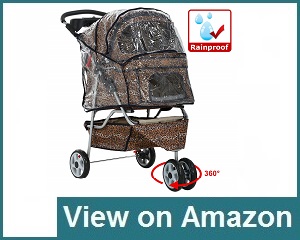 It features a strong fiber zipper to zip and unzip easily with quick collapsible convenient storage. The large undercarriage facility allows keeping your pet's all essentials like treats, water bottles, toys, etc. It can hold two small dogs are weighing up to 30lbs. The manufacturer company will gladly give you a 100% refund for any dissatisfaction. So having this stroller lets you caring your pets together for an extended journey.
Key features:
Designed for two small pets
Made of sturdy and durable material with humanized design
Comes in five fashion colors including leopard print
Easy to fold and unfold
Durable mesh provides outside visibility and allows fresh air
Low price and great stylish looks
8. Best Large Dog Stroller – Pet Gear Multiple Dogs Review
Pet Gear No-Zip Stroller comes with many new exciting features. It is the most suitable stroller for large dogs offers a spacious and comfortable ride for multiple dogs. The no-zip features the latest innovative modification and replaces the zipper system with an easy-lock latch system to open and close. The stroller comes with two easy-locking doors and allows the pet to load and unload from both front and back of the stroller.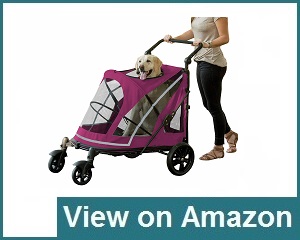 It can run with bigger sized dogs weighing up to 90lbs. A multi-positioning handle helps for easy pushing the stroller even in a single hand. The large wheels support smooth riding over all terrain like zig-zag, rough or semi-semi rough. The mesh window of the backside allows for a panoramic view of the surroundings.
Key Features
Multi-positioning ergonomic handle helps to adjust the height
No-zip technology allows for easy access
Large interior allows lying down, standing or sitting of your dog
Mesh windows for better ventilation
Ensure a spacious and comfortable ride
Interior safety tether
9. Best Dog Bike Stroller – Aosom Elite Bicycle Review
Aosom is the quality trailer dog stroller made of an adjustable handlebar for different heights. It is a cost-effective stroller very effective for jogging and running on pavement or free area. The pocketed seat ensures more safety during strolling. There are no additional tools required to set up or break down. The front wheel can swivel while riding, but you can also be fixed if decide to go for jogging.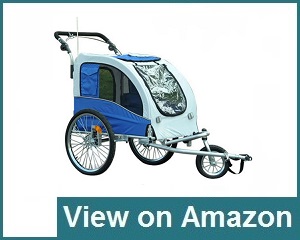 It can hold up to 88 pounds means can carry large dogs. The interior of the canopy is 30.5 x 23.5 x 21.5 inches and your pet get a huge place where it can lie down comfortably and enjoy the journey. The frame of the stroller is made with strong and durable lightweight steel which makes the stroller very sturdy and comfortable to ride for large dogs or multiple smaller dogs.
Key Features
A 6.5 feet safety flag and reflectors available for extra visibility
The front wheel can swivel for strolling
Easy transitions from being a bike trailer to a stroller
The canopy features three gates to make it easy to get in and out of
The mesh top also opens and has a rainproof cover to keep your dog safe
10. Best Dog Stroller for Traveling – Pet Gear Trails Review
Pet Gear Happy Pet Stroller is a stylish and eye-catching carrier to make fun or travel to the dog park. The mesh windows keep insects away from the dog and deliver cool ventilation weather. It has a removable weather guard, waterproof interior pad, large storage basket, rear brakes, and shock absorbers to ensure a smooth and comfortable ride. It takes only 5 seconds to fold up for useful storage anywhere.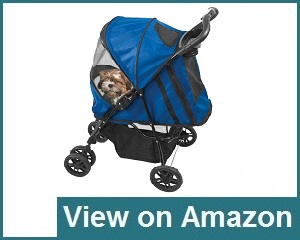 The interior measurement is 24 x 12 x 23 inches and 37 x 8 x 15 inches on the outside. This happy trial pet stroller offers your pet a safe and comfortable ride. The front swivel wheel and easy pushing features influence you to spend quality time together. A safety tether has been attached to the cabin allows you to clip your pet's collar or harness.
Key features:
Build with sturdy quality materials
Ideal for dogs up to 30Ibs
Stroller Dimensions: 24L x 12W x 23H-Inches
Ensures a smooth and comfortable journey
It is available in Cobalt Blue, Pink Ice, and Tan / Brown.
The Necessity of Quality Dog Strollers
As a proud dog owner, if you have confusion on how a stroller can help your dog, here is a list of reasons to make a clear conception that you can consider. A suitable stroller makes it easier to carry your dog to places when you visit the vet or outdoor event. Sometimes quality strollers work as a protective cover which helps to save your dog from rain, sun or from aggressive animals. However, here we have arranged some other good reasons why a stroller should be an essential item for dogs and these include:
Easy Transportation

: A good stroller allows you to carry your dog almost any venues like the vet, shopping malls, restaurants, concerts, or open places and can keep him in your full control. The stroller not only keeps your pet safe, but it is also designed to provide your dog with enough space to move them around with comfort. Eventually, pet stroller can be an excellent choice for those wanting safe transport protection for their dog.
Provide Special Supports to Aged Dogs

: With increasing dog's age, it becomes tough for them to exercise regularly and successfully. As a result, they get tired faster and can't effort much out of their walks. If you want to bring your dog with you for outdoor activities, a stroller may give him a place to take a rest when it gets too tired. In this way, you can enrich your dog's regular life with joy and happiness.
Helpful for Small Dogs

: Whether you like to jog over long distances with your small pooch, it may difficult for them keeping up with you. To face this issue you can get help from a tiny pup stroller which is accurately sized for your little friend's relaxation. Otherwise, travelling by different vehicle like a car, boat or flight becomes stress less with a dog stroller.
Necessary to Recover Illness or Injury

: If your pet gets sick or suffers from injuries, they lost their usual energy levels. A dog stroller can be of immense use in this type of emergency situations where your pet gets injured. Strollers can give pet proprietors peace of mind so that they can remain cool in their dog's emergency situation. In case of long-run or outdoor walking, strollers often use for protecting the paws of your dogs those are vulnerable to the hot pavements.
To Get Fresh Airs

: Sometimes it becomes needed to your pooch receiving fresh air to overcome monogamy. Moreover, dogs which have recently suffered or injured through surgery, also required to move on open air for mental comfort. To tackle these conditions pet proprietors can't think any alternative without dog stroller. With a stroller, definitely, it is easy to carry your dog out on a casual outing each day without having any sort difficulty for him/her.
There is a common misconception that some pet owners are opposed to the idea of using pet strollers. They don't believe in any benefit of pet stroller and think it is a waste of money. Actually, it is wrong thinking that should be avoided if you want to spend a most enjoyable time with your pooch.
Read More: Dog Wheelchairs Reviews
Various Types of Dog Strollers
There are different types of dog strollers available in the market depending on the particular requirements of the dogs and here we have highlighted some of them.
Small Stroller

: These are perfect for riding the smaller dog breeds. They are kept safe inside the stroller during riding and feel very much comfortable. These are the nature of baby strollers which allow dogs to enjoy the journey and encourage going outside with their proprietor.
Large Stroller

: Large pet strollers are bigger in size to accommodate large-sized dogs weighing over 70lbs. Sometimes pet proprietors carry multiple small and medium-sized dogs together. Inside the large space, your dog can move freely like they can make a full circle, lie down, and sit up if necessary.
Jogging Stroller

: Basically, these strollers come with three or four large wheels and able to run bumpy terrains. These come with additional shock absorbers to tackle your pooch from bouncing around inside the sitting area. Both small and larger breeds feel comfortable to ride this stroller.
Multifunctional Stroller

: These strollers offer a wide range of safety and versatility. Usually, they come with three-in-one functionality and offer flexibility, large weight capability with large accommodation. You can separate the dog car seat from the stroller and add when needed.
Here we have categorized all dog strollers in four types based on their functionality. Now it's your time to choose the most suitable one regarding your dog's size, breed and behavior.
Things to Consider Before Buying a Dog Strollers
Size
It is the most important factor pet proprietors should consider before finalizing a stroller for their pet. If you have more than one pet and you want to carry them, make sure the size of the stroller where your pets can stay comfortably and enjoy their strolling. You should also consider the height of your dog and if it is still growing, make a rough estimation of its full grown size for the long run using. There are some pet strollers are designed for small dogs, while some are special to take on more pets.
Weight Capacity
It is another important consideration which allows your pet to grow into the stroller. Pet owners desire to get a stroller that your pup can move easily and get the best effort in long run use. Most of the strollers are designed for small pups but if your pet is at the larger end of the weight limit, you should collect the stroller is larger in size where the pet can stand, sit and turn around comfortably.
Safety Features
The stroller maintains built-in safety features to ensure optimum security while the dog travelling in a stroller. Dog owners like to use the stroller at all the places when realizing how convenient to carry their pet through this career. They should have safety seat belts, harness clips, easy-lock brakes on two or three wheels. The used fabric should be soft and durable which acts as a protectant from others and keep hidden from view.
Folding
The strollers are foldable and suitable for transporting inside the car or other vehicles. They give you a wide range of space to walk and also make storage much easier. Majority of the quality dog strollers allow you to fold and unfold easily. They become lightweight and allow you to transport virtually anywhere. Sometimes the folding mechanism could not work the same for all strollers. Some models work in one push of a button while others require more steps but obviously, you consider the stroller which folds and assemble quickly.
Wheels
It is another big issue you should definitely check out. Normally dog strollers come with 4 wheels or 3 wheels, but we prefer you an additional rear locking wheel for enhanced safety of the dogs. Mainly, locking wheels act as a brake and allows you to control speed when necessary. Moreover, you can engage the brakes with your foot to prevent rolling down the hill. You can also find air tier wheels for easier transport around rocky areas.
Benefits of Using Dog Stroller
There is a wide range of benefits you can enjoy with your pooch from having a dog stroller. The main common benefit of a stroller is caring dogs in the long run with safety and security. All other benefits are:
Easy Transportation: Sometimes you feel to carry your dog at the shopping mall, park, sea-beach, or other where you like most to visit. In this case, a stroller becomes very helpful for transporting your pooch. It dismisses the strain of pets and releases pet owners from thinking of their safety.
Helpful for Older Dogs: When a dog becomes aged, it would difficult for him/her walking more. A stroller can help them by riding when they run out of steam. Dogs, those are injured or recovering from surgery may feel relaxed to get this option for moving one place to another.
Save Dog's Paws: A stroller keeps your dog's paws away from the floor and keeps safe from dangerous infections. The hot pavement becomes very uncomfortable for dogs walking and salted roads in the winter can potentially hurt even tough paw pads. So, having a stroller can be the best alternative to face these situations.
Exercise with Your Pooch: Larger breeds need more exercise for proper physical fitness. If the dog becomes injured suddenly during running or playing, then a stroller may help you to carry him for taking necessary action. Sometimes small breeds can't keep up with larger or humans when jogging for long-distance. Then small dog strollers can give him a ride when gets tired.
Easy to Travel: A stroller can be the most comfortable vehicle for your pooch to travel. Walking can become very easier with a stroller. Dog owners also feel happy to take their loving pooches while going out for short times. From the inside of the stroller, the pet can observe the whole scenario of the roadside and enjoy the journey. There is a separate portion includes with the stroller where you can put all essential elements of your pooch to serve timely.
Conclusion
Dog strollers are a great invention to take your pooch with you on walks, jogging, shopping, exercise session or workout short. Pet proprietors love the variety of features and becoming dependent on it day by day for its incredible facilities.
It is important to analyze the overall features when you come to finalize any model. Our detailed product features and buying guide provide you sufficient knowledge to make it short your thinking and finalize the decision with the most suitable product. Your knowledge makes you more confident to ensure the right choice and fulfill the needs you have.
Frequently Asked Questions
What is the best dog stroller?
A stroller is essential for carrying dogs everywhere you go. But sometimes it may tough to find out the best quality dog stroller for a comfortable journey. According to the veterinarian's recommendation and pet proprietor's reviews, we have chosen Pet Gear No Zippet that offers the most suitable stroller for dogs.
Question: What are dog strollers for?
Answer: Having the dog in a stroller might be a helpful option for dog owners who is physically impaired and feel trouble in managing their dog on a leash while walking. Moreover, dog strollers help older persons to gain extra walking stability while the dog keeps safe in it.
Why does dogs need a stroller?
There are many reasons a dog could need a stroller. If the dog is elderly and has bad joints or recovering from an injury then a stroller could sincerely help him. On the other hand, small dogs could not keep up with you at jogging time. Stroller also protects your dogs from hot pavements, extreme sunshine or heavy rain.
What type of dog stroller is most suitable for dogs?
Actually, the type of stroller depends on your dog size and moving area. If your dog is well-mannered and you just decide to move to a small area around you, then a wagon stroller may be useful for you. For large-sized dogs, it is needed a pet stroller with big wheels and large size for a comfortable and secure trip.
How do I train my dog to ride in a stroller?
Train up a dog to ride in the stroller is almost same as the basic training. You can start with small trips and try to walk around the house initially. Let your pet get used to it before putting him in it. Offer him some treats so he feels interested to go with a long ride.
QCan I use a baby stroller for my dog?
Yes, you can use a baby stroller to take your pet along for a long walk or provide support for a sudden injury or illness. If your dog doesn't set properly in the stroller to make sure a comfortable position for your dog. You can also remove any part of the stroller to add more space and it becomes easier to move for pets inside the stroller.
Are three wheels dog stroller better than four?
Actually, it depends on where you like to use the stroller. Three wheels strollers are better for running where the four-wheeled option is more practical for day to day use.
Do all dog strollers have inherent harnesses?
Most of the stroller comes with a fastening clip so that you can attach the dog leash to avoid any accidents. Otherwise, you can also choose a stroller with the inbuilt harness if necessary.
Do the strollers come with rain covers?
No, not all the stroller has rain covers with its design. But, you may check the individual item when choosing. Otherwise, you can add a rain cover with the stroller by purchasing separately.
Does the stroller suitable for larger dogs?
Basically, it depends on your dog's size or weight and the capability of the stroller. How much its size and can hold up. Always check the stroller is the best suit with your dog's size.
Can dogs go in stores in strollers?
There is no universal restriction to allow dog strollers in stores, but the management is independent to take the decision. If the company thinks they are safe and secure, they can allow dogs in a stroller. Others may strict in no dog rule because they don't allow animals in their store in any form. So, it is better to ask directly a store about their personal policy.