A swimming pool will always be a good investment for your dog. Most dogs love swimming and will prefer having their own pool to relax and have fun. Likewise, Dogs became troubled and hot during summers, as such they crave for a place where they can cool off and relax. A pool at the backyard will be appreciated by your dog.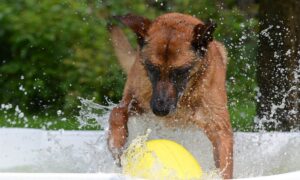 Though buying a swimming pool for your dog might seem like an easy task, choosing the type to purchase is more tasking and challenging. There are different dog pools out there, you need to know the type that will fit your dog, space, and purpose. Also, for durability, factors such as anti-chewing and anti-scratch should be taken into consideration when buying a pool.
To ease your decision, we have researched and consulted many pet experts to create a list of 10 best dog swimming pools with the necessary buying guide.
Best Dog Swimming Pool in 2021 – Reviews
1. Our Top Pick – Jasonwell Dog Swimming Pool
Top Pick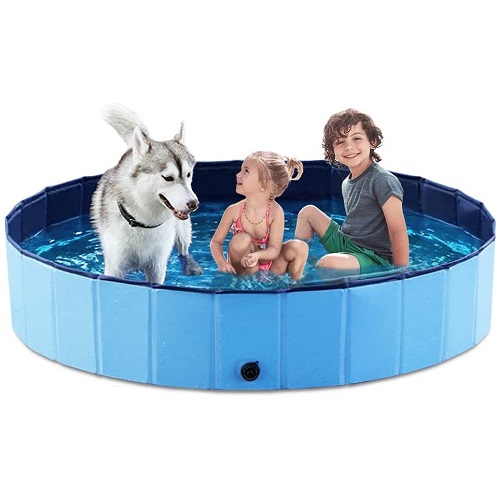 Jasonwell Dog Swimming Pool
It is an easy to install collapsible bathing tub and is recognized as the best pool for dogs.
Jasonwell Foldable pool is considered as the best swimming dog pool you will find in the market. The product is constructed with heavy-duty PVC material, which makes it durable and sturdy. The material also makes the product lightweight. Besides, the thick slip-resistant material at the bottom and wrapped edges prevent it from wear and tear.
The practical design of the pool tub allows it to fold into a compact size so that it becomes easier to port the tub anywhere. The advanced drainage system, with two drain plugs, swiftly drains the water.
Moreover, setting up the tub is easy-breezy, as it does not require any inflation. You will just need to set up the pool on a smooth surface and fill it with water. However, you must see that there are no sharp objects present underneath the tub before filling it with water.
It is available in different sizes, and thus, you can buy the right size pool for your dog. It will make the summer days cool and fun for your dog. It can also be used for toddlers and little kids.
Key Features:
Easy to assemble the pool and use
Made with tough PVC material
The cloth material used is non-toxic and safe
It comes in different sizes
Also, it has an anti-skid thick bottom
2. Runner Up – N&M Foldable Dog Pool
Runner Up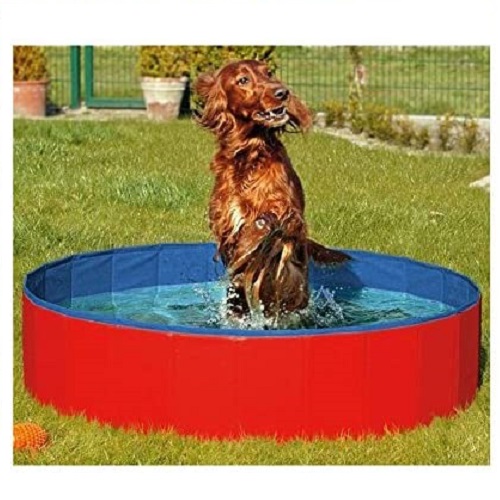 N&M Products Foldable Dog Pool
With 12 inches depth and sturdy material, this N&M foldable pool is one of the safest pools for your dog.
N&M Products Foldable Pool acquires the runner up position on our list. This 12 inches deep pool tub will allow your dog to fully submerse their body, play, and have fun. The height is perfect for both medium and large size dogs.
The standard quality material makes this durable and long-lasting. The sturdy and strong PVC used to make the pool stable and well balanced. Besides, the material used to manufacture the product is non-toxic and also helps to keep the water cool for a longer period.
Furthermore, the tub's panels easily fold up into a smaller size for effortless portability. The foldable feature lets you store the product in smaller spaces. Besides, the wide-open drainage system works perfectly to drain water.
Setting up the pool is quite easy as it does not require any machine or pump to inflate. Avoid placing the pool tub on a sharp surface, as it can possibly damage the material. Besides, it is available in two sizes and two color options. It also has some limitations, as it is not for heavyweight or big dogs.
Key Features:
Safe and toxic-free material used
Keep your dog cool
No inflation required to set up
Thick and strong surface for longevity
It is easy to port anywhere
3. Best Budget – FrontPet Foldable Dog Swimming Pool
Best Budget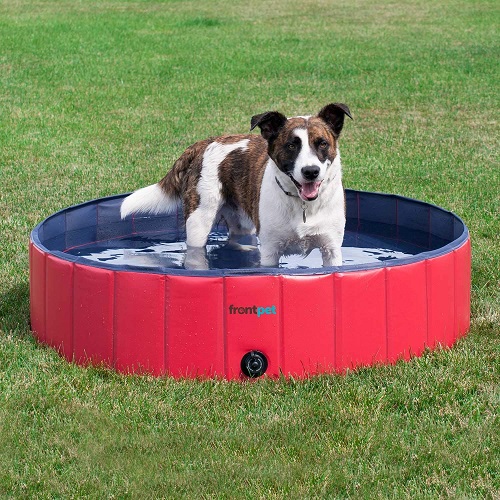 FrontPet Foldable Swimming Pool
Finest quality and budget-friendly features make this Foldable Pool suitable for all size dogs
FrontPet Swimming Foldable Pool is recommended as the best budget for pet owners. If your dog loves going outside or playing with water during those hot summer days, you should definitely have one of these for your dog. It might be budget-friendly, but the used materials are strong and robust to last long.
The extra-tough PVC material protects the pool from wear and tear that can cause due to dog nails or other sharp objects. Moreover, the foldable option allows you to easily transport the pool everywhere with your dog. The user-friendly design also enables setting up and taking down the pool easier.
You just need to unfold the pool and fill it with water. And after using it, you can simply remove the drainage cap to drain all the water. It has many alternative uses. You can use it as a dog bath, outdoor baby pool. Remember, placing the pool on a smooth and clean surface before using it.
Key Features:
Easily foldable for compact storage
No inflation required to set up and use
High-quality, durable material used
Anti-slippery floor to avoid accidents
Suitable for almost all size dogs
4. Best Foldable Dog Swimming Pool – Pecute
The Pecute Swimming Pool is the best foldable pool for dogs on our list. The sturdy panel design makes folding easier and transforms it into a compact size for hassle-free storage and transportation. Besides, the safe and non-toxic material used to make this to prevent your dog and other pets from various health problems.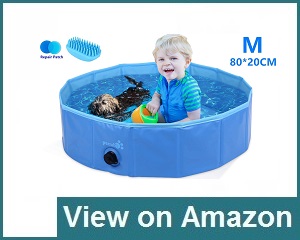 In addition, the thick PVC material makes them durable and disallows it from collapsing. The whole interior is slip-resistant, which helps to avoid any kind of accidents.
Moreover, the spiral drainage system is very convenient as it does not allow any leakage of water and also drains the water quickly when the plug is removed.
However, this extra-large size will let your pets and your kids play, splash water, and have fun together. Do trim the nails of your dog or other pets before using it, to avoid any scratches.
Key Features:
Easily foldable for storage
Advanced spiral drainage system
Wide range of alternative uses
Strong MDF material used for durability
Larger size to fit more than one dog
5. Best Portable Dog Swimming Pool – Fuloon
Fuloon offers the best portable swimming pool at the most affordable price. This small colorful pool is the right choice not only for furry pets but also for kids. The manufacturer has used high-quality PVC materials to ensure the durability of the pool.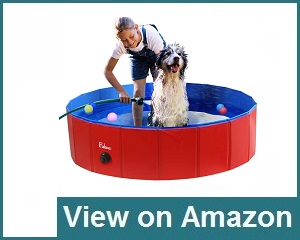 The thick material is also slip resistant on its bottom. For the daily bath of your dogs and cats, you can invest in this pool structure. There is no risk collapsing and leaking issue while filled with water. You can add more fun to the bath time of your kids and pets.
The small pool can turn out to an outdoor pond. The system is foldable, and thus, you may easily store it at any place. You can put it into your bag while having a trip with your pets and infants. There is an integrated plug to drain water very fast. Make sure that you have trimmed your pets' nails to avoid damage to the pool material.
Key Features:
Travel-friendly pool with foldable design
Made of high-strength compression boards
Pets of any size can use the pool
Small to large versions are available
An inflatable tub with non-slip interiors
6. Best Outdoor Dog Swimming Pool – Kopeks
We have found it to be the best outdoor swimming pool. The large model with a spacious interior ensures that it can hold kids and adult dogs. Let your pets swim in the small pool and keep them safe.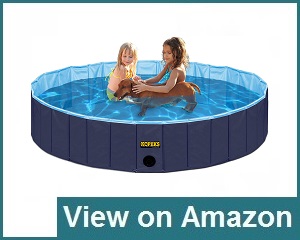 You can place this at some outdoor sites without any concern about the effects of weather elements. The manufacturers have chosen quality PVC materials to design the pool.
While reviewing its reliability, we have noticed that it is a heavy-duty pool with a thicker side and base. There is no need to inflate the pool to make it ready for use. You can find a foldable design that makes your pets easy to swim, bath, and dabble with water.
Now, you can try out Kopks swimming pool for your pet to get a lasting value of your investment. Make sure that you are changing the water regularly to keep it clean.
Key Features:
Easy to set up within a few seconds
Strong base designed with quality materials
A special cap to drain off water
Blue colored model with a vibrant look
Best hard-walled kiddie pools
7. Best Plastic Dog Swimming Pool – mcgrady1xm
It is the best plastic swimming pool chosen by lots of pet owners. As your pet needs a regular bath for health and hygiene, you can invest in this pool. You know that a human bathtub is not safe for your pets, because there is a chance of cross-infecting bacteria.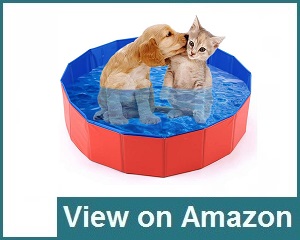 Moreover, when you let your dog take a shower, water may enter its ears to cause inflammation. Thus, you can create a separate space for the safety of your pets. The bathing pool is specially designed only for pets, like dogs and cats.
The manufacturer has used highly resilient PVC materials to make the design long-lasting. You can use the pool at outdoor sites, as sunlight and heat cannot affect its quality. After pouring water into the pool, you have to seal the drain. There is an integrated hole at the base of the basin, and it helps you in draining water easily.
Key Features:
Superb kiddie pool for kids and pets
Easy to store for its foldable design
Drain sealing system prevents leakage
The shape is adjustable based on your needs
Large, spacious dog bath pool
8. Best Swimming Pool for Medium Dogs – Grullin
Grullin Designed as the best swimming pool for medium dogs, you can use this for different purposes. When the shower area inside your house is small, you may install this in a backyard. Your dog can fit in it easily to take a bath and play with water.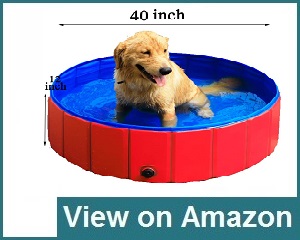 The width of this pool is about 48 inches, and there is no chance of spillage in its surroundings. The heavy-duty model is made of PVC materials. Your dog can use it regularly without the risk of puncture. The soft bottom will give the best feelings to your pets.
Moreover, the surface is not slippery to ensure the safety of your dogs. You may also use this as the kids' play pool, and fish pond. The mini pool lets your pet keep away from the heat of summer. You can use the side plug to remove water from the pool.
Key Features:
Retains the original shape for several years
High-density fiber board at the base
Attractive red and blue color scheme
The bottom remains stretched to prevent tears
A storage bag included in the package
9. Best Indoor Dog Swimming Pool – Nhiles Portable Pool
We have chosen it as the best indoor swimming pool for dogs. However, as per the manufacturer's claims, it is also usable at outdoor sites. For small and medium-sized dogs, you can purchase this pool. Surely, your feline pets may also use it. You do not need to inflate the pool to use it. Unfold the system and install it instantly.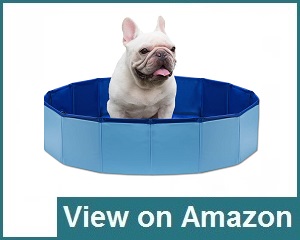 The NHILES has used eco-friendly PVC materials to design the overall frame of this pool. As the base part is thick, it can hold the weight of your pets. Moreover, the nylon cloth, used for the pool, is waterproof, and there is no chance of leakage issues.
It has foldable panels, enabling you to fold down after daily use. Furthermore, it has a small back cap on its side. You have to twist off this cap to empty out the pool. Thus, to keep up the health of your dog, you must not forget to change the water.
Key Features:
Available in three different sizes
Includes a PVC transparent storage bag
Thicker side and durable bottom
Foldable and waterproof design
Based on EN71, ASTM standard
10. Best Swimming Pool for Small Dogs – Petsfit
Petsfit has designed it as the best for small dogs. Besides, medium-sized dog species may also fit easily in this basic. Check out the diameter of this pool, and measure your dog's length. It will let you ensure the comfort of your dogs.
Moreover, the interior of this pool is much spacious for small dogs. Your pet can move about freely and play with water. Also, no inflation is necessary to set up this pool. You can take it out of the package and install it in the desired place.
Although you have filled the pool fully with water, there is no risk of collapse. Moreover, you may pour out the water very fast. Simply press down the pool's side and drain out the water. It is important to change the water regularly to prevent health issues.
When you have folded the pool frame, it gains a compact shape. Thus, you won't find it challenging to carry it to any place.
Key Features:
Heavy coated-wire frame for the pool design
Foldable easy to take it anywhere
Made of durable materials
Portable and lightweight design
Spacious to hold your dog easily
Who Should Buy a Dog Swimming Pool?
Most dogs like swimming. You can sometimes sight them playing and swimming at pools and beaches on summer days. Swimming in sunny or hot weather is a wonderful experience for your dog. However, going to the beach with dogs always might not sound well with dog owners, as such outdoor and indoor in patio or backyard are quite feasible and easy to work with.
Getting a pool for your dog will be a memorable gesture for your dog. It helps them stay cool during harsh weather, especially if they spend most of their time outdoors. While some people might want to just use kids pool for their dogs, it should be noted that dogs swimming pools are sturdier than kids. Dogs are known for the habit of digging and chewing, therefore they can easily destroy materials that are thin.
As a result, pools made for dogs are mostly anti-scratching and anti-chewing, which make them effective for helping your dogs staying cool and refreshed during warm weather. Pools are also ideal for dogs that drool and shed a lot. It allows them to shed in the pool and as a result, the excess hair can be kept in the water rather than on the floor or furniture.
When Should You Allow Your Dog at Swimming Pool?
While it is rewarding to allow your dog into the pool, safety measures should not be avoided before making such decision. The place of your dog in the pool is not the same as humans'. Safety is very necessary while in the pool. Therefore, here are some factors to take into consideration before allowing your dog into the swimming pool;
Choose the right one

: For safety and performance, go for a trusted brand of dog pool. For instance, choose the one that is made of indestructible material, it lowers the risk of pool bursting that might result in injury in dogs. It should also be scratch-, puncture-, and chew-proof. Also, the size should be taken into account especially if your dog does not know how to swim yet.
Train your dog in obedience

: This is very necessary. Your dog needs to understand and obey some commands like "come" to ensure safety in the pool. This is a necessary precaution to prepare for any uncertainties.
Try not to leave your dog out of sight

: Though you might have to train your dog to obey your commands and instructions, that is not enough to leave it alone. Accidents can happen anytime and it is not a must to notice it when it's underway, so it is better to stay in touch with your dog.
Learn Pet CPR

: It is very important to learn how to perform CPR on your dog. It is true, the water might be shallow, but your dog can be over-excited and play too well that might cause him to drown. It is also the reason why you should not leave your dog swimming unsupervised.
Protect from heat

: Your dog pool is cool for sure. But your it might be exposed to a high level of heat, so make sure you provide shade for your pool.
How do You Train Your Dog to Use a Swimming Pool?
You can follow these steps to train your dogs to swim in the pool:
Lead Your Dog into The Pool: If you notice your dog to be nervous while getting into the water, then do a gradual entry. Introduce the dog into the water by starting from the shallow side of the pool. Let your dog in and out of the pool. Repeat the step for a while, it will enable your dog to easily get accustomed to the water. It also assures your dog that he can get out of the pool without hassle.
Progress Deeper: Once your dog feels confident while getting in and out of the pool, progress by going deeper with a step at a time. Let your dog relax with each step while moving back and forth.
Teach Your Dog How to Paddle: When your dog seems to be secure in the water, the next thing to teach your dog is paddling, it will be safer with a dog life vest. But even with the vest or other floatation device, sometimes you need to support your dog if he seems to be struggling. Make sure your dog heads are up and the neck leaning forward, the position allows the dog to breathe well while maintaining clear vision.
Teach the Dog How to Exit the Pool: Yes, it might sound simple to you but it does matter. Learning this can save your dog's life in case of uncertainties. So, teach your dog how to enter and exit the pool from different angles.
Different Types of Dog Swimming Pool
Swimming pools are made from different materials, in different shapes. Each of them with its advantages and disadvantages. The common types found in the market include the following:
Inflatable

: Inflatable pools are movable, lightweight, and convenient. Due to its soft walls, the chance of your dog getting injured while getting in and out of the pool will be minimal. This type of pool is made of plastic, but unfortunately, it is less durable as it can easily be punctured by a dog's nail or teeth.
Folding

: This type of pool is easy to install with no inflation required. You can easily pack and carry the pool with you anywhere. They are easy to open, fill, fold, and drain. To withstand harsh conditions and scratches, the pools are made of sturdier material.
Rigid

: Rigid pools are not foldable or portable, but they are durable and strong. They can withstand your dog's care-free acts such as digging, scratching, biting, chewing, and jumping. They are perfect for your tough dogs who might find it easy to destroy other types of pools. Though they can get scratches, they hardly leak. The rigid pools are perfect for the backyard. Unfortunately, these are heavy and you cannot take it along with you while on vacations.
Solid Vs Inflatable Dog Swimming Pool
Depending on which size or breed of dog you are using the pool for, you will notice some merits and demerits of each pool. Let's compare the Solid and Inflatable swimming pool.
Solid Dog Swimming Pool: These are made from heavy metal or plastic can be more durable and effective for large dogs. But if you are going for a solid pool, that does not mean that you have to dedicate a space in your home as a permanent pool space.
Inflatable Dog Swimming Pool: This type resembles the kiddie pools. It is smaller in size, less durable, and also needs to be inflated to function. It is meant to cool off your dog only. One of the main drawbacks of this pool is that it can get punctured easily if strong material is not used to design it.
| Inflatable Pool Pros: | Inflatable Pool Cons: | Solid Pool Pros: | Solid Pool Cons: |
| --- | --- | --- | --- |
| It is lightweight | Dogs that bite can easily puncture the pool | Solid pool is very sturdy | It is heavy |
| Easy to assemble | Not easy to clean compared to other types | It doesn't need to be fully filled to be stable | It does not have easy drainage |
| It is easy to store by simply folding it up | | It is relatively easy to clean | |
| | | Strong enough to withstand chewing | |
Factors to Consider Before Choosing Dog Swimming Pools
There are different pools for dogs in the market. However, most of them are made specifically for dogs to crawl and dive for lengths. They have the look of kiddie pools designed to provide your dog space to float, move, and swim. Most pools also provide needed depth for your dog to float. Though there are several things to consider before choosing a particular pool. These are discussed below:
Durability and Materials
You need a swimming pool that lasts longer. If you order for pool made from flimsy plastic, your dog will easily tear it with his teeth or nails and you will be left with an empty puddle in your yard. So before deciding to buy, make sure it answers these questions:
How durable are the materials? Can it withstand dog's scratches and paw? Does the swimming pool have a protective coating to avoid fading?
Selecting a pool that is made from quality materials is very necessary because you need this to withstand your dog's sharp nails and teeth. Therefore, materials such as polyethylene, hard plastic, and heavy-duty PVC are effective for your dog's pool.
Storage
Your dog might not use the swimming pool all the time. It is therefore necessary to go for the pool that can be easily stored when you are not using it. This prevents it from damage. The majority of dog pools in the market can be folded, some of them are accompanied with storage bags. So, make sure you choose the one that can be easily stored. If your space is limited, then an inflatable pool will be a good option, you can deflate, fold, and store it.
Size
Pools are produced in different sizes. Choose the one that can accommodate your dog. If you have a smaller dog, it is easy to maneuver the pool size since he will likely fit into any size. Bigger dogs are where issues of sizing are mostly raised. Many pools are accompanied by sizing charts, which are useful in knowing which the pool size you require.
Easy to Assemble
Some pools take more time to assemble than others. Most of them are foldable and thus easy to set up. You just need to spread it out on a surface and let the water handle the rest. So, go for the one that is easy to assemble.
Purpose
The purpose of the pool should be clear to you. Whether you want to have a swimming pool for your dog or a wading pool. If you need the one for swimming only, then it should deep and large enough for your dog to swim. But if it is for cooling or wading purposes, then a shallow swimming pool will be a good option.
Drainage
Some pools have drainage at the bottom for easy drainage. However, the choice of drainage depends on whether you prefer outdoor or indoor drainage. Bottom drainage might not suit for the indoor pool if you are worried about flooding your house accidentally. Check out our reviews of outdoor dog house reviews. You can find the right products for outdoor houses.
Portability and Convenience
A portable swimming pool, specifically one that does not need inflation, is very cumbersome. Since you are not keeping it in your yard all year round, it should be easy to store. Therefore, a portable pool that is less in weight is preferred.
Affordability
Price is an important factor in purchasing items, dog pool is not an exception. Affordability is very necessary, particularly if you are working on a budget as some of them are very expensive.
Benefits of Using Dog Swimming Pool
While there are some dogs that are allergic to water, some are naturally attracted to it. You will not expect your puppy to go out there and dive into your swimming pool overnight, swimming is not naturally engrained in dogs, they learn it.
Helps dogs to learn swimming: One of the effective ways to allow your puppy to learn how to swim is through a pool. It gives your dog space it requires to learn how to get used to the water.
Alternative of the bathtub: Another benefit is that it can be utilized for other activities. For instance, if you don't have a bathtub, a dog pool will be an alternative. Likewise, some dogs are more comfortable bathing in the dog pool than any other accessories.
Used for hydrotherapy: Hydrotherapy or aqua is always prescribed to dogs with joint problems or those getting treatment after injury. This is due to the fact that exercising helps take away the pressure on your dog's joints. It also helps build up muscle and strength.
Keep your dog cool in summertime: The swimming pool provides your dog with a space to cool off when there is heat or during hot weather. Your dog can also have fun in the pool when he is bored or tired.
Important Safety Tips
When multiple dogs swim together, a fight could break out and the continuous pushing and shoving can lead to injury, it is therefore advisable to keep an eye on your dogs.
Clean the pool regularly with appropriate cleaning solutions. Dogs could develop fungi and bacteria from the pool when it is not properly maintained.
Be cautious when allowing your dogs to swim in cold weather. Even the breeds that are double-coated can become cold if the temperature of the water is too low. So, you need to be extra careful when the temperature drops below 70 degrees.
Sunscreen for dogs can prevent your dog from getting scorched under the sun, so getting one can be very rewarding.
For effectiveness, choose the right swimming pool for dogs. It ensures durability and prevents scratching and chewing by dogs.
Conclusion
Dogs like to be in the water and swim. It cools them off during harsh weather. While you might want to consider other alternatives for your dog's pool i.e kiddie pool, beach, etc. a swimming pool is the only effective tool to reward your dog with.
It is designed specifically for your dog to swim and have fun. There are varieties of dog pools in the market depending on the purpose you wish to use them; it is however necessary to take your time to decide the suitable pool for your dog.
Frequently Asked Questions
What is a dog swimming Pool?
It is a tool or space where dogs can swim or cool themselves off. There are different types of pools which are mainly based on size and purpose.
What is the best swimming pool for dogs?
The Jasonwell Foldable Collapsible is the best swimming pool for dogs. It is foldable and easy to store without requiring inflation.
Should I wash my dog after swimming in the pool?
There is no need to wash your dog after swimming in the pool. The water in the pool is enough to wash the dog unless you are not sure about the purity of the pool water.
Is a dog pool for swimming or just cooling off?
A pool is both for swimming and cooling. Your dog can have fun swimming in the pool, or when the weather is hot, he can just go there and cool off.
How do I convince my dog to get into the pool?
Introduce your dog to the swimming pool when it is empty, feed him in the pool to let him feel safe in it. Then add a small amount of warmth.
Is it safe to use a swimming pool for dogs?
These are safe for dogs. It is an avenue where your dog cools off and entertain. However, you need to be watchful on your dog as an accident can occur anytime.