Most pet owners are familiar with the term "Dog Wheelchairs", but you never know when you'll have to use one for your pal. It is the best type of walking aid for your dog if he has less mobility, born with a disability, has got injured, or is paralyzed.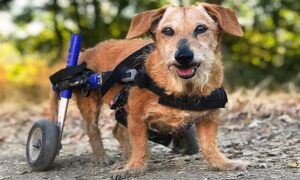 Dogs of any breed are common in one thing; they love to walk, run, and play. And if through some incident, they lose this ability, their life turns into nothing less than misery. Dogs with no mobility and aid even tend to have a lesser life span. It can also be a challenging and grieving experience for you as a dog owner.
Considering the need for such aid and to restore the dogs' quality of life, veterinarian medicine introduced a step-up, called Dog Wheelchairs. With this aid, your dog can not only move, but can also play, run, be independent, and can even forget the feeling of its disability.
Wheelchairs have replaced the use of dog crates or any other partial mobility aid with its easy assembling and adjustable features for every breed and size. It also increases your convenience of carrying your dog without lifting him all the time.
If you are looking to get one for your dog, you need to know all about it. And for that, we've got the best guide for you. Keep reading, and you'll also find out about the 10 Best Dog Wheelchairs that we've researched and shortlisted for you.
Best Dog Wheelchairs in 2021 – Reviews
1. Our Top Pick – K9 Carts Original Dog Wheelchair
Top Pick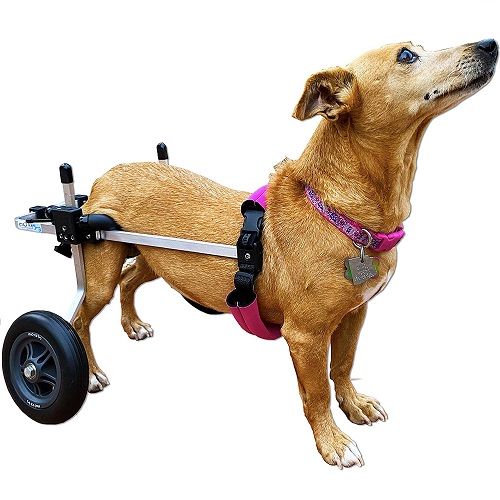 K9 Carts Original Dog Wheelchair
Veterinarian established K9 Carts original wheelchair with an ergonomic and lightweight design.
The K9 Carts wheelchair is the best for all dogs that are struggling to get around for disability and aging problems. This unique design has become more popular among pet owners from the beginning of this Model. Veterinarians in the Orthopedic Veterinary Hospital have tested this product thoroughly to ensure the reliability of the design.
In most cases, weighty and bulky wheelchairs prevent a dog from moving freely and smoothly because materials add additional weight to the chair. In this case, K9 Carts has used aircraft-grade aluminum to design the frame of this model. You can also find optimal perfection in the overall construction and functionality of this custom-built wheelchair. It is one of the most lightweight models for your dogs.
Dogs can use the model as a walking cart while placing its rear paws simply on the ground. The system is also usable as a suspension, where the protective slings need to hold the rear legs of your dog. Manufacturers have used the contoured dense foam padding that covers cable leg rings and prevents sores. Your pooch feels very comfortable while using this wheelchair.
Before choosing this type of item, you have to ensure that your dog has the strength on the front legs. You can rely on a towel test to check it out. Mostly, knuckling and stumbling with front paws may indicate the forelimb weakness. The K9 Carts is best for providing sustenance to the rear legs. It is a highly adjustable system, ensuring proper fits most of the dog breeds.
Key Features:
Can be used on grass and any other surface
The wheel cannot deteriorate easily
Protective slings to hold up rear legs
Easy to adjust the system
Veterinarian designed do wheelchair
Weigh only 3 lbs
2. Runner Up – Walkin' Wheels Dog Wheelchair
Runner Up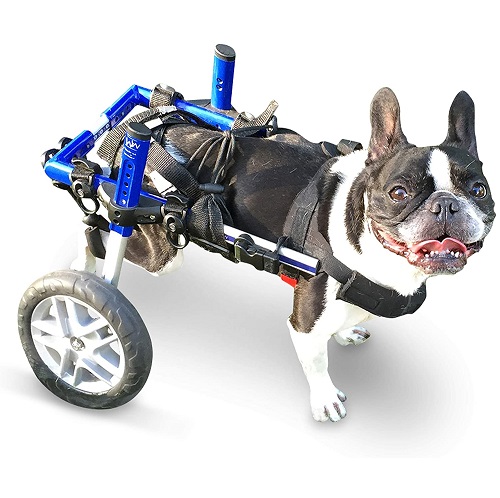 Walkin' Wheels Dog Wheelchair
Walkin' Wheels Wheelchair has an adjustable design to hold up the back legs of your pet.
The Walkin' Wheels Chair is a runner-up in our list, and we have chosen it for smaller dog breeds. It is also a veterinarian-approved product to keep your pet mobile and comfortable. While using this wheelchair, your dog can play, run, and walk smoothly. There will be no mobility issue to its hind limbs.
To add durability while maintaining the weight, the manufacturer has used the aluminum model. The system remains stable when your dog is moving around. The wheel is also sturdy, as it has dense foam and rubber treads. These materials have reduced the risk of puncture to wheels. You can let your dog move the cart through any type of terrain.
One of the best things is that the patented design is easily adjustable. Based on the health condition and the pet's size, you can adjust the height, width, and length of the model. Thus, your dog will stay active by using this unique design.
Another notable feature is portability. After regular use, you can conveniently take it to any place for storage. The compact design does not cover much space, and it is one of the reasons for investing in this wheelchair. Moreover, you can clean the rubber wheels of the system regularly.
Key Features:
It has a long-lasting dense foam wheels
Easy to store at any place
Tested design with adjustable features
Best for dogs with limited mobility
Change the quality of life of your dog
3. Best Budget – Newlife Mobility Dog Wheelchair
Best Budget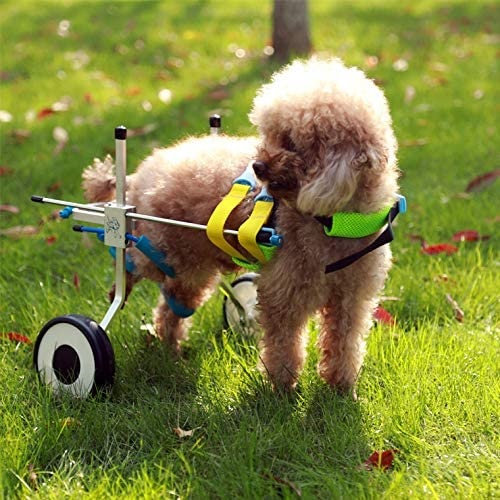 Newlife Mobility Dog Wheelchair
With two sturdy wheels, the cart can solve the mobility issues of your pet.
This two-wheeled cart is the best budget model for pet owners. You can find 7 variations in the size of this dog wheel. Thus, you can buy it for small to large-sized dogs. You have to choose the size based on the hip width and hip height of your dog. For instance, XXS size is the right choice when your dog's hip width ranges from 3.5" to 6", while the hip height is from 6.3" to 9.5".
The overall construction is highly durable with an aluminum frame. You can adjust the harness to ensure better mobility and comfort to your pets. There is a push button to control the dimension. Thus, this model is not only user-friendly but also easy to assemble. The 3D soft harness does not cause discomfort, although your dog is using this system for the first time.
Newlife Mobility has offered you something more than a wheelchair. The package includes a free belly band that ensures ultimate protection to your dog's spine. Moreover, you will get a dog leash for free of cost. The manufacturer has focused on the most important needs of dog owners. Thus, Newlife Mobility has provided some additional kits with this package.
Key Features:
Includes belly bands for dogs with spondylitis
Highly resilient design
Best for controlling hind limbs
Includes a leash of high quality
Easy to assemble and highly adjustable design
4. Best Wheelchair for Small Dogs – Best Friend Mobility
We have chosen this best friend mobility wheelchair is the best for small dogs and puppies. The lightweight and portable design are most suitable for your furry friends. By using aluminum and non-rust alloy, the manufacturer has created a long-lasting system.The pneumatic wheels run smoothly on any type of terrain.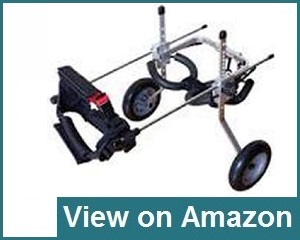 Gender is not a factor in choosing this chair, as the system works for both female and male dogs. Your pets can now keep away from physical issues by relying on this cart. However, they must have strength in front legs to use the wheelchair.
For the front and rear harness, the manufacturer has used deluxe neoprene that gives comfort. The front harness is equipped with a clip-on function for your convenience. Besides, you can easily adjust the overall dimension by using a hex wrench.
The cart has polyurethane wheels integrated with some sealed bearings. Thus, when your pet needs assistance at the time of walking, you may choose this wheelchair.
Key Features:
Reliable design made of sturdy materials
Built-in harness with double rear padded design
Best for dogs having a weak hind limb
All-terrain wheels that last long
Double-thronged harness is adjustable
5. Best Wheelchair for Medium Dogs – Walkin' Wheels
Walkin' Wheels has designed the best wheelchair for medium dogs, whose legs measure from 8 to 9 inches. When your pet's back legs have an injury and other mobility issues, you can restore its active life by integrating the chair. The cart is available in a variety of colors- pink, camouflage, and blue.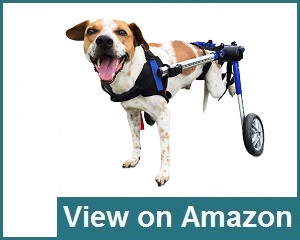 Like any other manufacturers, Walkin' Wheels has used aluminum for the overall design. There are rubber treads and dense foam used for its wheels. These wheels do not get punctured despite moving them through rough terrain.
The compact system lets you store it easily at any place. Moreover, you can take it with you while having a trip with your dog. Keep the rubber wheels clean by washing them thoroughly.
The innovative and tested design is adjustable for dogs of different sizes. You may adjust the width, length, and the height of the system. Thus, you can try out this wheelchair for aged and injured dogs. Your dog can move freely without your help.
Key Features:
It can fold flat for easy storage
Very comfortable and convenient for dogs
No problem in using the cart in the bathroom
It has a range of color options
Also, it has a durable frame and wheels
6. Best Wheelchair for Large Dogs – Best Friend Mobility Wheelchair
With an adjustable and lightweight model, it is the best wheelchair for large dogs. Thus, adult dogs of any species fit perfectly to this. Dogs, having Lumbar disc injury, rear limb amputee, degenerative myelopathy, and other neurological problem, can find benefit from this cart. However, your dog must have normal strength to its front legs. You can buy this cart to solve the problem of back limbs.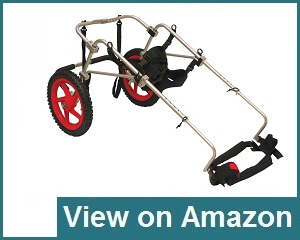 The galvanized hardware parts and aluminum structure ensure no rust issue in the future. You need only two bolts to set up the system. K9 Orthopaedic surgeon has designed and tested this product to make it highly reliable.
The overall wheel diameter is 14″, and the system comes with padded shoulder support. Moreover, triple thronged neoprene shoulder harness is easily adjustable. The harness for rear legs is also made of neoprene. Another notable feature is the padded seat that remains stable. With the rear harness, the dog can easily go to a bathroom and any other place.
Key Features:
Adjustable length and height
The harness provides comfort to your dogs
Best for sustaining rear legs
Restores mobility of injured dogs
Easy to store at any place
7. Best Veterinarian Approved Dog Wheelchair – Walkin' Wheels
We have found it to be the best vet recommended wheelchair, perfectly designed for large to medium-sized dog breeds. Walkin' Wheels dog cart ensures a healthy and active life of your pets. Due to the scientifically tested design, it gives the ultimate comfort to your pets. Your dog will have no problem while walking and running at outdoor and indoor sites.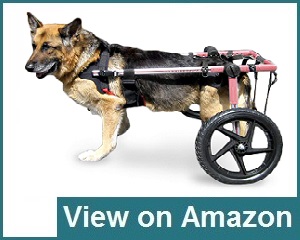 The aluminum frame is sturdy and lightweight. The system remains firmly attached to your pet's body while your furry friend moves anywhere. What's more, durable rubber treads and dense foam wheels can endure harsh elements of a rough surface. These wheels are also easy to clean.
After using the cart every day, you can fold it to make a compact shape. You may load the system into your vehicle. The manufacturer has made this adjustable to let it fit any dog size.
Key Features:
Easily washable wheels of the cart
Maintains stability while attached to a dog
Durable in structure, made of aluminum
No rust issue
Make your dog feel comfortable
8. Best Adjustable Dog Wheelchair – Anmas Sport
Anmas Sport has designed the best adjustable wheelchair for smaller dog breeds. If you have chosen the smallest model, your dog height ranges from 18 to 23cm. The distance from front legs to rear ones needs to be between 38 and 42cm.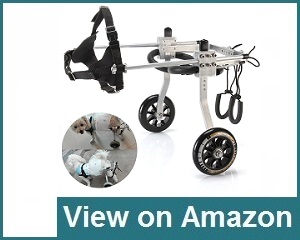 Harnesses, attached to the wheelchair, are adjustable to give comfort and ensure high mobility to your dogs. By simplifying pushing a button, you can adjust the dimension of this. There are three sizes available for this cart, and you need to find the right one based on your dog's hip height.
The pneumatic wheels of this model move smoothly. There is a double rear harness integrated into the system. Proper padding of this harness also ensures comfort for your dog. The shoulder harness has a double-thronged design, and it is made of high-quality neoprene. Thus, you can try out this for your dog's rehabilitation.
Key Features:
Helps your dogs to run and walk smoothly
No puncture risk to the wheel
The harnesses are adjustable easily
Easy to maneuver and maintains stability
Lightweight aluminum designed
9. Best Wheelchair for Back Legs – Walkin' Wheels Wheelchair
As one of the best wheelchairs for back legs, Walkin' Wheel can bring a smile on your pet's face. Your dog no more needs to drag its body with effort due to hind limb problems. Most of the veterinarians think that this is a perfectly designed for dogs having back limb issues.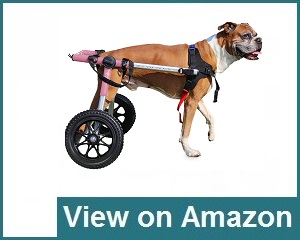 You can choose this for large and medium-sized dogs. Sick and injured pets will get comfort from using this chair. Since the leg size and the overall dimension of every dog may be different. Considering the different leg size and dimension of every dog manufactures have made the design adjustable with the dog's body.
If you have a growing dog, you can invest in this product to use it for several years. To keep your dog comfortable and mobile, this may the perfect choice. Although the size is large to make it fit for large dogs, you will not face issues in storing the wheelchairs. You may fold the system and put it even inside the car.
Key Features:
Easy to clean rubber wheels
Easy to assemble parts
Attractive and durable in design
Besides, disabled pets feel comfort
Fit to most of the dog species
10. Best Dog Wheelchairs with 4 Wheels – Newlife Mobility
When you are searching for the best wheelchairs with 4 wheels, you can prefer this product. Some aged dogs need full-body support, and for them, this serves the best. Choose a perfect size based on the hip height of your dog.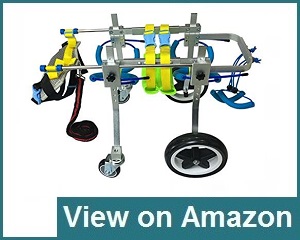 While most other wheelchairs have two wheels at the rear end, this one has four wheels. Besides, your dog does not need to compromise mobility, as this has a special design.
The frame, made of aluminum, is lightweight in design. You can move this portable model to any place, and your pet will not feel weighty to use this wheelchair. Moreover, harnesses are easily adjustable to ensure comfort to your dogs.
One of the best things is that the package also includes a special belly band. Dogs, with spinal problems, will have benefited from this model. A useful leash is also available at free of cost.
Key Features:
Free leash and belly band included
Easily adjustable harness
Best for forelimbs of a dog
Aluminum harness with no rust issue
Durable and lightweight in structure
Who Should Choose a Dog Wheelchair?
In contrast to what the name suggests, this wheelchair is not only designed for dogs. They can be used by any four-legged pet such as your rabbit, cat, or others. Specifically, when talking about dogs as a majority user, there is a list of abnormalities and diseases that are either accidental or comes with age. Such defects may lead your dog to lose mobility.
In such cases, you should choose a wheelchair for him. Some of the prevalent conditions where the dog's legs or spine get affected may compel you for buying one of these. You should consider buying one if:
Your dog is injured and needs time for recovery
He is born with a disability to walk or stand
The dog is getting weak as he is ageing and is losing mobility
Your dog is facing a degenerative disease where he has control of his muscles
His front or hind limbs have been amputated due to an accident
He is diagnosed with a spinal condition or injury
Despite all these conditions, you should always refer to your veterinarian for the final decision of the kind of aid your dog needs. There are still many factors that limit their support.
If your dog has lost the ability of all four limbs or has the weaker capacity of the unaffected limbs too, then he might not be able to carry this wheelchair for his aid. The "test of strength" or "towel test" is taken for the strong legs to conclude if your dog will be able to use it or not. Only then you can opt for one.
When Should You Offer Wheelchair to Your Dogs?
Among a list of conditions, we have discussed some of the most common ones here when you should offer a wheelchair to your dog.
Displacement of Intervertebral Disc

: In this condition, the intervertebral disc of your dog's spine gets displaced or deteriorate. It can either be a result of any injury or due to the ageing complications. The dogs with this condition become less mobile or find it difficult to move without falling or shaking. They might need to rely on a wheelchair then, partially, or even permanently, depending on the severity.
Degenerative Myelopathy

: When your dog ages, the nerves, and muscles lose their control and get weak, this may end up terminating the healthy connection entirely for mobility. In such cases, your dog gets permanently dependent on aid, as nerve damages are irreversible. A dog wheelchair can then turn out to be the best help for your buddy.
Osteoarthritis

: It is also an age-related deformity that occurs with the stiffening of the joints. It makes movement very painful and hence, affects mobility. This condition is less severe than any other, so your dog might only need a wheelchair sometimes. Also, this condition can be improved with proper care and handling.
Spinal Infections or Inflammations

: Any long-standing infection or inflammable can eventually affect the spinal cord if it's not treated on time or gets spread quickly. Spinal cord defects are irreversible and can cause life-long disabilities. Your dog with such a condition direly requires a wheelchair for its movement.
Traumatic Injuries

: While running or playing, if your dog has come across an injury or has been hit by a car, it can cause permanent or temporary trauma to his limbs. So, for the recovery period, or as the only solution, you should get him a wheelchair for his comfort.
Amputated Limbs

: Dogs who face terrible trauma often end up getting one or two affected limbs amputated. They then need permanent support of a wheelchair for walking.
Congenital Abnormalities

: Dogs who are born with shorter hind or front limbs, or have any other disability since they are born, should be given a wheelchair when they are of a perfect age.
Other rare but possible causes of disabilities where you should consider giving your dog a wheelchair are as follows:
Paralysis
Hip Dysplasia
Bone fractures
Dislocated joints
Meningitis
Rabies
Spondylarthritis Or
Any surgical recovery.
How Do You Train Your Dog to Use a Wheelchair?
Adapting a new device as a part of your being isn't that easy for dogs. You need to train them in a way which makes them feel comfortable.
Let him be familiar: It would be best if you allowed your dog to be familiar with his wheelchair. He needs to understand how he's going to adjust in it for him to use it efficiently.
Consistency is the key to training: While he has adjusted, be consistent in training. Maybe not for hours, but make sure to make him walk in the wheelchair daily for some time.
Keep up the training: Don't give long breaks or skip days while training. Your dog may lose its consistency and would get irritable. Make your dog used to it. Let him spend more time adjusting in it while you appreciate every milestone he crosses.
Give him time: Do not try to rush things for him. Don't get angry with him or punish him if he doesn't follow the training as he should. Give him time to get used to it. It's a significant change for his body and routine, and you cannot expect it to happen overnight.
Increase the training time: With the passing days, increase his time of training. Increase the hours so that he may get used to spending more time in the wheelchair.
Be in contact with your vet: Always consult your veterinarian for better advice and tips. Be concerned about your dog's comfort and health in this regard.
Types of Dog Wheelchair
In general, dog wheelchairs come in 3 major categories which are listed and discussed below:
Front Limbs Support
You can consider this type if your dog is experiencing weakness or immobility of his front limbs. Such are designed to bear maximum weight hence relieving any stress that is coming to your dog's front legs.
It can be used for rehabilitation in any injury or permanently in case of any severe condition such as degenerative myelopathy, arthritis, intervertebral disc dislocation, spinal trauma, or any generalized weakness.
Hind Limbs Support
You should opt for this type if your dog has healthy front limbs and can bear the weight of a rear support wheelchair. This is the most commonly used type. If the back legs of your dog are paralyzed, they can be suspended as well with the help of straps.
Such kind of wheelchair is useful in conditions like hip dislocation, rear limbs dysplasia, post-operative recovery for surgeries of knee, legs or spine, limb amputation or any severe trauma.
Full Body Support
This type of wheelchair is designed for dogs with no mobility at all in all four limbs. They often fall or stumble when they try to stand or walk. Such generalized weakness or paralysis requires full support for all four limbs to restore mobility.
They come with four wheels, straps and headrest for complete body support and are the most expensive of all. Conditions such as complete paralysis, genetic abnormalities, brain trauma or spinal defects require a wheelchair with full-body support.
Things to Consider When Choosing a Dog Wheelchair
There's a long list of things you should find while opting for a wheelchair. Do have a look at some essential features that we've enlisted below:
Types and Number of Wheels
The main feature for easy mobility of your dog is the type and quality of the wheels. The size of the wheels should be in accordance with the size of your pooch. Larger and heavier wheels will make it so hard for the dog to move. Always consider a balanced proportion. Moreover, consider the number of wheels based on the disability your dog is facing, as we have discussed above in the types of wheelchairs.
Adjustability
The provided dog harnesses and straps should be your priority of concern when buying a dog wheelchair. Its material should be soft and adjustable for the maximum comfort of your buddy. Its placements should be well-proportionate to bear the weight of your dog.
Portability and Assembling
The wheelchair should be easy to assemble and portable for carrying with you. Collapsible designs are more preferred as they can be lifted easily by dog owners.
Weight
Never buy a wheelchair that exceeds the weight of your dog. You may end up burdening your pal rather than providing him comfort. It should always be light and well-balanced for your dog even to run and play in it.
Size and Material
Depending on the breed, wheelchairs come in almost every size. You can easily pick the right one for your dog, which is compatible with his built and physique. Also, don't forget to consider the material of the wheelchair. Strong yet light material is the most compatible one and dog friendly.
Easy Cleaning Options
If you plan to take your dog out parks and roads in his wheelchair, you must have to clean it quite often. Look out of the types of wheels that can be easily cleaned and washed. The pattern of the wheels shouldn't be so deep where mud and rocks get stuck forever.
Cost and Durability
Wheelchairs of good quality and durability are, however, quite costly. But if you do wish for a one-time investment for your dog's comfort and a better lifestyle, you shouldn't hesitate to buy one. Consider durability and quality within the best cost, and you'll not regret your decision ever.
Proper Measurements
Don't forget to take proper measurements of your dog's height and length. Measure his legs, mainly so that you can know the perfect size for his wheelchair.
Benefits of Using Dog Wheelchair
Wheelchairs have several known benefits in terms of healthier lifestyle, recovery and even for permanent lifetime usage. Let's overview some of the most common benefits it provides.
Rehabilitation Partner

: A wheelchair is the best rehab partner your pal can get. If your buddy has been through a surgery or an injury and needs time and care for recovery, a wheelchair can be your best option.
Easy Mobility

: For dogs who are permanently or partially disable, this product provides them with a chance to move around once again. They can enjoy being normal again in no time with the help of this wheelchair.
Normal and Healthy Routine Restoration

: It ensures your dog's return to the regular routine, which he used to have before his disability.
Maintains Activity

: It allows your pooch to remain active ad move around, without feeling his own disability. Continuing an active routine maintains your dog's health, whereas a sedentary lifestyle can affect him in so many ways.
Single Choice for a Number of Disabilities

: There are so many types of disabilities that can affect the movement of your dog, but a wheelchair is one universal solution for so many conditions. You don't have to look around for different rare products for a particular condition. This covers almost all of them.
Important Safety Tips
Despite the safe use and convenience, there are still many factors that you need to consider for you pal's safety. We've enlisted few useful tips that you surely need to keep in mind.
Don't let your dog tied up to the wheelchair for longer durations. This may increase his discomfort. Allow him to take rest and lay down in his natural position without the wheelchair.
Don't leave him alone while he is in the wheelchair. It can get stuck or tumble over irregular surfaces where your dog can get hurt. Always make sure to be around him for his safety.
Check the straps and harnesses if they are tied in a natural posture. Too tight or irregular attachment may irritate your dog and can cause sores or tension rashes on its body.
Nevertheless, keep the wheelchair safe and avoid getting any damage to it, so that you don't have to spend a lot again on buying another one.
Conclusion
Such experiences of trauma or disabilities can be challenging for both you and your dog. But with the right equipment and aid plus your proper support, you can bring your canine buddy back to life in no time. No disability can stop it from living a healthy life if you just know how. Learn how to help your buddy, and you both can be as normal as you used to be.
We've tried to provide maximum information about dog wheelchairs, that would help you and your pooch to get back into the life's race.
Frequently Asked Questions
What is a dog wheelchair?
A wheelchair is a moving aid for dogs or other four-legged animals who suffer with immobility or conditions which affect their legs for normal movement.
Do dog wheelchairs really work?
Yes, Wheelchair is the best aid you can get for your buddy. It really works effectively in rehabilitation and even for permanent use.
What is the best dog wheelchair brand?
The K9 Carts is indeed the best brand in the market. They are hand made with veterinarian advice and is of the best standard size to fit almost all kinds of dogs. It is adjustable and easy to assemble.
It is made extremely light weighted with the use of special aluminum material. It also has foam padded in the straps and rings of suspensions to prevent sores from pressure. It has suspension rings for the rear legs if the limbs are totally immobile.
Can my pup sit or sleep in a wheelchair?
If your canine is small, he can take naps or sleep while he is still in the wheelchair. Although, even small pups shouldn't be allowed to sleep long in wheelchairs as it may affect their comfort. When its his time for sleep, release him so that he can lie comfortably and sleep in his own position.
What is the best wheelchair for small dogs?
The Best Friend Mobility is the best choice for small dogs. It is made of non-rust aluminum material for extra lightweight. It has both front and back harnesses for optimum support and protection. It can be easily adjusted for various heights, lengths, and widths. Best wheel support for easy movement. In short, this product is the best choice if you have a small dog.
How do I measure my dog for a wheelchair?
For accurate measurements, measure the length of your dog's hind or front limbs (whichever will be bearing the weight), measure his back length and back width. All these measurements are not supposed to be specific. You should only get an idea, later the wheelchair can itself be adjusted for few inches.
What is the best wheelchair for large dogs?
If you are looking for the best wheelchair for dogs who measure 20 to 26 inches from the floor to their back while standing, then the Best Friend Mobility is the best one for you. It comes with padded front and rear harness for maximum support and can be adjusted till 5 inches in height and 3 inches in length. It is super light as it's made of aluminum. Your dog can even go to the bathroom while he is in this wheelchair. So, this can be your best choice if you have a big-sized dog.
Does a 3-legged dog need a wheelchair?
Yes, three-legged dogs can also have the same benefit from wheelchairs as any other dog. They can move more comfortably when they are in a wheelchair.
Can a dog lay down in a wheelchair?
In some advanced designs, yes, the dog can lay down and get up without even using their hind limbs.
How does a dog poop in a wheelchair?
The modern designs are so made that your dog can easily poop while being in a wheelchair without any difficulty.
Are dogs happy in wheelchairs?
Dogs are the happiest when they get to move, walk, run and play again as they used to do before their disability. It can restore their lifestyle and happiness all at once.
Source: