For the people who genuinely care for their pets, Dog winter coats are the best way to prevent their fur babies from falling ill in those long winter months. Winter coats not only prevent your dog from cold breezes but some of them are also waterproof so you don't have to worry about your dog drenching in cold rainwater and catching a cold.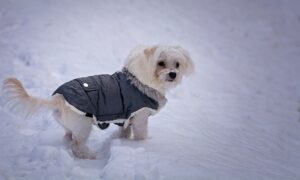 Unlike big dogs with thick fur coats, small breed dogs have a low tolerance level for chilled weather and are most likely to fall ill or remain not so active during winters.
So, in order to provide them some extra coverage so that they can enjoy the weather as much as you do, you should pick a nice winter coat for them to feel comfy in.
Best Dog Winter Coats in 2021 – Reviews
1. Our Top Pick – Kuoser Dog Winter Coat
Top Pick
Kuoser Dog Winter Coat
Be it indoor activities or outdoor activities, this winter coat from Kuoser will protect your dog from the cold.
Kuoser winter dog coat is considered as the best product on our list. It comes with a creative design that will make your dog look stylish. Besides, you can easily put this product on and off your dog. The belly part of this coat will provide extra comfort to the dogs.
As a dog owner, you will get satisfied once you buy this product. It will ensure necessary warmth and comfort. The crafters designed this winter coat in such a way that it will ensure durability.
Apart from that, it is a water-resistant as well as a windproof coat. You can see that buying this item is always a good investment. The fine detailing of this dog cold winter coat makes it pretty impressive.
Before placing the order, we would suggest you measure the dog's size properly. It will help you buy the right size while placing your order. Here the outer layer is water-resistant, and the inner layer is soft and warm.
So, you can see that if you have this dog coat, you can take your dogs to walk during rainy and snowy days. With this winter coat dogs don't have to compromise with its daily routine of walking.
Key Features:
Dimension is 11.2X7.6X2.6 inches
Weight of the package is 0.11 kg
Comes with unique Kuoser Leather labels
It is a lightweight dog coat
The exquisite stitching makes it stylish
2. Runner Up – Scheppend Original Dog Winter Coat
Runner Up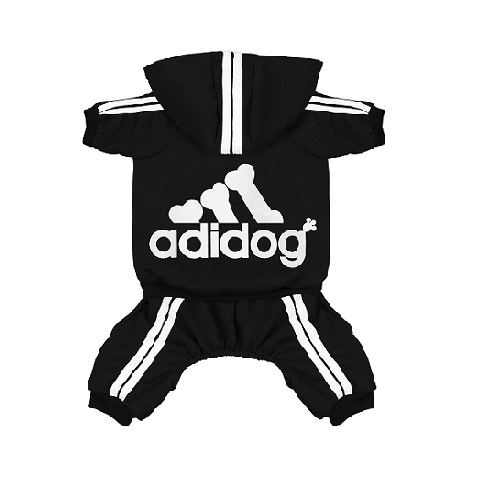 Scheppend Original Dog Winter Coat
This premium quality winter coat is designed with the latest trends and modern lifestyle to pleasing your dog from the extreme cold.
The dong winter coat from Scheppend is considered as the runner up. If you live in a place where the winters are coldest, you should consider buying this product. It will not only protect your dog from cold, but it will also keep them comfortable and warm.
This product also features a hoodie along with button closure that delivers the dog with ultimate comfort. We know that you love your pooch a lot, and for that, it is your responsibility to keep them in highest comfort. So, this cozy and comfy hoodie will keep your dog warm and happy.
Be it small dogs or large dogs, you can look out for this coat. It is available in various sizes, and amongst them, you can choose the best compatible size based on the dog size. Also, you will find this dog winter coat in various colors. You can choose the color according to the personality of your pet.
If you buy this dog coat, you will witness that your dog is pleased. One of the best features of this dog coat is that it is well-matched with a contemporary lifestyle. When it comes to washing this product, you can hand wash it with cold water. After that, you have to lay it flat to dry and voila! Your dog's winter coat is clean.
Key Features:
The double stitch of this product makes it durable
Ultra-soft dog coat will keep your dog warm
This dog coat is quite easy-to-fit
It also comes with high-quality printing
Multi colors and sizes are available
3. Best Budget – Zack & Zoey Dog Blanket Coat
Best Budget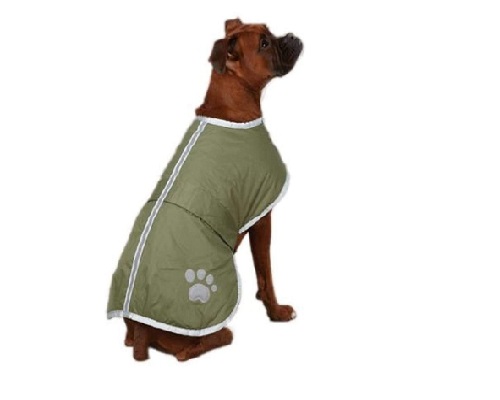 Zack & Zoey Dog Blanket Coat
If you are looking for a dog blanket coat at the most reasonable price, you can buy this soft & comfy coat to keep your dog warm.
The dog blanket by Zack & Zoey is not only an affordable coat, but it will also protect your dog from winter's bite. We have considered it as the best budget coat available for dogs. Purchasing this product can save dogs from the extreme cold.
You don't have to worry about your pocket burn if you have this dog coat. Be it rain or cold, you must stop your dog from doing its regular outdoor activities. Allow pooches to perform its activities comfortably by protecting it from cold with this dog blanket coat.
One of the impressive features is that it goes well with almost all weather conditions. It will provide an advantage to pets even in the harshest weather. Besides, you can get this dog coat in various sizes and colors.You have to choose the one that is best matched with the size and personality of your dog.
Key Features:
Reflective stripes will make your dog more visible
Velcro closures will ensure the adjustable fit
It is an easy-to-clean and machine-washable product
Made up of 100% polyester
Length of the product is 24 inches
4. Best Small Dog Winter Coat – PETCEE Waterproof Jacket
The waterproof jackets from PETCEE are the best winter coat for small dogs. The manufacturers used 100% polyester to make this jacket. And for that reason, the durability of this coat is up to the mark.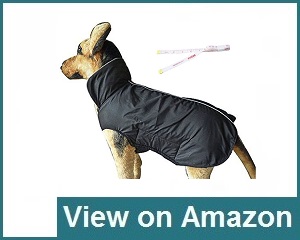 It is a quite stylish and unique jacket, and dogs can wear both outside and inside. You will get numerous color options while buying the coat. During winter or rainy days, this jacket will provide your dog with warmth and comfort.
Walking is the behavioral right of every pet. Taking them for a walk will keep them healthy and fresh. However, during the rainy days, we don't take our dogs to a walk. And that creates stress in their mind.
Therefore, to avoid that situation, you can buy this waterproof jacket. It doesn't matter how hard it is raining; this jacket will protect your dog from rainwater to get in. Also, this winter coat will protect dogs from the cold winds.
Key Features:
The jacket fabric consists of two layers
Broad Velcro Stripes make it adjustable
Fleece material will keep your dog warm
Length and chest are 20.4″ and 25.5″
Polyester surface and fleece-lined jacket
5. Best Large Dog Coat for Winter – Kurgo Jacket
This best winter coat for large dogs is an everyday dog jacket that will allow your canine friend to go for adventures. You don't have to give much effort to them wear it. Well, it has a handy zipper that makes it an easy-to-use dog jacket. Also, compared to other heavy coats, it will not overheat the dogs.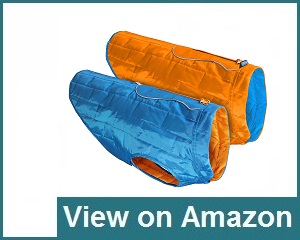 We know that during the cold days, you become a bit worried about your dog's health. However, it is time to stop worrying as you can buy this coat. It will provide the necessary heat to dogs without hampering the comfort. This reversible jacket is waterproof and lightweight.
This winter jacket for dogs made up of ripstop nylon that comprises 140g polytech fill. And that makes this product more durable. Besides, you can get this jacket in various sizes, however, it is best for large dogs. You can machine wash this jacket, which makes it an easy-to-clean up.
Key Features:
Encompasses reflective piping, helps to make the dog visible
An adjustable loop and hook make it customizable
Your dog can wear it with harness
It comes with a lifetime warranty
The makers used Fleece material
6. Best Waterproof Dog Winter Coat – MIGOHI Jacket
If you are looking for a winter coat for your pooch, then MIGOHI dog jacket is the best waterproof winter coat for dogs you will find anywhere. It is a British style reversible coat and is made from high-quality polyester and cotton that makes it a complete waterproof vest.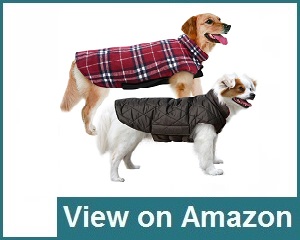 The thick polyester filling makes the coat durable to keep dogs warm in the winter. Besides, the inner soft layer provides the perfect comfort and safety to your dog to go through harsh climates.
The jacket can be worn from both side, and the Velcro closure around the belly and neck makes putting on and taking off the coat easy. The coat is lightweight, so it won't hinder your dog's activities.
The modern stripped pattern will make them look fashionable. It is available in 8 different sizes, and you will surely get the right size coat for your loving pooch.
Key Features:
High-quality polyester and cotton used for longevity
British style reversible coat can be worn both sides
Velcro closure for easy to put in and take off
Soft inner to provide comfort and warmth
Thick filling makes it windproof and waterproof
7. Best General Use Dog Winter Coat – Howstar Pet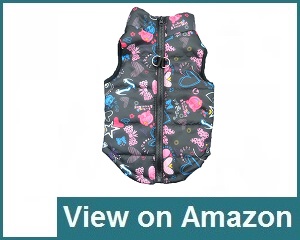 The Howstar coat is crafted with the best quality polyester that protects your dog from wind and cold. This lightweight designed coat is comfortable yet protective and allows dogs to maneuver freely. It also keeps them warm from inside. Therefore, it is a great option to choose if your dog loves to stay outdoor most of the time during winter.
Besides, the coat is equipped with two built-in hooks, which allow you to attach the leash while going for a walk with your dog. The zipper closure allows putting on the vest and taking off smoothly. It is also machine washable, that means cleaning the coat becomes effortless.
This camouflage pattern adorable and cute sleeveless vest will make dogs look more attractive and stylish. However, it is mostly preferable for small size dogs, so do check the size chart properly before buying.
Key Features:
Good quality polyester and sewing makes it durable
Lightweight and turtle neck design to provide perfect comfort
Keeps your pet warm during extreme winter
Equipped with a hook on the back to attach dog's leash
Available in multiple camouflage patterns to choose from
8. Best Cold Weather Dog Coat – DiDog Coat
If your dog hates staying indoors and loves to travel then DiDog Coat is the best cold weather dog coat you must have to protect them from cold. The coat is designed to save dogs from bone-chilling weather and keep them warm.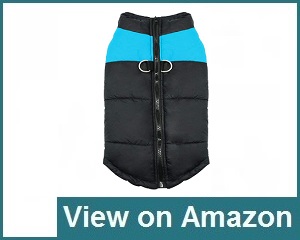 It is made from premium quality polyester material to keep the wind out, and the feather cotton lining keeps the heat locked inside. In addition, the Zipper closure and fur guard makes the coat more convenient.
You can easily put on and take off the vest without hurting your pooch. The D-ring on the back allows you to attach the leash while going out with your dog. It is also lightweight, which helps dogs to do the activities comfortably without much hassle.
It genuinely let pets enjoy outdoor games even during winter. Besides, it is available in multiple sizes, so do check the size properly before purchasing the coat.
Key Features:
Made from polyester and feather cotton lining
Convenient design zipper closure makes it easy to use
Built-in D-ring to attach leash
Lightweight to provide comfort
It is waterproof and comfortable
9. Best Winter Coat Sweater with Zipper – Gooby Jacket
Gooby Dog Coat is a stylish and convenient dog vest, which is popular among dog lovers for being the best winter coat sweater. This beautifully designed coat sweater is loved by all dogs and is made from 100% polyester for durability.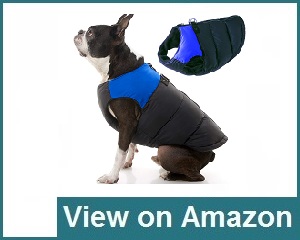 The soft padded interior allows your dog to stay outdoor in cold weather and still stay protected from cold. Besides, the outer waterproof layer safeguards your dog from snow and rain and keep them dry. It is an ideal vest for dogs to keep them warm and comfortable.
Moreover, the dog sweater is designed in such a way that it does not restrict any activity or movement of your dog. They can even pee and do potty wearing the vest without creating any mess. Also, the pain-free zipper closure with the zipper guard, makes it easy-to-use and prevents your dog from accidents or cuts.
It has D-ring on its back to hook your dog with the leash while going out. The sweater is lightweight, so your dog won't mind wearing it for a longer time. It is also machine washable for effortless cleaning.
Key Features:
High-quality material for longer use
Waterproof with thick, soft fleece inside
Zipper closure with zipper guard to avoid accidents
The sweater is cut for easy movement and activities
Leash ring attached at the back
10. Best Fleece Jacket Dog Winter Coat – Gooby
Looking for something fashionable and useful at the same time for your dog? Gooby Fleece Coat is the best fleece jacket dog winter coat you should choose for your dog.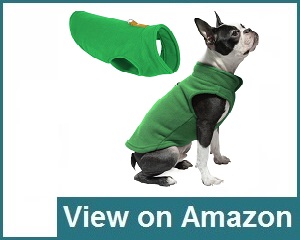 The stylish design is made from 100% polyester that makes it warm and durable. The soft fleece is great for keeping warm air inside to keep your dog comfortable and cozy during freezing winter days.
You can easily slip on and off the coat without wasting much time. It is lightweight and has big armholes so that your dog can smoothly do their activities. It has a leash ring on the back of the jacket to get your dog ready for a walk. The vest is also machine washable so that removing dirt becomes easy.
You will understand that it is not like any other jackets or coats that are found in the market. The Gooby Fleece Coat is undoubtedly the best fleece jacket. It comes in 17 different colors to choose from to make sure your dog looks the coolest.
Key Features:
Made from durable and strong polyester
Thick fleece covering to provide extra warmth
Easy slip-on and off design for hassle-free use
Leash ring on the back
Machine washable for easy-to-clean
How Do I Measure the Right Size of Dog Winter Coat?
The perfect size of a winter coat is very crucial in every sense. A coat that is loose or too tight won't provide the same comfort to your dog as it should.
Measuring your dog's size for the perfect fir of a winter coat isn't an issue at all. Take the measurements regarding the following guidelines, and you can easily pick the best fit for your dog.
Back Length: Measure the base of the neck till the base of the tail.
Chest Width: Measure the width around the body of your dog behind his arms.
Neckline: Measure around the base of your pup where the collar of the coat will sit.
With these measurements, you can get the best size of a winter coat for your dog.
Dog Winter Coat vs. Dog Jacket
Many people can confuse both for the same product. But as far as the properties are concerned, they both can have slight differences.
| # | Dog Winter Coat | Dog Jackets |
| --- | --- | --- |
| 1 | These are made specially for winters. | These can be used in any weather for a protection or a cute style compliment. |
| 2 | They are lined with different variety of fabrics and materials to provide the perfect warmth and heat insulation. | These are not specifically made for warmth and insulation. |
| 3 | They are thick and is stuffed with warmth wool or nylon. | These are just a double lined coat made from fabric of different designs. |
| 4 | Most of the types of winter coats are waterproof. | They do not usually come in waterproof variety. |
So, considering the above mentioned differences, if you are looking for a protection that saves your dog from cold and should be specially designed for winters, then you must opt for a winter coat which has all of these qualities.
Different Types of Winter Coats for Dogs
Based on the materials and styles, dog winter coats come in several designs. You should be very specific about picking the right type that suits your dog the best. The below-mentioned descriptions tell more about each type precisely.
Waterproof Winter Coats: This type is best if you want to use the coat in rainy conditions or moist and snowy weather. The material of this type doesn't retain water at all, and your pup remains dry inside.
Fleece Lined Winter Coats: This is the type having best insulation lining of fleece material. It is highly suitable for cold and dry weather.
Unlined Winter Coats: If you just want a protection against cool breeze and mild weather with a little rain protection as well, then this choice can be the perfect one for you.
Synthetic Insulation Winter Coats: This type is best for lower temperatures as it provides great warmth but is suitable only for dry snow because the material isn't very water-resistant.
Things to Consider When Buying a Dog Winter Coat
When you go for buying the perfect winter coat to protect your pooch from cold, you must consider the below described:
Size
Picking the right size is very important if you want the coat to serve its purpose well. If the coat is loose or too tight, your dog won't feel comfortable in either of these situations. So, following the tips of taking the perfect measurement which we have discussed above, you can make sure to pick the right size for your pooch.
Fit
Pick the right design according to your dog's built and physique. If your dog has a short neck, then a high collared winter coat will irritate his face when it rubs against the collar. Similarly, if your dog's right size is difficult to find then you must get a stretchable material which should fit him perfectly.
Fabric Insulation
Check the fabric to make sure it is warm enough. If the fabric isn't well insulating, heat won't get trapped and your dog can still feel cold.
Style
Winter coats come in several designs. Like, some have limb sleeves, some are extended at the back, some have hoods while some have high collar. You should select the right design and style according to your pup's body. Adult dogs with nice built can look pretty good in extended backs or winter coats which have a hood. While for smaller breeds, you should prefer a collarless design which doesn't trap their neck.
Harness Space
If you are getting a winter coat that has a collar, then must check out if it has some space for a harness. It is important to fix the harness in your dog's neck and such space can provide a nice fix for it.
Light Reflective
Some winter coats come with light reflective colors or patches that are very much visible in the dark as well. You don't want to lose your dog's sight if it's dark outside or raining too much. Such winter coats ensure the security and make them visible even in the dark.
Zippers and Velcro
Winter coats can come in straps, zippers, Velcro, or other options for tying purposes. But we recommend buying the one with Velcro as it is easier to put on and take off while the zippers can get stuck in your dog's fur and cause him pain, so for that, Velcro is a safer option.
Washability
Make sure that the winter coat you are buying can be easily washed in a washing machine. It will be easier for you to clean the coat after every use through machine washing, rather than any other cleaning option.
Benefits of Using Dog Winter Coats
There are several benefits of using winter coats for your dog which we have described below:
Extra Protection: In cold breeze or snow, your dog can feel less secure. And it is your job to make sure he is comfortable and confident wherever he goes. So, with a winter coat, your dog feels protected, secure and can be the same, real, playful self.
Warmth and Comfort: Even if you use heater in your house during winters, dogs can go out or sneak around in the background. You cannot keep your pooch chained if it's cold outside. A better alternative is to let him play outside even while it's snowing with a winter coat on him. This will ensure his comfort and provide him warmth.
Prevents Cold Illnesses: Even if your dog is a healthy adult, he still needs a protection from cold. No natural coat or fat deposit can save your dog from catching cold illnesses. So, to make sure that doesn't happen, make it a habit of using winter coat for your pup.
Best for Old Aged Dogs: Other than the adults, old dogs are much weaker and can easily get affected from cold or any seasonal illness. To make sure of your dog's health, give him an extra protection against the weather in the form of a winter coat.
Some Important Tips
If you are going to use a winter coat for your dog in the winters, there are a few things/tips which you must take a look at for better management while use.
Make sure the material doesn't retain water. Or else your dog can get sick if he is wrapped to a wet coat for long.
Make sure you wash it often after every use for no chances of contamination.
Let your dog be out of the coat for a while near heater and enjoy his skin.
Don't make your dog wear it if he is too irritable in it or doesn't feel comfortable. Find out what is wrong with the product material or fit, then try again.
Avoid any winter coat with buttons or zippers. The buttons if swallowed can choke your pup and the zippers may get stuck in his fur causing pain.
Conclusion
With these tips and points of consideration, you can easily pick a right winter coat for your dog's safety in the coming cold season. Just make sure to look for the most comfortable yet effective style in the best budget and perfect fit.
Frequently Asked Question
What is dog winter coats?
A dog winter coat is an external protective coat which makes your dog feel warm even in low temperature. The material of such coats in warm and insulating. It makes sure your dog can still go out and play even if it's raining or snowing outside.
Who should buy dog winter coats?
Generally, people you have smaller dog breeds who are thin and do not have much body fat composition are suggested to buy this winter coat. This product can protect your dog from getting cold or falling ill due to low temperature in the surroundings.
Do dogs really need winter coats?
If you live in an area where the weather is mostly cold or it rains or snows a lot, then your dog definitely needs a winter coat just like you need a sweater. For much lower temperatures, the dog fur isn't enough to provide warmth and insulation, hence the canines need an extra protection in such cases.
How cold is too cold for a dog?
Generally, if the temperature is down below 7 degree Celsius, it is quite cold for dogs who are not much used to the cold weather. And even if your breed can resist lower temperatures, a 0 degree Celsius is an alarm for a winter coat.
At what temperature does a dog need a coat?
Almost all dog breeds cannot resist temperature below 45F. Even if the dogs have been raised in a cold weather, they still need a winter coat if the temperature drops below this point.
Should I train my dog to wear a winter coat?
Yes, it is highly recommended that you train your dog from infancy to wear a winter coat if you live in colder regions. For more guidance regarding how to train, do have a look at the section "How do I train my dog to wear a winter coat".
What is the best winter coat for large dogs?
Kurgo Loft Jacket is the best water-resistant and light weighted winter jacket. Your dog can also wear it inside out to have a different color. The product is available in different sizes and an be worn with a harness. The material is reflective for being visible even in the dark. Also, the amazing part is that this coat comes with a lifetime worry-free warranty. What else can you ask for?
Which fabric is good for dog winter coats?
A fabric made of insulated polyester having fleece lining is considered the best overall. Other cotton, wool or synthetic materials can also prove to be good as long as they are serving their purpose well.