If you're the proud owner of an adventurous pet, an electronic dog door can be the best way to allow your pet for secure access to the outside of the home without your physical existence. High-Quality doors come with all unique features including easy setup, weatherproof structure, impact-resistant telescopic frame, heavy-duty flaps, sliding panel, magnetic closure and so on.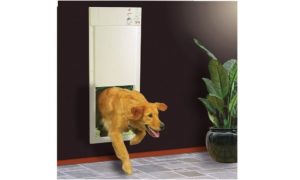 Nowadays, microchip dog doors are also available to work with a wide range of area. It is very secure, connects only recognized pet ID for proper access. Here, we have reviewed the top 10 electronic doors for dogs including sliding glass and electronic microchip.
Our team of experts even recommend models for cats that offer cost-effective solutions for small dogs. So, to make your best decision to read all product reviews with helpful buying guide we put together about the best electronic dog doors.
Best Electronic Dog Door in 2021 – Reviews
1. Our Top Pick – PetSafe Electronic Dog Door
Top Pick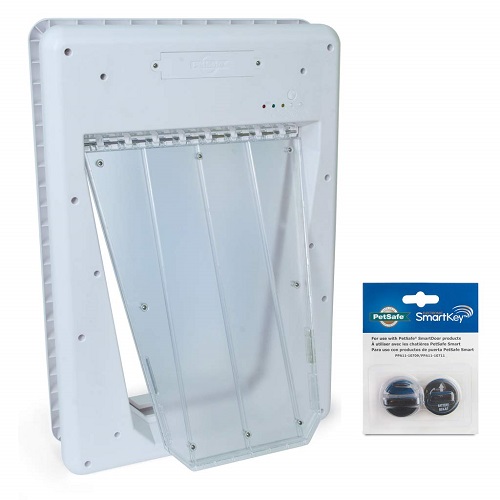 PetSafe Electronic SmartDoor Dog and Cat
It offers 3 programmable modes: automatic, locked and unlocked, collar activated with smart key
PetSafe's Electronic SmartDoor is one of the most popular items you can buy online. It is easy to install; offers automated access for your pooch and comes with everything you need to operate. This package provides you the SmartKey pet tag which allows your pet special access to this entry and exit portal.
It comes with completely programmable functions which use radio-frequency technology and provides selective entering and existing facilities with automatic locking functionality. It can also read all distinctive signals of SmartKey which worn on the pet's collar and activates the battery power-driven flap to unlock.
The good thing is that this can be installed on any door whatever its thickness or length. If it is unusually thick, you can purchase tunnel extensions for better adjustment. Since the door is battery operated, so you don't need to worry about increasing your electric consumption. It is also available as a wall installation kit to enhance your interest.
Many pet proprietors looking to buy this model as their first choice due to its low price, double size options, and available install kit. It offers multiple size options which allow you to accommodate any pet. There are five keys includes with the door which makes it enough easier for every pet. Due to its flexible design, you can install it both inside and outside.
Key Features:
Programmable for up to 5 pets
Radio frequencies connect with LED light indicators
Weatherproof and 5 smart keys tags available
Allows automated access of your pets
Convenient for dogs and their owners
Battery operated and power-consuming
2. Runner Up – PetSafe Wall Entry Pet Door
Runner Up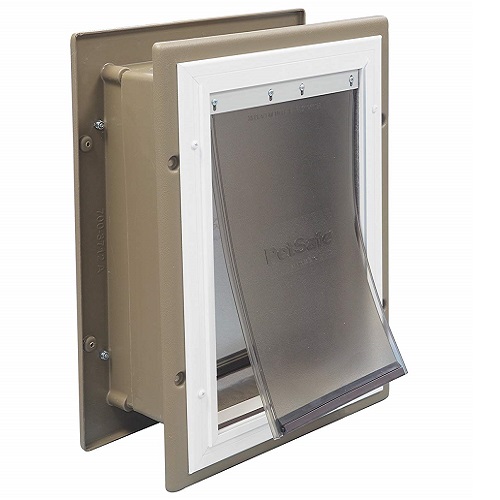 PetSafe Wall Entry Pet Door for Dogs and Cats
It allows your pet to enter and exit effortlessly, without facing trouble of frequently opening the door
The name says, this door is aluminum and very effective solution for your pet needs. We have listed it as our runner up which allows dogs to go in and out without continuously having to open it. The double-flap design features double replaceable flaps those eliminate the severe effects of weather and present high energy efficiency. The used frame is made by strong and durable aluminum ensures long-term using.
This PetSafe door is specially designed for wall installation and easily can be installed in either interior or exterior. So, place this item anywhere you have a free inside or outside wall area or at the garage, kitchen, mudroom or anywhere. Here the double flap construction with strong magnets confirms outstanding insulation factor. Moreover, the durable aluminum frame and non-rusting locking closing panel also give your dog the freedom it deserves.
PetSafe Wall Entry is a cheap, decent and secure product in the market and available in small, medium and large-sized. Here the telescopic tunnel system sandwiches the wall and the double-flap system create a chamber that holds the cold weather instead of directly allowing inside the home. It allows using two locking panels to ensure complete protection and safety.
The installation is very easy but requires some carving knowledge as you need to cut a wall opening. In this case, you should choose a safe area on the wall without any pipes or wires. You need proper tools like a drill, cutting device, drywall saw and similar others for cutting the wall and mounting the unit. The telescoping door allows 4.75 inches to 7.25 inches thick wall for installation. Overall it is a wonderful product within the lower price range but provide the best output.
Key Features:
Strong and durable aluminum frame
Telescoping tunnel fits 4.75 in. – 7.25 in wall thickness
Available two replaceable flaps provide sufficient energy efficiency
Easy installation process
Recommended for pets up to 40 lb
3. Best Budget – BarksBar Original Plastic Door
Best Budget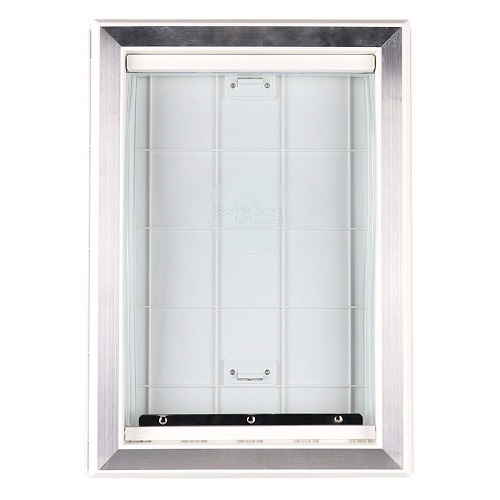 BarksBar Original Plastic Dog Door
Most inexpensive dog door made of aluminum and plastic but sturdy enough to last a long time
Though we have recommended the BarksBar as budget-friendly but considering quality it comes with all top-rated materials with luxury convenient. This premium model keeps your pet healthy and active without having to open it ever again. It's smooth, glossy and no option about crawling and flying insects. The magnetic closing system helps to firmly keep the door shut.
This medium-sized item can handle pets up to 100lbs with quick and easy access. It is also quick and easy to install within around 25 minutes and fully functional. The self-locking panel offers extra protection against the weather. The flaps and frame both are durable and the metal construction on all four sides reinforce its strength and longevity.
The locking mechanism is also a legal point of consideration. The magnet flap automatically swings back and lock the door and the flap materials are also strong enough for repeated use. This is good for pet owners who are not handy and just want an easy system for pet.
It is one of the best features considering the low price. The stylish design match with any home decor and the weatherproof construction protects from wind, rain, water, and ice. It will not wrap very soon even under extreme temperature.
The plastic and aluminum lining ensure better durability. It is more affordable compared to other products on the market. So, it will my top recommendation if you are looking for the best on a budget.
Key Features:
Very strong and durable despite its cheap price range
Designed with thermoplastic with aluminum lining
Offers proper lining with its soft and flexible vinyl flaps
Available draught-proofing magnetic flap
Durable design and suitable for dogs up to 100lbs
Flap Size: Height: 11.25″ – 15″, Width: 7″-10.5″
Great value for money
4. Best Automatic Electronic Dog Door – Solo Pet Door
The solo automatic electronic door is extra-large in size and ideal for large dogs come in 10 different sizes. It is completely automatic and manufactured in the USA by maintaining the highest quality for over 25 years. It is absolutely safe for your pet because it closes slowly using only gravity. It also keeps your mind in peace when you stay outside because there is no chance to invade your home unwanted intruders.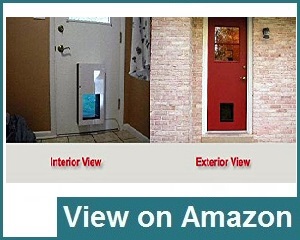 This large size will release you from opening and closing issues to your dog. It becomes locked securely in the closed position for ensuring extra security. An available pet tag sensor helps to activate the pet door attach to the pet's collar without any batteries. As it comes with 10 various sizes, so fit for the smallest to largest pets.
This high-tech model is fully functional and when it senses the pet tag the motor turns an elevator that winds up the cord. Same time the steel locking pin withdraws and the door highs up for the dog to pass. Again, when it needs to come down, definitely it unwinds from this pulley without any downward force. It is triggered by a magnet and it is very inexpensive if lost.
Additionally, It comes with a one-year warranty from the date of purchasing. If you detect any manufacturer's defects within the warranty period, they must replace your purchase without any charge. You may return your total investment within 30 days if they fail for a proper replacement. This door reduces accidents and helps to prevent long-term problems like bladder infections and UTIs. Pet proprietors also become tension-free and happy to use the product regularly.
Key Features:
Fully automatic for dogs and cats opens and closes on its own
Prevents intruders from accessing your home
Available in 10 different sizes for your easy selection
Triggered by a magnet and no batteries required
Easy to install, very safe and gentle
One-year warranty from the date of the purchasing
5. Best Electronic Doors for Larger Dogs – PlexiDor
Plexidor is the best for large dogs ensures the ultimate convenience and security. It is constructed with all strong, safe and energy-efficient materials provide you total freedom. Like others, it also allows your dog to go outside as needed and makes your dog happy and healthy.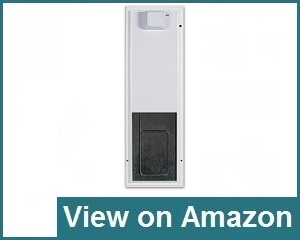 The Plexidor uses Radio-frequency identification (RFID) technology, where the sensor reads the pre-programmed code to automatic open and close the device. It can detect your pet and allow solely but keep other animals outside. You can control the time how long the sliding door will remain open or close smoothly.
The composite panel moves like a mini electronic garage and acts as a security when not using. The waterproof collar key weighs only 0.4 ounces and sets onto the dog's collar. It is easier to set the program for using and provides years of pleasure for both your family and pet. This large electronic door allows pets up to 125 pounds and safe even when you have babies around.
This model is extremely energy efficient saves up to 10% of the energy bill and a good choice if you can overlook the price tag. It is directly wired through your electrical system which makes the door durable and safe. Finally, you will get 5 years of limited residential warranty for this Plexidor and it is genuinely manufactured in the USA.
Key Features:
Uses Radio Frequency Identification (RFID) technology with auto-lock
Made with very secure and durable materials
The composite panel automatically opens and closes
No batteries required
Made in the USA with 5 years warranty
It can weigh up to 125 pounds for dogs and all cats
6. Best Secure Electronic Dog Door – SureFlap
SureFlap ensures optimum security and comes with a microchip and more suitable for small dogs and large cats. The Radio Frequency Identification works to read your pet's entrenched ID microchip and allows for access. The microchip is compatible with all common types like 9, 10 or 15 digits.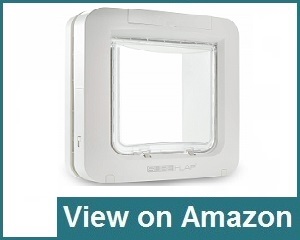 You can install it on walls with all available accessories. This SureFlap uses 4 C non-rechargeable alkaline batteries for 12 months estimated life. The low battery indicator flashes red when comes in low. Finally, SureFlap door would be a great gift for small dog breeds.
Key Features:
Making safe spaces for homes for their pets
The microchip sets on the exterior only
Manual lock prevents your pet from leaving or entering into the house
It can store up to 32 pet identities in memory.
Three years warranty
7. Best Dog Door for Sliding Glass – PetSafe Freedom Aluminum
Petsafe Freedom is the best sliding glass door and it is easy to quick-install. It is not necessary to cut the walls or doors for its proper setup. In this case, you have to find out the perfect size according to your dog and room with a suitable color.
The colored flexible flap uses a magnetic closure to keep your room cold and heats the outside of the room. You can securely control the slide-in closing panel and maintain your pet's access to the outside of the door. This sliding glass is absolute for apartments where you can easily move it with you.
It is made with weather-resistant aluminum ad shatter-resistant tempered glass. It also ensures optimum security for your pets and keeps them happy and healthy.
Key Features:
Energy-efficient, strong and durable
Allows pet proprietors to control their pet's access
Easily move on and re-install
Available variety of color and sizes
Guaranteed quality
8. Best Electronic Door for Medium to Large Breeds – High Tech Pet
The motor-driven power pet doors activated by MS-4 ultrasonic collar and best for medium to large dog breeds. It comes with a directional sensing system that helps to open the door only when the pet is on a direct approach. There are 4 available ways to access the control like you can select from In Only, Out Only, Full Access or Closed & Locked.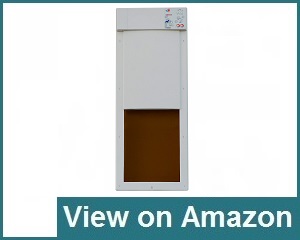 This High-Tech model features a translucent, bulletproof, super-strength panel for optimum security. The air-tight panel quickly moves on upward when your pet approaches. The panel does not swing out but completely mounted for air-tight closure. The mounting arrangement prevents intruders to kick out the door.
Key Features:
Totally wind and weather-proof
Comes with the air-tight sealing system
Available optional backup battery
Contain multi-functional collar for X-10 dog fence system
Suitable for pets up to 100lbs
9. Best Electronic Door for Small Dogs – Dog Mate
Dog Mate Electronic Door is best suited for small dogs and cats. It comes with stylish design allows easy access for your pets. It has a safe and secure 4-way locking mechanism that completely controls your dog's movement.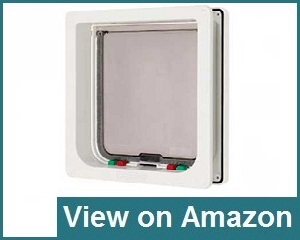 Undoubtedly it is budget-friendly and very easy to install. It also offers strong and sturdy locks to control your pet's movement. Like others, it is very simple to install and operate. Otherwise, it contributes to maintain the temperature inside your home and restrict the access of germs and water.
Key Features:
Comes with 4-way locking system and control pet's movement
Allows pets up to 14-inch shoulder height
Ideal as all doors and thin panels
Very quick and easy to install
Very affordable pricing
10. Best Electronic Door Collar Key – PlexiDor Key
PlexiDor Electronic Collar Key comes with the art RFID technology where the sensor reads the code to automatically open and close only for pets equipped with a pre-programmed collar key. All unauthorized pets are not allowed to access through this door. The PDE units come with double collar keys.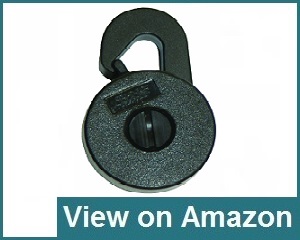 The collar key is completely waterproof and weighs just 0.4 ounces. This model can adjust to control how long the panel remains open or close. It is easier to program and use thoroughly. PlexiDor comes with 5 years warranty and offers a 90-day money-back guarantee for any defects.
Key Features:
Designed with the aluminum tunnel that joins both interior and exterior frame
Wall units can be installed up to 12 inches thick walls
Ensures maximum energy efficiency
Manufactured in the USA
Offers 5-Year warranty
Weighs dogs up to 125lb
No batteries needed
Things to Consider When Choosing an Electronic Dog Door
Some special features like easy setup, used materials, safety, microchip identification, and similar others. Poor quality products may compromise the security and insulation of your home. So, to make the right choice, here we discussed some essential considerations.
Size of the Dog
The right size of your pooch is the most important things you should consider. You should provide sufficient space for your dog to pass through the door without any trouble. So, it is vital to measure your dog's proper size so that you can offer more passageway for easy movements.
Ideally, the height should be at least 2 inches higher than the level of the dog's shoulders. So, if you have multiple pets, then measure your tallest pooch before fixing the size. For width measurement, again consider 2 inches to the dog's width at the shoulder or the hips. Additionally, for a growing puppy consider the growth of your pooch and imagine how much it becomes reach. Finally, buy a door that is closest to your dog's ideal size.
Construction Material
Most of the doors are made of varying materials like aluminum or plastic. Generally, aluminum products are durable and long-lasting, although some premium plastics are also adequately strong. Manual doors have a simple flap opening system, though many come with multiple flaps your dog needs to push through the flaps when wants to pass through the door. These types come with a manual lock and you need to activate it manually when your dog go out or come into the house.
On the other hand, electronic dog collars automatically lock and unlocks through the smart key. There are few separate smart keys can be attached to the collar and allow for the great control over pets to access. Some models allow you to set curfew times for automatic locks at times when you are not willing to let your dog go outside.
Security
Security is another vital consideration for both pet and humans. In this case, the majority of the dog gates are too small for a human to fit through. The serious thing is to ensure that, someone can't put their hand through the flap to find a key.
The soundless installation would be a good idea when it comes to home security. For children's security, you should activate the lock to prevent them from getting outside. It is quite important if you have a pool, stairs or open garden. You should also ensure the prevention of local wildlife from entering.
So, you may agree that dog doors come with a range of security features, some have just simple flap and no locking mechanism. On the other hand, others have locks with sliding panels. As we think, these devices only open and close when pets come with unlocking collar.
Installation
Installation is quite simple and even you don't need to be a professional to do it. Normally dogs are designed to install in a regular process but some dogs are special for exterior walls. These are telescopic, need to adjust with the wall width and comes with sliding glass and windows.
So, you should consider what is the right option for you because it is really important to consider the installation type regarding your accommodation. Wall doors are becoming popular day by day, but it required to cut the wall to set this and need to call a professional. Sliding glass doors or windows are probably the best options if you are not willing to create a hole in the wall.
Energy Efficiency
It is one of the major considerations for pet owners who have got this opportunity with increased energy costs. It should avoid installing all poor energy-efficient doors due to allowing more cold air into the room and generating a higher energy bill.
So, you should check the overall construction of the electric dog and confirm it is well-protected and gins a proper seal on the frame to stop warm or cold air to entering your home from outside. Sometimes multiple insulated flaps create an air pocket between the outdoor and home also cause of energy efficiency.
Now, some electric doors also feature extra convenience to improve energy efficiency. They come with magnetic flaps, and secure lock can also be helpful for improving energy. So, it is also important to choose one with energy efficiency.
How Does an Electronic Dog Door Works?
Basically, electronic dog doors work in the same way as the automatic garage. Technically, these are operated by making communication between the two sensors on the door and your dog's collar. When the sensor receives signals from the transmitter of the doggie collar, this mechanism allows your pooch to either enter or exit through the passageway. There are different types of devices newly added with the system and here we will try to give you a brief explanation about some of them.
Microchip: Microchip technology sets with the collar which is worn by your dog to operate the door. When the pet with microchip comes near to the electronic door, it unlocks automatically. Some dog doors have a built-in microchip in it which you can add with the existing dog's collar. There are huge advantages include with a microchip or smart key system mostly prevent access to unauthorized animals.
Direct Sensing System: It is not necessary to unlock the door every time. This system helps to open or close the door when the dog simply walks to the door. You can also modify the access control and fixed when and how the dog should use the door. For applying the limit, the door doesn't allow your dog in or out normally and the door won't open from the outside to keep your dog at the inside.
Remote Control:It makes easier to access the door within a large range of area even from the other side of the house. You can also set a timer so that the dog can only access the door when you want. To prevent your dog from barking outside in the midnight, you can lock the door during night hours.
Magnet: There are two available types of collar mainly works on the principle of magnetism. The first one normally pulls a lever within the door to control the access of the door. It doesn't need any battery power to run the magnet. The other type comes with a mechanism in the door which creates a magnetic field by the collar key. Though it is a sensor need batteries to run.
Ultrasonic Waves

: These microchips use high-frequency volume to make communication with the sensor of the door. Through this technology, you can simply adjust the sensitivity of the signals. Devices, those are highly sensitive produce ultrasonic signals and cover large distance whereas lowest possible settings cover a shorter distance. Generally, these come in waterproof versions and require batteries to operate.
RFID Signals: Radio Frequency Identification signals are the newest technology senses the presence of RFID-embedded devices within a particular electromagnetic field. In this case, a sensor on the door detects the signal coming from the dog's collar. These signals can be the form of radiofrequency works within the magnetic field formed by the collar. So, RFID is the most preferred methods of allowing pooches since only those have authentic RFID information.
Common Benefits of Electric Dog Doors
Dog door installation is the preliminary step of dog owners. Normally, it seems that door are nothing more than easy passageways for our pets. But these come with a number of advantages to doing so. Here we will try to include some of them.
Provide More Comfort to Your Dog

: If your pet feels pressure for urinating, it can be too much uncomfortable for him to hold it. In this case, if you stay out at work, your pooch will have to hold it off until you come back at home. A door always helps your dog to go to the toilet as its own necessary (a pet camera may also helpful). Additionally, a door provides your dog with authentic access and optimum security to come in or go out of the room for any outside activities.
More Opportunities for Playing, Exercising and Mental Stimulation

: Free access through the door means more playtime, exercise, gaming, and entertainment for your pooch. It can provide efficient mental relaxation to your pet by allowing at the outside world throughout the day. It is also important to ensure that, your yard or garden is completely secured for your pet moving. Even you can also pass your leisure with them and allow them for running, jumping or whatever they like to do.
Reduce the Possibility of Accidents

: When your beloved pet strays from home, it can be shocking for both of you. Primarily, quality dog crates can help to ensure your dog's security but sometimes it may cause of few behavioral problems of your dogs. Modern electronic doors can release you from these incompatibilities. When pooches don't have anyone to play inside the home, let them go to enjoy the outside world.
Save time and diminish anxiety

: In reality, you are not the doorman to your pooch. It is not only your duty to open and close the door for your dog's access. It can make the task easy by giving them access to the outdoors even while you sleep or stay outside. So, it brings superb convenience for you and saves time.
Final Verdict
The electronic door is an outstanding collection for a dog owner who has a proper fencing system around the yard. It saves time because most of them prevent your dog to go outside when you leave your home for the day. Even if you are at home, it also needs to make sure a well-security so that you feel free for the dog when he moves around the boundary side.
Modern electronic doors come with a microchip and can detect dogs within a certain range of area. Sliding glass models are appreciated for their simple installation and these do not require to cut out anything from the doors or walls. So, purchase the most suitable electronic door regarding your budget, accommodation, pet size and behavior to ensure safe and happy living.
Frequently Asked Questions
What is the electronic dog door?
An electronic door allows your dog to go in and out without your concern. It helps to protect unauthorized animals to access with your fur friends.
What is the best secure electronic dog door?
The SureFlap Microchip Pet Door is the best secure for dogs works with your pet's existing microchip. The radiofrequency works to identify your pet's entrenched ID and allows for access. It is suitable for small dogs and can be installed into doors, glass and walls.
What is the best automatic electronic dog door?
There are some models completely automatic in design. These are totally safe because of no more opening and closing for your pets. An automatic dog door will free you from being a doorman for your pet.
What is the best electronic dog door for large dogs?
The PlexiDor Performance Pet Door is the best for large dogs. It is strong, safe and designed with energy-efficient materials provide your dog enough security and ensure a healthy and happy life.
What size dog door do I need for a golden retriever?
You need a large dog door for a golden retriever which has an opening of 11 3/4 x 16 inches and capable to contain up to 100 pounds. This size is also comfortable for some other breeds like Labradors, Collies, German Shepherds, and Dobermans.
How to install an electronic dog door?
The installation process may vary, based on the specific model. Such as, sliding glass doors never require to cut the walls like others for installation. So, it is vital to measure your dog's size before finalizing the door.
How does an electric dog door work?
There are different mechanisms for separate models. Normally, you can set a timer so that only your dog receives the permission to go out to the backyard or come into the room without your existence. Other doors also come with a microchip for authentic detection.
How many basic types of dog doors?
There are two types and these are:
Regular doors

: Usually, these are cheaper and have an opportunity of accessing unauthorized animals with your pet.

Electronic doors

: These are quite expensive but only allow authorized dogs.
Does a dog door safe for home?
Most of the door come with a lock or sliding facilities to ensure security. You can also set this where only your dog can get permission to access it. So, electric dog doors are highly secure for both your presence or absence.
How do I teach my dog to use an electric dog door?
At first flap off the door, then offer your dog some treats in hand and push him. When you will find he is on the other side, congratulate him and deliver him the treat. Otherwise, you can call him from the opposite side of the door to cross it.
Can other animals come in electronic dog door?
You can set a timer that your dog only gets access to use the door during your working time. There are also some models to identify your dog with a tracking ID through a microchip. So, other animals aren't granted easy access through the door.
Sources: