Why should you choose a flea shampoo for dogs? Many people use home remedies such as dishwashing soap and vinegar emulsions for bathing their dogs. Such home tips can be useful to some extent in cleaning, but as a killer for pests and fleas? Not very practical, right? No matter how much you love your dog, you would never hug him or let him sit or sleep with you if he has ticks and fleas infested in his fur.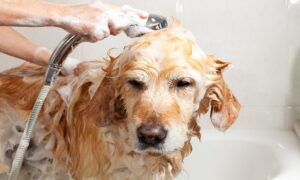 For that reason, we highly recommend a dog flea shampoo that is specially medicated to get rid of any pests in your dog's fur. It also cleanses and makes your dog smell good. This is not only essential for you but your dog as well. Fleas or pests cause him pain and itches, which you'll clearly notice with his altered behavior and anxiousness.
But if you are supposed to get one of these, then which one? That's the main question. Don't worry as we've got you all covered. After a lot of research and short-listing, we've come up with the best buying guide for you and 10 best flea shampoo for dogs for your convenient choice making.
Best Flea Shampoos for Dogs in 2021 – Reviews
1. Our Top Pick – Adams Plus Flea & Tick Dog Shampoo
Top Pick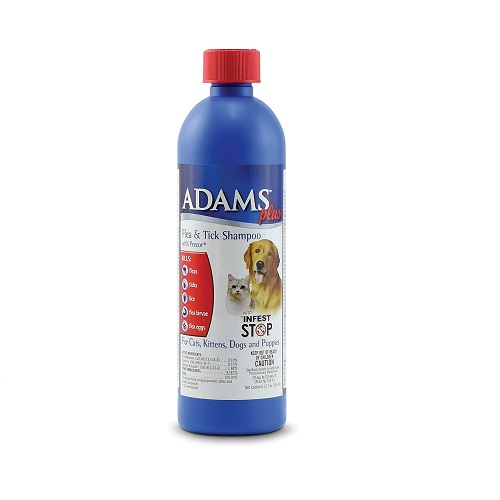 Adams Plus Flea & Tick Dog Shampoo
A complete cleanser for all pets above three months: kills flea, lice, and tick, stops infestations, gentle on skin.
Adams Plus Flea & Tick shampoo has a strong formulation that kills flea, lice, and tick from the first wash. The primary ingredient is an insect growth regulator that kills fleas and ensures that the eggs do not hatch for twenty eight days.
Infestations can be itchy to the point of infections breaking out as a result of constant scratching. In addition to great discomfort, infestations can be painful. But not anymore, this powerful cleanser with active ingredients provides instant relief from the first wash. It kills all adult fleas, ticks, lice and safeguards against further infestations.
Most flea and tick treatments expose the pet to harsh and harmful chemicals. Strong insecticides can cause great harm to sensitive skin and even cause infections. The shampoo from the house of Adams has a balanced composition that is hard on the parasites but easy on the skin.
With the goodness of Aloe, coconut, and oatmeal extracts coupled with lanolin the cleanser is also an effective conditioner. It keeps the skin healthy and provides instant relief from itching and safeguards against scratching. It has a pleasant smell and keeps your pet smelling good.
With a strong formulation, this not only helps to stops but also prevents future infestation. It is easy on the skin and doubles as a conditioner.
Key Features:
Contains insect growth regulator that prevents growth of parasites at all life stages
Strong chemical composition kills lice, fleas, and ticks from the first wash
Is gentle on the skin and is an effective conditioner
Has a pleasant smell that acts as a deodorizer
Simple application and cleansing procedure
2. Runner Up – Antifungal Dog Flea Shampoo
Runner Up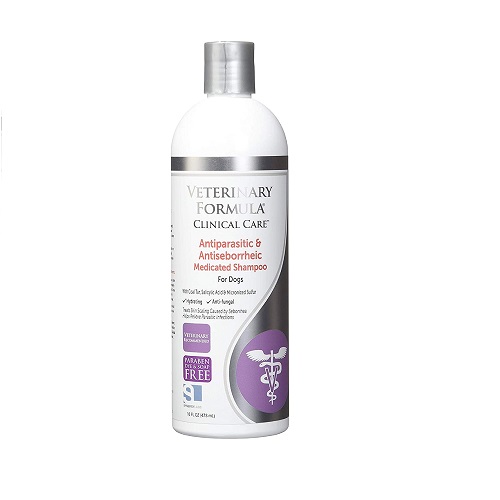 Antifungal Dog Flea Shampoo
An antiparasitic and antiseborrheic pet shampoo providing effective skin treatment during parasitic infestations.
Veterinary is an antifungal pet shampoo that provides instant relief during parasitic and bacterial infections. This fast-acting cleanser is antiparasitic, antiseborrheic and antifungal that can effectively treat inflamed, greasy, waxy, and flaky skin. It is also effective against rashes and can treat red skin, bald spots with other symptoms related to dermatitis.
The vet approved formulation provides treatment against Seborrhea, Mange, and Dermatitis, thus treating inflamed scalp, rashes, hair fall, itching, greasy, waxy, red, and thick-crusted skin. The shampoo can be effective against hot spots, foul odor, and ear infections.
The vet approved composition has some powerful medications like coal tar, micronized Sulphur, and salicylic acid to treat stubborn parasitic, and bacterial skin infections. The composition is balanced with equally skin soothing ingredients like colloidal oatmeal extracts and allantoin to soothe the infected skin.
Additionally, the composition is soap, dye, Paraben-free and unlike most flea, tick and live treatments keep the skin hydrated. The pet cleanser can be also used during other flea and skin treatments.
This is one of the most effective and powerful vet-approved medicated pet shampoo for all pets over twelve weeks. It is fast-acting and provides instant relief from painful and messy skin conditions due to bacterial, fungal, and parasitic infections.
It is skin friendly and is made for frequent usage. This antifungal shampoo could have made it to the top of this list, but for the lack of potency to kill fleas, ticks, and lice, it is the runner-up.
Key Features:
Treats almost all fungal, bacterial and parasitic skin infections
Freeform dye, soap and Paraben thus keeps the skin hydrated for long
Fast acting formula provides instant relief from most skin ailments
Skin friendly and can be used frequently
Can also be used during other skin treatments
3. Best Budget – Sentry Dog Flea Shampoo
Best Budget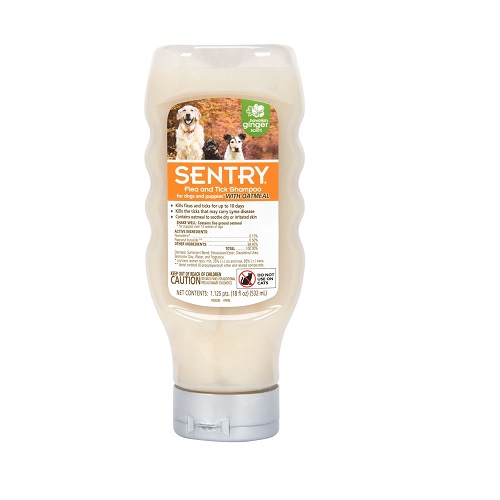 Sentry Dog Flea Shampoo
An affordable pet cleanser for pets with flea and tick infestations.
Sentry Flea cleanser is a powerful pet shampoo for pets over twelve weeks. It kills, cleanses and deodorizes and is also an effective conditioner. The strong formulation is perfectly balanced with the right combination of flea killing chemicals and natural extracts. It effectively kills matured and under matured tropical fleas instantly and is effective for up to ten days.
The Permethrin and Piperonyl butoxide are potent killers and have a long-lasting effect on the skin. The natural oatmeal extract coupled with Glucamate LT and other ingredients soothes the infected skin and conditions the hair. Thus, it is strong on the parasites but light on the skin.
The pet cleanser in addition to killing fleas, cleansing the skin and conditioning the fur is an effective deodorizer. Unlike other medicated flea and tick treatments that smell weird, the shampoo has a Hawaiian Ginger scent added to the composition. It keeps the pet smelling fresh and fights pet odor.
With the right balance of strong insecticide, soothing oatmeal extracts and a pleasant scent, it kills, cleanses, conditions and deodorizes. While most flea and tick treatments are expensive and with additional visits to the vet can burn a hole in your pockets the Sentry Shampoo is surprisingly effective, long-lasting and affordable, making it the best budget on the list.
Key Features:
Kills topical flea instantly
It has a long-lasting effect on the skin and works for up to ten days
It is light on the skin and has a soothing effect
Triples as a conditioner and deodorizer
Affordable and comes in an eighteen-ounce bottle
4. Best Flea Shampoo for Puppies – Arava Dead Sea Pet Spa
Arava Dead Sea Pet Spa most flea, tick and lice treatments contain strong chemicals. Thus, most flea and tick shampoos are for pets above twelve weeks. In case of infestations in younger pets, the remedy is hard to come by. But not anymore, for Arava flea and tick shampoo is an effective cleanser for pets below twelve weeks.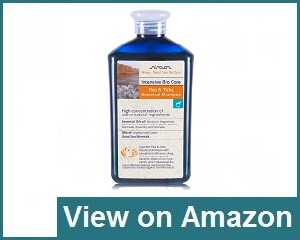 The young pet cleanser has a completely natural formulation and is an effective remedy against most parasites and insects. It is free from all strong and harmful chemicals and is perfect for the sensitive skin, coat and fur of your young pet.
With twenty six rich minerals straight from the Dead sea and essential oils from eleven herbs, the natural cleanser fights flea and parasitic infections, nourishes the skin and keeps the young one smelling fresh.
With the goodness of cinnamon, lemongrass, clove, peppermint, thyme and other natural herbs, it provides the best remedy against parasitic infestation in young pets.
Arava Spa is an effective cleanser that safeguards your young pet against insects and parasites, without any strong chemical. The natural minerals and essential oils get rid of almost all insects and parasites while nourishing the skin and fur. It promotes a healthy coat and the natural herbal aroma keeps the pet smelling fresh.
Key Features:
Natural ingredients, free of all strong and harmful chemicals
Easy on the skin, hydrates and nourishes fur and coat
Contains essential oils from natural herbs along with minerals with medicinal properties
Four natural scents to choose from
Comes with a thirty-day risk-free guarantee
5. Best Flea Shampoo for Dogs with Sensitive Skin – Maple Holistics
Maple Holistics is an all-natural cleanser. The 100% natural formulation treats fleas, hydrates dry skin, conditions and nourishes your pet's sensitive skin. Without any harsh and harmful chemicals, the natural ingredients clean, moisturizes, revitalizes and deodorizes your pet.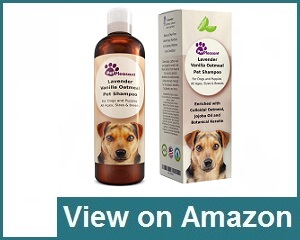 The active ingredients: Lavender, Jojoba and Oatmeal extracts are the richest source of antioxidants and have antibacterial properties. They soothe the skin, nourishes and revitalizes the skin, fur and coat.
The best colloidal oatmeal extracts a great cleanser and can easily clean oil, impurities, dirt and other topical insects and parasites. The extract is gentle on even the most sensitive dry skin and provides great relief for pets with itchy skin.
The shampoo in addition to effective cleaning pets with sensitive skin and safeguarding them against fleas, dry skin and itchiness, nourishes and revitalizes. The antioxidants present in the natural ingredients help replenish the oxygen levels and the absence of soap and strong chemicals helps to keep the skin hydrated.
The natural cleanser also fights pet odor with its natural aroma. It keeps your pet fresh and smelling good. With nourishing and revitalizing properties, in addition to being an effective and gentle cleanser and deodorizer, this is from Maple Holistics is the best dog flea shampoo with sensitive skin.
Key Features:
Free of all harsh and harmful chemicals
Can be used in pets with the most sensitive or dry skin
It is an effective cleanser and a deodorizer
It helps to revitalize and keeps the skin hydrated
Can Be used in pets of all ages and sizes
6. Best Natural Flea Shampoo for Dogs – Wondercide
Wondercide pet cleanser is an all-natural shampoo bar, that kills fleas, cleanses the skin and deodorizes. The unique solid formulation has all-natural ingredients that can kill topical flea at all life stages, easily cleanse dirt, oil and other impurities, has a soothing effect on infected skin and keeps the skin hydrated.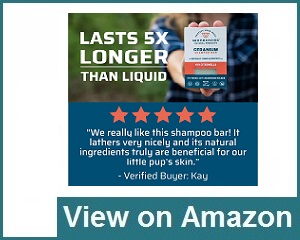 While Geranium oil kills fleas, Citronella oil helps in killing pests and fights pet odor. The solid bar lathers with the goodness of coconut oil and the antioxidants of honey and Aloe Vera revitalize the skin. Natural source of vitamin C, Tocopherol helps fight the common skin ailments.
While most flea and tick treatments use strong chemicals, insect growth regulators to kill pests and fight infestations, this shampoo bar is truly natural. The natural oils and honey kills, cleanses, replenishes and help prevent infections without any sulphates, parabens, phthalates, dyes and scents.
The strong natural scent of Citronella oil keeps the pet smelling fresh and helps fight odor and flea infestations. In spite of the absence of any strong chemicals it is a potent cleanser and can get rid of ticks and kill fleas instantly.
Key Features:
The solid shampoo bar is hard on parasites
Kills fleas and ticks instantly
Easy on the skin and help prevent common pet skin ailments
Lasts longer than liquid shampoo
Truly natural and eco friendly
7. Best Organic Flea Shampoo for Dogs – Richard's Organics
Richard's Organic cleanser with five all-natural essential oils can kill topical flea and ticks instantly and doubles as a mosquito repellent. The natural ingredients are extracted from organically grown sources and in addition to killing and safeguarding against flea and tick infestations, helps to keep the skin, fur and coat healthy.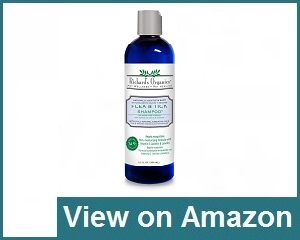 The powerful natural formulation can be also helpful in treating skin conditions resulting from allergic dermatitis, hair fall, tapeworms, scabs and hot spots. It is fast acting and provides instant relief against itchiness and scratching.
With goodness of natural oils extracted from organically grown Peppermint, Ceder, Cinnamon and Rosemary, the cleanser has one of the most potent compositions to get rid of fleas and ticks. It also doubles as a mosquito repellent.
Free from sulphates, phthalates, parabens and artificial colors and scents, the natural cleanser is easy on the skin. It provides instant relief against itchiness and scratching. The natural source of Vitamin C helps treat other common skin ailments effectively.
Without any insect growth regulator, it safeguards against further infestations by treating flea eggs on the body as well as surrounding environment. It has a strong effect on the skin and coat and can last for a long duration.
Key Features:
Strong all-natural organic formulation
Effective against fleas, ticks and other parasites
Can treat several common skin ailments
Is free from all chemicals and artificial dyes and scents
Also acts as a mosquito repellent
8. Best Anti Itch Shampoo for Dogs – Burt's Bees
Burt's and Bees anti-itch pet shampoo like all the products from the house of Fetch for Pets has a natural formulation. It hydrates dry skin, provides instant relief from itching and safeguards against infections due to scratching. The pet cleanser with Omega 3 helps fight hair fall by strengthening hair.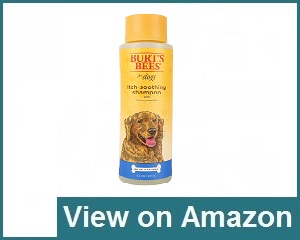 Honeysuckle helps in effectively cleaning the skin, fur and coat and adds to the shine. The composition is free from all artificial dyes and scents and does not contain any sulphates, phthalates, parabens or any other strong and harmful chemicals.
The mild shampoo due to the absence of any artificial ingredients do not lather much and can be easily washed off. It easily cleans all dirt, oil and impurities and can be used even during other flea and tick treatments.
The natural cleanser is effective in hydrating dry skin and has a soothing effect that relieves your pet from itchiness. It also fights against pet odor and can easily get rid of the strong medicinal stench of flea and tick treatments.
Key Features:
The mild composition can treat even the driest of pet skins
Provides relief against itchiness and safeguards against scratching
Nourishes the skin, adds shine and fights hair fall
All-natural ingredients
Can be used alongside other flea and tick treatments
9. Best Flea and Tick Shampoo for Dogs – Hartz UltraGuard Plus
Hartz ultra-guard plus is a no-nonsense flea and tick remover for pets above six months. It has a strong chemical composition with Phenothrin as it's active ingredient. It kills fleas, mites and ticks during all life stages thus stopping and preventing infestations.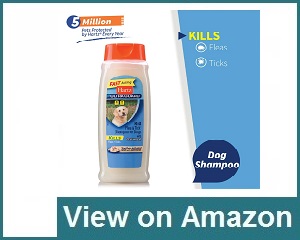 The effect from the first wash lasts long, thus minimizing the frequency of usage. The strong formulation is balanced by the colloidal oatmeal extract that provides a soothing effect and helps in maintaining the pH levels of the pet skin. It effectively cleanses all foreign elements like dirt, grime, oil and mud.
Inspite of the strong composition it has a pleasing smell. While most flea and tick treatments leave your pet smelling like a chemist shop, this cleanser fights pet odour and keeps your pet fresh and smelling good.
It also takes care of mite infestation. While fighting fleas, ticks and mites the shampoo helps to soothe the skin and thoroughly cleans your adult pet.
Key Features:
Ultra-strong formulation
Requires less frequent usage
Kills mites, ticks and fleas at all life stages
Has a pleasing smell
Perfect for adult pets
10. Best Dog Flea Control Shampoos – Tropiclean
A strong flea and tick control solution for pets above twelve weeks. The Tropiclean Flea and Tick pet spray is one of the most potent natural flea and tick control pet treatments. The spray is free of soap and other strong chemicals and doesn't require a wash down. Just spray and watch the fleas and ticks dropping down dead.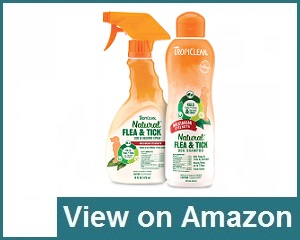 The strong natural composition acts fast and kills fleas and ticks on contact. The all-natural ingredients comprising essential oils from Clove, Lemongrass, Cinnamon and Cedar forms a potent killer. The goodness of Sesame seeds prolongs the effects and helps the spray to last long.
The package includes a pet shampoo with almost identical ingredients and makes for a complete flea and tick treatment solution. This is natural and free from all strong and harsh chemicals but is nevertheless potent against fleas and ticks.
The use of pet spray minimizes the use of shampoo and can be used twice a month. Without any added dye and fragrance, it is completely natural and has a natural herbal citrus scent.
Key Features:
Comes in a dual pack of soaryband shampoo
Effectively kills fleas, mites and ticks
All-natural ingredients free of all strong and harsh chemicals
Application of spray is hassle free and the effect lasts long
Shampoo lasts long due to prescribed gaps between usage
What is Dog Flea Shampoo, and Why is It Used?
It is a medicated special shampoo made for killing fleas, ticks, and other pests that might have infested your pooch. These come in various ranges, which makes your choice more precise regarding the type of your pet's fur coat, his allergies, etc. We've also discussed some critical features that you should and should not consider while buying.
This unique shampoo doesn't only kill one-time fleas, but it also stops their life cycle for infesting the fur coat again. For better and promising results, it is advised to use it for almost a year, regularly. In case of any reaction or allergies, after using the shampoo, you must immediately contact your vet for better advice.
Who Should Choose Flea Shampoo for Dogs?
Without any other specific reason, if you just own a dog, that's enough reason to be in a situation of using such shampoos. A dog can, at any stage, be infested by ticks, fleas, or other pests. Still, there are some conditions where it becomes a necessity.
If your dog itches a lot

: There's a high chance that your dog has got fleas if he itches a lot and gets irritated. Take a proper look through his coat while wearing gloves and masks. If you see insects, it's time you get a dog flea shampoo asap!
If your pooch is comfortable in bathing

: It will only be useful if you can bathe your dog regularly, and he enjoys it. Some dogs make bathing very challenging, so you cannot shampoo your dog daily in such scenarios. If you can't use every day, then there's going to be no use of it.
If you want to avoid tablets and spot-on treatments

: If your dog has fleas, but you want to avoid any tablet or spot-on treatment, it is the best for you then. It is indeed the least harmful way of getting rid of fleas with minimum efforts and long-lasting effects.
How Do You Use Dog Flea Shampoos?
It is not as difficult as it might seem. Just follow the below-mentioned instructions for bathing your pup with a flea shampoo.
Read the instructions on the bottle of the shampoo for the leaving team etc.
Comb your dog's hair to detangle the fur.
Half-fill the bathtub with lukewarm water.
Make your dog sit in the tub by treating him.
Start applying this from the neck till the tail deeply so that the lather can reach the skin.
Leave this for about 5 to 10 minutes while massaging it. Do not leave longer than that.
Avoid making contact with ears and eyes.
Rinse it off thoroughly so that shampoo isn't gone.
Wipe off your dog with a towel and dry his hair nicely.
Comb your dog again carefully so that the dead fleas can fall off.
Repeat this treatment weekly or every month, as per the need.
Normal Dog Shampoo vs. Dog Flea Shampoo
There's a significant difference in ingredients and compositions of both these types. Have a look at the prominent differences we've listed below:
Normal:
It usually doesn't have any strong chemicals.
They are mostly scented.
These don't have any pest killing properties.
It's quite economical.
It contains mild properties for no allergies.
Dog Flea Shampoo:
It can have strong chemicals.
It doesn't smell so good.
It's made especially for killing pests and fleas.
They can be a little costly.
It might cause irritation or allergies.
The differences clearly specify how regular shampoos are only made for cleaning purposes, while flea shampoos are specially formulated to kill insect infestations.
Types of Flea Shampoos for Dogs
These shampoos come in various types based on the components and ingredients it has. Some are made from chemical elements, some from organic, and some are pure of any synthetic element. You must consult your vet about buying the one that your dog needs.
Chemical Flea Shampoos
These are made from chemical derivatives such as pyrethrin, pyrethroids, or Methoprene.
Pyrethrin is derived from the extract of a natural plant called chrysanthemum. This derivative is capable of acting directly on the nervous system of insects or pests for killing them. This is a 100% safe component for dog's usage, even if he swallows it by mistake.
Pyrethroids, on the other hand, are another synthetic derivative of pyrethrin itself. It is fast-acting and acts similarly like pyrethrin, i.e., by working on fleas' nervous system. This component can sometimes be an allergen for your dog, so pay attention if it causes allergy or not.
While the last one, Methoprene, is an insect growth modulator. It affects the eggs directly from preventing them from maturing, hence putting the life cycle of fleas to a halt.
Natural Flea Shampoos
Natural ingredients such as lemongrass, rosemary oil, limonene, citrus peel extract, and essential oils are used in this category's shampoos. They also possess the property of attacking nervous systems of fleas and making them paralyzed to wash off easily. They are not even allergic, so that's a plus point.
Organic Flea Shampoos
Ingredients such as peppermint, cedar oil, and clove are mostly the biological components of such shampoos. They can restrict the lifecycle of fleas and other pests. These also soothe irritated skin and make your canine's fur smell much better.
Things to Consider When Using Flea Shampoo for Dogs
There are a few primary considerations that you must keep in mind while buying a flea shampoo. We've listed them below with why they are necessary to consider, do give it a read.
Effectiveness
Always check for the reliability of the product. A brand name only hyped for its packaging isn't going to be of any use if it doesn't do the main job correctly. This is not only supposed to kill adult fleas, but to stop them from reproducing any further as well.
Scent
Mostly chemical formulas have a harsh smell that you might not like. Try to pick one with essential oils that give your dog a pleasant, long-lasting fragrance.
Packaging
Always buy smaller bottles at first for testing purposes. You will regret it if you have to discard a whole full-size bottle later. Check with the small amount first; if it suits your dog, you can always buy more.
Ingredients
Ingredients can be synthetic, chemical-based, organic, or natural. A combination of all provides the most effective and promising results. Such combination doesn't harm your dog too much; neither is it too mild for killing the fleas.
Type of Your Dog's Skin
Lookout for mild formulas such as natural or organic ones if your dog's coat is sensitive. Some dogs are allergic as well, which can irritate their skin. So, always choose the product according to the type of your dog's skin.
Soothing Effect
The product you wish to buy must contain soothing elements such as essential oils, oatmeal, coconut extracts or aloe vera. These components prevent your pup's skin from getting irritated.
Ingredients You Should Avoid in Dog Flea Shampoos
While you are looking for the right product to kill all the fleas, you also want a product safe for your canine. Even with labels and tags of FDA approved, some manufacturers do use a list of harmful products that can trigger your pup's health.
These are used in little amounts to skip your eyes while reading the labels, but remember that even the slightest quantity can harm your pooch. Some of the ingredients that we've found to be of some harm to dogs, in general, are listed below:
Menthols
Naphthalene
Pine tar
Boric acid
Benzene hexachloride
Anise oil
DDD
Sodium cresylate
Xylene
Dependent
Benzethonium chloride
Chloranil
Dimethyl phthalate
Sodium arsenide
Avoid a product that has any of the ingredients mentioned above. This is why we recommend reading the labels and getting sure of the fact that what you are buying is helpful for your dog and not a trigger to his health.
Benefits of Using Dog Flea Shampoos
Apart from its anti-pest action, flea shampoo comes with a list of other benefits, including the following: 
Safe use

: Among tablet treatment, spot-on treatments, and other medicated treatments, shampooing is considered the most reliable amongst all for getting rid of fleas. You and your both while shampooing don't have to be at risk of any harmful chemical or substance.
Adult flea Killer

: Other treatments, such as tablets, only restrict the development of flea eggs into adults. In contrast, they are not able to kill the adult ones. So, with that weak link, there's still a chance of re-infestation. But the shampoo is promised to destroy eggs, restrict the life cycle, and eradicate adult fleas. Hence, it tends to provide permanent results.
Stops re-infestation

: If you use the shampoo daily or weekly, but regularly, there's a 95% chance of no re-infestation of any kind of flea, ticks, or pest in your dog for at least one year's fur coat.
Easy Treatment

: It is the most natural treatment ever for eradicating fleas and having a long-lasting effect. You don't have to follow a strict pill schedule or any other method that might have side effects.
Coat smells good

: The latest formula comes with a pleasantly refreshing scent that makes your dog clean and feels good. You can hug him tight and have no worries of a dirty, smelly coat anymore.
Shiny fur

: These shampoos claim to have essential ingredients to improve your canine's coat health as well and make it more polished. The hair becomes smooth, and with few washes, you can see the difference of enhanced texture.
Precautions When Using Dog Flea Shampoo for Dogs
When you are about to shampoo your dog, make sure of the below-mentioned precautions for his safety.
Check the expiry date of the shampoo you are about to use.
Avoid any harmful ingredients that might be present in the shampoo you are buying.
Check for sensitivity by doing a patch test first Apply it on some portion to see if the skin is okay or reacting.
For bathing, use lukewarm water and don't fill the bathtub full.
Don't Leave on the shampoo for too long, or it can irritate the skin severely.
Prevent contact with eyes or swallowing. Be careful about not wetting the ears as well.
Stop if it's allergic. You'll notice the allergy after the very first wash if it occurs.
Make sure to clean the whole body from neck to tail with the lather, for preventing the fleas from hiding.
Important Tips
Even if you've bought the most reliable and best product, you still don't know how your dog will react to it. Always focus before buying, during the use, and even after that for any later emerging signs that might catch your attention. For a safer usage, do keep the below-mentioned points in your mind.
Always read labels for a clear picture of all do's and don'ts.
Follow the directions of use.
Do not use a weekly shampoo daily; it can irritate the skin.
Avoid the products which do not list their ingredients. It's a clear red flag.
Some products are inhibited for use on pregnant, old, or injured pups. Do pay attention to this factor if your pet is going through any such condition.
Look out for any side effects.
Stop using if you see any area or patches of irritation.
Conclusion
With all of this discussion, we aim to sum up the importance of cleaning your dog pest free while also caring for his health. Dog flea shampoo having its own influence can be harmful as well, if not used as per the directions. Look out for the healthy and risk-free features in the useful products, and you can make your dog live a pest-free healthy life in no time.
Frequently Asked Questions
Does flea shampoo work for dogs?
Yes, of course. This is formulated for dogs, especially to treat their flea issues and let them live without any irritation or itches.
What is the best flea shampoo for dogs?
Adams Plus Flea & Tick is the best natural flea shampoo for dogs and cats. It is beneficial in killing all kinds of fleas, lice, ticks, and pests. It also comes with a soothing formula containing aloe, oatmeal, and coconut extracts. The main point to note is that it has an IGR (insect growth regulator), which kills and prevents any re-infestation for almost 28 days. It kills terrible smells as well, hence proving to be the best of them all.
How often should I wash my dog with flea shampoo?
It depends mainly on the degree of infestation. You may wash your dog as per the need of condition. But for a general idea, most shampoos recommend washing every week or month for a year, at least to have long-lasting effects.
Will flea shampoo get rid of fleas on my dog?
Definitely, the chemicals or ingredients your shampoo has contains the properties of killing the fleas by directly affecting their nervous system, which makes them paralyzed. This effect dramatically reduces re-infestation and help your dog get rid of fleas permanently.
Does normal dog shampoo kill fleas?
No. The regular dog shampoos are not made for killing fleas. They do not contain the specific components for this purpose. Hence, their soul purpose is to clean your dog, make their fur shiny and smooth, and to make them smell good.
Is it okay to Use Flea Shampoo on Sensitive Skin?
Yes, it's completely fine to use flea shampoo of sensitive skin as well. You only have to wash for allergens in the formula. Also, to avoid any irritation, do not leave the shampoo on your dog's skin for more than 5 minutes.
What is the best flea shampoo for sensitive skin?
If your pup has sensitive skin, then the Vanilla Oatmeal Shampoo is the best one for him. This formula is safely manufactured in the USA with lavender and oatmeal extracts for making it more soothing. The best colloidal oatmeal claims it's ultra-hydrating properties by nourishing your pup's skin. It also fights with any lousy odor due to the enhanced vanilla essence fragrance. All of these properties make it the best choice for irritated or sensitive skin.
What Flea Shampoo to use on a Puppy?
Arava Flea & Tick Control Dog & Puppy Shampoo is the best choice for young pups. It's 100% natural formula eliminates the risk of exposing your pup to any chemicals. The pure botanical formula comprises 26 dead sea minerals and a dozen essential oils for a gentle effect. All the essential oils play a significant role in providing a delightful and long-lasting scent. Moreover, this product comes with a 30-Days worry-free guarantee. What else can you ask for?
Will natural dog flea shampoo kill fleas?
Yes, the natural extracts added in its formula can paralyse the fleas by affecting their nervous system and killing them eventually. They also restrict their lifecycle.
What is the best natural flea shampoo for dogs?
Wondercide Natural Flea & Tick Shampoo Bar for Dogs & Cats is the best long-lasting and eco-friendly formula for killing fleas. The stable lather due to coconut oil's presence goes deep in the coat to the skin for intense cleansing. Essential oils provide a pleasant scent. Also, it claims to last five times longer than any 16 oz bottle of shampoo. Quite price-effective, isn't it?
Does flea shampoo expire?
Of course. Like any other product, dog flea shampoo also comes with an expiry date. Make sure to discard the product after it's best-before date as it's not safe to use chemical products after they've expired.