You must be guessing how. And what makes them any different than the typical dog toys your pooch has. If you've given your dog a toy and have witnessed its pieces the next hour, you shouldn't be questioning why there is a need for the indestructible ones.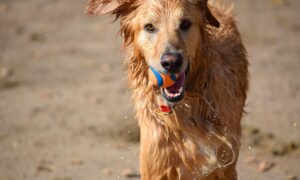 These unique toys not only last longer but are so heavy duty to resist chews, rough play, and tearing. Your dog with his mighty canines can mess up with them as much as he wants, but you'll find these as it is.
Not only do they save your money a lot from buying toys, again and again, these are also very safe for your dog's use. A toy that can be torn in pieces is so likely to choke your pooch if any portion gets into his throat.
So, in short, for both the safety of your dog and your money, of course, you need one of these toys. And for that decision to be easy, we've listed here 10 Best Indestructible Dog Toys along with the best buying guide.
Best Indestructible Dog Toys in 2021 – Reviews
1. Our Top Pick – Chuckit! Ultra Indestructible Ball
Top Pick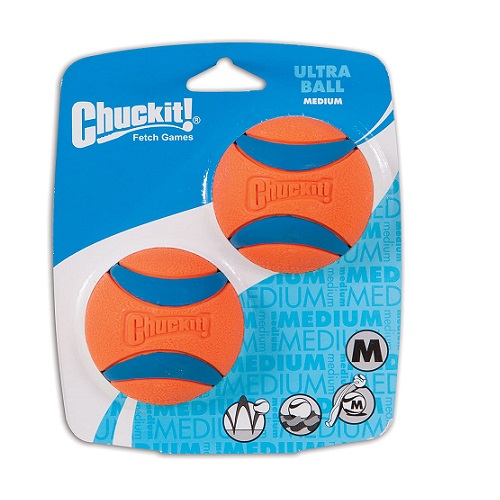 Chuckit! Ultra Ball
With a sturdy design, the bouncy dog ball ensures a slobber-free pickup.
Chuckit Indestructible toy Ball is the best pick in our list for its superb design, durability, and reasonable pricing. It is a high-impact bouncing ball to entertaining your dogs and pups. You may throw the ball to a water body, and let your dog fetch it.
The ball can float on water without any risk of damage. This long-lasting dog ball design gives the best value of your investment. You know that some pet owners buy ball launchers for throwing the faster and further. With Chuckit! Ball launcher, you can easily use this dog ball.
Manufacturers have used natural rubber for this high-bounce ball. As you have thrown the ball, your dog will leap and jump to catch it. Moreover, they have made a very thick rubber core to prevent any damage. Most of the dogs have a habit of chewing its toys.
That is why Chuckit has used this resilient material to design the thickest rubber core. Your dog may feel soft while chewing the ball. Still, there will be no wear and tear for this activity. What's more, the textured surface on the ball is another notable feature.
Every package contains two balls with a combination of blue and orange colors. You can find these dog balls in a range of sizes. However, we have chosen the medium-sized ones for our review. As you are playing with your dog at outdoor sites, the ball may attract dirt. However, it is also easily cleanable.
Key Features:
Ultra-bounce ball to add fun to your dog's gaming session
Can be fitted with a ball launcher
Have a special design for long-distance throws
Floats on the water without the risk of moisture damage
Bright colors can draw the attention of your dog
2. Runner Up – Indestructible KONG Extreme Dog Toy
Runner Up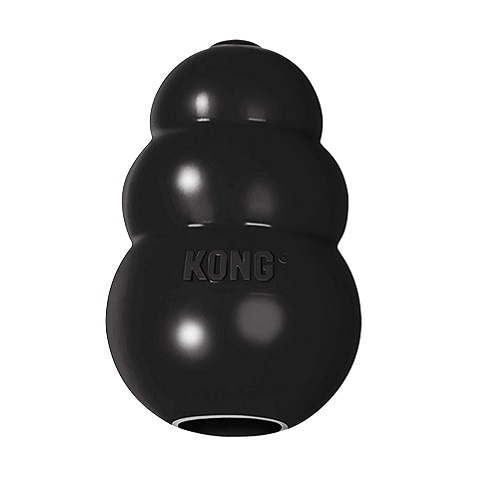 Indestructible KONG Extreme Dog Toy
A small KONG toy, made of rubber, can add fun to your dog's life.
If your dog loves chewing something, you can buy this toy for your pet. We have picked it as the runner-up in our list. The perfectly designed dog toy with a unique shape can be the best plaything for your little pup.
As your dog is playing with the toy, it can stimulate him mentally and satisfy its instinctual needs. Let your furry pet refine its behavior and emotions while playing with the innovative toy. Regular physical activities with this toy alleviate the boredom of your dog and manage its weight.
Besides, it will be easier to feed the dog with this toy. You can put your pet's favorite kibbles, snacks, and peanut butter into the small toy and your dog can eat it while having fun with the toy. Thus, manufacturers have made the toy design considerately. Now, you may keep away from your worries about the dog's health.
Although the toy does not look like a ball, your dog will enjoy unpredictable bounce while playing with it. The erratic bounces will not damage the toy, as it has a special rubber design. Thus, make your dog's gaming session more entertaining with this small, cute-looking black toy.
Key Features:
Natural rubber toy with a very high strength
A hollow design to hold your dog's tasty treats
Solves lots of problems, including overweight and teething
Bouncy design for your dog's fun
Dishwasher-safe model for easy cleanup
3. Best Budget – Kong Flyer Indestructible Dog Toy
Best Budget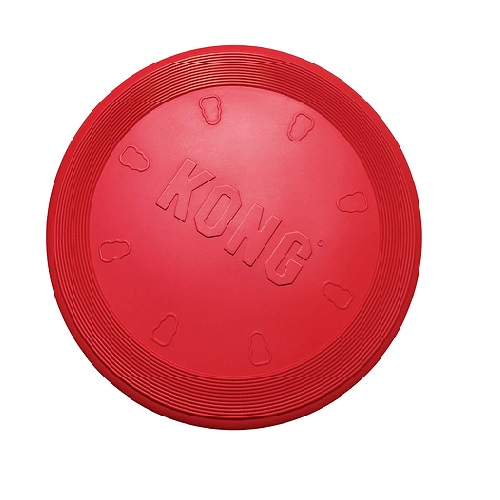 Kong Flyer Indestructible Dog Toy
Available at a very low price, this indestructible toy is made of safer and softer material.
KONG has designed a colorful dog toy at an affordable rate. When you are looking for the best budget toys for your canine companion, you may purchase it. Made of natural rubber, the toy is durable in design. Your dog can grab the toy easily with its mouth.
KONG Flyer toy is available in red, black, and pink colors. As manufacturers have applied the special formula to design this toy, you can find it indestructible. Although your dog chews the toy with its sharp teeth, there will be no spot of damage.
There is another reason for using a rubber for this toy. While plastic objects can hurt your dog's teeth, this softer toy never affects the health of your pup's teeth and gum. Thus, do not let your dog hold any household object with its teeth.
Being a pet owner, you have to take care of your dog's health. Rubber is not a toxic material, and that's why your dog will have no risk of playing with it.
You can buy this toy for your adult dogs and pups. However, you must train your dogs to play with it to avoid feeling bored. As the toy bounces on the floor, your dog will get fun in chasing it.
Key Features:
Lightweight and resilient design best for dog's toy
Designed to stimulate your dog
No risk to your dog's oral health
A small toy working like a flying disc
Best for enjoying a fetch-and-catch game
4. Best Indestructible Chew Dog Toy – Benebone
Benebone has designed the best indestructible chew dog toy of a wishbone shape. Most of the dogs like to chew something, which gives them the flavor of real bacon. Your dog will be thankful to you when it gets awesome tastes from the specially designed toy.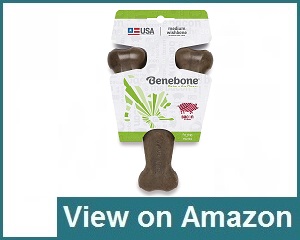 In fact, you may check out your pet's sense of smell with this innovative wishbone toy. If your dog chews the toy, it cannot damage the design. The real bacon chew toy has a durable design to please your dog.
When other dog toys have no flavor, this bone-shaped toy becomes unique with its power of reflecting the best tang. Flat chew toys are not easy to manage. However, Benebone wishbones make it simple for you to chew the bone comfortably.
There are deep grooves for a good bite and grip. Now, you can buy this chew toy for your dog and find out your pet's reaction to it.
Key Features:
Alluring flavors that can easily attract a dog
Ergonomic design- Not difficult to handle
Durable chews- No risk of damage
Looks like a real bone
Does not cause any health issue
5. Best Indestructible Large Dog Toy – Goughnuts Maxx Black
We have chosen the best indestructible toy for large dogs, looking like two rings joined with each other. Pet owners have bought it mostly for larger dog species. The length of the tug is 11 inches, while its width is about 6 inches.The cross-sectional dimension of the toy is about 1.5 inch.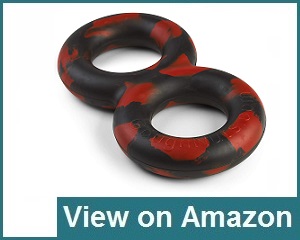 Like other dog toy manufacturers, Goughnuts has used rubber to design the product and ensure safety to your pets. If your dog loves the game of tug-of-war, this toy is the right choice for your pet.
As the toy is made of rubber and lightweight materials, it can float on water. You can find the tug in two different sizes. Based on your pets' size, you may have to make the right choice. Also, a range of color combinations are available for this toy.
Key Features:
Ring-like designs to add fun to your dog's gaming session
No chance of damage despite applying force for two sides
Tough and durable product designed for pets
Aggressive chewers will prefer the toy
Larger model to let your dog chew it with an open jaw
6. Best Indestructible Squeaky Dog Toy – Outward Hound
Outward Hound toys are thebest indestructible squeaky dog toy you can get for your lovely dog. The toys are actually animal-themed chew toys. These are made with high quality two-layered tough fabric that makes it durable and prevents it from wear and tear.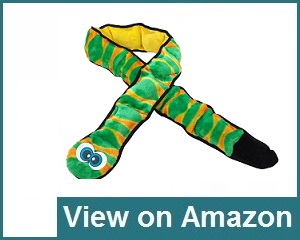 The chew shield technology makes it stronger and invincible. So, you and your dog can keep pulling and playing with the squeaky dog toy for a longer period. It is also a non-stuffing product, which means your dog can play harder with the squeaker, and you do not have to worry about the mess.
This snake dog toy with squeakers is lightweight, which makes tossing and fetching easy. The squeaking sound keeps your dog entertained throughout the day. Moreover, from the huge collection of cute characters, you can select the exact type of animal your dog will love to play with.
Key Features:
Two-layered tough fabric to last long
Also, squeaker works after being punctured
Chew shield technology to endure rough use
Engaging texture for your dog to have more fun
Dura-tuff inner linings and no stuffing means no mess
7. Best Indestructible Dog Frisbee – Hyperflite Toy
If your dog loves to play throwing and fetching then Hyperflite Toy Frisbee is the best indestructible dog Frisbee you can buy for your dog. The product is constructed with a high quality strong and durable polymer.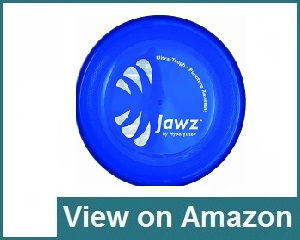 It is 100% toxin free, which makes it safe for your dog to play with it. The ultra-tough Frisbee is also puncture resistant, and thus, you do not have to worry about your dog putting their teeth trough the disc.
It is more than a toy. This aerodynamic competition grade disc is designed by world Frisbee champions, and it is great for practicing competitive dog Frisbee. The aerodynamic will also help you achieve an impressive long-distance throw.
Besides, the hi-tech patented dual-gripping surface is not at all less than professional quality Frisbee. It helps to release the disc just at the right moment for a perfect throw. However, the Hyperflite Frisbee should not be used as chew toys. It is available in a different fun color and is dishwasher safe.
Key Features:
Made with high-quality polymer material
Hi-tech patented dual grip for better throw
Aerodynamic designed created by champions
Dishwasher safe makes cleaning easy
World's toughest competition approved Frisbee
8. Best Indestructible Dog Disc – West Paw
West Paw Toy is a USA based company, and they are famous for manufacturing the best indestructible dog disc. The West Paw Disc is made from extremely tough material that makes it durable.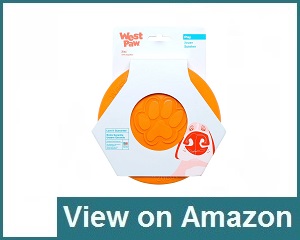 It is also lightweight and floatable, which makes it an ideal toy for playing fetch or catch. If your dog loves swimming, then you can have fun with your dog inside the pool with this floatable Frisbee. The disc will definitely keep your dog engaged and entertained.
Moreover, unlike any other Frisbee, West Paw disc is soft enough to be easy on your dog's jaw. The aerodynamic design makes it easy to throw far and fly high. It is strong enough and punctures proof, so you can use it to play tug-o-war with your dog without damaging the disc.
The bright vibrant color does not fade away easily and makes it easy to find. You can also use the disc as a food or water bowl for your dog by simply flipping the disc upside down. It is even dishwasher safe, so cleaning the disc becomes effortless.
Key Features:
Made with ultra-strong plastic to last long
Aerodynamic design makes it fly high and far
Soft texture to be easy on dog's mouth
Dishwasher safe makes it easy to clean
Floatable and puncture-resistant makes it more enjoyable
9. Best Indestructible Dog Ball – Kong Extreme
We all know dogs love chasing and playing with balls. So if you are also planning to buy the best indestructible dog ball, then Kong Extreme ball is just the right choice for you. The best quality material makes it strong and durable. The dog ball is crafted using Kong Extreme black rubber technology that makes it puncture resistant and long-lasting.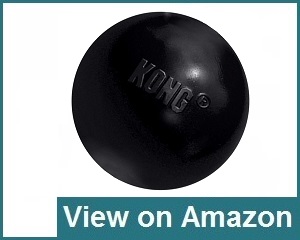 It is also chewer tested, which means it will not allow any kind of damage even from the most aggressive chewer dogs. Besides, the material used to manufacture this product is 100% toxin and chemical-free, so you do not need to worry about your dog's health.
In addition, the extra bounce of the ball makes it a perfect choice for playing fun games and keeps your dog active and healthy. It aids to excite your dog mentally and physically and keeps them entertained throughout. It also keeps their teeth healthy as they like chewing the ball for hours. The ball is available in two different sizes small and large.
Key Features:
Created with the toughest Kong Extreme rubber technology
Chemical and toxin-free for healthy chewing
Extra bounce for playing fun games
Stimulates mental and physical health of your dog
Long-lasting even for aggressive chewer
10. Best Indestructible Squeaky Plush Dog Toy – ZippyPaws
If your dog likes playing with squeaky soft toys, then ZippyPaws toys are one of the best indestructible squeaky plush toys you can buy for your dog. This uniquely designed skinny plush dog toys are made with hand pick the best quality material to last long.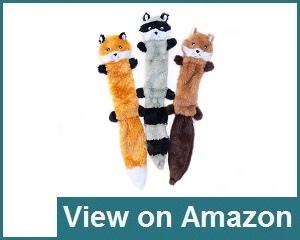 Moreover, it does not get damaged easily due to a dog's biting. It is also a non-stuffing product that means it will provide several hours of fun without unnecessary cleaning of the mess.
Besides, the high quality material and great built quality make the plush toys characters look more lively and fun to play with. The combination of three adorable creatures squirrel, fox and raccoon, will keep your dog away from boredom.
Furthermore, each toy is equipped with 3 round squeakers, which produce enticing sounds to keep your dog interested and entertained. So gift your dog with the most beautifully designed squeaky plush toys to turn their playtime into a good squeaking time.
Key Features:
Best quality handpick material to last long
Skinny and non-stuffing plush toys
Includes three adorable characters for more fun
Equipped with three high-quality squeaker
Best for small dogs who like cuddling
Why Should You Choose Indestructible Dog Toys?
Choosing an indestructible toy is a reason in its own name. The toy that needs to be indestructive has to bear the chew and tears that no other toy can. You should definitely get one for your pooch if you really wish to save your share of money in replacing the broken toys again and again.
These toys should also be a must purchase concerning your pup's health and activity. Dogs who are seen to play with toys can satisfy their chew instinct and are more likely to behave well and stay active.
Special Features of Indestructible Dog Toys
These sturdy Dog toys are said to be unique for having the below-mentioned features in them.
Safe Material: The material is safe, with no health risks. The composition of every element used in these toys is made very biologically acceptable for dogs.
Chew Resistant: The materials used are those which are specially made to bear high pressures. This quality makes the toy take even the hardest chew from the giant dog breed.
Tear Resistant: The toys' stuff is of the quality, which is not very delicate to be torn easily or gets broken. This feature claims the durability of the toy to last even for a lifetime.
Ideal Materials for Indestructible Dog Toys
These hard dog toys can be of many materials, but the four mentioned below were tested to be the best of them all. Have a look.
Rubber and its Types: Not only is this material best for pups who are teething but is considered literally indestructible in every sense. Rubber has properties of bearing pressure due to its soft and elastic yet durable composition.
Thick Rope Material: This material has zero health hazards. Even if your dog ingests a few torn cotton strands, he'll still be okay. The thick rope toys can also be washed easily in a washing machine and are very durable for chewing as well.
Durable Fabric: Fabrics such as plush, firehose, or thickly woven corduroy also make tough and resistant dog toys. While being soft and squishy, they can even resist any tear for a long duration.
Nylon: This material is best for hard chewers as it is least likely to break. The sturdy material can let your dog enjoy his chewing without getting damaged at all.
Materials Should Avoid for Indestructible Dog Toys
Due to some health hazards and risks, the materials listed below are clearly not suitable for any dog. Read more about each of them below.
Latex: This material is very likely to break or can have damaged sharp edges, leading to any injury to your dog's mouth. Hence, it's better to avoid any toy made with such stuff.
Fleece: These toys are soft and adorable, but only until they are in a single piece. Once your dog tears it down (which he will very quickly), he can ingest the stuff and may get serious digestive problems later on.
Squeaky Toys Material: This category has a very soft covering, which can be easily torn by a heavy chewer for finding the squeaker. And once he does, he is most likely to ingest the squeaker, which can now be a serious medical emergency.
So, in short, for preventing any of the above-mentioned risk factors, we recommend not to buy a toy that is made of any of these listed materials.
Indestructible Dog Toys vs. Normal Dog Toys
Regular dog toys are very different from indestructible ones in several ways which are listed below:
| SN | Indestructible Dog Toys | Normal Dog Toys |
| --- | --- | --- |
| 1 | Durable and long-lasting | Have a certain age of use |
| 2 | Can resist chews and tears | Cannot resist and chews or damages |
| 3 | Made of materials that are of no risk to the dog's health | The material does not guarantee any health safety if ingested |
| 4 | Comes with a guarantee | Doesn't often come with guarantees |
You cannot get your heavy chewer a regular dog toy for the differences mentioned above and expect it to last a lifetime in any case.
Types of Indestructible Dog Toys
Based on several shapes and styles, below, we are discussing the top trending types of indestructible dog toys.
Bone Shape Chew Toy

: The shape of this type is the main reason for its popularity. In cartoons, you must have seen how much the dogs are fond of anything that looks like a bone. So, let's say it is in their nature. Also, the shape of a thinner middle section and broader ends makes it easy for your dog to grasp and play with it.
Dog Balls

: The dog balls are the best for playing fetch or bounce games with your dog. Your dog enjoys the bouncing ball chase, and it's also safer than any tennis ball. The material itself is very resistant and thus does not endure any damage if your dog chews it off.
Durable Tug Toys

: Some dogs love playing tug of war with their owners. Even the owners enjoy witnessing their pup's strength in such a manner. So, for that purpose, a non-breakable tug toy shall be your best choice. It has excellent tension to resist any breakage and is designed for you to hold at one end and your dog from the other.
Treat Toys

: These toys have a space or cavity for hiding treats. Your dog stays busy in finding and finally retrieving the treat from it. So, it is found to involve your pooch in a healthy exercise involving both body and mind.
Novel Types

: This category covers all those other toys which do not fit into any of the above. These toys do not have a particular shape but are engineered concerning your dog's holding, grasping, or chewing style. Hence, most of these are irregular but very much liked by most canines.
Things to Look for While Choosing Indestructible Dog Toys
Some features are very essential to look for when buying an indestructible dog toy. By reading the below-mentioned feature, we can assure you of making a perfect choice later on.
Size
Dog toys come in a variety of sizes suitable for every dog breed of every size. Select an appropriate size that fits your dog's mouth without being too small for getting swallowed, nor too big for even getting in the mouth.
Material
This toy is the most essential and crucial feature. You must use what material will your pooch has fun with. Some dogs prefer plush toys while some like the balls. Some love playing with frisbees, while others only long for their bone toys.
Shape of Toy
These toys come with several shapes such as Balls, Frisbees, Donuts, Bones, etc. All these shapes are made suitable for every breed. But here you need to choose the one that your dog will enjoy the most.
Durability
German Shepherds, Labrador Retrievers, Bulldogs, Boxers, and Rottweilers are some of the breeds that are reported to need more robust and more durable toys.
Guarantee
Always lookout for the toys which have brand warranties or a guarantee of a lifetime. This ensures the quality of the toy you are purchasing.
Benefits of Using Indestructible Dog Toys
These dog toys are used very commonly for the below-mentioned advantages it comes with.
Saves your Money: With no tension of the toy, getting broke repeatedly, you can save a lot of money. Typical toys can get damaged even within an hour of playing if your dog is a heavy chewer. Which can hold you under an obligation of replacing the toy quite often. An indestructible toy saves you from this hassle.
Keeps your pooch Healthy: Playing with a sturdy and durable dog toy can leave a powerful impact on your dog's health, both with respect to his biological health as well as his behavioral health.
Helpful in his Activity: Dogs can get bored with playing in a similar way daily. Such toys keep them entertained for a longer duration and helps them being active.
No Health Hazards: These toys are not likely to be torn or broken. Which reduces the health risk of getting choked with any piece of the broken toy. Neither is the material made of any harmful substance that must not get into your dog's mouth. So, it is very safe in both these perspectives.
Chew Instinct Reliever: Dogs have a preying nature of chewing and ripping its prey apart. To satisfy such instincts of your dog, these indestructible toys serve a great purpose.
Some Important Tips
Playing with toys is all about fun and relaxing. But being a dog owner is a great responsibility in its own self. Even while your dog is busy in his merrymaking, you must be alert with the following points to ensure his safety.
Always watch over your dog when he is chewing or playing with the toy you gave him.
Do not leave the toys out as he can swallow any piece while you are not around.
You don't really need to fill his crate with toys if it's not required.
It's safe to keep the toys to yourself when not in use and fix a playtime.
Clean the toys regularly to avoid any health hazards for you and your dog.
Dispose of a toy that has been torn even a little, to prevent any further destruction and choking of your pooch.
Conclusion
Indestructible toys can be a great help in playing with your pooch and keeping his busy in healthy activities. Not only are these good for your pocket but are very safe in terms of your dog's health. These toys claim to be the best play partner for your dog, which is made precisely according to their nature.
You just need to find the perfect one for your breed, which will be quite easy after reading this content. Happy Playing!
Frequently Asked Questions
What are indestructible dog toys?
Indestructible dog toys are very tough duty toys that can resist hard chew, tearing, etc. They are made of very health-friendly material and last longer than any other toy you'll find.
Who should choose indestructible dog toys?
If your dog loves to play with toys and tends to chew them quite hard, then these toys are just right for you. Not only will they save you a fair amount of money, but will also let your dog satisfy his chew instincts.
Do indestructible dog toys really exist?
Of course! Toys that are made with the right material, and are durable enough to resist any pressure and destruction are likely to last a lifetime without getting broken. You just need to buy the right product, and you'll be amazed by its resistance.
Which breeds may especially need indestructible dog toys?
Some breeds are aggressive in nature and tend to chew toys and things more. So, for such dogs, an indestructible dog toy is a must! Breeds such as German shepherds, Shetland sheepdogs, American pit bull terriers, Siberian huskies, Bull terriers, Jack Russel terriers, American Staffordshire terriers, beagles, Labrador retrievers, Golden retrievers, and Australian shepherds come under this list.
Are there any indestructible squeaky dog toys?
As far as our opinion is concerned, a squeaky toy cannot be really termed as "indestructible." This is because of the material these squeaky toys are made with. Neither is this too reliable nor does it last long. And also, the squeaky plastic piece can also annoy the dog to the extent that they end up tearing the whole toy apart. However,s there are still some squeaky dog toys with the label of "Indestructible" on them.
What materials are indestructible dog toys made of?
Some of the famous and very heavy-duty indestructible dog toys are made of Nylon, Rubber, Rope, or from a durable fabric such. These materials are well known to resist maximum pressures, hence staying in shape for a very long time.
What if my dog swallows part of an indestructible dog toy?
This can be clearly a medical emergency. You must watch over your dog when he is playing with his toy. Dogs chew and bite their toys so much, so there's always a high risk of ingesting any part of it. You must rush him to your vet for a proper intervention in this condition.
Should puppies have chew toys?
Puppies must have chew toys for helping them in the teething process. Puppies have a powerful urge of playing and chewing things when they are growing their teeth. And for that period, chew toys can be the best for them.
Should dogs have toys in their crate?
There is no hard and fast rule for it. If your dog likes to sleep with his favorite toy, then you can give it to him in his crate. However, it is not necessarily required.