Interactive dog toys are an excellent choice to keep your puppy busy and help them in their cognitive learning. As pet parents, we understand that other than nutrition, dogs also need their proper mental development.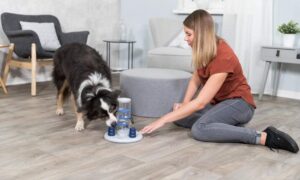 They are fun, stimulate the mind, and help promote a balanced temperament in pets. The toys may also reduce behavioral issues as your puppy does not feel bored.
If you are a busy person and worried that your canine might be bored while alone, you might want to consider these toys. However, this industry is a big one, and you want the right bang for the buck.
Therefore, to get rid of any guesswork, our researchers have consulted many pet experts to create a list of 10 best interactive dog toys. We have also including a buying guide to help you find exactly what you need. These are selected based on type, material, cost, and durability.
Best Interactive Dog Toys in 2021 – Reviews
1. Our Top Pick – Wobble Wag Giggle Ball Interactive Dog Toy
Top Pick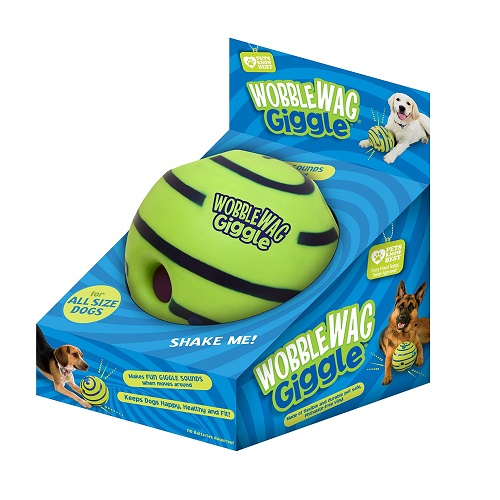 Wobble Wag Giggle Ball, Interactive Dog Toy
A ball that is intriguing, engaging, and fun makes giggle sound when moving around: the best interactive toy for pets of all age and size.
Wobble Wag Giggle Ball is the perfect interactive toy that provides pets the best sensory stimulation. The bit of initiation on the part of the owner to make the pet take notice of the ball goes a long way in strengthening the special bond shared with the pet.
With cleverly placed clutch pockets, at six strategic points the ball is easy for pets of all sizes to grip. The size of the ball makes it ideal for pets to poke and play. The unique sounds produced with each poke keeps the pet engaged for long hours.
It's natural for pets of all sizes and ages to paw and chew anything and everything that intrigues them. And the quirky giggles are sure to make any pet excited and adventurous. This makes pawing and chewing inevitable. The Giggle ball is made of Phthalate free Vinyl and is safe for pets. It is durable and can withstand some rigorous chewing.
Most interactive toys are battery operated and require manual start and charge of batteries. This can be worrisome as a dead battery might be enough for your pet to behave awkward. This interactive ball does not use batteries and requires no manual start.
The ball squeaks, giggles and makes unique sounds with a gentle nudge. The avant garde build material of the sound producing tubes do not require replacement and will not fail to make a squeak each time your pet pushes it. With unique sounds, hazard free build material, innovative design and zero maintenance.
Key Features:
The bright color of the ball is eye-catching
The unique sounds produced arrests the attention
Build material is nonhazardous making it safe for pets
The clutch pockets enable easy to hold and fetch
Requires no maintenance or manual start
2. Runner Up – Trixie Gambling Pet Toy
Runner Up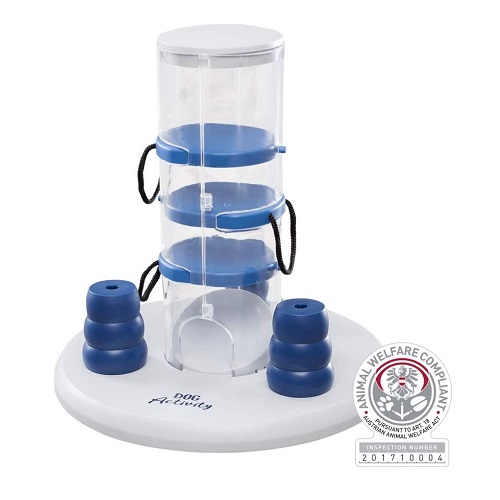 Trixie Gambling Pet Toy
A three tier food puzzle for young pets learning to play.
Trixie Gambling toy with a clever design and sturdy build provides good mental stimulation for young pets. A challenging puzzle game for beginners learning to play, it can easily hone the sensory and motor skills of your young pet.
While the clever design demands skills and mental sharpness, it never fails to deliver the prizes. The three-tier puzzle can successfully arrest the attention of pets learning to play. Dispensing awards from the puzzle calls for possession of skills and any young pet will need time and practice to master the skills.
The sturdy and durable plastic body with an anti-skid base can easily withstand strong pawing. It doesn't require a huge amount of food loaded each time your pet is playful. One can easily determine the amount of food to be hidden and can decide on the level of the puzzle.
The elaborate build and detailed finish make the toy fun and enjoyable. The right tug and pull will surely award the pet. With specially designed hidden cones the young pet is in for surprises.
The clever design with the right level of challenge complimented by the Anti-skid base could have easily gained the top spot, but for age restriction, toxicity and manual supervision. Trixie Gambling toy is puzzling and is rightly the runner-up.
Key Features:
Right puzzle levels for beginners
Various stages of puzzle keep pets engaged
Durable and innovative design safeguards against forceful dispensing of food
Anti-skid base with detailed finish keeps the pet safely engrossed in the puzzle
Does Not require batteries or maintenance
3. Best Budget – ZippyPaws Interactive Dog Toy
Best Budget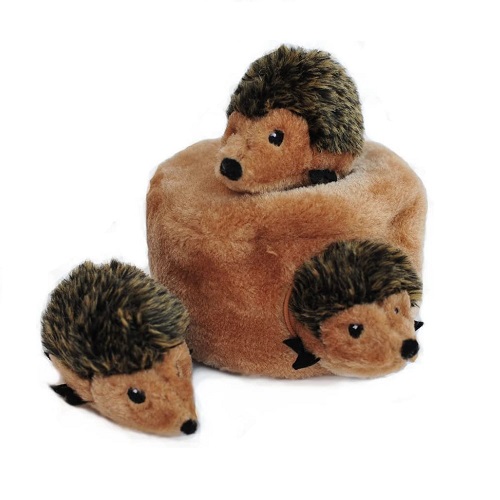 ZippyPaws Interactive Dog Toy
A plush squeaky hide and seek toy for all pets big and small, old and young.
ZippyPaws with its silky soft feel and innovative design is the perfect interactive toy for pets of all sizes and ages. It is a cleverly designed stump that effectively hides the squeaky Chipmunks. The bright colour and the squeaky sound is bound to attract every pet.
The innovative design hides the Chipmunks well and bringing them out of their hiding will require some skill and effort. It will keep your pet engaged for hours. The high-quality build material can withstand heavy chewing and the generous size of the holes in the stump can hide other toys as well. It is durable and the stump independently doubles as a fetch toy.
This squeaky hide and seek toy is fun, engaging and durable. With four available sizes and replaceable Chipmunks, it caters to pets of all sizes and ages. The stump can hide more than a few plush and the Chipmunks are squeaky and attractive enough to serve as independent toys. This hedgehog can engage any pet for long hours. It develops the sensory skills and provides adequate physical activity.
With replaceable squeaky Chipmunks and a sturdy yet soft stump it can serve as two independent toys and can be used as a fetch, a hide and seek toy that squeaks. The ready availability of the replaceable Chipmunks and the effective design that allows hiding other plush toys makes ZippyPaws the best budget.
Key Features:
Durable plush material with detailed finishing can withstand rigorous chewing
Innovative design keeps the pet engaged for long hours
Wide stump holes can hide other plush toys
Each part can be used as independent toys
Easy replacement of Chipmunks ensures worry free use
4. Best Interactive Hide A Squirrel Dog Toys – Outward Hound
The tree log with three or more squeaky squirrels is bound to arrest the attention of any pet. This interactive toy from Outward Hound is bright and eye catching. The bright color and equally attention grabbing squirrels can make any pet curious and playful.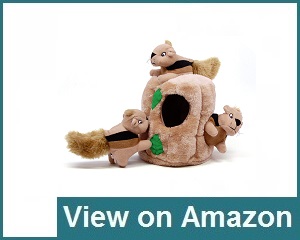 The tree trunk with cleverly placed holes hides the squirrels deep inside and requires skill and effort to pull them out. Perfect for long engaging hours of pawing and poking. The hide and seek toy tests and hones the sensory and motor skills of your pet and can effectively calm aggressiveness.
This hides a squirrel toy doubles as a fetch for pets needing indoor physical activity. The strong plush material coupled with excellent finish makes for a durable toy that can handle strong chewing and pawing. A clever design, durable plush, attention grabbing squirrels and dual usage.
Key Features:
Strong plush material can withstand chewing
Perfect for pets of all sizes and ages
Individual pieces can be used for a game of fetch
Clever design that keeps the pet engaged for long hours
Lightweight but durable, and lasts longer
5. Best Interactive Puzzle Dog Toys – Outward Hound Game Toy
A puzzle game for pets of all ages, that can be tricky and rewarding. This hide and seek interactive toy form the house of Outward Hound is the second in the three level puzzle games for dogs and yes, it is engaging. With a bit of initiation, your pet will lean to flip and open the lids that hide the treat.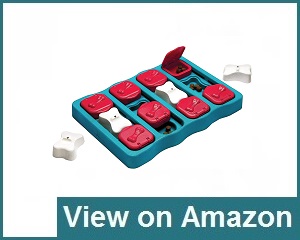 The simple yet effective design with good quality durable hard plastic lasts long. With the bright and contrasting color combination and small miniature bones on the lids, the puzzle is an eye grabber. The puzzle can engage anxious pets and can easily curb aggressive behavior.
In spite of being a level two puzzle, any pet can receive the reward with a bit of effort. The treats are hidden inside the compartments held by the lids never fail to deliver, this ensures that pets know that they are in for a treat and it's only a matter of time keeping the pet engaged.
The puzzle can be easily cleaned and the treats can be varied at will. With a sturdy and durable build, simple yet effective design, bright colors and hassle-free handling Outward Hound Interactive game toy.
Key Features:
An engaging puzzle game that offers real treats
Good quality hard plastic lasts long
Can withstand some hard chewing
Treats can be easily hidden and retrieved
Hassle free cleaning and handling
6. Best Interactive Treat Dispensing Dog Toys – OurPets
This treat dispensing hard plastic ball is puzzling, engaging, and rewarding. As the name suggests IQ treat ball from OurPets can be the perfect treat dispensing interactive toy for pets of all ages and breeds: stimulating and honing the problem solving skills of your pet.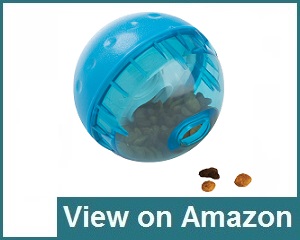 The hard plastic ball made of high quality, nontoxic, and durable plastic can withstand some rigorous chewing. The tennis ball sized ball is of the right size for pets to carry and paw.
The treat dispenser encourages slow feeding as recommended by vets; ensuring healthy digestion. The customizable difficulty levels can keep the dog engaged for hours and can be effective to keep anxious or aggressive pets calm.
Innovative design enables one to easily disassemble the ball for filling of treats and cleaning. The empty ball can even be used for a game of fetch. With a change in treats and varying levels of difficulty, it will keep your pet guessing.
Key Features:
Promotes slow feeding improving digestion
Hard nontoxic plastic is durable
Perfectly sized for easy carry
Customizable difficulty levels keep the pet engaged
Easy to wash and clean
7. Best Interactive Electronic Dog Toys – Pet Qwerks
A squeaking, babbling and talking toy that's sure to make pets of all sizes and ages playful. The Babble Ball from the house of Pet Querks is an electronic talking toy powered by three 1.5V batteries. With a set of batteries producing up to fifteen thousand sounds, pets can play for weeks with a single set.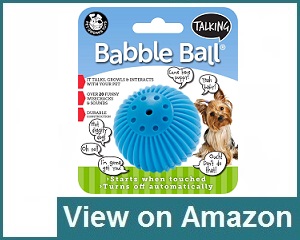 The wisecracks and the squeaky sounds triggered by extra sensitive motion sensors are sure to make any pet excited. The sturdy hard plastic is nontoxic and is durable even for active chewers.
Long hours of play provide the best indoor physical activity keeping pets healthy. With three sizes for pets of all breeds, readily available batteries, durable build material, and easy to handle design make these extra sensitive talking balls.
Key Features:
Wisecracks, babble, and squeaks keep the pet and the owner entertained
Automatic start and sleep require no manual intervention
Batteries are readily available and can be easily replaced
Nontoxic high-quality plastic ensures worry-free play
Available in three sizes for pets of all sizes
8. Best Interactive Dog Squeak Toy – StarMark
This treat dispensing interactive toy is ideal for pets that are fast eaters. StarMark Bob A Lot is an ideal slow feeder that helps your pet slow down while eating. It is available in two sizes and the large ones can easily hold the entire meal.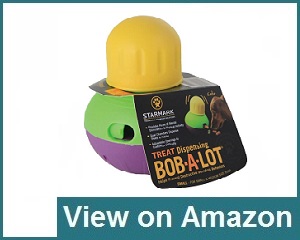 A broad base dispenses food with a nudge and poke while the toy bobs in a particular manner. It makes mealtimes fun and engaging. Ease of handling and filling makes it a favorite amongst pet owners.
The partition with holes in between the top and the base can be adjusted to make it harder for your pet to dispense food. The Anti-skid and weighted base enables the toy to stand while taking a few nudges and some pawing.
The squeaky sounds while dispensing food along with the ease of handling and cleaning coupled with innovative design and sturdy build make Bob A Lot.
Key Features:
Enables slow feeding of entire meals
Food is dispensed only after a bit of nudging and pawing
Hassle free filling of meals
Sturdy build material makes this last long
Easy to clean and handle
9. Best Interactive Dog Chew Toys – West Paw
A real treat dispensing dog chew toy made of a patented plastic blend. This West Paw Design is made to withstand some serious chewing. Touted as the sturdiest dog chew toy, it comes with 100% manufacturers guarantee against dog damage.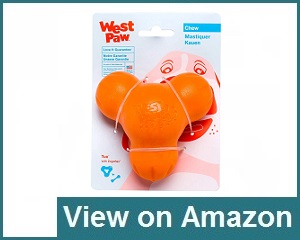 Ideal for dogs of all ages and breeds, this bright and colorful chew toy is designed to hide a wide variety of real treats. These are free of all toxic chemicals, and FDA compliant. The unique shape and simple design make it easy to hide treats, but take a bit of effort on the part of the pet to receive the treat.
The unique patented build material makes Tux, a super durable and nontoxic. It doubles as a fetch without treats as it bounces and floats.
Key Features:
Extra strong build material can take heavy chewing
Specially designed pockets can hide a variety of real treats
Free from all toxic chemicals and elements keep pets safe
Available in a wide range of colors
Easy cleaning and is dishwasher safe
10. Best Ball Launching Interactive Dog Toys – iFetch Ball
An automatic ball launcher that perfectly blends innovation and technology. iFetch provides the best mental and physical exercise for small and medium-sized pets. Ideal for hyperactive pets that love to fetch, the launcher offers hours of fetching without manual intervention.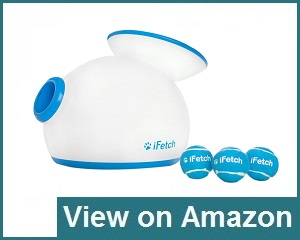 With a little training and practice, the launcher can be easily loaded by your pet. Thus, providing ample mental and physical exercise. With hi-tech looks and hassle-free operation, it is rightly a new age ball launcher. One can easily set the launching range between 10 to 30 feet depending on the location of the play area.
The unit is fully portable and supports a dual power source, power it with the help of the power adapter included in the pack while indoors or using six C cells while outdoors. The small sized balls included with the main unit are easy to mouth and carry.
iFetch with its innovative design encourages development of physical and cognitive abilities of pets. Hassle free handling, portability coupled with a year of manufacturer's warranty makes it the best Interactive Ball Launchers Dog Toy.
Key Features:
Automatic ball launcher requires least manual intervention
Small sized balls make for an easy mouth and carry
Innovative design encourages honing of cognitive abilities
Dual power source enables true portability
Also available for large sized pets
Why Do Dog Needs Interactive Dog Toys?
There are tons of dog toys out there, including their favorite chew toys and tennis balls. So why do dogs need interactive toys? Well, regular toys can keep your puppy busy for some time.
However, no matter how much your dog likes the toy, he'll eventually get fed up with it if he has no playing partner. That partner is usually the pet owner, and you might not always have time.
If canines are left on their own, they'll feel bored, and we know that a bored dog is an unhappy one. Soon he'll turn to other forms of entertainment that include the destruction of the house. That is especially true for breeds like retrievers, as they tend to be smarter and can feel lonely.
Interactive dog toys work to prevent that by providing creative entertainment. This can include solving puzzles and responding with recorded sounds.
More intelligent breeds may require extra attention and stimulation. For that, some have adjustable levels, and you can increase the difficulty.
Different Types of Interactive Dog Toys
Now that you know why you need interactive toys, let's dig in to understand the various available types.
Treat Dispensers

: These toys require your dog to solve a puzzle or complete a particular action to receive a treat. By playing with this, your dog can learn patience and creativity by getting the treat.
Ball Launching

: If your dog loves to play catch, this interactive toy is the one. These allow your dog to play fetch even when you cannot be around.
Electronic

: These types use either lights or various sounds to interact with your pet and provide some tasks to be completed. Canines, who specifically love to make noise, will love this toy.
Puzzle and Hide-and-seek

: Sometimes, treat dispenser toys come in the form of puzzles. After solving these, your pup can find the hidden treats. These require a dog's problem-solving skills and usually have adjustable difficultly.
Moving Toys

: This type comes with sounds and move on their own. Their main goal is to make the dog chase after them and help them learn basic hunting skills.
Tug-Of-War

: Many active dogs love to pull and indulge in tug-of-war sessions. These come packed with action and cover the exercise your canine needs.
How to Introduce Dogs with Interactive Toys?
If it's your canine's first time playing with an interactive toy, it is a good idea to help him get acquainted with it. After all, interactive dog toys are quite different than their regular counterparts.
They require some action to be completed and make sounds to respond to your dog. For puzzles and treat dispensing toys, you'll have to show your pet how to do it first and then let them get the hang of it. The same goes for other types of dog toys.
It is also a great time to teach your pet by making him imitate your actions. However, it is for fun, not just learning skills. Therefore, keep your teaching session shorter and focus on motivation instead of skill.
We know all dogs are different, some are more intelligent in puzzle games, and other breeds are good in action games. Channel your inner trainer to help your dog become accustomed to the interactive toys.
Features to Consider Before Choosing Interactive Dog Toys
Interactive toys differ in their shape, sizes, and functions. Finding the right one can prove to be a good investment in your pet's life. These stimulate the mind and offer long-term enjoyment. Therefore, before purchasing one, you'll need to keep the following things in mind.
Safe and Non-Toxic
These are made to keep your pup company for a long time. This means the toy will go through a lot of chewing, biting, and tossing around. Sometimes dogs are just naturally prone to try and eat a foreign object.
Therefore, it is best that the toy you select can withstand all this. Mostly, these are made of non-toxic materials; however, if your pet is an aggressive chewer, choose one that is not too soft. If it is, then the toy might not last long. While interactive toys are made while keeping all these things in mind, you might need to supervise your dog.
Easy but Not Too Easy
Interactive dog toys are different because they provide long-term entertainment and stimulate the mind. However, when buying one, you'll need to keep a balance between its difficulty and easiness.
If it is either too difficult or too easy, your pet will get bored quickly. A great option is you can adjust the difficulty level. You might want to keep it easy at first and then gradually increase the difficulty.
Fun and Entertaining
If a toy can't fulfill that purpose, it is no different than any other random thing. Therefore, when buying, just consider your canine's habits and likes. If your pup prefers round-shaped objects, then a similar-shaped treat-dispensing toy might just be the thing. For dogs that like chew toys, there are other softer options as well.
Strong and Durable
An interactive toy is a long-term investment, and you want to make sure that the one you choose is a good one. The material used tells a lot about the strength.
Some are made from fabric and have a shorter lifespan. On the other hand, which are made from plastic, rubber, and other non-toxic materials last longer. Choosing the right brand is key because these offer money-back guarantees if the toy breaks earlier than it should.
The Appropriate Size
Dog breeds differ in size, and so do their respective toys. Pets love to play with interactive toys, and they do so mostly using their mouth. Other toys require some sort of activity to get a certain treat.
If these are too large, your canine will not be able to play with it easily. On the other hand, if a larger dog plays with a very small toy, it can pose a risk of choking. Therefore, it is important to take the right size.
Easy to Clean
Hygiene is really important, and it is also the same with interactive toys. Some of them require you to put treats inside. The pet can then get these by opening the toy. Since there is food involved, you want to make sure that can be easily cleaned. An ideal option is one that is dishwasher-safe.
Adjustable Difficulty
When introducing an interactive dog toy, it can be difficult for your dog to understand it right away. Adjustable toys allow you to reduce or increase the difficulty according to your canine. After all, these aren't supposed to test your dog's IQ, these are supposed to enhance it. But that does not need to be fast.
The Right Kind
There are many different types ranging from puzzles to talking chew toys. You need to know which one will suit your pet the best. You can find that by observing your pet's habits.
Does your canine love to chew things, or does he just toss them around? Some dogs need a trickier puzzle. Based on that, you can choose the right one.
Benefits of Interactive Dog Toys
These special toys are different from others, and so are their benefits. These benefits are the reason for the recommendation of animal experts. Let see why:
Improves Behavior and Reduces Aggressiveness: These stimulate a dog's mind and provide fun activities, even when the owner is not around. When your dog does not feel lonely, they automatically do not get bored. As a result, you will not find your pet chewing on the furniture or making a mess of the room.
Improves Problem Solving Skills: When your dog interacts with the toy, he also learns something from it. Whether it is related to solving a puzzle or chasing a moving toy, these improve your dog's natural skills.
Teaches Patience: Many treat-dispensing interactive toys only give the treat after the canine has completed a certain task. This allows the pup to learn patience, and they do not jump on food as quick.
Reduces Anxiety and Loneliness: Intelligent breeds like shepherds understand when they are alone at home and can feel anxious and lonely. These emotions may become the cause of other behavioral issues. These provide a fake partner and reduce the feeling of solitude.
Some Important Tips
When allowing your puppy to play, there are a few things you need to take care of.
If your dog is a strong chewer, do not buy a softer toy. If your canine is able to chop off a piece, it can cause serious health problems.
For treat-dispensing toys, choose materials like rubber and nylon. These offer a better grip on the added treats and encourage your dog to play for longer.
While introducing, do not do everything yourself and allow your pet to examine it.
For chew toys, keep your dog's jaw size in mind. Also, make sure that is not too sharp at the edges.
These are made so canines can play on their own; however, do encourage them from time to time and show appreciation when possible.
Final Thoughts
Dogs need a plethora of activities and attention. If you cannot give them that attention, you might soon see aggressiveness and anxiety in their behavior.
To prevent that, you can introduce interactive dog toys. These allow your pet to learn and enhance skills and interact with the dog and reduce loneliness.
These are also a great way to train your dog to imitate and learn from you. Therefore, you can relax, and your furry friend can enjoy a stress-free stimulating game session.
Frequently Asked Questions
What is an interactive dog toy?
It is made specifically to stimulate the canine's mind and keep him busy. These offer productive play as your dog actually learns something from them. These are a great alternative that usually requires you to play with your dog. These focus on your pet's enjoyment and reduce destructive behavior.
How does an interactive dog toy work?
Just like their name suggests, interactive toys interact with your pup in some way. While there are many different types, some of these types either require some task to be fulfilled and then give a prize.
Others simply respond by either vibrating or talking. Of course, these do not actually speak but have sounds or some reaction to the dog's action. An example is in which you can put treats, and then your canine tries to get it on its own.
Which materials are commonly used in Interactive dog toys?
It depends on the type. Mostly, interactive toys like balls are made from non-toxic materials that are sturdy and can withstand all the rough treatment.
The materials can also be easily cleaned and are dishwasher safe. This is done because we know that pets love to chew and bite things, especially their toys. It has a safe, soft covering to prevent any issues.
Which is the best interactive electronic dog toy?
The best electronic toy is the "Pet Qwerks Talking Interactive Wisecracks." It is a motion-activated ball and starts automatically when moved. It is sensitive and can even sense if your dog breathes near it. When not in use, it turns off automatically. The ball is made from ABS material and has many different words it can say. It makes your canine feel like its talking to him, and he'll be more engaged in playing.
Would it be harmful if my dog chews interactive toys?
No. All good interactive toys are made from non-toxic materials as getting chewed. These are also sturdy enough to withstand bites and are dishwasher safe so you can easily keep them clean.
What is the best interactive chew dog toy?
When it comes to great interaction and chewing, the best dog toy is the "West Paw Interactive Dispensing Aggressive." This has a solid built that can withstand aggressiveness. It is a treat-dispensing toy which means it gives a treat when interacted with. To make sure it is safe, it is made from BPA and Phthalates-free, non-toxic materials,
Can interactive toys be helpful for my dog's mental stimulation?
Yes. these get rid of boredom, which is the leading cause of aggression and behavioral issues in dogs. They also allow your pet to learn something by either responding or giving a treat.
What is the best interactive puzzle dog toy?
The best puzzle interactive toy is the "Ottoson Outward Hound brick puzzle." This puzzle game has 4 different difficulty levels ranging from easy to expert level. It is simple and allows your pet to learn by flipping and finding the treat. Another great thing is that this puzzle offers a new challenge each time, and your dog can play with it for a long time.
Which is the best interactive squeaky dog toy?
The "StarMark Bob Lot Interactive Small" is an excellent choice for a squeaky interactive toy. This has a spacious chamber where you can fit a complete meal for your dog. You can choose between a large and small size according to your dog's size and weight. This is to make sure that the food holding capacity is enough.