Joint supplements for dogs go a long way in preventing joint issues such as hip condition, arthritis, and other joint-related pain in spite of the size, age, or breed of the dog. Joints can sometimes become painful and stiff, which makes your fun-loving, hyperactive dog weak and inactive, finding it difficult to move.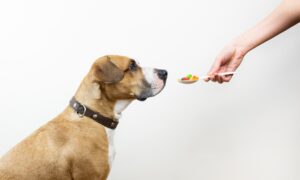 Due to the pain, the dogs can become extremely agitated and sometimes aggressive. These supplements help boost the dog and give him the needed energy and treatment to get him back to action.
Though dog joint supplements do not permanently cure the condition, they help in making sure that joint health is better than before. The supplement can be mixed with appropriate dog vitamins and food for an effective result.
Though there are a variety of supplements available in the market, some of them do less in preventing joint problems. To give you a head start, we collaborated with pet experts to give you the list with a detailed buying guide.
Best Joint Supplement for Dogs in 2021 – Reviews
1. Our Top Pick – Cosequin Maximum Strength Dog Joint Supplement
Top Pick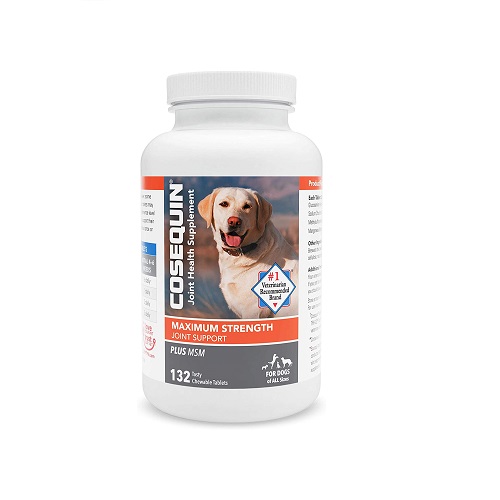 Cosequin Maximum Strength Dog Joint Supplement
A powerful joint supplement for all pets: treats painful joints, repairs connective tissues, and cartilage.
Cosequin Maximum Strength Joint supplement is the best solution for pets with aching joints and low mobility. Painful joints, in addition to affecting the pet physically can also have a negative impact on the mental and emotional makeup.
Pets with aching joints show less mobility and when they move, the signs of pain are obvious. This can be heart wrenching. While painful joints and a failing bone structure are common in pets approaching old age, the symptoms can also be seen in young pets.
The young pets who are less active, prefer laying down than standing and are less than playful most of the time, might be suffering from aching joints. Often owners mistake it for lethargy and can be oblivious to the painful ordeal of the pet.
But not anymore, the supplement from the house of Nutramax, not only eases the pain but also helps to treat and repair joint connecting tissues and cartilages.
The active ingredients have proven to be effective in the strengthening of joints and improving the joint functions. While Glucosamine and Chondroitin add to strength, Methylsulfonylmethane works on the connective tissues and cartilage.
This effective formulation maintains and improves the functioning of the pet joints. Most vets recommend it for pets who are lethargic or less active. Yes, this composition can help improve mobility and make your pet active. Recommended for pets of all sizes and breeds irrespective of age, the supplement has a tablet form.
This saves worrying about the size of the dose, as the dose can be easily determined with the number of tablets. No one has to worry about the ways to feed it, as these tablets are chewable and with the added chicken flavor, any pet will love to lay their teeth on them.
With an effective formulation, right active ingredients that truly supports and enhances joint functions, and added flavor that ensures ready intake, the joint supplement is the best dog joint supplement.
Key Features:
Active ingredients help improve mobility, repair and maintain joint functions
Tablet form safeguards against under or overdose
Chewable tablets with added flavor are easy to feed
Fast working formulation
For pets of all sizes and age
2. Runner Up – Nutramax Laboratories Joint Supplement
Runner Up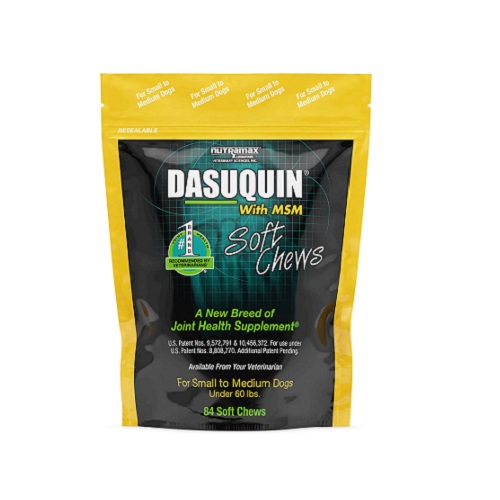 Nutramax Laboratories Joint Supplement
A joint supplement for small and medium sized pets that provides effective joint support and cartilage growth.
Dasuquin soft chew Nutramax Laboratories pet joint supplements provide the best cartilage support for pets below sixty pounds. The vet approved formula with principal ingredients strengthens joints by supporting cartilage and facilitating growth.
The prime ingredients are composed to be light on the digestive system and have the goodness of the soluble fatty acids of avocado and soybeans. Glucosamine hydrochloride and Chondroitin Sulfate strengthen the bones while Methylsulfonylmethane lends the best cartilage support.
The soluble fatty acids of avocado/ soybean help growth of cartilage and the MSM helps it to retain the growth and strength. The joint supplement helps to maintain joint functions and enhance mobility.
The soft chew tablets packed in eighty four counts bags leaves little room for doubt regarding exact dosage. The formulation is composed to be light on the pet's stomach to prevent indigestion and loose bowel movement, common with other let joint supplements. The soft chew tablets do not have any added flavor and break easily in the mouth.
The supplement easily matches the best in class supplements in terms of composition and effectiveness but for the limitation of the pet's weight and the lack of a flavored formulation, this pet joint supplement from the house of Nutramax is the runner-up in our list.
Key Features:
The effective formula helps maintain joint health
Support cartilage growth and strengthen bones
Easily digestible, soft chewable tablets
Vet approved formula
No added flavors
3. Best Budget – PetNC Natural Care Hip and Joint Supplement
Best Budget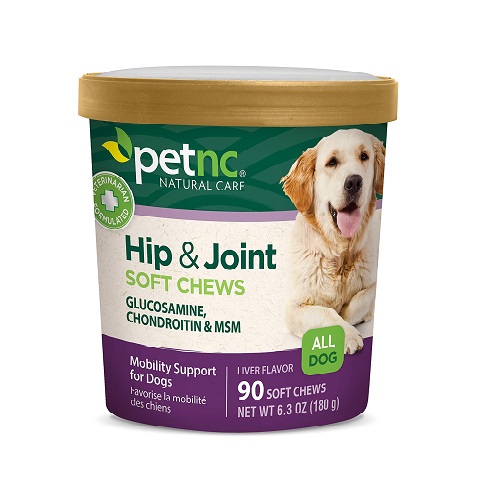 PetNC Natural Care Hip and Joint Supplement
An affordable best in class pet hip and joint supplement.
PetNC Natural Care Hip is the most affordable dog joint supplement with the same principle ingredients of other high-end pet supplements. With the strictest quality checks of raw materials and equally strong quality control checks during manufacturing, the supplement from the house of PetNc does not compromise on the quality of the product.
The main principal ingredients of Glucosamine, Chondroitin, and Methylsulfonylmethane make bones and joints strong, helps cartilage growth in and maintains healthy joint functions. The additional ingredients like Vitamin C, Manganese, Copper and Zinc ensures that the cartilage growth is maintained at all levels. Additionally, Vitamin C being a natural antioxidant helps retention of the growth.
The chewable tablets are soft and can be effective for pets of all ages and sizes. The packaging is at par with the approved industry standards. The pack has clear and accurate nutritional information along with a clear feeding chart. The initial administration period of four to six weeks as declared in the label is tentative as most pets are reported to show marked improvements in mobility within the first couple of weeks.
The soft chewable comes with an added liver flavor making it easy for feeding. Shellfish and Pork are also a part of the composition along with other natural ingredients like Rice barn, Rosemary extracts, mixed Tocopherols, Soy Lecithin, Vegetable glycerine and oil.
The supplement is surprisingly affordable and with the best in class ingredients that have been proven to be effective in promoting and maintaining pet joint health, PetNC Natural Care Hip and Joint supplement is the best budget in the list.
Key Features:
Contains Glucosamine, Chondroitin and Methylsulfonylmethane
The highly effective formulation helps maintain healthy joints
Helps in growth of cartilage and supports connective tissues
Fit for rings of all sizes and ages
Soft chewable tablets with added flavor
Easily affordable vet approved formulation
4. Best Glucosamine Supplements for Dogs – Doggie Dailies
Doggie Dailies joint supplement is one of the best Glucosamine supplements for pets of all sizes, breeds and ages. Glucosamine is the natural existing compound in your pet's body that helps in building healthy joints.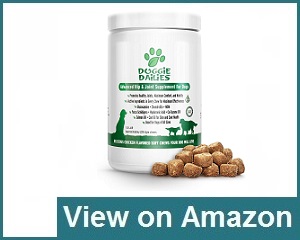 The pet supplement provides external dosage of Glucosamine that can be fed orally, to help fast and effective building of healthy joints, strong bones, cartilages and connective tissues. The strong formulation is laden with other ingredients that not only helps in building healthy joints but also promote overall growth and development of your pet.
While MSM increases mobility, Hyaluronic Acid promotes the healthy secretion of joint fluid that helps increase cushioning and decreasing painful joints. Coenzyme Q10 is a natural antioxidant that helps to maintain high energy levels and protects the pet's heart and lungs.
The medicinal properties of Yucca Schidigera protect the fur and coat and have anti-inflammatory properties. The easy chew tablets are easy to feed with a delicious chicken flavor. The powerful formulation might take some time for the gastrointestinal system of your pet to adjust.
With Glucosamine dosage and additional supplements that help maintain the overall health if pets, Doggie Dailies Glucosamine pet joint supplement is the best Glucosamine supplement in this list.
Key Features:
Effective supplement of the naturally occurring Glucosamine
The formulation promotes and maintains overall health and growth
Strong and effective formulation
Easy feeding with the added Chicken flavor
Comes in a pack of 225 tablets
5. Best Joint Supplement for Large Dogs – Nutramax Dasuquin
Nutramax Dasuquin soft chewable pet joint supplements provide the best cartilage support for large pets. The vet approved formula is an effective treatment for older pets with acute osteoarthritis. The principal ingredients are along with the soluble fatty acids of avocado and soybeans, helps to fight pain and inflammation.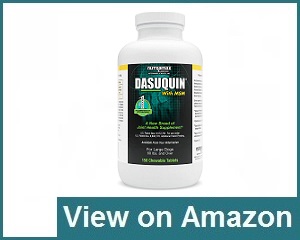 Glucosamine hydrochloride and Chondroitin Sulfate helps form a joint cushioning fluid that eases painful mobility. The Methylsulfonylmethane provides cartilage support and helps maintain healthy joint functions and enhance mobility.
The soft chew tablets come in a pack of one hundred and fifty chewable tablets and do not have any added flavor. Nutramax Dasuquin is effective for large pets with painful joints, low mobility and even acute osteoarthritis.
It helps fight pain, inflammation and helps in repair of connective tissues and cartilages. It provides support, repair and maintenance of healthy joint functions and is the best joint supplement for large pets.
Key Features:
Effective formula fights joint pain and inflammation
Supports cartilage growth and healthy joint functions
Effective in treatment of acute osteoarthritis and dysplasia
Available in packs of one hundred and fifty chewable tablets
Vet formulated with no added flavor
6. Best All-Natural Hip and Joint Supplement for Dogs – Infinite Pet Supplements
Infinite Pet supplements is an all-natural hip and joint supplement that promotes and helps maintain healthy joint functions in pets of all ages and sizes. All the powerful ingredients required for healthy growth of connective tissues, cartilages and bones are derived from natural sources.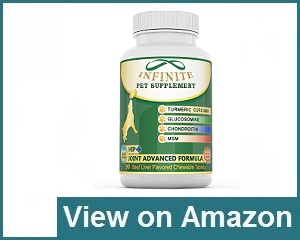 The supplement has the added goodness of organically grown Turmeric. The proven medicinal properties of Turmeric help fight inflammation, pain and is effective in the maintenance of a healthy liver, heart and digestive system.
It is also effective in maintaining a healthy skin and has anti allergen properties. Free of all strong and harmful chemicals, the natural supplement in addition to maintaining a healthy joint and hips also helps in weight management and digestion.
A single pack contains ninety chewable tablets that are easy to feed with an added natural beef liver flavor. The supplement helps in rapid growth of connective tissues and cartilages in young pets and strengthens bones.
For older pets it fights inflammation, joint pains and supports cartilages. The natural supplement helps maintain healthy vital organs and enhances mobility and energy levels. With human grade quality of ingredient sources and strictest quality control during preparation, Infinite Pet supplements are the best all-natural hip and joint supplement.
Key Features:
Fit for pets of all ages and sizes
Helps growth of connective tissues and cartilages and strengthens bones in young pets
Helps maintain healthy joint functions and fights pain and inflammation in older pets
Easy to feed with natural beef liver flavor
Lifetime hassle free money back guarantee
7. Best Liquid Joint Supplements for Dogs – TerraMax Pro
TerraMax Pro liquid supplement can be a blessing for owners with pets that repels chewable supplements. The liquid supplement with the principal ingredients: Glucosamine, MGM and Chondroitin Sulfate can be an ideal replacement for chewable and powdered supplements.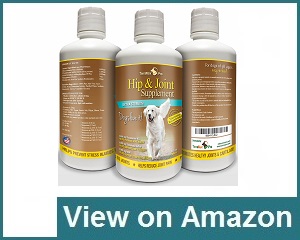 The proprietary formulation has been proven to be more effective with higher absorption rates and purer and stronger active ingredients. The ultra-refined opti-MGM has greater sensitivity than regular MGM and the Chondroitin has the purest form of Sulphur that helps the growth of cartilages.
The ingredients are derived from all-natural sources and can be used simultaneously with other medications and supplements. The liquid supplement can be effective for pets of all sizes and ages. It does not have any added flavor and is sweet in taste.
It can be fed easily by mixing with meals and many pets have reported to find the sweet taste appealing. TerraMax Pro joint and hip supplement with an increased rate of absorption and higher levels of strength is without doubt the best liquid joint pet supplement.
Key Features:
Greater absorption of the supplement increases the effectiveness
Higher strength and purity of the principal ingredients make it potent
Helps maintain healthy joint and hips functions
It has a sweet taste and is easy to feed
Comes with 100% money back guarantee
8. Best Powder Joint Supplements for Dogs – The Missing Link
The Missing link All Natural Superfood supplement with Glucosamine and Omega 3 and 6 is an ideal alternative for liquid and chewable pet joint and hips supplements. The cold pressed powdered form with refrigerated storage keeps all the active nutrients intact and can be effective every time during long duration of usage.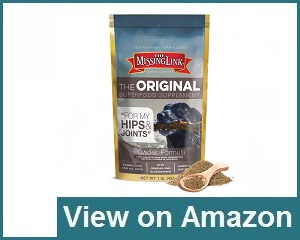 While the Glucosamine supports healthy growth of cartilage, the Omega 3 and 6 fights pain and acts as anti-inflammatory agents. Ideal for adult pets, the additional flaxseeds, phytonutrients and dietary fibers helps maintain a healthy heart, digestion and overall health.
The pet supplement aims to provide all the nutrients missing in a normal pet diet food. With essential Vitamins B1, B2, B3, B12 and B6 the pet supplement helps in maintaining proper functioning of all the vital organs and ensures healthy skin, hair, fur and nails. Truly a pet superfood!
Inspite of the absence of added flavor the pet supplement can be easily fed by mixing with normal pet diet. The cold compression helps in maximum retention of the naturally derived main ingredients. The loss of nutrients can be easily prevented by storing the open packet in the refrigerator.
With Glucosamine to help maintain healthy joint functions, Omega 3 and 6 to fight inflammation and joint pain, a plethora of added nutrients to provide a wholesome diet, The Missing link All-Natural Superfood supplement is the best powder dog joint supplement.
Key Features:
Provides additional nutrients for overall growth
Helps maintain healthy joints and fights pain and inflammation
All naturally derived ingredients
Balanced omega supports for healthy immune
Easy to feed
9. Best Healthy Joint Supplements for Dogs – Paws & Pals
Paws and Pals pet supplement has a powerful formulation that has been proven to be ideal for healthy joint and hip function. In addition to maintaining healthy hips and joints the chewable are laden with vitamins, minerals and other nutrients that promote overall health.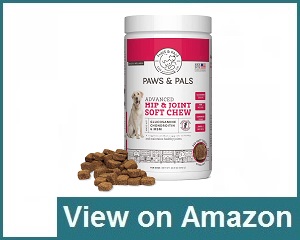 The supplement improves mobility, increases energy levels, fights pain, inflammation and also helps maintain healthy skin, hair and nails. It is effective even in cases of osteoarthritis and dysplasia. The naturally derived principal ingredients and the goodness of natural antioxidants, minerals and nutrients provide all the essential nutrients for adult and senior pets.
It supports cartilages and protects connective tissues, helps in effortless bending and movement, increases energy levels and boosts the overall health of your pet. The chewables come in packs containing two hundred and forty tablets and makes for a hassle and worry free measure of dosage.
The lack of added flavor is hardly missed as the natural ingredients makes it a tasty option. Strong and effective principal ingredients that help maintain healthy hips and joints and fights pain and inflammation along with vitamins, minerals and dietary fibers for the overall health of your pet, Paws and Pals is the best healthy Joint supplement for pets.
Key Features:
Contains principal ingredients that help maintain healthy joints
Fights pain and inflammation
Effective against osteoarthritis and dysplasia
Helps in overall growth and health of the pet
Comes in a pack of 240 chewable tablets
10. Best Joint Supplement for Small Dogs – VetriScience Laboratories
VetriScience Laboratories pet supplement for small dogs is ideally formulated keeping in sight the dietary requirements, right dosage of DMG, MSM and Chondroitin for small and petite pets. The main principal agent: Perna Canaliculus is an edible green lipped mussel found in New Zealand.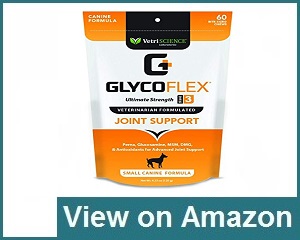 It is a rich source of polypeptides and amino acids required for growth and maintenance of healthy connective tissues and cartilages. The pure sulphur content in MSM helps provide growth in the cartilage matrix and DMG helps in maintaining high oxygen levels and is also an antioxidant fighting wear and tear.
The vet approved formulation has been tried and independently tested in reputed institutes and has been found to increase hind leg strength up to 41 percent. In addition to healthy joints, it boosts energy levels and mobility.
With added vitamins, minerals and nutrients, the chewable provides all the essential nutrients for the overall growth and development of the small pet. Available in two mouthwatering flavors of Chicken liver and duck, the chewable is easy to feed.
With the perfectly balanced composition of principal ingredients vital for growth and development of healthy joints along with added minerals, vitamins and nutrients for overall health, VetriScience Laboratories supplement is the best joint supplement for small dogs.
Key Features:
Specially formulated for small and petite pets
Helps growth and development of healthy joints
Provides essential nutrients, minerals and vitamins for overall growth
Comes in two delicious flavors
Full money back guarantee
Why You Should Buy a Joint Supplement for Dogs
Joint health is very important for our dogs to live long and happy lives. Though functioning joints are what allow our dogs to run and move quickly and freely without stiffness or pain. But sometimes, our dogs might need some boost to make their joints healthy and function well. Your dog's joints can become stiff and painful, and this will make your active dog become weak and inactive.
Joint supplements help give the dog the much-needed boost to return back to their normal selves. Although the supplements cannot permanently cure such ailment, they provide great support and help in ensuring that your dog's joint health is better than the way it is before. The supplement can be mixed with food and vitamins for the dog.
The joint problem is a common ailment in dogs and can be a minor pain to severe discomfort. The joint problem can also be severe that your dog can't exercise or walk for a short distance. The pain can also be unbearable for your dog that he might finds it difficult to stand up. The commonly affected parts or areas are the hips and elbows. However, with the help of an appropriate joint solution, this issue can be mitigated.
Common Causes of Joint Problems in Dogs
There are several things that can cause joint problems in dogs, these include:
Osteoarthritis in dogs: This is the most common cause of dogs' joint problems. It can occur as a result of old age or due to other conditions.
Hip and elbow dysplasia: These problems can occur due to lax muscles or misshapen joint structure. Some dogs like German Shepherds, Great Danes, Labrador Retrievers, Golden Retrievers, Rottweilers, and Saint Bernard's are more susceptible. This issue can also be inherited from past ancestors through DNA.
Hormonal conditions in dogs: Some conditions (i.e hyperparathyroidism) can result in an imbalance in the phosphorus and calcium levels in the blood. This can cause the deterioration of bones leading to inflammation and joint pain.
Spinal disease: Certain breeds can be affected by this type of complication than others, with Beagles, Cocker Spaniels, and Basset Hounds are more susceptible.
Age: Cartilage starts to degenerate once the dog is getting older, while arthritis is very common in senior and mature dogs, it is also common in young dogs too.
Excess weight: Dogs become excessively stressed when they gain excess weight. This normally leads to joint health problems and joint pain.
Accidents or trauma: Trauma to cartilage as a result of accidents can destroy cartilage which might later lead to joint pain in dogs.
Symptoms of Joint Problems in Dogs
Some of the major signs of joint problems in the dog include:
Limping and stiffness: When dogs are getting older, they can develop a slight inflammation which can lead to limping and stiffness. One of the reasons for stiffness is the regular wear and tear of the hip joint which then causes the dog to limp while moving around.
Sleepiness: One of the signs of joint pain in dogs is sleeping. They will be spending more time sleeping or resting. They tend to walk less, this increase in lethargy can result in weight gain which also puts excess pressure on his joints.
Spinal issues: Your dog's spine can be affected as a result of joint inflammation. This can cause hunched back, sore neck, or abnormal stance while walking.
Irritability and aggression: Joint pain can affect your dog's mood. He might try to bite you when the joint is touched. This could be a sign of pain in such an area.
Licking, chewing, or biting: If a dog is licking his paw or biting his leg constantly, it could be a sign of pain in those joints. When a dog is hurt in a particular spot, he knows how to draw ones attention to such an area by acting in certain ways which include licking, biting, or chew.
Types of Joint Supplements for Dogs
Like dog foods, joint supplements are also in different types. Each serving its own purpose. They include:
Tablets

: This is one of the common types of supplements for a dog's joint. It requires some effort to get your dog to swallow the tablet. Though experts suggest that dog owners can push the tablet to the back of the throat to withstand dog's gag reflex. It is sometimes unbearable to watch your dog suffer. Tablets also include binders that allow active ingredients to compress and stop it from loosening.
Liquids

: This is more preferred because it has active ingredients which can easily absorbed by the intestinal tract of the dog. It can be mixed with dog foods. It is also available in different flavors that you can from. It is important to give your dog the required dosage of the supplement.
Powders

: For those who are not comfortable with either liquids or tablets, this will be a better option. They can be mixed with dog food or dissolved in his drink. However, there are some dogs who don't like the texture or taste.
Dog Chews

: These are treats that contain some ingredients of joint supplement which are palatable for dogs. This means you don't have to push the pills down the throat. It is available in different flavors for your dog.
Vital Ingredients for Dog Joint Supplements
It is necessary to have the right ingredient for the joint supplement as it will play an important part in the improvement and recovery of a dog's health. Some essential ingredient that joint supplement should contain include:
Glucosamine: This is a chemical substance that helps in the production of cartilages, ligaments, and tendons. It is a very important and beneficial ingredient that ensures the continuing development and formation of healthy cartilage. It also helps in reducing the extent and severity of arthritis and the pain associated with it.
Chondroitin: This ingredient is an important structural element of cartilage. Dogs can easily and effectively rebuild damaged cartilages in the body when given chondroitin. The main function of chondroitin is that it provides resistance against compression in order to prevent the bone structure from damage. It has also been proven helpful in reducing the breakdown rate of cartilage. Chondroitin is combined with glucosamine to reduce the articular pain and any swelling related to inflammatory events.
Omega fatty acids: This is another important ingredient that comes in the form of omega fatty acids. It aids in skin health, eye development, and brain function. Omega fatty acids are generally used for reducing joint inflammation. This helps in relieving pain due to injuries, osteoarthritis, and dysplasia.
Methylsulfonylmethane (MSM): This is a common ingredient found in dog joint supplement. It helps in reducing pain and preventing inflammation.
Hyaluronic acid: This is a very crucial ingredient of joint supplements. It helps in the proper functioning of dog joints. It is also a tissue repairing ingredient that improves the overall elasticity and hydration of skin structures.
Coenzyme Q10: This ingredient is a fat-soluble substance that also serves as a supplement for those with heart conditions. It helps in reducing the inflammatory changes in the joints.
Turmeric: studies have revealed that turmeric is a very effective medicinal herb especially due to its active ingredient; curcumin. Turmeric effectively works as skin protective, analgesic, anti-inflammatory, and anti-arthritic preparation. It addresses various signs and symptoms of joint issues like discomfort, swelling, pain, and inflexibility or immobility.
Vitamin C: This ingredient aid in improving the body's ability to produce collagen. This further improves and strengthens the health of your dog's ligaments, tendons, joints, and tendons. Likewise, it maintains and repair connective tissues and at the same time slows and prevents direct and indirect cellular damage.
Vitamin E: This helps in preventing inflammatory conditions of the dog's joint. It also aids in reducing the cartilage destruction and promote its repair. When Vitamin E is combined CoQ10, it gives an effective and amazing result.
Selenium: Selenium is a vital ingredient for the regeneration of damaged cartilage. It makes cartilaginous tissues stronger which in turn ensures healthy joints.
Things to Consider When Choosing Joint Supplements for Dogs
With different dog joint supplements in the market, it is becoming difficult to decide which one to go for because not all supplements are equally created. Here are some things to consider before choosing any joint supplements for a dog:
Format
This is an important factor to keep in mind when choosing a joint supplement for dogs. There are chewable, tablets, and liquids available. Chews are very common because they taste like dog treats that can be taken easily, one of the cons of chews is that they less active ingredients than other formulations.
Liquid supplements are also effective, they can absorb easily and can be mixed with food for the dog. The only challenge here is that dogs may not be comfortable with the taste and might not eat the food. Tablets contain important active ingredients.
Flavor
The next thing to consider is the flavor. Just like humans, dogs are also picky, so choosing a nice flavor is a vital decision to make. There are supplements that have the taste of pork, fish, beef, liver, and chicken.
Safety
Safety is another factor to consider while choosing any joint supplements for your dog. There are certification bodies that identify and examine products. Therefore, this factor (safety) can be identified by merely looking at the certifications and recommendations.
Ease of Administration
All the other factors don't need to be considered if your dog cannot take the supplement you have chosen. Many joint supplements are flavored and chewable, which help in convincing your dog to have a try of it. Although if you have a picky dog, you might need to be flavor-conscious when searching for a joint supplement.
Active Ingredients
Though most people prefer glucosamine for their dog joint supplement. However, there are other powerful ingredients like MSM, turmeric, omega-3 fatty acid, and chondroitin. Though joint supplements for dogs are not the same, there are some common and active ingredients contained in most of these joint supplements.
Therefore, if a supplement includes only one or two of these ingredients, then you are likely missing some benefits. The amount of or quantity of active ingredients is another factor to take into consideration.
Glucosamine helps in reducing inflammation and joint pain, it also increases joint mobility. Glucosamine is often combined with chondroitin to enhance joint repair. Turmeric consists of curcumin, which is a powerful anti-inflammatory. Omega -3 fatty acids help reduce joint stiffness, swelling, tenderness, and discomfort.
Hemp which has omega-6 and omega-3 fatty acids aid in reducing inflammation and pain. All these ingredients are important in one way or the other. If your dog is sensitive, you can avoid formulas with soy, dairy, corn, and GMO ingredients.
Allergies
If your dog is the type that has reacted to some ingredients in the past, go for a hypoallergenic joint supplement. Though they might not be 100% allergy-free, they are less harmful as they contain fewer ingredients that cause sensitivities in dogs.
Price
If you are a budget person like me, you will want to consider the cost of a joint supplement for dogs. The price varies from $10 to $100.
Benefits of Joint Supplements For Dogs
Some of the benefits of joint supplements for dogs are explained below:
Alleviates pain and suffering: When dogs are in pain, they get agitated, grumpy, irritated, and aggressive. They may refuse to eat, play, or go for a walk just because their attention is geared through the pain. As time goes, they began to show some signs of deteriorating health. Most dog joint supplements include ingredients with anti-inflammatory properties and analgesics. These help in reducing the inflammation which is the source of the suffering and pain.
Improves the quality of life: The seriousness of pain can affect the lifestyle of dogs. It affects their physical, social, and emotional wellbeing. A dog can easily become lonely and depressed if he cannot join their children and masters during outdoor activities. Using supplements can prevent all these from happening.
Enhance overall mobility: This is one of the most important reasons why dogs need joint supplements. Dogs are not fond of lying and sleeping for a very long time. They need to play and exercise. If any of their four legs develop a problem, it can affect their mobility. However, with an effective joint supplement, this problem will be minimal.
Facilitate positive dog behavior: With proper mobility and exercise, your dog will be able to showcase his positive behavior.
Strengthens owner-dog relationship: Applying supplements on your dog tells him that you care about his health and wellbeing which further strengthens the relationship between the two of you.
Important Tips
Regular exercise will improve the muscles around the dog joint, it will also support the joint to function better. A few walks can minimize your dog's pain and relive joints' stress. But be sure to monitor the dog while he is playing, walking, or running.
Go for regular checkups so that your vet can examine the dog's joint problem and make the required adjustment to the prescription or treatment plan.
Try raw food for your dog to keep him slim in order to decrease the load on his joints.
Try to keep the dog warm and dry. Cold and damp areas can worsen the situation. You can buy a padded bed for the dog.
Try pain medication, (i.e nonsteroidal anti-inflammatory drugs and disease-modifying osteoarthritis drugs). They help relieve pain.
Adjust the dog's environment. You can do the following to help your dog: use ramps to support your dog while getting in or out of a car or up to a bed, put down rugs or carpets to help him get traction while walking, and provide soft bedding to support the dog.
Surgery might be proposed for your dog if the joint problem is advanced. You can ask your veterinarian about the steps to take and what to expect.
Conclusion
A joint problem in dogs is normal but needs to be effectively prevented or taken care of. It can be prevented by administering your dog with joint supplements regularly. It is advisable to take swift action when you notice any symptoms of joint problems. You can also contact your vet if the symptom is not clear to you.
Frequently Asked Questions
What are joint supplements for dogs and how do they work?
A joint supplement is a medication given to dogs regularly in order to maintain their joint health and improve mobility. It comes in various forms including liquids, tablets, chews, treats, and capsules.
How can I understand my dogs need joint supplement?
There are several signs your dog exhibit or show that tell you if he need the supplement. Some of the signs include limping, stiffness, biting, tiredness, sleeping, and loos of appetite.
Will joint supplements help my dog?
Joint supplement lowers the risk of developing arthritis as they grow older and it also maintain healthy joints for the dog.
What are the signs that your dog is suffering from joint problems?
There are various signs to tell you that your dog is having a joint problem, these include limping, stiffness, biting, tiredness, sleeping, and loos of appetite.
What age should I give my dog joint supplements
Joint supplement can be given to dog as young as one year old if they are prone to joint pain.
Should I check with a veterinarian to make sure my dog needs supplements?
It is advisable to check with a veterinarian to be sure whether your dog needs the supplement so that you don't give him supplements that is not required.
Do I need different supplements for my two dogs?
Dog supplement are generally made for different dogs. However, it is necessary to consider their individual needs.
Are joint supplements safe for dogs?
Dog supplements are safe for your dog as they are made with natural ingredients. But if your dog is on different medication for another health issued, it is better to ask your vet to know if it is ok to mix it.