Many will think how an Outdoor Dog House is just an accessory addition to your lawn or backyard. But when you see your pup enjoying his space in a perfect shelter, you will never doubt your decision of getting one for your pooch.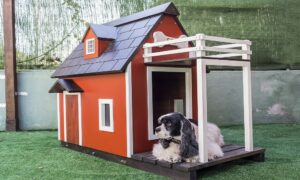 Being a pet parent, you must think of your dog's comfort and his personal space as well. A personal space of your canine ensures that he feels safe and secure in every circumstances. It can be his resting station while playing all evening, or just a place to have a good night sleep.
It can also be an alternate option for keeping your dog if you don't want him to create a mess around the house. So, in short, it will not only prove to be the best long-term investment for your pup but is also a great choice for keeping your home mess-free!
For helping you out in finding the best version for dogs, keep reading the buying guide we've prepared along with 10 Best Outdoor Dog House reviews for the best purchase.
Best Outdoor Dog Houses in 2021 – Reviews
1. Our Top Pick – Petsfit Outdoor Dog House
Top Pick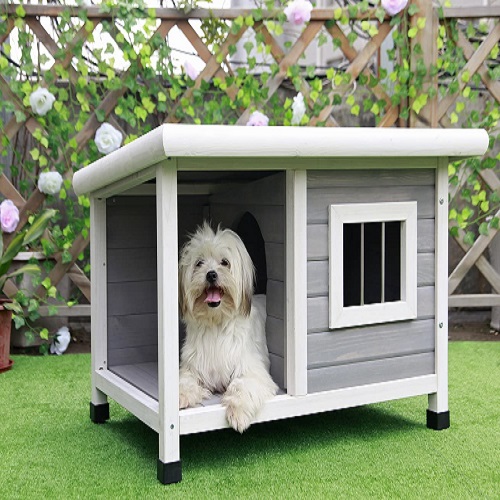 Petsfit Outdoor Dog House
With a weatherproof interior and a covered porch, this is the most popular choice for dogs.
Petsfit have become the best choice for accommodating small to large dogs. You can install this at any outdoor site and let your pet stay safe throughout a day.
To construct this, Petsfit has used kiln dried cedarwood. Moreover, manufacturers have chosen natural color for proper staining of the model. Weather elements cannot damage the integrity of the structure. it will last long despite its regular use. What's more, it is easy to assemble the system as there are pre-drilled holes.
The interior side is spacious, and your small doggie can easily get in and come out of this. Check out the door dimension and your dog size before placing your order.
We have found an elegant, unique design which has a window to prevent the ventilation issues of your dog. Your dog will not feel suffocated, as the interior space will get fresh air from outside. Another notable thing is the porch on the front side. Your dog can come out of the room to enjoy some time on this porch.
The feet are adjustable, and you can manage the height of the system for your dog's convenience. The door can be flapped smoothly. The overall structure is easy to clean. You have to open the top portion and remove the bottom floor to clean it properly. With regular cleaning, you can maintain its original look.
In terms of functionality and design, Petsfit has become the best model among pet owners. You can find this product in different colors, including light grey, red, and yellow.
Key Features:
Made of high-quality materials to ensure lasting value
Integrated windows for proper ventilation.
Weatherproof design to avoid effects of rain and sunlight
Roof stained with water-based paint
It is designed for small dogs
2. Runner Up – Petmate Outdoor Dog House
Runner Up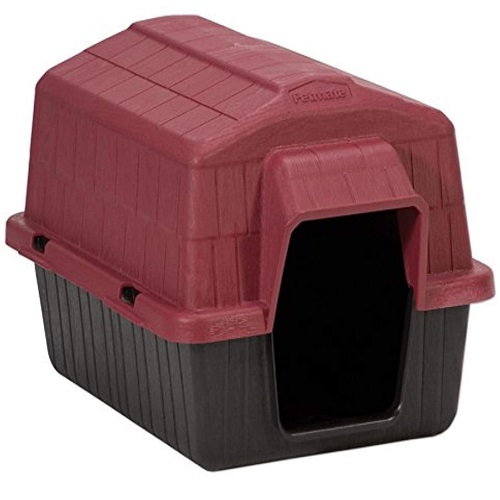 Petmate Outdoor Dog House
Petmate heavy duty barn style home lets your pet feel warm inside the cozy, well-designed.
With a combination of red and black, this Petmate house is the runner-up on our list. Designed for outdoor use, this has a barn-style model. The heavy-duty materials ensure that the system will last long. Petmate is a reputed brand in manufacturing quality products for furry pets. Thus, it has also gained compliments from lots of pet owners. To provide comfort and safety, you can train your dogs to use kennels.
Manufacturers have used durable plastic materials to design this. Moreover, they have applied mold-resistant finish to coat the surface of the overall structure. As you leave the kennel outside, rainwater can make it wet. You think that it can cause the growth of molds. To prevent this problem, mold-resistant coating serves you best.
There is no question on the durability of the structure. To assemble the system, you have to snap two pieces together. Thus, you do not need much time to set up the kennel. The lightweight design has made the system easily movable to any place.
The door and the roof surface of the kennel are spacious. At the rear end, you can find an air ventilation system. Your dog can comfortably stay inside the kennel.
Key Features:
Plastic dog homes that do not need painting
No mold problem and no rotting issue
Made of eco-friendly materials
Good ventilation for air circulation
Perfect for both dogs and cats
3. Best Budget – Aspen Dog House
Best Budget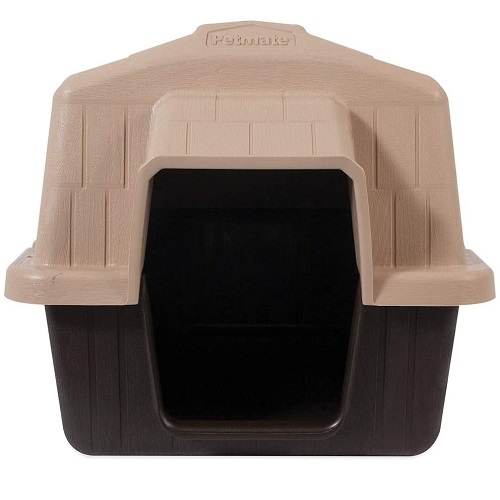 Aspen Dog House
The barn-style with an attractive design and quality materials has gained the attention of several pet owners.
Designed in a barn style, this model is the best budget option for your pets. Both small and large pets can use this kennel. You can find it available in different sizes. Thus, when you have a growing pet, you may invest in the larger model to use it in the future for adult dogs.
Most of the pet owners have claimed that it has a reliable design. Manufacturers have used quality plastic to construct this kennel. To keep your dog from fleas and other issues, you can buy this product.
The ventilation system at the backside enables your dog to feel the utmost comfort in its room. Manufacturers have also focused on the safety of your pets by including the roof guard rim. The interior floor surface is slightly raised to keep away from contact with the moist ground.
As the kennel is spacious, you can provide your pets with everyday essentials inside the room. Although you have bought this for the first time, you can easily assemble its part using quick snap latches.
Key Features:
No-tool assembly- Best for first-time buyers
Proper insulation keeps your dog dry
Quick-snap latches for setup
Mold-Resistant and rot-resistant design made of plastic
Raised floor for diverting snow and rainfall
4. Best Wooden Outdoor Dog House – Merry Pet
If you are looking for the best wooden construction, you can choose this product. Merry Pet has designed this innovative and unique model for a smaller dog. It has used durable kiln-dried wood to construct this. To retain the original condition for a longer period, manufacturers have applied natural color stains. You will also find a better look due to this special stain.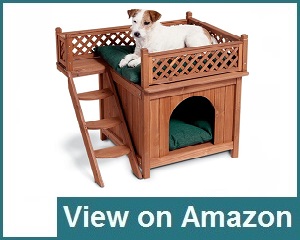 Although the product is made of wood, you may install it in an outdoor place without being concerned about its damage. Within a few minutes, you can assemble the panels to set up for your pets.
The overall design is attractive which includes a balcony or a lounge area to let your dog get fresh air. The latticework has created a beautiful pattern for the railing of the roof. To ensure easy access to this roof, there are side steps.
Besides, the resilient steps bear the weight of your dog, and your furry pet can safely use those steps. The bottom panels and the roof section are removable from the overall structure. Therefore, the cleaning process becomes easier.
Key Features:
Raised panel floor to prevent a moisture problem
Side steps to reach the roof easily
Cellular wood structure endures intense temperature and humidity
The natural wood scent gives a pleasing sensation
Package includes hardware and a manual
5. Best Plastic Outdoor Dog House – Suncast
As one of the best outdoor plastic houses, this has an attractive style and sturdy structure. Suncast has designed for outdoor use. Large to small-sized dogs can use this and enjoy a comfortable stay.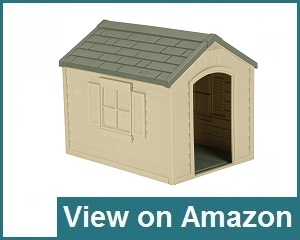 For constructing the structure, manufacturers have used heavy-duty resin and plastic. The crowned floor ensures that your pet will remain safe from weather elements. The interior channel of the floor helps in capturing fluid, and thus, your dog will not have moisture issues. As there is no metal and wood, you cannot find the risk of corrosion and rot.
For the door section, manufacturers have used vinyl doors. The integrated door ensures security and proper insulation. You can get in and out of the house without obstructions. Moreover, the small design is properly vented for smooth air circulation.
There is no hassle in assembling each of the parts. You can snap these parts together to construct the home of your dog. The structure has removable parts, enabling you to clean easily.
Key Features:
Resist the effect of sun rays and water
Made of hardened plastic, enduring outdoor conditions
No tools needed for assembly
Comfortable and dry interiors
Beautifully organized with contemporary styles
6. Best Outdoor Dog House for Winter – Confidence
Confidence Waterproof Plastic construction is the best for winter ever made. The unique and smart design makes it stand out from others. The tall and narrow door makes getting in and coming out easier for your dog.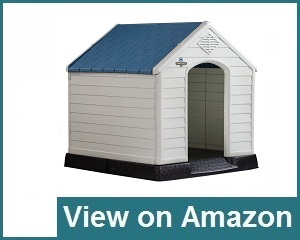 Besides, it has substantial internal space that provides the right amount of comfort for your dog. The flooring is also elevated from the ground to avoid water, dust, or other unwanted things from getting inside the house.
The manufacture has put a great emphasis on the build quality. It is made with hard quality plastic material, which is dust resistant and easy to clean. The plastic material that is used is safe and toxic-free. Besides, it is easy to assemble and you will just need a few basic tools to set up properly.
Key Features:
Large interior for your dog to rest
Durable and non-toxic plastic material used
Easy to assemble and dismantle
Elevated floor to keep away unwanted things
Available in different sizes for all kinds of dogs
7. Best Heavy Duty Outdoor Dog House – Lucky
If you are looking for the best heavy-duty outdoor house to keep your dog secure and safe, then the "Lucky" is the right choice for you. The best quality steel and high quality wielding make it the most elegant looking. The strong, robust stainless steel construction will not only keep your dog protected from outer harm, but also provide your dog with the best comfort.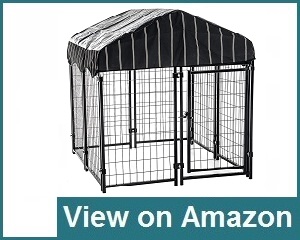 Moreover, the tall steel lockable gate will not allow your dog to escape. The stainless steel is coated with double powder, which gives the steel extra protection from corrosion. So you do not need to worry about keeping this for several months. Be it the sunlight or water, nothing can deface this.
In addition, the manufacture has given extra attention to every detail here. They have constructed this without single sharp edges that can harm your dog. It also comes with a waterproof roof cover to protect your dog from sun, snow, and rain.
Key Features:
Easy to assemble with no tools required
Best for all size dogs
Easy to clean and remove waste
Safe and high-quality welds used
Waterproof roof and corrosion-free stainless steel
8. Best Small Outdoor Dog House – Always-Quality
Always-Quality can be considered one of the best outdoor houses for small dogs on this list. It is a simple-looking convenient design you can have for your beloved dog. Small puppies and cats mostly like this small outdoor living opportunity.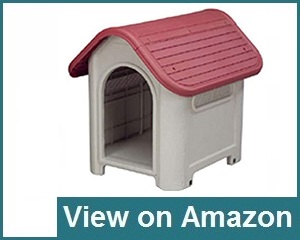 It is made from high-quality sturdy and durable plastic material that gives it a longer life. It does not concede any kind of leakage and beautifully keeps away the sun, water, and snow from getting inside.
The plastic construction is smooth and easy to clean. It also has ventilation installed on both walls for proper air circulation to keep this temperature low.
Besides, the raised floor helps keep away any unwanted things from getting in and for proper insulation. Propper Setting is comparatively easier and it needs very less time.
Always-Quality house may look small, but it has an ample amount of space for your dog to play and take rest comfortably. It is mostly suitable for small and medium-sized dogs or other pets.
Key Features:
Ventilation on both sides for ample air circulation
Made from strong eco-friendly plastic material
Easy to assemble using just a screwdriver
Elevated floor to enhance insulation
Available in 3 colors to choose from
9. Best Large Outdoor Dog House – Merry Products
If you have larger dog breeds that love to play and stay outdoor, then Merry Products is the best house for large dogs you will find in the market. For small and medium-sized dogs, we get numerous options, however, the option is very limited for larger breeds.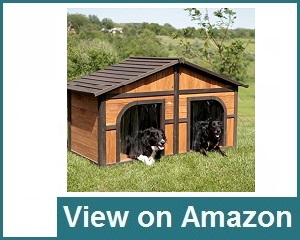 Thus, Merry Products has created this opportunity to solve the problem of many dog owners and dog lovers. Moreover, the distinctive design of this will make your lawn look exquisite and give your dog the exact comfort they need to rest.
This is constructed with the finest quality solid wood, which keeps it strong and durable even under harsh climatic conditions. It also has a removable floor panel and roof, which makes cleaning effortless.
In addition, the interior is spacious and very airy and can easily accommodate two dogs. It is designed in a way that you can smoothly transform this from a single to a double house with the help of the removable partition.
Key Features:
Made with sturdy solid wood
Spacious enough for two big size dogs
Removable roof and floor panels for easy cleaning
Ventilation installed for proper airflow
Raised floor to avoid elements
10. Best Insulated Outdoor Dog House – Pet Zone
Pet Zone is considered as one of the best insulated houses for dogs because it has all the features that are needed to provide comfort to your pet at any condition.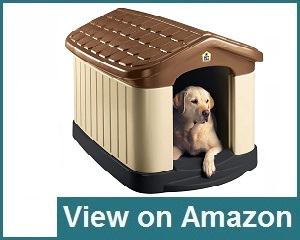 The double wall design keeps the interior cool during summer and warm in winter. Besides, it also has adjustable vents for proper ventilation to help your dog rest peacefully.
The quality of the plastic used to manufacture this product is strong and environment friendly. Thus it is categorized under all weather dog houses. It also protects pets from unwanted elements. The heavy-duty material also safeguards the color from fading away due to UV rays.
It has a detachable roof that allows easy cleaning. It is effortless to shift and set up in a new place. You will need no-tools to assemble this also.
Key Features:
Made with heavy-duty, durable plastic
Double wall design for proper insulation
Easy to assemble and clean
Fade-resistant color with UV protection
Little sliding vents to let air circulate
Who Should Purchase Outdoor Dog Houses?
There isn't a specific category of people who may want to buy a dog house or a typical dog breed who would wish to have a house of his own. The different situation for every pet owner calls for the need for this very often. Let's go through the conditions when you would need this, and why.
If your dog lives outdoor: If your dog spends most of his time outdoor, or due to some reasons you keep him outdoor only, you should get a house. When the outdoor environment is his permanent place of living, you should think of his safety, comfort, and security. And you can checklist all these features with just one lifelong investment.
If you have a yard or lawn: When you live in a home with a yard or a lawn, you often let your canine go out to play. And while his time out, he may need a place to rest. A dog house doesn't only serve as a place of rest and comfort, but also a change of environment for your pooch while he enjoys his time outside.
If you travel more often: Instead of carrying a crate around when you are traveling with your dog, have you ever considered how comfortable it would be with a portable house? It serves an easy carrying purpose and also provides your dog with the same environment that he is used to.
If you like to picnic or go to vacations: While on the beach or in hotel rooms, you don't want to spend extra time in cleaning and clearing the area for your dog. To minimize such efforts, a soft or portable house is the best option! Just set it by the side on the beach or in the hotel room floor, and your dog can enjoy his same personal place while you can chill around.
Types of Outdoor Dog Houses
While being a popular product, outdoor houses come in different materials and styles based on the model you prefer according to your use and climate. We've divided the classes into two main categories and their subcategories for your easy understanding.
Types Based On Materials
Wooden: Wood is the most common and old material from which outdoor houses are made of. Its popularity is because it can adjust to any temperature. They are highly insulating and keep your dog warm in winters and cold in summers.
Wood is sturdy, but when it gets old and bear rain and weather changes too often, it requires repair just like any other wooden material. It can also be infested by pests if not taken care of properly. So, to avoid any bugs or ticks, consider the type of wood that resists pests such as cedar.
Plastic: They don't often look like a real because of the material but are very reliable and long-lasting. It weighs less and makes carrying and replacing very easy. The sturdy plastic also doesn't require any repairs very often. While on the other hand, it may not be a perfect insulator for areas with extreme climatic conditions.
Metal: A very less opted option but still a quite durable choice. These are made from aluminum and thus provide ultimate durability. They also come in shapes of crates that lack a roof while the ones of a complete house shape can withstand any storm, rain, or weather change without getting damaged.
Fiberglass: Fiberglass is a scarce material that is selected for an outdoor house. They provide a more luxurious look to the home. Its material quite resilient for all types of temperatures, and hence, provides utmost satisfaction in terms of protection and security. It doesn't need repairs and polishing; hence, it reduces your timely efforts as well.
Insulated: This type of dog house has a particular layer of insulator inside. It is made from a mixture of materials to make it warm and very well insulated.
This type serves as the best if you live in an area with a cold climate. Your dog stays warm and protected under this material, even if it is snowing outside.
Types Based On Styles
The Classic and Traditional Design

: This is the most common design all over the world. A perfect, small depiction of a house with roof, windows, and shade. It is mostly made of wood or plastic.
Igloo Style

: This design has a dome-shaped top that can resist strong winds. Its design also proves to be best for insulation where the winters are long.
Tent or Canopy Style

: This design works only as a portable option for safe shade. You can take it with you anywhere and set this up for your dog's shade while enjoying the fresh air as well. It works best for summers or beach sides.
Indoor vs. Outdoor Dog House
Most of the people get confused when they hear about these two different categories. When you are buying, you should know exactly which type to consider. Can the indoor one also be good for you, or should you go for the outdoor one? Let's solve this confusion of yours while stating the main differences both have.
Indoor:
Not much durable.
The stuff is made for room temperature only.
Portable and easy to carry.
It can't be an alternative to outdoor houses.
They mostly aren't waterproof.
The material is light and not long-lasting.
Outdoor:
Remarkably robust and durable.
The stuff is made for all extreme outdoor temperatures.
Heavy and can't be carried easily.
It serves the best purpose of the outdoor dog shelter.
They are made waterproof to withstand rain and storms.
The material is rigid and quite long-lasting.
Hence, it can be noted that the purpose of an outdoor house can never be served by an indoor one. You need to be very specific about your choice in that sense.
How to Keep the Dog Houses Comfortable?
After you've bought one, you should also learn how to make it the best place for your dog. There are several methods you should know how to maintain the comfort level house and add to its pleasure.
In Summers

: To create comfort for summers when the temperature is so high, you should consider a cooling unit if you can spend a bit. A fan or an air conditioner can be installed at any type, which continuously throws cold air, just like our regular air conditioners. But this feature must only be added which has a door to close and windows, or else the cooling may escape and cause no difference. You can also consider adding cool material pads or cushions at the base to avoid the heating floor from touching your dog.
In Winters

: Despite all the built-in features, you still might need to consider a bit more. Think of adding a self-heating cushion pad to the floor, which absorbs the dog's heat and stays warm. The metal plate inside doesn't allow it to get cold and repels the dog's warmth back to him. You can also go for an electric heater if you can or opt for a heating lamp instead.
In Moderate Climates

: When there's nothing to worry about the weather, you can easily create a cozy environment for your dog. Add rugs and cushions for comfortable sleep. Also, make sure that is placed in a well-ventilated direction for maximum air crossing. Ensure that the home gets enough sunlight while not being directly exposed to the sun. So, by taking care of these factors, you can quickly increase your canine's comfort in his favorite place.
Things to Consider Before Buying an Outdoor Dog House
Ranging from the best material to all the latest features, there's a long list of considerations that can confuse you. To make your decision easy, quick, and worth your money, we've enlisted all the essential features and things you should consider to pick out the best one.
Material
Always lookout for the best stuff. You are going to invest in a lifetime product. You don't want to get into unnecessary repairs and fixing time to time. Choose the best material, such as wood or fiberglass, which lasts a lifetime and doesn't require extra investments.
Insulation
If you live in an extremely hot or cold area, you must pick one with proper insulation. Dog houses outside may heat up like an oven if the temperature is too hot and doesn't have adequate insulation. The same goes for cold weather where they can turn into a freezer in no time. You should be highly concerned about providing your dog with a moderate temperature inside, for which proper insulation is compulsory.
Waterproof
Always ask if the material is waterproof or not. You don't want the water dripping from the roof while it's raining and destroying the wood. Choose one that doesn't get affected by rain and water. Waterproof models also tend to last longer than those that are not.
Weight
Choose a standard weight which you can place by yourself and also doesn't get carried away with strong winds. If you wish to take it on traveling as well, then go for a light-weighted portable one.
Size
This feature is the most important one. Always buy one that is suitable for the size of your dog. Check the width and its elevation. Selecting a smaller home for a bigger breed will do no good as it will look like nothing less than a prison. Look out if your dog can comfortably stand in it with still much space left above, if yes, then it's the perfect size for your pooch.
Ventilation System
Always consider buying one with doors and windows. It provides better ventilation to your dog and keeps the environment fresh inside.
Assembling
It will help you a lot if you go for a quick assembling model. Wasting so much time on a complicated model just to assemble it won't do you any good. Go for a more accessible option to save your time and energy. It will also be easier to dismantle and assemble again if you shift your home or decide to place it to some other area.
Durability
The overall durability plays a critical role. An ideal outdoor house must withstand temperature, rain, climatic changes, shouldn't require time to time repairs, and prevents pests. This standard of durability will save you from spending extra dollars on it.
Cost
Apart from all the features, the price is the naturally main concern of every pet owner. You don't really have to spend more. You can get your desired features in an average cost that is neither too low nor too high. Spend efficiently on your dog's home as it is one of the principal investments a dog owner makes.
Benefits of Using Outdoor Dog Houses
The first question that comes to your mind will be the benefits it would provide. Would they be useful enough for your dog and not too costly in your pocket? To erase all your concerns, let's discuss all the benefits of it.
Provides Shade in Summers

: It is the best place of shelter that your dog will love in summers. It will allow him to play outside while getting some rest in a cozy accommodation whenever he wants. The unique material keeps this fresh in summers as well, so your dog doesn't get too exhausted in heat.
Keeps Your Dog Warm in Winters

: You don't really want to leave your dog outside while it's freezing. These are so well insulated that they resist cold and make the inner temperature warm for your dog. Your dog can enjoy his comfortable sound sleep in this even while it's snowing outside.
Protection from Rain and Storms

: These are made very strong and stiff to withstand any storm or rain. They don't break down or get carried away by any storm or strong winds. The material is very reliable in this matter of fact, and the dog is still the safest inside.
Separate Place

: If you wish to protect your home from any mess or hair your dog sheds, while also being concerned about any other place your dog will be safe in, then a house is the ultimate solution. Not only does it keep your dog at a separate area, but it also provides him maximum protection from outside elements, weather, etc.
Security

: Dogs are susceptible about their care. They need to feel secure and comfortable, or else they end up being irritable. It is the only place your dog will love like its own home. It keeps him safe and secure while ensuring his level of protection.
Comfort

: If you add extra accessories, it becomes the best comfortable spot for your dog. Every dog enjoys its own cozy, small, and healthy environment, which makes it a perfect place for them.
Important Tips
To save you the extra dollars for unnecessary repairs and maintenance, you must know some essential tips. To maintain and enhance the uses, you must:
Consider extra add-ons for maximum comfort with respect to the climate.
Add cameras to have an eye on your pooch for his security.
Change his surroundings from time to time if he gets bored or doesn't go to the house after some time.
Always get one, which is suitable for your area's particular environment.
Conclusion
Considering the need, the pet products industry has invested a lot in building a large variety of houses for dogs, meeting every requirement that suits you and your dog. Ranging from different materials to different styles for every location, weather, size, and environment, selection of the right one is now very easy.
Give your dog the best gift that he deserves, a gift of his own house! You'll love to see him enjoy his own personal cozy place later.
Frequently Asked Questions
Why are outdoor dog houses used?
These are used to provide a separate private place for dogs. They add to their comfort, give them shelter according to the temperature, and keep them safe and secure.
What is the best outdoor dog house?
We found Petsfit Outdoor to be the best one through our research and review. It is made of cedarwood, which doesn't get infested with pests. It has a door, windows, and a removable top for better ventilation. The flooring can also be removed for easy and quick cleaning. It is a perfect package for dogs of standard size.
How can I keep my dog's house warm in the winter?
You can easily add an electric heater, heat bulbs, or heating pads to your dog's house to make it warmer and cozier throughout the winters.
What is the best outdoor dog house for moderate temperature?
Confidence Pet Plastic Is the best option for moderate weather. It is an insulated plastic material and has a large room to add cushions. It doesn't have any windows, which prevents rain and storm from coming in. It is effortless to assemble, and the plastic material doesn't even get damaged.
Are outdoor dog houses safe?
Yes, they are totally safe and protected. To ensure more safety and for your satisfaction, you can easily install cameras in it to monitor your dog's activities.
What is the best plastic outdoor dog house?
Suncast Outdoor is the perfect one among all the plastic models. It is designed with the resin material to ensure its durability during all weather. It contains a new vinyl door that can be easily assembled to ensure your dog's safety. It is effortless to assemble and ideal for all breeds. It has windows for proper ventilation, and the roof panels can also be removed.
Question: What size should an outdoor dog house for small dogs?
The ideal size for smaller breeds should be 33″L x 25″W x 23″H. This is standard for all small breed dogs and are very comfortable for them to stay in.
What is the best small outdoor dog houses?
Indoor-Outdoor All-Weather Doghouse Puppy Shelter is the best choice if you have a small pup. It has a standard size suitable for small dogs. It is light weighted and can be easily assembled and cleaned. The plastic material ensures durability and prevents any damage. It also saves you from repairs. The floor is raised from the ground and has a smooth surface for better cleaning.
What is the best large outdoor dog houses?
Merry Products Extra Large Solid Wood is the most spacious and large house you can ever imagine. It can be partitioned if you are using it for two dogs, or else it is perfect for one large breed. The roof and floor panels can be easily removed for cleaning. It is made of solid wood to bear heavy-weighted dogs and is very durable yet affordable.
What bedding should I use for my dog's outdoor house?
To add extra comfort, you can put linen cloths, rugs, hay and straws, wood chips, cushions, and sawdust. All these materials will provide optimum comfort and warmth to your pooch.
Is straw good bedding for outdoor dog houses?
Straw can be used to bed a dog house, but they may get infested with bugs, flea, and ticks in outdoor ones. It's better to avoid any such material that can rot and create more mess instead of providing comfort.