Pet carpet cleaners are composed of different ingredients that help remove stains and odors from carpet or any surface. They are essential for any pet owners because pets just like other living organisms tend to relieve themselves. And when they do, they can mess up your carpet with their urine or feces.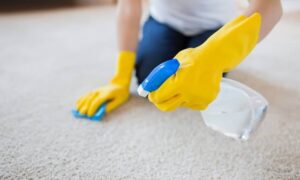 Though you may want to just use other detergents to simply rub off the problem spot, it will not be effective in doing the task. This is because they are not specifically designed to clean stains and dirt by pets and as a result, it might cause your carpet to fade or deteriorate.
There are different cleaning solutions for your carpet out there. But before choosing anyone, it is important to consider other factors to ensure maximum performance, these factors include enzymes, safety, speed, suitable surface, ingredients, effectiveness, and eco-friendly.
To help you decide better, we carried out research and also consulted various pet experts to create a list of the 10 best pet carpet cleaners with the necessary buying guide.
Best Pet Carpet Cleaners in 2021 – Reviews
1. Our Top Pick – Rocco & Roxie Professional Pet Carpet Cleaner
Top Pick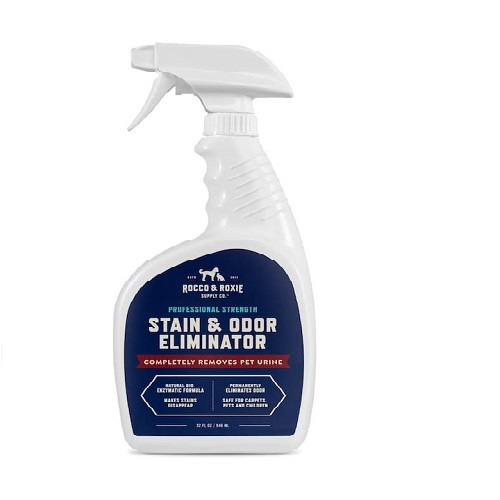 Rocco & Roxie Professional Carpet Cleaner
The best enzymatic cleanser; removes the toughest of stains and neutralizes the noxious of odors without harming anyone or anything.
Rocco & Roxie Professional is one of the most popular pet cleansers. Stains and odor in the living areas are a common phenomenon in any household with pets. At times its plain accident, however for some households it's a recurring occurrence. The reason for the latter is the presence of the lingering odor source.
Which inspite of rigorous cleaning and treatments, signals a 'safe area' for your pet to go about the 'daily business'. While treating the area with strong chemicals might get rid of the stain and odor, it might harm the fabric or the surface, additionally, it being highly unsafe for pets and children.
The house of Rocco & Roxie has the best solution for the elimination of the toughest stains and the most stubborn of odors. The professional pet carpet cleanser is an advanced enzymatic solution that not only removes stains and odors with a trace but is free from all toxic and harsh chemicals.
The advanced enzymatic solution cleans the toughest of stains and releases bacteria that completely destroys the odor causing source, naturally. The absence of harsh chemicals ensures that all treading the surface is free from toxic chemicals and the carpet is saved from any harmful treatment that might damage the fabric.
This pet odor eliminator for home is approved by the Carpet and Rug Institute and recognized as the most powerful cleaner. It is highly effective on any kind of surface: tiles, wood, concrete, marble, and of course, rugs and carpets of any fabric.
The container with a spray nozzle makes for hassle-free and effortless application. The cleaning procedure is simple and needs almost no preparation.
Key Features:
Enzymatic solution free of harmful chemicals
Safe for pets and children
Easy on fabric and surfaces, while effective on stains and odor
Completely removes the odor source
Easy application and cleaning procedure
2. Runner Up – Hoover Paws & Claws Deep Carpet Cleaning
Runner Up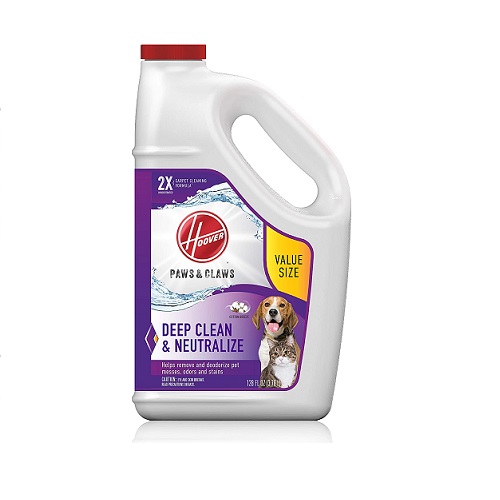 Hoover Paws & Claws Deep Carpet Cleaning
An enzyme-based carpet shampoo that breaks the toughest pet stains and deodorizes odor.
The hoover paws and claws carpet cleaner solution has placed at the second position in this list which is effective for full-sized deep cleaning machines. It is a heavy-duty cleaning shampoo with an enzyme base that is tough even on the most stubborn stains: fresh and dried. The patented advanced Staingard Technology ensures that the stains don't stay for long and prevent settling down of stain causing particles on the fabric.
The cleanser has an added deodorizer that ensures that the odor is neutralized and the carpet smells fresh. This strong enzymatic solution attacks the stain by breaking down the particles and makes way for deep cleansing. The advanced patented staingard technology ensures that the fabric is guarded from easy absorption of stains, thus preventing easy future staining of the carpet.
Strong odors are effectively neutralized by the counteraction of the enzymatic solution on the stained area and the deodorizer ensures a fresh feel. This deep carpet cleaning shampoo comes with a powerful enzymatic formula that is effective against the toughest of stains.
The strong formulation can easily break even the oldest of dried stains and can neutralize the harshest of odors. It could have been at the top of the list but for its limited usability and lack of deep action against the odor causing source. The additional machine required for cleaning and lack of complete eradication of the odor source makes this dog cleaner the runner-up on this list.
Key Features:
Enzyme based carpet shampoo effective on tough stains
Has a deodorizing effect and neutralizes odor
The concentrated solution makes for long term usage
Advanced technology helps prevent easy staining of surfaces
Requires a full-sized or deep carpet cleaning machine to be effective
3. Best Budget – Bissell Destroyer Pet Carpet Cleaner
Best Budget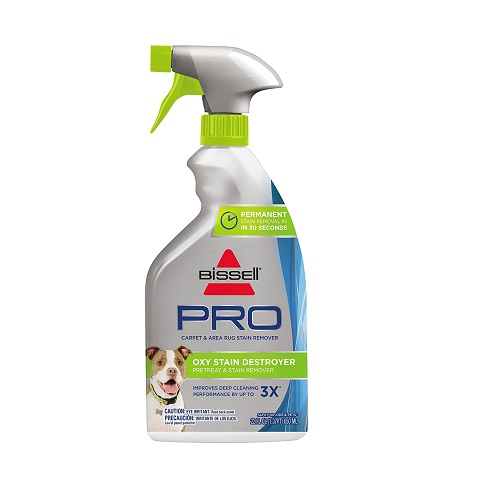 Bissell Destroyer Pet Carpet Cleaner
An ultra-fast pet carpet cleanser, that removes stains and pet odors permanently in an instant.
Bissell Carpet Cleaner is the most affordable for pets. It is a blessing for households that have a busy time schedule or a pet that likes to be outdoors. It is effective against dirt and grime stainsand is equally potent against other tough pet stains and even blood. For dried stains, it might not be as fast, but it can be effective.
The wonder cleaning solution can be used on any fabric, surface, upholstery, and even inside one's car. If the ease of application and effortless cleaning procedure doesn't impress one, it's super-fast action, surely will.
The cleaner from Bissell is a fast-acting formula that attacks the stain the instant it is applied. It ensures that the stain particles do not settle down and if they already did, it mobilizes the particles, breaks them, and prevents them from sticking to the fabric, enabling easy wipe or scrub.
This works effectively on all pet stains and removes odor completely. What's most impressive is the fact that it doesn't take much time for this complex cleaning. For normal stains, it just takes about half a minute to remove the stain, and for the most stubborn one's it might take half an hour or a few repetitions. But it works and it's fast.
Bissell Destroyer Pet Carpet Cleaner, with its fast action and highly effective formulation, can be an ideal pre-cleaner for surfaces and carpets needing a professional deep cleaning adding three times more strength to the entire process.
With ultrafast action, effective cleansing of stains, and removal of pet odor at an affordable price, the cleanser is without doubt the best budget.
Key Features:
Fast action cleaner saves time
The formulation is ideal for easy scrub and wipe
Multi-surface usability
Safeguards fabric against future staining
Affordable price
4. Best Natural Pet Carpet Cleaner – TriNova Natural Pet Stain
TriNova Natural Pet Stain remover is a completely natural enzymatic cleanser, that attacks stains instantly on application. In spite of the absence of all chemicals: harsh and harmful, it is really strong. It can be effective against all pet stains and get rid of all pet odor completely.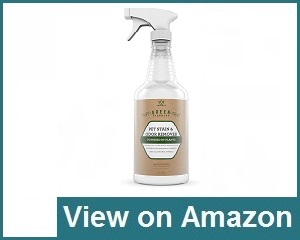 Without any added fragrance, it is a natural deodorizer and leaves the surface clean and the room smelling fresh. The all natural ingredients are 100% organic and the solution is a blend of strong natural enzymes that breaks the stain and cleanses it without a trace, fast.
The strong cleanser is safe for everyone treadingthe cleaning surface and is non-toxic for children and pets. It works on almost all fabrics and surfaces. And can be ideal for kennels and cages. With all natural plant ingredients that are grown organically, this natural cleaner is surprisingly strong.
It can get rid of the toughest of stains in a few minutes and can eliminate the root of odors keeping the room smelling fresh. It is safe for pets and children.
Key Features:
A strong natural enzyme blend breaks down stain instantly.
Gets rid of the root of odors and prevents repeated staining of the surface.
Is completely safe for pets and children.
Easy application and cleaning procedure.
Requires small amounts for cleansing and lasts long.
5. Best Odor Cleaning Shampoo – Nature's Miracle
Nature's Miracle Deep Carpet Cleaning shampoo has an enzyme base that enables easy breaking down of stains and penetrates deep to eliminate the root of the odor. The bio enzymes provide a natural cleaning solution even against the toughest of stains.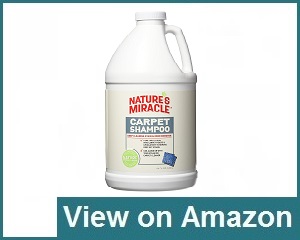 For the nastiest of odor, the cleanser with the help of the strong natural enzymes and a unique Odor Lock technology penetrates deep and 'eats' on the root of the odor, eliminating it completely while discouraging re-staining.
The cleaning shampoo is free from all toxic and harsh chemicals and is completely safe for pets and children. The shampoo is low foaming and it can penetrate deeply on fabrics and materials of all types. The solution can be used independently as well as any deep cleaning machine.
Although it makes for easy washing of the surface and takes the minimum of effort while being used with a machine, it is a slow-acting cleanser. While it can get rid of the stain fast, eliminating harsh odors completely might require a few hours.
It is also gentle on the fabric and helps retain the quality and feel of the material. A powerful cleaner and a sure shot solution against even the harshest of pet odors with a unique odor lock formula.
Key Features:
Low foaming detergent saves time and effort while cleaning
Provides a chemical-free cleaning solution
Effectively removes odor causing source
Can be used in all cleaning machines as well as independently
Works on most fabric and surfaces
6. Best Dry Pet Carpet Cleaner – Resolve
An ideal dry cleanser for anyone looking for a dry pet cleaner and odor remover for cleaning large areas. Resolve has been clinically proven to be three times more effective than vacuuming without any cleanser or pre-cleaning.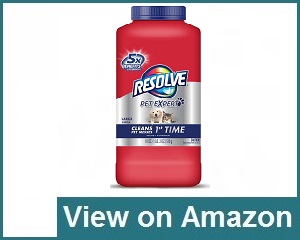 The strong dried cellulose formula can be really effective in cleaning large areas and can easily replace professional carpet cleaners saving a fortune. The strong formulation is free of phosphate and can be used on any soft and plush fabric.
The resolve powder easily penetrates dirt, grime, and oily stains and breaks down the stain in a few minutes making way for a thorough vacuum cleaning of the entire carpet or a large area of the carpet.
With a unique Odor Stop technology, the cleanser effectively gets rid of pet odors and other harsh smells like urine and feces. It ensures that the surface is free of the odor causing source and safeguards against re-staining of the cleaner area. It leaves the carpet smelling fresh and clean.
The formulation is free of all harmful chemicals and is safe for pets and children after vacuuming. Resolve is without a doubt an effective dry pet cleaner and odor remover. With hassle-free application and easy cleaning procedure, it is the best dry carpet cleaner.
Key Features:
Can be used in large cleaning areas
Easy and hassle-free application and cleaning procedure
Free of harsh chemicals
Effectively removes stains of all kinds
Can remove pet odors
7. Best Pet Stain Remover – Bubba's Super Steamer
A powerful detergent for machine use that can easily get rid of all stains and remove all pet odors. Bubba's Super Steamer pet cleaner is a highly concentrated formulation ideal for deep cleaning machines and can be used in the machine tank directly. The trust and confidence of the manufacturer are emphasized by the hassle-free money back guarantee.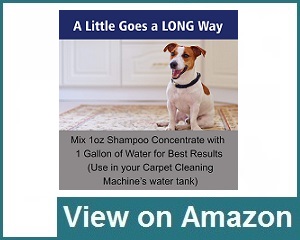 Bubba's pet stain and odor remover is highly effective on stains of all types: fresh and dried and can work wonders on the dirtiest of carpets. It is easy on the fabric and rejuvenates the fibers, adding to the longevity of the carpet. The high-powered formulation also takes care of even the nastiest of odors and leaves the carpet clean and fresh.
It can effectively get rid of all kinds of pet's mess and odors including urine and feces and can be used with any steamer or carpet cleaning machines of all makes. Cleaning does not require any additional detergent.
Bubba's Super Steamer Carpet Cleaner is a powerful formulation and the highly concentrated fabric that lasts long. Being gentle on the fabric while cleaning the toughest stains and odors the industrial strength solution.
Key Features:
Highly concentrated detergent required in small amounts
Can be used in any carpet cleaning machine
Do not require any additional cleaner, detergent, and pre-cleaning
Requires minimum handling
Comes with a no questions asked money-back guarantee
8. Best Carpet Cleaner with Brush – Carbona
Messy application and elaborate cleaning procedures can be major deterrents in pet cleaning. They often result in stains setting into the carpet or rug for good and might prove costly. Carbona Oxy Powered pet stain remover can be an ideal solution for households with multiple pets.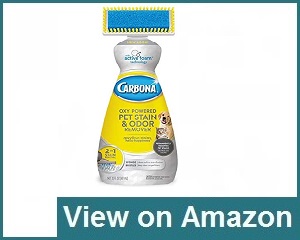 The container comes fitted with a durable brush and can be a great advantage for pet owners, hard pressed for time as it is a fast-acting foam-based cleanser. With a strong and effective formulation, the cleanser can easily get rid of all types of stains and is highly effective in removing stain and let odors. It can also be used for pre-cleaning.
This Oxy clean formulation starts breaking down the stain and one can start the cleaning procedure by scrubbing the stained area with the attached brush. With a few strokes, watch the stain disappear and let the freshness linger as the odor dissipates.
A perfect solution for instant application and cleaning of stains and removal of odors. The Carbona Oxy Powered pet stain remover is the best carpet cleaner with a brush.
Key Features:
Zero direct physical contact with the cleanser
Hassle-free application and cleaning
Powerful foam-based formulation lasts long
Removes stains and odors
Available in packs of two
9. Best Commercial Pet Carpet Cleaner – Bubba's Rowdy Friends
Bubba's Rowdy Friends pet cleaner is a powerful enzyme-based cleanser that can remove all kinds of stains and odors. The cleanser comes in a gallon pack and can last really long. The extra-long shelf life does not compromise the strength of the solution as the enzymatic solution contains dormant bacteria which becomes active only when contacted with the odor and stain causing source.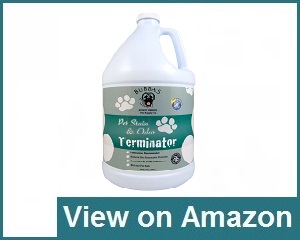 As it has a completely natural cleaning mechanism, it takes a bit of time to break the stain and 'eat' the odor causing source. For deeper penetration, the stained area requires to be presoaked with water. The high strength of the cleanser is effective even when used with water and has the deepest penetration. It allows easy breaking down of the stain and complete odor removal.
Bubba's Rowdy is a versatile product that can be used for purposes other than carpet cleaning. It can be an effective pre-cleaner for stained clothes, can remove shoe odor and can be used to eliminate odors of outdoor and indoor dustbins.
The effective cleaning and removal of stains and pet odors coupled with the versatility of the product and the extra-large pack make it the best commercial pet carpet cleaner.
Key Features:
All natural stain cleaning and odor removal
Doesn't lose strength till the last drop
Multipurpose and can be used on any surface
Easy on fabrics
Comes with a money back guarantee
10. Best Enzymatic Pet Carpet Cleaner – Sunny & Honey
Physical contact with any cleanser is inevitable while cleaning the pet mess when cleansers with strong and harsh chemicals try to break any stain, they also can be harmful to the user, even natural cleaning solutions can at times have an itchy feeling, but not with Sunny and Honey pet cleanser.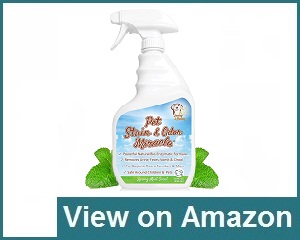 The all natural enzymatic solution while tough on stains and odors is gentle on the skin and fabric. It can easily break down the common pet stains of urine, feces, dirt, and wet stains and can effectively remove pet odors.
The container with an attached spray nozzle enables hassle-free application and does not require any direct physical contact. In case the cleanser comes in touch, it is free from all toxic elements and is anti-allergen, so no worries.
In addition to cleaning and removing stains and odors, the natural cleanser has a deodorizing effect with an added, completely natural fragrance. While mint is the most popular, it comes with other fragrances as well.
Sunny and Honey provide an all-natural enzyme-based stain cleaning and odor removal solution. The strong cleanser is safe for pets and children and is easy on the fabric, making it the best enzymatic pet carpet cleaner.
Key Features:
Hassle-free application and cleaning
Safe for pets and children
All-natural cleaning solutions
Fabric friendly
Comes with a 60-day money-back guarantee
Why You Should Choose Pet Carpet Cleaner
If you have pets like dogs, rabbits, or cats, it is likely to have your carpet messed up at a point. Even the so-called trained pets could stain your carpet with mud or grass clippings. These stains are difficult to remove with regular detergents.
A dark stain is noticeable and as a result, ruins the look of your beautiful living space. Sometimes the more you worry and rub the stain, the more obvious and noticeable such stains become, but with the right cleaning solution, the whole process becomes easier and less stressful.
It is necessary for pet owners to have dog cleaner readily available at home, but it is especially important if the pet is not hygienically trained. The cleaning solutions help remove unpleasant odors and stains from feces and urine. Apart from deodorizing your home, the cleaning solution also discourages pets from toileting in the same area again. you will have to look for ear cleaner for dogs.
How Does Pet Carpet Cleaners Work?
Pet carpet cleaners come in different forms, including foams, sprays, or concentrated solutions that work with surfactants, helpful bacteria, enzymes, or other harsh chemicals. These solutions fight the organic substance of odors and stains. Good bacteria and enzymes consume the organic material to clear the stain or odor from the surface.
The surface is then cleaned when it dries. Enzymatic cleaners are the most popular cleaners, they are foam or spray that can be applied to a surface i.e carpet, the carpet is then vacuumed or blotted.
Machine form pet carpet cleaning is another option available to remove stains from a spot. It works by spraying you're the problem spot with a cleaning solution, it washes off waste material with a force of suction, the dirty water is then dumped in the in-built tank of the cleaning machine. It is a quick way of cleaning a spot. Some carpet cleaning machines also include air blowers to fasten the drying process.
Different Types of Pet Carpet Cleaners Solutions
There are different types of carpet cleaners. There are home-made and commercial products. Some of the different types are listed below:
Enzymatic Cleaners
This kind of products break down the molecules and some chemical elements which cause stains and odor into smaller form. Enzymes which are the by-products of beneficial microorganisms eat up the stain and odor molecules.
You will get different results depending on the type of enzymes in the product i.e if there are proteases in a product, it will be effective for cleaning carpets stained with blood and food. Another ingredient that is also used is 'lipases', it is effective against fat molecules.
Odor Neutralizers
Baking soda is used to neutralize odor. It is like the chemical sponge that clears up the odor molecules. Odor neutralization work by changing and absorbing the chemical element of the molecules that are responsible for the odor.
Odor neutralizers which are also called deodorizers, work by neutralizing or eliminating the source of the odor. Though baking soda wouldn't eliminate the source, its amphoteric properties do that.
Stain Removers
Different mechanisms determine the function of stain removers. For instance, we have stain removers that dissolve the stain. Likewise, we have stain removers that emulsify stain (surfactants and emulsifiers) – they increase water holding capacity of molecules and then dissolve stain to lift its molecules from the surface for removal.
Another stain remover available is those that digest stain (enzymatic cleaners). However, you should avoid stain removers that hide skin (contain whiteners to make the stainless noticeable by masking the stain only without tackling the real problem).
Disinfectants
This type kills bacteria and other microorganisms. It comes in different types, the majority of which are synthesized chemically. Some disinfectants are natural ones that work by hindering normal microbial metabolism. Be aware that disinfectants do not kill all microorganisms, some bacteria spores are immune to disinfectants (even the toughest ones).
Things to Consider Before Choosing a Pet Carpet Cleaner
While there are various options on the market that promise quick and miraculous results, it is important to look for solutions that are mild enough to keep you, your pets, and the environment safe without compromising its cleaning capability. There are some important factors to look out for when choosing a carpet cleaner, they include:
Effectiveness
The product should be effective enough to remove stains and odors from a surface. It should be capable of breaking down any bacterial that is produced by urine some organic material. Foams, sprays, machines, and shampoos all offer different techniques for removing odors and stains.
So the main point here is if you are buying a carpet cleaner, go for the one that is tough on stains and odors, it should be able to remove stains from mud, urine, feces, grass, and blood.
Safety
The safety of the product is an important factor to consider before buying. Check the ingredients that the product is made of, some ingredient is made up of harsh chemicals that are dangerous to the health.
To be on the safer side, it is better to go for products that are made of natural and organic ingredients. Some of these products i.e. sprays are certified by "The Carpet and Rug Institute" as safe, this means they are suitable for use around children, pets, and are eco-friendly.
Speed
There are some cleaners that are efficient in cleaning, i.e it takes some of them 30 seconds to a few minutes to work, while others take up to 30 minutes to take effect. If you are looking for pet cleaners to efficiently clean your carpet, then you know the type to go for.
Added Enzymes
Even after cleaning your pet's mess (i.e urine) from carpet, they are likely to urinate on that spot again if not well cleaned. However, enzymatic cleaners go deep into the fibers of the carpet to break down those odors and stains for effective removal. This prevents a pet from urinating in the same area again.
Scent
If you care about scents, you can go for carpet cleaners with a fresh scent. Pet cleaner has a fresh and pleasant scent which is either cotton smells or springform. For an allergic individual, unscented or lightly scented ones are a good choice.
Scents that are strong are usually used to hide or disguise chemical or pet smells. Therefore, it is important to search for a product with a pleasant and light scent.
Suitable Surface
Some cleaning products are designed for rugs and carpets only, while others can be used for different surfaces. It is therefore important to choose a product that fades the fabric as a result of its content.
Price
Price is another factor to consider while buying a pet carpet cleaning solution. There are different products with different price, it ranges from a few dollars to 100 dollars. Depending on your budget, you can choose quality odor and stain remover that suits your purpose and lifestyle.
Read More: Why Does Dog Lick the Carpet
Benefits of Using Pet Carpet Cleaners
There are many benefits attached to using carpet cleaners. These include:
Removal of Stain: Stains from urine, blood, dirt can make your carpet unattractive and noticeable by anyone. Carpet cleaners help to remove stains from the carpet completely and also prevent pets from staining the same spot again.
Kills odor:Quality cleaners kill bad odor from pet urine and other stains. It also features a fresh and pleasant scent that keeps your surroundings conducive and suitable for leaving. Depending on your choice, the scent can be strong and overwhelming or light.
Extend the lifespan of your carpet: Stain, dust, dirt, and other debris can pile up in the carpet and root within the carpet fibers resulting in splitting and deterioration of the fibers. Timely removal of these stains, dirt, and debris will enhance the lifespan of the carpet.
Healthy living: Stains and dirt on the carpet could invite bacteria and other micro-organisms that can result in disease. Likewise, the stain and dirt that are trapped within the carpet fibers might sneak into the air and cause allergic reactions, respiratory problems, and other health challenges. A Pet carpet cleaning solution can effectively prevent this.
Improve the overall appearance of the room: Stain and dirt are easily noticeable in the carpet and as such make your room look unattractive. A Pet cleaning solution helps your room to be more attractive by removing those stains.
Important Tips
Stain and urine need to be cleaned as soon as possible, the stain and odor will only become unbearable if you leave the urine to be on the carpet for long.
it is necessary to stop whatever you are doing and use a pet cleaning solution on the carpet as soon as you notice any stain on the carpet.
It is easier to clean fresh pet urine on carpet than when it dried off.
Unlike poop stains, urine stains are difficult to locate unless you smell it.
With the aid of a UV black-light flashlight, you can easily locate a urine stain on your carpet.
It is better to have one in order to ease your cleaning process.
It is important to go for pet carpet cleaning solutions that are mild enough to keep your pet and environment safe without compromising its cleaning capability.
Some important factors look for include ingredients, effectiveness, enzymes, safety, speed, suitable surface, and eco-friendly.
Conclusion
Living with a pet is an amazing experience for most people. Though it sometimes requires little effort like cleaning their bodies and surroundings. like other living things, pets also relieve themselves, their droppings are mostly found on the floor and/or carpet.
However, the most effective of cleaning these mess (urine, feces, or dirt) is to use pet carpet cleaning solutions. It is very effective in removing stain and odor from carpet or surface.
Frequently Asked Questions
What is the best carpet cleaner for pets?
Professional Strength Stain Odor Eliminator is the best carpet cleaner for pets. It removes stains, residue, and odor from carpets. It is effective in removing stinky yellow urine and feces by pets.
Can dogs walk on the carpet after cleaning?
If you choose the best product for cleaning your carpet like those that are chemical-free and eco-friendly, then there is no issue letting your dog walk on the carpet after cleaning.
Can pet urine stains be removed from the carpet after using a cleaner solution?
Pet urine stain can be easily removed without traced with the help of carpet cleaners. It is better to choose product that goes deeper in cleaning your carpet for best result.
What is the best carpet cleaner solution for pet stains?
Bissell Stain Destroyer Pretreat is the best cleaner solution for pet stains. It instantly and permanently removes tough stain and odors in 30 seconds.
Why does my carpet smell worse after cleaning?
There are few reasons why your carpet after cleaning. It might be that you use a cleaning solution that push the smell down. Another reason is that the carpet is still wet.
What is the best dry pet carpet cleaner?
The Resolve Powder Removal is the best dry pet carpet cleaner. It is effective for cleaning carpet and removing tough odor.
How much does it cost to purchase a carpet cleaner?
Depending on individual budget, choice, and lifestyle. The approximate range of cost is from few dollars to 100 dollars.
Can I clean the pet carpet naturally?
If you are not comfortable using harsh chemicals, there are natural ways to clean our carpet using only natural and organic ingredients.
What is the best natural pet carpet cleaner?
TriNova Natural Stain Remover Eliminator is the best natural carpet cleaner for pets. It is composed of only natural and organic ingredients. It also include enzymes that repel odors and stains effectively.
How often should carpet be professionally cleaned?
This depend on the nature and number of pets in the house. However, you will only need to clean with a solution when there is stain and odor on your carpet.
What is the best enzymatic pet carpet cleaner?
Pet Stain Odor Miracle Cleaner is the best enzymatic pet carpet cleaner. It removes all pet odors and stains completely. It is also suitable for other surface like furniture, rugs, leather, hardwood, crates, cars, and pet beds.