A Vacuum for Pet hair is an essential household item for all who own either a cat or a dog. As pet parents, we know exactly how our pets love to run around the house and accompany us everywhere.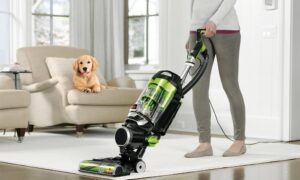 However, our furry friends shed a lot, and the result is a mess and a lot of dog hair all over the place. If you own a vacuum, this cleaning can be done a whole lot quickly and easily. All canines tend to shed their fur, and that can be troublesome for furniture and carpets.
Unlike the usual, a Pet Hair Vacuum is made specifically for cleaning the hair while still being gentle. You can use it for both carpets and your pet when he is shedding. However, since there are so many brands out there, it might be challenging to find the right one for your pet and house.
That's why our experts have spent hours compiling this list of 10 best vacuums for pet hair. These are the top of their class and have been chosen on the basis of cost, durability, function, type, suction power, and easiness in handling.
Best Vacuums For Pet Hair in 2021 – Reviews
1. Our Top Pick – Shark Rotator Pet Hair Vacuums
Top Pick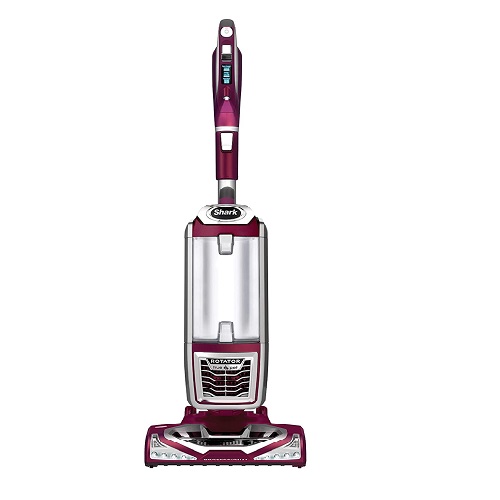 Shark Rotator Hair Vacuums
Shark Rotator is a powerful upright vacuum with an integrated brush to remove pet hair.
The Shark Rotator Powered Lift-away True is the best 2-in-1 model with a removable canister and upright vacuum. It is a versatile cleaner to remove pet hair from your floor surface. For the high effectiveness and power, lots of users have invested in this product.
The XL capacity denotes the full-size performance of the system. With the pet multi-tool and motorized brush, you can remove dog and cat fur, stuck to your upholstery and buried in your carpets. The best fact is that the floorhead of Rotator TruePet is compact, and thus, it can reach the underside of your low furniture.
Although you have detached canister, this maintains its suctioning capacity. Moreover, you can activate the brush-roll in any setup. With your fingertip, you may control the system to switch between carpet mode and hard floor mode.
Powered lift-away mode enables you to pick up the hidden dirt without affecting the motor power. Another convenient option is the above-floor mode that provides you with the above-floor cleaning capacity by releasing the handle from a wand.
The handle and nozzle of the system have LED lights to illuminate space under your furnishings, dark corners of your room, and closets. You may easily detach the canister by pushing a button. The most notable feature is the swivel steering technology that gives you control while the site near furniture.
The cleaner includes a HEPA filter and a sealed air system to capture 99.9% of allergens and dust. Thus, when you are allergic to dust, you may buy this innovative device. The package also includes a lengthy power cord to let you move around easily.
Key Features:
Easy to assemble within 2 minutes
No effort needed to spin the brush
Fingertip controls for easy switch-on and switch-off
It works in different modes
HEPA filter to trap tiny dirt particles
2. Runner Up – Dyson Upright Vacuum Cleaner
Runner Up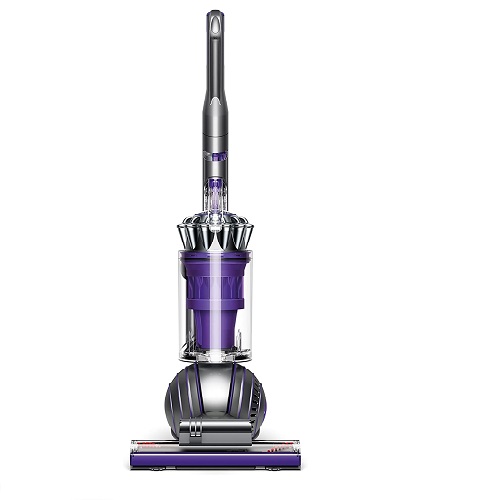 Dyson Upright Vacuum Cleaner
With a number of in-built tools, Dyson Upright Cleaner is best for cleaning hardwood floors and carpet.
Dyson Ball Animal 2 is the runner-up on our list. Dyson is a reputed name as one of the vacuum cleaners. It is especially designed for pet owners, who need to remove fur from carpet and hardwood floors.
With a sleek and minimalist design, this purple-colored item looks aesthetic. The transparent canister enables you to check out how much dust it has collected. You can continuously have a view at the dust cyclones with this specialized device.
The most interesting feature is the ball technology, which helps you in navigating the system through obstacles and furniture by twisting your wrist. This innovative feature enables you to have precise control over the system. The low center of gravity and compressed airway ensures increasing stability.
Here another unique technology is the radial root cyclone system. There is a radial formation to channel the flow of air through the cyclone assemble center. Due to this setup, you can find the highest capacity of suctioning microscopic dust.
Dyson has integrated a self-adjustment head to its cleaner. You can use Dyson Animal 2 to work on different floor surfaces. While applied on low-pile carpet, you may easily remove pet hair and dirt. Moreover, you must deactivate the beater bar (a rotating brush) to clean the hardwood floor.
The package includes a number of pieces to assemble the system. Attach the U-shaped plastic piece to your brush head.
Key Features:
Includes a HEPA filter and washable lifetime filter
Counter-rotating brush heads for trapping pet hair
Tangle-free attachment for easier collection of dust
It has a dust bin with high capacity
One-click system to empty dirt
3. Best Budget – Bissell PowerEdge Hardwood Bagless Vacuum Cleaner
Best Budget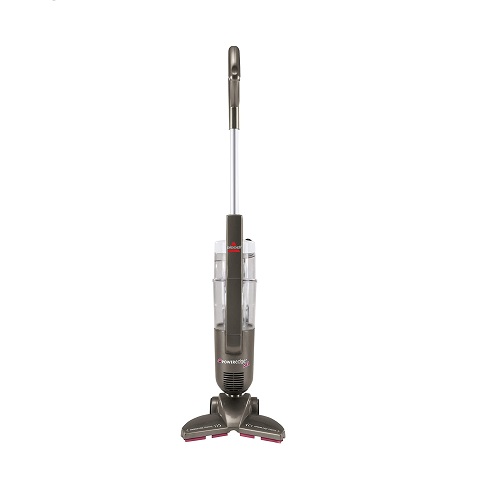 Bissell PowerEdge Pet Hardwood Cleaner
Bissell PowerEdge is an affordable stick with a lightweight and portable design.
We have chosen it as the best budget to remove pet hair. The bagless cleaner is lightweight and enables you to manage the system very easily. The system works best for any type of floor surface, including wood, tiles, rugs, and carpets. The perfect combination of a nozzle and a specialized bare floor brush ensures a thorough cleaning.
The cost-effective stick model has an innovative design with a V-shaped nozzle. As the nozzle remains on your system, you can easily pick up debris and dirt. Some average standard cleaners do not trap bigger dirt particles. However, with this Bissell PowerEdge cleaner, you will not find this issue.
Although the nozzle size is big, it still picks up small stuffs. What's more, the unique Swivel motion simplifies your cleaning process. It is capable of finding its way to hard-to-reach sites. The V-shape nozzle is also advantageous to optimize suctioning power.
Moreover, you may use the model to clean your baseboards and walls. The system also includes rubber squeezes, which trap dirt and pet fun to direct it into your vacuum. Thus, you will find a clean and dust-free floor surface with this cleaner. The long cord is easily manageable, as you can wind it up and rewind it with the click on a button.
Key Features:
Easy to detach and empty the canister
A pleated circular filter for preventing pollution
Corded Electric system with a user-friendly design
Lightweight design with a bagless cleaning technology
Rubber squeezes to clean the floor
4. Best Canister Vacuum for Pet Hair – Eureka
When you are looking for the best canister vacuum, you can invest in this model. Eureka Mighty Mite 3670G has some superb features to make the cleaning process faster. The minimalistic designcan easily draw your attention. Although it is a small cleaner, it has a high-power motor that ensures perfection in your cleaning process.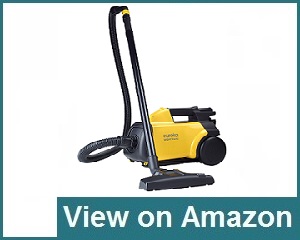 There is a built-in blower port to let you blow dirt and dust from your garage. Moreover, you can find Eureka Mighty Mite 3670G, equipped with a number of tools. These tools mainly include a dust brush, a crevice (intended to clean tighter zones), and a nozzle for treating upholstery and other materials.
The bonus feature of this cleaner is the dust bag that does not need regular replacements. The cleaner comes with a yellow protective casing. For first-time users, it is the best choice due to its lightweight design. You may also store this in a small space.
Key Features:
A small canister that is easy to store
Powerful brush rolls for deep cleaning
A quick-release system to manage the cord
Suction is adjustable with a slip ring
Long wand to increase your reach
5. Best Handheld Vacuum for Pet Hair – Bissell
Lots of dog and cat owners have bought it as the best handheld cordless Cleaner. From analyzing the genuine reviews, we have found that compact and lightweight design is a major attraction. The system includes both soft and hard nozzle to enable you to clean any surface, including upholstery and stairs.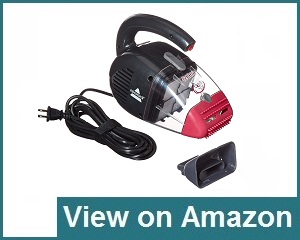 As there're two nozzles, you can use one of them at a time. The durable rubber nozzle has the capability of lifting pet hairs, and thus, it can suck up the dust to put it into the bin. The system has impressed most of the users with its potential performance. You can also clean the filter of this vacuum.
However, it is better to replace it after a year. The cleaner is easy to use due to the integrated small buttons. The red power button is at the tip of its handle. The elongated gray button is in the mid-section to release the dirt cup. Another small gray button helps in swapping out nozzles.
Key Features:
A multi-layer filtration with cyclonic cloning technology
Includes diverse types of nozzles
A bagless cleaner that is easy to empty
Pick up pet hair and litter
Separate buttons for power control and operation
6. Best Robot Vacuum for Pet Hair – iRobot Vacuum
The iRobot is considered as the best robot vacuum you can have to keep your house clean. It is an amazing option to keep your house dust-free without much hassle. It is cordless and has an impressive 90 minutes running time on a full charge.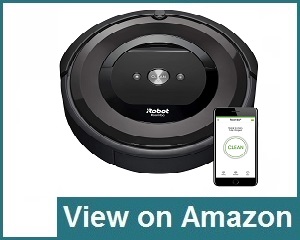 The 5X suction power has great pickup performance, and the cleaning system cleans every bit of dirt and pet hair efficiently. The built-in sensors perfectly navigate this under and around your furniture and clean every corner of the house.
The advance dual rubber brushes help this to stay in persistent contact with carpets and floors. Besides, the highly efficient filters clean 99 percent of pet's allergens. It is ideal for homes with pets.
Moreover, the Roomba E5 comes with smart WiFi technology that allows you to connect it with your Smartphone, Google Assistant or Alexa. You can smoothly control and customize this cleaner from anywhere according to your need.
Key Features:
Smart artificial technology used for effortless cleaning
3 stage cleaning system for perfect cleaning
Powerful suction to clean carpets
Inbuilt sensor intelligently navigates
Dual multi-surface rubber brushes that lift and pulls in dust
7. Best Upright Vacuum for Pet Hair – Shark
The Shark is considered as the best upright vacuum cleaner, due to the presence of the upright design that makes it easy to maneuver. The advanced rotator and smooth steering provide excellent control and deep cleaning.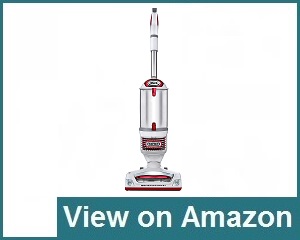 While designing the product, the manufacturer has given the emphasis on making a vacuum that is user friendly, easy to use and can effectively clean the pet's hair. Therefore, they made this cleaner that is lightweight, makes a minimal amount of noise and cleans every corner to perfection.
It is a powerful and most convenient with a lift-away pod option for flawless cleaning of sofas, beds and stairs. The lift away option also helps to clean overhead areas. The company has used anti-allergy sealed technology, which cleans 99.9% allergens and avoids it from spreading. The XL size dirt cup allows you to clean every corner of your house without any interruption.
Key Features:
Powerful suction to clean hidden pet hairs and debris
Silent motor for peaceful cleaning
Lift away pod to clean anywhere above the floor
Dynamic steering for excellent control
Lights on the nozzle for better visibility
8. Best Stick Vacuum for Pet Hair – Dyson
The cyclone technology with 14 coordinated cyclones makes Dyson the best stick vacuum. The stick model is powered by the Dyson digital motor, which gives the ability to absorbed dust and pet hair from carpets and floors.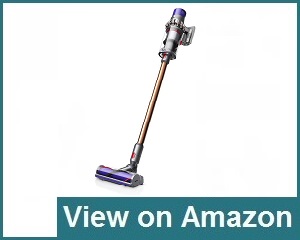 The technology helps to create a healthier environment for you and your pet. It is proven to clean the tiniest particles as tiny as bacteria. However, Dyson v8 absolute is a cordless stick and has 60 minutes of run time.
The battery power is only used when it is cleaning something. It is super lightweight; therefore, cleaning becomes easier.
It is a versatile design with a bigger bin and removes both fine dust and large debris with its soft roller head. The stick design has three power modes, and when needed, it transforms into a handheld cleaner. The handheld cleaner is very useful to clean your pet's hair from sofas and beds.
Key Features:
Advanced cyclone technology used for more power
Lightweight and easy to use
Cordless and easily converts into a handheld cleaner
Bigger bin for non-stop cleaning
Fully sealed filtration kills 99.98 % germs and allergens
9. Best Lightweight Vacuum for Pet Hair – Hoover Corded Cyclonic
The Hoover Corded Cyclonic is the best lightweight design that delivers great performance every time when you use it. This featherweight feature is very useful for people who have pets that jump around every corner of the house. The 20-foot cord allows you to move freely and clean those hard to reach spots of your house.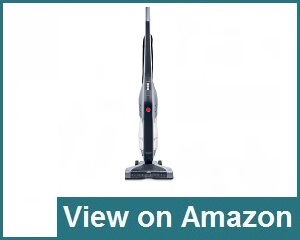 The powerful cyclonic filtration ensures consistent cleaning and captures pet hairs and other debris from any kind of surface. It has a rinsable filter that allows you to clean the filter after using this and saves from frequent filter replacements.
It is also very convenient to use because of its lightweight and a recline handle that allows you to access toughest spaces like under your beds, sofas and other furniture. Besides, the wide cleaning mouth with bristles edges removes dust, and dirt from hard corners and completes the job in no time.
Key Features:
Simple and sleek design for easy handling
Lightweight and reach toughest spaces
Convenient and quick cleaning with the multi-cyclonic technology
Low profile base to fit under furniture
Moving from hard floor to rugs and carpets is easy
10. Best Cordless Vacuums for Pet Hair – Dyson Cleaner
When we talk about a cordless vacuum option, Dyson cleaner is considered the best as the cordless cleaner for pet hair. The cordless hassle-free design has a powerful suction that cleans pet hair very efficiently. It has an instant release trigger technology that allows it to run up to 40 minutes without stopping.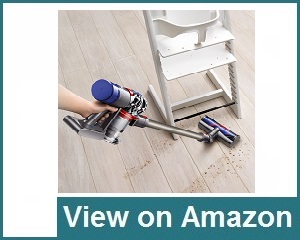 Furthermore, this versatile, lightweight model is designed to deep clean your home comfortably. The advanced filtration and the powerful Dyson digital motor traps all kinds of allergens and tiniest dust to keep your home clean.
The stiff nylon bristles help to clean the obstinate dirt. It also has a dirt ejector, which allows it to clean the dust cup in a single action, without even touching the cup.
In addition, it smoothly transforms itself into a handheld vacuum cleaner for cleaning the stairs, beds and sofas easily. The handheld feature also helps to clean up top areas. The max power option provides 6 minutes of extreme suction for difficult tasks.
Key Features:
Washable filter for longer use
Lightweight and cord-free for uninterrupted cleaning
It has a hygienic touch-free bin
Deep cleaning of carpets and hard floors
Captures allergens and expels fresh air
Why Should You Purchase a Vacuum for Pet Hair?
Dog's shed their fur, and that is a commonly known fact. However, you, like many other people, already own a vacuum and clean the house daily. So, the question arises, why specifically choose a cleaner just for pet hair?
Firstly, pet fur is difficult to deal with, and it is not always possible to keep canines and cats restricted in a separate area.
Pet fur tends to get stuck in carpets, sofas, and other furniture. This is more problematic when you have a family member that is allergic to pets. While the fur is not entirely the cause of allergies, the dander shed can cause allergies. This comes with a filter to separate the dander from the hair.
These are specifically designed for pet hair have stronger suction. They can easily clean hair from carpets and other places with ease. The same cannot be said for a regular cleaner with the main function of cleaning dust and other particles.
How to Use Vacuums for Pet Hairs?
There are two main ways in which pet vacuums can be used.
The first is the regular use for cleaning floors, carpets, and furniture. For this, you can simply turn the cleaner on and clean each corner as suited to the device's mobility.
The other way is to directly clean your dog or cat's hair as they shed. This is where a regular vacuum and a pet vacuum differ. The latter has stronger suction power and better cleaning for hair while still being gentle.
To use it this way, you'll first need to make sure that your pet is comfortable with it. Usually, a hose or a canister vacuum with reduced noise is best for this purpose. If your canine is calm with the device, then you can easily use it. If not, then you'll first have to introduce the pup to the new device.
Here is a tip. While cleaning the fur, keep it close, but do not get too close to your skin. The healthy treats method works great for training dogs for vacuuming. In fact, many pets start loving it all will automatically come to you for cleaning daily. The key is to keep it slow.
Pet Hair Vacuums vs. Regular Vacuums
Now that you know about what are pet hair vacuum is, you might be wondering, what is the difference? What makes it different from a regular one?
You can do the hair cleaning even with a regular vacuum, however, to a certain extent. It cannot use powerful suction and may leave the corners.
Specialty: A pet hair vacuum is designed for this purpose, especially. It comes with better suction power and a filter than separates the hair and the dust. Sometimes it comes with special attachments for better cleaning. The finer design allows it to reach corners and crevices for better cleaning. That means that a pet vacuum is a 2-in-1, and you can use it as a regular option as well. The same cannot be said for a regular using, as it may have reduced functionality.
Tools and Attachments: This is where the two vacuums really differ. Unlike a regular one that comes with a brush and hose layout, this pack has something special. Their enhanced design comes with silicon brushes that clean dirt and pet hair more effectively.
Improved Filtration Systems: These cleaners also use the HEPA filter to separate the dander and the fur. After each cleaning, the room is cleaned of allergens and dander, leaving the place spotless.
Types of Vacuum Cleaners for Pet Hairs
To suit the various needs of houses and surfaces, there are many different vacuum cleaner types. Depending on the shape, wire, and working, vacuums can be divided into the following types.
Upright

: These hold the advantage that you do not have to bend while working. You can use these just like your regular vacuum. For people that have back problems, this is the ideal design.
Stick

: These are a lightweight version of upright cleaners and offer the same easiness of an upright cleaner. Stick Vacuum Cleaners are slimmer and can reach corners better.
Canister

: This type of upright vacuum cleaner is more movable as it consists of a cleaning nozzle and a wand, both of which are connected to the main unit.
Corded or Cordless Handheld

: Of all the types, these are the easiest to move around. A handheld vacuum may be corded or cordless. The cordless ones operate on a battery.
Roomba or Robotic

: With these little rolling cleaners, all you have to do is push the button. While the robot does the cleaning on its own, it is not the finest result, which is the only drawback of this cleaner.
After seeing the various types, you can choose which one is the right one for your home.
Things to Consider Before Choosing Vacuums for Pet Hairs
Now that you know how a vacuum works, the next step is buying one for your home. However, before that, there are a few things you need to be careful about. To help you make the right choice, we have made a list of the things that should be considered before purchasing one of these models.
The Surface to Be Cleaned
While there are many things you need to look for in a vacuum cleaner, the place in question should be considered carefully. Are you going to be using this for the floors only? Do you intend to use it for the furniture and car as well?
For floors, even a regular cleaner does a great job. However, dog hair can get stuck on surfaces like carpets. This requires a stronger suction power. Therefore, before purchasing, make sure to know what surface you are buying it for, and is it suitable enough.
Home's Size
Vacuum cleaners vary in sizes and shapes, and so do houses. However, if you have a too large size in a smaller house, you may face problems. The same goes if the cleaner is too small for the house. Ideally, long cord models are a better fit for bigger homes. Similarly, handhelds and small portable designsare great for apartments.
Size and Type
As mentioned above, vacuum cleaners come in various types. Depending on your preference, house's size, and usage, you can choose either an upright, handheld or a stick model. Some people also like to use a robotic type.
Fur and Hair Type
To find the right device, you'll need to note your pet's hair type. Some dogs shed fur regularly, and it starts collecting upon the carpets. Cat hair is thinner and does not require that much power.
With or Without Cord
Cordless vacuums operate on a built-in battery and are easily portable. However, you cannot use them for too long, and the suction power may not be as strong.
On the other hand, a wired cleaner may not reach all corners but will do a fine job of cleaning as long as you have an electric outlet nearby. An ideal option is a vacuum that has both options.
Filters
Having a filter in a vacuum is very useful as it can separate the allergens and purify the air. A recommended cleaner is one that comes with a HEPA filter. HEPA stands for High-Efficiency Particulate Air. These filters are capable of removing the dander from the dust, which is the main allergen when it comes to dog hair.
External Attachments
Pet hair vacuums come with a variety of external attachments meant for improved cleaning. These include pet brushes, crevice tools, and other tools dedicated to upholstery, carpets, and clothes.
Suction Power
It is a very important feature that separates it from a regular one. If you wish to use this for clothes and carpet, it is recommended to choose one with stronger suction power. Watts and Volts do not tell about the suction power.
Usually, these specifications are mentioned on a vacuum using the abbreviations AW and CFM. The term AW stands for "Air Watts" and tells about the suction power.
The other stands for "Cubic Feet per Minute" and informs about the amount of air taken in. Ideally, you want a higher number of these measurements.
Value for Money
An expensive item may not always be the best one, and the same goes for here. Then there are specific devices that give a great performance with reduced cost. When buying, you'll need to find a balance of both performances and cost to find the right one.
Noise
Our pet friends have more sensitive senses than us, and the same goes for hearing. If you plan on using the vacuum for your dog, you'll need to make sure that the device does not make much noise. Luckily, many brands out there do pay special attention to this feature. Ideally, the device should have a noise of fewer than 67 decibels.
Benefits of Using Vacuums for Pet Hairs
Pet hair vacuums can help get the cleaning done faster, but that's not all. These offer many more benefits.
Purify The Air From Allergens: Other than simply cleaning up dust and hair, vacuums come with special filters. These filters are made from microfibers and can separate allergens like dander, hair, and dust particles from the air. This means that after every usage, it cleans the room and purifies the air.
Improved Suction Power for Quicker Cleaning: Unlike regular one, this cleaner does detailed cleaning. It cleans up dust and hair stuck in carpets and other corners of furniture with ease. Fast working saves you time and effort.
Versatile: Pet vacuums come with many accessories and attachment tools. These tools include brushes and tools for stronger suction power. Since they are customizable, it gives you a choice to use the cleaner for different surfaces and purposes.
Variety of Shapes and Sizes: There are many different designs and shapes, and you can choose which one suits your needs the best. From small robots to uprights with longer power cords, these offer all styles.
Important Tips
To get the best performance, you need to use it the right way. The following are some tips you can use for better results.
Get your pet groomed by a professional on a regular basis. This is especially recommended during your pet's shedding season.
For cleaning floors, you can use the normal hose; however, when using a pet vacuum on carpets, use a rubber or silicone brush. It'll help you rake out the hair with ease.
When it comes to furniture, you can remove the pet fur using either damp or dry rubber gloves.
Before cleaning a vacuum's filter, make sure to read its label to see if it is washable or not. Thin filters cannot be washed as they lose their specific shape.
If you have a vacuum with a removable bag, empty it after regular intervals, giving you the best cleaning experience.
Conclusion
A pet vacuum can deal with your pet's constant shedding and keep the house safe and clean from allergens. The HEPA filters and sturdy designs make them suitable for use by any person. It does not matter whether you live in a big house or a cozy apartment, there are many types of pet hair vacuums to choose from. Make your choice by keeping in mind the important characteristics for a successful long-term investment.
Frequently Asked Questions
What is a vacuum for pet hair?
It is just like its name suggests, meant for cleaning dog hair. This vacuum comes with stronger suction power and cleans pet fur from furniture and even carpets with ease. It is ideal for people owning either a dog or a cat, especially if they have a person in the home who is allergic to pets.
What is the best vacuum for pet hair?
The "Shark Lift Way NV752 Mini Motorized Bordeaux" is the best for efficiently cleaning pet hair. It comes with a removable canister that allows you to reach corners with ease. It has a solid built and has a HEPA filter to automatically filter dust and allergens. The Shark Lift-Away package contains a Pet multi-tool, a crevice tool, and a power brush.
How do I remove dog hair from my bedsheet?
It is recommended to clean the bed sheet regularly. While you can use lint rollers, damp rubber gloves, and other similar options, a pet hair vacuum can do all the work quickly and efficiently.
Are pet vacuums worth it?
Yes. They can reduce your cleaning time to half by their swift hair cleaning. These are easy to use and specific in their purpose. That way, you will not have to worry about getting pet fur everywhere.
What is the best lightweight Best vacuum for pet hair?
The "Hoover Corded Cyclonic Vacuum SH20030" is our top choice in the lightweight pet hair vacuums. Weighing only 3600 grams, this is very portable and still holds a strong suction power. The design makes it super easy to handle, and the long 20 feet cord allows you to reach every corner of the room with ease.
Is there a separate best option vacuum cleaner for dog hair and cat hair?
No. Ideally, they works great for both cats and dogs. Sometimes, the size and suction power may vary; however, they can be easily chosen according to your requirements. For dog owners, they need a optionwith stronger suction. For cat hair, a normal pet vacuum can be used. Otherwise, you can use the same thing for both canine and feline hair.
How often should I vacuum my home?
It depends on your home's structure. If you have open windows, many doors, and your pet roams freely most of the time, it is recommended to clean your house every day. Do not wait for the hair and dust to start showing up and clean regularly to maintain the best environment.
What is the best vacuum in a stick design for pet hair?
The "Dyson Cyclone Absolute Lightweight Cordless" is the best in a stick design. It is cordless and allows you to clean every corner with ease. With the stick design, you do not have to bend down as it cleans the pet hair.
How to clean pet hairs from the vacuum device?
Pet hair is rather easy to remove by using vacuum devices as it is shorter. A cleaner with removable bags can be cleaned after simply removing and cleaning the bag. For other types, you can clean the bag while it is attached. However, be sure to read the manufacturer's instructions before using water or other chemicals.
What are the best cordless vacuums for pet hair?
The "Dyson Animal" is the best as cordless design. Offering an ergonomic grip, this is ideal for cleaning carpets. It is battery powered and has a hygienic bin emptying system so it can be cleaned very easily.
Is it safe to use a vacuum for pet hair?
Yes. While it has stronger suction power than others, these are very safe to use and will not harm your pets. However, care must still be taken, and it is best to not let your pets near any sort of electric appliances.