Many dog owners do not know the importance of a bed for large dogs and why it is required. Large dogs are more prone to arthritic issues. So it is significant to get him a comfortable bed to sleep on as it has major health benefits.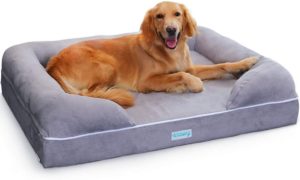 A high-quality bed should have a durable and water-resistant material for easy cleaning and maintenance. In addition to that, the filler material should also be durable and made up of high-grade fiber to provide good support to your dog's weight.
It also ensures mental health for dogs. He will have a good night's sleep without straining his joints or hips. Moreover, peaceful sleep will help him maintain his energy level.
Our team of experts has researched several renowned brands, analyzed their essential features, importance, benefits, and made the list of the top 10 best large dog beds with helpful buying guides. This will guide you to choose the appropriate item regarding your dog's demand.
Best Large Dog Beds in 2023 – Reviews
1. Our Top Pick – PetFusion Ultimate Large Dog Bed
Top Pick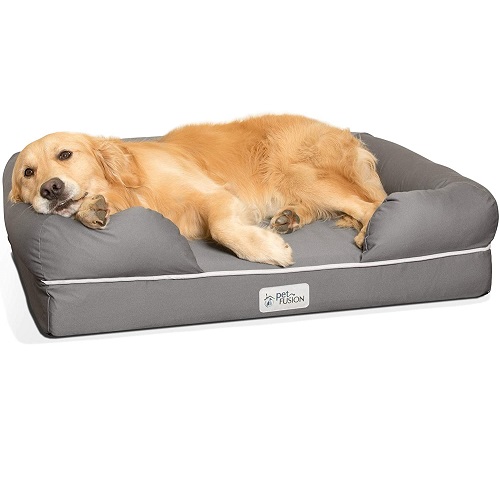 PetFusion Ultimate Large Dog Bed
Designed with premium materials to provide maximum comfort for your pet, and to ease pain in the joints and improve the health of your pet.
The PetFusion brand provides the ultimate memory foam beds for large dogs with optimum comfort and security. It is designed to provide premium comfort and ease your pet of pain at its joints. This brand offers mainly a luxury item, and your dog would love it. It comes in 2 colors, which are slate and brown. There are different size range from 24" to 44", and it is large enough even for your biggest pet.
The model is made of premium materials which are polyester (65%) and cotton (35%) twill. Also, the base is solid 4-inch memory foam for superior overall support. All these are aimed at comfort, reducing joint pains for older dogs, and calming pets that suffer from anxiety. The bolster that serves as the pillow is filled with Polyfill to support your pooch neck. Additionally, the cover of the bolster can be removed and washed in a machine.
Furthermore, the cover is water-resistant to a significant level, and it absorbs liquid slowly before it gets to the waterproof inner liner. This feature makes it durable and protects the memory foam. Also, there are two zipper compartments for the foam and bolster respectively. This feature ensures ease of removal and washing when it is messed up.
It can easily hold up to 100 pounds and can contain any dog. Thus, it is ideal for small, medium, and large dogs. You don't have to worry about the contact of your pet with this bed, as it is skin-friendly. Also, the color would match the room where the pet is and improving the overall aesthetic of the house.
Key Features:
Rated to hold up 100 pounds
The dimension is 36 x 28 x 9 inches
The weight is 14 pounds and allows ease of mobility
Base and bolsters provide ultimate support and security
Ease of setup
2. Runner Up – Furhaven Pet Bed
Runner Up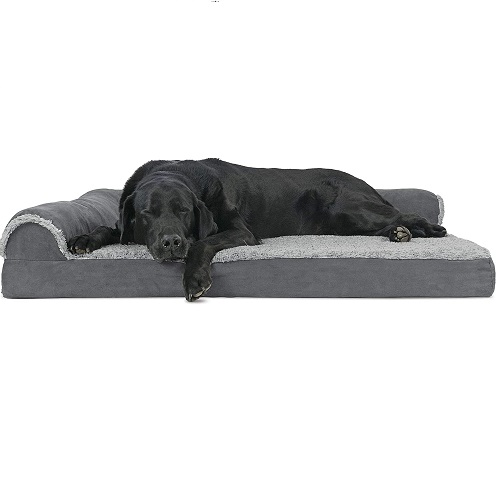 Furhaven Pet Bed
Designed to provide perfect support for headrest and dual bolsters for pet to snuggle into
Your furry friend deserves to be pampered, and Furhaven coming as the runner up in this list, which is designed carefully to give maximum comfort to your pet. The bed is a luxurious orthopedic L-shaped chaise item, and your pet would love to sleep in it. Different sizes for both small, medium, and large dogs are available. The foam provides great support for aching joints and muscles so your dog can wake up ready to play.
The lounge is made of high-quality materials as the sleeping area is lined with ultra-plush faux fur, soft, and skin-friendly. Two bolsters are L-shaped, fluffy-filled, and lightweight, as well as a warm nook so your pet could fold into it. When the bolster is messed up by the pet, it can be removed and washed in a machine. Additionally, pressure points are soothed by the egg-crate foam core at the base, all these features are designed to increase comfort.
One interesting thing about this bed is the ease with which you can slide it into a corner, and it would provide aesthetic for the room it is placed. The lounge is available in Dark Sage, Stone Gray, and Expresso variants, you could select the color that fits the room. The jumbo plus size is adequate for large pets as it is 44" x 35" x 8" as the solid slab provides comfort.
Key Features:
Medical-grade orthopedic foam for support
Recycled fluffy filled bolsters
There are 16 available colors
The bed's weight is 13 pounds
It can be washed easily
3. Best Budget – MidWest Homes for Pets Large Bed
Best Budget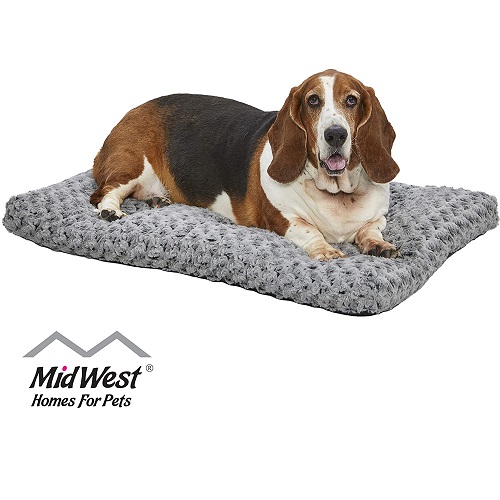 MidWest Homes Large Bed
Features ultra-soft synthetic fur and a non-skid rubber grip to prevent sliding on floors, and provides premium comfort at best budget.
The best budget-friendly bed for spoiling your pet is the MidWest homes. This enables you to give your pets the respect and comfort they deserve without sacrificing quality. It is right for medium and large dogs between the weight of 41-70 pounds. The grey color would add aesthetic to any room of the house and provide your furry friend a cozy space to rest.
Here used material is an ultra-soft Polyester that forms a nice swirl pattern and blends from light grey to charcoal. Furthermore, the bottom is non-skid, making it great on the hardwood floor, as it does not move or shift unnecessarily. Also, this comes in seven different sizes, and this works perfectly in a crate, this makes it look like a warm home for your pet, in other ways it can serve as a standalone bed.
Pet owners don't have to worry when it is ruined, as the cover can be easily removed. The whole bed can also be dipped in the machine for a good wash, and it could dry rapidly. Furthermore, pet parents going on a journey or vacation can take this along easily.
Key Features:
The ease of maintenance, as it can be washed and dried easily
Non-skid rubber grip on the bottom to prevents slides on tile floors
Ideal for large dog crates and vehicles
Luxurious plush cushion that gives your pet maximum comfort
Ease of mobility
4. Best Memory Foam Large Dog Bed – Brindle
Do you seek for a bed that would give your pet the comfort and pampers it deserves? Then, the Brindle soft large bed is the right answer you seek. This provides your furry friend a top-notch sleeping spot, so he wakes up ready to play. On the same line, it is lightweight and can be carried easily for vacations and other outdoor activities.
This great Dane bed is made of a 3-inch thick layer comprised of shredded memory foam. This feature increases the breathability and airflow and conforms to the weight of the pet while relieving pains in the joints and providing premium comfort.
Additionally, the Micro-suede cover is a super-soft fabric providing a cozy feeling. The bed cover can be unzipped and washed in a machine; this makes it durable while ensuring your pet is kept in a healthy environment.
The ease of maintenance is another essential feature pet owners would enjoy, as the bed can be washed easily when messed up. Also, it is available in different sizes, and pet parents should select the size most appropriate for pets. It also fits inside the dog crates available at home, and this provides or form of housing or room for a pet.
Key Features:
3-inch-thick layer of orthopedic shredded memory foam
The suede cover can be easily washed
Measures 52" x 34" x 3", fit
Handy zippered cover
Portable and lightweight, provides comfort
5. Best Foam Mattress Pet Large Bed – Furhaven Bed
The Furhaven is the best foam mattress for your large pets as it provides the needed comfort and pampering for big dogs. The bed looks like a traditional open mattress and avails your pet the privilege of sleeping in any position and waking up ready to play.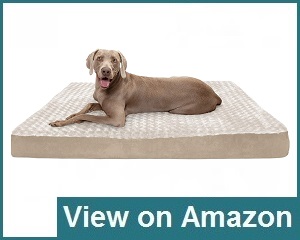 Additionally, the mattress is designed for the ease of accessibility, both small, old, and physically disabled dogs can get on and off the surface easily. The mattress is made of premium material is Polyester. The faux fur top has a nice swirl pattern that further enhances its look and gentle feel. The suede sides provide additional height, thus providing maximum support.
The gel top contains Microgel beads that aid cooling to keep your pet in moderate temperature, while the memory foam added properties helps to shape the dog's unique figure to better ease aching joints and pressure points.
The zipper cover makes maintenance easy as it can be unzipped and washed in a machine. The bed is available in different sizes and colors, pet parents should choose the size and color most appropriate, and the one that would fit the house.
Key Features:
The friendly design ensures enough room to sleep
The cover can be washed in machine easily
Available in various sizes and colors
The ease of accessibility
The suede sides are gusseted for additional height
The top contains microgel that cools down the temperature of the pet
6. Best Orthopedic Bed for Large Dogs – Big Barker 7" Pillow
Tired of buying dog beds that flatten or fall apart six months after purchase? This orthopedic bed is the best for your large pets that is above 150 pounds, as it would perfectly support its weight. Also, vets would confirm that dogs suffer from joint pain as they age, this bed helps in easing pain, and keeping your dog young.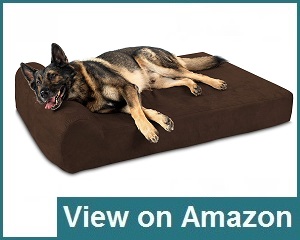 The Big Barker is made with microfiber, the same material used for expensive furniture, and it provides a soothing sensation for every curve. It provides the needed comfort and support for older dogs suffering from joint pains, muscle disorders, arthritis, or for dogs just recovering from surgeries.
The Big barker's special feature includes 3-stage foam construction. The outer layer, which is a buttery foam that supports the joints, the middle layer provides resistant support to prevent a pressure point of dogs from impacting on the hard floor.
Furthermore, the bed is easy to maintain, by unzipping the cover for a wash, this feature makes it durable. Also, the headrest is made of H45 support foam, and it provides maximum support for your dog's neck.
Key Features:
Provides maximum support for large dogs
The size is 52" x 36" x 7"
It can comfortably support up to 300 pounds of weight
Ease of maintenance and wash
Headrest made of H45 support foam
7. Best Elevated Bed for Large Dogs – Coolaroo
Coolaroo elevated bed gives your furry friend maximum comfort by the off-the-ground design that increases airflow. It is specially designed for large dogs, but extremely durable for all breeds, sizes, weight, and pressure from the floor to the knees, hips, and shoulders is eliminated.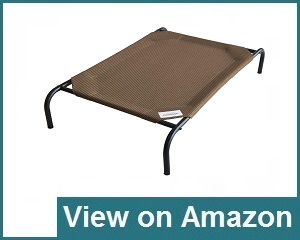 Pet owners enjoy the ease of mobility as it can be used both indoor and outdoor activities. This model is made of premium material which is a breathable high-density polyethylene (HDPE), which is resistant to flea and mildew. Structurally, it is nine square feet and large enough for any dog.
Setting up the bed is pretty easy using the stands. Also, you can wash it with soap and water, then allow it to dry. The Coolaroo is available in five distinct colors and parents should choose the color that best fits their pets. The steel frame is powder-coated, long-lasting, and perfect for all sizes of pets.
Key Features:
Portable and suitable for outdoor and indoor use
The top is elevated more than seven inches above the ground
The strong and lightweight powder-coated steel frame is extremely durable
Safe and skin-friendly material
Ease of assembly
8. Best Extra-Large Dog Beds – Friends Forever
Your large furry friends deserve comfort and pampering, and the Friends Forever Orthopedic Bed is perfect for extra-large dogs. They enjoy maximum comfort with this and wake up ready to play. The size is 36 x 28 x 9 inches, and the mattress is 4-inch-thick, and up to 75 pounds can sleep on it comfortably.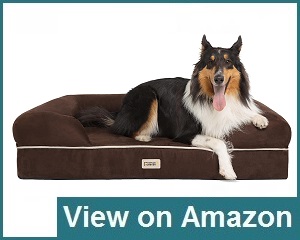 Furthermore, it provides support for the head, hip, and bone of the pet. The material used for the mattress foam is Polyester, pressure-relieving memory foam and durable support foam are used in this bed. The bolsters are poly-filled and aimed at easing joint pains and arthritis. It is recommended by vets for pets.
Additionally, the covers are made of water-resistant materials and it is skin-friendly, to ensure the safety of your dogs. You can remove the cover and wash it in a machine when messed up by the pet. On the same line, the bed comes in different colors, and pet owners should find the color that best fits the room in the house where it would be kept.
Key Features:
The foam is made with human grade mattress
The Cover is anti-tear about
The liner is water-resistant and hence durable
Ultimate luxury and perfect for easing pain and arthritis in older dogs
Cushioned bolsters for maximum comfort
9. Best Cuddler Dog Beds – Best Friends by Sheri
Best Friends with Sheri is a sophisticated design for your furry friend that loves to sleep in a cozy little curl. Thus, it is the best Cuddler dog bed. Sleeping on the floor could intensify body and joint pains, further diminishing sleep quality, and leads to health decline.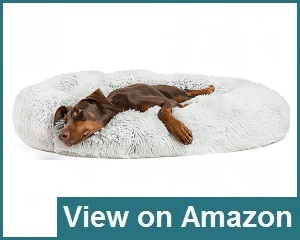 It has a circular that wraps around the circular bed, and this provides the needed comfort many nervous dogs need. Additionally, it is skin-friendly and bolsters serve as a headrest for the dog. The luxurious faux shag fur can be removed and machine washable, for proper dog's hygiene. After wash, it is recommended to use a dryer on a low setting, instead of air drying it.
The cover has a bottom that is dirt-proof and water-proof, and this ensures the longevity. Furthermore, it comes in different sizes and colors, and pet parents should select the color that perfectly fits the room of the house.
Key Features:
Available in different sizes
Suitable for all dog ages
Dimension 45 x 45 x 9 inches
Perfect for all life stages
Machine washable
10. Best Large Bed with Dog Cover – Dogbed4less Premium
The Dogbed4less orthopedic memory foam would be a suitable bed with cover for your best friend. It looks like a traditional open mattress and gives your pet the privilege of sleeping in any position and waking up ready to play.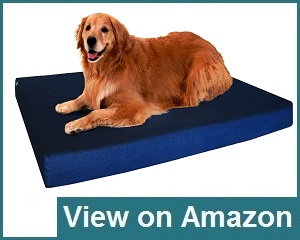 Additionally, the ease of access is what you stand to benefit, as both small, old, and sickly dogs can get on and off the surface easily. It is structured with high-quality material which is a 4-inch-thick memory foam core, and it is for your pet's comfort and joint support.
Furthermore, there are two removable outer covers, as well as an internal liner that is resistant to water. The external covers can be easily maintained as they can be unzipped and washed in a machine. Also, the bed is available in different sizes and colors. Pet parents should select the size most appropriate for their pet.
Key Features:
Made of high-quality premium materials
Therapeutic cooling luxurious comfort
Waterproof liner and two external covers
External covers can be washed reused
There are different sizes available
Why Should You Buy a Bed for Large Dogs?
Being a dog owner, it is our responsibility to make our little comfortable at home. You might be confused about one common question i.e. "why should I spend money on a bed for my large dog?" Dogs, especially the larger ones need a big and comfortable space to sleep peacefully.
They need to feel warm and comfortable at home especially during the nighttime. A bed gives them a sense of security and feel safe psychologically and physically. It is an important item to consider as your dog is a permanent part of your family.
It is in the dog's nature to "make up the bed" before sleeping by digging into the blanket and cushions on the sofa or chair. In addition to that, the large breeds have a tendency to experience hip and joint conditions that include dysplasia, elbow dysplasia, and other overweight issues.
Their bodies might feel stiff and sore if they are not provided with a high-quality bed. Mostly they curl or huddle up into a ball to be in a protected and safe position. So it is important to get your dog a comfortable zone especially if it is a large breed.
The Used Materials of Large Dog Beds
The first thing you need to consider regarding the materials is the quality. Your little companion can't talk, but just like humans, he needs a comfortable and clean bed to sleep on. You need to make sure that he is not allergic to the material that you are going to purchase. It should meet his needs. Here are the materials used that you should focus on while purchasing a bed for your dog:
High-quality Foam: As much as the external materials are important, equal attention should be given to the filler materials. The materials give shape to the whole bed which is why it is significant to the one that does not sag. Furthermore, it is recommended to choose one that has artificial materials rather than natural materials. The artificial materials do not sag easily or attacked by parasites that often wound up in the natural materials.
Water-resistant Materials: Being a dog owner, you need to pay attention to the materials used as your dog will be on the bed for long hours. Make sure to choose the one that has water-resistant materials. Dogs love to play in the rain or puddle and if you are not around, they can bring all the dirty water in the house. The used material should be easily cleaned or washed in the machine.
How to Keep the Dog Bed Clean?
Here are some easy steps to keep the bed clean:
Take off the cover: It is important to read the instructions of the manufacturer company. Remove the cover if the bed has a removable cover. Put the covers in the machine if it is machine-washable.
Remove Stains: The next step is to add stain remover if the covers have stains. If the covers have urine or dirt stains, then it is better to first spray with the stain remover before putting them into the machine. Once the stains are removed, you can easily wash the cover in the machine.
Wash Properly: Make sure to wash the covers in hot water as it will kill the germs and bacteria. Moreover, it is also recommended to use a mild detergent as you do not want your dog to have any allergic reaction or irritation to the chemicals. Every bed comes with a guide book or washing instructions. Follow those instructions to clean it in a proper way.
Dry the bed: This step is also an important one to follow as drying properly. It might take some time. You can tumble dry the covers or air fluff them as mentioned in the instructions. Make sure to also get rid of your dog's fur stuck onto the bed covers. Put on the covers on the bed once they are properly dried out.
Things to Consider When Buying Large Dog Beds
As the bed for your large breed will take a lot of space and need regular cleaning, it is better to make the right decision. Here are some important features to consider while buying:
Size
Your pet's comfort should be a priority while choosing a bed. Make sure you have chosen the right size. Dogs love to stretch or huddle up which is why it is better to get a size that has extra space. Large breeds including Mastiff, Great Dane, Scottish deerhound, etc. need should be getting a large comfortable bed to sleep on for long hours. Make sure you know the measurements of your dog before deciding on choosing the bed
Materials
This is another most important factor that should not go unnoticed. As purchasing a bed for a large dog is going to be a long-term investment, it is wise to go for durable and water-resistant materials. Many pet experts recommend velveteen and flock materials. The materials are not electrified and can be cleaned and dried easily. Make sure the material you are choosing should not give an allergic reaction to your little bud.
Quality of Foam
Not just the external materials matter, you should consider the filler material as well. As your dog will be sleeping on the bed for long hours, it must have high-quality fillers. The fillers must be able to carry the weight of your dog and support his body without causing any strain or aches. Do not go for low-grade fiber filling just to save some dollars as it is going to flatten under heavyweight of your big dog. Instead choose the filler that is supportive, dense and high-grade orthopedic foam.
Shape and Style
Every dog has a different nature and personality traits so make sure you choose the right shape and style. If your dog loves to curl up into a ball, then you might go for the bed having bolsters at the sides. Otherwise, mattress styles are perfect for large dogs to stretch and roll around whenever they want.
Colors and Patterns
It must not only feel comfortable but also look good with the other furniture in the room. As it is going to be there for a long time, it is better to select the right colors and patterns that do not look odd. You will find a variety of colors and patterns from bold and vibrant colors to neutral shades. For example, if you are going to place the bed in the lounge or the living room, It should complement the overall décor.
Warranty
Last but not least, if you are investing hundreds of dollars into a bed, then it is important to check the warranty. Many dog beds come with a warranty e.g. 5 or 10 years of warranty. In addition to that, it should also have a money-back guarantee. Instead of regretting later, it is better to consider all these factors.
Benefits of Using Large Dog Beds
How would you feel if you have to sleep on a floor instead of sleeping on the bed? Having a comfortable option is beneficial for them for so many reasons. It helps them stay healthy mentally and physically. Let's discuss some health benefits:
Peaceful Sleep: Having a large-high-quality bed for your dog is not only good for his physical health but also for his mental health. After spending time jumping and running around, he can finally get to his bed for adequate sleep to prevent any joint or hip issues.
Body Temperature: Sleeping in the wrong and sharp surfaces will cause body aches to your dog. Furthermore, if your dog is sleeping on the cold floor in the winter, it may lead to sickness. To minimize the risk of your large breed getting sick, it is important to get a comfortable zone to maintain his body temperature and energy level. He needs to feel warmth in his high-quality orthopedic bed to prevent any arthritic pains.
Keeps Your Home Clean: As soon as you get your dog a comfortable option, he/she won't be sitting on your bed or couches. This way you will be able to keep the house clean as this will also prevent the fur shedding. You will also be able to clean your furniture easily.
Some Important Tips
Here are some important tips that you need to pay attention here:
Know the importance of getting a high-quality bed especially for the large dog breed to prevent any arthritic diseases.
If you are more likely to take your large dog along on a trip every now and then, make sure to get a travel bed.
A wise idea would be to go with a 100% money-back guarantee.
Do not forget to read the reviews of the product or ask the dog owners around you for suggestions.
Final Verdict
This article is for all those people who are looking for the best bed for large dogs. Just like human beings, your pet also needs comfortable sleep to stay healthy physically and mentally. It is your responsibility to choose the right one for your dog, especially if he is big in size. Spending on a high-quality bed for your dog will keep your dog away from all arthritic problems.
Frequently Asked Questions
Are memory foam dog beds good?
Memory foam is the most comfortable foam even for human beings. Your little bud needs to relieve muscle pain and feel energized by sleeping on a high-quality memory foam. This extra-cushion bed is good for your dog's physical and mental health.
Can a dog bed be too big?
Yes, for large breeds, it is better to get an extra size bed. One common mistake that people make is they guess the size and purchase without measuring the size of their dog. Make sure to not make this mistake. It is better to get a perfect size for your dog instead of regretting later.
What is the best memory foam large dog bed?
For large breeds such as German Shepherd or Great Dane, Brindle Soft Memory Dog Bed is recommended. This provides comfort to your big dog by supporting his weight preventing issues including joint aches or hip dysplasia.
How to pick the right size dog bed?
The best way is to take accurate measurements of your dog instead of guessing it. Secondly, while choosing a bed for your dog, make sure to get one or two sizes larger so that your buddy can stretch and enjoy rolling.
Why do you need an orthopedic dog bed?
These types are specially made for dogs to prevent arthritic issues as his body weight is completely carried by the bed without touching the floor. An orthopedic bed is made up of a high-quality filler material that does not sag for a long time.
What is the best elevated dog bed for large dogs?
If you want to get an elevated bed for your dog, then the Original Elevated Pet Bed by Coolaroo is the best option for you. This gives an elevation of 7 in above the ground. It is built up with a high-density polyethylene (HDPE) fabric that helps eliminate hot spots and is flea-resistant.
Is it necessary to use a cover with dog bed?
Being a dog owner, you must know how tough of a job it is to keep your pooch beds clean. A bed cover is a must-have especially if you have a large dog breed. There can be an accidental mess anytime for which you need to be prepared. Water-resistant covers are easy to clean and maintain for a longer time.
What is the best large dog bed with cover?
Dogbed4less Premium Memory Foam Dog Bed is the best option if you want with a good quality cover. It is not only an orthopedic bed with memory foam, but also waterproof and easy to maintain.
What is the best way to clean a dog bed?
First of all, it is necessary to go for a water-resistant bed for your dog. Secondly, while washing the covers, use a mild detergent so that your dog does not have an allergic reaction to the chemicals. Thirdly, use a stain spray to remove any urine or feces stains before washing it in the machine.