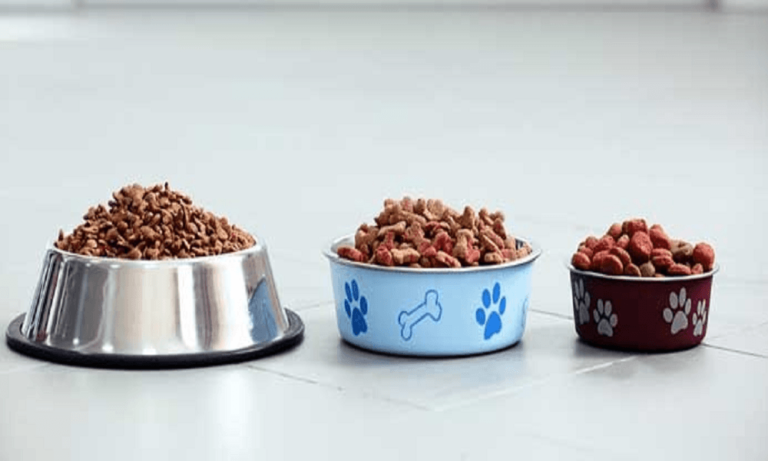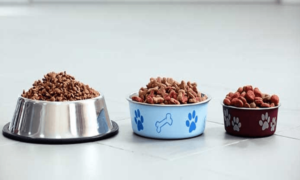 The UK food industry is home to some of the best high standard dog food brands in the world. They produce all quality food items those are biologically appropriate for a dog's diet. These foods provide our furry friends excellent health, healthy teeth & nails, shiny coats, and great positive energy level.
Here we have listed ten of the best dog food UK options have been giving Great Britain's dogs for decades. We believe our detailed product review and helpful buying guide will support you to choose the right one.
Best Uk Dog Food in 2023 – Reviews
1. Our Top Pick – James Wellbeloved Uk Dog Food
James Wellbeloved 15-KG pack is very popular in the UK as the number one dog food for its special taste and nutritional value. Here the main used ingredients are brown rice, oats and turkey meat made the food more delicious to eat and easier to digest. These are also hypo-allergenic, helps to eliminate possible allergic reactions from meat, dairy, wheat, eggs, and gluten.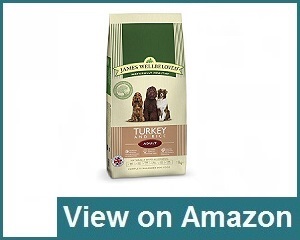 There are no additives, cheap bulking ingredients, appetizers or artificial flavors. It is full with the high level of anti-oxidant, essential vitamins and minerals enhance your dog's proper growth and good health. Included rich source of fatty acid also helps to grow healthy and glossy dog coat.
This well-balanced diet recipe encourages beneficial intestinal bacteria inside the dog's body to improve digestion capacity and absorb the highest nourishment from food. The food formula also contains white meat goodness of turkey with wholesome brown rice those are ideal for the sensitive stomach.
This best-rated quality food is available in another smaller size so that you can collect the suitable one regarding your dog size. With other usefulness, this food releases dogs from poor digestion, improper stool, and various digestive problems.
Many dog owners love this food by observing its nutritional balance and long-term well-being on their dog's health.
Pros:
Main ingredients are brown rice, oats and turkey meat
Formulated with all natural and wholesome ingredients
Special for sensitive dog stomach
Hypoallergenic
Efficient for your dog's digestion
Cons:
The only concern is the price, which is slightly expensive
2. Best Cheap Dog Food Uk – Wagg Worker 17kg
Wagg working food is a balanced formulation with Veg and Beef supports to keep your dog stronger and active. It is full of healthy ingredients like meat, citrus, yucca extracts, vegetables, cereals, minerals, fats, and oils supply proper nourishment and maintain the average energy level.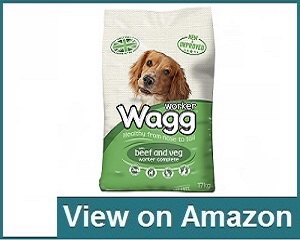 This UK food contains carbohydrate, vitamin A, B, C, and E to support the immune system and adequate vitamins and minerals for proper body structure. The balanced amount of zinc, omega 6 & omega 3 fatty acids dedicated to grow your dog's glossy coat and healthy skin. The special fiber ingredients enhance digestion capacity.
There is no artificial flavor, color or harmful ingredients used to increase the test of the food. Even, considering the health of the pet, no sugar has been added to the food and used colors are also collected from the mineral sources.
It has the good reputation as cheap dog food serves a complete and quality nutrition and it keeps safe your dog from diarrhea, irritations or other food-related problems. Wagg is also known as economical food because it's 17Kg bag can support your dog at least one month and keeps nourished by ensuring optimum health benefit.
Pros:
Formulated with adequate vitamins, minerals, and protein
Enhance muscle building and structural body functions
Main ingredients are vegetables, cereals, animal derivatives, and meat
Strengthen the immune system
Helps for proper digestion
Recognized as cheap food
Cons:
Only available in 17KG bag
3. Best Dry Dog Food Uk – Harringtons 15kg
Harrington's dry dog food occupied the #1 bestseller position for a long time. Every pack of Harrington's food contains 20% of protein, 10% of fat, 3% of fiber and it does not contain any wheat, soy, sugar, and artificial color and flavor.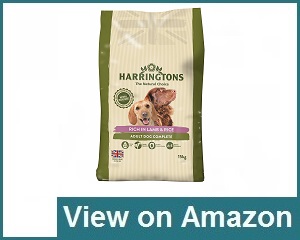 The basic food ingredients are meat, rice, linseed, yucca, and yeast but may differ for some cases like Turkey & Vegetables and Lamb but you can refer this food for regular feeding to your dog. Compare with other ingredients list, Harrington ensures a proper mixture of lamb and dry mix and dogs become happier and healthier to get it.
The 15kg bag is a little bit expensive but dog owners become highly satisfied to offer it to their dogs. It provides total nourishment for growing and young dogs and helps to grow healthy skin, shiny hair, proper digestion, perfect stools and appropriate weight to your dog. It also works as an alternative of hypoallergenic food for dogs.
Pros:
Prime ingredients are Meat, Rice, Kelp, Linseed, Yucca extract and Yeast
Does not contain any sugar, soy, wheat, and artificial color or flavor
Every pack contain 20% protein, 10% fat and 3% fiber
Buyers are pleased to get this hypoallergenic food at the reasonable price
Cons:
It is a good mid-range food but not premium
4. Best Sensitive Dog Food Uk – Naturediet Food
Naturediet is a complete natural dog food made by 60% chicken, 5% brown rice, 5% vegetable, herbs, ground bone, and kelp. It also contains omega 3 & omega 6 fats for shiny skin and coat and avoids additives, color changer, ingredients, preservatives, and chemicals when preparing. So, it is naturally healthy, hypoallergenic and perfect as sensitive stomach food.

Pet proprietors feel relax to feed this food and after a certain period of feeding dogs become improve from dry issues and flaking skin. Dog owners reviewed that, their dog's stools became soft and skin became shiny for using this natural diet for a short period of time.
The chicken treat makes your dog excited at meal time. It is an outstanding food for dogs who love to eat wet food. Some pet lovers mix this food with dry foos to make the meal more delicious. It ensures a different diet for senior dogs, adult, and puppies. Actually, this UK food is relevant for any ages and sizes dog.
Pros:
Vital ingredients are chicken, vegetables, brown rice, herbs, ground bone, and kelp
No artificial ingredients or preservatives are used
Suitable for sensitive stomach
Appropriate for the puppy to senior dogs
Cons:
Few buyers are not pleased with using "Maize" as the main ingredient
5. Best Senior Dog Food Uk – Royal Canin Medium Adult 15kg
Royal Canin UK maintains your dog's normal defenses to promote a beneficial intestinal flora, zinc, vitamin A, biotin, Omega 3 fatty acids and helps to regenerate their hair on the skin. This top-rated food also contains vitamin C and E to sustain cell vitality.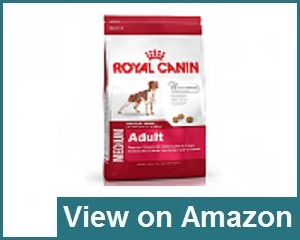 It enhances your dog's immune system and maintains an ideal weight. A proper balance of dietary fiber and high-quality protein of this food ensures healthy digestion of food.
The main ingredients of this food are animal fats, animal protein, dehydrated poultry meat, wheat flour, fish, soy oils, beet, egg powder, minerals, and yeast. There are no artificial color, flavor or harmful chemicals included; even this food fascinates dogs for its special size, shape, and texture.
Dog owners are happy to observe their dog's interest in this food. Many pet proprietors regularly collect this food for their pet's proper nutrition and some new buyer also shift into this Royal Canin Food to show the excellent health benefits in their dogs.
This food is specially formulated for a medium and adult dog breed. It is prepared regarding the dog's size, age, and breed. Your dog becomes healthier, energetic and stronger to eat this food regularly. It is so much palatable and highly digestible, that's why your dog always keeps safe from the digestive problem and finally dog owners love to purchase this great food to make their dogs more healthy and happy.
Pros:
Specially made for medium-sized adult dogs
Main ingredients are animal fats, animal proteins, fish, beet, wheat, wheat flour, egg powder, soy oils, vitamins, and minerals
Highly digestible and too much palatable
Makes your dog healthy and happy
Cons:
Not made for small dog or puppies
Comparatively high priced
6. Best Grain Free Dog Food Uk – Orijen
Renowned as best grain free food and contains chicken, turkey, eggs and wild caught fish as the main ingredients. It offers a proper diet for fully-grown dogs of all dog breeds. These are different from other pet foods contain a high level of protein from fresh meat, healthy fruits, and vegetables but few amounts of carbohydrates and no cereals.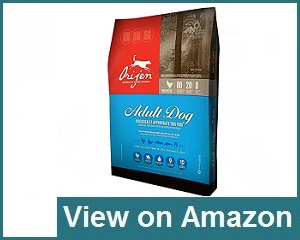 The chicken is easily digestible provides a sufficient amount of protein and fats, turkey provides natural vitamin B3 and necessary amino acids. The fish is the main source of omega-3 fatty acids help to grow healthy skin and a shiny coat.
Mainly, Orijen food brand is made in Alberta, Canada from fresh Canadian ingredients maintain a new concept of pet nutrition and produce biologically appropriate food.
Mainly, Orijen food brand produce food products from fresh Canadian ingredients. They maintain a new concept of pet nutrition and consider your dog's biological demand through their food formula.
Key Features:
Top rated food made from natural and fresh ingredients
Main ingredients are chicken, eggs, turkey meat and fishes
Ideal source of protein, vitamin, minerals, fatty acids, and essential amino acids
Orijen adult also contains fruits, vegetables, and herbs
Improve dog's stool and cure allergy problem
This food helps to grow healthy skin and a shiny coat
Ensures your dog's total nourishment and sufficient energy source
Manufactured by a Canadian company
7. Best Natural Dry Dog Food Uk – Barking Heads
A complete natural dry food for adult dogs formulated with chicken, brown rice and peas. It is deliciously tasty can enjoy all dogs and get adequate nutrition. It is effective for sensitive stomach, loose stools or flatulence and proper cure of gastrointestinal upsets with unhealthy skin and coat. There is no synthetic color, flavor or preservatives and you can feel free to collect this item to make your dog happy and healthy.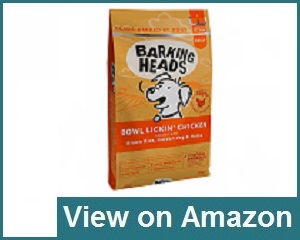 Key Features:
Made by natural ingredients with 50% chicken, 25% crude protein, rice, vitamins and minerals
No barley, wheat, artificial color, flavor or additives are used to
Specially made for dogs those are suffering from the digestive problem, loose stools, and flatulence
Proper cure for gastrointestinal upsets, lack of appetite, unhealthy skin and coat
It gained the approval of best UK dry dog food
Made in Britain
8. Best Natural Dog Food Uk – Arden Grange Chicken
A super quality, highly digestible and extremely palatable food is special for adult dogs. It is formulated with fresh chicken, maize, refined chicken oil, beet pulp, dried egg and does not include any artificial colors, flavors or preservatives. It contains a balanced blend of nutrients and natural supplements to promote optimum health, energy, and fitness of your pet.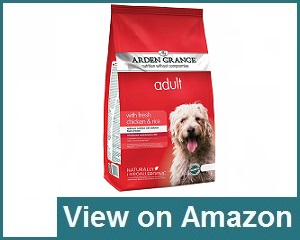 The high proportion of chicken (32%) is the prime source of quality protein, very much essential to meet the structural and functional demands of your dog's body. For instance, used chicken oil is the basic source of fat which is easily digested and most suitable for dogs have the gastrointestinal problem.
Key Features:
Arden Grange adult is made with human-grade ingredients
Perfect for human-grade ingredients
Free from soy, beef, wheat, and dairy
Arden Grange chicken and rice made with 25% chicken
Formulated with omega 6&3, chondroitin and glucosamine to progress the skin and shiny coat of your dog
Offers a low-carbohydrate and high protein diet for highest growth and body function of your dog
Provides the cure for allergies and sensitivities
Available bags are Arden grange 12kg, 6kg, and 2kg
9. Best Puppy Food Uk – Skinner's Life
It is special for puppies and young working dogs to meet the nutritional demands during their most critical stages of progress. The main ingredients are meat, rice, wheat, soy, barley, maize, oats, glucosamine, and chondroitin. It is also helpful for proper digestion and maintains a healthy immune system.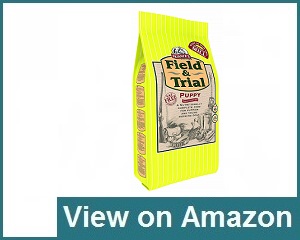 This food is totally gluten-free and ensures a sufficient amount of proteins, carbohydrates, vitamins, minerals, and oils for healthy growth.
Key Features:
Skinner's Field is ideal for Highly-active and working dogs
Main ingredients of this food is wheat, soy, barley, maize, and dairy
Formulated with duck meat, sunflower oil, rice, oats, glucosamine, and chondroitin
Hypoallergenic and does not contain any allergy ingredients
Provides optimum level of energy and fullness
Great to make your dog healthy and strong
10. Best Dog Food for Small Dogs Uk – Fish4dogs Finest Salmon Complete
This food is mainly formulated with highly palatable salmon fish. It is the prime source of omega 3 fat ideal for healthy coat & skin and joint movement. The omega 3 also reduces dry and irritated skin from the dog's body. It is easily digestible and good for the sensitive stomach. Potato and peas are another ingredients supply necessary carbohydrates.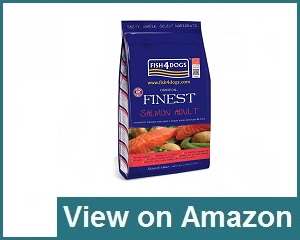 Key Features:
Salmon is tasty and easy to digestive
Its main ingredients are salmon, fishmeal, salmon oil, potato, beets, minerals, and yeast
It contains the fishy smell
It is Grain free hypoallergenic and very friendly for stomach
Cheaper than any other brand
Available in 6kg and smaller pack
Things to Consider When Looking for UK Dog Foods
Not all foods are equally formulated and not contain the same level of nutritional value. There is also a different dietary requirement arises at the different stage of the dog's life. So, it is better to take the regular suggestion from the vet about your dog's proper nutritional health. Moreover, here we have highlighted some essential factors you should know before purchasing any food item for the dog.
Age
Considering food nutrition, experts divided the dog's life into three stages: puppy, adult, and senior. In these three stages, they need a different combination of nutrients and minerals. Puppies have not adult teeth and they need smaller chunks of kibble those are filled with nutrients to maintain their growing health. For senior dogs, it should serve essential oils and calcium to with each meal to support their joints and bone in old age. But in adult age, you should make a combination of these two foods and offer them to sustain good health.
Health
Health is another vital factor for pets and you should always observe the overall health condition to determine whether it should provide more special diet or not. Remember, overweight also harmful like underweight. So, feed them sincerely and try to maintain a balanced nutrition during each meal. In this article, we have recommended several food items those are ideal for your dog's proper health.
Natural Ingredients
It is the precondition of healthy dog foods. Natural food means it has not anything which is non-organic or genetically modified. All sorts of vegetables must be used in a natural way and meat must collect from a genuine source. Always avoid meat meals including head, horns, feet, hooves and so on. Meat should be used only from the muscle part.
Grain, Color, Flavor, And Preservatives
Always choose grain free foods, because grains are full of carbohydrates provide energy but not enough nutrition. Wheat and corn are the real sources of grain also trigger allergies in the dog's body.
You have to sincerely avoid all artificial colors, flavors and preservatives may cause various skin disease, digestive problems, diabetes or other similar health problems.
Price
Budget is another issue has a great effect on food brands. You know, quality food brands are expensive and you have to compromise with the budget to collect them also these are very much useful for dog's health in many ways. There are also some less expensive food brands providing better nutrition but you have to find out them and offer your dog to check the real benefit. On above we have listed some cheap rated UK foods those are full of proper nutrition and good for dog's health.
Avoid Certain Dog Foods from Regular Diet
There are some common food items available in the market are completely injurious to dog's health. Here is a list of some common deleterious food items that you'll need to protect your dog from.
Milk or Lactose

: Some dogs can't tolerate dairy foods and may cause of vomiting or diarrhea due to an upset stomach. In this case, you should strongly avoid these milk products for such reaction of the dog.
Chocolate Items

: Normally, some breeds like to get chocolate as the special treat and loves the smell. It generates toxic in their stomach and always be sincere to provide them as low as possible to feed.
Common Fruits

: Some fruits are full with citric acids like lemon, grapefruit, orange and so on may cause of serious vomiting and diarrhea. These interrupt normal digestive system and may fall your dog into the bad depression.
Fatty Food Items

: Some foods come with high-fat ingredients and loyal to your dog's overweight. Fatty foods also may cause of high blood pressure and the dog fall into suddenly sick. You should sincerely avoid these foods to feed dogs like candy, gum, peanut butter, bacon, fatty meat etc.
Salty Food Items

: Salt is indispensable for the regular diet, it helps to accelerate muscle and nerve functions. Salty foods are harmful to dogs which have kidney, heart or liver problems. To tackle these chronic diseases you may need to watch their salt consumption regularly or getting advice from your vet to ensure their healthy diet.
Important Tips
There are some feeding tips may help you to take care of your dog properly.
If you feel trouble to feed meal in one go, you can offer it in several times. Don't impose the amount recommended by food manufacturers. Softer stools are the classic sign of overfeeding.
It is not a good practice to change your dog's diet suddenly. If it is needed, take help from your vet and try it for a few days or a week.
Avoid feeding before traveling; your dog can become abruptly sick in the car. So, it would better if you feed him at least one hour in hand. Stomach dilation or bloat is life-threatening, so don't provide food an hour before or after exercise to keep them healthy.
Keep your dog calm while taking food and don't let it eat aggressively. When you observe the dog is approaching politely during mealtime, add some little amount as a reward. Help him to take rest for a while after the meal.
Try to stick with one variety of good quality food to sustain the habit. Never encourage to feed your dog from the table or your own plate during mealtime because this will make your dog aggressive or greedy.
Final Verdict
Moreover, you can do plenty of research, get advice from trustworthy sources or veterinarians, read out recent customer reviews and different publications on best UK dog food brands. Remember, a quality food brand meets your dog's overall need and you can sustain it for a long time period.
Frequently Asked Question
How often should you feed your dog?
Usually, it is needed to feed your dog two times each day at 8-12 hour intervals. Most of the time feeding suggestions are labeled on the food package in detail. Where is given the recommended amount of food a pooch needed to take per day regarding its weight. Moreover, try to follow your vet's recommendation and make sure not to overfeed.
How much food should I provide my dog?
According to Dr. Gary Richter notes, "Just as with humans, a highly active pet is going to require more calories and protein to maintain muscle mass and energy levels." Your dog's body shape, metabolism, and lifestyle also important consideration into how often and how much it should be fed.
Can I feed my dog all day long?
Free feeding is not recommended in any way; 2-3 meals per day are highly suggested for average pet animals. But for special circumstances, it may require providing meals more frequently, like for nursing puppies or a pregnant dog.
What is the right amount should I feed my dog?
Feeding the right food is just as important as feeding the right amount. Primarily you should follow the feeding guideline on the packaging. Your vet will also able to suggest the food type and amount of food considering your dog's overall situation.
When your dog's food choice centralized on one food, you should conscious about feeding amount to control overweight. Consider your vet's suggestion and try to follow at feeding time. If the dog belongs in underweight try to increase the feeding amounts by 10% or switch into a higher calorie diet.