Many pet proprietors believe that "crates are cages" though it is completely wrong when it comes to dogs. For dogs, these are not only considered as cages, they like to stay in these enclosed places and keep safe as their home.
The crate provides them a high sense of security, protects from any kind of danger, and keeps them dry and warm during the winter. It also helps to keep young ones protected and safe from predators. In fact, the den is important for wild dogs. A mother trains her puppies to release themselves outside the place of stay. This same feeling prevails when you keep your dog in a crate.
You can also keep your dog inside the crate at home when you stay outside and cannot supervise it. Letting loose your dog in the house would increase the chances of hurting or putting themself in some danger. So, keeping in a crate for some time during a day can be helpful as their natural instincts will help them keep the crate dry and clean.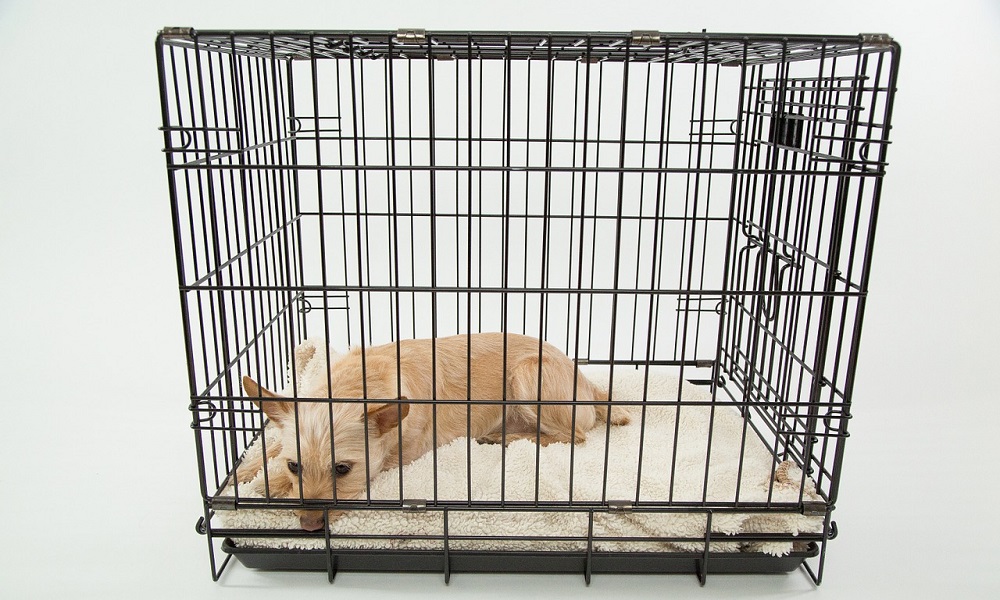 Provide Your Dog Crate Training with a Perfect Routine
Proper crate training effectively works when you maintain a schedule during training period. In most cases, your dog may take rest inside the crate at night or when you are not at home.
Regular schedule will more or less take place every day, and your dog will adopt it as a routine for himself. Since you have a program to follow, it would better if your dog adapts to the schedule.
Before adjusting any particular schedule, you should make it a point to use the crate during different times of the day. This will actually help your dog to know that the crate is not a scary place. In this way, you can help your dog to love his own little place.
Analyze Different Crates to Choose the Best One
Before putting your dog in a crate, make sure about all the required information regarding the types of crates available. Crates are generally available in different shapes, sizes, colors, and materials.
In this case a very important factor to consider before buying a crate is the size of your dog and how you are going to use it. If you want to carry your pooch while travelling, then buying portable lightweight crate is the best idea. But in case of large sized dog, it is a smart move if you go for permanent fixtures.
Normally puppy crates become big enough for your dog to turn around and stand up. It should be large to provide your dog more comfort because dogs always prefer cozy places for living. So, while choosing a crate for your puppy, make sure the one you choose is large enough to accommodate the adult one. But don't forget to place a divider in the crate which prevent your puppy from releasing at the back and sleeping in the front part of the crate.
Considering above factors, you can choose the different types of crates like the plastic airline crates and the wired crates. Many people like the wired ones due to the openness which is perfect for hot summers. There are also the plastic airline crates those are a big hit among dogs, mostly because they don't have much room to see outside the crate.
Finally, before finalizing your choice make sure you know everything about the crates, your dog's choice, and your requirements.
Crate Training for Dogs
First of all, your dog will never go inside the crate willingly at the at the beginning of his training life. You have to create such situations in which there is a positive relationship developed between your dog and the crate. Start your training by giving food near the crate. Then follow it by putting some treat or some squeaky toy inside the crate that will attract your dog inside.
Don't be frustrated if your dog doesn't show any willingness to go inside on the first attempt. The training may take during several days or weeks. So, keep your patience on it and you can definitely feed your puppy or the dog inside the crate. The main idea is to create a positive feeling in your dog about the crate and make him learn that good things happen every time he enters the place.
There are certain considerations that you must make to develop comfortable crate living for your dog. Don't make the crate too big because too much space will give him great opportunities to move around and his metabolism would increase to forcing him to release himself often. Also, don't provide any absorbent inside the crate like a towel as your dog might use it to absorb toilet inside or he can also use it to cover any form of release that he might have done inside. Here more information about Stop Dogs from Crying in the Crate.
There may have chances that your dog might throw a fit or do some unruly behavior when he is inside the crate. Don't get nervous and let him out immediately. Instead, wait for some time till he calms down and then releases him from the crate.
Never use the crate to punish your dog for something. It should be a place full of safety and happiness. It is the place where your dog can take some rest. It is the same place where he stays when you are not there at home.
So, if you use this place for punishment, it may lose its importance to him. It no longer stays a safe haven for him and confinement inside the crate would develop resentment and unruly behavior in your dog.