A proper nurturing of a dog is a sophisticated task. The pet owner must have a talent to recognize the weird behavior of their dog. With the help of it, they will be able to provide proper treatment. No doubt, dogs are the best companions of human beings. Like small toddlers, puppies also require proper care.
Maybe you have the best dog in your home, but he has some irritating habits. Moreover, the habit can be peeing in the crate. It is essential to know the reason and try to improve this irregular habit. By providing the necessary training to them related to going outside for peeing, you can resolve this problem.
After the various tries, your dog is still peeing in the crate and investigates more about it. In-depth research is required for it. First of all, you will have to search for the reasons for this. Once you know about the causes, and then further look for the solution.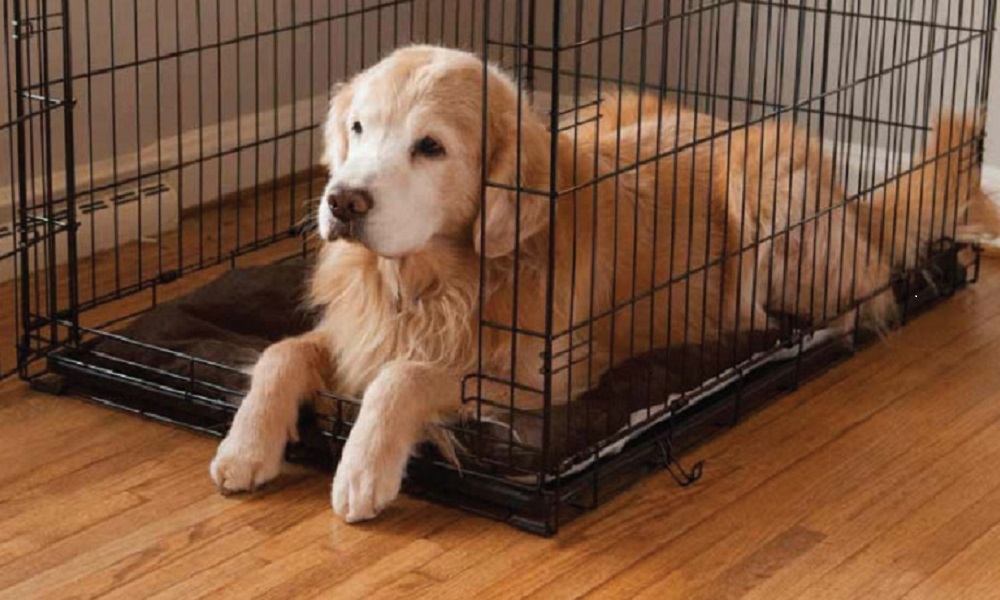 Why Do Dogs Pee in the Crate?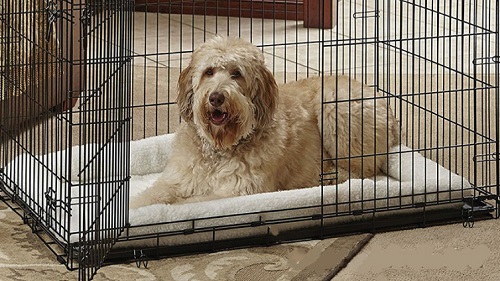 If your dog is in the crate for a more extended period, he may pee several times a day. Apart from it, there are several reasons accompanied by it. Here is the list of some reasons.
Improper training: If your dog is categorized as a housebroken pet, then he does not have proper training. The dog may not have an idea and understanding when he has to go to the bathroom. However, it may be because of the discrepancy of training. 
Anxiety: Not at all times, dogs feel comfortable. You will have to understand that you do not go through any stress. To some extent, this problem can be related to anxiety. There are several causes of stress. It includes alternations in the daily routine, environment, loss of a loved one, and so on.
To rescue from this problem, you will have to establish positive development. In addition to it, provide them the tasty food. Think about the cause of stress in your dog. You will notice several changes. These changes are in the following ways.
Crying
Your dog bark more than a few minutes
He bites the crate
Potty or peeing routine: Have a close look at the routine of your dog. Think that either you take your dog for a walk or not. In addition to it, make a habit of a morning walk with your dog and look for the potty routine. The morning walk routine is helpful for them to use the toilet. If you do not take your dog outside for urinating, then he will pee in the crate.
These are the primary reasons for the peeing of the dog in the crate. Apart from it, consider the medical causes too. You can consider this condition when there is no change either in the routine or in the environment. Several medical problems may become a cause of dog peeing in the crate.
Here is the list of some medical issues.
Urinary Tract Infection
Problems related to hormones
Bladder Stones
Any Kidney Disease
Diabetes
Food allergies
In the case of medical problems, it is recommendable to take your dog to the vet. Due to it, the problem will be found as soon as possible. After that, you can start the treatment of your dog.
Read more: Crate train your puppies
Some Steps to Stop Your Dog from Peeing in the Crate?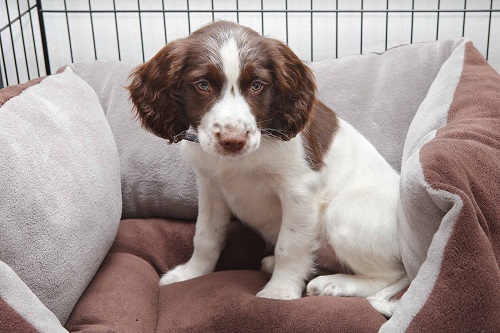 Once you find the changes that your dog is peeing in the crate, look for the solution. However, if you have dogs, then potty accidents are common. There are several reasons that your puppy pee in his crate.
On the other hand, you have several solutions too. With the appropriate knowledge and ideas, you can quickly resolve this problem. The below-mentioned information is all about the ways. These ways are related to stopping a dog from peeing in the crate. You can implement and consider this information too.
Make some adjustments to the size of the crate: To embark with, maybe your dog has some problem with the kennel. In other words, the crate may not be of appropriate size or ideal for your dog. Either it is a dog travel crate or a normal crate; it provides enough space for dogs to move around.
It is your responsibility to bring the right crate for your dog. This is because if you have a large dog crate for your puppy, then he will pee in the corner. Moving further, make sure that it is not significant.
Find out any medical problems: Figure out any medical issue, which becomes the reason for the dog to pee in the kennel. You will have to observe several things before going to the veterinarian. Here is a list of factors.
How many times does your dog peed in a kennel?
Changes in a diet plan of your dog
Unusual discoloration
Alterations in supplements
If you have a senior dog, he may start urinating in the crate for numerous urine ailments.
Take your dog for a walk frequently: The more your dog spends time in a crate, the more he will pee in this space. In addition to it, a puppy of six months can hold its bladder just for six hours. In the case of a small bladder, it cannot hold the pee for a more extended period.
This problem has the solution is to take your dog for a walk or enhance their potty beaks. Moreover, if your puppy is six months old, take him to more potty breaks instead of twice.
Moreover, you can create a perfect schedule to get rid of this problem. In addition to it, you can set the timer too. Due to it, you will get the time to time remainder. This trick may work best for your dog.
Bring some changes in your expectations: Understand the requirements of your dog and change your expectations. The dog cannot say anything. It is your responsibility to understand each movement. In addition to it, search more about the rules of bladder-control.
Generally, it is expected that a dog can hold its bladder for eight hours. It is a maximum time limit. In addition to it, know their requirements and handle them politely.
Treat them kindly: A dog gives a reply to your action. He can understand your actions and commands. It does not matter that you have a puppy or an adult dog. You can use the treats and praise verbally when he pees outside.
Take your dog outside for the walk and keep most of the time out from the crate. It is your responsibility to give more time to your dog. You have an opportunity to give them a treat after he pees.
This method is fruitful and works effectively. In addition to it, you can also give them the training. You will get the best and worthy treats.
Alternative solutions: After implementing all these methods mentioned above, your dog is still doing a pee in the kennel. Then, there are various other methods which you can consider. In addition to it, here is a list of some alternative solutions.
Pee pads: Keep the one thing in your mind that it is a temporary method. However, it is a useful and straightforward solution. The pee pads are lightweight. Along with it, they are also helpful in locking the pees and their odor. By using it, you will get extra time to provide the necessary training to your dog.
Hire the dog walker: If you do not have an appropriate time, then hire a dog walker. It is recommendable to give the preference to the professional dog walker. By this, you will help them to avoid bathroom accidents. In addition to it, you can hire them for a particular period.
Diapers for dogs: Like the pee pads, it is an excellent and straightforward solution. In addition to that, your dog may not feel comfortable in it. So, use it temporarily instead of making it permanent. Once you resolve this problem, and then do not use it.
Give the best care to your dog and spend quality time with them. If you take them for a walk regularly, then the chances of urinating in the kennel will be reduced.
Conclusion
After reading the information as mentioned above, now you have significant and quality of information. Do not take medical problems lightly. To eliminate the issues, take them to the vet. They will guide you effectively.
If you get the information that your dog does not have any medical problem, create a positive environment. In addition to it, you can also look for dog trainers. The dog trainers provide accurate guidance.