Undoubtedly, puppies bring immense joy to your life. After a couple of months, they become your family member. However, the puppy is also the home of responsibilities. To some extent, at a certain point, the life of dog owners revolves around their dog. It does not matter either it is winter or summer; you will have to stand outside to coax your puppy to potty.
If you do not do this, then you will have to clean your whole house. It is because the puppy will pee inside the house. It is your responsibility to look for your puppy. Sometimes, you may ignore the fact that little puppies pee more than normal. It is an indication that you cannot take this problem lightly.
Major Key Takeaways:
The little puppy has a small bladder. Due to it, it pees frequently.
Numerous medical problems are associated with this problem. These medical problems include kidney problems, diabetes, and so on.
If your puppy is peeing too much, then there are several behavioral reasons. They consist of anxiety, and so on.
Henceforth, it is essential to find the reason for this problem. This is because you will be able to find the solutions at an early stage.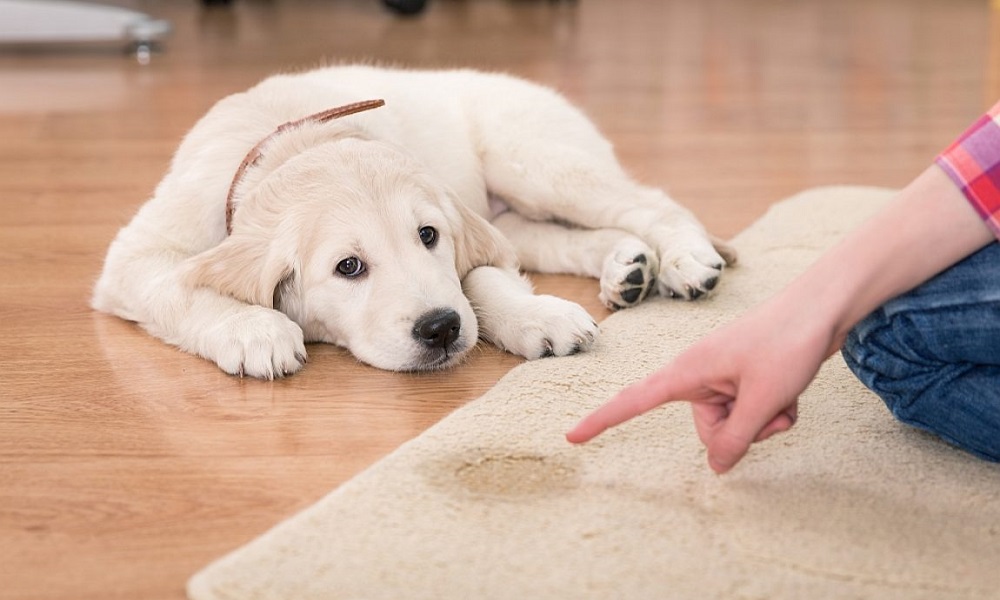 How Often a Puppy Should Pee Normally
If you find the changes in your puppy's bathroom habit, you must look for the root cause. First and foremost, check the regular pee schedule of the dog. After that, you can compare the regular pee schedule with your puppy's pee schedule.
By knowing the dog's average pee time, the owner will be able to notice the problem. The young puppies are not able to hold their bladder for a long time. The reason behind this is that they have a small bladder. In addition to it, generally, little puppies should pee once in either every one or two hours.
It indicates that a puppy of one month will pee each hour. Moreover, the puppy of 5 months will need to pee every 5 hours. If your puppy is of five-month-old and pee every hour, then you should pay attention. It is because something is going wrong, or maybe your dog is suffering from any problem.
To resolve this, you can consult your veterinarian. He will consult and find out the primary problem. He will explain to you either your puppy is healthy or not. After that, you can work on it. In addition to it, your vet will give you the correct detail about this problem. He will provide you with medical advice.
Medical Reasons for The Dogs Pee More Than Usual
The irregular changes in your puppy bathroom habits are associated with different medical problems. There are several situations in which the dog owner may force their puppy to urinate frequently. In this kind of situation, taking to the vet is the only choice.
Further, the vet will not give you a straightforward answer when you discuss the problem with them. This is because they will have to perform several tests. With the test result, they will be able to find problems. In addition to it, the examination consists of the history of your puppy, urine, blood, and imaging test.
Apart from it, here is the list of medical reasons that may be behind your puppy pee frequently.
Canine Diabetes: The effects of diabetes on the dog are like individuals. This problem is the result of pancreas failure to generate sufficient insulin. It can also be the reason for the body's incapacity to respond to the production of insulin. In addition to it, these situations lead to raises in the level of blood sugar. This disease can affect your puppy at an early age.
Kidney Infection: The symptoms of kidney infection and urinary tract infection are the same. It can also become the reason that your puppy pee frequently. However, it is easy to treat with the help of antibiotics.
Urinary Tract Infection: It may also be the reason for irregular bathroom habits. If this will be the medical reason, then the vet will give proper and accurate medication. What you need to do is take the suggestion from the vet and learn more about this problem.
Medication: There are fewer medications, which can become the reason that your puppy pee again and again. If your puppy tale any medicine, then it may be a side effect of this problem. Most of the vets warn the dog owner when they prescribe the medication.
Apart from these medical problems, there are numerous more medical reasons. These include tumors, kidney stones, bladder stones, and so on. So, it is essential to contact your vet.
Behavioral Causes for Dogs Pee
Sometimes the medical reasons may not be the problem, but the behavioral cause maybe leads to this problem. Therefore, you cannot neglect this factor. It is essential to look for the changes in the behavior of your puppy. You can focus on their emotional, behavioral, and mental reasons.
Apart from it, here is the list of some examples related to it.
Anxiety may be the reason: When the little puppy feels anxious, then it pees many times. However, fear or anxiety is quite a complex problem to fix. To reduce the fear, you can take your puppy outside frequently for exercise. Socialization will help your dog to find peace. Moreover, you can also hire a professional dog trainer to eliminate this different and stressful behavior.
Attention seeking: You will be amazed to know that puppies are an attention seeker. If you do not give them the proper attention, then they find the alternative to get it. The alternative options include peeing in the different areas of your house. These areas have a bed, carpet, and so on. For this, you will have to pay attention to your puppy. In addition to it, you can spend some quality time with them. Play with them with their toys and so on.
Training: It is the responsibility of the pet owners to guide them and train them. If your puppy pees more than normal, then incomplete training may be the reason. In addition to it, you can also hire a professional trainer. They will guide your puppy.
Moreover, you can also reward them when they pee in the right places. It is necessary to give the appropriate training to your puppy.
Look for the solutions to these problems. You can give them the proper care and attention. Even do not ignore them. Whenever you get the time, play with them.
How to Reduce if a Puppy Urinates too Much?
The solution to this problem can vary from problem to problem. You will have to follow the different strategies to resolve it. Apart from it, here is the list of some solutions.
Crate Training: It is a useful method to deal with this problem. With the help of crate training, the puppy will know about the right place to pee. For this, you can keep your puppy in the crate.
Make the pee schedule: A perfect routine is essential for growing puppies. You can create an appropriate pee schedule. If you are taking your puppy frequently, then it means you are teaching them to pee continually. A proper routine teaches them plenty of things.
Choose a spot: You can choose a particular spot for your puppy's pee. It will help them to build a familiar routine. Also, you can select the yard and take your puppy to the place a single time. Once they knew about the spot for peeing, then they will go to that place.
Diapers: If there is any medical reason related to this problem, then you can purchase the diapers. The diapers are for the female puppies and the belly band for the male puppies. Due to it, your home will not be messy. It will save you time cleaning the floor.
Extend his walk: Some puppies have the habit of peeing after the walk. The solution to this problem is to extend the timing of their hike. Due to it, he will not pee in the house.
These are some measures that you can take to reduce this problem. Making the peeing schedule is not the wrong way. The upbringing of your dog is in your hand. You can hire a trainer or choose alternative options. All the things are up to you.
Conclusion
There are numerous reasons behind your puppy peeing more than usual. Medical and behavioral reasons can lead to this problem. Moreover, you can get the solutions as per the cause. If there is a medical reason, then take the guidance from the vet. He will give the medicines or suggest the way.
Professional guidance is a must. So, you cannot deal with this problem lightly. In addition to it, you can provide crate training to your dog. It is essential to prefer useful methods. Moreover, you can do in-depth research on it before and after consulting with your doctor.