Socialization in pets is equally important as your pet's physical health. People owning multiple pets realize that in order to maintain peace in the household, there needs to be harmony among the pets. It is recommended to begin social training for canines when your pooch is still a pup. Starting early on helps in creating and practicing good habits and behavior.
When training your pet for proper socialization, it is advised to reinforce good habits instead of punishing the bad ones. When your pet has had proper social training, he is now ready to play with other dogs in the neighborhood to build more relationships.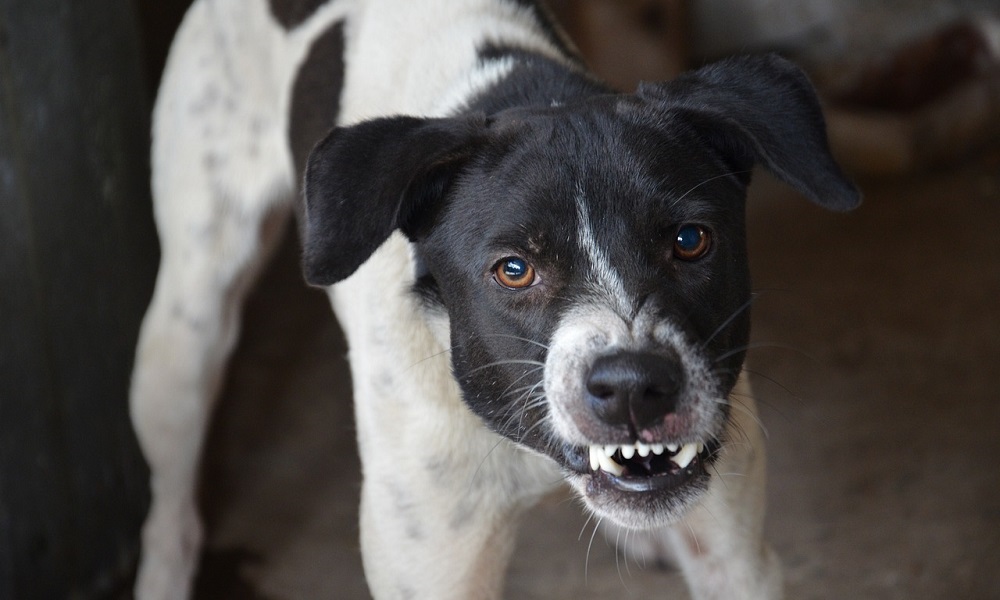 Many pet owners find it difficult to control their pooch's aggressive behavior. If not kept in check, your furry friend will soon be picking fights and getting himself into trouble. This is where socialization training comes in.
While it is best to start it when your pet is a few weeks old, it works for older pets as well. Therefore, if you own an older dog who expresses aggression and anti-social behavior, do not worry.
It is entirely possible to improve your canine's behavior. All you have to do is take care of a few important pointers. In this guide, we will take you through all the necessary steps needed to bring out your canine's inner friendliness, so he socializes well regardless of his environment.
Causes of Aggression in Dogs?
Before getting started on correcting your pooch's behavior, you need to know what aggression is, and the anxiety that causes it can be felt for dozens of reasons. In fact, many dogs have different emotional reasons for their destructive behavior. Therefore, it is crucial to know exactly what triggers your pet specifically to demonstrate angry behavior and whether it requires correcting or changing the environment.
Following is a list of the various reasons pets feel anxious.
Loneliness

: It is one of the prime reasons for behavioral issues in pets. Dogs are social animals and like to have company, just like us. This can be in the form of other dogs or lots of playing time with their owner. However, when they are isolated or left on their own for a long time, they tend to get anxious and often destructive in their behavior. This is especially true for young pups who are used to having their mother around. You can quickly know that your pet is aggressive because of loneliness if he tends to make a big deal every time you go out.
Mistreatment

: If your pooch has been mistreated by strangers in the past, he might want to have nothing to do with any new people at all. This is particularly problematic when your canine begins to bark at the sight of new people. While this problem can be prevented by using leashes and special collars, you can also help your pet socialize by using other training methods. In these cases, you need to make sure your pet is comfortable around other people.
Health Issues

: Health issues can easily induce negative behavior. Before determining your pet's behavioral problems, take note of his physical health and appetite. When your canine is allergic, he would be unable to digest food and take in the necessary nutrients. When the body is deprived of this energy, it ends up showing aggression and excessive barking. The best way of finding such problems out is by taking your pooch to the vet for a regular checkup.
Encouragement of Bad Behavior

: While these are pretty uncommon, some dogs tend to find barking and aggressive behavior as their way of getting something. If the pet owners tolerate this, the canine will soon become accustomed to showing such behavior. The best way to avoid that is by ignoring your pooch when he is being bad. Do not punish and do not encourage; let him be.
Now that you know the various reasons for aggression, it will be easy to identify the cause for your furry friend and move to the proper solution.
Different Types of Aggression in Dogs?
Dogs show aggression over a variety of different reasons, and each specifies a certain problem they have faced in the past. In order to get your pet to socialize, you must find the type of aggression your pet shows.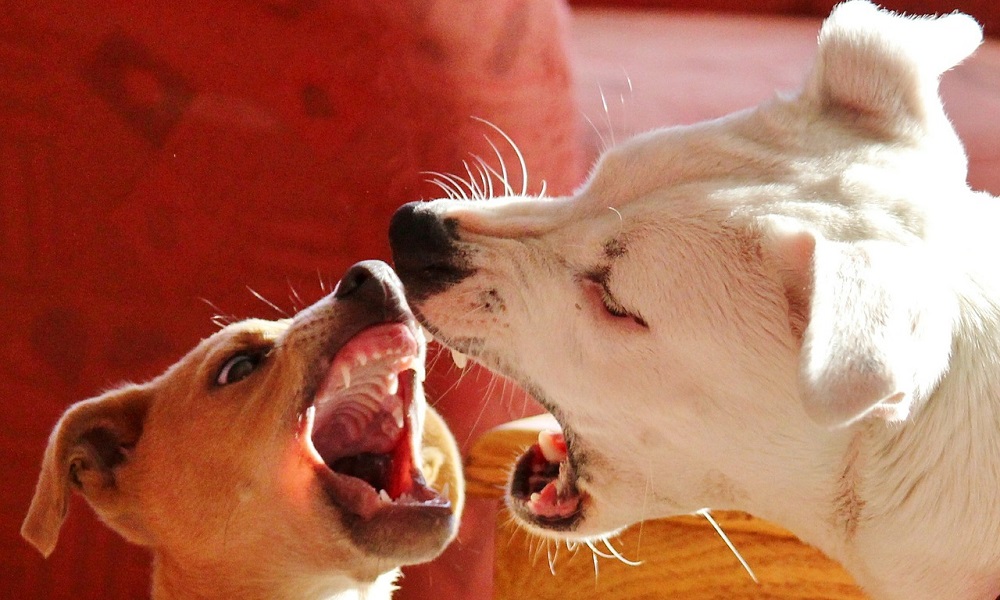 Defensive Aggression
A very common type of aggression is when your pet feels threatened and goes into his defensive mode. This involves a sudden reaction like barking, growling, and even biting. Canines only show this behavior when they deem someone or something as dangerous.
This fear does not necessarily have to be reasonable. To see if this is your pet's natural defense mechanism or misguided panic, see if your pet reacts to something harmless like a person on a bike.
Seeing your pet in such a fearful state is difficult for pet parents. In such cases, you need to deal with your canine using extra care. The most common signs of this aggression are fight, flight, or worse, freeze.
When you see your pet show this behavior, this is an obvious sign of being scared. Here, most pet parents are easily able to identify the fight response. However, many fail to see when their pet is showing the other two signs.
Social Aggression
This problem is most evident you have other pets, specifically other dogs in the house. If your pet has had less or no exposure to other pets, it may be very difficult for him to adjust to the new norms. Dogs by ancestry relate to wolfs which have a clear distinction of ranks.
If your pet is being aggressive towards other canines, he may just be trying to show his dominance. This is not specific to a certain breed of dogs. There are ways to point out this behavior as well. This usually involves the aggressive dog putting his paw or head over the other dog that he considers the lower-status dog. The posture is rigid, and you may notice growling. While sometimes mistaken with territorial aggression, this is a different type of aggression. Sometimes, it may be difficult to spot.
Territorial Aggression
Some pets are very possessive of their personal space. Depending on what your pet considers as his possession, this type of behavior is shown when you or someone enters your pet's area. The area in question can be for your pet's crate, near his food bowl, or an area in the yard.
Dogs with territorial aggression usually do not show this behavior towards the household members or people they consider friendly. It is mostly directed towards strangers and other people walking by the house.
While most limited to barking, territorial aggression may also include biting and chasing the person. This condition also develops if the canine is forcibly stopped using a leash and collar. In such cases, you need to specify if there is a certain place where your pet shows such behavior.
How to Deal with an Aggressive Dog?
The first thing you need to do to deal with your pet's aggression is to relax. Many pet parents tend to panic. However, this problem can be solved easily using proper training. One of the ways to deal with that is by addressing the problem as specifically as possible.
Determine what exactly triggers your pet and notice the behavior. Aggression alone does not define what problem your pet may be facing. Therefore it is best to narrow it down and look at it at a deeper level.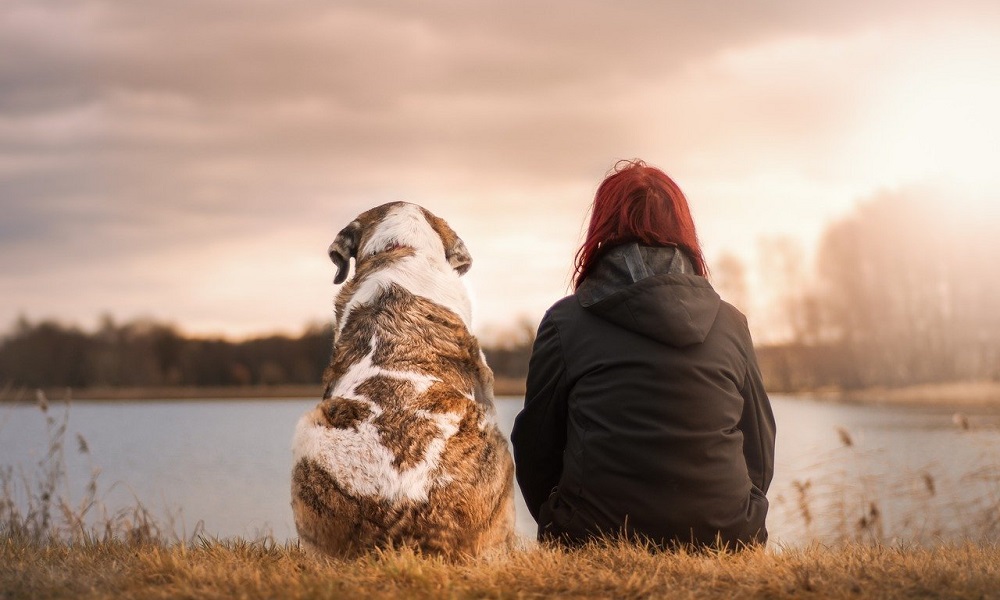 Aggressiveness is often because of hidden fears that your pet fails to show. If your pet is getting all defensive, the first way to deal with it is by making him feel safe. Let your pet know that he is not in actual danger. This can be done by using pheromone sprays, treats and by practicing happy encounters with new people. However, when you are dealing with an aggressive dog, the most important thing is trust.
Your pet needs to be able to trust you that you will not put him in harm's way. Many pet parents make the mistake of forcibly trying to get their pet to socialize and calm down. If your pooch does not feel safe, there is no point in logically trying to get him to understand. This also applies to dogs who do not bite people. Just because your pet is not in the offensive mode does not mean he may like the person.
Therefore the first step is to build trust. Try to avoid situations that cause your pet discomfort. It is also recommended to use meaningful rewards and what works for most pets is their favorite food.
When taking your pet outside, let him choose if he wants to be in the presence of other people or not. Use positive reinforcement techniques and avoid punishment. When given lots of love and attention, pets soon learn to trust you, which makes considerable changes in their actions.
Different Ways of Socializing Dogs
Now that we've overcome the aggression part, we can now focus on getting your pet to socialize. The first step involved in this process is creating a proper plan. Remember to start slow and then gradually continue when you feel your pet is ready.
Consult the Vet
Since dogs are unable to tell us their problems, we need to find these for ourselves. A visit to the vet can help you if your pet is suffering from some health condition or mild injury. Stomach problems are a very common reason for irritation and aggression in a canine's behavior. Your pet may also be troubled by an orthopedic condition; it is recommended to have your pet checked in either case.
Seek Professional Advice and Help
If your pooch indeed suffers from some illness, now you can help him get better. However, in other cases, it means your pet is healthy and just needs some extra support and love. Here, if your pooch is mildly aggressive, you can begin by spending more time with him and use positive reinforcement. That means to award good behavior. However, if your canine is being a handful, it is advised to consult a professional. Professionals have their own categories, and you can start with a trainer.
Make Sure Your Pet Gets Plenty of Exercises and Walk Him Daily
It is important that your pet spends his extra energy playing or running. This is important for your pet's health, especially when he is in his growing stages.
Older pets may not need excessive exercise, and regular walks are enough for them. When out for walks, your pet will encounter other dogs. Remember to keep a certain distance and do not let your pooch get to the point where he starts barking.
Start off By A distance and Get a Friend to Help
Now that all the above matters are settled, we may focus on our main goal, getting our pet to socialize. Take your pet outside with a leash and collar.
Here, it is very important that your pet is calm before going out. Ask a friend of yours to pass from the front after a certain time. Bring your canine's favorite treats along. Allow your friend to slowly approach the dog. Keep near your pet and respect his choice. If he barks, move in the opposite direction. Doing so will build trust.
Use Treats To Award Good Behavior
After a few weeks of daily walks, your pet will begin to get accustomed to the presence of other dogs and people. For overly aggressive pets, it is recommended to use leashes and muzzles. Let your canine observe the situation. Once he is fine outside, you may now invite other people or pets to your home.
See how your pet copes with the newcomers. Whenever your pet is acting the way you want him to, give him a treat and show your appreciation. Treats can also be used to divert the canine's attention from something he does not like.
There is no definite time for this training. For some dogs, it can be a matter of few months, and they are back to being friendly and social. Other dogs may need more time. It is entirely dependent on your canine.
Give Your Pet New Social Activities
This step should only be considered when your pet has become rather calm with having other pets and people around. Walk your pooch slowly and start by the outside of a park near the fences at first. Eventually, you can take your canine in the playground.
Once the dog is used to this, the last step involves letting go of the leash. Do not force your pet to play, and let him decide whether he wants company or not. After a few months, your pet will be back at his social routine, playing and having fun with strangers.
Conclusion
Aggression in pets is a common and serious issue. However, you can deal with this issue by following a proper plan and working with your dog. It is advised to consult your vet and create a socialization plan and a milestone list. To succeed, you need to make sure that your pooch trusts you.
Once that trust is established, you can take him out for short walks and use treats and appreciation to create and reinforce good habits. Dogs begin to learn about social life within the first 3 months. It is recommended to have your puppy socialize when he is less than 3 months old.
Avoid things that trigger the pet and increase things he enjoys. You can also get older pets to socialize. While it is difficult, it is certainly possible and friendly socialization can be achieved by constant effort.