Dog crate training is one such tough training that requires a lot of patience. But, the most challenging part is when your dog cries in the crate. When you welcome a new pup in your house, and he/she cries in the crate, all your excitement can go in vain. You cannot live your furry baby like that or take a sound sleep.
Though dogs do make you feel special, pounce around you, you need to train them well to behave well. It would be meaningful to take the proper steps to reduce frustration and anxiety for the dog and yourself.
Remember, you aim to train your dog to feel comfortable in the crate. Crate and dog safety goes synonymous since it helps to save the dog from places that are not dog-proof. Plus, it is likely to help if something emergency occurs, and your dog has to stay in the veterinary center.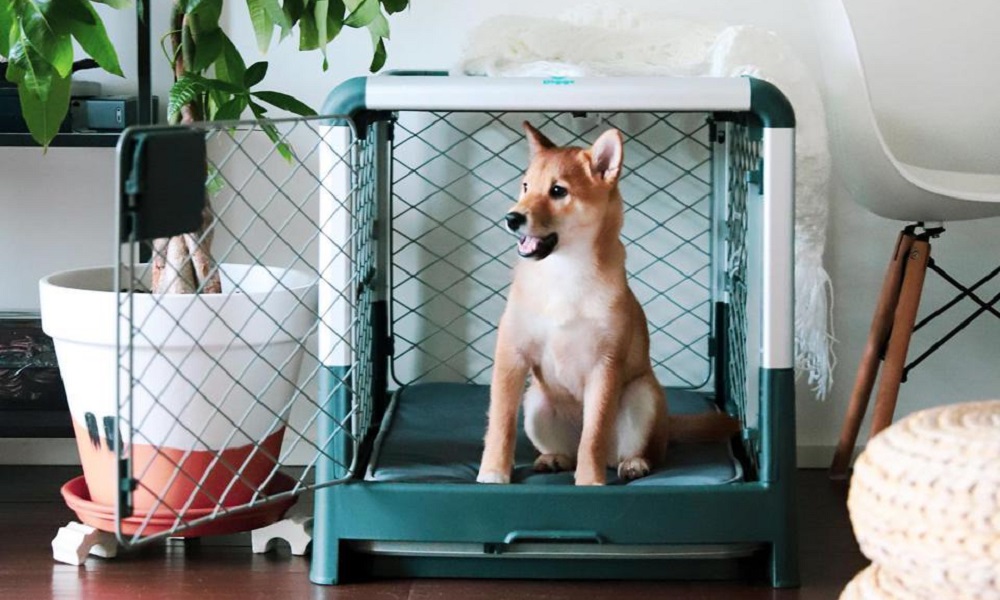 Why Do Pet Parents Use Crates for Dogs?
Crates may look cruel, but it has several positive advantages if used properly. Crate training is a creative way to make the dogs acquire the knowledge of holding the bars instead of a soil space. Pet parents mostly use a crate to keep the dog's sharp teeth away from destroying things when they leave their furry baby alone.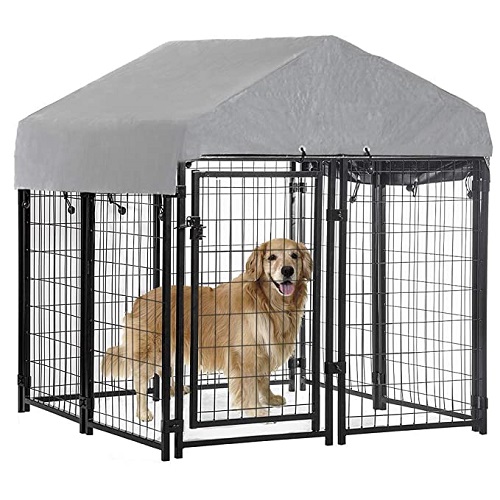 Pet parents use a crate to prevent damage, tension-free travel, housetraining, and of course, safety. When a dog owner cannot stay with them or leave them for some unavoidable work, they prefer to confine their dog in a safer space like a crate.
However, a pet owner should take care of the comfort level so that their dog can turn around and stand up without any obstacle. So, a large dog crate is preferable for the pet owners to give the comfort that their dogs deserve. Here are some of the primary reasons why pet owners choose to use a crate for their dogs. 
Give A Safe Space: A crate can be the dog's haven when the dog is undergoing emotional discomfort or tired and needs some rest. A crate then becomes their den, and they feel a sense of security, spending their downtime. 
Assist with Bowel Training: Usually, pups and dogs do not like to stay in a soil bed. So, crates come in handy to assist their furry baby for giving bowel and bladder control training.
Work with Peace: It is relaxing to know that their dogs are napping comfortably in their crates when they, the pet owners, are away and cannot supervise them. So, it comes as a bonus for the owners to do their work with peace knowing their dogs are safe in the crate. Furthermore, dogs in crates contribute no damage to the house. 
Safe Car Travel: While traveling in a car, a dog travel crate helps to travel safer than setting the dog loose inside their vehicle. 
Quick Evacuation: Heaven forbid, if an emergency arrives where the pet owner needs to evacuate the house, a crate-trained dog can cope with the undue stress. 
Read more: Crate train your puppies
Why Do Dogs Cry In The Crate?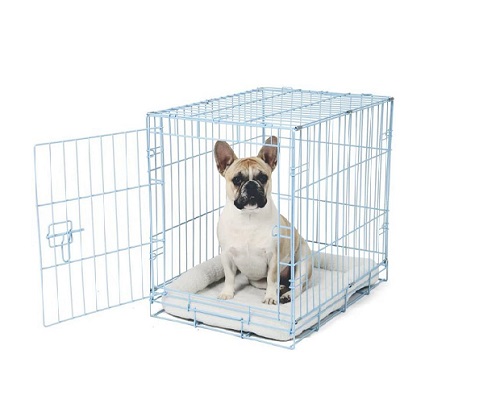 Dogs crying in their crates are natural behavior, especially when they are new to the crate idea. Their unaccustomed mind says that the crate is a place of confinement, and so, by crying, they vocalist their displeasure.
Yes, dogs are full of emotion, social creatures, and they live to be with their loved ones. In the beginning, a crate may seem to a place of isolation, and hence, they feel lonely inside. They seek all the more attention when they fear loneliness.
There are numerous reasons why dogs do not bark in their crate rather cry. Following are those underlying reasons why dogs cry in the crate. 
Loneliness: Yes, you read that right. It could be because the dog is feeling lonely. The dog always stays by the owner's side, but when the owner locks him/her in the crate so that the owner can go out or do some work. Then the dog begins to feel lonely and miss the owner, consequently cry.
Bored In A Confined Place: Many a time, dogs cry just because they find crates to be a boring place to live. 
Scared Dogs: Again, they may not like to be in a small space and feel scared of the confinement. 
A Trick to Get Out: This can be a trick too. Dogs, who want to get out of the crate, cry in their crate to seek their owners' attention. Sometimes it could be because they want to live in a roomy space.
Dogs are sick: If the dog is crate-trained and usually remains quiet, then check the dog may be trying to convey that he/she is sick. 
Separation Anxiety: A dog can suffer from separation anxiety when the owner leaves him alone in a small dog crate. Out of which, they may start crying.
How to Train a Dog Not To Cry in the Crate?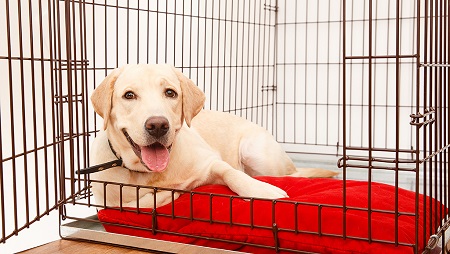 Training your furry baby to stay quiet in the crate has many big and small fixes. Here are the best ways you can follow step by step to stop your furry baby cry when in the crate.
Step One

: Get A Large Crate 
First of all, make sure to use a large crate so that your furry angel can turn around or stand when they feel like with ease. Let the dog explore inside the crate. Also, place it in a common room or close to you if not always at least in the initial phase to remove loneliness. Slowly, make them independent.
Step Two

: Set Up A Likeable Crate 
Crate training will work well when you set a crate up in a likable manner. Before you try to convince your furry baby to dwell inside the crate, make it a fair space.
Place some treats for your dog inside the crate, which will distract your dog's attention. Feed any meal inside the crate only as it will pave the way to create a joyous union between your fur baby and their crate.
You can keep his favorite toys inside. Reward them to be in the crate, so they don't think of it as a punishment. Also, lay a comfy mat inside the crate that has your smell.
Before you take your furry baby inside the crate, make your dog breed and age-appropriate exercising. For instance, 20-30 minutes of striding or running in the yard for a few minutes, etc. This will tire them up, and they will fall asleep sooner they enter the crate.
Step Four

: Nothing More Than A Boring Poop-Break
If your dogs cry continuously in the crate to receive your affection, you need to apply reinforcement. It is best to teach them that crying inside a crate will only fetch them a small poop break and nothing more.
Take your dog out of the crate.
Put a leash on him and carry him outside.
Stand in one spot for about two-three minutes. Do not pay him any attention in these minutes, no looking at him, or playing or even talking. Just wait for these minutes, silently gazing here and there.
See if he releases poop or pee, offer him a treat, and take him back to his crate again. But, if you see he does not do potty, bring him back. In any situation, you avoid paying attention to him. Make it a boring poop break and repeat this whenever he plays this trick to make him understand that the scheme is not working.
This step will help him not only realize that his trick will not work but also that you will not disregard his needs.
Step Five

: Maintain Consistency
Whatever you do to train them, try to maintain consistency. If your dogs cry for hours and you start melting down. It can give him a hint that he can escape the crate if he cries for hours. Remember, all you are doing is for your dog's sake, and there is nothing for you to get upset about.
How to Reduce the Fear of Crate from Dogs?
Just like a human, a dog is a social creature who loves company. A crate may give a lonely vibe to the dogs, which can further be the cause of their trauma. If the trauma becomes severe, it can surpass the allure of treats.
Taking the Veterinarian Help: Nothing is better than taking professional help. Consult with your veterinarian about how to overcome the separation anxiety from your dog. If possible, you can record a video when you keep your dog alone in the crate to show your veterinarian. The video will help the vet understand your dog's behavior well.
Tempt with Treats: Remember the Pavlov's classical conditioning method, somewhat similar to that experiment; you need to place the food bowl or treat just at the outer end of the crate. With every meal, move the bowl towards the inner surface. If you see your dog is calm, shut the crate door and offer his favorite treats through the crate panels. You can also give him something that he can chew for long. Chewing stuff will keep him busy.
Keep In Heavy Traffic Space: Talk to your dog, tap on his back and cuddle to soothe him. Then place the crate near a place with heavy traffic. Complete social isolation could break your dog down more, and they fear to be inside the crate. So, you can place the crate just right next to you until he relaxes. If the dog still has fear, you can leave the crate unlocked and give your dog the option to choose to go in or not. If he does, sooner you praise him and give reward by dropping a treat through the crate panel.
Spray Pheromone: You can spray pheromone that parrots the relaxation feel when nursing.
Lay a Comfortable Stuff:

Lay a mat

or a blanket in the crate with some of your dog's favorite toys to give him a cozy and comfortable place to stay.
Keep In Partial Confinement: If your dog fears being in the crate, partially cover the crate top to give him some sort of relaxation and intimacy.
Final Thought
To sum up, a crate can turn into a place of fear for the dogs if their owner does not train them rightly. No doubt that crate training helps with the destruction issues or giving potty training and also makes the dog independent, but do not keep them inside as a punishment.
A crate at the end helps you manage your dog in diverse situations, and if they develop a fear of staying in the cage, it may be problematic for you. Generally, untrained-dog cries from being in the crates and seeks your attention to save them from that lonely place. However, if crate-trained dogs cry, check if he wants to release poop or if he is seeking.
In case they cry out of trauma, you may soothe the dog and coax him with his favorite treat or toy. There are multiple ways to make them stop crying, out of which you need to choose the right one to train them better.