Grooming your pet is an important event in any household with pets. It involves cleaning, bathing, and trimming your pet's hair and nails. The first three tasks are not as tricky, and dogs are also willing to cooperate with you. However, when it comes to cutting their nails, this is where most pets will try to get out of your hands.
Using the right nail clippers and creating a friendly grooming environment is your job as the pet parent. However, cutting nails does not always have to be a big deal. You can even trim your pet's nails at home by yourself without the need for a professional groomer. You will need good nail clippers, your pet's favorite treats, and patience.
While there are many different types of professional dog nail clippers, one of the recommended options is using a Guillotine nail clipper. While the name sounds scary, these are pretty safe and easy to use. You can use it for most dogs. However, these clippers cannot cut very thick nails.
In this guide, we will look at what these clippers are, how they are different from other dog clippers, and the important factors to keep in mind when buying a guillotine dog clipper.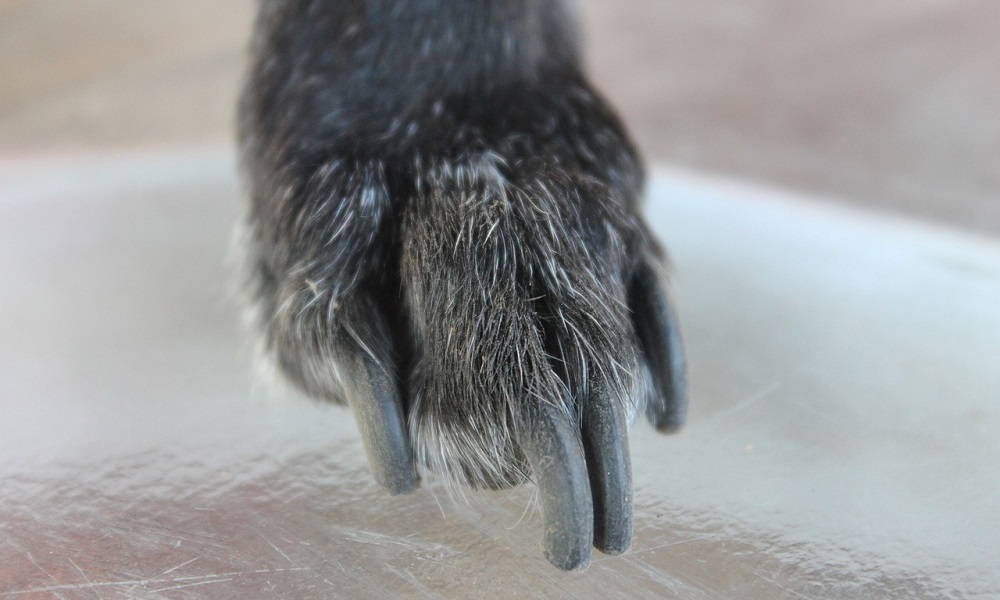 What is Guillotine Dog Nail Clipper, and Why is It Different from Other Nail Clippers?
Nail trimming is an essential part of pet grooming, and it can be a necessity at times. If you can hear your pet's nails tapping on the ground whenever he walks, it is definitely time to give his nails a trim.
Unlike humans, dog nails are sensitive. Some pets have dark nails, and others have transparent nails. If you've never trimmed dog nails before, you need to know that canine nails are sensitive because there a vein going through them called "quick." To make nail cutting quick and easy, there are different types of professional nail trimmers available in the market.
To achieve the maximum benefits from these grooming tools, selecting a suitable nail clipper is important. One of the most recommended options is the guillotine nail clipper.
Guillotine Nail Clippers
Much like the name suggests, these nail clippers have strong plastic or metal body with a metal plate with a hole on one side and a blade with a spring. This blade works just like a guillotine. When the canine's nail is inserted on one side, the handle is pressed, which brings down the blade to cut the nail in one sharp movement.
Using a guillotine clipper is recommended because it is quick and convenient. For pet owners with arthritis or joint pains, this clipper is an excellent choice as it requires very little effort.
Guillotine vs. Other types of Nail Clippers
Other than the guillotine, you can also find Miller forge nail clippers. While the main focus of all nail clippers is the same, to cut your pet's nails, there is a difference in the convenience and blade placement. Guillotine clippers are recommended for puppies and dogs with thinner nails. The guillotine hole is not suitable for large, thick nails. If you own a larger dog with thick nails, then consider getting scissor-type clippers.
However, for most dogs, guillotine clippers work great, and these are also cost-effective. You can find a good quality nail clipper for under $10.
Things to Consider When Choosing Guillotine Dog Nail Clipper
Now that you know the benefits of a professional dog clipper, it is time to hunt the market for the right guillotine clipper. As mentioned before, these nail trimmers are available in a variety of materials, and you should keep the following factors in mind before making the final purchase.
Ergonomic Handle Grip
Quick and pain-free nail cutting requires a good tool and handling. No matter how sturdy or sleek the nail clipper is, if you are unable to handle it nicely, it will not get the job done. It is important to look for a guillotine that you can use easily. Look for solid and durable handles with a comfortable grip. Make sure it does not slip from your hands and is smooth in operation. Metal guillotines with anti-rust coating are a good choice.
Guillotine Size
These clippers have a hole for nail placement to cut the nail. Ideally, this should be the size of your pet's nail. If it is too small, the nail will not get cut, and if it is too big, it will not be a proper fit. If you are unsure about the size, consult a pet groomer, and they'll be happy to tell you the recommended sizes according to your pet's size and nail thickness.
Blade Sharpness
A sharp blade is extremely important. A dull blade can cause your pet a lot of pain, and it can even sometimes crush or break the nail instead of cutting it. Therefore sharpness is necessary for saving time, and it is also safer for your pooch.
Make sure the blade is sharp enough to cut through the nail with minimal force. In the case of guillotine clippers, the blades are suitable for the thin nails of smaller or medium-sized dogs. If your pet has thick nails, it is recommended to find a different type of clipper.
Easy to Replace Blade
The sharpness of the blade is an important factor; therefore, you also need to keep wear and tear in mind. It is therefore recommended to look for a guillotine clipper with interchangeable blades. That way, even if the blade gets worn out, you can replace it instead of having to buy a new clipper. You can also find a clipper with a removable blade so it can be sharpened manually.
Effortless Operation
Ideally, a guillotine nail clipper should be easy to use, even for people with joint problems. Test the tool and see if you can use it with your dominant hand. If it tends to get stuck, it will be difficult to cut the nail properly.
Spring
In a guillotine nail clipper, the spring is what pulls the blade back and brings it in its original position. It is, therefore, important that the nail clipper features a high-quality spring that provides quick recoil to keep the trimming operation smooth.
Warranty
Last but not least, a product warranty gives you a risk-free purchase. It is recommended to consider a guillotine clipper with at least 2 years warranty. Some brands even offer a lifetime warranty.
How to Use the Guillotine Dog Nail Clipper in Proper Way?
Guillotine nail clippers can also be used at home, and you do not need to be a professional groomer to get awesome results. It all depends on how you handle the nail clipper. Here's what you need to keep in mind when using a guillotine nail clipper: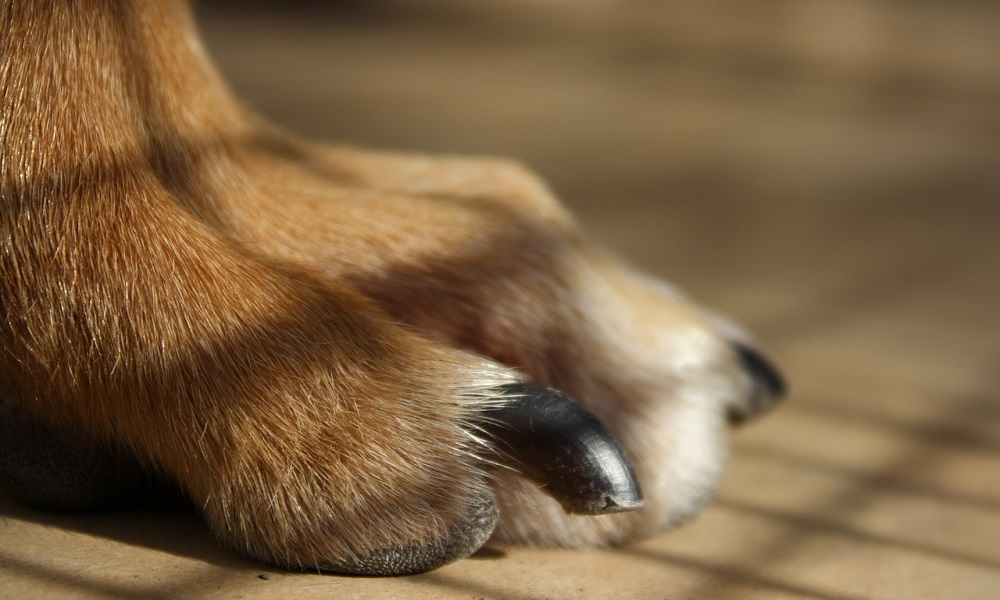 Give Your Canine Some Time to Adjust to The New Tool
Before getting to the nail trimming session, getting your pooch familiarized with the clipper is important. Most dogs are afraid of having their nails trimmed. However, it doesn't always have to be this way. Start by associating good memories and feelings with the new device.
Open the guillotine clipper and see how your pooch reacts to it. Get him to sniff and observe it. This is a simple but important step and can take from 10 days to a few weeks, depending on your pet's response. You can even clip the guillotine without actually cutting any nails at first and see how your pet reacts. Young puppies have less idea of what is dangerous, and they will be more willing to try out a new thing.
If you plan on trimming your pet's nails by yourself, it is recommended to start with this training when your pet is a few weeks old. Using treats is an awesome way of getting your canine to like something. Once you feel that your pet is completely comfortable with the guillotine, you can now get on with the actual trimming part.
Adjust Your Pet's Paw and Nail
A good grip gives better results. Adjust your pet's paw such that you are able to handle the guillotine with ease in one hand and your pooch's paw in the other. The next important thing is nail placement.
Ideally, it should be placed so that the blade is where the nail curves inward because it needs to cut from the inner side to the outside. Make sure your pet is comfortable. You can keep giving him treats to get him distracted.
Start By Cutting Very Small Sections
This is the most important thing to take care of when you are cutting your pooch's nail. Start by trimming a very small part of the nail just near the end. Cutting nails in a hurry only ends in trouble, especially if you cut through the quick.
After cutting, carefully observe the cut section and see if the quick is showing. If the center of the nail is different in color, stop right there. If the center is not yet close to the quick, continue trimming the nail. The center color will depend on your dog's nail. In the case of transparent nails, you can see the quick as a darker center, and in the case of dark nails, the center is light, and the quick is darker in color.
Be Ready For Accidental Cuts
Once you have reached the quick, leave the nail and do not try to trim it very close to it. However, if by any chance you end up cutting through the quick, you will notice bleeding. While this is painful to your dog, it is a mistake even professional groomers make sometimes.
Therefore instead of feeling scared, you should prepare for it in advance. The first thing you need to do is to stop the bleeding. Usually, it stops within a minute or two; however, if it does not stop, consider using styptic powder. If you do not have that, then corn starch can also work as an alternative.
Use Filer on the End to keep it Smooth
Once you have cut the nails properly, it is time to make the rough edges smooth. For this, you can use a nail filer. This is important so that the rough edges do not get stuck in carpets, toys, and other things.
Important Tips When Cutting Dark Nails
Dark nails are tricky to cut because the quick is not easily visible. To avoid cutting it, the following are a few useful tips for using dog nail clippers on darker nails.
Start by adjusting your pet's paw in your hand.
Check if there are any lighter color nails.
If you find light-colored nails, try to understand the position of the quick. While this position is not the same for all nails, it does give you an idea about the vein's location.
Cut a very small section of a nail first.
Observe the center of the cut nail. If there is no different color in the center, continue to cut it further.
In darker nails, the quick appears to be like a dark spot in a light-colored center.
You can also know if you are close to the quick when the nail appears to be softer in cutting.
Once you reach the very edge, only cut to trim an edge and do not go further.
If you reach the tip of the vein, do not panic. Apply the quick-stop to make the bleeding stop. In case of minor cuts, you can simply dab it with your finger, and it will stop the bleeding.
While there is no perfect way of cutting your pooch's nails, going slowly helps prevent accidents.
Benefits of Using Guillotine Dog Nail Clipper
Guillotine nail clippers are popular because of their convenience and ease of handling. These are ideal for home grooming and suitable for most pets. Following is a list of benefits you can enjoy by using these professional nail clippers.
Convenient to Use

: Guillotine clippers have a very simple mechanism, just like the name suggests. When the handles are pressed together, the blade comes down and cuts the nail. It is quick and effortless. This makes these clippers useful for people with joint pains and arthritis as they can use these with minimal effort. Efficient grooming can also save you money by reducing the visits to the groomer.
Suitable for Most Pets

: These dog nail clippers are suitable for most canines ranging from small puppies to medium-sized dogs. These are not suitable for very large dogs with thicker nails. However, these still cover the range for most pet dogs.
Swift and Clean Cutting Mechanism

: Dog nails are sensitive, and you need to be extra careful to not crush them. The guillotine design cuts the edge cleanly without stopping in the middle, which is one of the main reasons behind nails getting broken.
Easy to Maintain

: Unlike other nail cutters, when the guillotine blade gets dull, you can get it replaced or sharpened. This saves you the cost of buying a new trimming tool. When kept nice and clean, the nail cutter proves to be efficient and long-lasting.
Conclusion
Trimming dog nails isn't easy, even for professional groomers. Even before getting to the main cutting session, you need to get your pet to agree. However, with the right tools, this can prove to be much easier for you and your pet. Guillotine nail clippers are one of the most recommended nail cutters for dogs. These are popular because of their swift and effortless mechanism.
When trimming your pooch's nails, it is strictly advised to cut very small sections and slowly proceed forward. When the tip of the vein begins to show, stop immediately.
Other than the technique, choosing the right tool is also important. While these instructions are useful to some extent, accidents are bound to happen. It is, therefore, best to prepare for these beforehand and have a quick-stop nearby to stop bleeding.