Pools can easily relief your dog from overheating and keep them cool throughout the day during the summertime. At this time, most dogs live at high risk of overheating and many experts warn pet owners about the risk of high temperature and the significance of using the dog swimming pool or a house with cold water to keep dogs comfortable.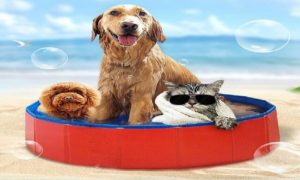 This is exactly why you should consider a pool that helps to keep the dog's core body temperature down. However, we have spent more than 72 hours of research; consult with a couple of renowned pet specialists and few famous pet pool manufacturers to review the top 10 choices to provide your dog a comfortable life in the summertime.
Through this article, we also pointed out the necessity of a pool for dogs, what should you consider before choosing the best one and some other relevant topics to save your dog from overheating.
Best Dog Pools in 2023 – Reviews
1. Our Top Pick – One Dog Bone Pool Review
Our first listing is a large and heavy-duty bone-shaped white play pool to bathe large dogs. This great pool made of very strong and durable truck bed liner material. It is not only UV resistant but also remains cool in the heat and don't require keeping in the shade in the summertime.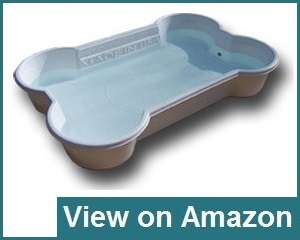 As a chew and scratch-proof pool, it is able to save itself even from the largest paws. The proper dimension of this pool is 11″ x 44″ x 66″ can hold almost 85 gallons of liquid to the top and it is great for dogs of all sizes. The installation of a brass drain makes it easy to clean the pool.
This one dog bone pool is enough large for any sized dog to lie down happily and it is shallow enough to easily step in. But you should not use this pool for multiple dogs at a time.
This doggie pool also comes with so many other features those are great to keep relax your dog at summertime. Its price is a little higher for the great quality and you need a flexible budget to purchase the bone pool.
Pros:
Made of truck bed liner material
Hose thread drain makes the bone pool easy to clean
Scratch and chew proof
Absolute for all dogs
Cons:
Comparatively, the price is slightly higher
2. Best Large Dog Pool – Frontpet Foldable Pool Review
The FrontPet Large Bathing Tub made from ultra-hard PVC material for long-term use. It is easy to manipulate, just fill with water before using and release the water by opening the sealed drain of the tub for safe storage.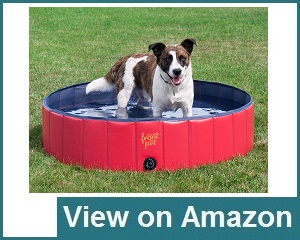 Front Pet Foldable Pool has 50 inch large diameter with 12 inches depth. It allows even large dogs for standing, sitting and lying down in the pool to get totally soaked and cool off. You will be happy to know that, it won't leak, tear or damaged while the pooch jumps or run in the water of the pool.
This foldable pet pool is portable and easy to carry out for outdoor using. Just simply fold the pool and pack up after eliminating the water before transportation. You can also use this pool as a dog bathtub, baby bathtub, fish pond or outdoor water pond for your dog.
After all, it is a perfect pet toy for your dog to enjoy the summer heat and also work as a mini pool or pet bathing tub. After using the pool when the water becomes dirty you should change the water empty out.
Pros:
Made from ultra-hard PVC material
Suitable for large pet animals
Also, can be used as a pet bathing tub
Easy to fold and transport
Cons:
3. Best Bone Shaped Dog Pool – Dog Bone Pool Review
One Dog One Bone is a blue bone-shaped, made of durable and heavy-duty truck bed liner material. This chew-resistant material has a special additive to make it scratch protective and UV resistant.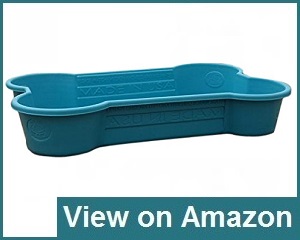 The pre-condition of an ideal pool is the capacity of how much water it can actually hold? To get the actual experience of swimming, you should be concerned about the depth of the pool and fill with water before using. This bone shape holds up to 85 gallons of water and stays cool in the extremely hot summertime.
It is made by one of the unique shapes like a dog bone and ensures higher quality than any other pools on the market. It is able to hold the largest dog breeds and ensure their free movement with relaxation.
It is one of the sturdiest construction with quality materials and easily contains multiple dogs at the same time to let them play with each other. It is also perfect for dogs that love to chew very much. It can contain dogs up to 130 to 140 lbs and without any hesitation, you can keep it clean easily after your dog's playtime.
Pros:
Bone shaped pool made of strong material
Chew and scratch proof
Contain multiple dogs at the same time
Easy to clean after use
Cons:
4. Best Dog Swimming Pool – Kopeks Outdoor Bathing Tub Review
This Outdoor Swimming Pool is an ideal bathtub for pets and we have listed it as the fourth quality swimming pool for your dog. It is made of rugged and heavy-duty materials with stylish and practical designs.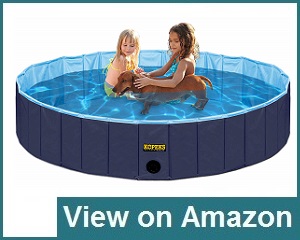 It is a great option if your dog loves to travel at outdoor to enjoy beautiful sunny days. It offers easy bathing for your pooch. The dimension of the pool is large enough, 47-inch diameter and 12 inches deep.
This portable swimming pool is easy to fold into a plastic carry case to bring for outdoor use. The heavy-duty durable PVC used material offers a safe set up for hours of enjoyment.
It is very easy to set up, no need to inflate, just fill with water and let your pet enjoy a hot sunny day. It is stress-free to draining the pool after using; just need to twist off the cap drains the pool in no time.
Pros:
Made of sturdy and durable high-grade material
Portable and easy to take anywhere
Stress-free draining for wash and clean
Textured bottom prevents slipping
Contains less than 10 pounds
Cons:
5. Best Heavy Duty – One Dog Bone BPP02 Material Review
Blue Paw shaped Pool made of heavy-duty and durable truck bed liner material. This quality dog swimming pool specially designed for smaller dog breeds can hold up to 20 Gallons of water to the top. To drain and clean the pet pool, you can easily flex it like a paw.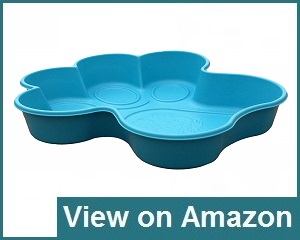 The positive thing of this doggie pool is the structure. It is made of the really hard material which is scratch-free, chew-resistant and a special additive which makes them UV resistant. It is a blue-coloured swimming pool absorb less light from the sun and keep the pool cooler. Manufacturers also assure that the water inside this pool remains 10ºF cooler in summer.
Between two available colors, most of the pet owner prefers the blue color because it keeps the water cooler a long time and it is easy to observe whether the pool is dirty. There is no drain to clean the pool, but you can tip it very easily. This dog wading pool is flexible for the small and medium-sized dogs, but very tight for the large canine.
Pros:
Made with the heavy duty liner material
Can keep the water cool in summer
White colored pet pool absorbs low light
Very easy to clean
Cons:
There is no drain with this pool but easy to clean
6. Best Overall Dog Pool – Cool Pup Splash
Cool Pup Splash provides your dog a great opportunity to stay cool down in summer days. It is a unique collapsible pool made of super hard PVC for long-lasting use, and it can hold 19.75 to 119.25 gallons of water to allow all pups.
This splash dog wading pool is foldable and portable, that's why pet proprietors can carry it anywhere with them for outdoor using. It is also easy to clean after every use just by releasing the water. There are three sizes are available on this model to fit for different dog breeds.
Key Features:
A great place for water-loving dogs to splash and play
Convenient design made with extra-tough PVC
Easy to fill up with water and release after using
Easy to fold down and store within minimum space
Long lasting and easy to clean after each use
7. Best Dog Cool Pool – Ethical Pet Products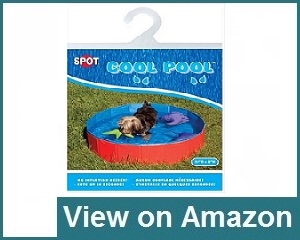 This Ethical Pet Products is perfect for dog bathing and enjoying summertime. It is made from 100% sturdy and durable PVC material allows for long time using. The actual measurement of this pool is 31 inches in diameter and 8 inches in depth which is perfect for small dogs.
Without any inflation, you can simply set-up this kiddie pool within a few minutes and also can remove the water after using with the help of a convenient plug.
Key Features:
Made by 100-per cent PVC material
Absolute for long time using
Perfect for fun and dog bathing
Due to the easy set-up, no inflation required
Attached plug facilitate for easy draining
8. Best Collapsible Dog Pool – Pyrus Pet Bath Pool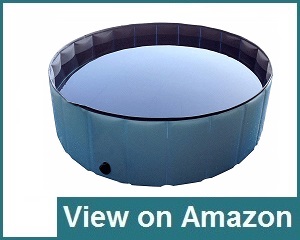 Pyrus Collapsible Pet Pool comes with a wide range of applications. It can be used as dog bath or baby bath, fish pond or the outdoor pool. The main advantages of this pool are it is foldable, portable, and easy to transport anywhere.
It is an affordable dog swimming pool with a decent and simplistic design made with all eco-friendly materials. Your cute pups can take shower, swim and play more safely and feel comfortable in this pool. It comes with two large sizes; the large one is 47.3 inches in diameter and 11.8 inches in deep. The extra-large pool is 63 inches in diameter and 11.10 inches in deep.
Key Features:
Designed with eco-friendly PVC fiberboard materials
The foldable design facilitates easy storage
No need for air inflation
Convenient water outlet design on the bottom,
Easy to fill or drain the water
You can use it as a perfect place for your dog to give birth
9. Best Small Dog Pool – Lalawow Foldable Pool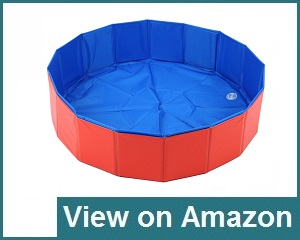 The Lalawow Foldable Pet Pool made with safe and quality PVC cloth, never collapse even full of water. It is lightweight and foldable, easy to carry and using at outdoor. The good quality drainage makes it easy to release the water after using.
The actual size of this small pool is 80 cm in diameter and 20 cm in deep for large size and 32 inches in diameter and 8 inches in deep for the small size.
You can use this multi-functional pool as baby bathtub, fish pond, outdoor water pond or as a bathtub for your pet. It doesn't absorb high temperature to keep the water cool and save your dog from summer.
Key Features:
Made with safe quality PVC cloth does leak
The attached upholder never collapses from water pressure
Offers easy draining facility through drainage holes in the bottom part
The foldable small size allows travelling and outdoor use
The Manufacturer company offers a lifetime guarantee
10. Best Dog Swimming Pool for Hot Summer – Pet Magasin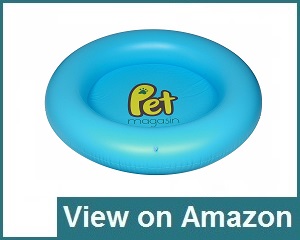 Pet Magasin Inflatable is a great doggy pool for your dog who loves to play in the water in the hot summer. It is made of tough and thick PVC rubber for long-term use. This big large pool has soft inflated sides to provide your pet with a place to get relax in the water.
It is a great accommodation for playing in both indoor and outdoor. It offers a 2-year warranty with 100% money-back guarantee.
Key Features:
Designed with 59 inches outer diameter, and 35 inches inner diameter
Soft but wide walls make it safe for dogs
Great for giving your dog a fresh bath and happy time
It is easy to pack down to a small size for storage
Ideal for using at outdoor
Different Types of Dog Pool
There are so many pools in the market designed in different shapes and sizes from a variety of materials. Here we have picked out a few of them based on their quality and features.
One – piece
These pools are solid, strong and made with heavy-duty thick plastic. It's a safe place, where your dog spends lots of time to get released in the hot summer. Since they are too sturdy in design and construction, they can't be folded or minimized for further use and very tough to carry for outdoor using and maintain.
Inflatable
Inflatable pools are comparatively smaller in size, lightweight and more portable, so these are great for pet proprietors on the go. It is easy to fold up even very largest models facilitate to carry out and store for next using. Mainly, these are special for smaller dogs and indoor using for low space consumption facilities.
There have also some drawbacks and you should always be sincere to use this pool. Due to soft walls it can be easily punctured or scratched by the claws and the dog may be injured. So, ensure the strong plastic body with other materials for your dog's overall safety.
Folding Pool
Folding pools are more reliable than others; they come with inward folding facilities to pack up easily. They are made from semi-rigid panels which make it stronger and allows for the last multiple of years without any trouble.
Folding pools are easier to set up and it comes into complete shape when filled with water and gets pressure on its walls. Due to rigid panel construction, they are enough durable and aren't as vulnerable to the dog's claws. Many folding pools come with drains on the side walls to release the water easily and pack them when the swimming time is over.
Rigid Pools
Rigid pools are also known as kiddie pools that are more durable than the other three options. These are made from very strong plastic materials to make them extremely strong. It's a great choice for pet proprietors who have dogs with destructive behaviors and like to damage household elements in minutes.
Your dog may apply extreme force through its claws on the pool's walls, but there is no chance to leak the pool. These rigid pools can't be folded, that's why it is not easy to carry for outdoor use and difficult to store in the room.
Things to Consider Before Choosing Dog Pools
Like other products, here you should also consider some special features which make the pool something different to fit your needs. So, after studying a couple of products, our experts shortlisted some features that ensure the highest quality pool within a reasonable price range.
Capacity
At first, you should analyze in which size your dog fits best. For a medium-sized dog, you should not exceed 20 gallons limit to be risk-free. It will be also dangerous if you have children in the house. But for a large dog, the capacity of the pool needs to be more than 30 gallons. It would be a house of plenty of water to have fun for hour after hour. Large pools also have large holes to release the dirty water after use.
Materials
It is another vital feature, and an ideal pool must be made of heavy-duty, strong and durable materials. Most of the time aggressive dogs hit the wall of the pool through their sharp claws and it can be damaged by low-quality construction. It should also become with chew proof and slippery free material to ensure long-lasting use.
Dimensions
Thinking about the proper dimension of the pool is also vital because it'd be very bad to purchase a shape that doesn't fit properly to your dog's size. Try to choose a model with wide and deep space, so that your dog can completely sink in it and do more fun. Some dogs are not water-friendly and you should pick a small pool to get them habituated.
Drainage
It is interesting to filling up the pool with water and you love to see your dog's enjoyment deliberately. But, as a dog owner, you should pay attention to the quality of drainage facilities. Plastic pools are easy to pull out and look for to clean up the tough drains are located on the side or bottom of the pool.
Durability
It is one of the most important criteria to identify the best pool for dogs. A pool should come with durable material; sometimes a large dog may fall into serious danger for a fragile pool. There are some good materials need to include within it.
Metal: Used metal should be rust-resistant and waterproof.
PVC: Durable and heavy-duty PVC is sturdy but flexible and ideal for making it fold away.
Polyurethane: The Durable polymer is great to make the pool chew resistant and scratch free.
Size
You should be well informed about the size of the pool to ensure your dog's maximum comfort. If you want to lay your dog in the water to cool off, then you don't need large space to splash around and play.
On the other hand, if you want to allow your dog to swim in the pool, obviously you need a pool that is large enough. Small dogs can normally swim in the pools that are designed for large dogs.
Some plastic pools come in multiple sizes to allow more than one dog inside the pool. Now, it is your time to choose the suitable one according to your dog's size.
Ease of Entry
Many pet owners wish to discover an easy way to allow their dogs in the pool. So, before choosing a dog poll, just ensure there is no risk if your pet tries to move deep in the pool when you are not present around the pool to keep an eye on them.
Large dogs can easily step over the side of the majority pools, but for a small dog, it is needed to install steps to get them in or out easily.
Benefits of Using Dog Pools
There are plenty of opportunities comes with the dog swimming pools during the hot summer season and a few of them are described below.
Helps to keep the dog cool: Swimming is a great way to keep your dog cool around all year. It is especially needed for a dog has a thick coat becomes overheated fast like a Bernese Mountain or Siberian husky. Offering your dog a place to become cool off will help them to keep happy and healthy.
Help to ensure physical fitness: Large pools allow small and medium-sized breeds to swim around a bit. Swimming is a high-intensive activity help to keep your dog fit and trim. We know 5 minutes of swimming is better than 20 minutes of walking for a dog.
Mental stimulation for ageing dogs: In hot summer, your dog becomes habituated to swim in the pool regularly. Regular exercise keeps your dog's brain active and alert by proper stimulation in their mind. You can engage them in playing by throwing a few toys in the water. It will help them to stay fit and trim.
Help your dog become more energetic: Regular swimming helps to build your dog's body muscle with improved strength and stamina. A suitable pool brings a great advantage for dogs with disabilities like arthritis and they become completely grow up from this disease by getting exercise in a relaxing environment.
Enhance canine-human bonding: It is another great advantage for pet proprietors. Dog owners never agree to let their pooch to swim in the pool alone. They always try to keep them in complete supervision while the pooch spends time in the pool. These enhance the close bonding between the canine and its owner.
Some Important Safety Tips
Introduce your pooch to the pool for the first time by holding them snugly
Keep in your complete observation while the dog swims in the pool
Always be sincere for allowing multiple dogs together in the same pool to swim
Don't allow your dog for more time in the pool in the cold weather
Clean the pool regularly and make it germ-free
Don't forget about the specific needs of your dog's breed while swimming
Don't force your dog into the water pool if it disagrees with you
Please be aware of how much water your dog is drinking during swimming
Be sincere about how much water the dog is drinking while swimming
Don't let your dog take much food before swimming
Final Verdict
Pools are funny items and these are highly recommended during summer to keep your dog relax. There are so many pool types available in the market and pet proprietors should choose the best one based on their dog breeds. In the above, there is a list of ten great swimming pools for dogs. These are very popular for their quality, functionality, and features.
There is a precaution for dog owners; "if you have small dogs don't leave them alone in a deep water pool due to the lake of the safety issue." Always keep the pool clean after using. Check the water at least twice in a week and make sure it doesn't grow up any harmful bacteria or parasites in the water. It would better change the water if your pooch uses it every day.
Frequently Asked Questions
What are the main characteristics of a dog pool?
Among so many features there are some vital characteristics you must consider before buying a dog pool and these are:
Durable materials
Suitable shape
Appropriate size
Proper Depth
Smooth drainage facilities
Should I wash my dog after swimming in the pool?
Swimming is a great exercise and almost all dogs love to swim. But, dogs may suffer from dry itchy skin, and dry, dull coat because of swimming in the family pool. The chemicals and chlorinated water in the pool may have a slight bleaching effect on your dog's skin and dark coats.
So, use a coat conditioner in your dog's body before he goes into the pool or at the end of the swimming session, wash his body with cool water to remove all the chlorine and other chemicals.
Is it safe for dogs to drink pool water?
Actually, used water in the pool considered as wastewater and definitely it is harmful to drink. Your dog may be suffering from serious skin disease or destructive worms. The pooled water becomes polluted while the dog taking bath and surely it will not be safe to drink.
What happens if a dog drink swimming pool water?
Dogs love to play and swim in the pool and it is not generally harmful if dogs drink swimming pool water when all used chemicals mixed with a balanced proportion in it. However, drinking the excess amount of salt and chlorinated pool water may harmful for the dog's health. It may cause of vomiting, irritation to the gastrointestinal tract, or erosion of the esophagus. So, make a balance and an ideal chemical solution in the pool water to ensure your dog's good health.
Is it safe for dogs to swim in pools?
Not all dogs have the natural ability to swim and as a dog owner, you have to make sure about your dog's swimming capacity before allowing them in the pool. You shouldn't force them in the pool to get in. Generally, pools are safe for dogs that know at least the basic levels of swimming. They can enjoy the pool water for gaming or swimming during the hot summer.
Can I keep my pool in direct sunlight?
Yes, you can do. But you have to consider the material that the pool is made from. In this case, your main concern of using a pool is to keep your dog cool at summertime, not to keep in the direct sunlight.
Do dogs pee in pools?
Dogs like fresh water in the pool and don't tend to pee in it while swimming or playing during the hot summer. A trained dog never pees in the water pool, food dishes or other usable things.
What is the basic difference between dog pools with other pools?
Pools, that are specially designed for dogs are made by considering the dog's characteristics to meet their demands. Most of the dogs try to play high activity level on the pool by their sharp claws and teeth. So, it should be made with more durable, sturdy and long-lasting material to face aggressive dogs.
On the other hand, kiddie pools are small in size and not needed to be too sturdy and strong like other pools. It should be kept a kid under constant supervision while using the pool.
Is there any special benefit of dog pool?
Basically, these pools offer a cool place to get relax your dog on warm days and allows for having fun during the hour after hour. They feel happy to splash, play and retrieve toys in water all day long. Large dogs feel free in larger pools to burn some extra energy where small pools provide wonderful canine-human bonding experience at outdoor gaming.