We all know that dogs are very expressive creatures that have a lot to express. They've naturally learned to read people's body language and verbal communication and even know to communicate their desires to us. People waste endless hours and a significant amount of money attempting to decode canine lingo. Dogs' ability to "understand people" in such a manner is quite remarkable.
While their expressions of love are different from ours, but there are certain parallels. When a dog expresses affection, it is sincere, unconditional, and eternal. Some signs that your dog loves you are apparent, but others are comparatively subtle and confusing.
When your dog bends or pushes into you, it's adorable and heart-warming, so don't make any conclusions about why they do so! A pet leaning against your body can mean various things, ranging from affection, sheer fear to superiority. Canines aren't as simple as we think.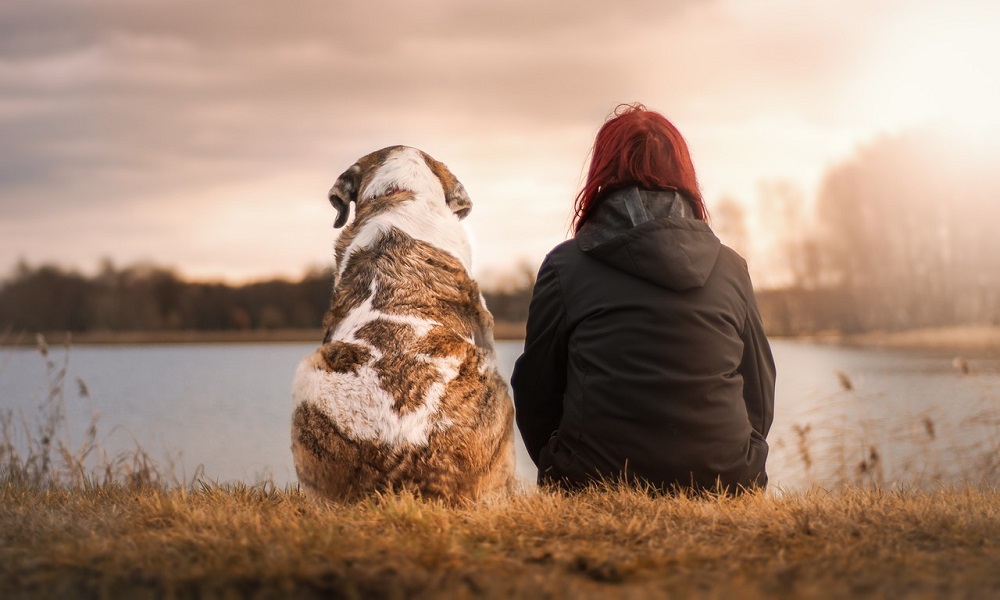 Why Do Dogs Lean on People?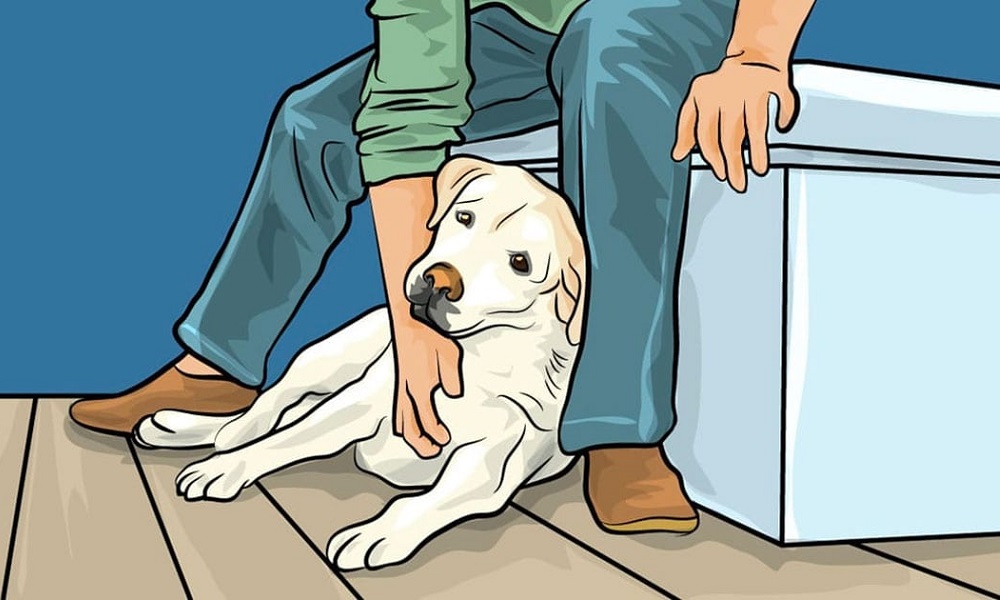 Our furry friends lean on their owners for a variety of purposes. It is a perfectly normal activity. It is typically linked to a desire for affection. This activity usually indicates that the dog is attempting to get something from you in a subtle manner. Pups are friendly pack animals by origin, and they love having physical interaction with people.
Although smaller dogs can be picked up and snuggled, larger dogs will try to get as near as possible. Sometimes pups are so gentle and loving that it is like they are attempting to become a part of you! They lean in with all they have got. Dogs tend to lie on your feet, sleep with their paws on your chest, or snuggle up to you on your sofa or bed.
This phenomenon often intrigues a few individuals, and they have doubts about why their dogs might be doing so. According to a few studies, a dog's learning is an indication of superiority. Canine behavior researchers, on the other hand, have shown that canine superiority myths are false. Superiority is not a character trait. It is, instead, a bond between two species. It is doubtful that your dog would lean on you to claim superiority.
Is Dog Leaning a Problem for Humans?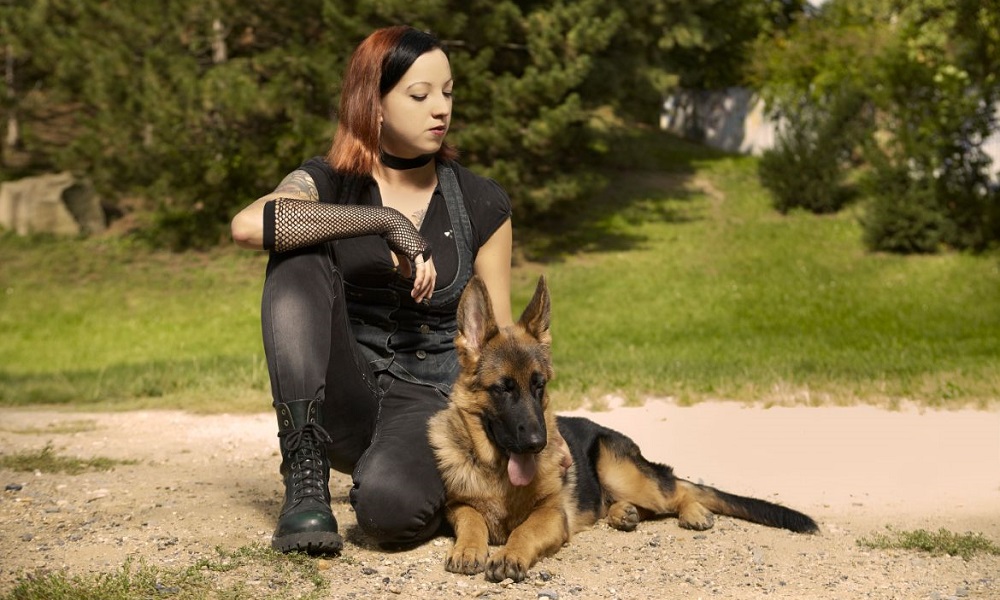 In dogs, leaning is an entirely natural trait. Leaning on someone is not considered a concern until it causes you significant distress. If you do not like it when your dog leans on you, move away. Do not pay it any heed until it ceases to lean. It will eventually make the connection between your behaviors and their behavior.
Try hiring a dog trainer to assist you with this problem or for other training purposes. Some dogs try to stay in physical contact with their owners, even going so far as to track them around the house. If this takes place regularly, it may be a symptom of separation anxiety.
How to Reduce My Dog's Leaning on Me?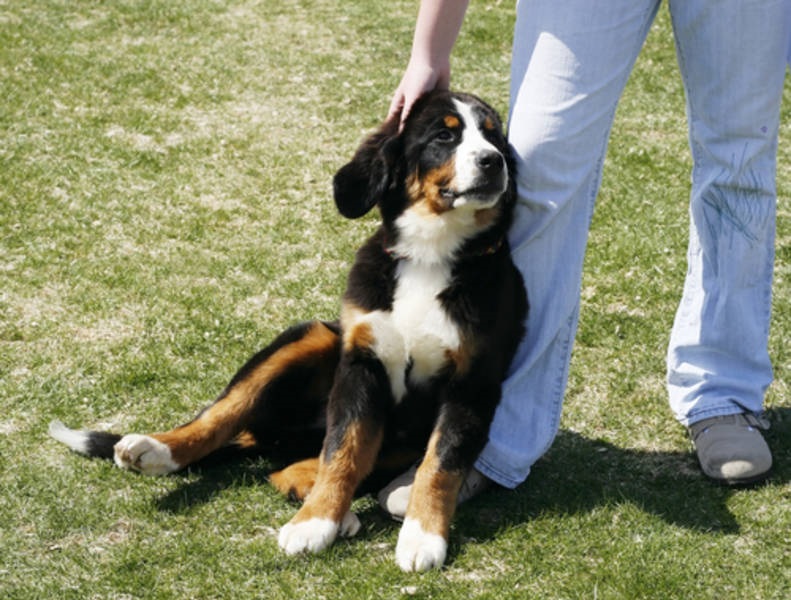 You may be unknowingly promoting certain undesirable traits by petting or encouraging the dog when they tend to lean against you. If your dog's pulling or leaning against you has become a constant and irritating activity, you should use constructive reinforcement techniques to persuade them not to do so.
Step 1
When the dog leans or presses against you, turn aside until he stops. Turn back to him and thank him while offering him a treat as he comes to a halt. Your dog will quickly learn that he is appreciated when not pressing or leaning against you, preventing him from doing so.
When the dog leans, do not give him what he wants? There is no way around that. If your dog is requesting cuddles, wants to play games, or tries to steal your sofa pillow, you must avoid encouraging this action.
Step 2
When your furry friend wants to push or lean on you, say "no" in a firm tone and leave the room. You may even place him in his crate or transfer him to another room. Give him a 30-minute to 60-minute "time off." Bring him back and try again. If the dog continues to lean or press on you, repeat the process until he no longer performs any of these actions.
Ignore him even if he leans, starts barking, or paws at you. When he gives up, you can treat him, play games with him, or take a stroll with him.
Step 3
Train your dog to follow the "sit down" command. To convince your dog to sit on the feet, say "sit" and put a treat over his nose. When he does, please give him a snack right away. Every day for 10 to 15 minutes, repeat the order until your dog understands it.
Move away from your pet and tell him to "wait" if he wants to lean or press on you. When he learns, reward him with a snack and lots of appreciation.
This will assist with the reduction of leaning by teaching the dog a different way to request something. It also introduces dog impulse management, so he now has to work a little harder for anything in general. Combining this with the fact that learning is no longer rewarded could drastically decrease leaning in aggressive breeds.
Step 4
Determine the reasons for his efforts to lean or drive on you and stay away from them. Teach him to relate to a stimulus with something positive rather than something unpleasant. For instance, if your pet leans towards you out of anxiety when you take him to the playground, tell him to "sit" and afterward play throw and fetch with him. He will eventually associate going to the playground with a playing and enjoyment mood rather than fear.
Some Additional Tips
The American Society for the protection and welfare of Animals advises that you jog your pet for at least half an hour per day to tire him out and offer him plenty of time with you. This tends to reduce attention-seeking habits such as pushing or leaning on you.
Get the assistance of an animal behaviorist if your dog is pressing or leaning towards you as a means of superiority. The primary symptoms are provocation, including growling or stiffness in his body as you start to avoid or get away from him. His rage could spill over and result in him biting you.
When your dog bends or pushes towards you, do not punish or violently force him backward. Most professional trainers warn that this will cause the dog to become aggressive and afraid of you, potentially deteriorating his behavior.
Necessary Training to Stop Dog's Leaning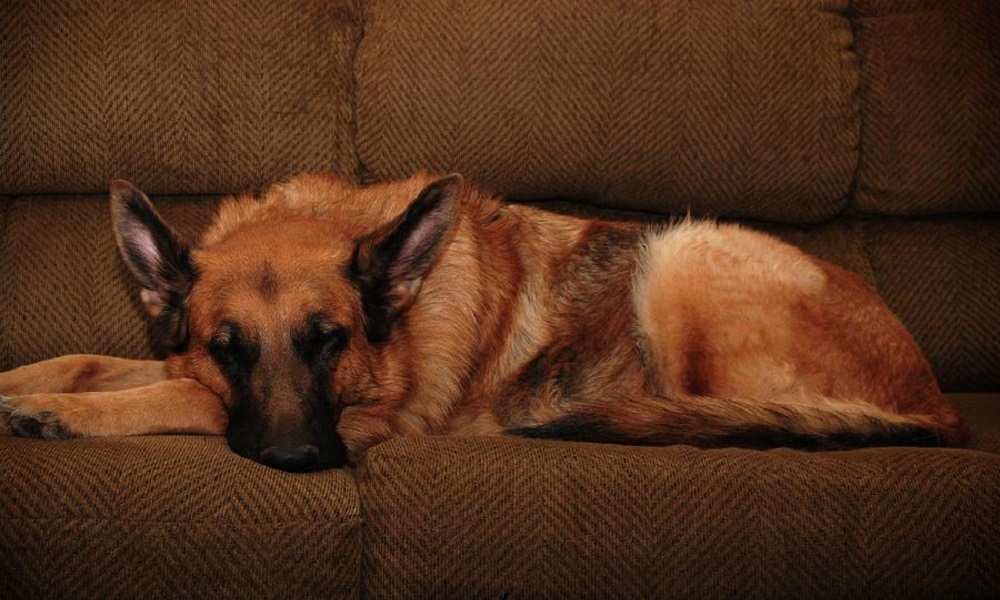 Your next aim is to teach your pet a new way of expressing himself. Try teaching it by saying "please" and "good dog." Even make a list of the things your dog enjoys doing, anything that makes him happy, or even just a partial list of the various activities in which he gets excited-leaving the house, sniffing everywhere, taking a step out of the crate, getting to know new people, meeting other canines, climbing up onto the sofa, getting pets, eating dinner, etc.
When a dog owner unintentionally encourages (rewards) dog actions, this is known as accidental reinforcement. Let us face it; we think about treats or games when we think about dog rewards. There are many more complex types of rewards that we do not even consider when thinking about our furry friends.
One of the most valuable incentives is the focus of their owner. Especially those lonely and under-stimulated latchkey puppies that are stuck at home alone for long periods can be fantastic attention seekers, and the best part of the day is being reunited with their owners.
These breeds are the epitome of attention-seeking dogs due to their lack of social interaction. When the owners get home, they are overjoyed. You can almost sense their sadness when the owners greet the dog briefly.
Be mindful of the occurrence of the extinction burst. To put it another way, if your pet has the tendency of leaning on you for a while, expect the action to intensify when you first start entirely avoiding it. You are advised to ignore the escalation of their behavior irrespective of how aggressive they get.
However, if you do not perform this, you will be encouraging the leaning behavior, making it even more challenging to eliminate.
Certain Precautions
Some dogs feel timid and nervous around strangers who are not family members and will lean on their owners to calm down. These actions are referred to as "displacement signs." When your dog is stressed, they might turn to leaning on their owners as they find it comforting.
Often anxiety and depression can be the reason for such behavior. So, if you think that your pet is not well, contact your veterinarian right away. Since they have treated your pet, they are familiar with the pet's medical records and can make the right decisions for them.
Conclusion
Dogs communicate complexly through their postures and expressions. They frequently pass unnoticed if we are not cautious. When dogs lean directly on us, it is more difficult to miss. This is not just a common occurrence for all of us, but it is acceptable behavior.
When our pooch leans on us while we attempt to unwind, that may be one of the most memorable moments we share with our canine companion. In particular, if your dog is leaning towards you with all their furry might, they are most likely attempting to communicate how much they adore you!
They are unlikely to be attempting to manipulate or harm you. If you have a leaner breed, this is usually a symbol of their love for you.