The friendship between you and your dog is an old one. It is like an ancient partnership that arose from human need. In primitive ages, dogs were well known to serve as an alarm system.
Those who have this furry little friend at their home might have experienced the dog sitting on their feet numerous times. They might not want to leave your side. Rather, they sit at your feet. Sometimes one might feel that they want to talk while pawing at the owner. Isn't this the most adorable moment?
In one of those cozy nights with your favorite pet right by your side, you might not take their instinctual behavior. For everything they do, there are reasons behind that. The devotion that they have for us is shown in various ways.
How they feel about you can be seen by their actions. So when your pet, to be precise, your dog sits on your feet, there are reasons behind that. This article will tell you the exact reasons behind this behavioral attitude.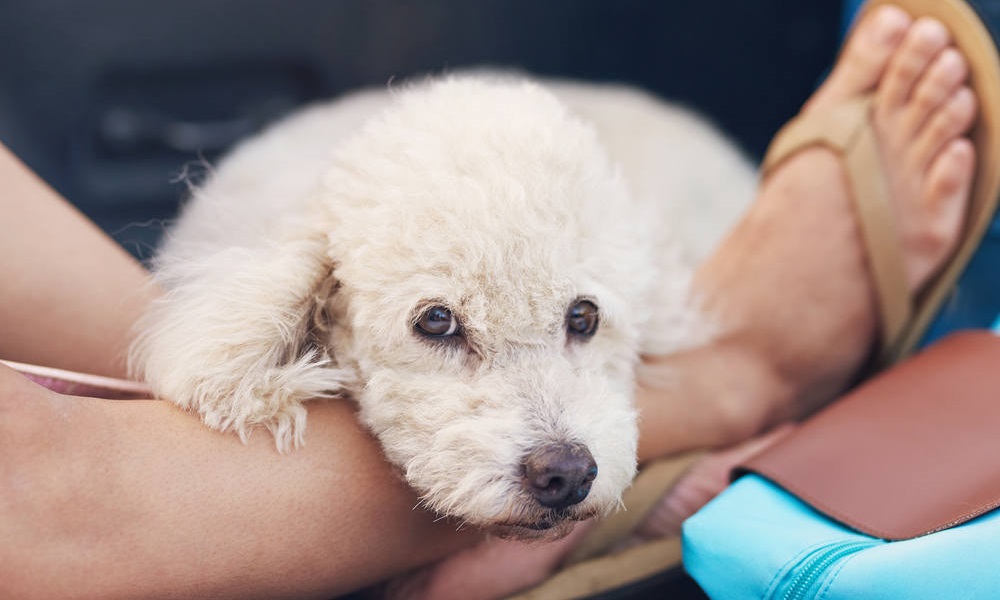 Reasons My Dog Likes to Sit on Feet?
In many of the medial and modern art, you can see the depiction of dogs sitting on their owner's feet. Let us discuss the reasons for this behavior.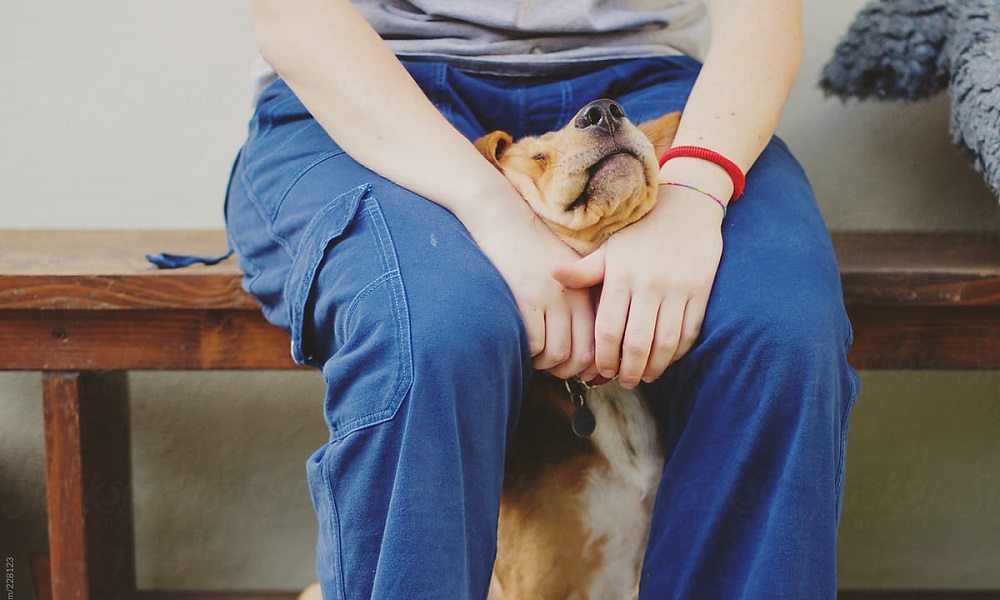 For Warmth and Cuddles
Sometimes especially during the winter season or any cool-weather condition, you might see your fluffy friend just cuddling on your feet to get your body heat. On any cold winter morning when you are with your group of friends, it might offer you warmth instead of being all alone by yourself. It is exactly what your puppy wants from you. It can be one of the pack behaviors where the other dog would cuddle around the Alpha dog for warmth. It is more common in the case of the smaller breeds of dogs. You are treated as their heater.
To Show You Love
Shrugging away all the behavioral instinct aside, sometimes it is just our dog doting their love on us. In some cases, dogs sit on our feet to show us their love. To show that admiration, they want to be near us. We often forget the fact that we are the world to this little furry friend. And when they have their most favorite person by themselves, they want to cuddle and show their love.
By living with us daily, they are aware of our emotions and movements. If, in any case, we are feeling low, they can immediately sense it. You should have seen how the body language of your puppy changes when you are feeling down. It might be just one of the ways of assuring you that they are beside you no matter what.
A sign of Anxiousness
Your dog might see you as the leader of the imaginary pack. They somehow trust you with the protection whenever they need it. For instance, when you were a child while entering a crowded room, you looked for that one trusted person. When you found them, you used to cling to their side and tried to stay around them. Even our puppies have the same mentality whenever they are anxious.
Some symptoms of an anxious dogs might include a cowering, Sweating, Trembling, Feeling weak or tired, Breathing rapidly (hyperventilation), tucked-back tail, whimpering and shivering. According to PetMD
It is their behavior that whenever they feel nervous, they will come running to you for protection and paw at you. Sleeping specifically can be one of those vulnerable times for your puppy. They will rest their head at your feet and rest assured in case of any threat or danger.
Mark You as The Owner
Your dog might sit on your feet to tell other dogs the information that you are their owner. An individual with several dogs will see the power struggle between their dogs about getting the prime spot. The best solution to this could be letting your dog reach their mark to lie beside you. Of course, that too close to your feet. If you allocate the individual me time to your dog, it can cut it out on the jealousy issues among your dogs.
Guard the Pack
Whenever your dog is trying to sleep on your feet, it means that they are trying to create a bond with you. According to your dog, you are the leader of the whole pack, and they had to rely on you. That is again to keep them safe from any predators. They also know who is ruling. Therefore, your dog will sleep next to the head honcho. It is a way to ensure that nothing happens, even when the leader is taking a nap.
What if My Dog Sit on Feet?
When your dog sits on top of your feet, which cannot be considered any bad behavior, however, at times, it can be a bit annoying when your dog sits on your foot all day long. If it is ok with you, then you should probably let your dog feel comfortable by your feet. But if you find this behavior annoying, why dog may lean on you, and then all you need is to give your dog training.
To start with, the first thing that you can do is not to pay attention when your dog does so. You should also not use scratch and pat behind the ear or do any actions that might let them feel relaxed. These are some of the activities that encourage your dog to camp on your feet. Since they know, they will be getting a positive reaction from you.
You can also throw a treat at your dog a bit further and ask them to relax there. You might also have them with positive reinforcement when they elicit the behavior of sitting by your feet. Don't lose your patience, and always be consistent while you're training your dog. Use commands like lie down or lie where you want them to relax.
In any case, if you find your dog sitting by your feet beautiful, then get them a rug to warm up.
Do Dogs Feel Safe in This Way?
There are many temporary circumstances where you will find your dog cuddling up near your feet. For example, during lightning or thunder, your dog can get scared. In this case, do not shrug your dog off. Instead, you can cuddle them and show a lot of love to them.
Your dog might look to you for support or love and even meet his physical needs. By meeting that need, you share your fairy friend with a position in your life. You don't have to reprimand him for behavior like this. Also, one can opt for obedience training that helps to reduce anxiety and build-up structure and confidence.
Conclusion
Whether your dog sits on your feet or lies next to you is one of the ways that your dog feels protected and secure. Comfort may be the only motivation for this type of behavior, or claim you as their owner can be one of them. In any case, the feel-good or love hormones play a definite role out here. But out of all, it is just that your dog may want to create that connection.
In 85% of cases, people see that their dog helps cope with any stressful moment. At the same time, 40% of individuals take their dog for a play or walk with them to escape any unwanted situation. In some of the cases, they act as mood lifters.
Whatever the case may be, one should be grateful for their canine foot warmers for their endearing action. Unless this act of sitting comes with undesirable activities, it may seem perfectly alright for them to show us that care and love.
Frequently Asked Questions
Should I allow this behavior if dogs sit on our feet?
In general, this is not a problem. Most of us look for the affection that our dog shows us. If your puppy does not show any sign of aggression or if you don't want your puppy by your feet, then you can quickly stop this behavior. If you do not offer any positive reinforcement or rewards to your pet, you can easily detach the habit of your pet sitting on top of your feet.
Secondly, you can offer them positive reinforcement for one of their favorite yummy treats or praises when they use the bed to sleep. You should praise them if they choose to sit next to you instead of sitting on top of your feet.
Do dogs show love by sitting on their feet?
It might seem like a common phenomenon that your dog sits on your feet. It might be one way that they show their affection, just like the way you would choose to sit next to your loved ones.
However, some dogs might find it comfortable while sitting on the floor instead of sitting next to you. They may prefer the feeling of the floor comfortably incredible rather than sitting next to any person. Others who love to sit on their owner's feet might find comfort in the physical contact, or simply it may be relaxing for your puppy to lay down on your feet.