Pet parenting is a complex task, especially when you own the dog for the first time. It gives new experiences to the pet owner. Sometimes, you will find your dog's behavior cute. On the other side, you consider this behavior strange and awkward.
When it comes to strange behavior, then on the top is attraction towards the dirty laundry. Dirty underwear is a prominent food item that dogs try to chew. It is quite an embarrassing habit that your dog has. In addition to that, chewing underwear is also a bad habit.
The majority of dogs share these kinds of inconvenient habits. Further, it can lead to a big problem. So, in short, you cannot take this lightly. What you need to do is find the accurate reasons behind it.
Once you come to know about the reasons, then you will implement some ways to reduce this problem. Here is the list of some information related to causes, their effects, and ways to avoid them.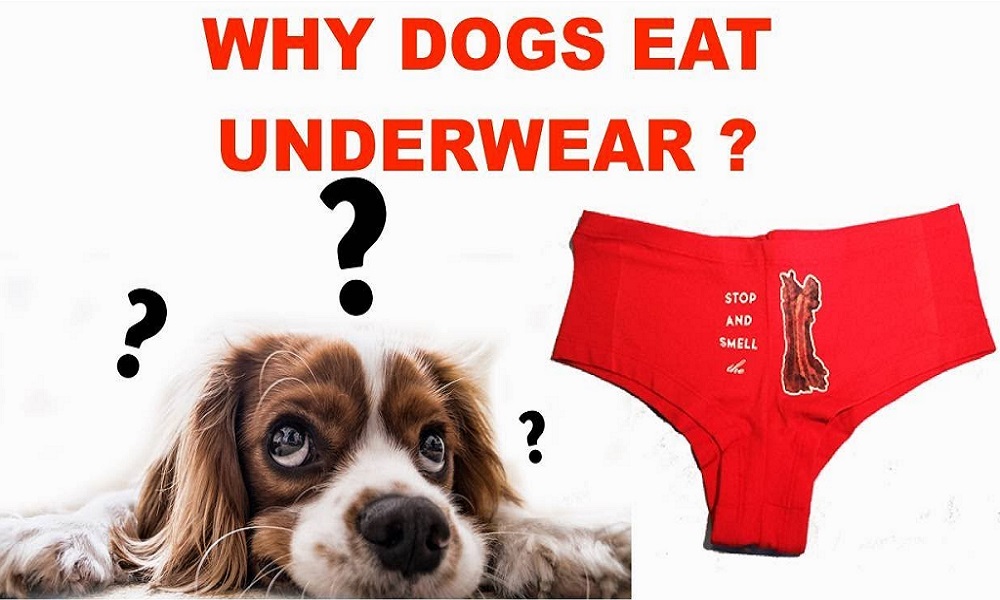 Common Reasons Dogs Eat My Underwear
If the young pup chews the underwear, then it is not a surprising thing. To some extent, it is quite a forgivable thing. However, it becomes an issue of concern when your dog chews the dirty laundry frequently. The young puppies are curious and like to play.
Hence, it is your liability to protect your dog against ingesting dangerous objects. These objects include underwear, carpets, and so on. This is because if they eat these kinds of objects, it leads to various health complications. Sometimes, there is also a chance that dogs eat these objects mistakenly.
Moreover, chewing the objects calms the dogs, so they chew the objects. Apart from it, there are some reasons behind dogs eating underwear. Here is the list of some reasons.
Anxiety of Separation
You give immense love and attention to your dog. However, when you are absent, then it will cause stress. Even when you go shopping or go outside, it can become the reason for anxiety. So, during this time, they commence eating the personal object, which consists of your smell.
Seeking the Attention
When you avoid your dog, then your dog starts doing weird things. In addition to it, when they feel bored, then they commence doing strange behavior. The primary purpose behind it is to grab your attention. They commence eating and destroying your personal belongings.
Due to it, you will pay attention to them. So, to get your attention, they start chewing your underwear.
Any Medical Condition
Some medical conditions can be a reason that your dog chews anything. It can be "Pica." This kind of condition is harmful to your dogs. There are numerous reasons behind it, such as an inappropriate diet.
Maybe your dog is not getting the full nutrients that are required on a daily basis. You can consult your vet regarding it. He will guide them effectively.
They are Teething
If your puppy is still teething, then it cannot restrict them from chewing the underwear. Teething the dogs will eat on anything. If a dog's age is in between four and seven months, there is a chance that they chew underwear. In addition, teething is quite common in puppies.
These are some common reasons why your dog eats underwear. Apart from these causes, chasing the scent and practicing the haunting skill can be the reasons. After knowing the reasons, it is easy for the pet parent to find the solution to this problem.
How to Discourage My Dog from Eating Underwear?
When you observe this habit in the dog, then the first thing strike to mind is solutions. There are several solutions which you can use to deal with this problem. In addition to it, here is the list of some tips which will be fruitful for you.
Offers the Worthy Alternatives
You can provide your dog the several alternative options to distract them. You can give them the toys to play with. When you observe any negative behavior in your dog, then you can provide them a toy. Due to it, they commence playing with the toy and distract from the weird things.
In addition to it, you also have the option of food-dispensing toys. You can give this to your dog. Due to it, your dog will distract easily.
Use the Anti-chew Spray
When you search for the anti-chew spray, then you will get several options. You can use the anti-chew spray to discourage your dog from developing harmful habits. Some dogs do not like the taste of bitter apple and citruses which these sprays have.
It is totally up to you to either use these kinds of sprays or not onto your underwear. You can use this spray on the container where you keep your undergarments.
Consult to the Vet
Sometimes the problem is quite severe, which is beyond your thinking level. Do not feel shame to take the suggestion from the vet. In this case, you will require professional help for sure. What you need to do is consult the vet and discuss with them. In addition to it, he will provide practical guidance or solutions.
Do Not Keep the Underwear on the Floor
If the underwear is lying on the floor, then your dog will engage in eating it. They will chew your underwear, particularly when you are not at home. So, keep personal belongings like shoes and underwear away from your dog.   
Act Normal
A dog cannot speak like the humans and does not demand attention. What they do is, start doing the unusual behavior so that you can restrict them. Do not act immediately when you notice it. In addition to it, act like you did not observe anything.
Provide the Training to Dog
Do not forget about dog training. This is because treats and toys cannot replace the value of training. With the help of proper training, your dog will not develop any negative behavior.
You can hire a dog trainer who will provide the best training to your dog. Due to the training, your dog will develop some good habits.
These are the practical ways that you can use to discourage the dogs from eating the underwear. In addition to it, consulting the vet is a great solution. He will give you accurate guidance. Even he will inform you about if there is some medical problem associated with it or not.
Harmful Effects of Eating the Underwear
As a dog owner, you must know the bad effects of eating underwear. First of all, there are the majority of dogs that do not chew the underwear but swallow them. Further, it may become the reason for blockages in the esophagus.
The fabric cannot swell like diapers, but it creates a problem for your dog. The problem is your dog faces difficulty in eating anything or in the processing of food. This is because of the obstruction in the dog's system. In addition to it, there is also a chance that your dog will lose appetite and weight.
Sometimes, your dog may not be able to vomit the fabric. Further, it requires surgery to remove the ingested fabric. The underwear which is recently laundered can be dangerous for dogs, in-fact poisonous. The soap used for cleaning consists of some harmful chemicals like sodium Laureth sulfate, and so on.
These chemicals can be poisonous to your dog. When the dog eats the underwear, then these chemicals mix in the saliva. It will go down to their throat. Further, these chemicals can damage their liver and kidney.
Apart from it, the worn underwear also consists of different kinds of bacteria. It can become the reason that your dog falls sick when he chews it.
Chewing underwear becomes the reason for several problems for dogs. It leads to surgery, and your dog falls ill.  So, consider the solutions to avoid the bad effects.
Conclusion
In the end, as a pet owner, you should take the dog's underwear-eating behavior seriously. Your vet will guide you effectively. Even he is a great resource who helps you and gives the exact reason behind this weird behavior of your dog.
In addition to it, they also suggest you the appropriate ways to treat this problem. You can follow the instructions of the vet. Moreover, you can also opt for another fruitful method that is an anti-chew spray. You can either spray your underwear or the storage bags where you keep the underwear.
Owning a pet is a difficult task and comes with several responsibilities. You can deal with this problem with the help of the information mentioned above.
Frequently Asked Questions
Is it harmful if dogs eat underwear?
For dogs, eating underwear is not a good habit. There are numerous fabrics used in the making of undergarments. These fabrics are not digestible for dogs. It can cause several issues, such as intestinal obstructions. Further, it can be dangerous.
There are several health-related risks associated with when your dog eats underwear. You can use different methods to deal with this problem, such as consulting the vet.