Canine lovers across the globe have their own favorite when it comes to the coat and fur of their trusted companions. While some adore the long flowing coat, others are attracted by the short and smooth coat, there are a few who like the coarse and short coat, but there are a few still who love their pet without any hair. Yes, for the uninitiated, there are canines without any hair.
While it might be really uncanny for many to visualize the graceful Great Dane without any hair, the Hairless breed of canines are nevertheless adorable and yes, they too have many takers. In addition to the freedom from long and frequent grooming sessions and the ungodly shedding seasons, the Hairless breed of dogs are easy to groom and easier still to be made into adorable indoor companions.
This article will not only educate about this unique breed of canines but will also shed light on the basic needs of these Hairless pets and will introduce the reader to the top fifteen Hairless breeds in the category. Being Hairless is the sole criteria for canines to fall into this coveted breed and here's what their needs are.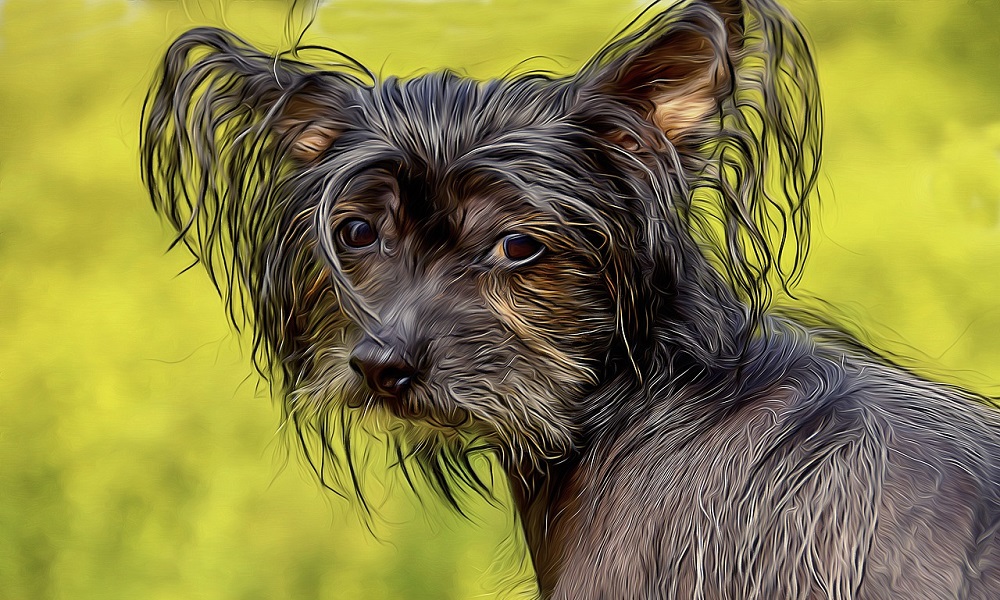 Basic Needs of Hairless Dog Breeds
Yes, the hairless breeds of canines do not require the long grooming sessions, thanks to their absence of hair on the skin, but they nevertheless require regular grooming as the absence of hair has its own share of minor complications like dryness of skin, lack of a natural temperature regulator, natural sunscreen, to name a few. However, with a bit of care, this breed of canines can be wonderful and adorable companions.
Here is a list of all that a hairless canine need for health and happiness.
Bathing: A normal bath is the most basic need of all hairless dog breeds. The dog shampoo, in this case, should also be different. It cleanses the skin of dirt and grime, hydrates the skin and helps to keep the skin healthy.
Sunscreens and Moisturizers

: Due to the absence of the natural protection against direct sunlight, the Hairless canines require a topical sunscreen and a moisturizing lotion. The lotions not only protect the skin from direct sunlight but also soothes the skin.
Let's dress up

: While it's the most favorite part of almost all hairless pet owners, clothing made of a light fabric during the summers and a warmer option like a jacket, dog sweaters or a cardigan during the winters will keep the canine cooler during the summers and warmer during the winter coats.
Keeping the nails short

: Hairless canines must have their nails clipped regularly. This safeguards the pet from skin rashes and even deep wounds, self-inflicted during vigorous scratching.
Eating healthy

: Each breed of hairless canine requires quality food laden with all the essential nutrients.
Regular physical activity

: Most dog breeds are outdoor canines with unbounded energy. Thus, to curb the natural born hunting instincts and to make them indoor companions, regular sessions of physical activity is a must.
With a bit of care and vigilance the hairless dog breeds can be trained to become the most adorable and trustworthy indoor companions. So, without further ado, let's take a look at the top hairless dog breeds.
Top 10 Hairless Dog Breeds 2021
1. Xoloitzcuintli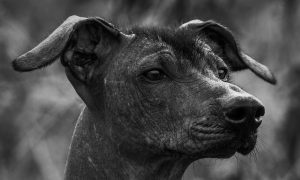 Overview:
Sizes:  Standard, Intermediate and Miniature
Colour: Bronze, Black, Blue, Red etc.
Max weight: 55 lbs
Max height: 9″-26″
Avg. Life expectancy: 14- 20 yrs.
Perhaps the oldest of the hairless dog breed, this gentle and intelligent canine from the heartland of Mexico, can be the ideal watchdog as well as a trustworthy indoor companion. Its origins can be traced back to the ancient folklores, dating back centuries.
With three different sizes of small, medium and large this hairless canine has a plethora of skin colors ranging from Black, Tan, Blue and even Red. With a few social conditioning sessions and regular physical activity, the Xolo can be the most vigilant watchdog and a trustworthy companion.
2. Peruvian Inca Orchid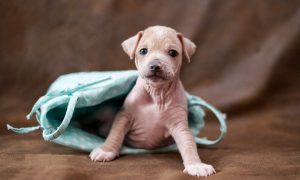 Overview:
Sizes:  Standard, Intermediate and Miniature
Color: Black, Tan
Max weight: 55 lbs
Max height: 10″-26″
Avg. Life expectancy: 14- 20 yrs.
One of the most domesticated hairless canines originating from Peru. Declared a part of the cultural heritage of the country, the hairless breed is a common household pet that triples as a watchdog and a pain reliever. Yes, you read it right. With heat emanating from the hairless body, its body warmth is helpful in easing body aches and pain.
Peruvian Inca Orchid can be easily trained with a bit of dog language. They are highly intelligent, fast learners and friendly in nature. Being natural hunters, they require regular physical activities. While a jog or a free run into the woods can be the right kind of physical activity, the canine isn't game for repetitive activities.
3. Hairless Khala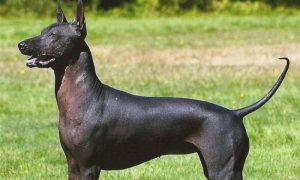 Overview:
Sizes:  Standard
Color: Black, Brown, Liver
Max weight: 50 lbs
Max height: 26″
Avg. Life expectancy: 12- 20 yrs.
With its origins from Bolivia, this breed is yet to gain recognition from the major Kennel clubs but makes it to this list of the Hairless dog breeds. With almost no hair and some with a little tuft on the head, this breed is a common household pet in its country of origin.
With a muscular and athletic build, the canine is a powerhouse of energy. They are mostly grey in color with no hair or with a white tuft on their heads. They are friendly in nature and can be easily trained. With unbounded energy, it requires its daily dose of physical activity.
4. American Hairless Terrier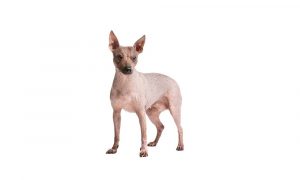 Overview:
Types:  Intermediate
Color: Black, Brown, Apricot, etc
Max weight: 18 lbs
Max height: 16″
Avg. Life expectancy: 14- 16 yrs.
American Hairless Terriers were selectively bred for its hairless coat in Louisiana, USA. As the breed gained popularity, it became a household pet across the country. With almost no shedding and hassle-free grooming, it was an instant hit with families pressed for time.
They can be found in a variety of colored coats like Black, Chocolate Brown and Apricot. With a playful nature and inherent hunting skills, the American hairless terrier makes a great pet. With a small size that measures up to a maximum of sixteen inches these canines easily fits in small spaces and are perfect for small homes and even apartments.
5. Hairless Chihuahua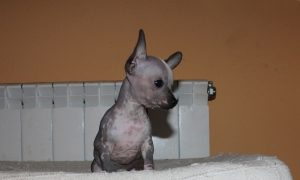 Overview:
Types:  Small
Color: Black, Brown, Tan etc
Max weight: 6 lbs
Max height: 9″
Avg. Life expectancy: 15- 20 yrs.
A power-packed dynamo like its normal counterpart, the Hairless Chihuahua has all the characteristics of the former. Its fuzzy character coupled with the special bonding with its favorite human companion makes it an adorable pet. The tiny hairless canine can be prone to various minor skin ailments and requires special care during extreme temperatures.
With a long-life span, short grooming sessions, friendly and playful nature, the Hairless Chihuahua can be an ideal indoor companion. Without any shedding the hairless canine can be the ideal choice for households with a history of allergic reactions.
6. Argentine Pila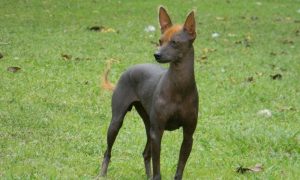 Overview:
Types:  Big, Intermediate and Small
Color: Black, Tan, Spotted or Stripes
Max weight: 55 lbs
Max height: 10″-26″
Avg. Life expectancy: 14- 20 yrs.
With a meagre population, the canine is mostly found in the Northern part of the country. Unlike other hairless breeds, these canines have healthy skin and a regular bath is all that is required to keep them groomed. A natural hunter with acute cognitive skills, the Argentine Pila is a great watchdog and can be trained to be an indoor companion.
7. Jonangi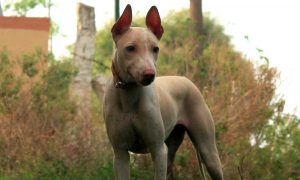 Overview:
Types:  Intermediate
Color: Black, Fawn, White and Chocolate.
Max weight:  85 lbs
Max height: 22″
Avg. Life expectancy: 10- 14 yrs.
A hunter and a herder, the Jonang is are found scattered in the South Western and Eastern Coastal belt of the Indian Subcontinent. Most of the Jonang is have really short coats with almost invisible hair and can easily withstand harsh climatic conditions. They have high cognitive skills and in spite of being natural hunters requires very little physical activity to curb their aggressive instincts.
Jonangis are mostly used as watchdogs and can be easily trained to be an indoor companion. They have a muscular build and are athletic. With almost no grooming required, a daily wash keeps them clean, happy and healthy. These canines do not bark but yodle.
8. Abyssinian Sand Terrier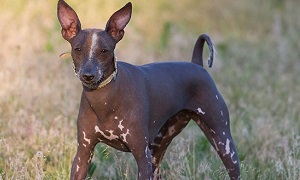 Overview:
Types:  Intermediate, Small
Color: Sandy, Black, Grey, Bronze and Tan.
Max weight:  20- 39 lbs
Max height: 21″
Avg. Life expectancy: 12- 15 yrs.
The Abyssinian Sand Terrier or the African Hairless dog is perhaps the most energetic breed in the list. Perfect for long jogs and walks, they make great training dogs. Originating in the African continent, it is one of the rare breeds that is on the verge of extinction. With sharp cognitive skills and faster speed, these dogs were a part of the stories the settlers brought back home.
Abyssinian Sand Terriers have two sizes: small and medium. They have a lean but muscular structure and are highly energetic. They are mostly black, bronze or Sandy in color and some also exhibit mottles. It's the best pet for anyone looking for a training companion as it can go on and on. It can be groomed easily and a wash every two days is all that is required to maintain a healthy skin.
9. Ecuadorian Hairless Dog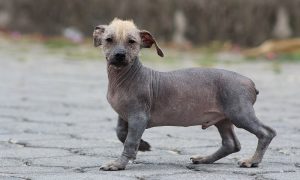 Overview:
Types:  Intermediate, Small
Color: Black, Chocolate Brown and Mottled.
Max weight:  20- 39 lbs
Max height: 21″
Avg. Life expectancy: 12- 15 yrs.
Often mistaken for the Peruvian Inca Orchid, the mid-sized canine from Ecuador is equally friendly, gentle and energetic like its neighboring counterpart. Still to be recognized by any Major Kennel Club, the Ecuadorian Hairless Dog is found mostly on the Ecuadorian mainland.
Abyssinian Sand Terriers have two sizes: small and medium. They have a lean but muscular build and are active and energetic. Regular baths is the only grooming need of this breed. They are gentle and friendly in nature and do not require any special daily physical regime nor any social conditioning to serve as indoor companions.
10. Chinese Crested Dogs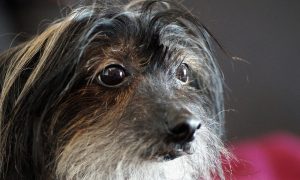 Overview:
Types: Small
Color: Pink or Black skin with white or black tufts.
Max weight:  12 lbs
Max height: 13″
Avg. Life expectancy: 13- 15 yrs.
High on the list of cuddly pets, the hairy counterpart of the hairless Chinese crested dog is a favorite amongst most canine lovers. And the hairless variety from the same litter is equally elegant and adorable. These playful yet gentle canines have tufts of long flowing hair on its head and do not have any hair on the entire body. They are small sized canines and weigh a maximum of twelve pounds. They comparatively have a higher life span than most canines in this category.
Hairless Chinese crested dogs in spite of the lack of the double coat like it's hairy variety do have their own grooming needs. While a regular bath, sunscreen and moisturizer takes care of the hairless body, the tufts need regular grooming. Anyone who likes to free up their cuddly pets will never have a dull moment with this adorable pet. They are intelligent and are fast learners.
Final Words
Hairless dog breeds have their own aficionados. While the reason behind choosing a hairless breed over the shiny or the puffy coats can be varied, these canines nevertheless make some of the best indoor companions. In addition to less regular long grooming sessions and absence of shedding, these hairless breeds are perfect for owners who are hard pressed for time or families with someone with allergic reactions to dog hair.
However, these breeds are less abundant and some are very rare. It is not surprising that the American Kennel Club only recognized four of the breeds from this list of top ten. While many of the hairless breeds have hairy counterparts and are from the same litter, the ones recognized by the AKC are pure. But this doesn't limit the list of the Hairless breed as the likes of Jonangis and Khala are excellent breeds that can make the best watchdogs and indoor companions.