Numerous blue dog breeds, including blue tick, blue merle, blue harlequin, and blue brindle, are widely sought after and prized for their appearances and distinctive blue coat markings. Blue dog species inherit their parent's recessive genes for blue coat colouration. All parent dogs may not be blue, but they have the gene of a diluted black coat.
If your dog carries the merle gene, mottled patches of colour will appear. Merle-pattern dogs are incapable of producing pigment in a coherent manner, which accounts for their bluish colouration. Additionally, blue merle dogs are more likely to have blue eyes or heterochromia-two different coloured eyes.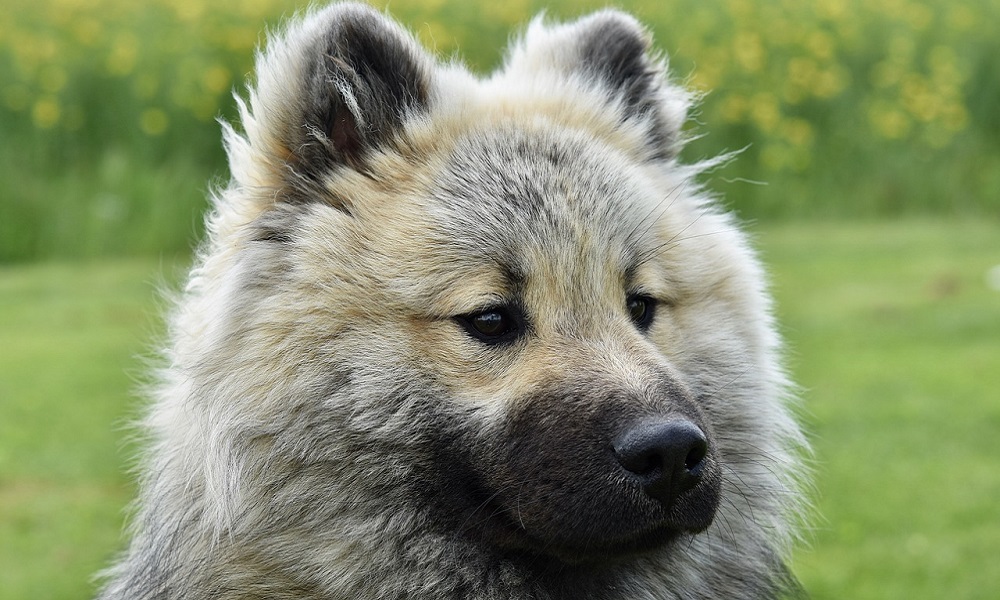 Characteristics of Blue Dog Breeds?
The primary trademark of a Blue Dog Breed is their bluish shade coat. The term "blue" refers to any combination with a silvery-grey hue, often with a distinct ice sheen.
It is not quite a "light" tint like navy or sky blue, but it is a cooler shade that distinguishes this colour from standard grey and black coats.
The nose is typically the "greyest" aspect of any blue-coloured dog – unlike the hair, the nose may have a blue tint! Bluecoats are occasionally matched by stunning baby blue eyes. It is particularly found in true Australian ranch dogs and collies.
Biologically it is a recessive gene, which means it is inherited by both parents. Both parents may not have to be blue to pass on the blue chromosome to their puppies.
More About: Beautiful Spotted Dog Breeds That You'll Love
Types of Blue Dog Breeds
Blue Harlequin

: Sometimes seen on Great Danes, a harlequin fur style features a white foundation and solid blue smudges. Harlequins usually has two colours tones, where the big patches of pigment are more distinct.
Blue Brindle

: Brindle coats are available in a range of shades. The blue type is usually a combination of brown and tan, with blue as the primary hue. It is often set in nearly striped lines with irregular vertical patterning.
Blue Merle

: Merle furs are popular in Australian shepherds; they are usually a patchwork of grey tones, emphasising blue. It is often combined with an abundance of white, as well as sprays of chocolate or black.
Blue Tick

: On a white backdrop, a blue tick coat resembles splatter paintwork. It is usually composed of tiny splatters or speckles of blue combined with white, resulting in a somewhat incoherent yet lovely design.
Top 20 Blue Dog Breeds
After discussing the fundamentals of blue dogs and their distinctive hair designs, it is necessary to discuss some of our beloved, blue-coloured beasts!
1. Italian Greyhound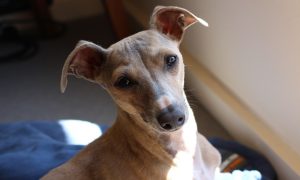 Overview:
Temperament: Playful, joyful, attentive.
Height: 11-15 inches
Weight: 8-14 pounds
Life Expectancy: 14-15 years
Though the name includes the word "grey," the Italian greyhound might be referred to as a blue hound, as blue colouring is a typical feature of these zippy little puppies. Italian greyhounds are typically bright blue or have a combination of blue and white marks – they often have an exclusively white body, stomach, and legs, with just a blue face and back.
2. Great Dane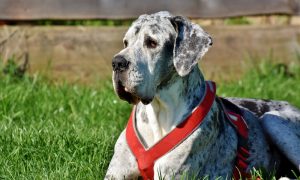 Overview:
Temperament: Friendly, Patient, Dependable
Height: 30-32 inches (male), 28-30 inches (female)
Weight: 140-175 pounds (male), 110-140 pounds (female)
Life Expectancy: 7-10 years
Great Danes may have a strong blue coat or a style of harlequin blue fur. Harlequin has a white background with solid blue splotches. It's easy to confuse harlequin coats with merle jackets, but harlequins usually has two colours tones. Just two purebred breeds, Great Danes and Beaucerons, have harlequin fur.
3. Weimaraner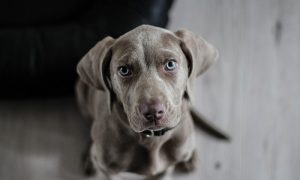 Overview:
Temperament: Friendly, sporty
Height: 20-27 inches (male), 20-25 inches (female)
Weight: 72-90 pounds (male), 50-75 pounds (female)
Life Expectancy: 11-13 years
Weimaraners are usually steely grey, displaying the dilute brown fur component. For certain Weimaraners, a dark dilute gene was detected, resulting in a dark grey or blue Weimaraner. Blue-coated Weimaraners were excluded by the breed classification. Apart from dog shows, visitors looking for blue dog types are also attracted to the agile and striking appearance of the blue Weimaraner.
Get more breeds list: hairless dog breeds
4. Kerry Blue Terrier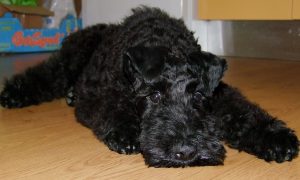 Overview:
Height: 23-27 Inches
Weight: 55-90 pound
Coat and Hue: Small coat in blue to grey
Expected Life Expectancy: 11-13 Years.
The Kerry blue terrier has a similar build and height to the Airedale and can be black, tan, or many various shades of blue. The traditional blue or a combination of blue and grey or black are all common colours. Slate blue is cooler than normal blue, somewhat identical to the blue everyone recognises from the colour spectrum.
As the name suggests, the frequently used silver-blue has a light sheen and a blue hue. While these small, black, and attractive dogs do not shed their dense and fuzzy coats, therefore, daily grooming and frequent visit to the groomer is not necessary.
5. Blue Bay Shepherd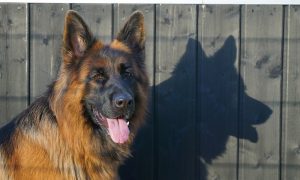 Overview:
Size: 24-26 inches (male), 22-24 inches (female)
Pounds: 65-90 pounds (male), 50-70 pounds (female)
Average life span: 12-14 years
Herding Community
Vicki Spencer has been developing the Blue Bay Shepherd for the last Twenty months to keep much of the stature and wellness traits of the German Shepherd. They feature a long blue coat and much more of a wolf-like appearance. Though they always require a release of their energy, they are usually content with any interaction that includes their adoring human caregivers. Kerry terriers are intensely faithful to their owners and flourish on human contact.
6. Australian Shepherd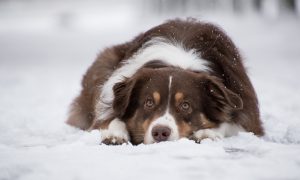 Overview:
Herding Community (AKC)
Altitude: 18-23 Inches
Mass: 40-65 pound
Coat and Hue: Blue merle, red merle, black, or red coat with white markings and/or tan (copper) points; both shades may have markings and/or tan (copper) points
Expected Life Expectancy: 13-15 Years
The cowboy's dog of preference is the Australian Shepherd. They are a moderate-sized worker, with a searching look on their face. Australian coats come in a variety of styles, like merle. Aussies are incredibly clever, and they are also capable of duping an unsuspecting new owner. However, if you're searching for a bright, hardworking, and adaptable companion for working or athletics, your quest can come to an end here.
7. Poodle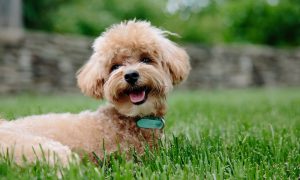 Overview:
Active, Proud, and Extremely Intelligent
Height: more than 15 inches (standard)
weight: 50 to 60 pounds (male), 40 to 50 pounds (female)
Life expectancy range: From 10 to 18 years
Non-Sporting Community
Blue poodles, on the other hand, appear to produce a distinct brownish glow when they age. When fully grown, blue poodles are distinguished by their noticeably lighter heads, particularly when compared to the black-furred kin. Poodles, who are well-dressed and well-informed, make great pets and ideal family buddies. They are simple to get along with care about, except for a little extra work to maintain their beautiful looking sharp coats.
8. Bluetick Coonhound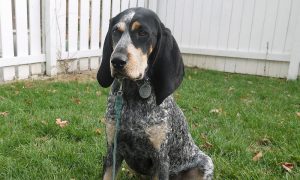 Overview:
Hound Community (AKC)
Height: 21-27 Inches
Weight: 45-80 pound
Cover and Hue: Short, smooth, and glossy dark blue coat with a densely speckled body; dark streaks on the back, ears, and sides; tan marks possible
Expected Life Expectancy: 11-12 Years
The shiny coat of the bluetick coonhound is dark blue and densely speckled or "ticked" with black streaks on the tail, ears, and arms. This mottling creates the appearance of a navy blue hue. It has a predominantly black head and ears, with tan marks on the forehead.
9. Irish Wolfhound
Overview:
Hound Community (AKC)
Height: 30 Inches or More
Weight: 105 to 120 lbs
Cover and Hue: Tall, long body with a rugged coat in a variety of colours, namely black, blue, grey, and others
Expected Life Expectancy: 6-8 Years
The gene that causes a black coat to be diluted and look blue exists in Irish wolfhounds. This characteristic is also acquired by another big blue-specific breed, the Great Dane. Blue Irish wolfhounds often look grey at first sight. Their blue jackets have a clear blue hue and can even have liver-coloured paws, nasal features, and eye lines.
10. American Staffordshire Terrier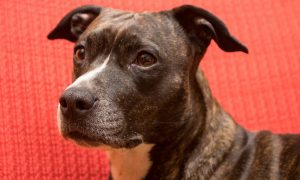 Overview:
Elevation: 17 TO 19 Inches
Weight: 40-70 lb
Cover and Hue: Black, brindle, fawn, sable, blue, and brown short, smooth coat
Expected Life Expectancy: 12-14 Years
An American Staffordshire terrier is sometimes known as a "pit bull," which is a generic word for dogs of a similar muscly body. They are a widely confused and underappreciated breed that is often exposed to breed-specific regulations.
In fact, Staffies have special needs for socialisation at a young age and are physically powerful. On the other hand, make great and caring pets when paired with the right conscientious partner!
11. Shar-Pei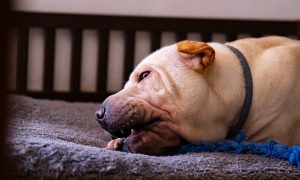 Overview:
Non-Sporting
Elevation: 18-20 Inches
Weight: 45 to 60 lbs
Cover and Hue: Black, brown, cream, or blue coats are very brief and bristly
Expected Life Expectancy: 8 to 12 Years
Shar-Peis are more often seen in red or brown shades, but blue coloured Shar-Peis are also very common. These adorable puppies are normally pure blue, with a white colouring here and there. In addition, they can have a blue coat, which is a beautiful, strong combination of brownish and blue. Sharp-Peis are recognised for their saggy skin and weigh about 50 lbs. The 3 separate coat styles of Shar-Peis serves as a canvas for their lovely blue tint.
12. Australian Cattle Dog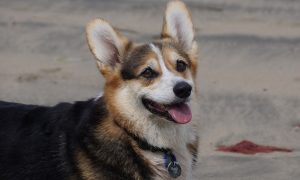 Overview:
Herding
Elevation: 17-20 Inch
Weight: 35 to 50 lbs
Wear and Hue: Shiny, strong double-coat; coat colour is normally blue, speckled blue, or speckled blue, but it may also be crimson
Expected Life Expectancy: 12-16 Years
Based on the prevailing colour of the hair, Australian Cattle Dogs are classified as either "red heelers" or "blue heelers." Blue heelers typically have tetra coats that have black and brownish hues. Their jackets are darker, with an overlay and a very bushy tail. You will possibly infer the regional roots of the Aussie cattle dog based on the term. These puppies are raised for obedience and are now among the best herders around.
13. Chihuahua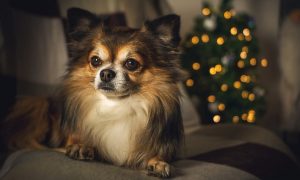 Overview:
Group: TOY
5 to 8 Inches in Height
Weight: up to 6 lbs
Cover and Hue: Available in a variety of shades, like black, white, fawn, blue, and others.
Expected Average Lifespan: 12 to 20 Years
The Chihuahua, one of the smaller dog types, has a wide range of hair shades, including a stunning blue. The genetic blue chromosome in Chihuahuas is uncommon. When it emerges, the blue may be strong or mixed with tan, white, gush, or brown marks. Bluecoats can be seen in both long and short-haired Chihuahuas.
14. The Blue Lacy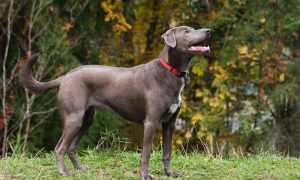 Overview:
Group: Unrecognized
Elevation: About 18 to 21 inches
Weight: 25-50 lbs
Cover and Hue: Short, flat coat in a variety of blue colours, like grey, light silver, and darker charcoal, but can also be red or tricoloured
Expected Lifespan: 12-16 Years
The Blue Lacy is Texas's State Dog, which is an unsurprising breed's roots in the Lone Star State. It is a relatively new breed, having originated in the mid-nineteenth century with the migration of the Lacy family to Texas. They are the ideal farm or hunting dog since they enjoy tracking, herding, and, most importantly, pleasing their owners. Despite their workaholic tendencies, they make great pets; they are extremely knowledgeable dogs that are generally easy to train.
15. Neapolitan Mastiff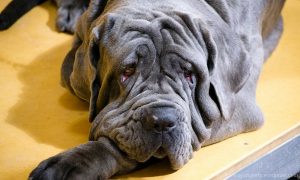 Overview:
Community: Working
24 to 31 cm in Height
Weight: 110-150 lbs
Cover and Hue: A short coat in black, blue, mahogany, or tawny
Anticipated Lifespan: 7-9 Years
A Neapolitan mastiff does have a huge heart in comparison to its enormous size – and these formidable yet beautiful giants look amazing in blue. The Neapolitan mastiff, with its sunken eyes and pleasingly sagging cheeks, has an impression that is, in a word, classic. Except for the rare merle, mastiffs are usually painted in a single pigment. Steely blue, as well as black and brown, are prominent shades among these magnificent creatures.
16. Bearded Collie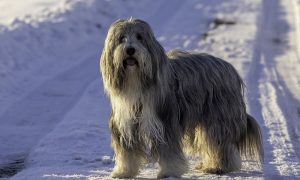 Overview:
Community: Herding
Height: About 20 to 22 inches
Weight: 45-55 lbs
Cover and Hue: Distinct shaggy, long, coarse topcoat; shades range from white with red, brown, or blue merle markings to black with red, brown, or brindle markings.
Lifespan: 12-14 years
The bearded collie's shaggy hair appears in a variety of shades, like blue. Sometimes seen with white marks on the forehead, stomach, thighs, and paws, the body from shoulders to the back is still solid in colour. Blue bearded collies are bred with a darkened coat colour-blue or greyish that eventually lightens with age.
17. Thai Ridgeback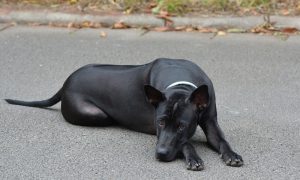 Overview:
Community: Foundation Stock Service
Height: 20-24 centimetres
Weight: 35-75 pounds
Lifespan: 12-13 years
Thai Ridgeback is a medium-sized, chiselled physique, intelligent dog mainly used as a watchdog. They are highly protective by nature and are great hunters. The raised ears, wrinkled forehead, glossy coat and long legs make them one of the most handsome dogs. With proper training and breeding, they can be the most loyal friend you can ever have.
18. Boston Terrier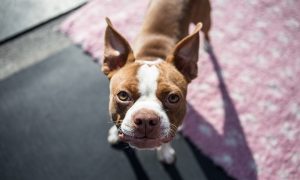 Overview:
Community: Non-sporting
Height: 15 to 17 Centimetres
Weight: 12-25 lbs
Cover and Hue: Smooth coat with solid colours or white accents; white, black, blue, and red
Anticipated Lifespan: 12 to 14 Years
The Boston terrier is dressed in a small tuxedo, and although his fur is typically monochrome, a genetic red or blue coat is occasionally seen. According to the Kennel Club breed classification, the blue coat variant is not suitable. A Boston terrier's blue coat can be mostly blue or may have a silver or grey hue.
19. English Setter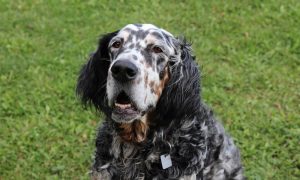 Overview:
Group: Sporting Group
Height: 25 to 27 inch (male), 23 to 25 inches (female)
Weight: 65 to 80 pounds (male), 45 to 55 pounds (female)
Average lifespan: 12 years
English Setters are available in a stunning blue Belton coat or a tricolour blue Belton and brown coat. Blue Rhodes patterns are characterised by a dark sketchy, ticking design on a white background. These dogs are sociable, cheerful, and energetic, particularly when properly socialised from an early age.
20. Catahoula Leopard Dog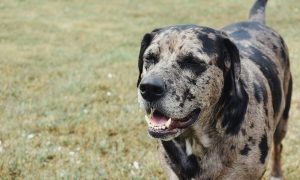 Overview:
Group: Foundation Stock Service
Height: 22-24 inches
Weight: 50-95 lbs
Average lifespan: 10-14 years
Catahoulas are wise, vivacious, and vigilant. They may even be very self-sufficient. Socialise them extensively to ensure that they are as sociable as possible.
These animals may need regular brushing and, on occasions, bathing. However, this is secondary to the amount of activity time required for this breed. Catahoulas are extremely energetic and need constant occupation.
Blue Dog Names
After picking the most adorable blue dog as your new family member, you must need to pick a suitable name. Here is a list of male and female blue dog names for you to choose from easily.
| # | Blue Dog Names for Male | Blue Dog Names for Female |
| --- | --- | --- |
| 1 | Yale | Atasi |
| 2 | Andorian | Beryl |
| 3 | Cobalt | Blue |
| 4 | Cookie Monster | Blue Belle |
| 5 | Cyan | Blueberry |
| 6 | Demin | Bonnet |
| 7 | Dudley | Capri |
| 8 | Eeyore | Doli |
| 9 | Genie | Dory |
| 10 | Grover | Ella |
| 11 | Indigo | Etta |
| 12 | Lapis | Iris |
| 13 | Levi | Joy |
| 14 | Memphis | Livia |
| 15 | Midnight | Merle |
| 16 | Moody | Myst |
| 17 | Murk | Ocean |
| 18 | Navy | Peacock |
| 19 | Neptune | Periwinkle |
| 20 | River | Polaris |
| 21 | Royal | Pollia |
| 22 | Smurf | Powder |
| 23 | Steely | Rain |
| 24 | Sulley | Rosita |
| 25 | Teal | Sapphire |
| 26 | Vapor | Umbra |
| 27 | Wraith | Viole |
Conclusion
Looking blue in the face isn't necessarily a negative thing – particularly if you're a dog belonging to one of the many cutest breeds with a stunning blue coat! Here we have discussed the fundamentals of "blue" fur, and mentioned the most popular blue-coated dogs, and posted several of our favourite blue-dog names. By the end of this chapter, I hope you'll be ready to adopt your furry blue best friend!