When it comes to the Spotted dog breeds, Harlequin Dog breeds without doubt owns the top spot. Not only this category of dog breeds are famous for their spots, patterns and color combinations but are also the proud owners of great coats and skin.
In spite of the fact that there are not many breeds in this category, contrary to the (mis) information, this dog breed is amongst the most popular spotted breeds. While many canine enthusiasts mistake many spotted breeds with Merle as Harlequins, most of the regulatory bodies around the globe like the American Kennel Club recognize only two breeds in this category.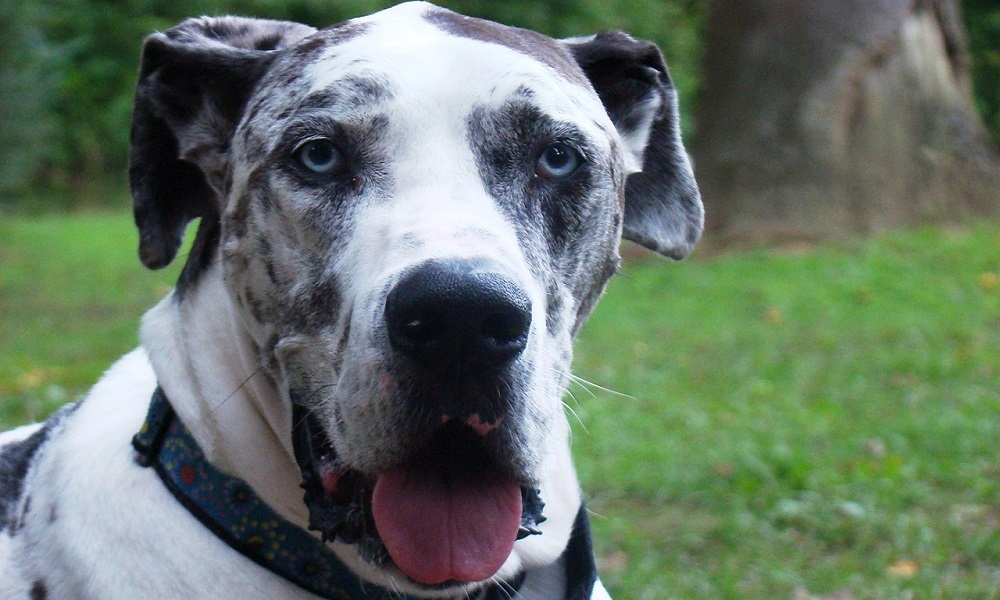 The aim of this article is not only to enable the reader to identify a Harlequin but also to help canine lovers to know and understand this coveted breed. This article will not only help you identify them but will cover everything Harlequin! starting from the general, standard definition to genetics, food habits, behaviorism et al.
So, without much ado let's delve deeper into this amazing spotted breed.
What is the Harlequin Dog Breed?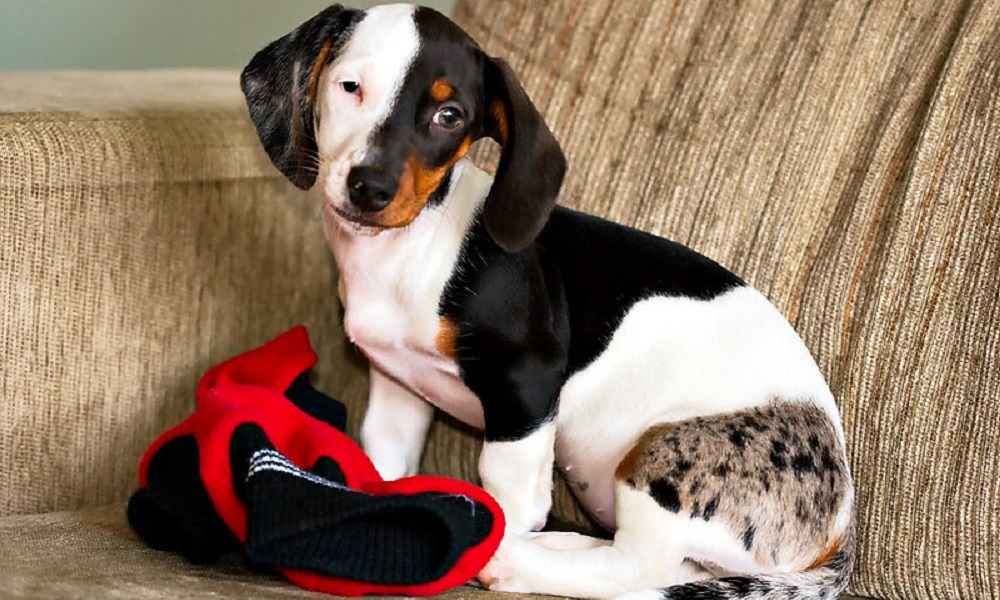 Derived from the traditional comic character in American Pantomime, the word "Harlequin" describes the one with a mask and one wearing a colorful and chequered cloak. These are the canines with patches not spots and are variants of the spotted breeds with Merle. The dog breed with Harlequin gene changes the characteristics of the Merle gene which results in a distinct pattern and color, different from the Merle.
While the Harlequin gene doesn't have a color of its own, it alters the Merle gene and the lighter strains of Marle disappear completely from the canine. While it gives a profound and contrasting color pattern, the gene is also related to many physical ailments. But it is nevertheless more appealing to the eyes and it's definitely attractive.
Black on a white coat is generally the color pattern, however, some canines might display a blue color, which must not be encouraged.  The spots appear at infancy and grow with age, gaining more prominence and turning into patches. These patches generally cover the stomach, back, neck and the head. In many cases grey ticks also appear on the coat, giving the canine a bluish hue, which must not be encouraged.
These canines have a short and smooth coat and require less grooming. They tip the weighing scales on the heavier side and are large dogs with a muscular build.
Behavior of Harlequin Dogs
In spite of the fact that the Harlequin are amongst the larger breeds and the fact that they are guard and herding dogs, they are unusually serene. They are intelligent, sensitive and are trainable. While one of the breeds is considered to be the 'Apollo' of all canines, thanks to the composed and quite nature coupled with the imposing stature, the other is a balanced mixture of aggressive and protective nature.
Harlequin canines can be great indoors companions for both indoors and outdoors. They are sensitive and respond well to obedience commands with a bit of training. Inspite of the large size, they can fit easily into places with smaller areas and can are even fit for small apartments.
They mix well with other pets and can be ideal companions for children. They comparatively require shorter sessions of physical activity. They can curb their natural hunting and aggressive instincts with a daily physical exercise spanning less than an hour.
Food Habits of Harlequin Dogs
Harlequin canines are large beasts and require ample food at intervals. While vets prescribe three meals during the entire twenty-four hours for infants, a grown-up canine must be limited to only two meals per day. Yes, it might be surprising as with its giant size and muscular build only two meals per day might seem too less.
As for the quantity, it can be anywhere between six to eight cups of dog foods for a grown up irrespective of their gender, and the infant must be served four to fifteen cups in every meal. In addition to the quantity of the foods, the quality of the pet food must be of avant-garde.
The food must have all the essential nutrients that will not only nourish the pet but will also safeguard it against various physical ailments. The Harlequin dog breed has a weak stomach and are not great at adapting themselves to newer feeding habits. Thus, change of dog foods must be avoided and if it's absolutely necessary must be carried out gradually. In addition to the regular meals, these giants can be treated with some bits of Kibble.
Health and Genetics of Harlequin Dogs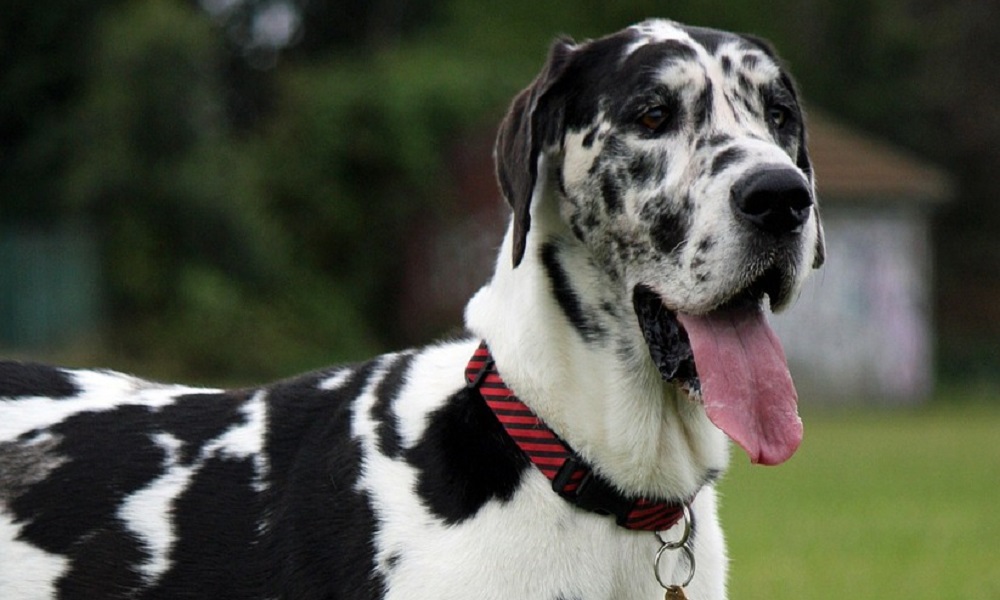 They own their distinct and attractive patches to the presence of the Harlequin gene that modifies the Marle gene inside the canine. Thus, it's imperative for a Harlequin canine to have Merle gene. The gene present in the canine's body makes the lighter Marle strains to disappear completely while changing the tone of the colour and allows the growth of the spots into distinct patches.
The appealing and attractive pattern and color combination is a genetic anomaly, and sometimes grey ticks can appear, giving the pet a bluish hue, which must not be encouraged.
These gentle giants in spite of the muscular build and brute strength are prone to many common ailments of the bone, joints, stomach and liver. They have a comparatively short life span of six to ten years. These canines are mostly healthy and with proper nutrition and regular physical activity, they can be the happiest and the healthiest spotted dog breed.
List of Harlequin Dog Breeds
Now it's time to introduce the only two breeds that are officially considered to be of Harlequin breed.
1. Great Dane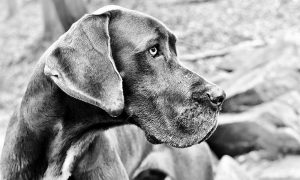 Overview:
Fur type: Short and smooth
Color: Black, Grey on White
Max weight: 180 lbs
Max height:  35″
Avg. Life expectancy: 6-10 yrs
Great Danes are descendants of hunting dogs and originate from Germany. In spite of being a hunting breed, they are unusually serene and composed. They are playful but not overtly and requires only a moderate amount of daily physical training. Their peaceful and loving nature makes them great companions.
They mix well with other pets and are usually an instant hit with the children. In addition to the great size and muscular build, these canines are famous for their distinct patches and the contrasting color combinations. With a short and shiny coat, they require less grooming and a session with a simple grooming brush once a week is all it takes to keep the pet clean and shiny.
2. Beauceron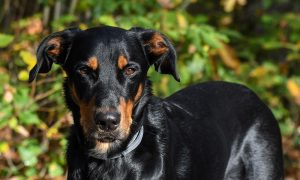 Overview:
Fur type: Short and smooth with a thick double coat.
Color: Black, Tan
Max weight: 110 lbs
Max height:  28″
Avg. Life expectancy: 10-12 years
Beaucerons are herding dogs from the plains of Central France. They are large canines with brute strength and huge build. With razor sharp cognitive abilities and an inherent aggressive nature, they make excellent herders and with the right social conditioning and a daily dose of vigorous physical activity can make them excellent indoor companions.
With a thick double coat, they can be serious shedders and requires frequent and long grooming sessions. The brute force and the acute cognitive senses make the Beauceron one of the best guard dogs, but for it to learn the basic obedience commands will require some patience and perseverance on the part of the owner. Anyone who doesn't have any problems with shedding and is willing and patient can opt for this trustworthy canine.
Conclusion
With the doubt of other spotted breeds being Harlequin laid to rest; we can now not only identify the two coveted breeds in this category but can also educate on the cause of their color pattern and a bit about their nutrition, health and behavior.
While both canine breeds are large and are guard dogs, they vary in their temperaments. While the Great Dane is a gentle giant, the Beauceron is a bit aggressive. As for the trainability and intelligence, the Great Dane is ahead by miles. In spite of being of the same breed in terms of their patches, they both have different coats and require varying degrees of grooming.
With short and shiny fur, the Great Dane does not require long grooming sessions while the Beauceron on the other hand with a double coat sheds excessively during the shedding season and requires frequent and long grooming sessions. But both these breeds can nevertheless be the best companions and can, without doubt be the best of pets.