Dog brushes are vital for proper pet grooming and for preventing excessive shedding. As pet parents, we must make our pet feel and look his best. Tangled hair is home to parasites and dirt, which is why shedding brushes are so popular.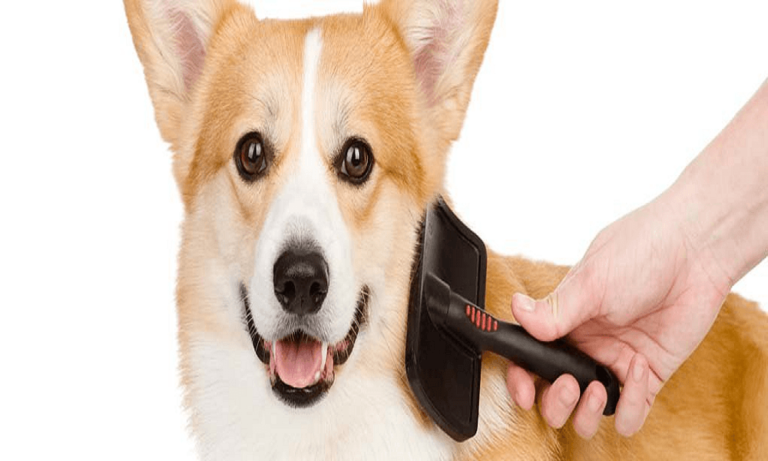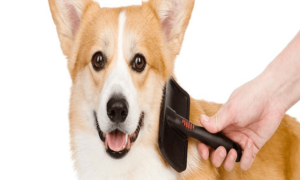 Many pet owners get their canines' fur brushed and trimmed by professional groomers. However, with the right equipment, you can do that at home as well. This is where dog brushes come in.
Whether your dog is shedding his fur everywhere or he tends to roll around a lot, a good brush can detangle your canine's fur and also provide him a soothing massage. Doing so removes the dead hair and improves and promotes a healthier coat.
However, when looking for the ideal dog brush, you will find many brands claiming that their product is the best. To help you narrow down your search, our team of experts has spent hours creating a list of the top 10 best dog brushes. These have been selected based on their grip, purpose, size, and material.
Best Dog Brush in 2023 – Reviews
1. Our Top Pick – Furminator Deshedding Tool
Top Pick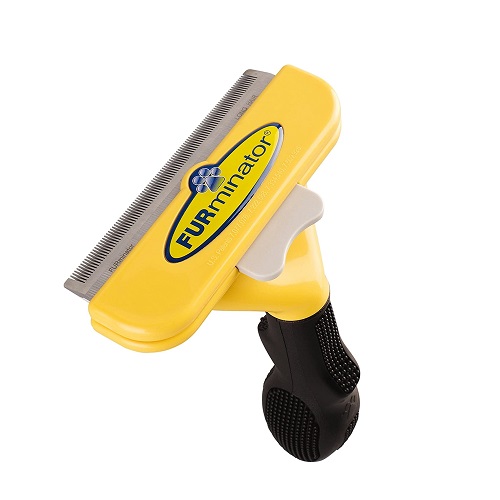 FURminator Undercoat Deshedding Tool
Vet recommended brushing tool safely remove loose hairs without damaging your dog's coat and stimulate natural oil production for healthy coat and shiny skin.
From the very beginning, shedding is the major concern for many dog owners. So, it is mandatory to collect proper tools that help you to pull out long hairs from your dog's coat. Furminator is one of the most popular dog grooming brushes highly recommended by pet owners. It is perfect for both long and short-haired dogs available in five sizes including very small, small, medium, large and extra-large.
Furminator de-shedding tool diminishes shedding up to 90%. Its stainless de-shedding edges touch the deep underneath and remove all the loose hairs. The small teeth of the brush also collect dead hairs without damaging the coat.
Furminator tool is designed ergonomically; the handle makes it easy and comfortable to brush your dog's coat. It is also known as professional groomer guaranteed to diminish shedding more than other brush. It is easy to play and stop the brush by pressing the eject button and you can smoothly control when using for a long time. It also saves your fingers when playing.
To get the optimal output you have to use this brush after the dog's bathing and drying up its body hair. It works very efficiently on the dry coat. You should use a slicker brush to eliminate all mats from your dog's coat before using this Furminator tool, otherwise, the brush will pull on the mats and your dog will feel a lot of pain.
After all, Furminator is a great grooming tool for dogs and it is highly reviewed by professional groomers, pet owners, and veterinarians. Finally, everyone likes this de-shedding tool to gently remove loose hairs.
Pros:
Great brush for pet grooming
Ergonomic handle makes it easy to use
Stainless steel edges reach onto deep underneath to remove loose hairs
Ejector button easily removes loose hairs from the tool
Dog owners get relaxed and feel happy to use
Cons:
2. Runner Up – Hertzko Self Cleaning Sticker Brush
Runner Up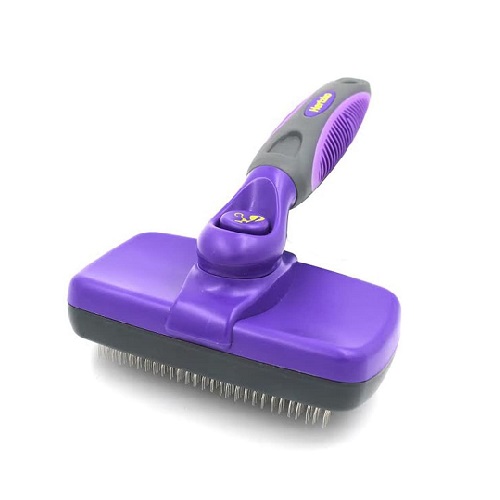 Hertzko Self Cleaning Sticker Brush
This self-cleaning tool features wire bristles for deep penetration, comes with ergonomic design, easy-to-use, convenient to store and offers satisfying result
Hertzko Self Cleaning Sticker Brush can keep your pet's coat dirt-free and tangle-free. This product is selected as the Runner Up and has an easy-to-use feature. Also, the brush comes with a mechanism that saves you the hassle of cleaning after use. All you need is to click on the button for self-cleaning and removing hair, dander, and dirt.
More so, the click button allows the bristles to be retracted and stored inside the rectangular-shaped brush. Hence, this guarantees a damage-free and lasting grooming tool. Equally, the handle has a convenient eyelet to enable you to hang the brush after use.
Furthermore, the handle of the brush is ergonomic and has a plastic design. Thus, this provides you comfort and enables pet owners to groom for hours without experiencing hand fatigue. In inclusion, the grip features a non-slip design that enables stress-free handling without accidental slip-off.
Besides, the brush has fine wire bristles that are slightly bent to enhance easy and deep penetration into your pet's coat. Also, the item is suitable for dogs with short and long hair. This item works perfectly for cats as well. It is exciting to know that product does not only remove dirt. But, it also helps massage your pet for increased blood circulation and healthy skin.
The handle has a thumb rest behind to allow easy manipulation and complete control. Again, the product does a professional grooming and gives a satisfying result.
Key Features:
Gently massage your pet for healthy skin
Suitable for pets with long, medium, and short hair
Come with a thumb rest for easy manipulation and control
Features a self-cleaning mechanism
Designed to penetrate deep into the coat
3. Best Budget – Glendan Dog Brush
Best Budget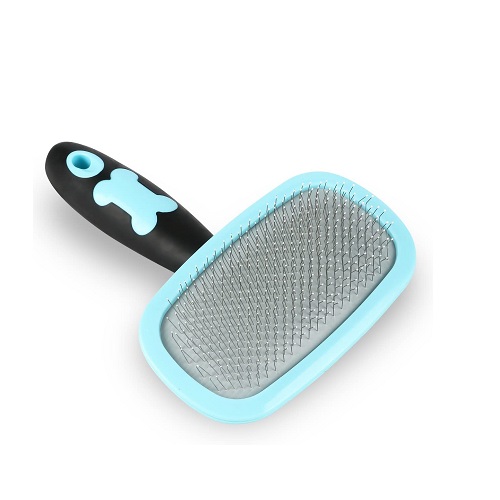 Glendan Dog Brush
Easy cleaning dog slicker brush features safe and comfortable bristles with rubberized handle grip
Pet owners on a budget price who desire the best grooming option for their pets should consider Glendan Brush. This product helps removes dirt, dander and smooth out every hair tangle. Also, the brush can rotate 360 degrees. Hence, this makes it easy for you to groom your pet from any desired angle.
Furthermore, the product features a sturdy and durable performance. It has a rubberized handle grip for convenient use and, the length of the handle is 3.7cm. Equally, the handle of the grip is anti-slip. Therefore, users can confidently hold and control the brush for grooming. The convenient eyelet enables easy storage of tools after use.
Besides, the brush has a thin set of pins which goes well on a pet with sensitive skin. It remains firm after prolong time. The stainless bristles are curved to ensure deep coat penetration. Thus, it effectively brushes and untangles the coat.
More so, the tips of the pins feature massage particles that are very soft. Therefore, this makes your pet feel relaxed and enhances easy blood circulation in the body. Again, the product has a ventilation hole. Hence, this makes the pins bend easily into your pet's coat.
The product is portable and suitable for all breeds. It leaves your pet's coat more shiny and beautiful. Also, the bone design on the grip makes the brush pet-friendly.
Key Features:
The tip of the pins topped with a plastic
Budget-friendly and comfortable
Function as a massage tool for healthy skin
Rotates 360 degrees for easy grooming
The handle has a picture of a bone
4. Best Brush for Short Hair Dogs – Pet Neat
Regular brushing and grooming help maintain a healthy coat. Pet Neat is selected as the Best Brush for Short Hair Dogs. Also, this product prevents loose hair from sticking on your floors, furniture, carpets, and clothes. Again, it has a button that enables self-cleaning by taking the bristles inward and allowing the hair and dirt to fall off.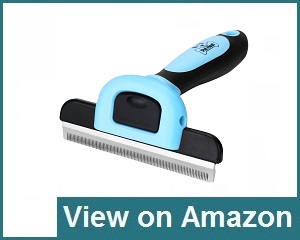 Furthermore, the bristles are bent wires that help take out knots, hair tangle, dander, and dirt. The brush is designed to penetrate and effectively groom the undercoat without irritating your dog's skin. Equally, the design is applicable for all breeds, either long or short-haired pets.
More so, it will interest you to know that the product also functions as a massaging tool. Hence, it provides a calming effect on your pet and promotes healthy skin. The product comes with a finger rest spot for flexibility and control over the grooming session.
Besides, the handle of this brush is rubberized to provide extra comfort and prevents wrist strain. Also, the grip is non-skid to enable stability and prevent it from slipping off your hand.
Key Features:
Give a massaging and calm effect on your pet
Ergonomic and comfortable handle
Works for all sizes and breeds of dog
 Designed to penetrate pet's undercoat
Self-cleaning feature
5. Best Brush for Long Hair Dogs – BV Hair Brush
Maintaining your pet's coat becomes an easy task when you have the right tool. BV Hair Brush is picked as the Best for Long Hair Dogs. This brush features two convenient sides, which makes it unique compared to other similar products. Also, the product has a convenient eyelet for easy hanging after use.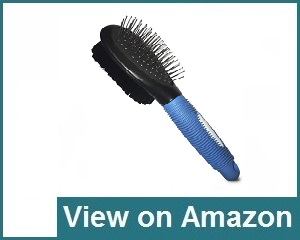 Furthermore, the pin brush side helps detangle and penetrates the undercoat. The second side is made with a nylon bristle for top dirt removal. This two-in-one product has a ventilation hole that allows the pins to bend toward the desired grooming direction.
Also, the comfortable handle helps you brush larger breeds without straining your hand or wrist. It has an anti-skid grip for you to have total control over the tool and prevents slip-off. More so, this product is suitable for the pet owner who has multiple dogs with different coats.
The brush help massages your pet to maintain healthy skin and make him feel relaxed. Also, it is sturdy and yet lightweight.
Key Features:
Suitable for all breeds and coat type
Ergonomic handle with anti-slip features
Convenient eyelet for easy storage after use
Help massage and keep pet relaxed
Has the ability to penetrate the skin
6. Best Dog Grooming Brush – Kong ZoomGroom
KONG Zoom is another grooming tool absolute for removing loose hairs and help to stimulate natural oil on your dog's skin and coat. It is made in the USA and comes with rubber bristles to massage your dog's body while brushing. It has two available sizes; one is small and another one is regular. Small size is appropriate for puppies and regular size is for the boxer and similar breeds.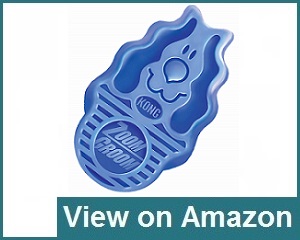 Normally, KONG brush is recommended for all types of dogs and coat but practically it does not work well for loose hairs. Most of the time loose hairs stick to the bristles and pulled which makes a lot of pain to your pet. The rubber bristles of this brush are more comfortable than metal bristles and mild enough to apply on sensitive areas like paws, belly, and ears.
In this case, the additional facility is using as a shampoo brush at the bathing time. It helps to clean your dog's skin and eliminate all hidden dirt and rubbish. Many dog breeds show anxiety when taking bath but after getting rubber bristle's massage action they become quite.
Regular massaging with KONG ZoomGroom efficiently reduces your dog's shedding and many pet owners agreed to purchase this brush to get its efficient performance.
Pros:
Two available size is for small and regular dog breeds
Perfect for removing hair
Efficient quality performance
Made in the USA
Cons:
Doesn't works well for long hair dogs
7. Best Brush for Small Dogs – Pet Craft Supply
Pet owners who desire an effective way of getting rid of loose hair without taking time should get this. Pet Craft Supply comes as the Best for Small Dogs. This product helps soothe the skin of your pet and give him additional calmness. Also, the brush is pet-safe and easy to use.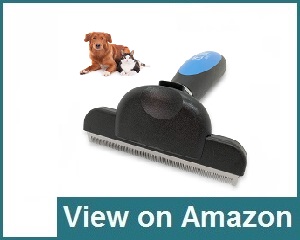 More so, it features a fine-tooth made from heavy-duty stainless steel which is designed to last long. The comb comes with a durable plastic cover for the blade to ensure safety and to resist rust. Also, this grooming tool penetrates your dog's undercoats and brushes out dirt, loose hair, and debris.
Furthermore, the product is self-cleaning. All you need is to press the button to retract the bristles for dirt removal. Equally, the product is made to groom the toughest coat. It comes in two sizes which are perfect for small and large dogs or cats.
Besides, it has an ergonomic handle that enables you to hold the tool for a long time without wrist and hand fatigue. The grip is non-slip to ensure it does not fall off while grooming your pet. Brushing with this tool will enhance a healthy and skinny coat. It is suitable for a pet with sensitive skin.
Key Features:
Ergonomic and anti-slip handle
Available in two sizes for small and large breeds
It has a push-button mechanism for self-cleaning
Come with a safety blade cover
Pet safe and suitable for pets with sensitive skin
8. Best Brush for Large Dogs – Furminator Brush
The Furminator is another top choice for large dogs and designed to support pets by eradicating tangles, mats and loose hairs. It also provides a silky and short coat without hurting your dog. It has dual flex heads specially made to follow the natural outlines of the dog's body and stop brush burn. The one side of the brush comes with silky pins which help to remove mats and tangles and the other side is bristle brush makes the coat smooth and shiny.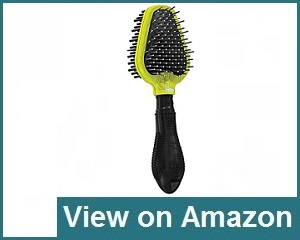 The ergonomic design of the handle makes sure an easy and comfortable use of this dual brush. It is available in only one size and works well for large dog breeds. Structurally, it is 8.2 inches long and 1.6 inches wide across the head of this brush.
Furminator brushing tool is more suitable from your pet's primary stage of grooming. It is great for removing debris and smoothing coat and enough suitable for sensitive skin. Use this brush 1 or 2 times a week to eliminate extra hairs and keep your pet nice looking.
You should make a physical inspection of your dog before using Furmanator dog dual brush. If the dog has bruises, sores or similar skin disease then provide proper treatment by consulting with a veterinarian before brushing.
Pros:
Two-sided brush, one side is pin brush and another is bristle brush.
Nylon bristle brush appropriate for any coat type
Helps to remove mats and loose hairs
Makes your pet happy and healthy
Cons:
9. Best Brush for Curly Hair Dogs – Conair Bristle Brush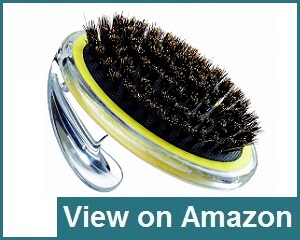 Conair Boar Bristle brushes are specially designed for curly-haired dogs. The ergonomic structure allows the brush to fit effortlessly in the palm of your hand. Just slip the grip through your fingers and hold the brush comfortably in the palm of your hand. Move it easily through short and curls coats and smoothly distributes oils in your pet's fur. Regular brushing with this tool makes your dog's coat natural, healthy and shiny.
The Conair PRODog bristle brush features 50% natural boar and 50% synthetic bristles that easily move through curly coats. It gently cleans and massages sensitive skin areas, delicate face and paws areas. Pet proprietors use this brush every day on long, flowing cots to detangle them. This brush is available in six different styles and you can use anyone on your dogs to ensure the best comfort.
Key Features:
A hand-held brush easily fit in the palm helps to make your dog's coat smooth and distribute natural oils
Boar Bristle Brush prevents hand exhaustion while grooming and your pet get relaxed
This brush is the combination of natural boar and synthetic bristles promote easy grooming over short and curly coats
Perfect for short coats can be relaxed to scratch overcoat
There are six different available styles of this brush and these are: Soft Slicker Brush, Slicker Brush, Shampoo Massage Brush, Metal Pin Brush, Curry Comb and Boar Bristle Brush
10. Best Shedding Tool for Dogs – Oster Shedmonster
If you need a special grooming tool to reach deep of the coat and cut all long hairs then Oster Shedmonster shedding tool is ideal for you. We know, excessive shedding is not always healthy for dogs but sometimes it becomes mandatory to shed a lot. Careful grooming doesn't affect the dog's skin or coat, even it is too much helpful to keep them happy and healthy.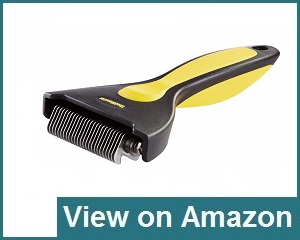 Basically, Oster Shedmonster is designed with stainless steel and its curved teeth are equipped to infiltrate deep down into the coat. The teeth of this tool seem scary but the edges are smooth and round which helps to deliver soft massaging on the dog's skin.
According to Oster Shedmonster Reviews, it is made with a non-slip ergonomic handle which is sturdier enough similar to other brushing tools. It is a dedicated grooming tool committed 90% diminishing in shedding. Definitely, it provides a great result if used regularly on both long and short haired dogs. Many dog owners enjoyed this brush being groomed and recommend as the top grooming tool for their pet.
Pros:
Designed with stainless steel
Covered by the non-slip ergonomic handle
Smooth edges provide a massaging action
Dog owners enjoyed using
Cons:
Different Types of Dog Brushes
It is really too important to select the right brushing tool for your dog's healthy and shiny coats. A wrong selection can damage your dog's fur and skin and make a negative experience within it. But, the right tools allow your dog to enjoy the brushing session and make a strong relationship between you and your pet.
There are various types of brushes available on the market and here we have shown five different types those are special for their unique features.
Slicker Brush
Slicker brushes are specially designed for pets that have long and thick coats of hair. Normally, these are rectangular in shape with metal bristles help to remove tangles, loose hairs, and dead undercoats.
The handle of the brush runs around a 75-degree angle and making easy to use over the dog's coat. It is useful to use this brush on sensitive areas of your dog's body like face, paws, and legs. It is important to apply a light touch if your pet has sensitive skin.
Pin Brush
Pin brushes are oval-shaped and look like a pin holder with attached handle. Wire pins are tipped with rubber or plastic and designed for smooth and comfortable coating.
Usually, these are come in two different styles and most effective to use on wooly and wavy haired dogs. Basically, pet proprietors use a pin brush to eliminate tangles from long-haired dogs.
It is also good for raking dense double coat but you should be careful that the pins dong, lose their coating. Long strokes on coat help to remove all dead hairs and keep them looking best.
Bristle Brush
Using bristle brushes help to remove dirt and debris from your dog's coat and leave a nice shine. A bristle brush may natural or man-made but there are no metal pins include in this brush. Regular grooming with this brush promotes a shiny coat of your pet.
If your dog has a short coat and they shed frequently, a bristle brush may perfect for them. Short bristles are closely spaced and perfect for shorter coat where longer bristles are for long-haired breeds. These are similar to rubber brushes great for removing loose hair and help in blood circulation while brushing.
Rubber Brush
Rubber brushes can be the best alternative when the dog is sensitive to pin bristles. These are ideal for small dogs with a short coat or dogs that require less effort to clean shedding hairs. It seems like messaging a dog when brushing to collect loose hair from the body. Rubber bristles also work well to remove dead fur and provide shiny hair.
Rubber brushes are waterproof and allow you to brush even when your dog is having the bath. These are available in arrays of sizes, styles, and bristles and perfect for brushing on your dog's ears, paws, and tails very easily.
Undercoat Rake
Dog undercoat rakes specially made for removing undercoat and tangles. These brushes come with comparatively longer teeth to reach more inside of loose hairs.
Sometimes they shaped like a shaving razor with single or double rows of pins. They are designed to apply with minimum pressure for safe brushing otherwise more pressure may damage their skin. There are various undercoat rakes on the market including different size, width and length of teeth offer you smooth brushing.
Common Dog Hair Coat Types
It is necessary to define your dog's coat type before buying the brushes because the right brushing technique totally depends on your dog's hair type. There are some common dog coats types are showing below:
Short coats

: Short smooth coats commonly found in Hound, Chihuahua, and Retriever dog breeds. It is suitable to use a closely spaced soft bristle brush.
Wiry coats

: Generally, Terrier dog breeds are grown up with wiry coats and you should use a firm bristle brush like a slicker brush to manage your dog's coat for easy brushing.
Long flowing coats

: Normally, Golden Retriever, Spaniel, Setters contain long flowing coats. To gather a smooth and comfortable brushing experience, you should use a soft medium bristle brush with medium-to wide-spaced bristles.
Woolly undercoats

: There are some dog breeds like sheepdogs, collies or shepherds have harsh outer coats with soft and woolly undercoats. Using a pin brush or firm bristle brush with wide-spaced bristle remove tangles and provides shiny coat.
Thin coats

: Naturally, Yorkies and Maltese dog breeds come with thin coats. Using soft slicker and wire-pin brushes are perfect to manage their coats properly. Slicker brushes also helpful to remove tangle and mats.
Things to Consider Before Choosing a Dog Brush
Every brush is special for their different quality, and you should consider the coat type before choosing an effective brushing tool for your dog. Here we have described some common considerations you should keep in mind when picking one out.
Purpose
Proper brushes made up of some common purposes like massaging, detangling, grooming, removing flea, eggs, loose and dead hairs or add shine to pet's fur. They are designed with a unique structure and have soft, hard or wired bristles.
So you have to determine what you need a brush for. The right choice efficiently helps you to reach your objective with proper brushing. If you are not enough confidence to select the proper brush regarding your dog's coat, obviously you can follow the vet's recommendation.
Dog Breed
Every dog breed has not the same coat length; they may have a short, medium or long coat depending on their breed. For example, Yorkshire terrier or Maltese have long hair, Border collie or poodles come with medium hair, and Bulldog, German shepherd, or Golden retriever contain short coat.
There are also different brush types like bristle brush, slicker brush or pin brush specially designated for particular dog's skin and coat. So, it's completely your duty to identify the right brush type depending on your dog breed.
Ergonomic Handle
Normally, it takes a long time to brush the large dog's coat than a small dog with short hair. So, you should choose a brush with an ergonomic handle to avoid stress while brushing for a long time. Otherwise, you will be tired within a short time and may suffer from aching hand. So, it is very important to pick a brush with the anti-slip comfortable handle.
Pins
Generally, pin-style brushes are special for dogs that have medium or short-length hair, but you should know about the actual shape and proper density of pins before finalizing. Pins those are nicely spread out and have rounded tips make sure healthy protection of your dog's skin while brushing. Always try to apply very gentle pressure for comfortable brushing.
Overall Performance
Ensure about the cleaning mechanism, like how easy to clean or is it possible to completely remove dead hairs with this brush? Too big heads where pins are attached make an obstacle for easy brushing. Similar with a head the angle of the handle is also important to consider because without proper angel it is difficult to reach some areas of the body like stomach and base of the tail. So make sure the reachability with overall performance to get the best performance.
The Importance of Regular Dog Brushing
Regular brushing helps to remove dead hairs, dirt, and debris from your dog's coat. It also helps to circulate natural oils on the dog's body and keep their coat soft and shiny.
From various pet brushes in the market, really it is tough to select the best one for your dog. So, you need to compare in different angles before finalizing a brushing tool.
There are different types of brush we have discussed above. Always try to select a large brush for large breeds and comparatively smaller brushes for a small breed.
Along with various type and size, brushes also come in many shapes like round, oval, rectangular and even triangular. But the oval shape is the most favourite of many pet owners for its special features.
Triangle pin brushes are more suitable for long-haired dog breeds. It can reach some of those peculiar areas like under forearms, ears, or face. There are some other brushes also designated for short-haired dogs.
With the size, type, and shape of the brush, you must concentrate on the handle of the brush. It should make of rubber or wood and have a soft gel grip to fit well in your hand. The ergonomic design of this brush helps you to use it for a long time on your dog's coat without any unusual physical stress.
Maintaining a proper routine is another good sign for brushing. If the dog familiar with regular grooming from the beginning of its life, it may more likely to well respond in next life.
Benefits of Brushing Your Dog's Fur
Distribute the Natural Oils

: Regular brushing on your dog's coat improves blood circulation and tones the muscles. Proper brushing also helps to spread natural oils created in dog's skin around the whole body and makes hairs to look shiny and fabulous.
Healthy Dog's Skin

: Brush massaging help to remove dead skin cells to prevent skin infection and inhabitation of parasites. It also eliminates grass, pollen, and other troublesome elements. Regular brushing with appropriate tools makes the coat healthier and strengthen your dog's fur.
Decreased Shedding

: Pet dogs spend most of the time in the indoor area and more likely to live in artificial lights and weather. It may cause unpredictable shedding in their body due to the lake of adapting with the seasons as wild dogs do. In that case, regular brushing helps to remove all loose hairs from their body. It also provides an opportunity to check bumps, lumps, or relevant skin problems may need addressing.
Prevents Painful Mats

: Mats are not only painful these are too harmful to your dog's body can lead to skin problems, irritations or rashes. Brushing provides you the opportunity to prevent tangles and hidden mats from the skin. It also facilitates to check other health concern before manifest into bigger health problems.
Make a Good Relationship

: Brushing may enhance the bonding between dog and dog owners. If your dog enjoys the brushing time then it would come to close and it can be a way for you to de-stress after a rough day. Brushing not only get rid your dog from unusual bumps or parasites also release from overheat and helps to stay comfortable. After all, a well-brushed dog looks nice, happier and healthier than as usual.
Step by Step Guide to Brush Your Dog
Regular brushing removes dead hair and matted clumps of hair and helps to keep your dog's skin and coat healthy and nice looking. It also lets you check your dog for anything about skin problem and take care of it. If you are enough confident about brushing technique then the dog will enjoy being brushed and you also will be happy for a healthy pet around your home.
Here is the step by step brushing technique elaborated to keep your dog's coat shiny and healthy:
Step 1: At first, find a safe, quiet place and let your dog stand steadily. Make sure your dog feels enough comfortable and then check its coat for wounds, dead hair, mat, and tangles.
Step 2: Before beginning to use let your dog sniff the brushing materials you are using. Start brushing at your dog's head through its tail and applying the same technique every time will help you to complete the step easily.
It is a great time to check any issue on your dog's coat may cause more problems. Try to brush before your dog's bathing to remove dead hairs and tangles.
Step 3: Usually, it takes less time to groom short-haired dogs and can be brushed quickly. In this stage, you need to polish fur by repeated stroking. Spray on some commercial pet coat conditioner like mink oil before brushing long-haired dog to remove knots and tangles.
Try to maintain a regular brushing schedule and it can be once a week for short and medium-haired pets. Dogs with long hair need to be brushed daily for shiny and healthy skin.
Step 4: Gently brush the hair around the ears because rough pulling hurt your dog immensely. You can use a rubber curry comb, which is great to use on the paws, ears, and tail of the pet. It needs a bit of conditioning for tough matted hair, so apply a dollop of recommended conditioner on your dog's coat and let it soak in for 15 minutes. Then, politely use a rubber comb in a circular motion all over the dog's body to keep the coat soft and shiny.
Step 5: Finally, ensure a soft and gentle stroke on your pet's coat for a long-lasting shine coat. Always try to brush in the same direction as hair growth and close to your dog's skin, but not the skin itself. Use short strokes for short-haired dogs and long strokes for dogs with long.
Some Important Tips
Long-coated dogs, like Tibetan Terries, Collies needed to be brushed daily with long strokes. In that case, a pin brush may the good choice for its built-in features. Its bent-wire bristle helps to grip the undercoat and eliminate dead hairs without any stress.
Short-haired dogs like Labrador Retrievers, Greyhounds don't need to brush frequently. You may brush them every couple of weeks to remove loose hairs and tangle. Choose a bristle brush or a soft slicker brush comes with little bent-metal pins help to reduce dirt and dead hairs and distribute the natural oils on the skin surface.
You need a slicker brush to manage short, wiry breeds like Dachshunds and Terriers. It comes with a stripping knife helps to remove mat and dead hair in the undercoat.
Always brush your dog's coat through the direction which is naturally growing. Don't pull on the dog's coat, it may break or damage the hair and can cause of very discomfort to your dog.
Use a pet spray or conditioner if the dog has deep mats close to the skin. Let it shock in for 10-15 minutes and then stroke gently through a rubber comb to erase mats and keep the coat soft and shiny.
Final Verdict
If you have a decent budget, purchase top-quality brushes to fulfil the overall needs of your dog. There are various brushing tools available in the market for the different purpose but you will have to consider your dog's size, age, coat, and skin condition before purchasing and it will make easier for you to cross the long run. Remember, an ideal brush can save your time and keep your dog's coat shiny and healthy.
Frequently Asked Questions
How often should I brush my dog?
Actually, it depends on your dog's coat type. For short-haired dogs, it is needed to be brushed once every week. But for dogs which have long coat need to brush daily to remove dead hair and tangles and keep the fur shiny.
What kind of brush should I use for my dog?
There are different types of brushes useful for different far and dog coats. But you should choose the correct one ensuring your dog's healthy and shiny coats. Within four basic types of dog brushes including slicker brushes, bristle brushes, pin brushes, and rubber brushes it is your responsibility to sort out the proper one according to your dog's size, age, and breed.
Slicker brushes are absolute for medium-to-long-haired or curly-haired dogs. Bristle brushes are for short-haired and smooth-coated dogs. Pin brushes are used to pick up loose hairs from the dog's body and rubber brushes are ideal to clean shedding hairs. So, identify the brush type first to enjoy a quality brushing session.
Can you use a regular brush on a dog?
Brushing really makes my dog pretty and I do regular brush to check my dog's coat. Is it dry or oily, tangled or matted? Regular brushing also removes excess hair from the dog's body and distributes the natural oils in the dog's fur and skin. That's why you just need to understand the type of coat your dog has and the type of brush you need to use.
Should you brush dog before or after bath?
I can brush my dog both before and after bath if regularly brush him minimum 3 times a week. Brushing can be painful if there are mats in the dog's fur. Dog breed which has double coats like Labrador Retrievers or German Shepherds should brush them when they are shampoo to remove excess undercoat. But for some other breeds, it should make sure the pet is completely dry after the bath before start brushing.
How often should I use a slicker brush on my dog?
You can use the Slicker Brush almost every day during springtime to eliminate mats and tangles. Actually, depending on your dog's coat you have to decide to use the slicker brush. Vet recommends that it is enough to use once a week or once every two weeks all year round. Use a slicker brush 5-15 minutes to prevent skin irritation and hair damage.
Does a slicker brush hurt dogs?
A brush never hurt dogs if you know how to use this properly. Improper way of using the slicker brush may put pressure on the curly long hair shaft.
Can you brush a dog too much?
Excessive brushing may damage the dog's coat and skin. I try to brush my dog regularly 10-15 minutes each time. So, you should not over brush a dog until the vet recommends you any typical brushing guideline.
How often should you brush a shedding dog?
The more you brush your dog, the more hair you will remove to reduce excessive shedding. During fall and spring, you should brush your dog at least twice a week and more if you have the scope.
Is it best to brush a dog wet or dry?
Usually, you should dry your dog's fur and coat properly after bathing then start brushing their hair in the direction of the hair's growth. If you have the dog with short-haired and won't carry harmful mat or tangles then you can brush them while they are being shampooed or wet.
Is it possible to use a brush on thick fur?
It is a bit challenging to brush a dog with thick fur because it is expensive to manage a professional groomer. But if you select the right tool and capture some brushing techniques, then it will be easy to care for your tick furred pet at home.
How much time should be brushed in each session?
For an adult dog, brushing session can last up to 30 minutes. Brush your dog as long as it takes to eliminate tangles, dead hairs or dirt on your dog's coat.
Is there any difference between a brush and a hair remover?
Basically, a brush is completely designed to groom your dog's coat and remove dead furs from their coats. But a hair remover is designed with the different purpose; it physically extracts hair from your dog's body while grooming.
Is it safe to use my hairbrush on my dog's coat?
Although there is no prior difference between dog brush and human hairbrush, a used canine brush is not enough hygienic to use for the human. Dog's skin may carry harmful parasites and there is a possibility to transfer these into your own hair by using a used brush.