Nurturing the dog is not an easy task that you think. You will have to take care of everything. It includes grooming, changes in the dog's behavior, vet checks up, and so on. As individuals require frequent haircuts, likewise, dogs also require grooming.
Grooming not only keeps your dog clean but also gives them a new look. In addition to it, the process of grooming enhances the quality of a dog's life. Henceforth, you should consider your dog's grooming schedule. The number of grooming depends on several factors.
These factors include age, health, and breed. Moreover, frequent grooming also lessens the chances of several health problems. These problems include scratches and several other kinds of skin problems. Apart from it, you can hire a professional groomer.
The professional groomer will groom your dog effectively and properly. When it comes to the groomer, then a majority of the masses think about the price. Some masses think that professional grooming is not budget-friendly. However, you do not need to think too much about it.
Moreover, the price of dog grooming is based on several factors. Here is the list of some information related to dog grooming prices. The below-mentioned information will clear all your doubts regarding this matter.
What is Dog Grooming?
The term dog grooming is defined as both the hygienic care and cleaning dog. Moreover, it is also considered as the process of enhancing the physical appearance of the dog. In addition to it, a dog groomer will groom your dog.
Apart from it, several factors affect the grooming price. In general, the expenditure on grooming lies in the range of $40 to $100. The process of grooming consists of various following services.
Bath

: The cost of bathing the dog generally lies between $30 and $80. It includes lathering, rinsing, and drying.
De-Shedding/ Stripping

: The price of de-shedding depends on the dog's breed and the condition of the coat. However, the price ranges from $20 to $40.
Ear cleaning

: Ear cleaning does not take the quality of time. Henceforth, most of the groomers charge ear cleaning around $5 to $10.
Tooth Brushing

: If the dog requires brushing, then it costs around $10. Moreover, few groomers cost half of it.
Nail Trimming

:

Nail trimming

is essential for the dog to avoid scratches. The groomers will cost about $10 to $20.
Anal Gland Expression

: One can easily express their dog's anal glands by themselves. For this, you get guidance from your vet. In addition to it, some groomers take $10 or so price for anal gland expression.
The grooming process includes these services. So, make sure that the groomer you choose gives appropriate facilities to your dog. Make sure that your dog will get the appropriate cleaning.
More Article: Dog Cremation Cost
Features That May Impact the Dog Grooming Price
It is quite awkward when you and your neighbor visit the same groomer but pay different prices. It will put us in a dilemma. At that time, several questions are running through your mind. The most common question is why? The answer is, there are several reasons associated with it. In addition to it, here is the list of some reasons.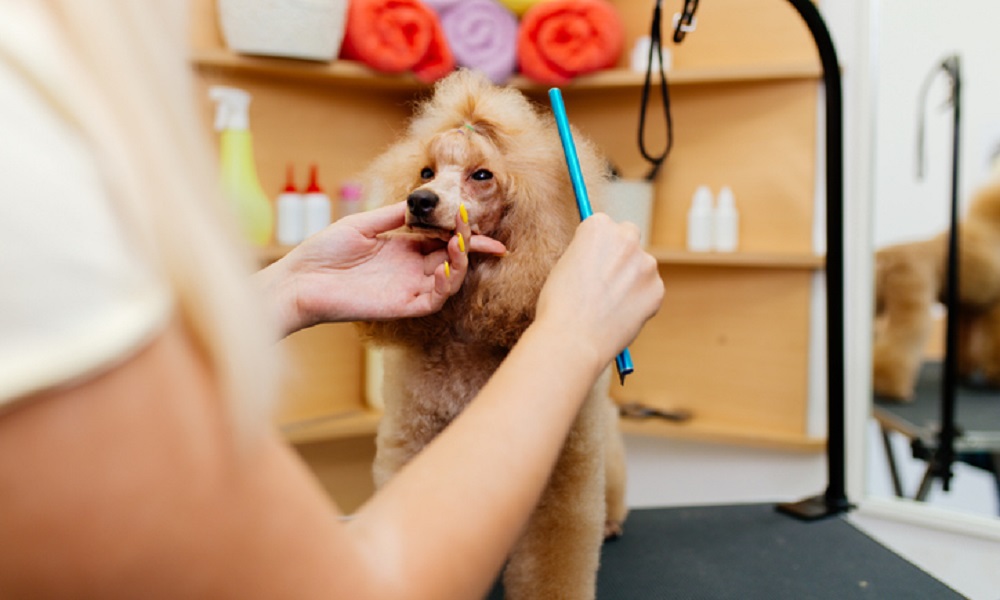 The Size of Your Dog
It is a fact that larger dogs require the extra and quality of time for grooming. On the other side, smaller dogs do not need a long time as compared to larger dogs. In dog grooming, you are paying for the groomer's time.
Due to it, grooming a larger dog is quite expensive as compared to a small dog. So the price of dog grooming varies from size to size.
The Breed of Your Dog
There are some breeds of dogs that require extra effort and skills in grooming. These breeds include Afghan hound, Komondor, and so on. Moreover, if the grooming procedure of your dog is complex, then you will have to pay more.
The Temperament of Your Dog
There is a huge difference between grooming a friendly dog and a non-friendly dog. The dog groomer does not need to put extra effort into grooming the well-behaved dog.
To handle notorious dogs especially which resist the process, the groomer will have to put efforts. Due to it, the groomer will take some additional charges if your dog creates a problem in the grooming process.
Corporate Vs. Private Groomers
There is a price difference between the corporate groomer and the private groomer. Moreover, there are some cases in which the groomer who works for a large organization will charge a low price. On the other side, the fresher groomer will also charge a lower rate.
This is because their main motive is to establish their business by enhancing their customer's chain. You can compare the prices of one groomer with another. In addition to it, you can consider the groomer according to their price.
Your Location
The dog's grooming price varies from location to location. In some cities, you will have to pay less for the dog's grooming. On the other side, you will have to pay more for grooming in another city. So location also varies when it comes to the price.
These are some factors that may affect the price of the grooming. Size, breed, and so on. If the groomer has to spend extra time on your dog, then he will charge according to it. So, you do not need to take the stress if the groomer charges differently to you.
Dog Grooming Price Based on the Dog Breed
As is mentioned earlier, the price of grooming is based on the breed of your dog. In other words, different breeds have different grooming prices. The below-mentioned table below represents the average cost of grooming as per the price.
| # | Breed of the Dog | Average Cost |
| --- | --- | --- |
| 1 | Pug, Chihuahua, Shih Tzu, Maltese, Pomeranian, Yorkshire, Mini-Dachshund | $40 |
| 2 | Miniature Poodle, Scottish Terrier, Westie, Mini Doodle, Mini Aussie | $55 |
| 3 | Schnauzer, Corgi, Dachshund, Toy Poodle, Wire Hair Terrier | $50 |
| 4 | Cocker Spaniel, Border Collie, Wheaten Terrier, American Eskimo | $60 |
| 5 | Australian Shepherd, Golden Retriever, Flat Coat Retriever, Lab Retriever, Springer Spaniel | $70 |
| 6 | German Shepherd, Chow, Old English Sheepdog, Husky, Standard Poodle, Doodle, Malamute | $80 |
| 7 | Portuguese Water Dog, Saint Bernard, Great Pyrenees, Newfoundland | $100 and more than it |
These are the average cost of a dog's grooming as per the price. Apart from it, different groomers charge differently. They consider the price on several factors. First, what you need to do is confirm the price of professional groomers before hiring them.
In addition to it, some grooming salons provide some packages. The packages also vary from salon to salon. In addition to it, this basic dog package includes several things. These things include cleaned ear, bath, and nail trimming. So, you can get the knowledge about these sorts of packages.
Dog Grooming Price Based on Dog Size
The pricing of dog grooming is divided into three different categories. In the case of a local shop or dog grooming salons, it may charge near about $40- $75 on the size. Moreover, the mobile groomer can charge approximately an average of $75 in the case of the average size dog.
In addition to it, you will also have the option of dog grooming at self-service. It will cost you between $11 to $23. Moreover, keep one thing in your mind that these are the estimated prices.
In addition to it, different dog groomers charge differently. So, it is essential to choose the dog groomer and check their price. Moreover, the charges of grooming also vary from weight to weight.
Conclusion
In the end, the information mentioned above is useful and sufficient for clearing all your doubts. Several factors reflect the grooming price. So consider all the factors. It is also essential to choose the best and professional groomer for your dog grooming.
This is because the look, health, and cleanliness of your dog rely on the groomer which you will choose. In addition to it, you can also opt for the option of dog salons. Some dog salons provide basic grooming packages. You can take the benefit of these packages.
Some breeds require grooming frequently. So, you can make an accurate table for your dog grooming. Due to it, you will already know that when you have to devote time to grooming.
The cleanliness of your dog is based on how you take care of your dog. To maintain the health and cleanliness of your dog appropriately, do timely grooming.
Frequently Asked Questions
Which breeds require frequent grooming?
Some breeds look great without any need for grooming. However, some breeds require frequent grooming. Here is the list of that kind of breed.
Puli
Poodle
Bichon Frise
Komondor
Portuguese water dog
Afghan Hound
Airedale Terrier
Barbet
Lhasa Apso
Shin Tzu, and so on
What is included in the dog grooming?
There are several services included in dog grooming. These services include:
Bath and blow-dry
Brushing
Ear cleaning
Anal Gland expression
The professional dog groomer will do the things mentioned above.