A wireless dog fence system is an effective and efficient way of preventing your dog to escape from the yard. It is a necessity for pet owners who have a big or small yard. The fence system contains a transmitter, a controller, and a few markers.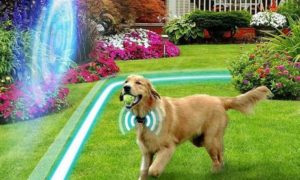 You can give your dog training of just a few days to stay inside the yard. Dogs love to run outside especially when they hear a sound or distraction. It is important to keep your dog inside your property so that he does not create problems for himself or other people.
This wireless system is affordable and can be installed easily within a few hours, as compared to the time-consuming and expensive wired system. The installation of traditional wired fences can create a mess and are likely to be broken.
A wireless system is portable and works efficiently by keeping your dog safe in the designated area with a little bit of training. Choosing a wireless fencing system is a wise investment and a perfect solution especially if you have a yard.
Best Wireless Dog Fence in 2023 – Reviews
1. Our Top Pick – PetSafe Stay + Play Wireless Dog Fence
Top Pick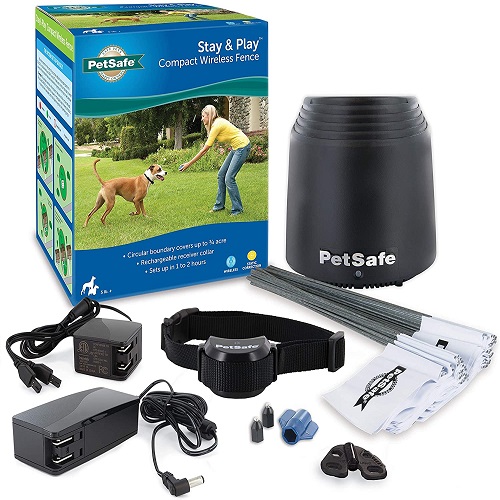 PetSafe Stay + Play Wireless Dog Fence
The wireless fence system, waterproof collar, providing optimum security and safety for your pet within your yard.
The PetSafe Stay & play has stood out as the best wireless fence, giving your pet the freedom to roam around in the yard safely and securely. It is very important to receive training for each dog and this fence is special for dog training. When compared to others, you don't have to bury wires or build a traditional system to train or control your pet.
The transmitter is placed indoors and can be set up easily, this serves as the point for sending signals to the receiver as the pet approaches the fence and determining the correction levels while you are busy. Besides, there are 50 flags, and they are used as visual aids to set the boundaries during training. The flags would be removed as the dog masters the boundary. Also, if the dog goes out of the boundary, he can freely return home without any correction.
Pet owners that love to go out with their pet can enjoy the ease of mobility and set the fence up in a new environment easily. It comes with a rechargeable receiver collar attached to the pet. The collar has 2 modes, which are the tone, and the 5 levels of adjustable static correction, for correcting the pet as it approaches the boundary.
Besides, the collar is waterproof, hence it can be used under any climatic condition. Also, for owners that have more dogs, you can purchase more collars as all the receivers would be controlled by a single wireless system. There is an indicator on the collar for low battery.
Features:
The simplicity of setting it up, it takes only 1-2 hours
It is portable, it can be taken on outdoor activities
The receiver is a collar and it is waterproof and has an indicator for low battery
No need to bury wires, the wireless boundary creates a safer boundary
More collars can be controlled by the same transmitter
2. Runner Up – Extreme Dog Fence System
Runner Up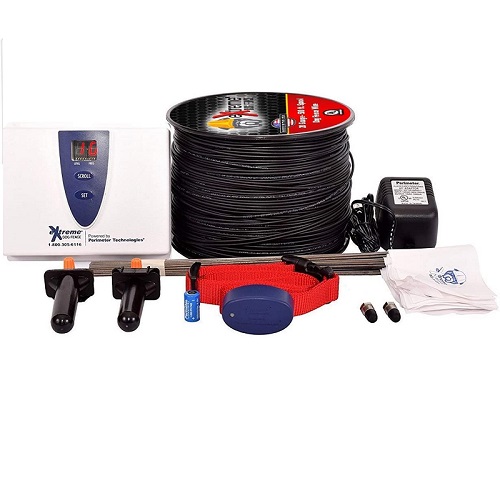 Extreme Dog Fence System
The improved 2nd Generation fence system designed to keep your pet safe within 6 acres of coverage.
Coming after our top pick is the Extreme dog fence system as the runner-up. This is the perfect way to ensure the safety of your pet while giving him the liberty off the leash. It works by creating an invisible boundary by the wires buried in the ground around your property. The pet wears a receiver collar that sends a signal to the pet as it approached the fence. The coverage is about 6 Acres, which is enough to train your pooch.
It has a transmitter that acts as the control mechanism of the whole system. On the transmitter, the distance from the wire that the receiver on the dog would be activated is set and then set the collar correction level. Additionally, the collar is waterproof and has 7 static correction levels and one tone level.
The transmitter ought to be kept indoors to prevent moisture from damaging the electronics. In case of interference from a neighbor who has a similar fence, the AM radio frequencies can be altered on the transmitter.
The transmitter works on AM radio frequencies and ensures a strong signal between the receiver. Furthermore, the wire is lightweight, and it has a lifespan of 2-5 years if installed properly. The depth of wire in the ground is between 1"-3", but installing the wire above the ground is not advisable.
Key Features:
The remote has a coverage of 6 Acres and it is wide enough for training
Collar is waterproof and submersible up to 10"
Available 7 static correction modes
Transmitter AM frequencies can be changed to avoid interference
Collars have long contact probes for dogs with long hairs and short set for dogs with shorter hair
3. Best Budget – PetSafe Pawz Wireless Fence
Best Budget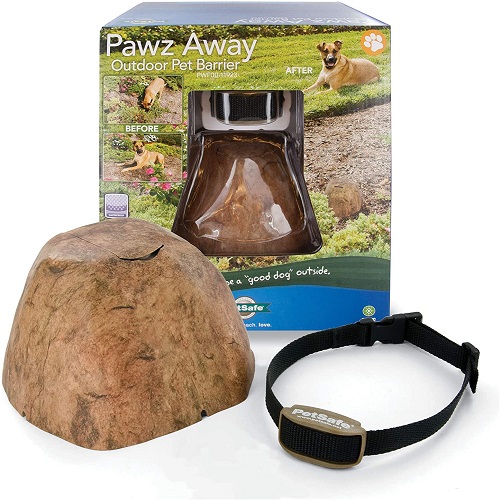 PetSafe Pawz Wireless Fence
2-way setup both wired and wireless, effective and within budget for keeping pets out of unwanted places.
So, pet parents want to keep their furry friend off a particular place, but don't want to spend much. Then the PetSafe Pawz comes to your rescue with the best budget. The system comes with a smart camouflage transmitter that blends into the environment, and it is waterproof. This feature makes it fit for all climatic conditions. Also, the collar is the receiver around the dog's neck.
The system keeps your pet off landscaping, pools, harmful places, fountains, and another environment that they shouldn't walk into. It can operate as a wireless fence, and this setup covers up to 16 feet radius. Also, pet parents can still create a custom-shaped barricade with about 150 feet boundary wire, making it 2 ways to setup.
Additionally, the collar that is the receiver has the static correction mode. The correction is activated on the receiver, as the pet enters the "off-limit" zone on different levels of static correction. More dogs can be added to the whole architecture by purchasing more PetSafe Pawz receivers. The receivers are waterproof, and lightweight, which makes it suit at all seasons.
Features:
The number of pets that can be added to the system is unlimited
Waterproof transmitter and it blends with the environment perfectly
The correction mode is the static correction
Setup can operate both as a wired or wireless system
Designed to keep your pet from entering a restricted environment
4. Best Wireless Fence for 2 Dogs – PetSafe
Controlling multiple dogs can be tasking, but you don't have to worry about that anymore with our PetSafe wireless fence. It is designed to keep multiple dogs in your yard or environment securely without the hassle of burying wires, hence it conserves time. The time of setup is less than 2 hours and the area of coverage is 1/2-acre circular boundary.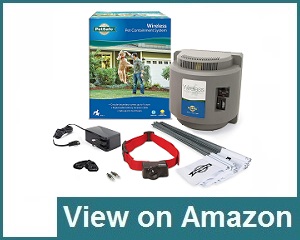 The wireless system utilizes a transmitter that is placed in space safe from severe weather conditions. The transmitter utilizes radio frequency to define a controlled boundary. The flags act as the physical reference for your pet during training. The system is portable and can be carried easily for outdoor activities. Furthermore, this fence allows free reentry for your pet without correction if the pet crosses the border.
Also, the collar is the receiver, and it has a single tone mode plus 4 static correction modes depending on your pet's temperament. As the pet approaches the boundary, the correction modes become active. This collar uses a battery and the low battery indicator sends the signal to charge the battery after 2 months. Also, the collar is waterproof and fits all outdoor activities.
Key Features:
The system can be set up easily, thus conserves time
Long battery life and low battery indicator for the receiver
Includes waterproof, adjustable collar
The number of collars that can be added to the fence is unlimited
Two modes which are the tone and 4 static correction mode
5. Best Wireless Invisible Dog Fence – SportDOG Brand
The SportDog brand is made to restrict your stubborn dog. This system works as an invisible fence as the wires are buried in the ground, and your neighbours would know nothing about it. This comes with a wire of 1000 feet, which makes it large enough to cover your environment and the 100 flags that serve as the visible boundary during training.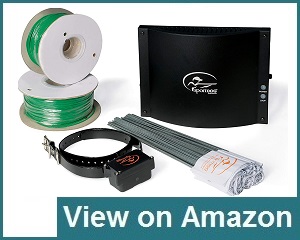 The system has a coverage of 1.33 acres and expandable up to 100 acres when more wires are available, which is wide enough for multiple dogs. As opposed to the traditional fencing system, this is simple to set up by burying the wires around the perimeter of your house and connecting it to the transmitter.
The collar which is the receiver has three modes of correction, which are the tone, the 4 levels for the vibration, and shock mode. These are activated as the pet approaches the boundary. The wires and the collars are waterproof, this ensures its longevity, and you can be sure it suits all climatic conditions.
Also, the wires are built with break alarm, in case of damages on the wires. Furthermore, dogs standing in the warning zone for a long time can drain the battery of the collar, there is an anti-linger feature to prevent this.
Features:
The setup of the system is easy
There are 3 correction modes, the tone, vibration and static modes
Built-in lightening protector for the transmitter
It can accommodate more dogs by getting additional collars
Waterproof collar for all climatic conditions
6. Best Underground Wireless Dog Fence – PetSafe Basic In-Ground Fence
The in-ground fence can be amazing, as you are sure your best friend can play safely and securely, while your neighbors are unaware of the system. Then look no further, as our PetSafe basic is the answer you seek. Installing this underground system is easy and can be done over the weekend. The wire is 500 feet and it can cover 1/3acre area, which is enough room for your pooch.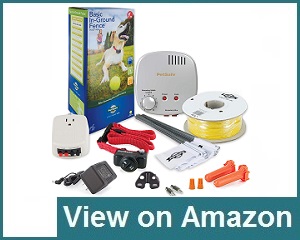 The collar is the receiver and it has 3 correction modes, which are the tone and 4 levels of static correction. The alert on the collar is activated as the pets move closer to the correction zone. Once the dog is in the correction zone for 30 seconds, the collar would automatically shut down to stop the pet from receiving an excessive shock.
Additionally, the collar is waterproof, which can suit any climatic condition, and the battery lasts for 2 months after a full charge. Pet parents can have more than one pet, the underground system would serve them by getting more PetSafe In-ground collar.
Key Features:
Low battery indicator and it utilizes PetSafe RFA-67 battery
2 modes of correction, the tone and the 4 levels of adjustable static correction mode
The collar is waterproof
Long-lasting battery
It can accommodate multiple dogs
7. Best Wireless Electric Dog Fence – Sit Boo-Boo
The Sit Boo-Boo is made of 955feet of solid copper core wire, thus provides stronger signal strength and cannot be easily broken. It is unique, and as it can be buried completely or kept above the ground level, this would fit the shape of your property.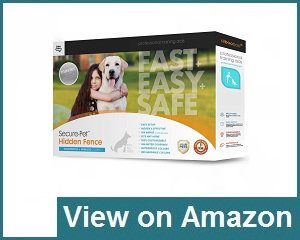 Additionally, the wire covers 1.2 acres, and it can even extend to 5 acres providing enough room for your pets to roam. The collar is the receiver and it has 2 correction modes, which are the tone and static mode. The static mode has 5 correction levels, and it can correct stubborn dogs. As the dog approaches the fence, the receiver is activated and stops your pooch from moving out of the boundary.
Moreover, the collar is waterproof, thus suiting all climatic conditions. Pet parents that have more than 1 pet need not worry, as this can serve an unlimited number of dogs, once they have their collars on. On the same line, the ease of installation is another added advantage.
Key Features:
It is made of industrial grade solid copper wire
The collars have 5 static correction levels
Installing the wire and transmitter is easy
Waterproof collar, this makes it long-lasting
The dual option of either installing in underground or over the surface
8. Best Dog Fence for Large Areas – Pet Control HQ Wireless
The Pet Control HQ is a vast system, it is perfect to keep your dog safe in a large area. The collar is strong and has different options for all kinds of breeds. The wires can be buried or kept above the ground level. Also, the fence is 492 feet of gauge boundary wire, and there are 50 training flags. The flags serve as visual guides for the pet while training and would be removed once the dog has mastered the environment.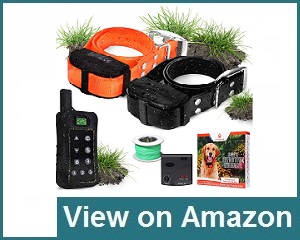 The collar which is the receiver is unique as it has different points on contacts for all breeds. There are 3 correction modes, which are the beep, vibration, and the 1-10 levels of electric shock, perfect for stubborn large dogs. Additionally, the battery charges in 2-3 hours, and can last between 3-7 days after the full charge.
Pet parents with 3 dogs can train them simultaneously, in the open field range of over 1300 yards. The solid core wire and the strong outer covering makes it durable and resistant to an adverse climatic condition like rain.
Features:
3 correction modes, the tone, vibration, and the static electric shock
This system can be used to train 3 dogs concurrently
Unique for correcting habits in large dogs
Long and short metal contact points for dog's fur
Long battery life
9. Best Hybrid Wireless Dog Fence – Sit Boo-Boo Electric Fence
Are you in need of a hybrid wireless fence for your pet? Then the Sit Boo-Boo is the perfect answer you seek. It is made of the commercial-grade solid copper core wire and can extend to 20 acres of land. The fence is unique as it can either be buried or kept above the ground. However, copper wire in the ground can cause power surge from lightning, there are a built-in surge protection shields the device from damage.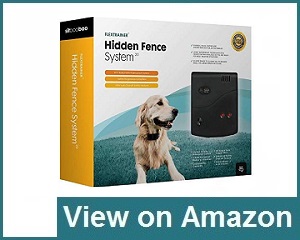 The collar is the receiver, and it is built to last, as the material for making it is a polymer of Pylon and Fiberglass. Also, the battery rechargeable and its charge rapidly, long-lasting, as it is made of Lithium polymer. Additionally, the collar is not just waterproof, but it can be submerged and this feature makes it suitable for any climatic condition, and your pet can swim safely.
As the pet approaches the boundary, the collar is activated, and it has 3 correction modes. The modes are the tone, the vibration, and the static correction mode. Pet parents don't have to worry about the shock mode as it is mild enough to just stop your pet from leaving the boundary.
Features:
The collar has 3 correction modes
The system supports an unlimited number of pets
Waterproof and submersible up to 3ft
500feet 20 AWG copper wire
Capable of covering 20 acres of property
10. Best Perimeter Wireless Fence – Motorola
The wireless Motorola is designed to be mobile. This perimeter wireless fence can be used both around your property or during vacations. There are no wires to be buried, as the wireless transmitter just needs to be plugged into a power supply, and the boundary would be set. Since pet parents can't watch their pets all day, this system helps to keep a pet within.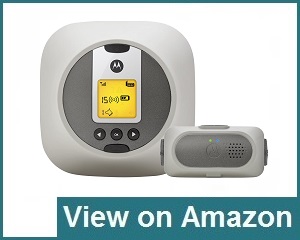 The collar is the receiver, and it has 2 correction modes, which are the tone mode and the 9 levels of static correction. This static correction mode starts from a mild level to a firm one for stubborn dogs. Additionally, the collar has a low battery indicator, and the system can be used to correct 2 dogs simultaneously.
Features:
Wireless fence with LCD screen
50 training flags, serve as visual aids for the initial training of pets
Pet owners with 2 dogs can use this system comfortably
The system can be installed easily with no wires to bury
There are 2 correction modes, which are the tone and the static correction
Why Should You Buy a Wireless Dog Fence?
Dog loves to play and go outside because of their hyperactive nature which is why it is important to train them. A wireless fencing system is great to prevent your pet dog from running outside the yard in the neighborhood. Sometimes, they are attracted by other dogs in the street or cats in the neighborhood and try to run after them.
Instead of getting into any trouble because of your dog, it is better to get a high-quality fence for your dog's safety. This question might have crossed your mind "why buy a wireless fence when you put a physical fence instead?" There are a lot of reasons to consider it as a better option. First of all, it is cheaper than fencing the whole property, especially when you have a big yard.
Secondly, it is easy to put on within a few hours. Thirdly, the neighbors might have issues with you constructing massive fences adjacent to their area. You might also get other property issues while deciding and building fences around the yard, which is why a wireless fence is a better option. It is portable so you can carry it with yourself to camping or trips with your dog.
Wireless Dog Fence vs Underground Dog Fence System
There are two types of dog fences i.e. Wireless electric and underground fence. Let's see which one is better and easy to maintain:
Wireless Dog Fence
Actually, it works with radio signals or GPS in an assigned yard perimeter. Dog owners and trainers prefer wireless system over the underground dog fence system for a couple of reasons. First of all, the installation is easy as compared to the underground procedure.
Secondly, you can carry the wireless system with you anywhere you want. Lastly, the procedure is not hectic or time-consuming at all. You can create a boundary or yard perimeter according to your requirement.
Underground Dog Fence
The underground fencing system involves physical wire that is dug into the yard. Although you can customize according to the perimeter of your yard, the whole procedure is time-consuming. This system is for a specific area and is not portable.
Moreover, the area needs to be dug in the yard that can create a lot of mess. If a wire breaks down, the repairing process can be frustrating and hectic too.
How to Install a Wireless Dog Fence System?
The easy installation is one of the major reasons why dog owners prefer this type of safety system over other underground fencing systems. Here are the steps of installation:
Step#1: Finding a Location:
The area of installation is called the "Pet Zone" in which you are going to put the signal transmitter. It is important to consider the area which also has a power outlet so that the unit can be powered up. Furthermore, make sure there is no wall between the transmitter and the yard as the signals get weaker.
Step#2: Signal Receiver Collar Activation:
The receiver works with a battery. Some models already come with disposable batteries while in others, you need to insert a working battery. Once you are done, now you need to register the collar with the transmitter.
Step#3: Set up the Perimeter of your Yard:
A wireless fence system can allow you to set up a perimeter according to your requirement between 90 and 250 feet. The radius can be set up with the help of the settings on the screen of the controller. Ideally, two persons are required for setting up and testing to whole system; one standing in the radius while the other controlling from inside the house.
How Do Wireless Dog Fences Work?
A wireless dog fence is also known as an "Invisible Fence" which is used by preventing your dog from running away to the neighborhood or nearby road. When your dog will try to escape from an assigned perimeter, his collar will beep, shock, or vibrate that will instantly stop him. You can choose the mode on your dog's collar that works perfectly well for you.
The whole system comes with three things i.e. transmitter, a receiver (collar), and a few markers. This way you can train and keep your dog inside the yard without even putting physical fences. As soon as your dog tries to run over the boundary, you will receive a notification through an alarm or a sound.
The markers or flags are also put in order to determine the boundary. It is also important to give your dog training to stay inside the boundary. Just within a few days, your dog will know that he cannot cross the boundary. The process is not complex but you need to stay patient and train your dog with a little effort instead of getting into a complicated underground fence system.
Things to Consider While Choosing a Wireless Dog Fence
There are a lot of things you should consider. As it is a long-term investment so you need to be careful while making the final decision. A wireless fence should not only be easy to install, but also has an easy procedure of training your dog.
Perimeter
Choose a wireless system that is able to meet your requirements regarding the perimeter. A boundary is created in a round shape and you can set and adjust the area according to your needs.
An invisible fence is created around the assigned area that keeps the pup inside. If he tries to escape, a beep, vibration, or a static shock mode switches on, giving a feeling of discomfort to the dog. He will instantly come back to the area. After a few days, he will be trained already and won't even try to cross the boundary.
Number of Collars
In case of more than one pup at home, you will need a wireless system that will accommodate multiple dogs. Some models can only support one or two pups. This feature is important to consider before choosing a wireless fencing system, especially if you have multiple dogs at home.
Adjustable Correction Level
Another important factor to consider is the adjustable correction level. You should be able to operate and adjust the correction level to train your stubborn pooch. If your dog is obeying you then there is no need to set a high level of shock or vibration.
It totally depends on the level of correction that your dog needs. A sense of discomfort will prevent the bad behavior of your dog and train him in just a few days with this system.
Type of Battery
This feature is another most important thing to consider as the functionality of the whole fence system depends on battery performance. There are two main types of battery, i.e. a use-and-throw (non-rechargeable battery) or a rechargeable battery.
We recommend you to go for a rechargeable battery because buying a non-rechargeable battery would cost you a lot. You will have to buy new batteries again and again, which would be a terrible investment.
Water Resistance
The water-resistance feature is the most important one, especially when the assigned area contains a pool. Other than that, wireless fence collars are mostly for outside use which is why it is important to buy a water-resistant product. As your pup will be playing outside in the yard, you need to be prepared for the rainstorm or heavy pouring.
It is also a great way to ensure that your investment and your dog are safe. Moreover, while purchasing a product, try to go for the one with a 100% money-back guarantee. Many companies promise high-grade water-resistant materials but in reality, they are not. It is better to choose a wireless dog system wisely and spend a little extra than regretting it later.
Some Special Benefits
If you have a big yard or a large area, installing a wireless fence would be easier and cheaper as compared to installing a time-consuming physical fence system. Let's discuss the main benefits of it:
Easy Installation

: As mentioned above, a wireless or invisible fence is easy to install and does not create a mess. On the other hand, the installation of this system can cost you a lot of time, money, and effort.
Portability

: Another benefit is its portability. You can take the system with you on a trip or to your new place.
Adjustable Correction Level

: The system allows you to adjust the correction level by setting up the correct mode. If you are able to train your dog on a low intensity of vibration or static shock, then there is no need to increase the level. It allows you to train your dog in just a few days.
Affordability

: The whole system will cost you much less as compared to the physical fences. There are no complications in installing an invisible fence system and you will be able to create an ideal boundary. It is a perfect solution to train your dog and prevent him from escaping the yard.
Some Important Tips
Here are some important and useful tips to keep in mind:
Try training your dog in a fun manner without punishing him with intensity shocks. Hopefully, your dog will be trained in a few days.
Each time your pet dog obeys you, give him treats.
Keep the metal items away from the area of the transmitter.
There are some ventilation opening near or above the transmitter. You have to ensure that these openings don't get blocked with anything as it will affect the functionality of the system.
Last but not least, whichever system you use, make sure the dog collar is water-resistant. There will be a high chance of your dog getting wet in the rain or a puddle in the yard.
Final Verdict
A wireless fence is a great way to train your dog to stay inside the yard. Dogs have the tendency to run out to the street or neighborhood as soon as they get any distraction. This might annoy you as you might be getting lots of complaints. It is an advanced and efficient way to keep your dog inside the yard.
Many dog owners prefer this tool over the traditional underground fences because the installation is easy and affordable. You can also carry the system to your new place or on a trip. As it will be a long-term investment, make sure to choose the perfect wireless system for your dog.
Frequently Asked Questions
Why is a wireless dog fence best for your dog?
It keeps your dog safe in the assigned perimeter and prevents him from escaping the yard. It is cheaper than the underground dog fence system, which is quite an expensive and time-consuming process.
Which is the best dog fence for large areas?
Pet Control HQ Dog Containment System is the best recommendation for larger areas as it provides custom coverage up to 10 acres. The pet collar comes with a long-lasting battery that can easily work for 3-7 days of training. Along with that, you also get a rechargeable battery system that will last for many years.
What is the best wireless fence for large dogs?
PetSafe Wireless Containment System is the best for large dogs for multiple reasons. It can cover ½ acre of area with an adjustable circular range. Furthermore, the waterproof collar can fit an 8-pound dog and has adjustable neck sizes 6-28 inches. The system has a long battery life with an option of unlimited collars for training.
Do wireless dog fences really work?
Yes, absolutely they work well and are recommended by many pet specialists. On the other hand, installing a wired system is not a good idea as it may cause a mess. Furthermore, it will be too costly to cover a large area with an underground fencing system. A wireless fence is a newer and effective tool to keep your dog safe inside the designated area.
Does a wireless fence hurt dogs?
No, it does not hurt dogs if used correctly. Dog owners do not have to set the intensity of static shocks on a high level. These are particularly made for your dog's safety and to correct their stubborn behavior with training.
At what age can a dog use a wireless fence?
It is better to introduce the wireless fencing system to your dog when he is at least four to five months old. If you are using a wireless fence to train your pup, then make sure to adjust the settings before use.
How long does it take to train a dog with the wireless fence?
A training of just a few days would be enough to train your dog. You adjust the level of training modes on his collar. If your dog is not stopping his bad behavior then you can increase the level of shock just a little bit until he starts taking it seriously. Training a dog is important as dogs have the tendency to go outside and get hurt or attack other people. To prevent this behavior, a wireless dog fence is necessary.
Can I use a wireless fence on puppies?
Yes, you can absolutely use these on puppies, but make to choose the right training mode. A beep or sound mode can also be used to train them instead of a shock mode. It is important to focus on positive training and be patient with the little pups.
Is there a minimum or maximum age for dogs to use wireless fences?
Although there are no size limitations on training your dog with a wireless fence system, it is important to consider the age. Your dog needs to be at least eight weeks old to be introduced with this system.
Can a wireless dog fence be used on a sloped yard?
Yes, it can work on a slightly sloped yard. A largely sloped area can cause disruption which is why it is important to adjust the transmitter to maximize the assigned area.