Protein is an essential component of a balanced canine diet. Pet parents often struggle to try to find the best sources of protein for their furry friends. Canned tuna is one of these options and can be served to your pet as it is.
While you can also find tuna in other forms, cooked and raw, it is easy and sometimes safer to serve it in the canned form. Usually, these do not contain any extra flavors, and dogs also tend to love it that way.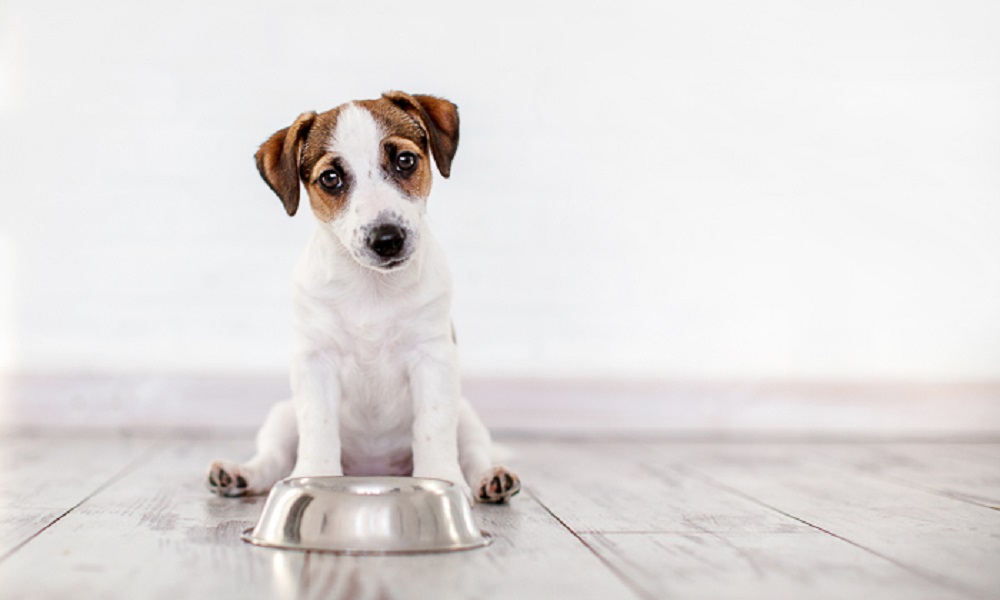 Tuna is an excellent option for dogs who cannot digest other sources of proteins, including chicken and lamb, etc. It consists of lean protein and very little fat. A tuna diet is also rich in essential minerals, including phosphorus, and magnesium, and essential vitamins.
However, tuna needs to be served in controlled amounts as excessive consumption can lead to health issues. Sources suggest that raw, long-lived, fresh tuna has higher levels of mercury as compared to other fish. As a result, excessive consumption of these canned foods can cause mercury poisoning.
In this guide, we will help you decide whether tuna is an excellent addition to your canine's diet or not and the ways in which it is safe to consume it.
Read More Article: Can Dogs Eat Cheetos
What is Tuna Fish?
Before we get into the details of the contents of canned tuna, we need to know what tuna is and where it comes from. Tuna, also known as tunny fish, is a relative of the mackerel family. While these fish vary in size, most of them are large and tend to have a long life. There are four major species of tuna, and most of these are found throughout the world.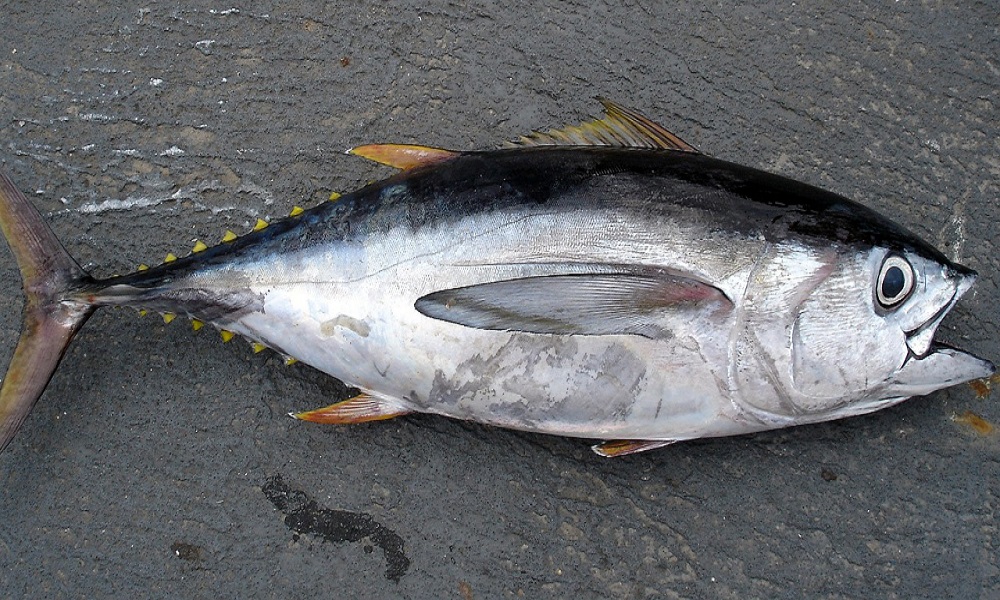 These include Bluefin, Albacore, Skipjack, and Yellowfin. Out of the four types, Bluefin is one of the most popular. When speaking of tuna fish, one often thinks of sushi and tuna steaks served in a large dish; these are usually the Bluefin tuna. It also grows to the largest size and can weigh around 1000 pounds. These are mainly exported to Japan and used in popular dishes like Sashimi.
When cooked, you can find it in the form of slices or sushi strips. It can be grilled, cooked, used in salads, and preserved in cans. Canned tuna is also very popular and usually has a flaky, paler appearance compared to the mild pinkish raw color.
Regular canned tuna is preserved in oil, brine water, or spring water. When we talk about canned tuna for pets, it is recommended to look for specific ingredients. Usually, these cans contain thin slices of Skipjack or Albacore tuna packed in either water or oil.
Albacore is smaller in size and grows up to 25 pounds. These a rich source of lean meat and a plethora of essential vitamins and minerals. However, since Albacore has higher levels of mercury as compared to skipjack, it is recommended to go with Skipjack instead.
Tuna is also known to be an excellent source of lean meat. It also contains significantly less fat and a wide variety of essential vitamins and minerals, which support joint health and healthier fur.
Do Dogs Like Raw Tuna Fish?
Yes. While all canines have their own preferences, most dogs love raw tuna and enjoy eating it. Tuna, as previously mentioned, can be bought and served either cooked or raw. However, whether or not you should give your pet raw meat is a debated topic.
When it comes to the canine's preference, we can safely say that he will most probably like the fish. However, for a more rational decision, we can compare raw fish to its cooked counterpart.
Raw vs. Cooked Tuna
With or Without Seasoning: After getting captured, tuna needs to be consumed as quickly as possible. One of the major differences and cooked and uncooked food is often the flavor and added spices. While humans like spices and add flavor to improve the meals, dogs do not always appreciate the same. This includes both the taste and digestion factors.
Dogs have sensitive senses, and what is a mild flavor for us may be too strong for your pet. Similarly, when it comes to digesting, too much salt and spices are also not good for your canine's health. Adult dogs may be able to tolerate smaller amounts of salt; however, for puppies, additives and flavors can prove to be dangerous and risky. Therefore, it is recommended to get a can without any additional flavors and seasonings.
Free from Parasites: Raw meat can also carry harmful parasites and can be infected with bacteria. When the fish is cooked or properly preserved, we can be sure it is safe. A good option is to get your pet canned tuna. You can find these in different preservatives. Some are canned with freshwater, others with brine water, and the most common ones are canned in oil. Of these, the spring water-packed, short-lived tuna is the most recommended option.
Basic Nutrition in Tuna
Tuna is known to be a somewhat risky addition to your pet's meal, so why should you consider giving it to your pet? The answer is simple, tuna also has its nutritional qualities, which make it a good meal once every two weeks or as prescribed by the vet.
Excellent Source of Lean Meat
The first most important characteristic of tuna is protein. Dogs require a good amount of protein in their daily diet to build tissues and speed up their metabolism. While you can find many dog foods with various protein source labels, many of these often contain fillers. Chicken, lamb, and beef are also known to induce allergic reactions in some canines.
This is why pet parents find themselves looking for other, more novel sources of proteins. Ideally, you want to look for a combination of both quality and nutrition. Tuna gives you exactly that. It is rich in lean proteins that allow your growing pet to build muscle without getting overweight. The reason behind this is that tuna does not support fat building and can therefore prevent obesity.
Promotes Healthy Coat and Immune System
The second most important characteristic of tuna is that it carries many essential vitamins and minerals. These include potassium, phosphorous, magnesium, omega-3 fatty acids, and vitamins B3, B6, and B12, to name a few. While these are required in smaller amounts, the minerals are an essential part of a healthy diet and improve your pet's coat and immune health. Older pets can also benefit from tuna as it promotes better vision and reduces inflammation.
Does Not Induce An Allergic Reaction
Last but not least, dogs who are unable to consume protein in its other forms can benefit from canned tuna. The fish is known to induce no reaction making it safe for canines. However, while it does not induce an allergic reaction, you cannot feed tuna to your dog regularly.
Ways to Process Tuna Fish for Dogs
While tuna can be found in many dog treats and foods, you can also make homemade treats for your dog. However, to gain the benefits and avoid harm, how you process the fish is important. You need to take care of the following points: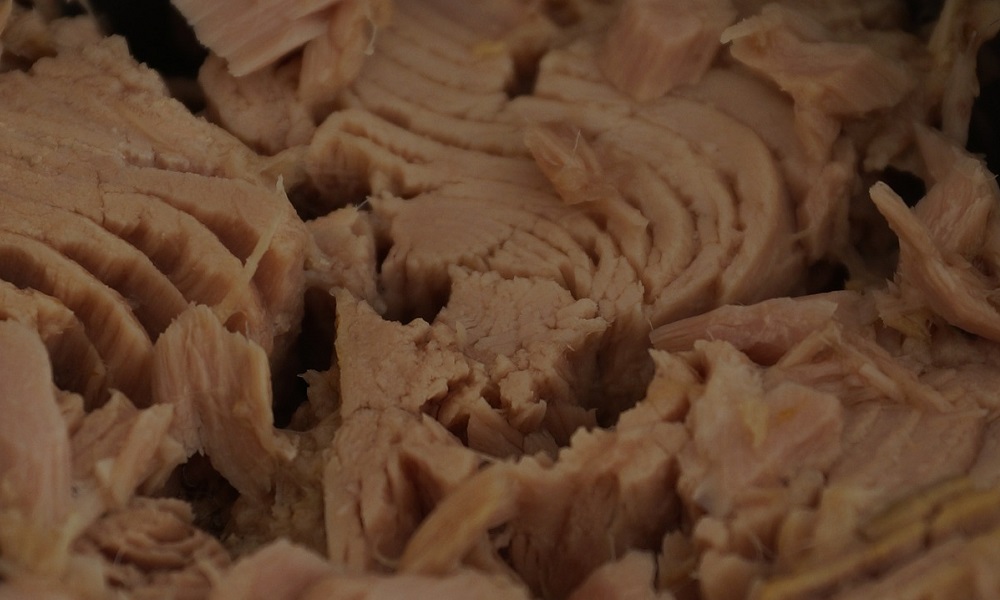 De-bone the fish properly before serving it to your pet: Many sources of proteins contain bones, and while most of these are good for dogs, it is a good practice to remove fish bones. This is because the bones are too small and, when swallowed, can cause injury as these may get stuck in your pet's throat. You can also get deboned fish. However, it is recommended to get fresh tuna instead.
Make sure it is cooked well to kill any parasites: Tuna has a long life, and therefore, the fish may carry parasites. Excessive heat makes sure to kill any bacteria and parasites, making it safe for your pet to consume.
Cook it without flavor: While it can be tempting to add a little spice or salt in tuna, for pets, the best way to serve it is without any additives.
Introduce it in very small amounts: Instead of making a complete meal out of tuna only, use it in smaller treats like biscuits and other snacks. Feed it in controlled portions to adult dogs and monitor for any disturbance. For younger pups, a tablespoon of tuna is enough for a week.
Do not use it in its frozen state for too long: The clock starts ticking on tuna the moment it is captured. Unlike other forms of meat, you cannot preserve it for long, and it needs to be used quickly.
The same goes for store-bought treats. If you own multiple pets, you should not mix food containing tuna with dog food. This is mainly because these foods are intended for different species and should not be used as a replacement for each other.
Benefits of Consuming Tuna Fish
Tuna is a delicacy and known to pack both flavor and nutrition. When it comes to dogs, the addition of canned foods is an excellent support to your pet's immune system and better growth. While excessive consumption of this fish is not recommended for man and dog alike, small amounts do not cause any harm.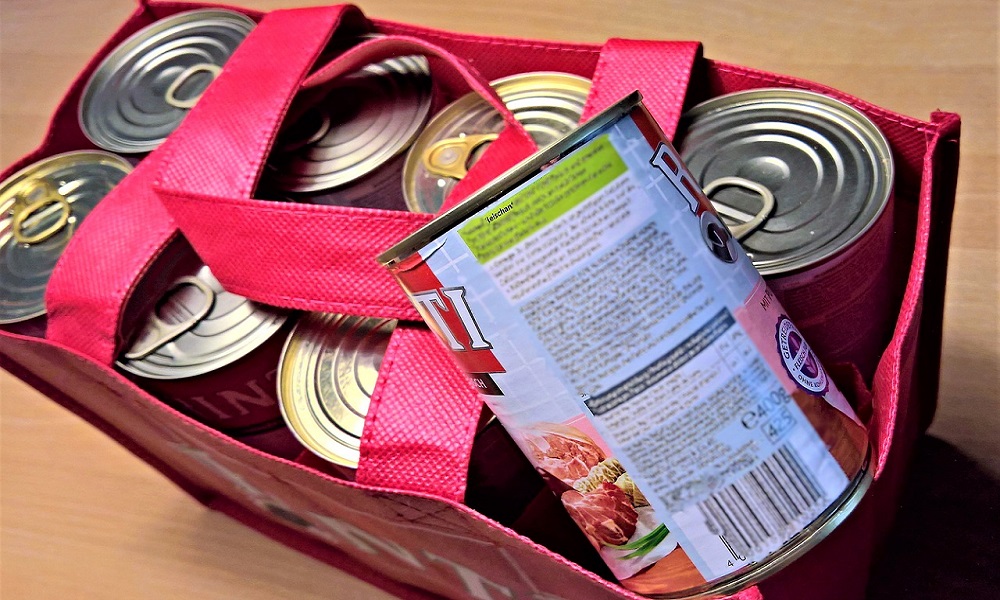 Following is a list of some of the health benefits your pet can get by consuming tuna.
Lean Meats Help Build Muscles

: Adult dogs require proteins in their foods to perform their daily activities and to repair and build muscles. Tuna proves to be an excellent source of muscle-building protein while being easy to digest.
Low in Fats

: Compared to many other protein sources, tuna offers very little fat, which makes sure your pet gains a healthy weight without excessive fat. It is also known to be good for the heart, especially in older dogs.
Rich in Essential Vitamins and Minerals

: Changes in the environment and allergic reactions can often cause inflammation and ruin the natural texture of a pet's coat. Tuna contains the minerals and essential oil necessary to soothe out inflammation and promote a healthier coat.
Source of Novel Proteins

: It is a known fact that while dogs require protein in their foods, they cannot digest all sorts of meat. Tuna happens to be one of the protein sources that are not very common in dog food, hence called a novel protein. Unlike beef and chicken, it is less likely to cause an allergic reaction and is safe for most pets to eat.
Last but not least, tuna can make an excellent treat. Most dogs tend to love the mild taste and prefer it without any seasoning. If you want to introduce canned tuna to your pet's diet, make sure to find short-lived tuna packed in fresh spring water without sodium.
Risk of Tuna Fish for Dogs
It has been mentioned previously that tuna is a risky introduction in the diet. Many vets and pet experts recommended that you do not give your pet any tuna at all. It is a known fact that the oceans in the world do not provide a completely safe, healthy environment to all underwater animals.
Industrial waste, trash, and salts tend to accumulate in the waters. As a result, the fish and organisms dwelling in those parts end up absorbing many harmful chemicals and salts. The longer a fish lives, the higher the chances are that it possesses more salt and mercury.
Since tuna is a long-living fish, it also contains higher levels of mercury as compared to other marine animals. While a small amount does not cause severe health complications, it begins to take effect when a lot of harmful toxins have been collected in the body.
The tuna species differ in the fat, protein, and mercury composition; however, continuous consumption of any of these species can lead to slow mercury poisoning. Despite the health benefits, it does more harm than good in the long run. Since dogs live much longer than regular fish, the signs of mercury accumulation are difficult to spot at first.
However, by close observation, one can spot these early on. Some of these symptoms include vomiting, abdominal swelling, hair loss, tremors, and watery bowel movements.
These symptoms can be avoided with a little care and proper diet planning. Tuna should not be given regularly, whether it is in its cooked or uncooked form. Ideally, it should be given once every two weeks or introduced in very small amounts. If you wish to determine how much tuna is okay for your pet, you can also consult a vet.
Other than the mercury, canned tuna often contains a lot of salt, especially those packed in brine water. To avoid overdosage of salts, look for fish packed in spring water as these tend to be low on salts and oil.
Conclusion
Tuna is one of the novel proteins found in some dog foods. However, whether or not it is safe for dogs has been a debate for a long time. Experts suggest that overconsumption of tuna can lead to mercury poisoning. While your pet will not get ill by eating a small portion, it does have harmful effects in the long run. However, tuna has also proven to be a healthy source of lean meat, is low in fats, and contains many essential minerals and vitamins.
Keeping these two views in mind, it is recommended to feed it to your pet in moderation. You should consult a vet for a proper diet plan to suit your pet's daily requirements. However, small amounts of tuna can be fed to the canine, given there are longer intervals between each intake. By introducing this as a side meal once every two weeks, your pet will be able to enjoy the benefits without having to deal with the harmful mercury accumulation.
Frequently Asked Questions
How much tuna should you serve your dog regularly?
Tuna is not a fish to be served regularly as it can lead to mercury poisoning and excessive salt consumption. For younger pets, it is recommended to feed only a tablespoon a week and monitor for any illness. Adult dogs can eat a small can of tuna once a week, given they are not consuming it every week. There should be a tuna-free period in which you can give him his regular food.
Which types of tuna fishes are healthy for dogs?
The canned versions of tuna often include albacore and skipjack. Based on the size and mercury levels, skipjack is the most recommended for dogs. This is because it is small in size and contains very little fat and lower levels of mercury as compared to Albacore and other types, including Bluefin and Yellowfin.
Can tuna be harmful to dogs?
Yes. Excessive consumption of tuna can lead to salt and mercury accumulation in the tissues. The symptoms include hair loss, vomiting, digestive system problems, and inflammation. However, when served in controlled portions, one can easily avoid the harmful effects and enjoy the health benefits of tuna.