Dogs love to try out all types of human foods, be it homemade or store-bought junk food. However, while it is alright to occasionally share your own snacks with your pet, you need to make sure they are safe for your pet.
Many human foods like chocolate and spices are known to be toxic and dangerous for canines. Cheetos, however, is not one of the poisonous treats. That said, you need to be careful about the amount of Cheetos you can give to your pet.
While there are a few risks involved, if your pooch consumes a whole bag of Cheetos, he may experience intestinal disorders and other health issues like anemia. Garlic and onion powder used in some of the flavors are the most potentially dangerous ingredients.
This guide will discuss the health risks in more detail and whether or not it is safe for your pooch to continue eating Cheetos. Lastly, we will discuss the steps you need to take if your pet has consumed a whole pack of Cheetos and what alternative, healthier snacks you can give your pet instead.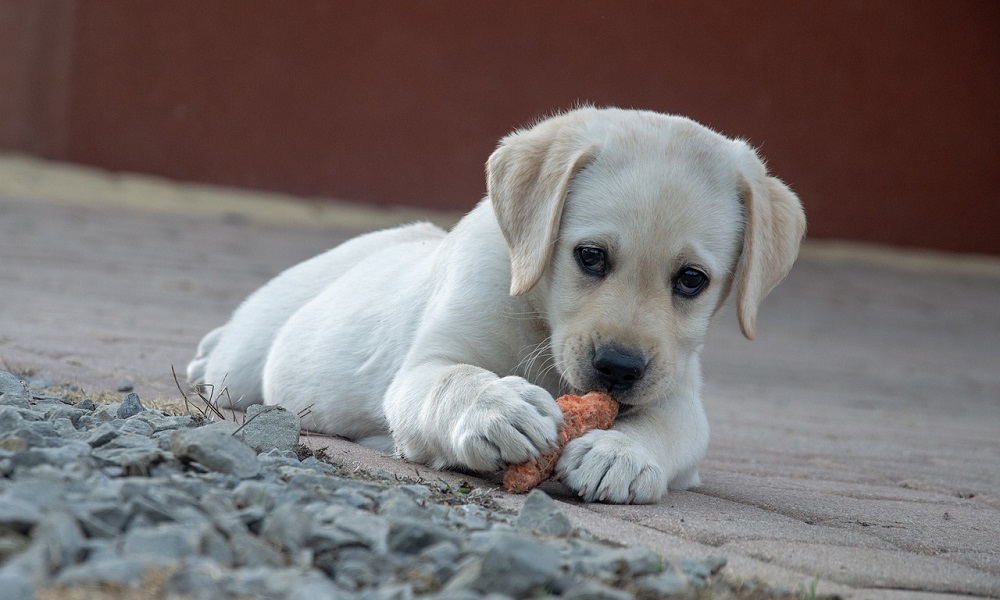 Which Ingredients are Used in Cheetos?
To get a good idea of whether Cheetos are suitable for your dog or not, getting to know the ingredients is an excellent place to start. It is a known fact that Cheetos and similar snacks are included in the junk food category. These snacks hold less nutrition and are generally liked because of the taste alone. Cheetos mostly contain the ingredients listed below.
Please note that we have only covered the main ingredients in most of the flavors. If there is a new snack flavor in the market, make sure to check the ingredients before offering it to your canine.
Corn Meal

: Like a lot of cheese puffs, Cheetos have enriched cornmeal as the primary ingredient. While the complete package has less nutritional value, it does pack around 160 calories. These are further covered with cheese and monosodium glutamate. Both these ingredients are not particularly good for your canine's health and only add to the weight.
Dietary fibers and Sugars

: Cheetos also happen to have a lot of additives and artificial flavors, neither of which is much welcome in a healthy diet. Healthy dog food is often prepared in very light or no seasonings because, for dogs, strong flavor is usually harmful. The same cannot be said for these snacks.
Sodium and Food Colors

: An average pack of Cheetos contains around 270mg sodium; this is a lot, considering the daily amount of salt that is safe for dogs to consume. The added food colors make up for another non-nutritious ingredient. Both these additives do not pose any serious risk to your canine's health, but these certainly do not add to the health either.
Fats

: Lastly, dietary salts and included fats can induce heart diseases after prolonged consumption. If your canine is obese, the snack will only add to the fat.
Given these details, it is highly recommended to change your pet's treats to something else. This is, however, in the case you are considering giving Cheetos to your pet regularly. If your pet ends up eating these without your consent, the first question that comes to mind is whether dogs can eat Cheetos or not. Keep reading to find out.
Can Dogs Eat Hot Cheetos?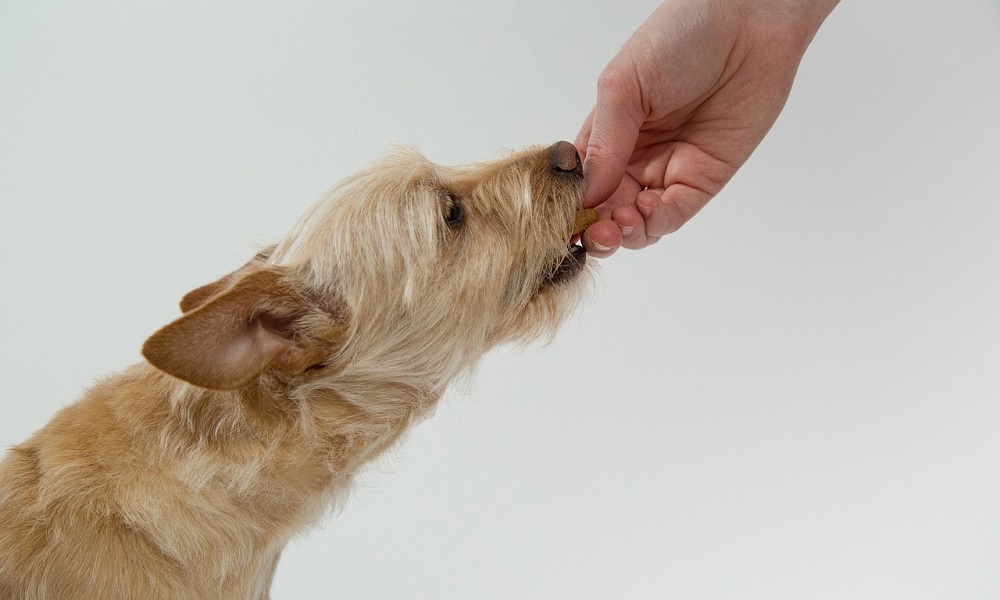 The short answer is yes. Dogs can eat Cheetos and remain happy and healthy. The flavor of the Cheetos matters; if these are the simple ones, your canine will not have any health issues. However, just like we do not consider regular snacks a potential meal, your dog should not consume too much of these as well. Ideally, it should be a very small amount of Cheetos.
One of the ingredients in Cheetos is cornmeal. While most dogs are unable to digest grains properly, minute amounts of these snacks do not cause any harm. Since these are not tough at all, your pet will find these very easy to chew however, these may stick to the teeth. Cheetos still remains one of the snacks that do not pose a choking risk to your pet.
However, flavors like hot Cheetos can be harmful to your pooch. This is mainly because of the excessive amounts of garlic and onion powder. Therefore, if your pet loves Cheetos, it is best to stick to the simple, light flavors without too many additives and spices.
Bad Effects of Eating Cheetos
The kind of health risks involved with eating Cheetos depends solely on the ingredients used in that particular flavor. Most dogs, especially some Japanese breeds, are unable to properly digest ingredients derived from the plants of the genus Allium. Mainly, these include garlic and onion powder.
A small amount of either ingredient does not bring harm to your pet's digestive system. However, excessive amounts can lead to severe health problems, some of which are listed below.
Depending on your dog's health condition, he may experience diarrhea due to excessive consumption of Cheetos. If your pet has never eaten these before, and the effects last more than one day, it is recommended to instantly consult the vet.
Ginger powder is toxic to dogs in larger amounts. It is known to have harmful effects on their red blood cells. As a result, the RBCs are unable to transport oxygen properly, which leads to anemia. Some breeds like Akita and Shiba Inu may have a severe reaction to these.
In many dogs, Cheetos are also known to induce vomiting. If it subsides within 24 hours, immediately stop giving your pet any more Cheetos and change his treats. However, if your pet continues to vomit, a visit to the vet is inevitable.
In the long run, these snacks can induce heart problems due to higher dietary salt content. Your pet may also experience mild intestinal infections.
Other than the listed symptoms, there may be other signs of discomfort as well. It is best to monitor your pet's behavior. Sometimes, the signs take time to appear. The severity of the risks also depends on your canine's size and age.
Young and small puppies are more likely to get affected as compared to large breeds and older dogs. This is primarily because of the difference in their body mass and the accumulation of salts and additives.
What Should You Do If the Dogs Eats Cheetos?
Even if you are not one to give Cheetos to your pet regularly, it is difficult to keep the snacks from your pet once he is determined to get to them. However, when your dog ends up snatching the whole thing, it can be difficult to stop him. Ideally, you want to prevent your pet from eating too much of these. However, if your pet does end up chowing down Cheetos, here's what you need to do.
Step 1: Keep Calm
The first and most important step is to not panic. If your pet exhibits signs of physical distress, it is advised to take your pet to the vet. However, it depends on the amount of Cheetos your dog has consumed. As mentioned previously, a small amount does not pose a severe risk. The Cheetos flavor also matters. Hot Cheetos, for example, are more dangerous for canines as compared to the lighter, simpler flavors.
Step 2: Find Out How Much Cheetos Your Pet Has Consumed
Your next step should be to determine the amount of Cheetos your pooch has successfully eaten. For adult dogs, a whole packet isn't as dangerous as it is for small puppies. If you determine the amount to be little, you can avoid the visit to the vet. However, for more significant amounts, it is best to wrap up your pet and take him to the vet.
Step 3: Monitor Your Pet for Any Symptoms
In the former case, you will need to monitor your canine for 48 hours. Ideally, you should take note of your pooch's sleeping pattern, appetite, and overall activity. If your pet shows signs of discomfort, refuses food, and is restless, chances are that this is due to a reaction to the food. If the restlessness persists, take him to the vet.
The veterinarian will probably ask you about the amount of Cheetos consumed and the recent medical history of your pet. Cheetos consumption, however, is almost never fatal, and your pet will recover in no time.
Prolonged consumption of any kind of junk food can disturb the digestive system of many healthy dogs. It is therefore strictly advised to provide your pet with healthy, dog-friendly treats.
Alternatives of Cheetos for Dogs
Cheetos are pretty popular among humans; however, with the risks mentioned above, we can safely say it is not meant for canines. It is therefore important to look for a pet-friendly alternative.
The ideal treat is one that is tasty, small, easy to chew, and packs nutrients. What's healthier than all-natural fruits and veggies? While dogs cannot eat just anything, we have a list of fruits canines tend to love.
Carrot sticks, apples, bananas, and berries are just a few of the natural foods dogs love. They do have their own preferences, and it may take you a few tries before discovering your pet's favorite treat. You can also make homemade snacks by adjusting them according to your canine's taste.
You can also find tons of treats made for your pet. Cheese-flavored treats are also a great way to get your pet to try something other than Cheetos. For adult dogs, finding a protein-rich treat is a good idea. You can find beef and chicken jerky made especially for dogs. These usually contain very less additives, and most pets tend to love the flavors.
For younger pups, it is recommended to consider lighter foods that are easy on their little stomachs. Dry kibble and biscuits are a good option. Ideally, the treats should be given in limited amounts daily as these are not substitutes for actual healthy food.
Conclusion
Cheetos are a popular snack, one that is loved by many pets as well. However, it is not a treat meant for prolonged consumption. Research suggests that excessive intake of Cheetos can lead to the accumulation of onion and garlic powder, which in turn can cause anemia by attacking the red blood cells.
However, small amounts and lighter flavors of Cheetos are mostly harmless, and it is alright to give these to your pet once in a while. These snacks, however, offer very little nutrition. It is, therefore, a good practice to limit or completely stop giving Cheetos to your pet. Instead, consider giving natural, healthier treats.
If your pet has consumed an alarming amount of Cheetos, take him to the vet. The symptoms usually take time to appear, and it is best to act quickly. Monitor your pet for signs of distress and reduced appetite.
Dogs who have taken in too much garlic often feel lethargic and are less likely to continue eating. However, since none of the Cheetos ingredients are exceptionally toxic, your pet will be alright after a bit of care and medication from the vet.
Frequently Asked Questions
What are Cheetos?
Cheetos are cheese puff snacks made by adding colors and flavors like onion, cheese and garlic powder. The main ingredient is cornmeal. While it is a snack meant for humans, the increased popularity has led to some people sharing it with their pets as well.
Why are Cheetos bad for dogs?
One of the reasons is the empty calories. Other than these, Cheetos have very less nutritional value and some of its varieties also include garlic and onion powder as ingredients. Both of these are known to be harmful for pets and can lead to diarrhea, vomiting and anemia.
Can dogs eat hot Cheetos?
No. While a small amount will not cause considerable harm to your dog, these include some ingredients and spices that are toxic to pets. Continuous consumption of hot Cheetos can lead to the accumulation of these salts and affect your pet's digestive system.
Resource: