As pet parents, it is our duty to make sure our pet eats only what he is meant to eat. Chocolate, spices, and a lot of other human foods are harmful to pets.
However, canines have a knack for chewing and swallowing almost anything, and that includes tinfoil wrapping. This common kitchen item can be found as chocolate wraps, food covers, and folded into small preserving boxes.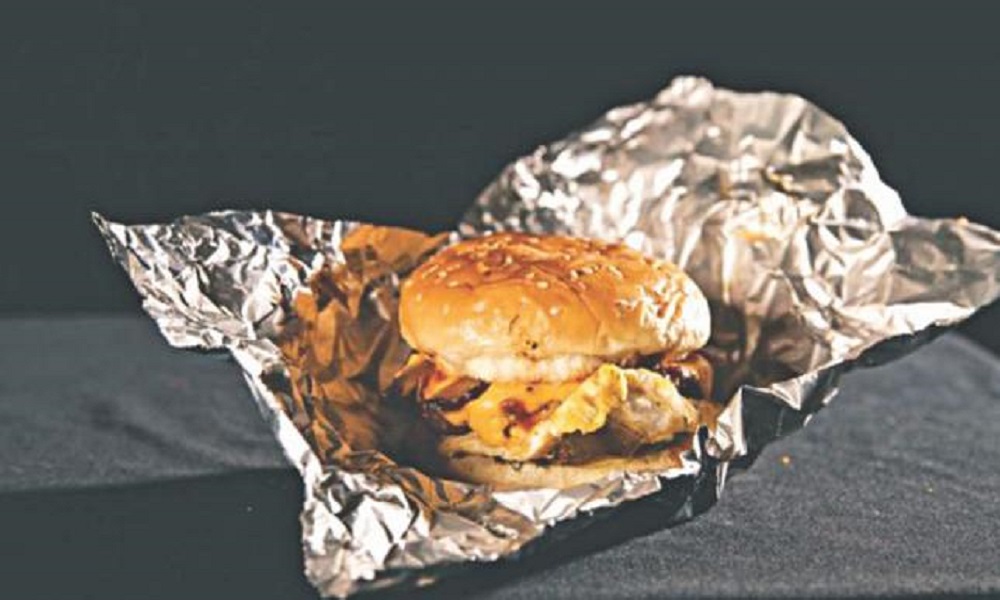 Due to the abundance, there are many incidents when pet parents report that their pets have eaten burgers, bread, or chocolate along with the covering. While a small amount of these wrappers is not toxic, it can undoubtedly lead to choking and other health issues.
In this guide, we will learn about the tinfoil used in food wrapping, the reasons why your pet might consume it, and what you can do to avoid that. Next, we will look at what we can do if the canine has already eaten a good chunk of foil.
When these methods are correctly applied, you can avoid a visit to the vet, and your pet will be back to his regular routine. It involves closely watching your pooch's behavior and monitoring for any symptoms. However, in the end, your pet's safety is most important.
What is Tinfoil?
Before we get into the details of harm caused by tinfoil consumption, we first need to know what that is. It is very commonly used as food wrapping, and almost everyone is aware of it. However, usually, we categorize anything shiny and silvery involved in food wrapping as tinfoil.
While this is true to some extent, that may not be true for all types of food coverings. Thin tin sheets have been used in the past to wrap and preserve food for a long time. However, eventually, people reduced and started to avoid tinfoil's usage because prolonged usage of these wrappings caused the food flavor to change.
Also, tin sheets are not easy to fold as these do not tend to hold their shape. This made people look for other alternatives. Finally, thin aluminum foils were invented to take the place of the traditional tinfoil.
Aluminum, as we know, does not affect the flavor of foods since it does not react with them. These sheets are also very easy to fold and maintain their shape.
While the term tinfoil is still used nowadays for all sorts of shiny food wrapping, most of these are made from aluminum instead of tin. When it comes to the level of toxicity, you don't need to worry. It is not lethal.
Aluminum itself is not poisonous, especially if your pet has only consumed a small amount of the foil. It can easily pass through in the stool, and your pet won't even notice small amounts. Larger amounts, however, can pose the risk of choking and, in rare cases, may cause intestinal obstruction.
Read More Article: Can Dogs Eat Cheetos
Risks and Health Problem for Dogs Associated With Eating Tinfoil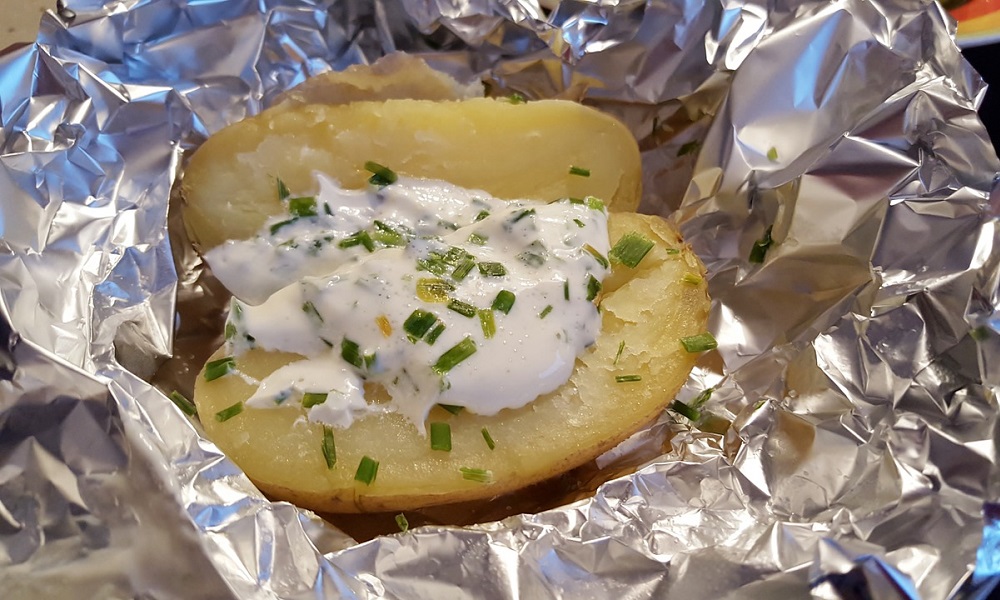 It is a commonly known fact that eating food wrapping is not good for the health. However, the following list tells us exactly how risky it can get for your pooch:
Risk of Choking
Aluminum and tinfoil are not poisonous by themselves; however, they can pose an immediate choking risk. Even if your pet regurgitates, the crumpled foil may end up getting stuck in the airway. If it stays stuck, it can eventually kill your dog by suffocation.
In any case of swallowing, ideally, it is best to contact the vet. Usually, the veterinarian induces emesis, which makes your pet throw up and possibly lose the large chunk.
However, in a rare case, if the foil has made it inside the digestive system and gets stuck in the intestinal tract, it may require surgery. Before the surgery, an X-ray or endoscopy is used to seek the exact position of the foil.
However, it is usually only an issue when your pet has swallowed a considerably large portion of the foil. Small chunks are not as harmful, and many large dogs are able to pass these out without any problem.
The seriousness of the situation also depends on your pet's size and age. Young puppies are at more risk than adult dogs who are accustomed to eating larger chunks of food, including small bones.
Inflammations and Allergic Reactions
When it comes to the health risks, it is the food inside the wraps you need to be careful about. Of these, wrapped chocolate is probably the most harmful. These can be easily spotted dogs in their colorful wrappers. If your pet has consumed chocolate along with the cover, it is advised to take immediate action. Wrap up your pet and take him to the vet.
Greasy foods like burgers, meats, and fries can also induce a reaction. Your pet may suffer from intestinal inflammation. If he has also consumed some form of meat with the foil, it may cause an allergic reaction. The best method of ensuring your pet's safety is to monitor his behavior and take him to the vet.
Symptoms If Your Dog has Consumed Tinfoil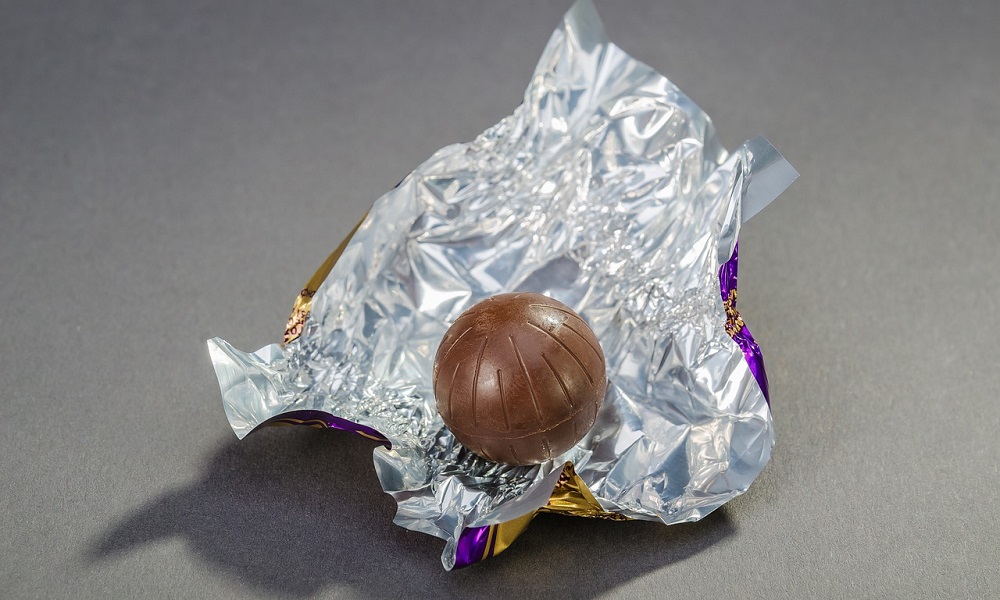 To ensure your pooch's safety, you need to know for sure whether he has consumed the foil or not and possibly guess the amount swallowed. One of the ways of finding this out is by checking the trash and the food to check for the missing wrapping.
However, this may not always be possible. Following are a few symptoms that appear most often when tinfoil is consumed.
Choking
This is probably the most apparent symptom if your canine has ingested a large chunk of food wrapping. If you see such signs, instantly remove your pet's collar, open his mouth and attempt to remove the blockage using a tool like tweezers. You can also ask for emergency help.
Lethargy
In cases of foil consumption, many pet parents often report that their canine fell asleep after consuming foil. This can be a sign of some health problems. Therefore if you observe your pet sleeping at strange hours, it is strongly advised to visit the vet.
Vomiting
The food inside the wrappings can often induce a reaction that causes anti-peristalsis. In case of vomiting, you need not panic because your pet will probably lose the ingested wrapping. This can be an inflammatory or immune reaction to the food as the foil has nothing to do with it.
A visit to the vet should fix this problem in no time. Usually, the pest expert will recommend certain medications and extra precautions.
Reduced or no Appetite
This is one of the subtle symptoms; however, if your pooch refuses to eat anything and is sleeping, he needs a check-up. There is less to do in this situation, and it is recommended to take your pooch to the veterinarian.
Necessary Steps to Take If the Dog Eats Tinfoil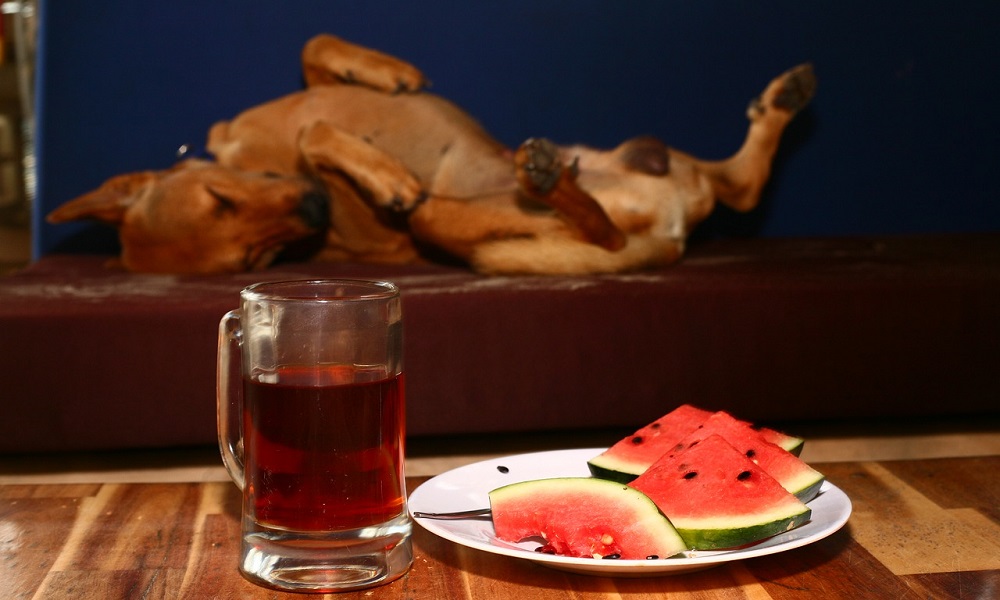 Tinfoil consumption can be dangerous in some cases; however, most dogs are able to pass it out in their poop without any problem. Therefore if your pooch has consumed some of it, you need not panic.
Pets can consume foil in a ton of ways, and while there is no method of completely avoiding it, there are a few useful steps you can take to prevent health risks.
Monitor your Pet's behavior and look out for any symptoms: If your pet is not choking and is carrying on, as usual, it can be hard to know if the foil has done any damage. This is where observation comes in. It is recommended to check your pet's sleeping pattern, see if he sleeps a lot more than usual.
Lethargy is one of the signs that the food in the foil is bothering your pet. You will also need to monitor your pet's meals and appetite. If your canine shows signs of reduced or no appetite, then take him to the vet immediately.
Usually, pets are able to pass the foil in the stool; however, if your pooch is having trouble pooping, take him to the vet. In very rare cases, dogs show signs of distress, vomiting, and diarrhea. These symptoms can be because of a reaction to greasy foods or chocolate and require immediate medical attention.
Find Out How much Tinfoil Your Pet has consumed and what the wrapping contained: The amount of foil and the type of food wrapped inside it can tell you a lot about the severity of the situation. If you are not sure about how much foil your pet ate, you can start by looking through the remains of the wrapping or go through the trash.
The next step is to find out what was in the food wraps. As mentioned previously, oily and spicy foods are what you need to be wary of the most. Now, if the amounts for both the foil and the food are minute, you may skip the visit to the vet and move to the next step. Otherwise, it is recommended to instantly consult the vet.
Monitor your Pet's poop to make sure he passes it out: Adult and healthy dogs can pass out small amounts of foil easily. While this is not a pleasant job, you have to go through it to ensure your pet's safety.
If you do not see it in the poop, but your pet continues to behave normally, it is safe to assume that he is alright. In such cases, you just need to continue monitoring his behavior and looking out for the above-mentioned symptoms. If your pet is having trouble pooping, or you see blood in the stool, take him to the vet.
Precautions:
One of the first precautions is to keep wrapped food out of your pet's reach. When canines get a whiff of something seemingly delicious, they will try to eat it with or without the wrapping. Therefore it is best to either throw away the foil or keep it securely away.
Other than fresh food, pets also tend to find their way to the trash and begin their scavenger hunt. For health and cleanliness purposes, it is advised to keep the trash behind the door or somewhere away from your pooch's reach.
While offering human foods to pets is not recommended, if you must, make sure to take off the covering before offering it to your dog.
Keep your pet entertained with his favorite treats. This will keep him busy and possibly prevent his curiosity for other types of foods.
Consider using food preserving boxes instead of using cling wraps or other shiny food wraps. Doing so will reduce the risk of foil consumption.
Last but not least, it is a good practice to know which types of foods are harmful to your pet and which are not.
Conclusion
Seeing your pet suddenly swallow a lot of wrapping foil can be scary. However, unlike a few very rare cases, you mostly do not need to be alarmed. While foil is not meant for consumption, it is not toxic itself. It can cause choking or intestinal blockage in the worst-case scenario.
To deal with this problem, you need to know just how much wrapping your pet has consumed. The next step is to monitor your pet for signs of distress, lethargy, vomiting, and lack of appetite. If your pet exhibits any of these symptoms, a visit to the vet is inevitable.
Quite often, the vet will ask you what was in the foil and the amount of food consumed. Next, he will induce emesis to get the canine to throw up. In most cases, your dog will simply pass it out in his poop without any problem. However, if the foil gets stuck somewhere inside, rare cases may require surgery for its removal.
Frequently Asked Questions
Is tinfoil toxic to dogs?
Small amounts of tinfoil are not toxic to your canine. However, if your pet has swallowed a good amount, it can lead to choking. The health risks and toxicity are usually associated with the food that was covered in the foil. Chocolate, bread, fried and spicy foods can cause inflammation and digestive problems.
Do dogs like to eat tinfoil?
No. Dogs do not go for the foil itself and are instead usually interested in the wrapped food or scent and end up consuming the wrapping along with it. To avoid that, it is recommended to keep such foods away from your dog and keep the trash away from your pet's reach. However, if your pet is attempting to eat all sorts of things, he may have a case of Pica disorder.